We're launching Volume 2 of our Medicinal Plants of the Northeast Coloring Book, with over 40 new plants!
New Features for Volume 2:
over 40 new plant illustrations and descriptions
"perfect" binding, which lays flat for easy coloring 
heavier weight paper, to hold up to all sorts of coloring mediums
the option to purchase Vol. 1 and Vol. 2 together as a set!
Once again, we've curated our community's beautiful illustrations in an engaging format to encourage curiosity about plants and healing, while highlighting the value and beauty of the natural world.
Coloring is a unique activity that's both educational and meditative, not to mention entertaining, for all ages! 
All proceeds support our sliding-scale herbal clinics, so you can help build community health while you relax and learn.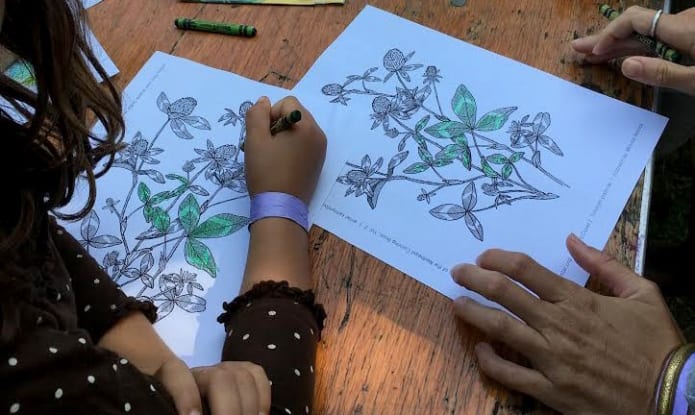 The Story of our Book:
Last year, faculty member Julie Mitchell initiated this project after watching our first-year botany students drawing plants to learn about their botanical characteristics. Having seen a coloring book of medicinal herbs of the Northwestern United States, she proposed the idea of compiling our own drawings, concentrating on plants of the Northeast. When asked if they would be interested in pursuing this project, students and staff were enthusiastically supportive and so our first coloring book was born. We're delighted that the VCIH community has been even more creative this year, contributing almost twice as many drawings to Volume 2.
Just like Volume 1, this coloring book includes useful information about each plant, including botanical and common names, family, parts used, habitat and growth habits, at-risk status, medicinal actions, and energetic qualities. Also included is a glossary of herbal terms and lists of resources for further exploration of herbal medicine, botany, plant conservation, and botanical illustration.
Learn the medicinal and botanical characteristics of over 40 new herbs with Volume 2 of our community-sourced coloring book.
For the second volume, we continued our focus on the plants commonly found growing wild in the Northeast--whether native or introduced. If you live in other regions of the country, many of the plants we've included will be found in your ecosystems, as well, or at least be familiar to you.
Echoing last year's design, we've divided the book into sections according to where the plants live: woodlands, fields and meadows, and wet places. Some are at-risk or poisonous species that we don't recommend harvesting for medicine, but which have an important history of use for healing, nonetheless. 
Check out the images at the top of this page to see a sampling of the illustrations included in this volume.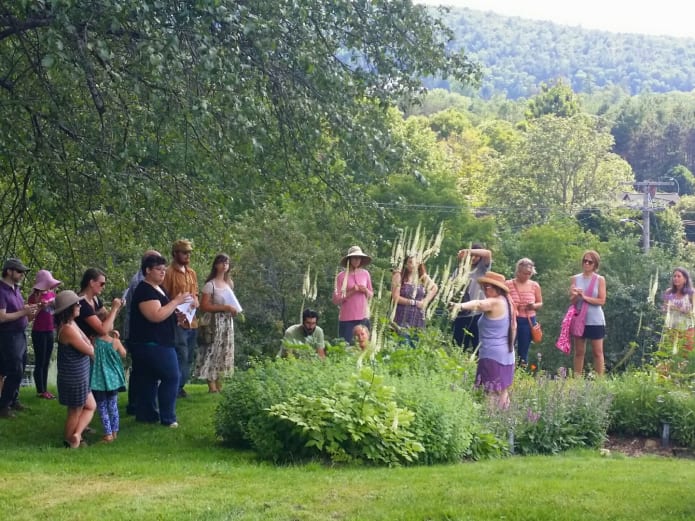 The plants you'll find in this volume include:
Woodlands:  blue cohosh, ghost pipe, ginseng, goldthread, lady's slipper, wild geranium, wild ginger, wild sarsaparilla
Fields and Meadows: agrimony, alfalfa, bee balm, butterfly weed, chickweed, chicory, cleavers, couchgrass, dandelion, evening primrose, hyssop, lemon balm, marshmallow, motherwort, mugwort, mullein, nettle, New England aster, raspberry, red clover, shepherd's purse, valerian, wild carrot, wild indigo, yellow dock
Wet Places: angelica, bidens, blue flag, colts foot, deadly nightshade, horsetail, lovage, meadowsweet, pond lily, turtlehead
Just in time for the gift-giving season, our coloring book is great for herbalists and plant-enthusiasts of all ages!
Coloring is now being promoted as an active meditation tool, beneficial for relieving stress, whether done alone or in groups. We heard great stories of Volume 1 accompanying folks at family gatherings, and for afternoons of solitude with steaming mugs of tea. Parents read aloud about the plants while kids colored the illustrations and groups of friends got together to color and unwind. Whatever your pleasure, we think you'll be inspired by the skill of the artists and the beauty of the plants found inside.
We also hope this book will be used as a learning tool in indoor and outdoor classrooms, at kid's camps and herb schools, and at kitchen tables by curious folks of all ages. Ultimately, we're hoping to make learning about medicinal plants easy, inspiring, and fun.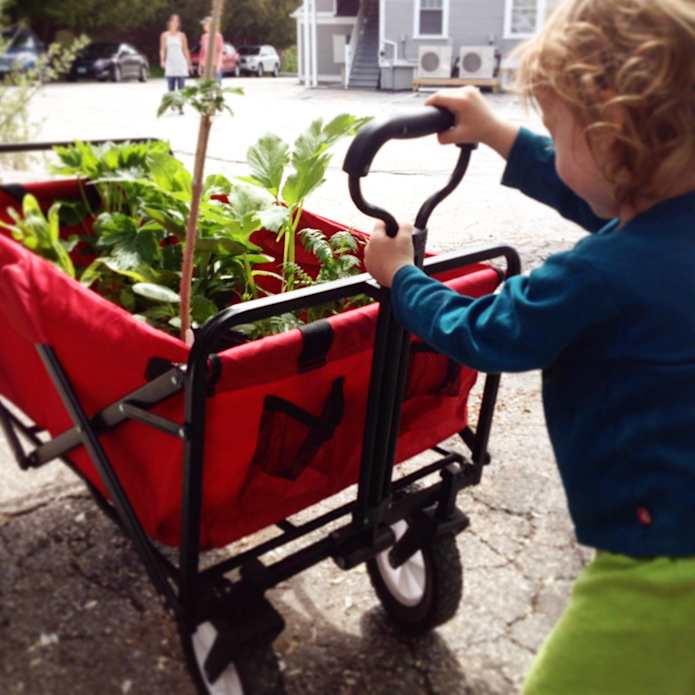 All proceeds from this project help fund our sliding-scale herbal clinics and apothecary.
Your purchase will not only encourage personal relaxation, learning, and connection to nature, it will also help build community health through support of our mission-driven work.
Our clinics offer direct service through individualized education in self-care with herbs. We offer consultations in our professional clinic in Montpelier and in our supervised student clinics in both Montpelier and Burlington, Vermont. Our clinical services and herbs are available through sliding-scale payment, time exchange and gift; no one is turned away for lack of funds.
That's where this project comes in: every little bit of support helps us provide more herbs and consultation time, while keeping the lights on and the apothecary stocked.
You can read more about our clinics and commitment to accessibility of care here.
More about VCIH:
Vermont Center for Integrative Herbalism (VCIH) is an educational grassroots non-profit, founded in 2007 by a group of experienced herbalists and activists, working through collaborative leadership to change what healthcare looks like.
Please visit our website for more information about community classes, intensive training programs, and our clinical services, as well as our dedicated team. For an overview of what we do at VCIH, keep reading below.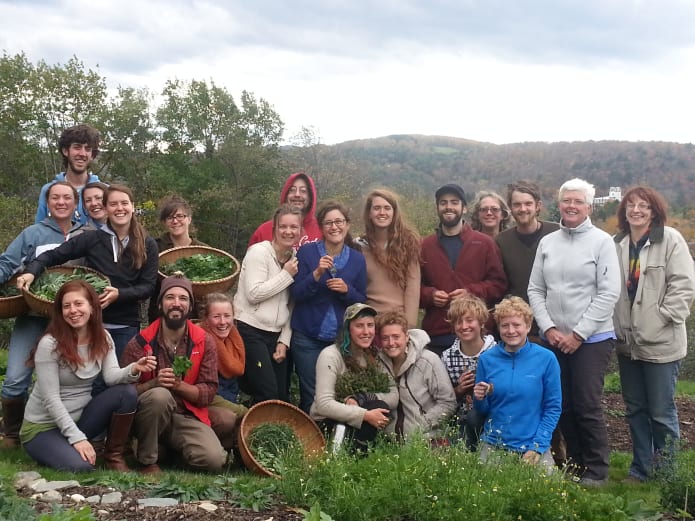 Our Mission:
We believe that herbal medicine has a vital role to play in the emerging integrative healthcare system. We're excited to be a part of this work. We know that, with our community's support, we can continue to seed the growth of a system that is grounded in nature, empowers individuals, and connects communities. Any contribution you make will support the work we do to provide direct care in our community and to educate skilled herbalists who work on the front-lines in kitchens and clinics nationwide.
Here's what we're up to:
Re-skilling our community, one person at a time. We inspire individuals to take care of themselves and their families and provide them with the knowledge and skills to do it. Individuals then become valuable resources in their local communities, too.
We do this by offering:
an annual intensive gardening, medicine-making and self-care apprenticeship
an ongoing schedule of community workshops and special events
learning gardens and a teaching kitchen
sliding-scale community herbal clinics, offering individuals education in self-care with herbs, diet and lifestyle recommendations
Seeding the culture with change-makers. We train clinical herbalists who take their knowledge and experience to communities across the country. These herbalists replicate and expand the educational work we do in exponentially widening circles.
We achieve this through:
a three-year clinical herbalist training program
sliding-scale community herbal clinics in multiple locations, the primary training venue for clinical interns
a lab and fully-stocked apothecary for intern use
Please visit our website for more details or if you have questions about our work. We'd love to hear from you.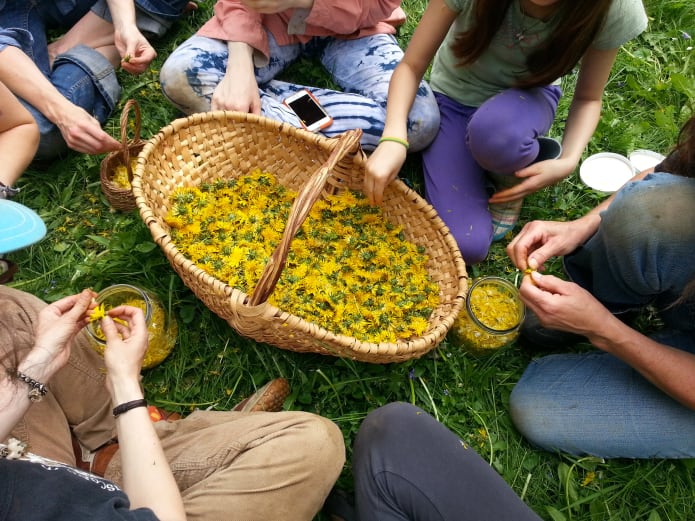 Thanks so much for reading this far! We hope you're inspired to buy a coloring book (or 10!) and share the beauty and wonder of medicinal plants with your family and friends.
*If you're outside of the US and Canada, please send us a message about shipping--we'd be delighted to send these world-wide!