ABOUT THE DOCUMENTARY: (previously titled Negativland: The Cut-ups)

There is a common thread among certain bands, such as Devo, The Residents and Negativland. Each has approached the notion of a band in unique ways, in a sense redefining what we think of as a band. Each have had critical success in their own way. Each of these groups deconstructs song structure, creating beautiful mind-bending alternatives. These bands use technology as an experimental canvas, where new and older electronics act as brushes. They are as versed in musicality, as well as, multimedia, theater and film. The most important thread among these groups is longevity, each has existed for over 36 years and have never steered from the path of celebrating the unusual for the success associated with commercialism.
I was first introduced to the band when Mark Hosler and Ian Allen approached me after I had just come off stage performing with my band Problemist. This was circa 1982 and a very different world. A year later I started Unsound magazine and Negativland were featured in a number of articles. Fast forward, many years later, and I am making documentaries: The Negativland project is born. With a project of this scope it was important to find a collaborator, and soon Leah Gold and I were working together. Leah and I both relish difference, strangeness and come from an outlier culture. We also both understand the historical significance of Negativland.  
So far we have great footage , which includes recent performances, and extensive interviews with Mark Hosler, Peter Conheim, Don Joyce and David Wills. Also interviews with fans and collaborators, such as, Steve Fisk, Amy Denio, David Minnick. We have access to all of Negativland's archive, so the film will have photos and videos that have never been seen before. 

This campaign exists to help us finish the film. We have it about 1/2 shot, but still have some crucial interviews to do, which constitutes traveling to many locations around the country. We also need to buy more hard drive storage, which is so essential to the editing and archival process. Help us finish this much needed documentary about one of America's greatest bands.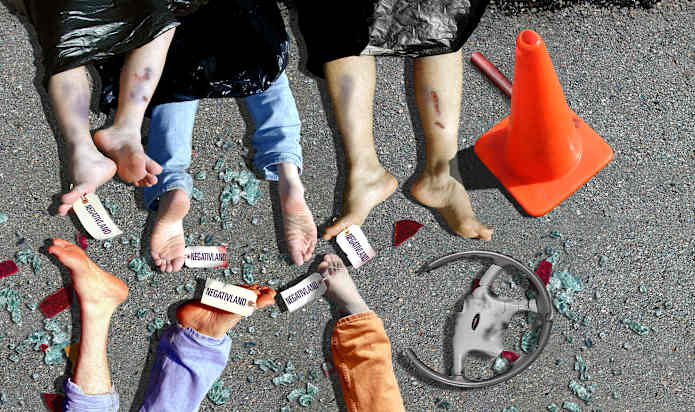 THE NEGATIVLAND STORY 

(from http://www.negativland.com/news/?page_id=250)
Since 1980, the 4 or 5 or 6 Floptops known as Negativland, a performance and recording group based in the San Francisco Bay Area, have been creating records, CDs, video, fine art, books, radio and live performance using appropriated sounds, images, objects, and text. Mixing original materials and original music with things taken from corporately owned mass culture and the world around them, Negativland re-arranges these found bits and pieces to make them say and suggest things that they never intended to. In doing this kind of cultural archaeology and "culture jamming" (a term they coined way back in 1984), Negativland have been sued twice for copyright infringement.
Over the years Negativland's "illegal" collage and appropriation-based audio and visual works have touched on many things – pranks, media hoaxes, advertising, media literacy, religion, the evolving art of collage, the bizarre banality of suburban existence, creative anti-corporate activism in a media-saturated and multi-national world, file sharing, intellectual property issues, wacky surrealism, evolving notions of art and ownership and law in a digital age, and artistic and humorous observations of mass media and mass culture.

While it is true that, after being sued, Negativland became more publicly involved in advocating significant reforms of our nation's copyright laws (more recently finding themselves being brought to Washington DC and Capitol Hill as citizen lobbyists for copyright and art issues), Negativland are artists first and activists second. All of their art and media interventions have intended to pose both serious and silly questions about the nature of sound, media, control, ownership, propaganda and perception in the United States of America. Their work is now referenced and taught in many college courses in the US, has been written about and mentioned in over 150 books (including "No Logo" by Naomi Klein, "Media Virus" by Douglas Rushkoff, and various biographies of the band U2), cited in legal journals, and they often lecture about their work here and in Europe.

THERE'S SO MUCH MORE - visit the Negativland website to learn more about the band: negativland.com
ABOUT THE FILMMAKERS: The Negativland movie is a collaboration between William Davenport and Leah Gold. 
Leah is a Filmmaker, Musician, Radio host, Conceptual, Textural and Performance artist. Her background includes Visual Art, Radio, Music and Video projects throughout the USA and Europe. She studied Dada in Berlin as part of her BA from Evergreen State College and created a Conceptual Art Cookie Company in Portland, Or. as part of her social work helping homeless, at-risk youth. She has made a number of short films that have been screened internationally and has won numerous awards.  Her website: www.vaginajones.com
William Davenport is an independent filmmaker, teacher, writer, interdisciplinary artist and musician. He was the publisher and editor of Unsound magazine from 1983 to 1987. He was also the founder of the innovative band Problemist, who released many recordings internationally, most notably their LP critically acclaimed "Nine Times Sanity", through the French label Sordide Sentimental. More recently he has worked on many award winning film productions and has shown his work at film festivals around the world. William was the Executive Director of the Autism Social Connection, where he created a unique filmmaking program for teaching social skills to children, teens and adults on the autism spectrum. In 2011 he released the feature documentary "Too Sane for This World", and 2013 he released "Citizen Autistic", both films explore the world of autism. Recently he completed three feature documentaries about musical culture, "The New Punks" and "The Great American Cassette Masters" and "Ziners".  He holds advanced degrees in technology, education and art.
His website: http://www.talkstoryfilms.net/
BIG TIME MEDIA QUOTES ABOUT NEGATIVLAND'S WORK THAT MAKE THEM SOUND LEGIT- 
Declared heroic by their peers for refashioning culture into what the group considers to be more honest statements, Negativland suggests that refusing to be original, in the traditional sense, is the only way to make art that has any depth within commodity capitalism…– NEW YORK TIMES
Negativland isn't just some group of merry pranksters; its art is about tearing apart and reassembling found images, objects, and sounds to create new ones, in an attempt to make social, political and artistic statements. Hilarious and chilling.– THE ONION
It's an often ignored request, but you may pay more attention to the phrase "Please remember to take all your belongings" after seeing Negativland's eerily mesmerizing new project…– NEWSWEEK
Negativland is arguably the preeminent audio collage collective of our time.– HI FRUCTOSE
Negativland argues persuasively that creators should be able to appropriate bits and pieces of anything and incorporate then into their work without fear of legal action.– UTNE READER
Negativland, longtime advocates of fair use allowances for pop media collage, are perhaps America's most skilled plunderers from the detritus of 20th century commercial culture…the band's latest project is razor sharp, microscopically focused, terribly fun and a bit psychotic.– WIRED MAGAZINE
For more than 20 years, Negativland has earned renown for manipulation of both tape and media.– LOS ANGELES TIMES
Negativland…known for their media pranks….– TIME MAGAZINE
Fearless artistes or foolhardy risk-takers….by constantly haranguing the listener with authentic advertising spiel and highlighting its transparency, they kill the messenger, kill the message and produce highly entertaining art simultaneously.– ART IN AMERICA