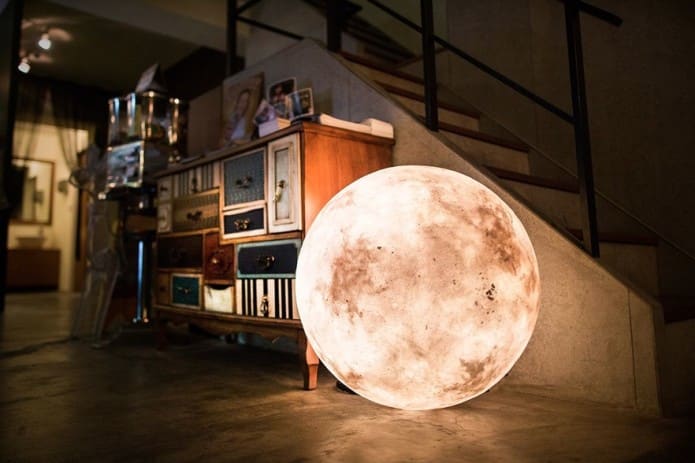 When was the last time you looked up at the moon?
Divine and serene, the moon is a resting place for our heart. 
After a long day, we sometimes want to take a glimpse at the moon for a sense of relief, only to find skyscrapers in the city...
But now, you can bring the moon along with you.
Inspired by the moon, the artwork ─ Luna, hopes to bring more delight and content into your life. Indulge yourself into the moonlight. Let Luna illuminate your space, and your mind.
The ultimate exploration and pursuit of interior design objects is always enjoyable. Acorn Studio wants to redefine the relationships between humans and spaces, and continue to bring breakthroughs in the industry.
We have always been hoping to create works that bring people pleasure, satisfaction and amazement. We choose to express and live out our values by art. Luna seems to be a simple artwork, but it fully contains the spirit of Acorn Studio. We hope that you get more happiness and wonders when Luna joins your life. :)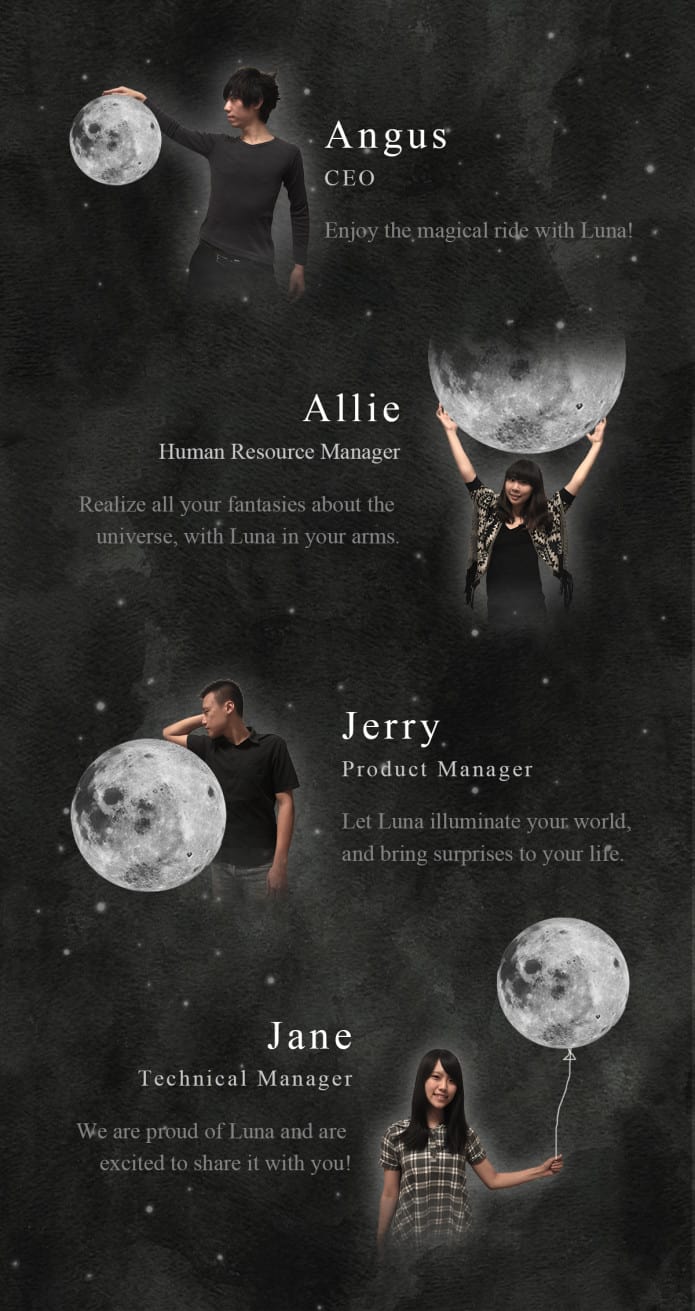 More amazing moments with Luna...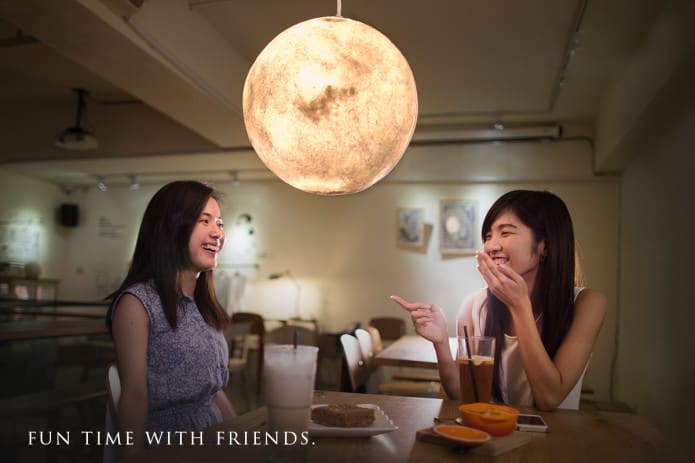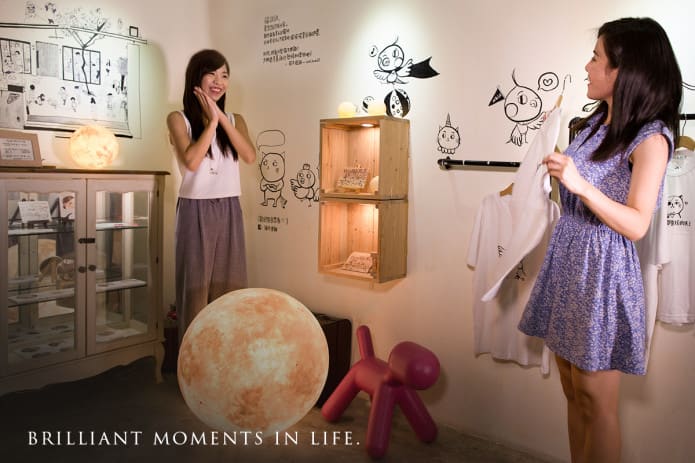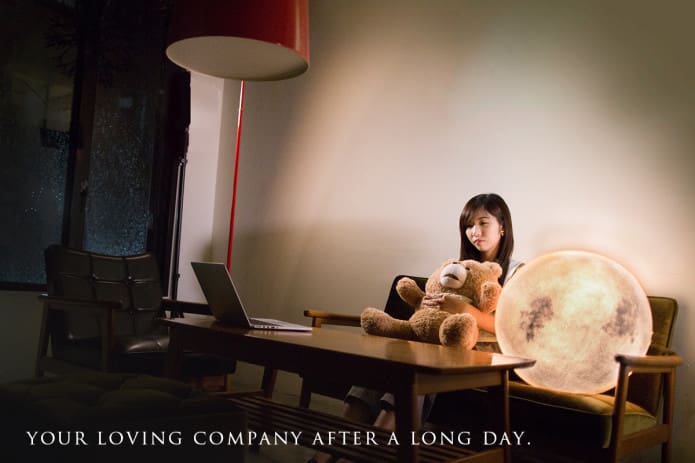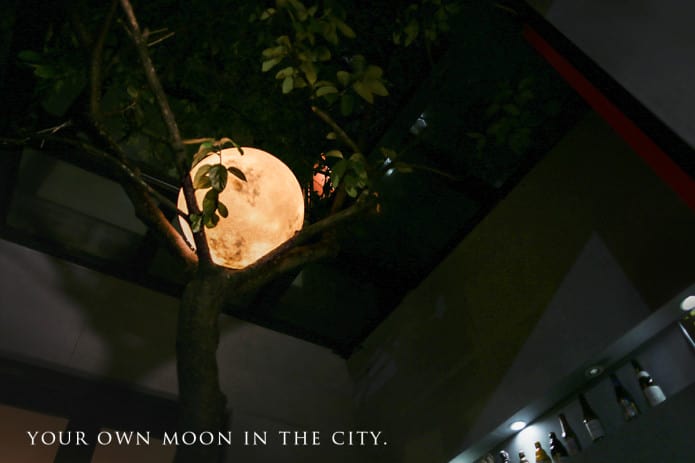 1. Q: What are the features of Luna ? 
     A: It's water resistant, heat resistant and crashworthy.
2. Q: When will I receive my order?
     A: The first and second product shipment were expected in March and May 2016, as indicated in the campaign. But in one of our updates we've announced that, after putting much effort, we'll start shipping product batches successively since Dec 2015!
     (We handcraft each and every Luna, and make sure all of them are perfect. Since so many people have ordered, it takes some time for product production. )
3. Q: Is Luna topographically accurate?
     A: Luna is an artwork inspired by the moon, and it doesn't aim at being topographically accurate. It has its own artistic interpretation.
4. Q: What should I do if I've bought one Luna and want to buy one more?
     A: Please simply contribute to one more perk. :)
5. Q: Do I get a discount on the price/shipping fee if I buy more than one Luna?
     A: On the prices: The current prices of Luna are already discounted ones!
          On the shipping fee: Two Luna doubles the volumetric weight, so the shipping companies would charge twice. (I.e. no discount will be provided by them)
6. Q: What color is the light of Luna?
     A: It's close to a warm, light yellow kind of light.
7. Q: What type of plug and voltage is it for Luna?
     A: It's two-prong plug and 110V. Since the plug and voltage condition vary in         different countries, please prepare your own plug adapter and converter if needed.
8. Q: How long is the cord of Luna?
     A: It's roughly 13.12 feet with the luminosity adjusting device.
9. Q: Why is the shipping fee expensive?
     A: Though Luna is basically crashworthy and we made careful packaging, it is still considered fragile by courier companies. So it'll be charged a higher shipping fee.
10. Q: Can we change the light bulb inside Luna?
     A: Yes. You can remove the lid and change the light bulb. But notice: we don't recommend changing light bulbs. Due to safety concerns, we made the lid pretty sturdy.So if not necessary, don't change the light bulb.
11. Q: Can I wash Luna?
     A: You can wash Luna by brushing slightly with water.
12. Q: Is there a warranty on Luna?
    A: Yes, we provide an one-year warranty. Under normal usage, if malfunction or damage occurs, you can send Luna back to us to get it repaired. 
13. Q: Which kind of battery is used inside Luna XXS (3.2 inch Luna)?
     A: Mercury batteries (LR41).
14. Q: Will Luna be damaged in the shipment process?
     A: We've used careful packaging as a way of protection, so you don't have to worry about it.