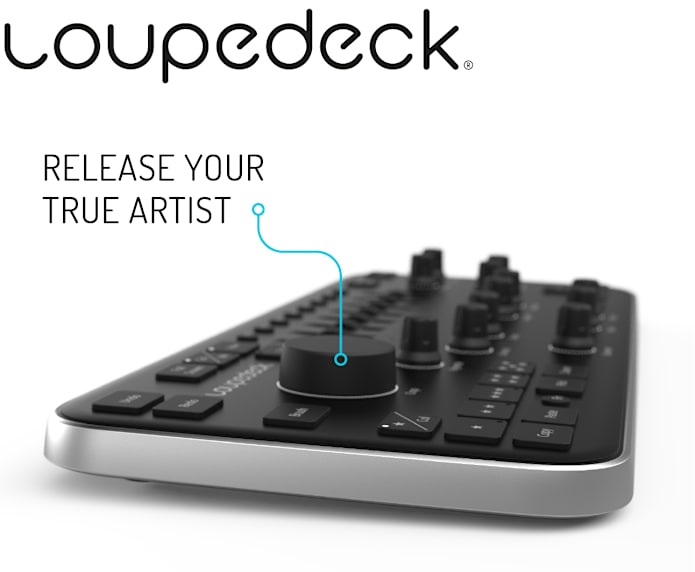 Stretch Goals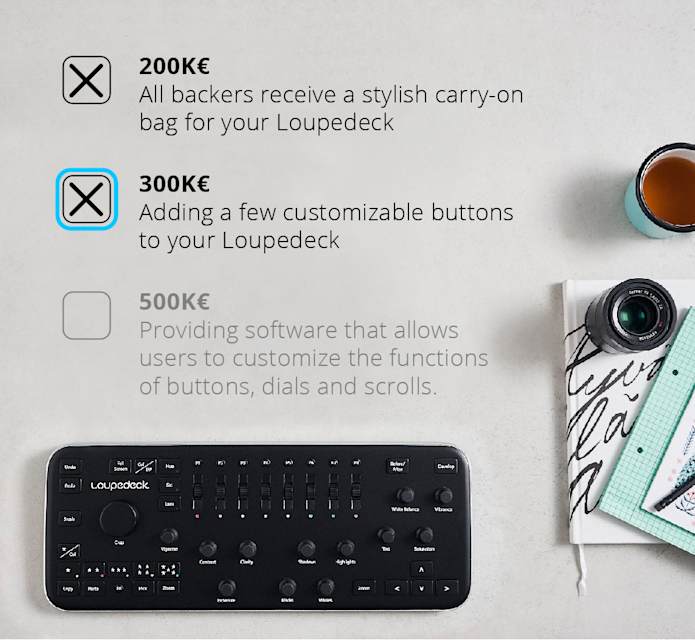 Loupedeck Demo Video
Watch our new demo video and find out how Loupedeck works in the hands of a true artist/photographer. The whole team is super satisfied on how smoothly our prototype runs.

Loupedeck™ is a console designed for people who edit their photographs and is targeted at hobbyists, serious amateurs and professional consumers. With digital photography, editing has become a vital part of producing a photograph. Loupedeck™ allows you to easily investigate new editing techniques and release your full potential. The console makes your editing process easier, more efficient and more rewarding.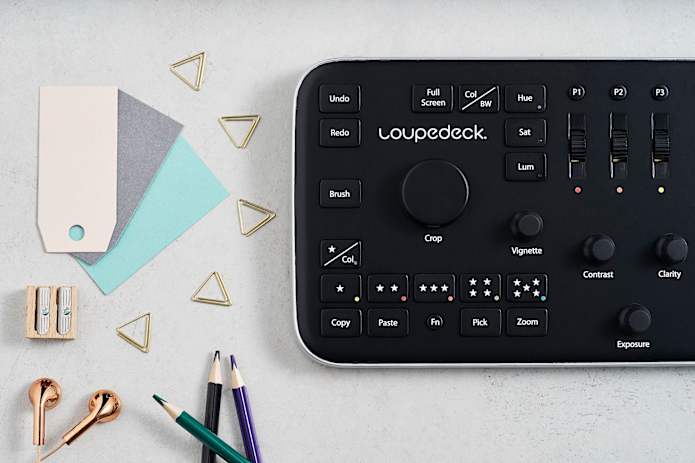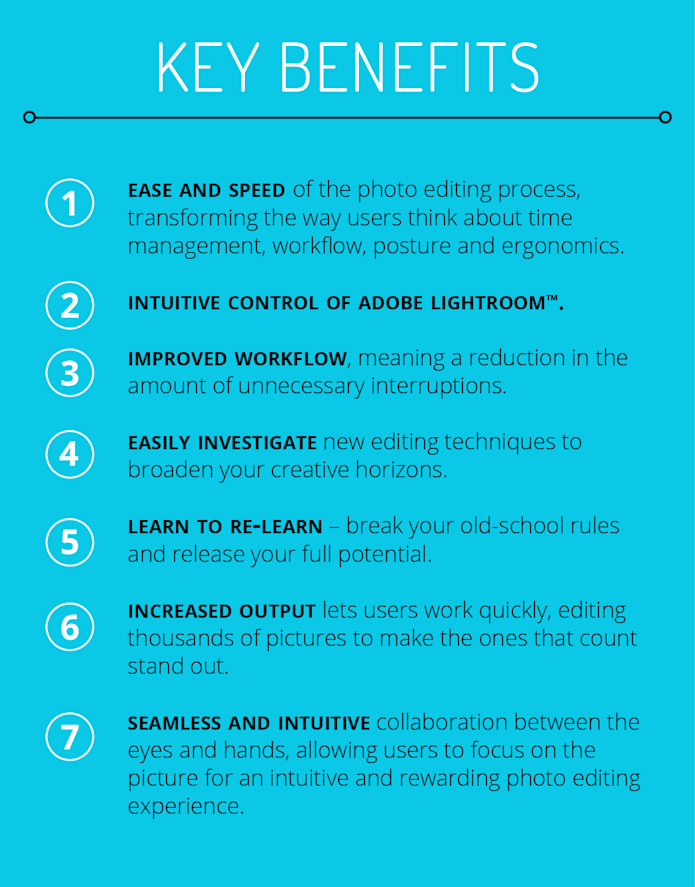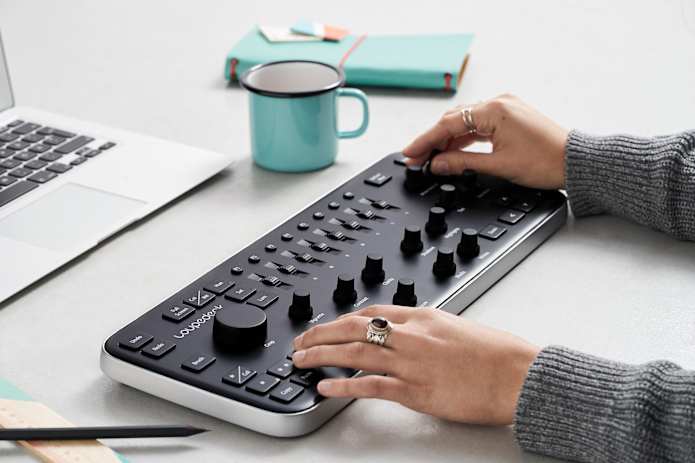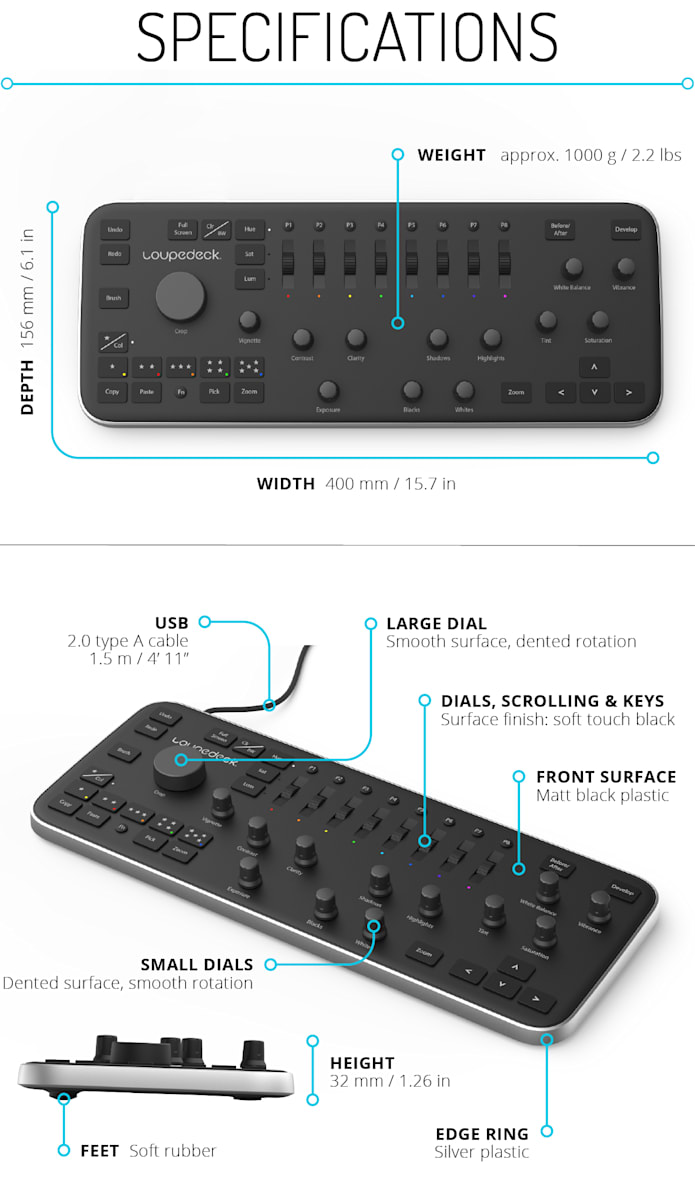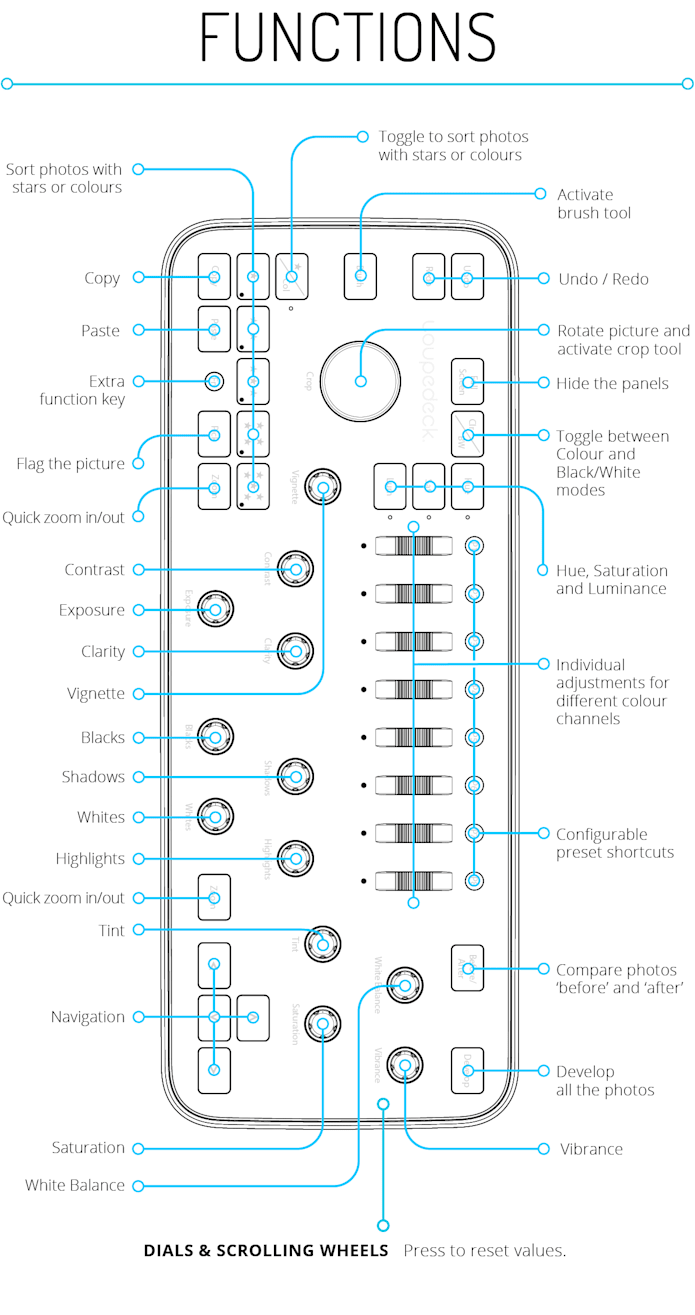 The five-strong team below represent the core group behind the Loupedeck project to date. Comprising senior ex-Nokia / Microsoft smartphone specialists, a professional photographer and a CEO with a strong background in international sales, the team are all highly educated and can boast considerable expertise in their chosen professions.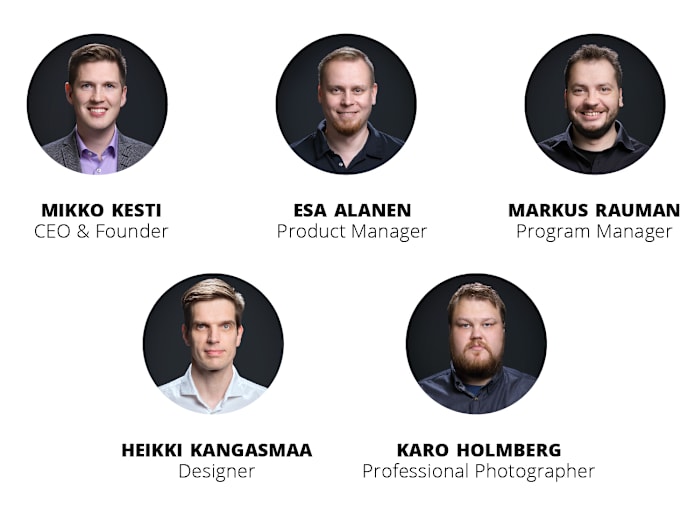 Mikko Kesti, CEO of Loupedeck, is 35-years old and has been shooting photos since 1997 as a hobby. Mikko has an M.Sc, in Mechanical Engineering from the Tampere University of Technology. The past decade, Mikko's career has seen him involved with international sales for the packaging industry in the Nordics, Baltics, Germany and Russia. Mikko says that running a company is nothing compared to running a family with two young daughters.  
Esa Alanen is a 40-year old technology enthusiast and product guy with an M.Sc. in Industrial Management from the Tampere University of Technology. Esa was the Lead Product Manager for Lumia flagship products in Tampere / San Diego, U.S, including the Nokia Lumia 920 smartphone. He loves to develop new concepts and turn them into reality with Industrial design and R&D guys. "As a classic hobbyist", says Esa, "I've just occasionally the time to look at my photos and there's always a learning curve to reach back to the skill level I was at the last time I used Lightroom. And, I wish I'd have more time for my own little video projects as well."
Markus Rauman is a 42-year old product development and productisation expert with a passion for technology. Markus has a M.Sc. in Electrical Engineering from the Tampere University of Technology. He gets things done and enjoyed creating mobile devices during his 16-year career in Nokia and Microsoft. During that time Markus lead four mobile phone products to markets (Microsoft Lumia 650, Lumia 530, Lumia 620 and Nokia E7 Communicator) and now this expertise is part of creating something exciting and beautiful in Loupedeck. Markus is a hobbyist in photography, always wanting to learn more. He is ready to try new methods and technologies to see how they improve results.
Heikki Kangasmaa is a 45-year old industrial designer. He has an M.Sc. in Industrial Design from the Lahti University of Applied Science & Design Institute. He is a hands-on designer and visionary who has been working as a designer for over 16 years at Nokia and Microsoft design before joining the Loupedeck team. Heikki is experienced in product design from conception to final CE products.  He wants to create meaningful and functional products – that are naturally beautiful as well. The Microsoft Lumia 650 and the Nokia Lumia 925 are two recent examples of his work.
Karo Holmberg is a 35-year old professional photographer specialised in demanding low light event photography. He is interested in testing and poking around with new tech stuff, keeping the human factor in mind: Optimising workflows, processes and user ergonomics is a major part of his work. In addition to his work as a photographer, Karo has been training amateur photographers on courses and via the online photographing community.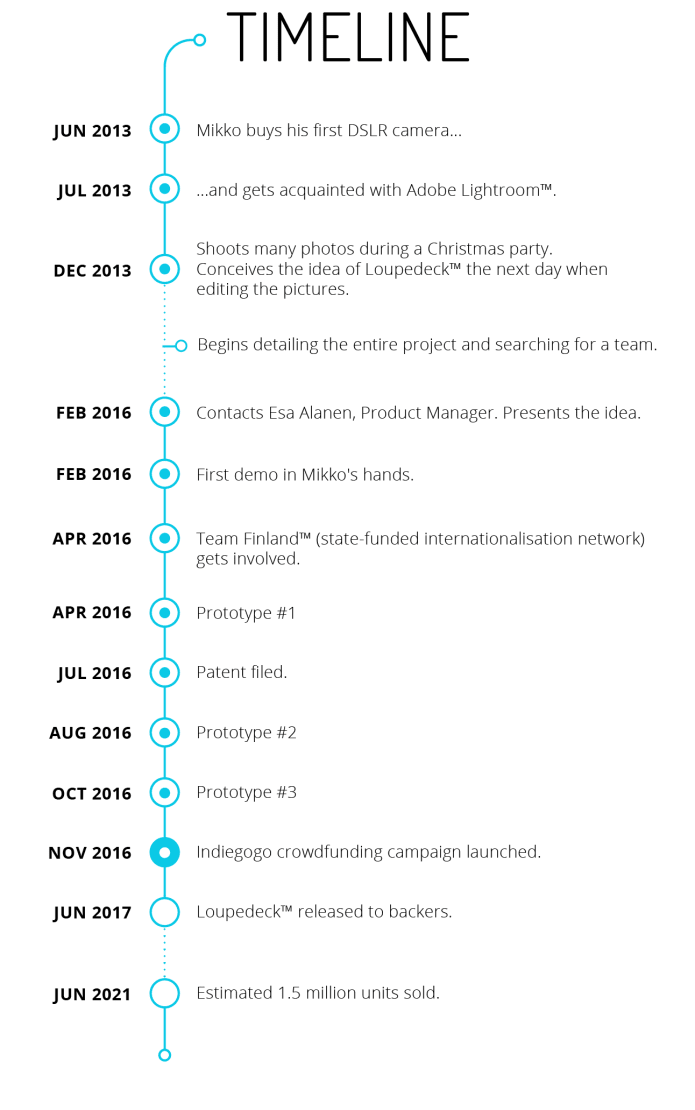 "When we have reached our crowdfunding goal of €75,000" explains CEO Mikko Kesti, "We will then be able to initiate the development work for mass production readiness and market entry. For this, we have a clear plan in place. In addition to collecting feedback from professional photographers, the product has been designed while keeping the mass production requirements firmly in mind.
Indiegogo crowdfunding will be used to start the next immediate actions to get final productisation work started. To get the product to mass production status requires additional funding. For additional funding, we have started negotiations on bridge-funding implementation with TEKES (the Finnish Funding Agency for Innovation) and Finnvera (a Finnish state-owned financing company).
Our team has 15+ years of experience in designing and leading development projects of Nokia and Microsoft smartphones from product concept to mass production, market entry and after sales. To mention a few examples of our teams recent projects: Lumia 920, Lumia 650, Lumia 530, Lumia 620 and Nokia E7 Communicator. Altogether, we've shipped more than 50 million smartphones. In addition to technology competences, we have also accumulated a comprehensive global network of personal contacts regarding potential suppliers and technology providers.
Right now, we have a working Loupedeck prototype which can be used to edit the pictures with your computer and use it to collect user feedback. After a hopefully very successful Indiegogo campaign, we will start the final design work as soon as possible. In practice, this means e.g. detailed fine-tuning of the user experience and optimisation for mass production. The detailed analysis and knowledge gained will be incorporated into the final product. To make the Loupedeck console as good as possible, we'll reserve the right to make small changes to the final product compared to the prototype you see in the photos. We already have some ideas and excellent feedback; keep it coming!"
Here's are a few key enhancements which will kick-off right after the Indiegogo crowdfunding campaign finishes:
Touch and feel of the dials and buttons
Fine-tune the industrial design
Detailed mechanics design
Design optimisation for manufacturing, assembly and testing
Finish negotiations with European suppliers
Device firmware development
***
Approximate schedule for the productisation and ramp-up:
November 2016 - Indiegogo™ Campaign
December 2016 - Continue negotiations with manufacturers
December 2016 - Initiate detailed design work
Feb-Mar 2017 - First round of prototypes for internal testing
March 2017 - Fine-tuning for mass production capability and quality
May 2017 - Mass production verification units
June 2017 - Shipping starts

Mikko Kesti has always been interested in photography. He remembers taking his Dad's camera when he was between the age of 8–10 years old and shooting whole rolls of film full of useless photos. Just because it was fun. When Mikko was 16, he got his first camera. At the age of 32, Mikko finally decided to get his first DSLR camera.
While the photography remained an enjoyable passion, editing however, was a new step for him. After researching and trying out a few photo editing software tools, many friends then recommended Adobe's Lightroom™. Mikko decided to give it a try and very soon found out that the software had a lot of potential. After using the software tool for a few months and editing more than 1000 pictures, Mikko realised that editing was time consuming, impractical, ergonomically poor and the full potential of the software was easily forgotten.
As a result of this workflow analysis, Mikko began to search for a tool that could solve these problems. His focus was on finding either a keyboard or a mechanical device where all controls could be seen at once and the use of Lightroom would consequently be easy and fun.
However, there was no device to be found, so Mikko decided to build it. Influenced by his other hobby, home DJ'ing, Mikko decided to design a product that resembled a DJ mixing desk, but did not know how and where to start in terms of bringing his concept to reality, 
In early February of 2016, Mikko Kesti contacted Esa Alanen through a mutual friend, because Mikko had heard that Esa was involved in a team that would be able to develop hardware and software based innovations into a physical product. The guys in this Tampere-based team were Esa Alanen and Markus Rauman, both of whom had recently left Nokia.
Over the course of the spring, Mikko and Esa's team started to develop the idea for Loupedeck further, reaching their first breakthrough at the end of February when they discovered that the product worked perfectly with Adobe Lightroom and would thus be feasible to produce. They soon started cooperating with TEAM Finland™, the state-funded internationalisation network, to receive support on patent issues, and with their help, a patent application was filed in July 2016.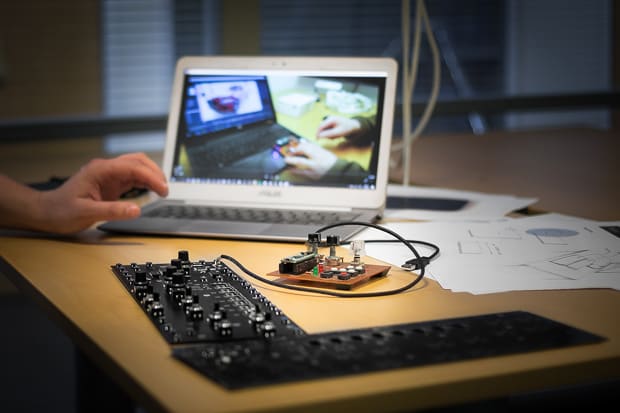 In May 2016, designer Heikki Kangasmaa was brought into the team in order to design a piece of hardware that would be both beautiful and functional. 
As the project kicked off, Mikko also brought in his old friend Karo Holmberg, a professional photographer, who helped formulate a plan for including end-users in the development process as early on as possible.
In the initial phase, the team conducted in-depth one-on-one interviews with a number of professional photographers to learn about their workflow and the challenges they faced with photo editing software. At this point, nothing was revealed to the test group about the product idea itself. The team found three recurring issues that came out during these interviews (which reinforced Mikko's original workflow analysis):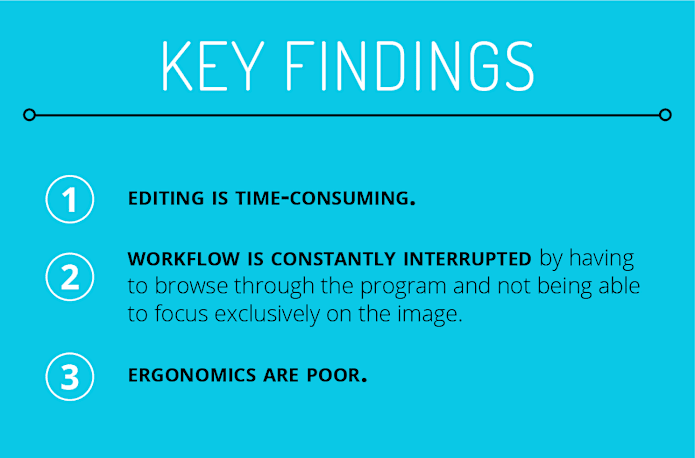 Based on the detailed feedback, Esa and his team started to work on Prototype #1, which was launched in early April 2016.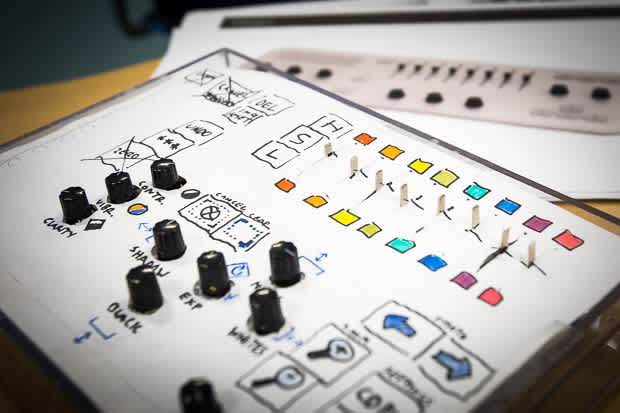 Prototype #1
In phase 2, this prototype was presented to the same test group along with the basic purpose of the device. The half-a-dozen professionals and a few amateurs were interviewed in-depth for over 4-8 hours at a time, and they were allowed to change the positions of the buttons, dials and sliders on the prototype. Afterwards, their preferences were mapped into a single layout and their views and feedback were recorded. These and other ideas were discussed during a workshop day in Helsinki at the end of May, which resulted in a draft of the design layout, along with finalising the essential functions, controls and dynamics.
Over the summer, the team worked on the design and different features with the help of Karo and other professional photographers, whose input was vital for the development process of the next prototype. Simultaneously, LoupeDeck Ltd. also applied for funding from Tekes (Finnish Funding Agency for Innovation).
Prototype #2 was launched in late August 2016 and it was presented to three professional photographers and four amateurs. Their feedback on the control setup, the functionalities of the different buttons and dials, as well as ergonomics resulted in some changes that needed to be taken into account with the third prototype.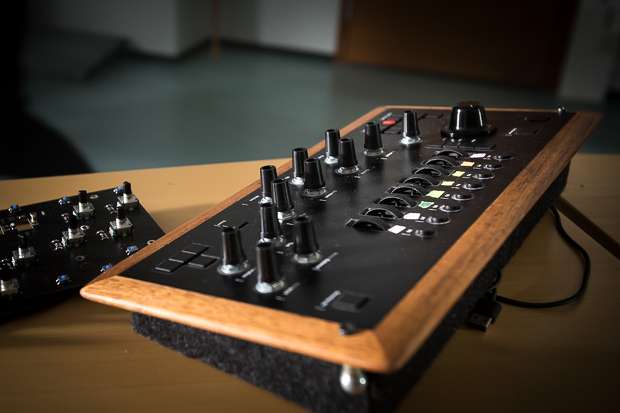 Prototype #2
Prototype #3 was already meant to be as close to the end product as possible, and it was finished on 21st October, 2016.
Prototype #3
The team's ultimate target was to listen to professional photographers in order to bring their workflow perfected over years of practice to anyone's reach. The team believe they have created a well-thought-out product that can help anyone achieve a more professional level of photo editing.

When can I buy this from the shops?
Our target is to release the product globally in September 2017.
What's the retail price when the product launches? 
Suggested retail price is €369.
Why have you chosen Lightroom™? 
It has the widest user base and we also have personal background of using it.
In the future, will Loupedeck™ be compatible with other photo editing software tools?  
Yes. But first we concentrate on Lightroom™. 
Are you planning to launch a cordless Bluetooth version? 
We believe that a USB version will work very well for most of the users but we always appreciate your feedback and suggestions.