LIT tracks common activities like walking, running, swimming, etc., and it was designed to include movements unique to action sports like surf, skate, snow, moto, MTB, and BMX. LIT makes it easy for you to share videos, stats and updates from your latest sessions across social media.

Press highlights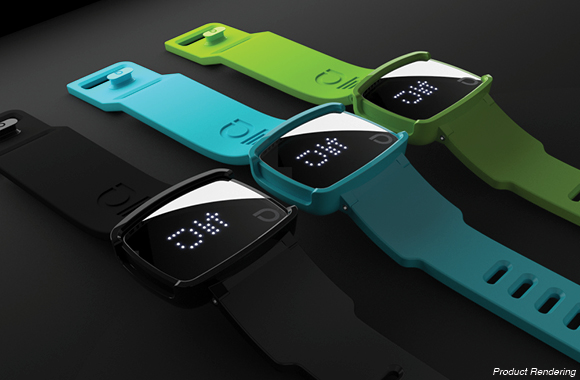 Track activity and action
LIT's advanced sensors analyze your movements 24×7, scoring both everyday activity and action by interpreting steps, distance, duration, intensity, strokes, paddles, jumps, rotations, turns, g-force, airtime, and more.
Earn points for activity and bonuses for action. Points become the currency used to challenge yourself, your friends, and the world.

Built For Action
Measure & Score your Action Sports Performance
Challenge friends anywhere
Share sessions, videos, stats and pictures

LIT Keeps You Connected
Using Bluetooth 4.0, the LIT module delivers data from your device to your smartphone App. LIT is designed to be worn 24/7 and has an extended battery life that lasts up to four days.
LIT allows you to compete with friends, share on social networks, track your performance and earn points. So whether you're a runner, surfer, boarder, skater, do BMX, ride Moto or just live actively …LIT is for you. LIT is inspired by and built for the action sports lifestyle.

Wear it wherever, whenever!
LIT is 24x7 wearable and built to go where you go. Snow, surf, dirt, pavement? No problem. LIT is built for extremes. It's rugged, shock resistant, and water resistant to 10 ATM / 100 m.
LIT's also modular. So it can be worn on your wrist, on your belt, on a lanyard, in your pocket, or just about anywhere else you can hide a small matchbox. The difference is you won't want to hide LIT.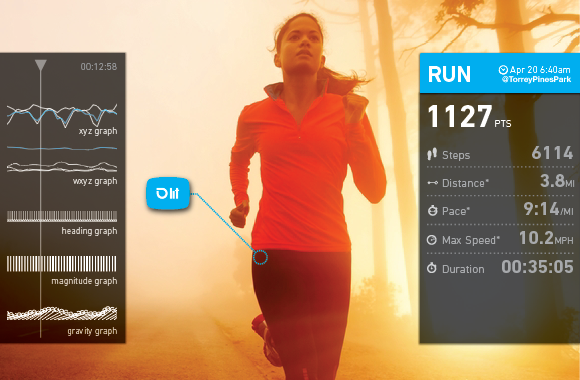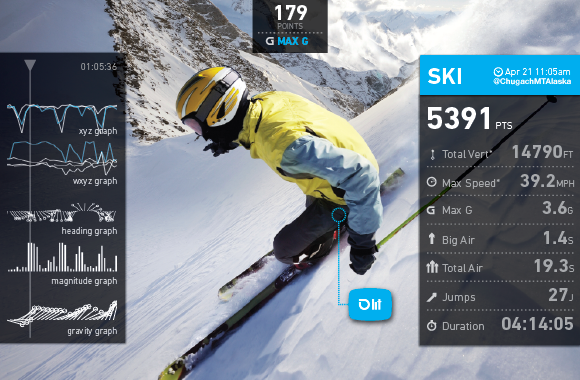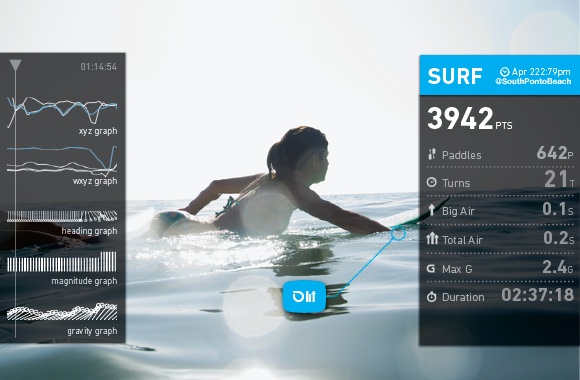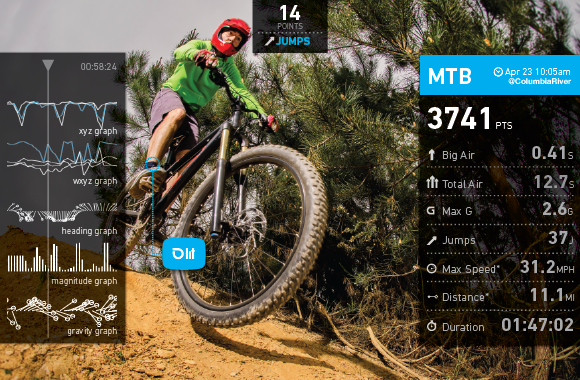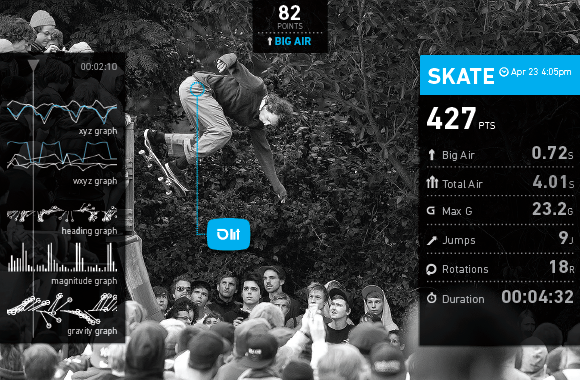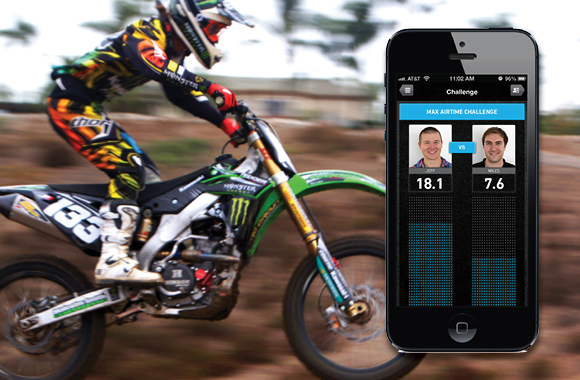 Create and crush your own X Games
Launch a competition - versus yourself, versus your friends, versus the world. LIT scores everything you do. So stop talking and start doing.
It's like Strava, just for more things that you love to do.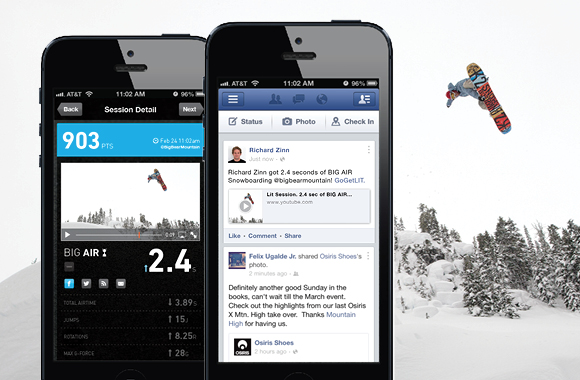 Share your most awesome highlights
Touch share in the app to send your verified awesomeness to friends via Twitter, Facebook, and eventually more.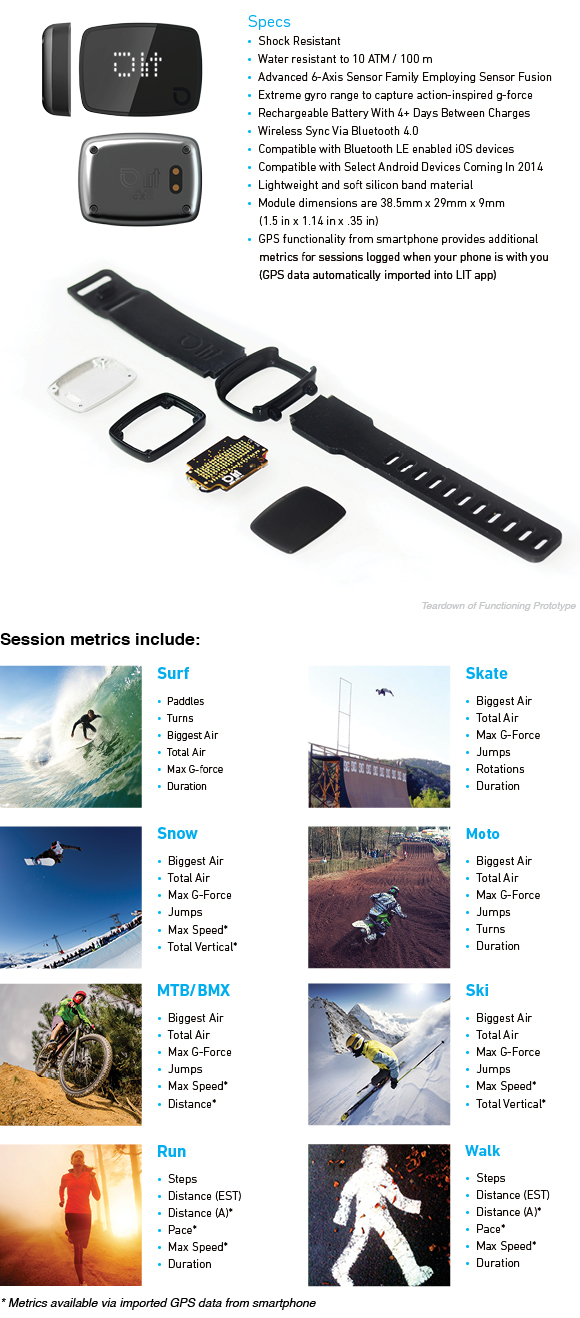 Team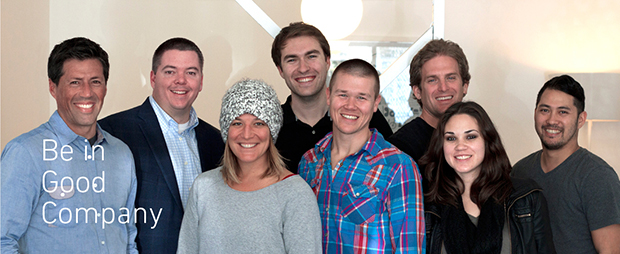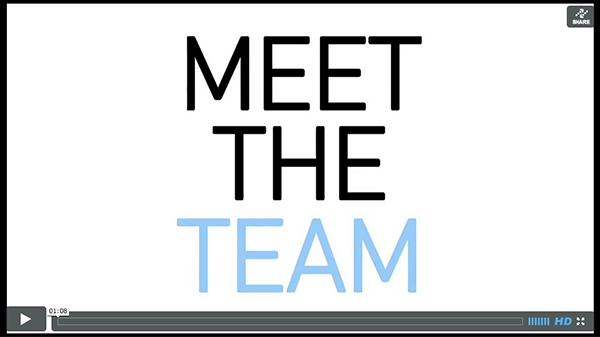 Perks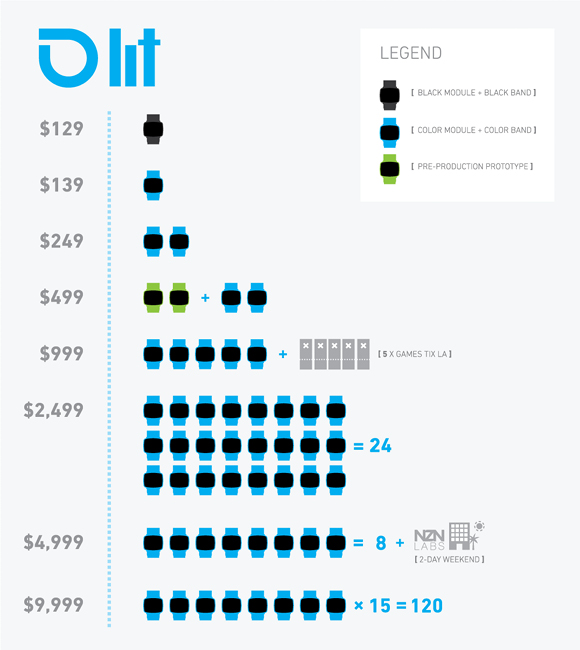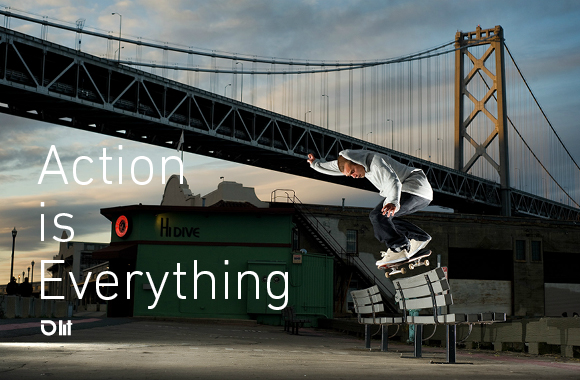 Why Indiegogo?
We have poured our hearts, souls, and savings into this business. And after 15 months of development, we are finally ready to share our creation with the world.
Before we take the next step, we want to know that you are just as excited about this product as we are. Entrepreneurship can be a very lonely endeavor, and creating a crowd of believers via Indiegogo is vital to our success moving forward. You are not just supporting a cool project - you're helping to create a company that lasts.

FAQ
Q: Where can I get a LIT activity tracker?
A: LIT is currently only available through Indiegogo. Support the campaign and reserve your own LIT today. Be the first of your friends to experience LIT.
Q: When does LIT begin shipping?
A: LIT begins shipping in August 2013, hurry up and reserve LIT today so you can get yours first.
Q: What activities does LIT track?
A: LIT has been specifically designed to recognize the movements in action sports and applies tailored algorithms to score those movements. LIT also tracks day-to-day activities like walking and running (i.e. steps). See the specification section above for a partial list of metrics provided for select activity types.
Q: Do I have to be a pro athlete to use LIT?
A: No. LIT allows you to set up casual competitions with your friends through the mobile App. You can also share your activities online, so that while other people may be saying they're riding, shredding or boarding, you have the stats to prove it.
Q: What smartphone does the LIT app work with?
A: Right now, the LIT App works with any iOS device that uses Bluetooth 4.0. That includes iPhone 4S, iPhone 5, the latest iPads and iPod Touches (version 6.0 or higher). The LIT app will be available for Android in January 2014.
Q: When will Android be available?
A: Android is a major priority for us. We'll for sure have it by January 2014, possibly sooner.
Q: Does LIT track heart rate?
A: No. The LIT module does not include sensors for heart rate. However, we do anticipate adding the feature to import heart rate data from other heart rate monitors that use Bluetooth 4.0 in 2014.
Q: Does LIT function as a regular watch/pedometer/etc? Is the idea to make this something people rock full time or just when they're shredding?
A: Yes, LIT displays time. LIT is an activity tracker designed to be worn 24x7, no matter the occasion and in its simplest form, LIT functions as a normal watch and pedometer. In the design process we took all of the popular features of activity trackers and just added to them. We really hope that people will love LIT the way we do and rock it all day. Our team certainly does.
Q: Does LIT track sleep?
A: Not at this time. LIT interprets inactivity (including sleep) as inactivity. We do not analyze periods of inactivity to detect specific sleep patterns or sleep metrics.
Q: Does LIT count calories?
A: No. We count fun. In all seriousness, calories are too difficult to calculate accurately, so out of principle, we do not include it. In our opinion, most of the other products that do display calories are making a guess, and that is not good enough for us. Daily scores and duration of activity are more reflective of day to day exertion.
Q: Will there be a desktop or web app available?
A: For now, we are focused on the mobile (and tablet) experience. LIT syncs wirelessly with your phone, and the richest experience occurs through the phone/tablet.
Q: Can I wear LIT while swimming or surfing?
A: For sure! LIT goes where you go. It is modular, rugged, and water resistant to 100 meters (that's more than 300 feet).
Q: Are you supposed to wear LIT all day?
A: Yes. LIT tracks your activities 24x7 and can be worn in several ways. We have accessories that can put LIT on your wrist, hip, pocket or hanging on a lanyard. Keeping it on all day will help you track your active lifestyle with no interruptions or excuses.
Q: How long does the LIT tracker's battery last?
A: The LIT battery lasts up to four days on a single charge. We're working on extending battery life, so that you rarely have to stop to charge up.
Q: How do you sync LIT with your phone?
A: LIT syncs with your smart device wirelessly, through Bluetooth LE. Swipe to sync and just watch your scores roll in.
Q: Does LIT improve my abilities at all?
A: It's really cool, but it's not magic. LIT can help your training, but won't improve your abilities directly. With LIT you'll be able to monitor exactly how high, long and hard you're hitting your active lifestyle on a daily basis. LIT also gets you to a new level of competition - including one-on-one challenges, live leaderboards, king of the mountain, impromptu competitions and more.
Q: What data is available straight from the device?
A: The LIT device displays time, cumulative score, steps, and battery life. The free downloadable app will offer a majority of the information. It's designed this way to optimize the battery life of the module. LIT can be worn for more than four days without a recharge. The app will provide details on your day-to-day activities as well as specific details about the action sports you participate in. See specifications above for more details.
Q: Does LIT track speed and altitude?
A: The LIT app imports GPS information from your smartphone. As such, LIT will capture speed, distance, elevation, vertical, etc. for activities where you have your phone with you while participating. The LIT module itself does not have a GPS sensor.
Q: What is the difference between LIT and other activity monitors?
A: LIT contains many of the awesome features of existing activity trackers. Our design intent was to take the best features and add to them by accounting for the dynamics of action sports. So, in addition to counting steps, we count jumps, rotations, airtime and lots more.
Q: What does it mean to track airtime?
A: There are potentially lots of false positives when it comes to airtime, especially when you wear the device on your wrist. But, for those of you who have gotten some air (hopefully everyone reading this), you definitely know the feeling and so do we. It's addicting and super fun, and we capture that in all it's glory.
Q: What does it mean to track turns?
A: Whether moving around the office, the house, driving around in the car, etc, you make lots of turns throughout the day. We don't track those turns, we're talking about the big ones, the ones you feel in your thighs.
Q: Can LIT track flips?
A: Oh yea... We have been working pretty hard on getting that in there, and our accuracy is almost there. Anyone want to test for us? And we're not talking about on a trampoline.
Q: How does your technology work?
A: It's a secret! But, we'll say that a big part of it is recording crazy data from multiple complementary sensors and turning it in to rotation matrices and 3D vectors, much like computer game developers use to render 3D graphics. It's cool technology and we're lucky it works so well with action sports.
Q: What does it mean to track paddles?
A: It's a lot like being able to track a swim stroke. Almost identical in fact, and yeah, we track swim strokes too, but we're all about action sports. So train in the pool to live in the ocean...
Q: Will you add more metrics?
A: Yes, for sure. It takes a lot of testing, and we want to make sure we achieve an acceptable quality level and accuracy, but the good news is that we love testing.

LIT in the news
Gizmodo - 5 Wearable Concepts Worth Taking a Chance On
NBC Bay Area- Gadget Friday LIT Sport Sensor
Transworld SNOWboarding - NEW LIT DEVICE AND APP TRACKS AIRTIME AND STATS
Gear Hungry - LIT Activity Tracker
New-Startups - 'LIT' is a social fitness tracker for the adventurous
The Crosby Press - LIT Tracker is like a Fuelband for Travis Pastrana
Hongkiat - LIT: The Activity-Monitoring Watch For Sports Enthusiasts
GearMoose - LIT Activity Tracker
Transworld - Action Sports Tracker LIT onto the Scene with Indiegogo Campaign
Geeky Gadgets - LIT Sports Activity Tracker Launches On Indiegogo
Surf & Snow Mag - LIT: THE ACTIVITY TRACKER FOR ACTION SPORTS
Aeriphone - NZN LIT – a brand new smart fitness tracker
Toolsmust - Track Your Activity Sports Via Social-Enhanced LIT Activity Tracker
Cult of Mac - LIT Tracker Measures Big Air, McTwists And General Rad-Ness
Technology Guide - LIT Brings Fitness Tracking to Action Sports
Boardistan - Lit Action Tracker Raising Funds
Technology Tell - LIT: The Activity Tracker for Action Sports
Gizmodiva - Lit from NZN Labs: The health tracker for the extreme adventurer
Tech Weird - NZN Labs launches Lit, a wants to be the ultimate accessory for extreme sports
Ubergizmo - LIT Activity Tracker
Gizmodo.fr - LIT, un partenaire pour les sports extrêmes!
CrunchWear - NZN Labs Releases a Fitness Tracker for You Indiana Joneses Out There
Mashable - 'LIT' Is a Fitness Tracker for Extreme Sports
Werd - LIT Tracker
Engadget - NZN Labs launches Lit, a social-enhanced fitness tracker for adventurous types


Questions? Comments? Ideas?
We want to hear from you. Email us at contact@nznlabs.com so Megan can route your email to the appropriate teammate.

Thank you
This campaign would not have been possible with out the tireless support and amazing talents from:
Mocap Design - an engineering firm
Vapor Studio - a creative agency
SOI Media - a visual media company
Temecula Valley Entrepreneur's Exchange - an incubator