Linky is a Foldable Electric Longboard that gives you freedom in your bag.
This patented system is sturdy, easy to use, and most of all it's fun! Get where you want to go in style, on time… then fold up Linky and tuck it away into a bag.
Choose from two styles:
BAMBOO STYLE / The classic bamboo Linky with red details and clear grip tape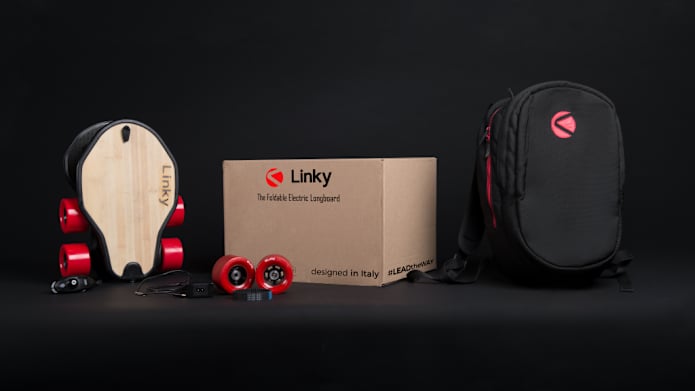 CARBON LOOK / Limited Edition All-Black version with Red Wheels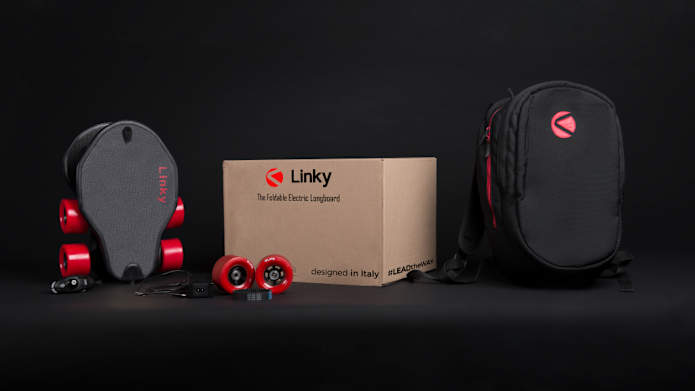 Watch our "quick features video":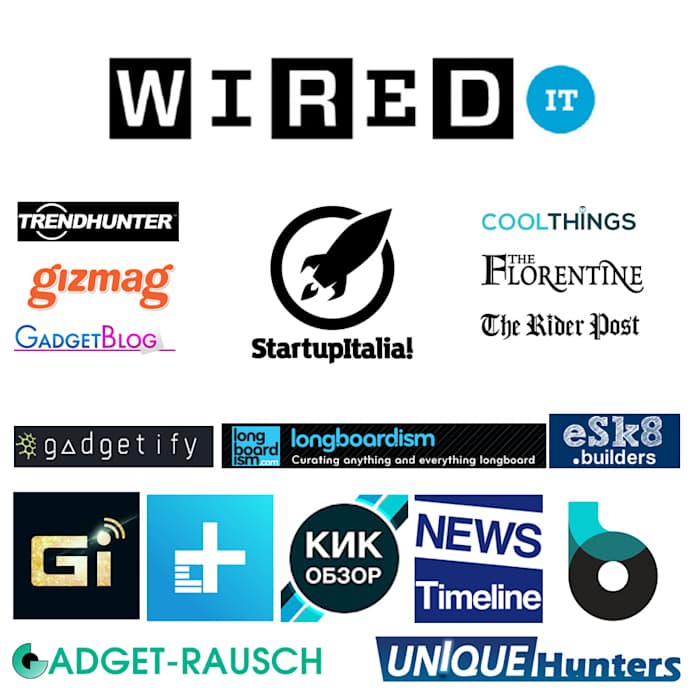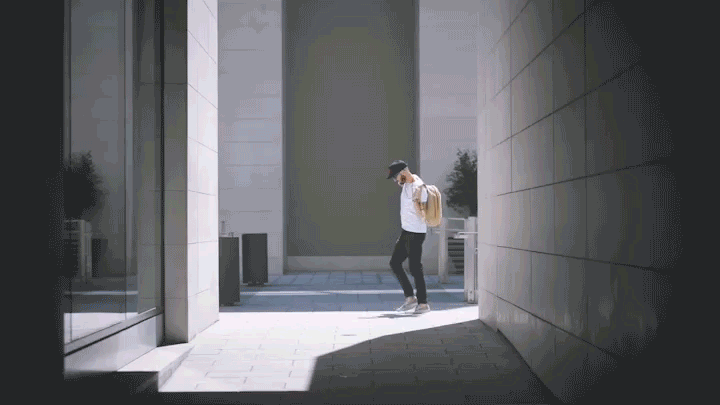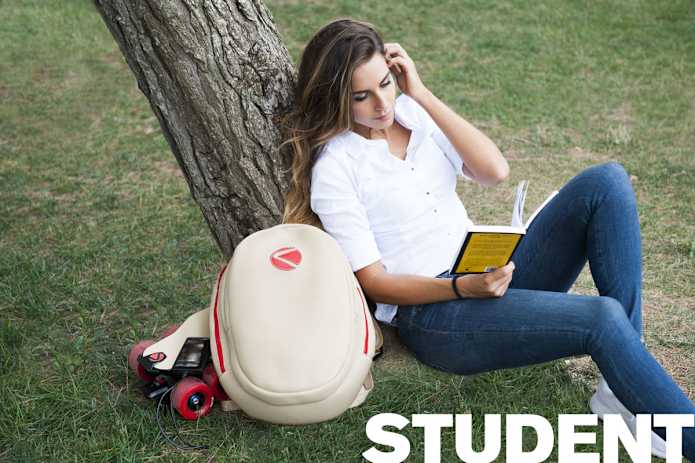 Everyone will notice you as you move around campus, but it's discreet in the classroom. Extra bonus: Fits in tiny closets and school lockers :)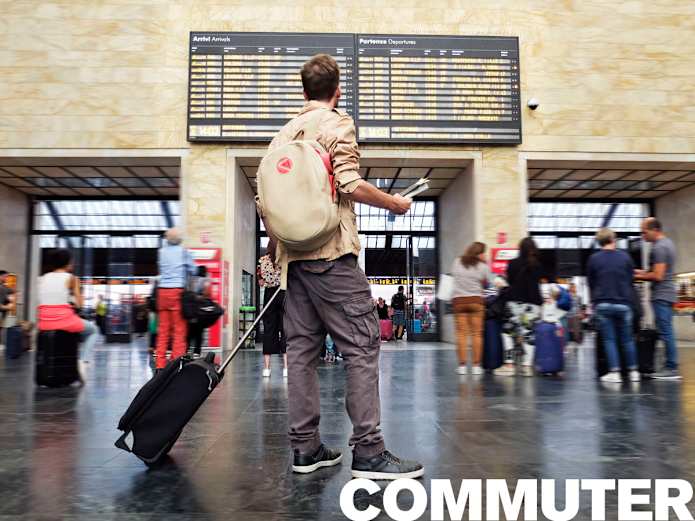 Make getting to work something you look forward to! Plus Linky is compact, so it respects train and bus regulations for transported objects.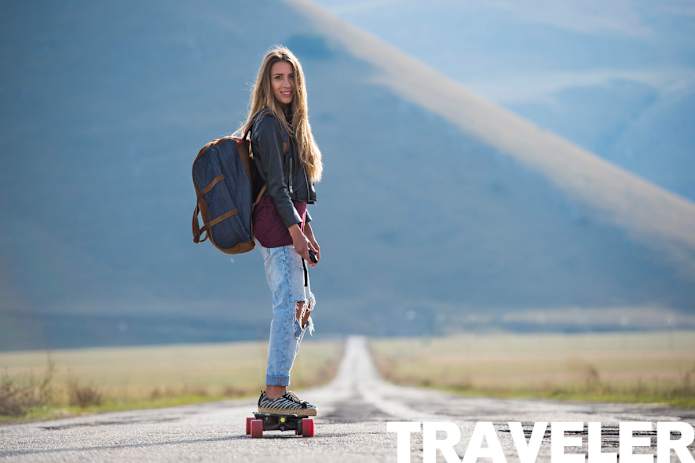 Discover new places in total liberty! Linky is portable, compact and air-travel safe* #nolimits
Linky is easy to learn for anyone (even kids!) and even more fun with friends.

Linky's innovative technical features stem from our needs as travelers: light, fast charging, transportable by air, a vintage-modern design and practical but beautiful bags. Using our engineering and technical training, we applied AGILE product development methodology to numerous prototype iterations, testing each phase and implementing features over the past two years.
• FOLDING / The patented folding mechanism makes it fast and easy to extend and compress Linky. We've worked particularly hard on this system, ensuring its resistance and functionality.
• LIGHT / Weighing in at 5.5 kilos (12.1 pounds) it's amongst the lightest of the electric longboard market. The structure is made of high strength polymers from the automotive industry instead of heavier metal parts, while the deck has a carbon fiber bottom and real bamboo top.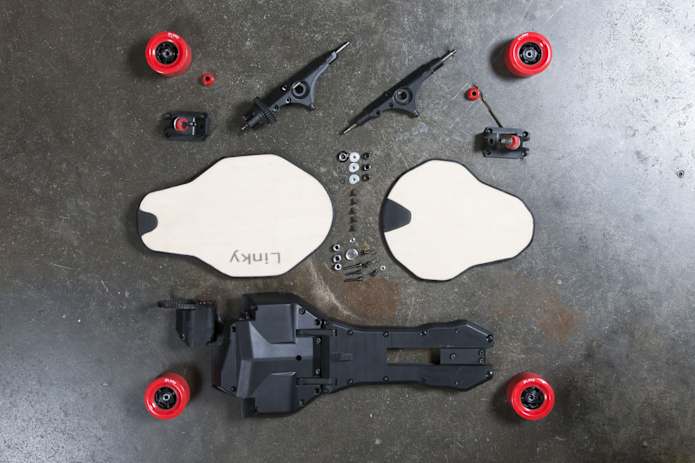 • PORTABLE AND FUN / To maximize the riding experience yet keep Linky light, we've carefully studied the board's materials: rigid enough to give Linky sporty cornering abilities during high speed cruising but flexible enough for wide curves. We also chose our wheel size based on research that has shown large 83mm wheels to be ideal for comfortable longboard riding on difficult surfaces.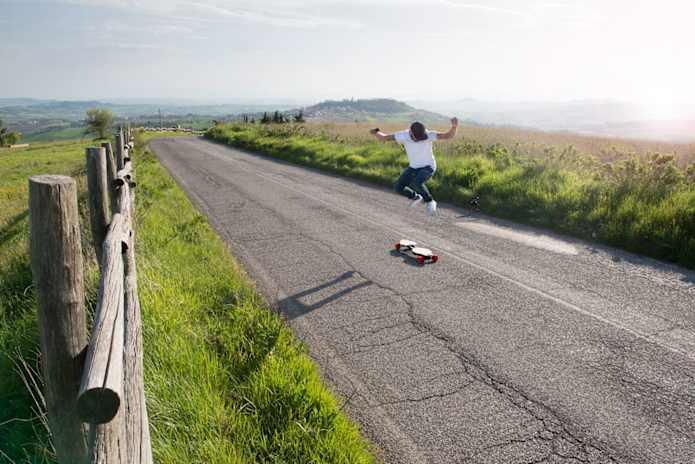 • AIR SAFE / Safety & Air transport: our power system has a BMS (Battery Management Solution) that regulates the battery pack charge and discharge, which ensures both good battery life and total safety. We have calibrated the battery to correspond to the current IATA regulation regarding the transportation of lithium batteries on airplanes. The battery may also be removed for transportation thanks to the modular structure of the battery compartment; we will provide tools and instructions for this.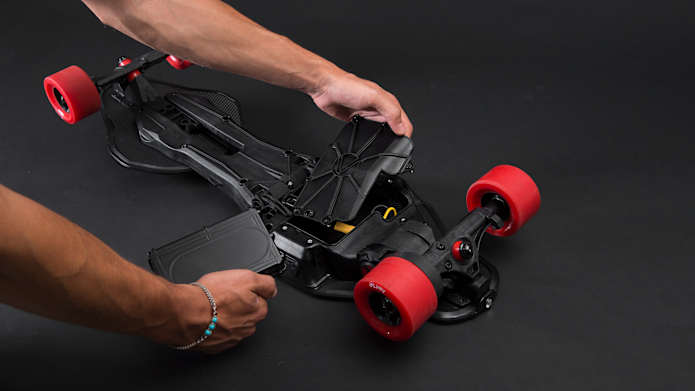 • FAST CHARGE / Its innovative electrics and long life lithium battery come from our experience as automotive industry engineers. Linky charges to 85% of capacity in just 30 minutes and has a range of 18 km (11 miles) using the FAST CHARGER (available as an add-on).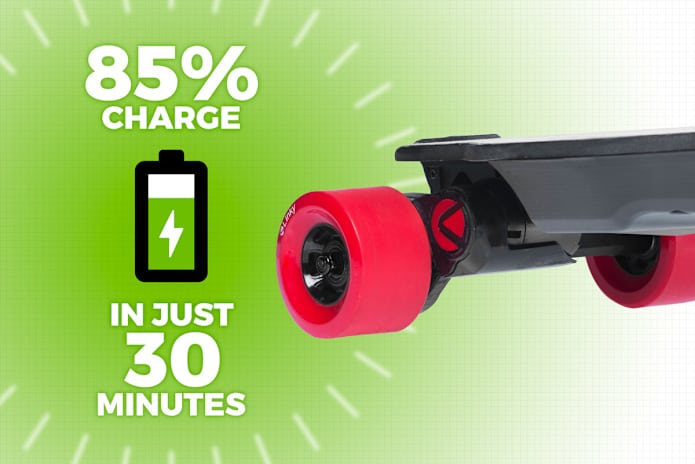 • POWERFUL / The motor is a brushless permanent magnet that can go up 10% hills carrying a 100kg load. It reaches a top speed of 30 km/h (18.6 mph). The motor is protected by a cover to ensure safety. It's optimized to be the best compromise between portability, weight and speed.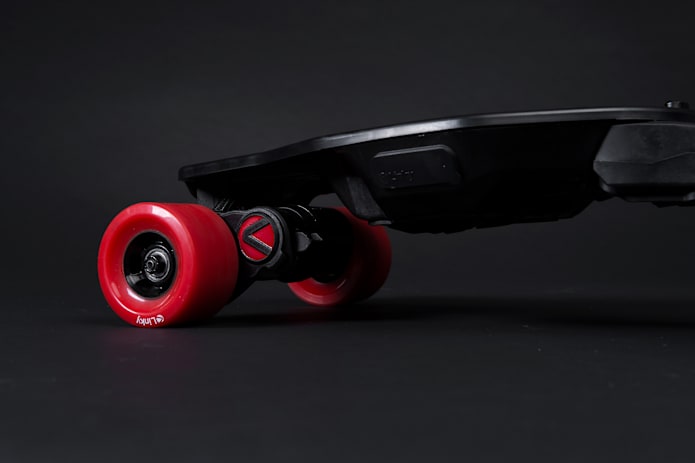 • WATERPROOF / Linky is waterproof. We added this feature to the latest prototype based on your feedback - thanks!
• REMOTE / A Linky is operated with a remote control that allows you to gradually increase your speed, to brake, and to set riding mode. The remote also has a battery indicator and connects by bluetooth to the board. The remote's lithium battery can be charged with a USB cable, either to a plug or using the board's built in USB port.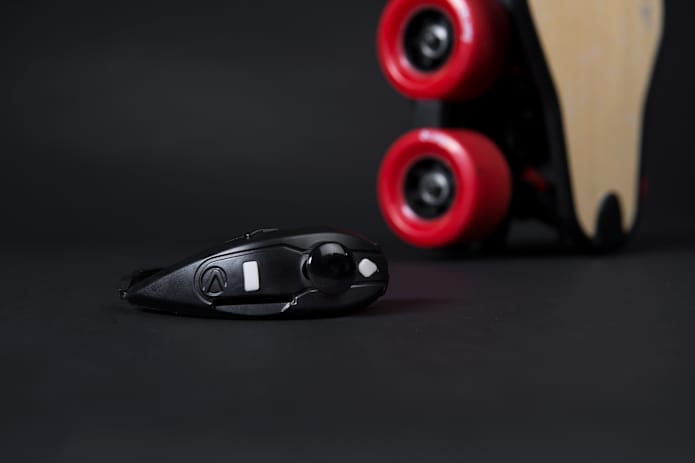 • REGENERATIVE BRAKING / Linky's battery recharges when you brake... so yay for going downhill (slowly)!
• USB PORT / A USB port allows you to use the board to charge your cell phone.
• HEADLIGHT / A front LED headlight will help guide you at night.
• APP / We've developed an IOS app that will read, store and allow you to share data from the board, as well as to set riding modes.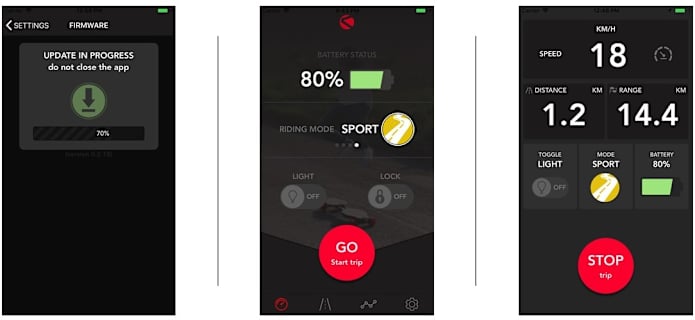 Linky comes with one of three custom designed backpacks or travel bags entirely designed and made in Italy. Our bags are manufactured by hand by an artisan in Monte San Giusto, Italy, who produces accessories for numerous luxury brands.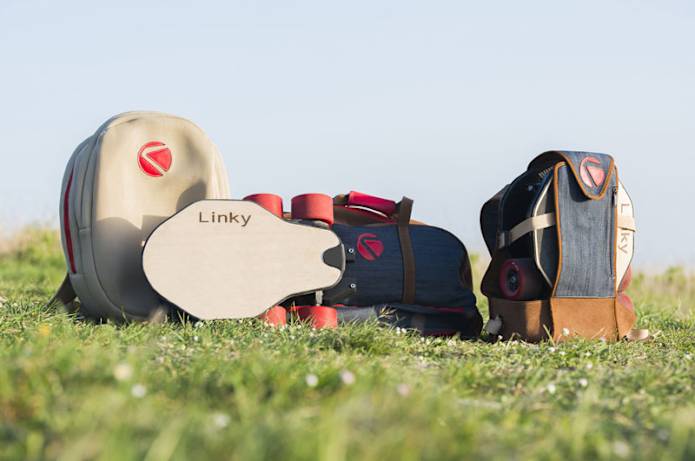 DAILY TRAVELER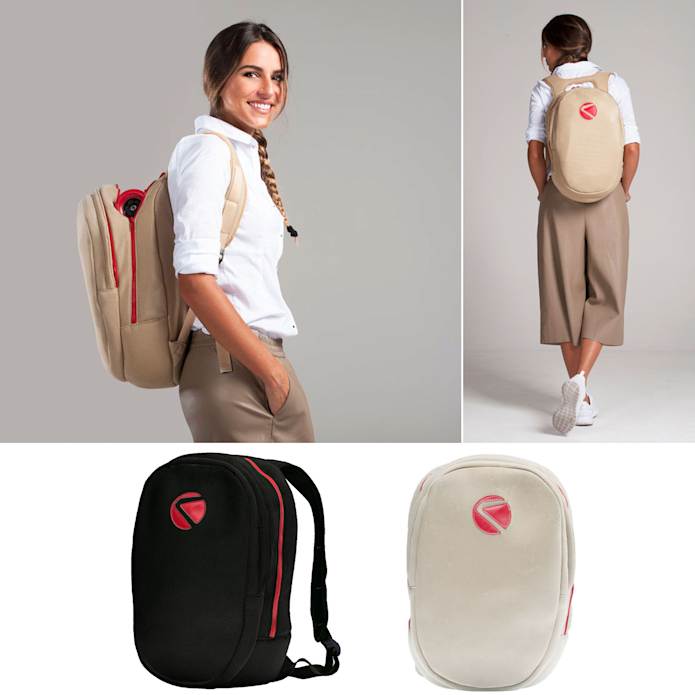 The "Daily Traveler" is a backpack in lined technical material, designed to hold the Linky as well as a 15-inch laptop (in the padded front pocket so it doesn't get squished) and your other essentials. Choose from the "original" beige version or the sleeker black version.
MINIMAL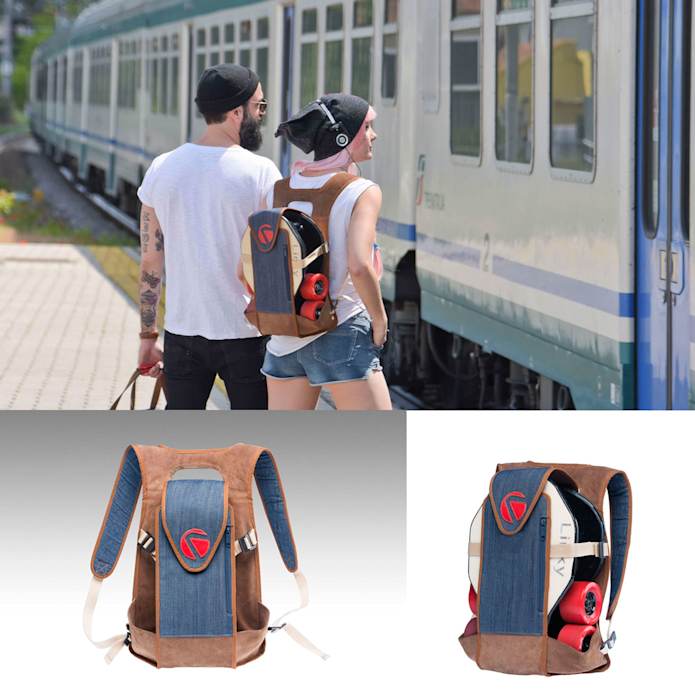 The "Minimal" knapsack holds Linky and its remote control, your wallet and phone, and comes in a sturdy but sexy design combining jeans and eco-suede.
VOYAGE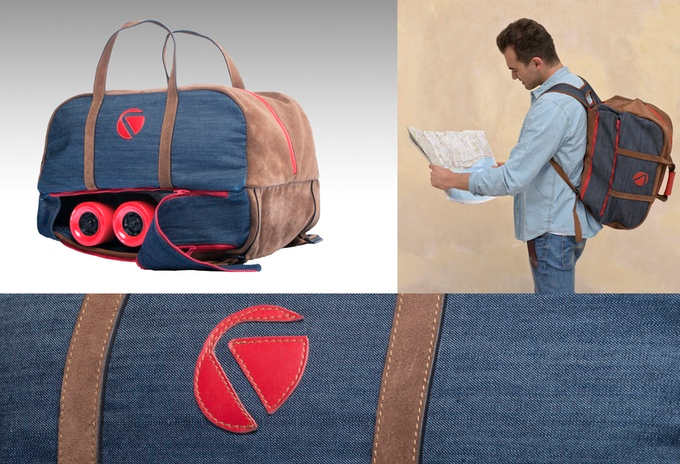 The "Voyage" bag is a carry-on-regulation-sized tote in lined jeans and eco-suede with a bottom compartment for Linky, a side pocket for your travel documents, and the top part for your clothes. When not holding Linky, the lower compartment can be used for shoes, books or anything you want.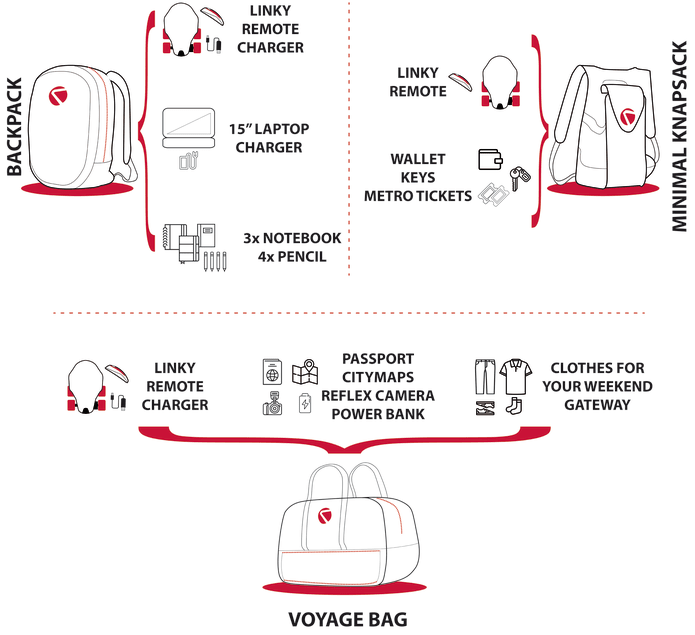 Add ons
Want a bag, fast charger, spare wheels, or any other "add ons" for your new Linky?
Here's how: You may choose more than one reward on Indiegogo. After you've pledged for a board, you can make a second pledge for any other perk (including a second board to a different shipping address!).
In the box
Linky ships with a standard charger, remote control with USB cable, and the beige backpack.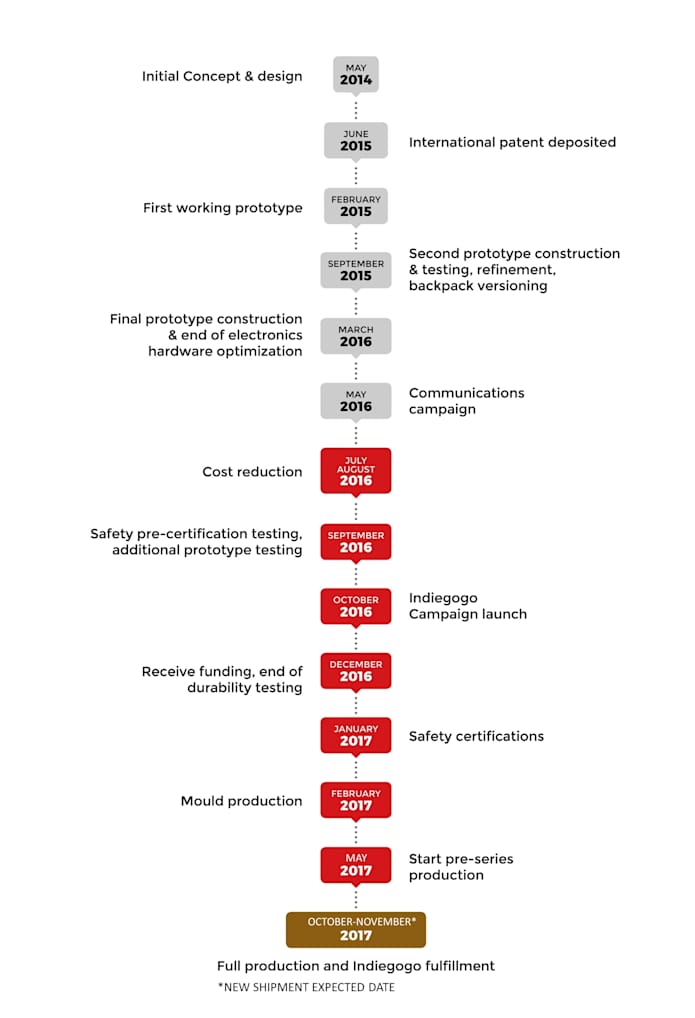 We've built our prototypes as a bootstrap start-up. After two years, our 5th generation prototype (which you see in the photos and videos) has been tested in all sorts of conditions for hundreds of hours, on roads and in the lab. We've integrated your feedback about features, and optimized our supply chain and processes.
It's time to go into production, but we need your help to take this last step. Pre-orders here on Indiegogo are necessary to generate the capital we need to cover initial investments like buying components and making the custom moulds for Linky's structure.

The idea behind Linky comes out of our actual experience as travelers. While Paolo was spending two months backpacking around Scotland, the idea and first prototype formed out of his intuition that the world needs a practical green mobility solution for travelers, that gets out of the way when you aren't using it. Fabio joined the team after severe tendinitis struck him because he walked way too much in Istanbul, and Cristiano missed the last subway in Budapest and wished he had a better way to get home.
The whole Linky team has been working on this product for the past few years because it's something we really want for ourselves (call us selfish!). It's the key to our ideal travel experience, where we don't need much more than the clothes on our backs and the freedom to go where we want, when we want.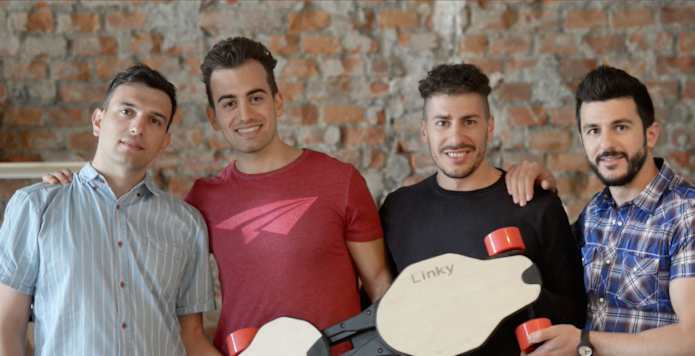 Paolo Pipponzi  The creative – Where there's something to ride, with 2 or 4 wheels, Paolo is on it! After graduation in Vehicle Engineering, he followed his passion by becoming part of the Ducati Engineering Team where he gained strong experience in product development. He is the creative mind of Linky's team.
Giovanni Laserra (CTIO) – The innovator – Passionate about everything electronic, he gets excited about putting the most cutting edge technologies into Linky. As an electronic engineer with extensive experience in power electronics and electric vehicles, he is in charge of the powertrain system of Linky, from battery pack to motor. Safety is his priority, quality is his goal. 
Cristiano Nardi (CSO) – The Traveller – With his masters in international business management he will take care of sales and customer care.
Fabio De Minicis – The perfectionist – As a rock climber, he's particularly attentive to body movement. Merging his professional experience as an electrical and mechanical technician with his natural attention to detail and his passion for physical activity, he supports the team in every way.
The core Linky team is assisted by local suppliers for parts and manufacturing as well as marketing and communications. 



Can anyone ride Linky?
Technically, yes. Linky is easy to use, though you'll want to have good balance and be at least minimally sporty. We recommend wearing athletic shoes and protective equipment when using Linky. 
To answer the question "How easy it is to ride Linky?" we held an event with some beginners. Here's the video.
How much weight can Linky carry?
The Linky has been homologated to support a rider of 100kg
Are you sure that the folding system is sturdy?
Yes. We know you're concerned about this, and we're here to set the record straight. A folding point does not have to be a mechanical weakness, and we've concentrated most of our R&D here. The use of high strength plastic polymers combined with our engineering experience allowed us to make this system both sturdy and light. 
How flexible is Linky?
Linky is flexible like a normal longboard. We've carefully studied the central support to optimize flex, allowing a sporty yet comfortable ride.
Will it fold while I am riding it?
No way. We've developed a system of joints to make sure that Linky remains in the open position safely and securely during riding. 
Is it easy to open and close?
Yes. We've worked hard on perfecting the opening and closing mechanism so that it is as smooth and easy as possible. The two parts slide pretty effortlessly open. The mechanism takes literally seconds to open and close.
Does it ride/push just like a normal longboard?
Not exactly. No electric longboard feels exactly the same as a non-electric one because the power train system limits the free spinning of the powered wheel, but the difference is minimal. On the other hand, without having to foot-pedal, you do get a sensation of freedom and ease of travel on the Linky. One slight difference from the traditional longboard shape is our signature polygonal foot areas and folding mechanism, which limits the foot placement to the deck areas. Linky should not be used for tricks or dancing (though we'd love to see you invent a new dance on it!), as much as we love those things.
Why does Linky use front traction?
In order to maximize compactness and the electronic yield, we have positioned the electronics all at the front of the board, protected by plastic covers that are sealed with an O-Ring. We find that the rider's weight is sufficient to guarantee good grip of all the wheels.
Why does Linky not have a kicktail/handle/off-road wheels?
We've gotten a lot of great feedback from users who wished Linky had some other physical features. (1) A few of you die-hard longboarders have said it would be cool if this board had a kicktail (raised back, for the non-initiated). Unfortunately, this would negatively affect the folding design so it wouldn't fit in a bag. Kicktails are great for tricks and jumps, while Linky was designed mainly to ride flat on the ground. (2) Some people have suggested that a scooter-type handle would make them feel more comfortable on Linky. We've opted for a true longboard performance feel, and we do believe it doesn't take long to get used to riding it. Trust us, it'll be fun. (3) There are some awesome boards with off-road wheels out there, but Linky won't have them. Why? They're too big to fit in the bag, and they obstruct the folding mechanism. Technically you could try adding them yourself, though.
Is Linky Waterproof?
Yes. The electronic components are in an o-ring sealed compartment that does not let in dust or water. This means you can ride in rain and through puddles and the electronics will not be affected.  We do not recommend submerging it in a bath, pool, lake or otherwise ;). Also, for safety reasons, although Linky CAN ride in wet conditions, you should be aware that any kind of skateboarding on wet pavement may be dangerous and we don't advise it.
What is the difference between the regular charger and the fast charger?
Linky ships with a regular charger, which takes about 3 hours to charge Linky. If you're in a hurry, you can purchase the optional fast charger, so it charges in about half an hour. If you choose the fast charger add-on we'll still ship the regular charger for your board.
What is a universal charging system?
One of our stretch goals is a "universal charging system" which is inspired by current electric automobile trends. You can charge Linky with any charger you have on hand, for smartphones or PCs, with a USB or standard AC adapter.
Can I change the battery?
The battery can be substituted for maintenance reasons (replacement batteries will be available on our website after production). The battery compartment requires screws to open, and is sealed beneath the waterproofing O-Ring. 
Is there a warrantee? Instruction book?
Yes, Linky comes with a standard 2 year manufacturer's warrantee on the battery and board. In the case of a problem you will contact customer service and we will take care of it.
In addition, as many elements of a skateboard may get damaged due to normal use we will provide a user and maintenance manual with the instructions necessary for the maintenance of components such as wheels, bearings and belt. 
What safety recommendations do you have for me?
We recommend that you ride Linky while wearing protective equipment, and use it in respect of all local laws.
*Please note: baggage safety is the responsibility of each airline. At the moment, we recommend checking Linky as baggage, rather than bringing it as a carry-on.
**Disclaimer: the features and specs indicated in this campaign are true of the prototypes and at date of publication. Final specs and design elements may vary slightly.