As Seen In: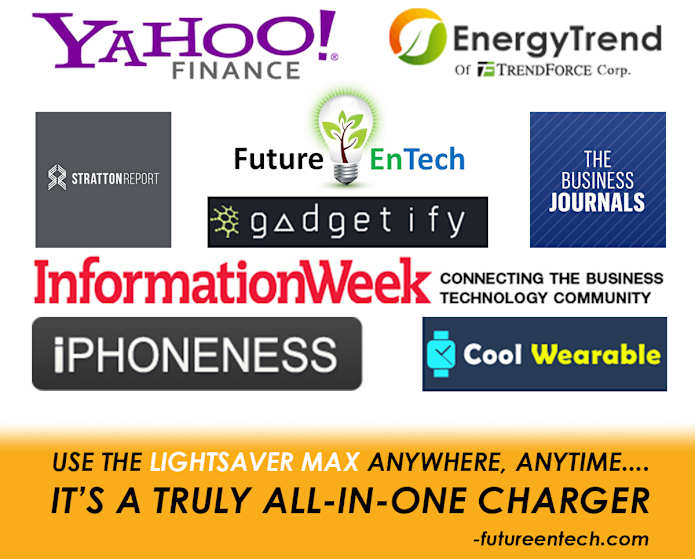 The LightSaver Max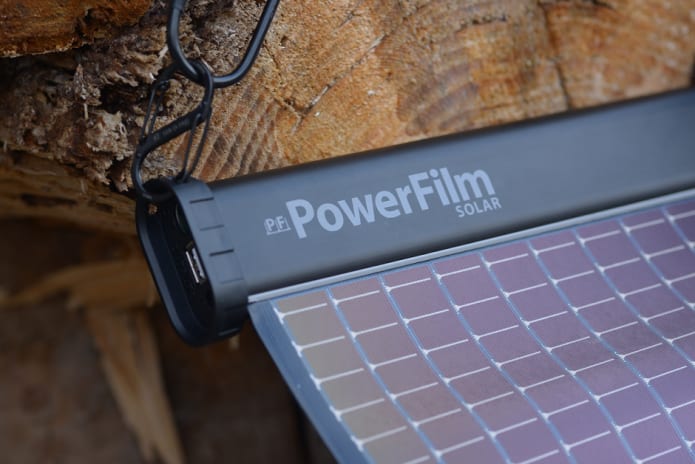 Introducing the LightSaver Max, the most powerful and portable solar solution. An integrated 15,600 mAh battery means you can use the Max anytime or anywhere, day or night. Your devices can charge even when the panel is closed, away from sunlight, or indoors, so use it whenever it's convenient for you!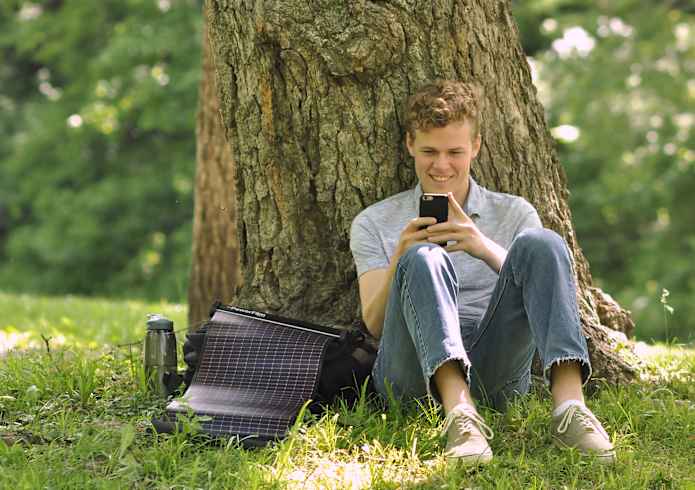 The LightSaver Max uses amorphous silicon technology, which allows the panel to collect sunlight, even in shade or when partially blocked. The Max is very lightweight and the panel rolls up around the battery, making it slim and easy to transport.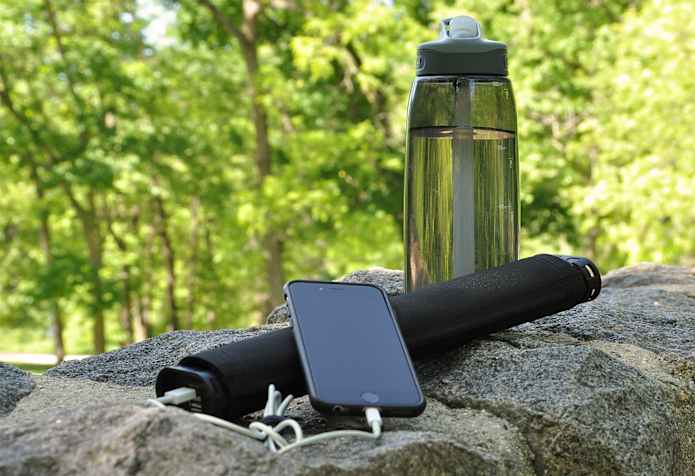 The LightSaver Max project was developed to solve a problem. There are a multitude of solar chargers on the market, but there isn't an all-in-one solar charger that packs the punch of the Max. The Max was developed and created by solar experts who are dedicated to the highest quality and attention to detail. The Max takes advantage of PowerFilm's years of expertise creating industry leading thin film solar panels. PowerFilm products are all made in the USA!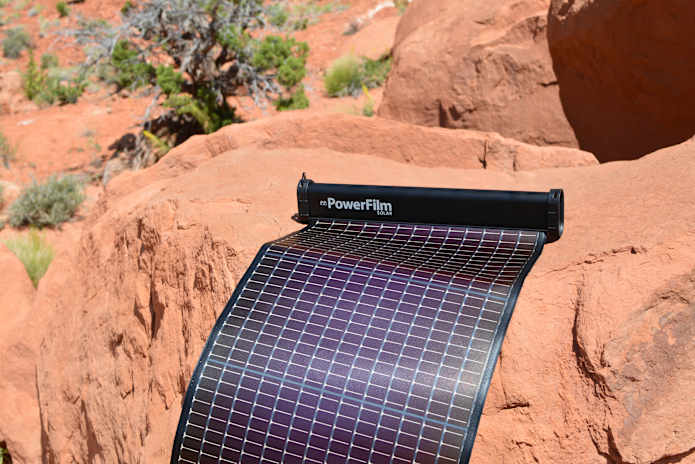 The Max was designed to deliver the highest quality solar energy to consumers in the most simple and effective way possible.
Features and Benefits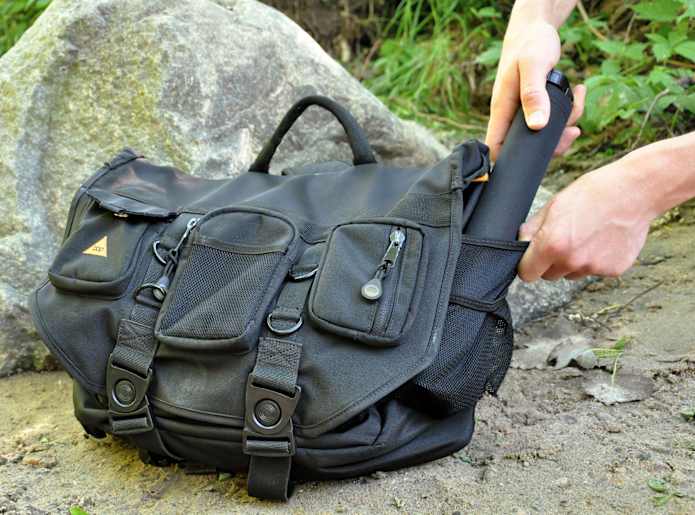 The LightSaver Max is perfect on the go. Only one and a half pounds and slimmer than a water bottle, you can just throw it in your bag and carry it with you.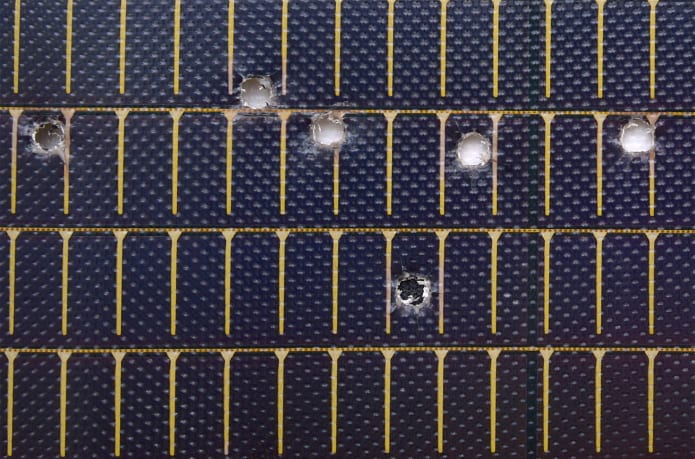 Our solar technology is also durable and long lasting. If individual cells are damaged, it won't destroy the whole unit, and will have very minimal effect on the overall power or charge time of the Max.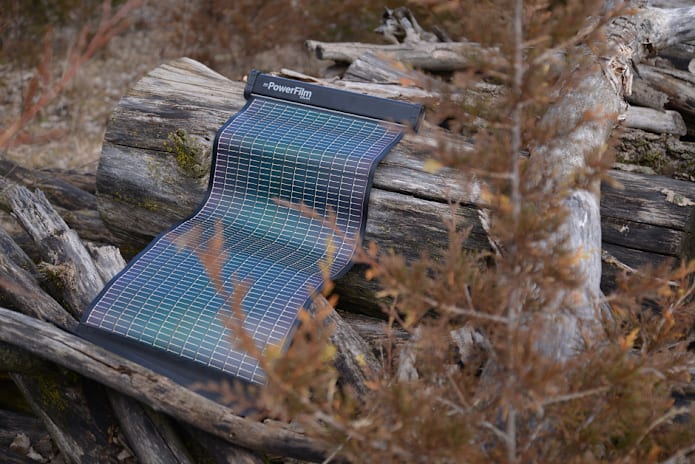 Other solar technology will only provide power in full sunlight. Not to fear - the LightSaver Max works even if it's cloudy or you're in a shaded location.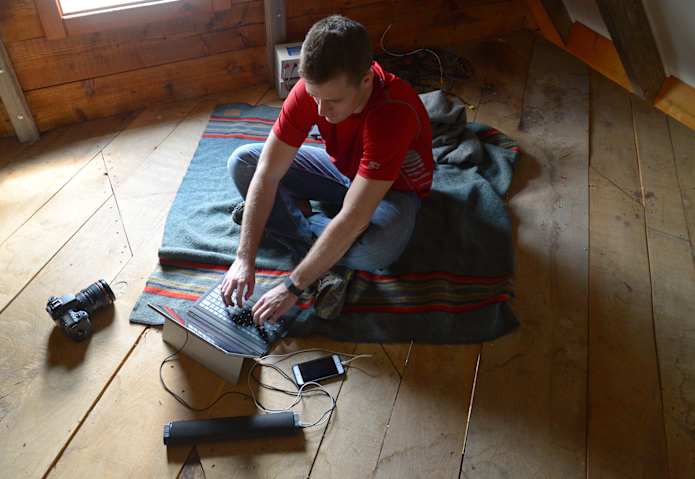 Conveniently charge up indoors or with the solar panel stowed, which means you don't have to adjust your lifestyle or location just to power up!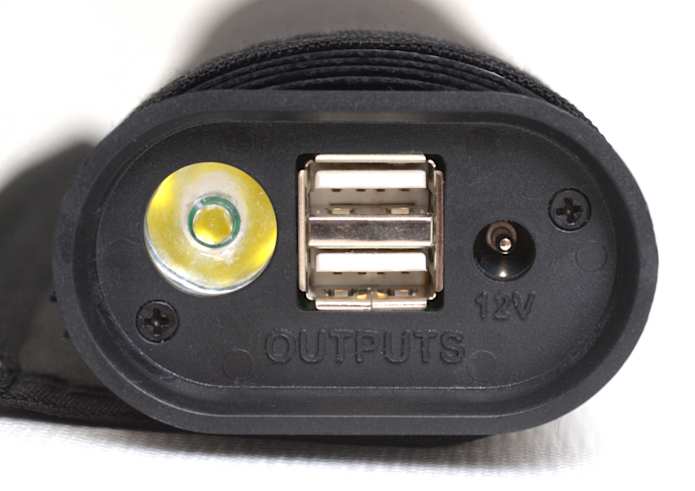 Use either of the 2 available USB ports or both simultaneously to charge your devices.
Use Cases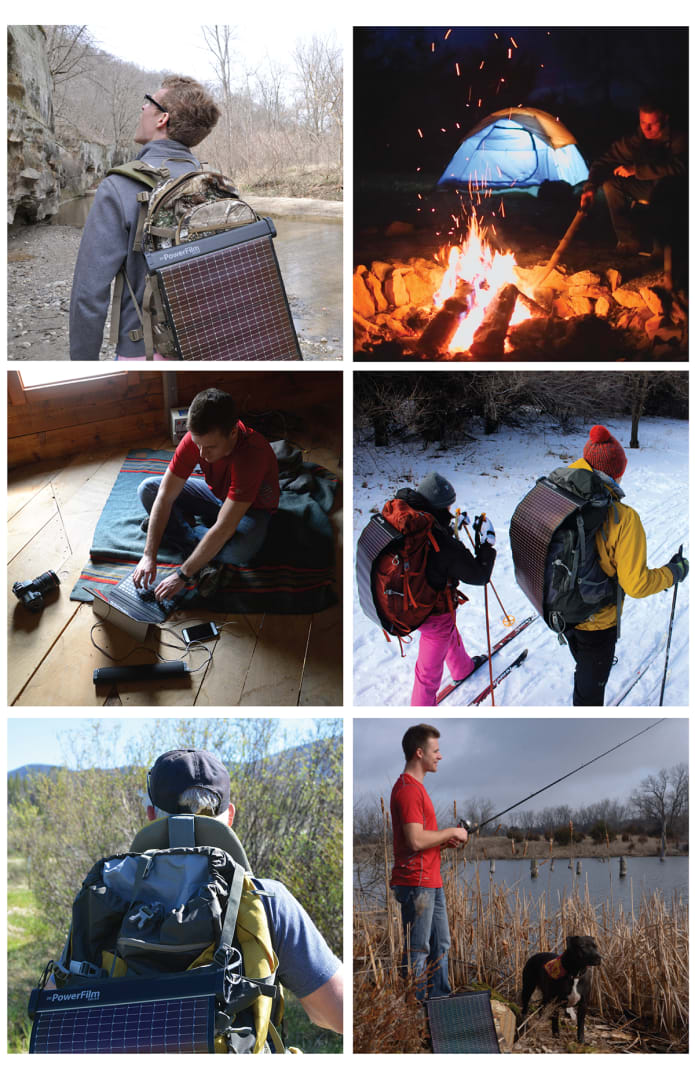 The LightSaver Max is useful in so many different scenarios. The solar cells can be collecting sunlight while you are on the move or staying still. Because of the integrated battery, the power you collected can be used later, even if it's indoors or at night!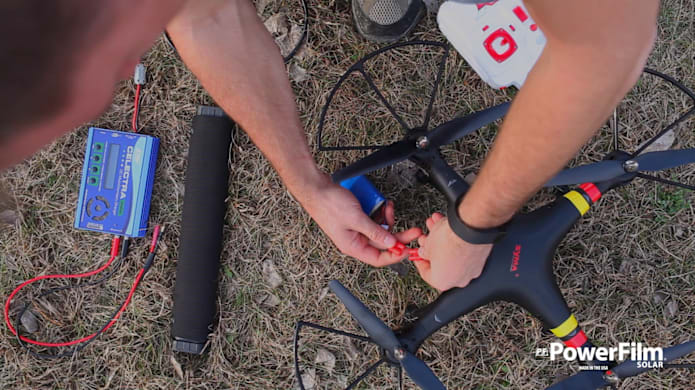 Consider using the Max for any of these activities and more!
Camping
Hiking
Backpacking
Skiing
Fishing
RV Travel
Field Photography
Festivals
Road Trips
Military
Prolonged electronic use away from home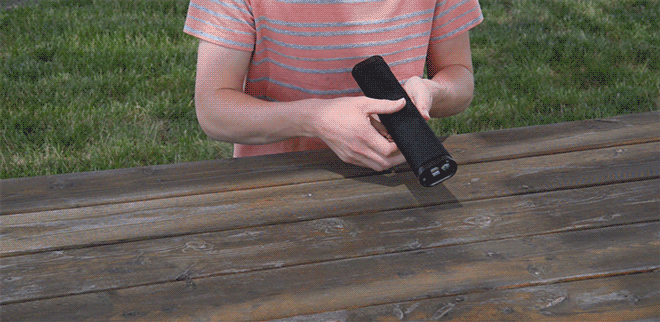 About Amorphous Silicon Technology
Most solar panels use other solar technologies, such as mono crystalline. Mono crystalline is highly fragile and if one cell is damaged, the entire panel is rendered useless and will need to be replaced. 
A solar product made with the amorphous silicon (a-Si) technology continues to work, with impact to the usability relative to the breadth of cell damage. Damage to one cell will have minimal impact. Check out this video where we fill our solar panel with bullet holes!
A mono crystalline panel will shut down completely when any cell within the panel is covered by an object. Those panels requires full sun coverage to operate, while PowerFilm's panels continue to absorb solar energy.  
In addition to these advantages, a-Si is thin, lightweight, relatively inexpensive, and more environmentally friendly because it does not contain toxic heavy metals such as cadmium or lead like some other solar technologies.
How Max Stands Up to the Competition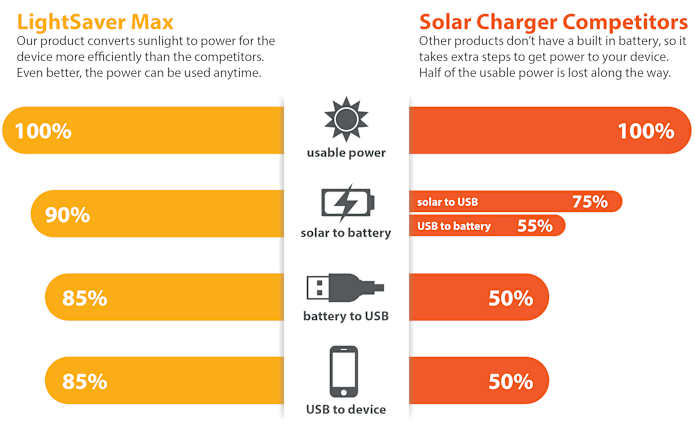 There are many mobile charging options out there, but the majority fall short.
Most solar panels lack an integrated battery. This means you have to leave your device plugged in and under direct sunlight to be charged. Not only could excessive sun exposure heat and harm your device, but achieving the perfect angle relative to the sun is incredibly tedious.
Many solar companies rely on outsourced mono or poly crystalline solar panels that aren't tested before leaving factories. These panels are bulky and will continue to perform under their advertised specifications.
One competitive solar charger relies on organic solar technology, which carries incredible degradation making the panel less and less efficient as time passes. Not only that, but organic solar technology only captures energy from the sun at 1-3% efficiency.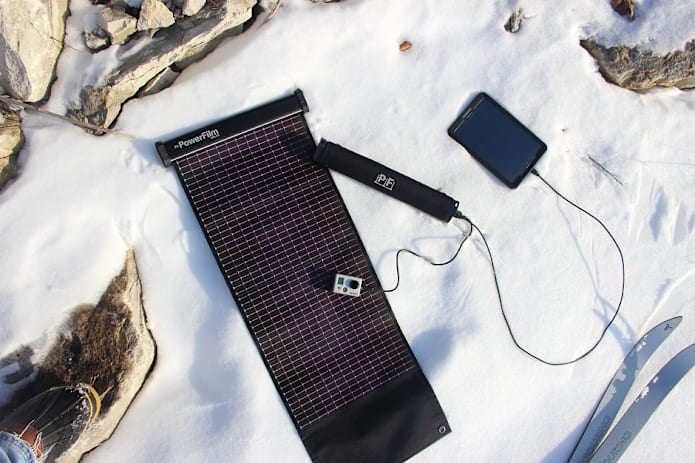 The Max solves the issue of internal power, shading performance and was designed with efficiency in mind by solar experts. Each step of the process was carefully monitored to ensure the most efficient energy transfer possible. Weighing in at only 1.5 pounds, the Max is far and away the best complete solar solution.
Specifications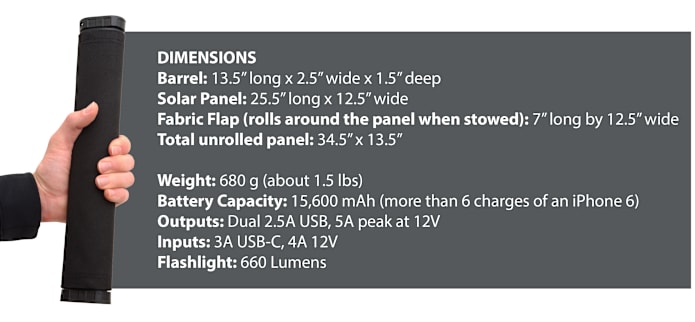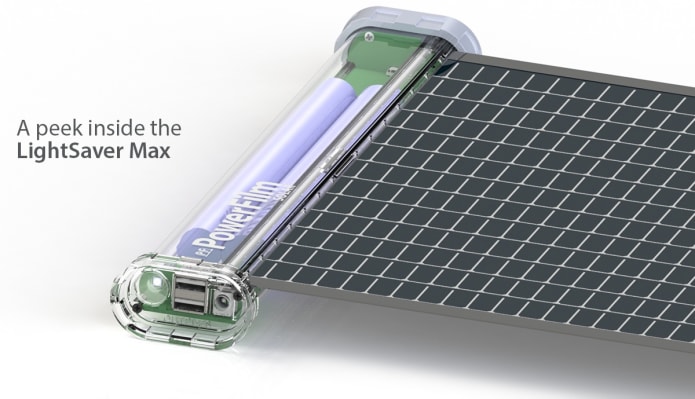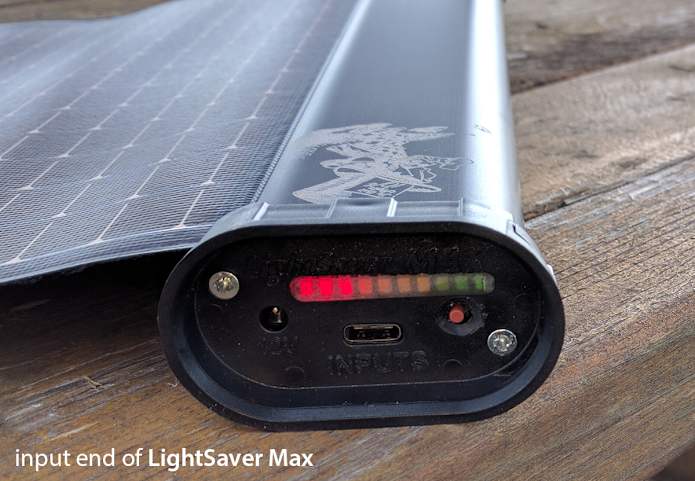 ---
Perks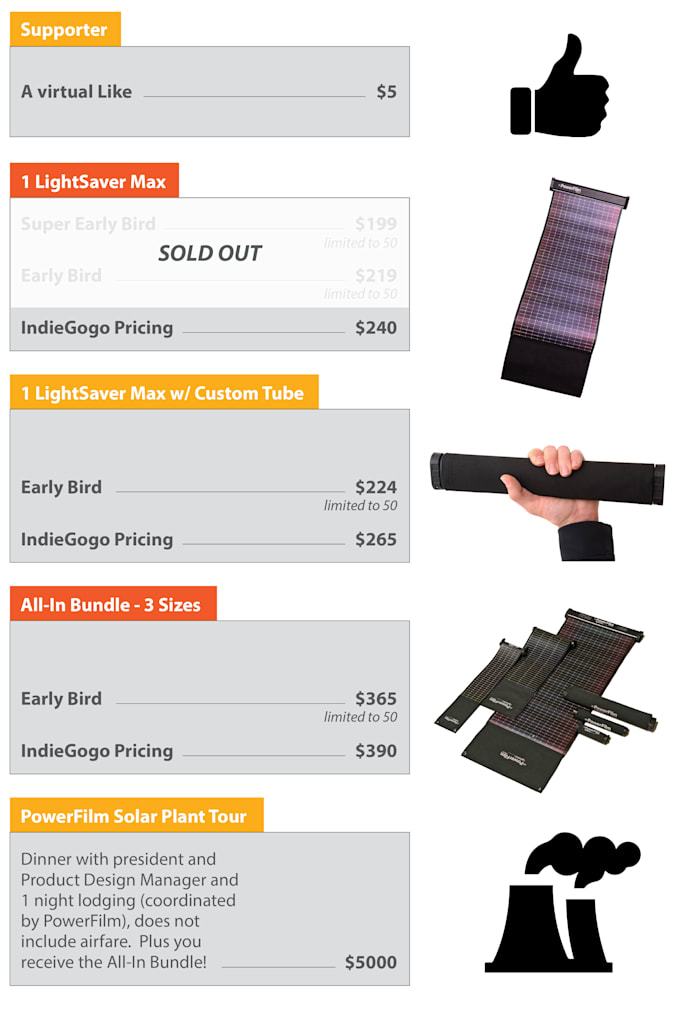 All-In Bundle
PowerFilm has created other great solar products that we want to make available to our supporters during this campaign. If you choose to support our All-In Bundle level, you will receive one LightSaver Max, one original LightSaver and one Pocket LightSaver.
Pocket
Our pocket-sized solar panel has most of the same great features of the Max at an even more portable size. The LightSaver Pocket weighs only 3.5 ounces and stows to 4.5" x  1.5". With one 5V USB port, the Pocket can charge most USB powered devices with the exception of tablets. The LightSaver Pocket also has an integrated battery for charging your devices anywhere, anytime.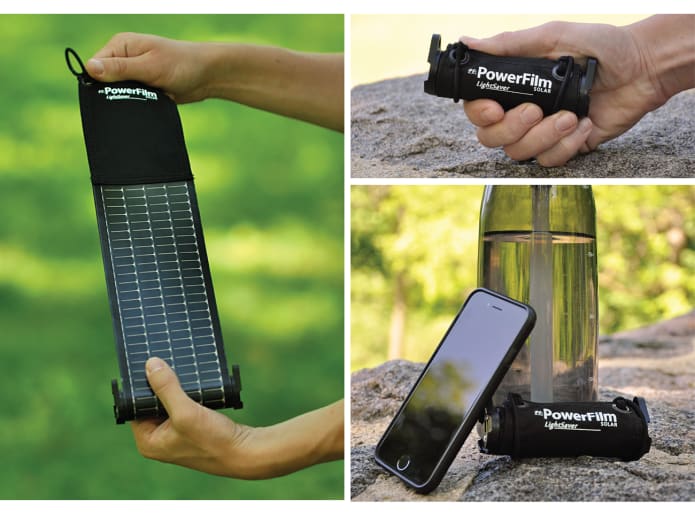 Original LightSaver
Our original LightSaver is a little smaller than the Max and a little simpler, with a single 5V USB port. The LightSaver will charge all USB powered devices, including tablets (you will not be able to charge your laptop with this product). The original LightSaver weighs in at just 4.9 oz and stows to 1.5" x 7.75".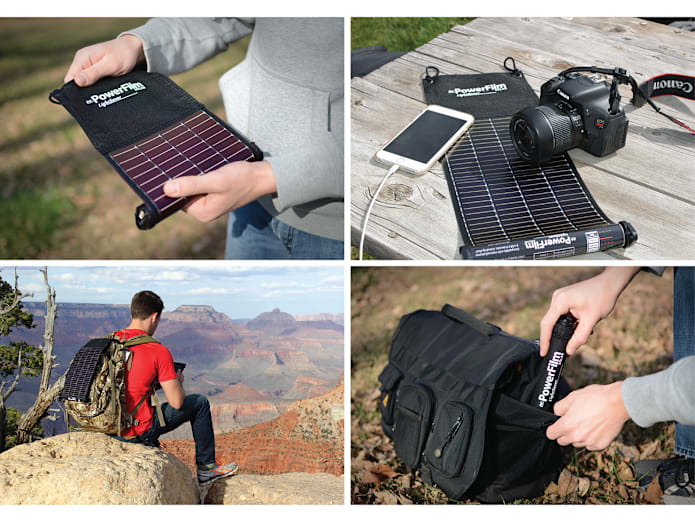 ---
Development/Timeline

 *May 2017
---
Why We're Crowdfunding
These funds will be used to alleviate high upfront production costs and enable us to deliver the LightSaver Max as soon as possible. We will have tooling costs, and will need a large production run to get unit prices down, so getting preorders on Indiegogo is the ideal solution for making this happen.
We also hope to learn a lot through the process about interest in our product, reactions to it and suggestions for it. By the time we deliver, we will have a product that will please the masses.
About the Team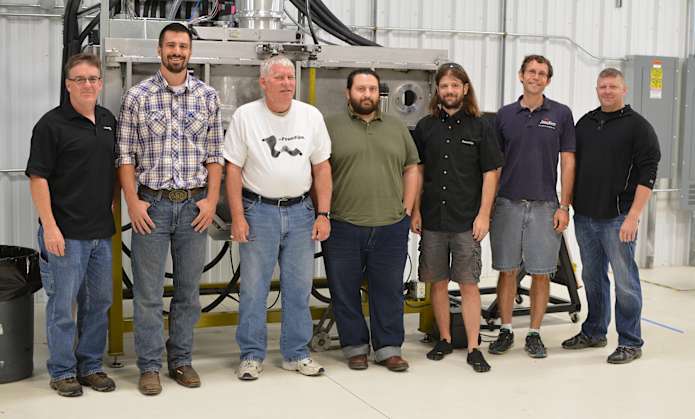 PowerFilm has been developing and manufacturing its unique flexible solar module technology for nearly three decades, making it one of the few, and maybe the oldest, surviving solar manufacturers in the United States. Powerfilm modules have been used for applications ranging from solar tents for the Army, solar bikinis and even powering electronics on a solar yacht to Venus.
President Frank Jeffrey is one of two founders of PowerFilm, Inc. Frank has been involved in the solar community for over 30 years. With a history of successful business contracts, Jeffrey is excited to take the tested and proven thin-film technology to consumers via the LightSaver Max.
Ryan Jeffrey, PowerFilm's Product Development Manager has led the charge in bringing the LightSaver line to fruition. Ryan has been with PowerFilm for 10 years and has been an integral part of the company's product diversification efforts.
Risks and Challenges
This is a prototype and therefore tweaks continue to be done. We haven't had the funding to have a larger quantity of prototypes made for testing or reviews. 
Other solar panels do not have the advantage of an integrated battery and we consider this one of our most important features. However, it does present a challenge in getting all these parts to play well together.
Another challenge is maximizing the power available from the 12V output. Careful thermal management is critical in a densely packed system like the LightSaver Max, and we have very conservative thermal safeties in place in the system which requires very careful design in the high power 12V output to maximize the amount of time it can run at the full 60W.
FAQ
How long does it take to charge this device?
One full day of good sun or about 2.5 hours from 12-volt input (car charger or wall charger). 4 - 12 hours if using USB.
What devices can I charge?
Any USB devices (GoPro, cameras, flashlights, cell phones, tablets, Bluetooth speakers), small laptops and some larger laptops (depending on power draw) from 12-volt output.
Are there any devices I can't charge using the Max?
Anything with either an instantaneous or continuous draw of over 60 watts. Certain power adapters have extremely noisy (electrical noise) draws that can produce brief draws over 60 watts even if they are rated under 60-watts. Devices like these can still charge, but they will cycle on and off intermittently due to current spikes.
Can I repair or replace cells?
Batteries are not replaceable. Solar cells are essentially non-replaceable, but due to their durability and the minor impact on power when damaged, the panel will continue functioning for a long time despite broken cells.
Can multiple LightSaver Max units be daisy chained together?
No. Based on the all inclusive design, you could take one of our rollables or folders and plug that into the 12 volt input for additional solar charging/power. 
Why does your technology cost more than other products I've seen?
Each product is manufactured for its purpose vs. other technologies that are produced with economies of scale, often in other countries that use low-cost labor, have government subsidies to back their production and minimal quality standards. With products of similar manufacturing quality, we are competitive in pricing. All of our products are made in the USA!
What, if any, warranty exists on this product?
PowerFilm, Inc. warrants that this PowerFilm® Solar product is free from defects in materials and workmanship that impact performance for a period of two (2) years. The duration of the Limited Warranty is from the date of initial purchase. The warranty does not apply to any defect, failure or damage caused by improper use, unauthorized modifications, neglect, improper testing, attempt to repair, inadequate maintenance, or damage from accident, fire, abuse or other hazard. PowerFilm`s sole obligation and liability for products failing to comply with this warranty shall be, at PowerFilm's choice, either to repair the products or replace the defective product with a new or re-manufactured equivalent at no charge, provided that the warranty procedures have been followed.