A little more than 30 years ago, a little-known artist by the name of Lena Platonos changed the Greek music scene forever with three groundbreaking albums ahead of their time, thanks to which she is now hailed as one of the pioneers of electronica. She is now receiving a surge of international attention, thanks to album re-issues and remixes, and both established and up-and-coming artist cite her as a key influence for her experimentations in sound, her eerie lyrics and her unique, uncompromising approach to creating music and art. With the help of collaborators, friends and international musicians of the electronic music scene such as the Red Axes, Alexis Taylor of Hot Chip and Natureboy Flako, LAMBDA PI goes back to the time Lena's revolutionary records were made, allowing her to reminisce in her own particular way about making these daring albums.
WHO IS LENA PLATONOS?
A bold music composer, gifted pianist and brilliant poet, Lena Platonos was one of the pioneers in the Greek electronic music scene of the 1980s and remains active today. Born on the island of Crete, she grew up in Athens, where she began learning how to play the piano at the age of two and became a professional pianist before turning eighteen. Soon afterwards, she received a scholarship to study in Vienna and Berlin, where she was exposed to jazz, rock and Middle Eastern music. She returned to Greece in the late 70s releasing 3 collaborative albums between 1981-1983 and then three solo electronic albums in quick succesion ("Sun Masks" in 1984, "Gallop" in 1985, and "Lepidoptera" in 1986), two of which have now been re-issued by prestige US label Dark Entries Records and are considered benchmarks of the Greek music scene.
Curious about her work? Have a listen on Spotify or iTunes
THE SOUNDTRACK
Fitting as an accompaniment to a film about an innovative artist, the soundtrack invites you to listen to her work via the imagination and artistry of some of the most exciting electronic acts working today. Alongside the beloved remixes by the Red Axes and Lena Willikens, the OST features previously unreleased tracks by Natureboy Flako, Coti K, Felizol, Old Green Bros and Larry Gus, as well as the long-lost demo for one of Lena's most important tracks, "Mistaken Love", that the filmmakers unexpectedly unearthed while researching the film.
THE LIVE EVENT
The film will world premiere at the Onassis Foundation Cultural Center on December 18th. Following the screening, Lena Platonos will be joined onstage by the great Philip Jeck for an unmissable live event which will combine Lena's piano playing with his own twist on the three albums highlighted in the film in a "conversation" that will sure prove to be a must for any fan of the scene. The evening will conclude with a DJ set by Josh Cheon, the brilliant founder of Dark Entries Records and sought-after DJ.
WHO ARE WE?
Heretic is an Athens-based production company created by Giorgos Karnavas and Konstantinos Kontovrakis, focusing on director-driven films and international coproductions, dedicated to working with talented filmmakers and bringing creative people together. Holding strong ties with the international film world, Heretic ensures an international perspective for its projects from development to completion.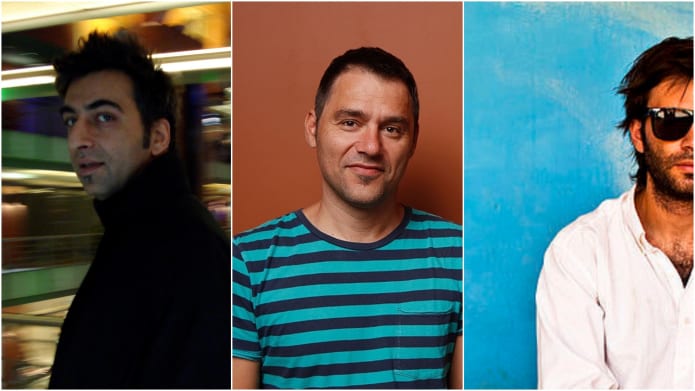 The team
Cristo Petrou - Director
Cristo was born in Athens, Greece, where he also studied film. He works as a director for commercials, music videos, TV, and short films, and is currently in preproduction of his first feature film, a musical. He has been a huge fan and proponent of Lena's music since his teenage years and finally approached her 11 years ago, expressing his desire to make a film about her. That meeting led finally to LAMBDA PI, a film that distills, among other things, his personal experience with her music and his love for her.
Giorgos Karnavas - Producer
Giorgos is an Athens-based producer and the co-owner of the production company Heretic, which focuses on director-driven films and international co-productions. Together with his business partner and producer Konstantinos, he has co-produced some of Greece's most acclaimed films of recent years, such as SON OF SOFIA (2017), BOY EATING THE BIRD'S FOOD (2012) and WASTED YOUTH (2011). He has represented Greece at the Producers on the Move initiative and he is a member of the European and Greek Film Academies.
His relationship with electronic music goes back to his days as the co-organizer of the Synch festival, a multifaceted event which brought together film, art, transmedia and music in a innovative line-up of screenings, installations and concerts by alternative artists from Greece and all over the world.
Giorgos Karvelas - DoP
Giorgos Karvelas was born in Athens, Greece in 1980. From a young age he started studying classical guitar and theory of music, before discovering his passion for B&W still photography while studying at the Lykourgos Stavrakos film school as a cinematographer. He is currently working in feature & short films, as well as documentaries and commercials, as camera operator and cinematographer, and he lately started working in light design for the theatre. He has shot a number of award-winning films and his work has been screened at festivals worldwide, including Cannes, Berlinale, Locarno, Venice, Sarajevo, Palm Springs, Curtas Vila do Conde, and Thessaloniki.
HOW CAN I HELP?
You are the person who can help make this happen! If you like the project, it's just a choice of pledge so that you show your support for the project. And remember – sharing is caring!
TAKING PART has never been EASIER.
If you like "LP", PLEASE SHARE this page with your friends!
MORE INFO
Facebook: https://www.facebook.com/l150pdoc/
RISKS AND CHALLENGES
We have specifically chosen a goal that we know we can achieve, if we meet our fundraising goal: completion of post-production and clearing of some music rights.
And that's where YOUR support comes in! By achieving this goal, we will be able to deliver the highest quality post-production services and clear music rights for crucial parts of the film, so we can make sure that cinematic experience is what it should be.
Besides these final touches, the film is nearing completion – with your help we can make it happen!