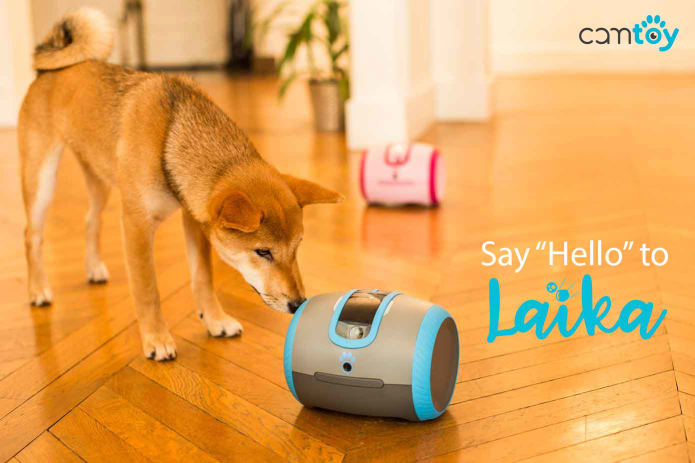 For centuries, our dogs have been accurately named "man's best friend," but who hangs out with our four-legged friends when we're gone? We all lead busy lives and many dog owners have to leave their pets at home for extended periods of time. You miss your dog, and your dog misses having someone to play with.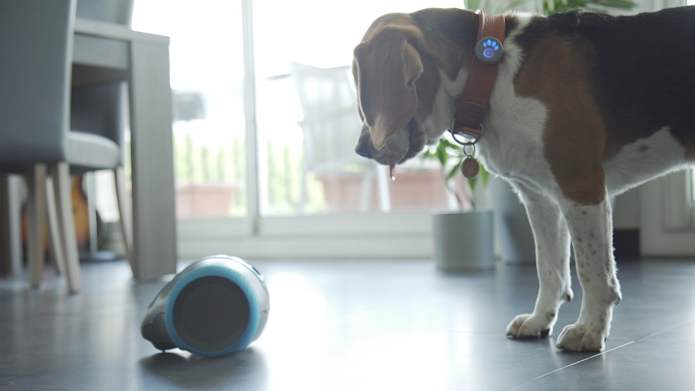 While technology will never replace the scratches behind the ears or the belly rubs, Laïka is the perfect interactive companion for your pup while you're away and offers peace of mind for you. It helps you keep an eye on your dog while you're away.

Laïka gives your dog an interactive friend unlike any other to play with. It's there to help you pup feel less lonely while you're away and keep them from constantly barking, chewing up the furniture or other bad behaviors.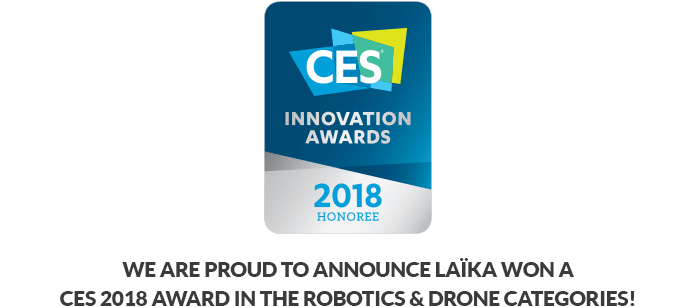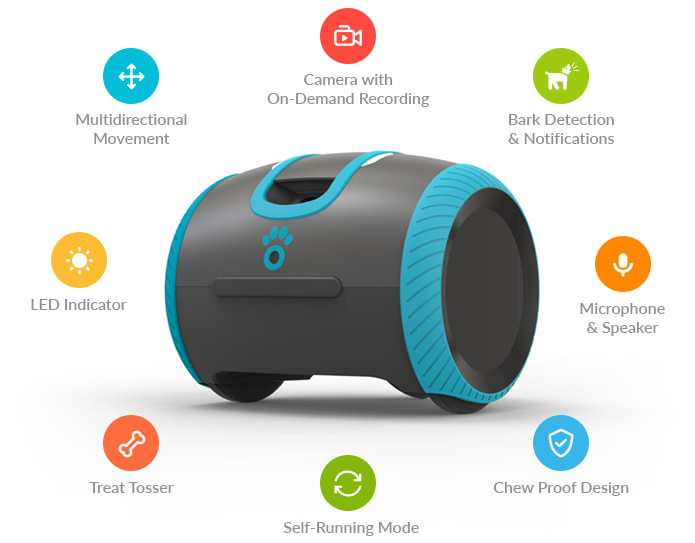 With Laika, you can take a break from your emails at work to play with your pup or check on them via smartphone while you're running errands. With the ability to control Laïka from your phone, you can interact, monitor and even reward your four-legged friend from wherever you are.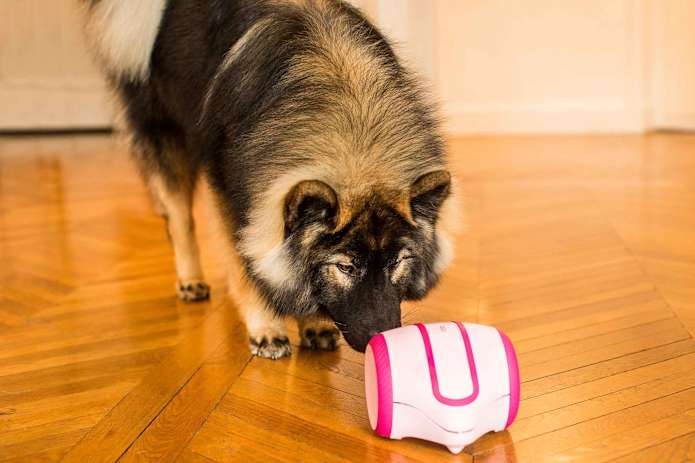 With Laïka, your dog won't be sad to see you leaving because he knows he has a wonderful companion to play with at any time! Laïka is able to know when your dog is active or barking and notified you throw the app. If you can't interacted with him right away, Laïka's self running mode turns on.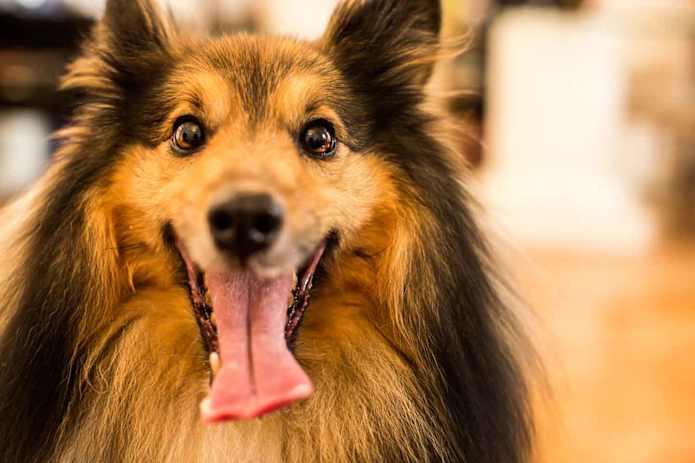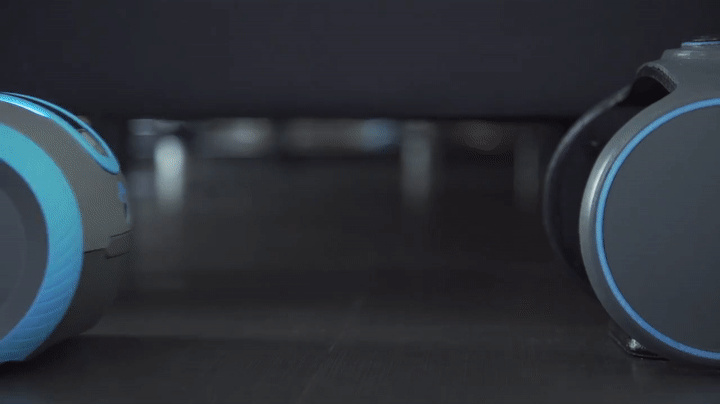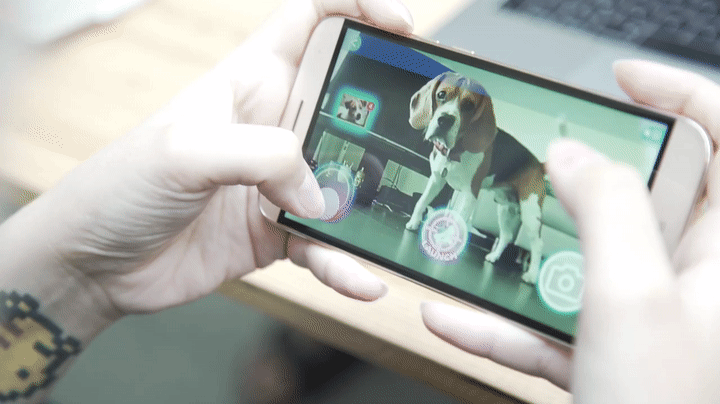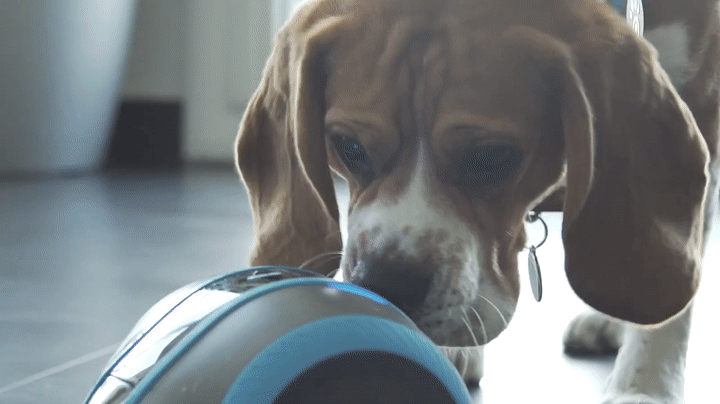 Playing with a squeeze toy, ball or rope that can't move on its own has a tendency to get old really fast for most dogs. We designed Laïka with multidirectional movement capabilities in order to interact and "play" with your dog in a way that's stimulating and fun. You can control Laïka directly from your phone or even set it on self-running mode so it will do the playing for you while you're gone! With the way Laïka moves and rewards your dog, it will become one of your pup's new best friends in no time.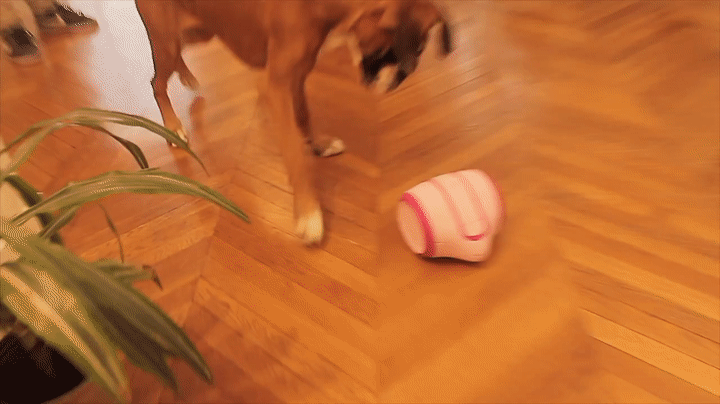 Each dog has different behaviors and is unique in its own way. With that in mind, we designed Laïka to analyze your dog's behaviors and activities so that it can adapt to your pup as much as possible. In order to do this, Laïka uses a machine learning algorithm thanks to its sensor and powerful hardware. 
What does this mean? 

The same way you watch your dog, Laïka will analyze its own failure and success to make sure your dog stays stimulated. Laïka will update to get smarter and smarter so that your dog is never bored! 

We know how hard it can be for our dogs to resist chewing on something, especially a new toy that they've never seen before. With that in mind, we designed Laïka to be incredibly durable in order to withstand the chews and nibbles from dogs both big and small. Moreover, thanks to the help of Thierry Bedossa, our veterinary behaviourist, we have already performed 150 tests with different dogs in order to find the perfect material to use on Laïka so that it'll last for you and your pup.

Once Laïka arrives at your home (this is a super important step), you will need to present it to your dog. This allows your furry friend to get to know Laïka without any stress or aggressiveness. Our veterinarian will create video tutorials to help you with this!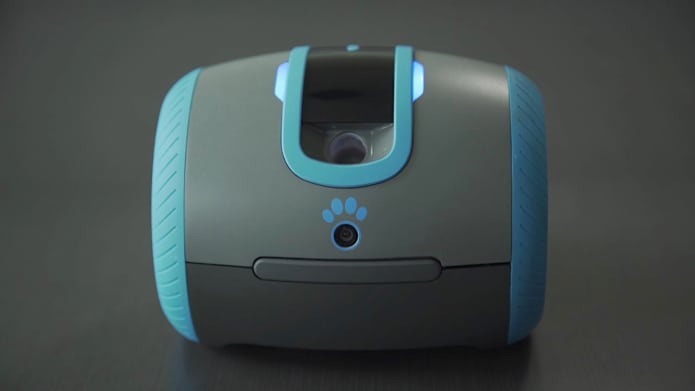 As much as we would love to, we can't always be there to watch our furry friends. With Laïka's live video and on-demand recording, you can always keep an eye on your dog and capture memories even while you're away. Using the integrated HD camera, it's also perfect for monitoring when your pup is sleeping, playing or misbehaving.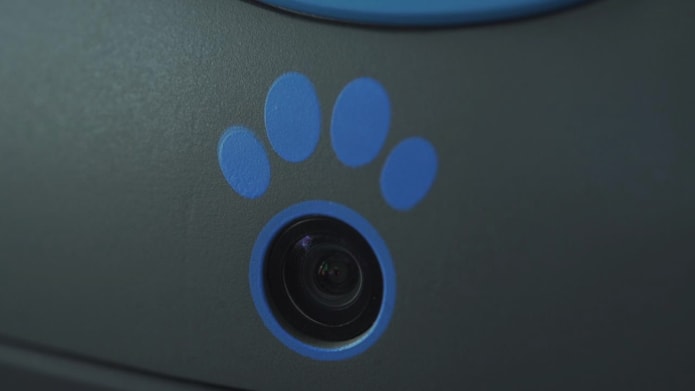 It's almost impossible for you to know if your dog cries, barks or whines while you're gone. Laïka has the ability to detect barking and notify you through the mobile app so you can interact with your dog in real-time and see what's going on.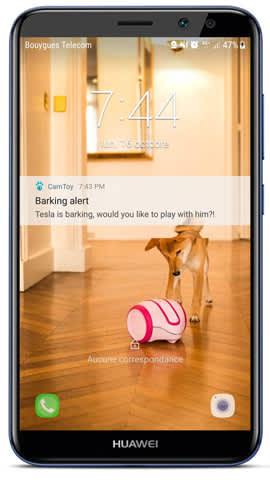 Hearing that your dog is constantly barking while you're away does no good if you can't calm them down. With Laïka, you can speak to your dogs to relieve some of their panic and anxiety while you're away, as well as reward them for quieting down using the treat tosser. You can let your furry friend know that he's being a good boy and that you'll be home soon.  It's the perfect way to keep your pup, and your neighbors, happy.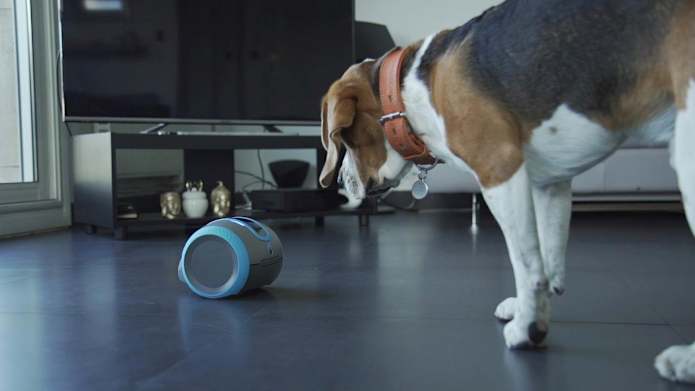 You can reward your dog for different reasons, including good behavior, avoiding accidents or just because you want to launch a treat. It's a great training tool to keep your pup on their best behavior while you're away! Our treat tosser works with any treats that are smaller than 1.2 cm (the size of the treats tosser is exactly 1.6 cm).

Laïka will also be a useful tool in educating your dog. Thanks to the application you'll be able to access lots of advice to help you teach your pup some tricks like sit, lay down and speak. The best part is, Laïka will reward them once they've done it well!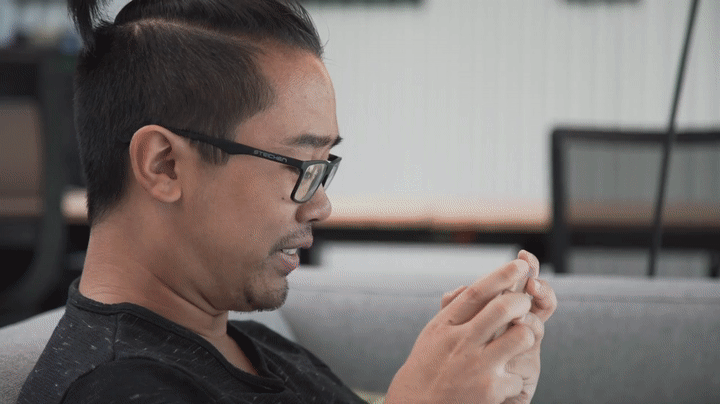 Download the Laïka app on your phone or tablet through the Apple store or Google Play. Through the Laïka app you'll be able to control the device, see your dog and its surroundings, receive bark notifications, hear your dog, toss treats, monitor their physical activity and so much more.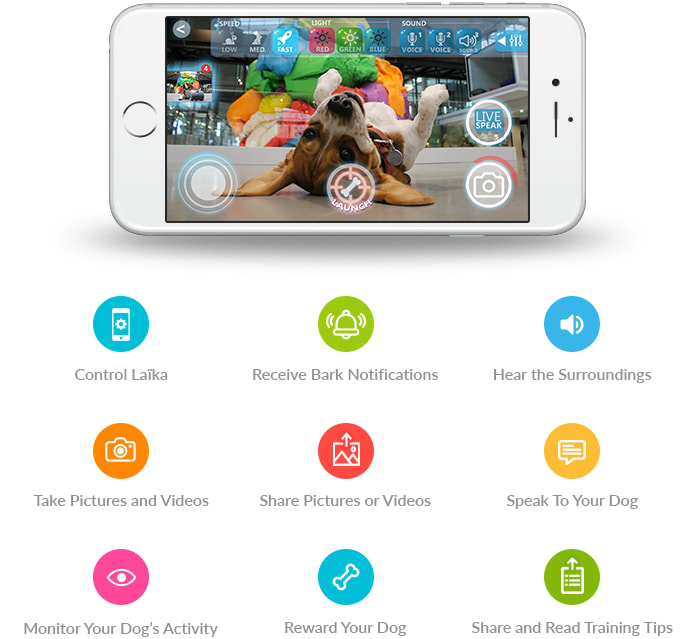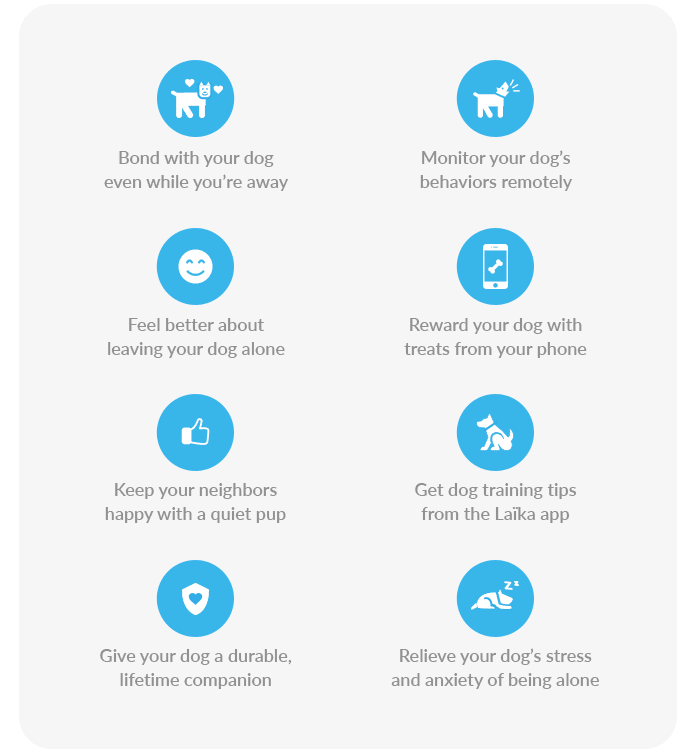 First, we wanted to expose our project to a veterinarian to be sure that Laïka wouldn't stress out dogs and would help them have a better life. That's how we met Therry Bedossa!
After we had all of the needs of the dog covered, thanks to Therry, we created some prototypes with a 3D printer and raspberry Pi to validate all pf the functionality: design, angle of camera, movement and treat tosser.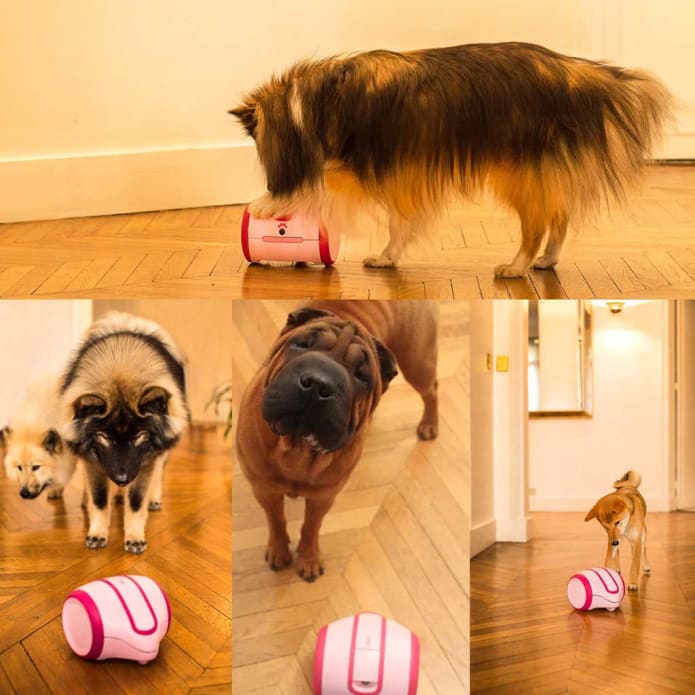 After that, we were ready to run some local test! We performed hundreds of tests and made changes as needed. Those tests proved that dogs where liking Laïka, but that we still needed to make some changes to the electronic design and implement a complex algorithm that would make Laïka able to locate your dog and interact with him as needed.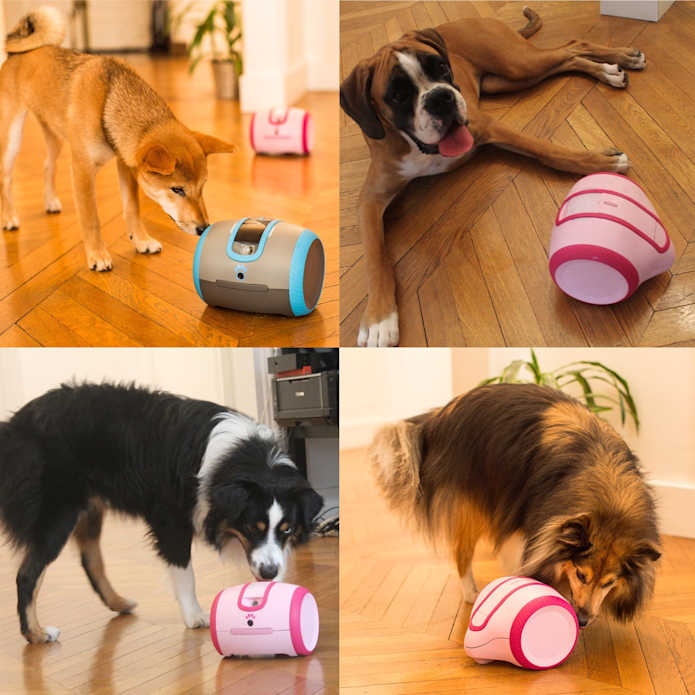 Since April, we've been working on the final mechanics and electronic design to ensure that it would be possible to industrialize our product. Now we are ready for industrialization and we are working on the artificial intelligence to make sure your robot gets smarter and smarter!  We will work on this part, and provided you with updates to guarantee that Laïka's behavior will change and your dog will never be bored.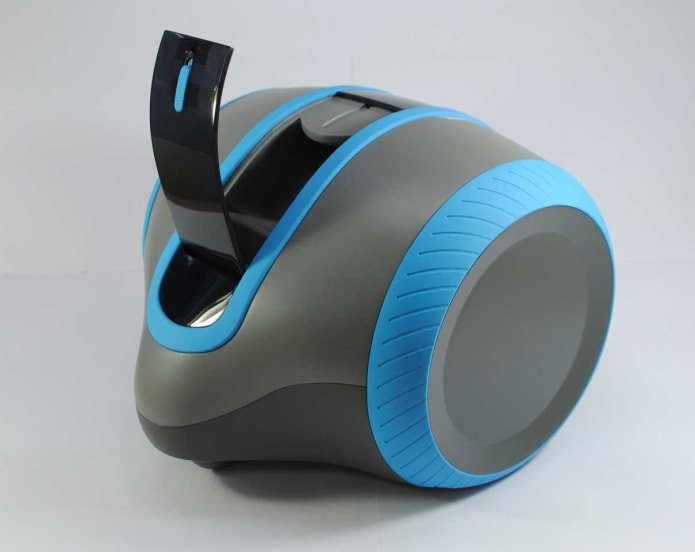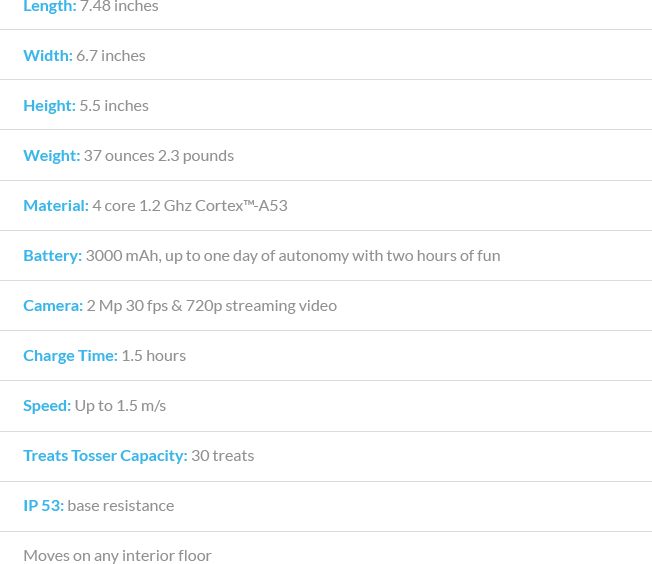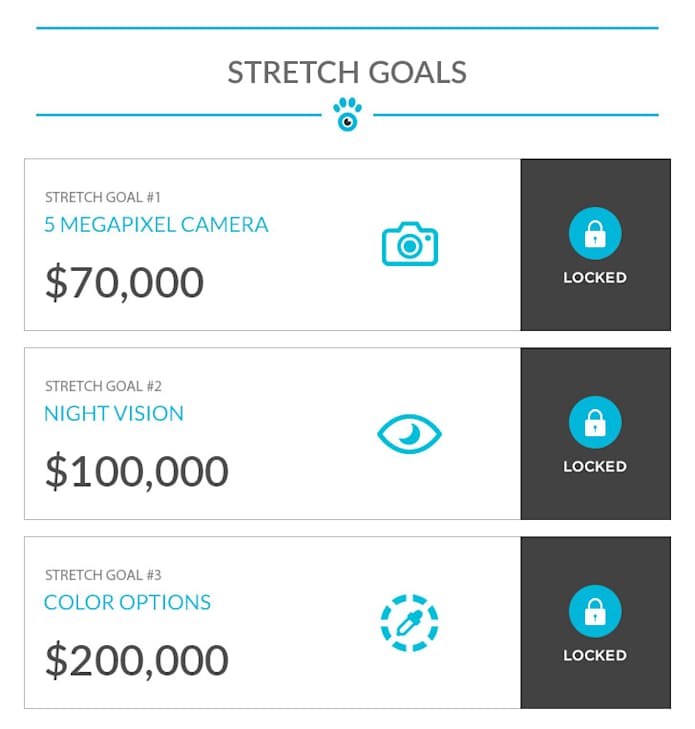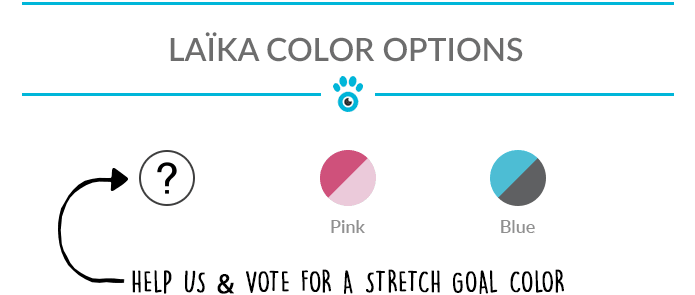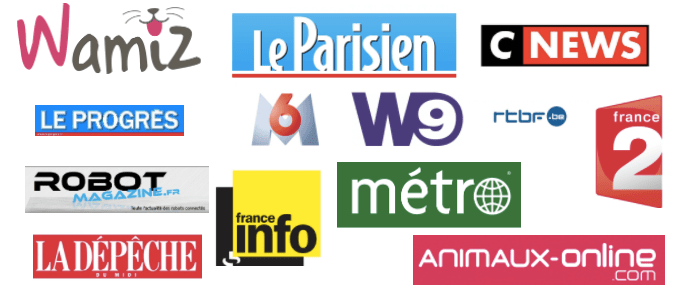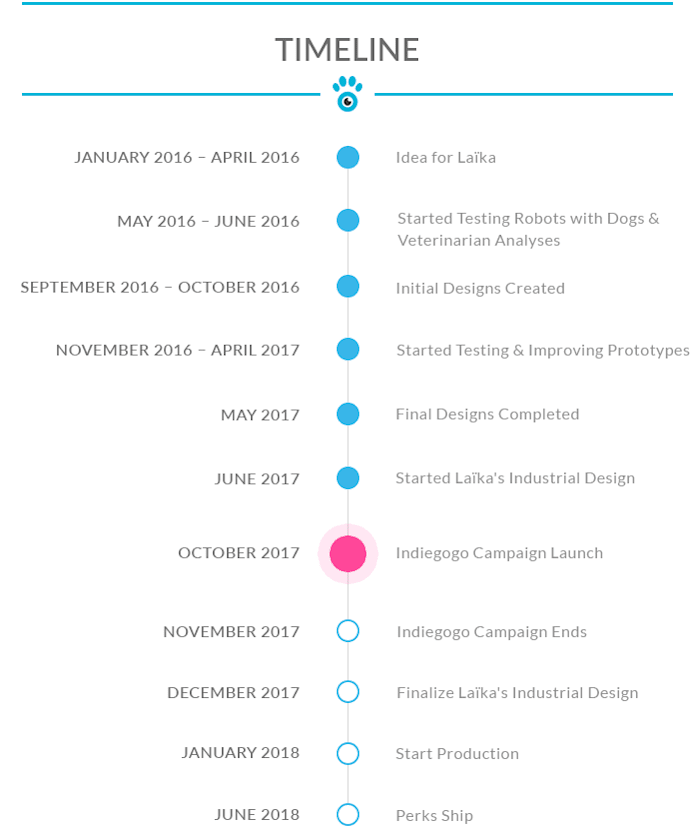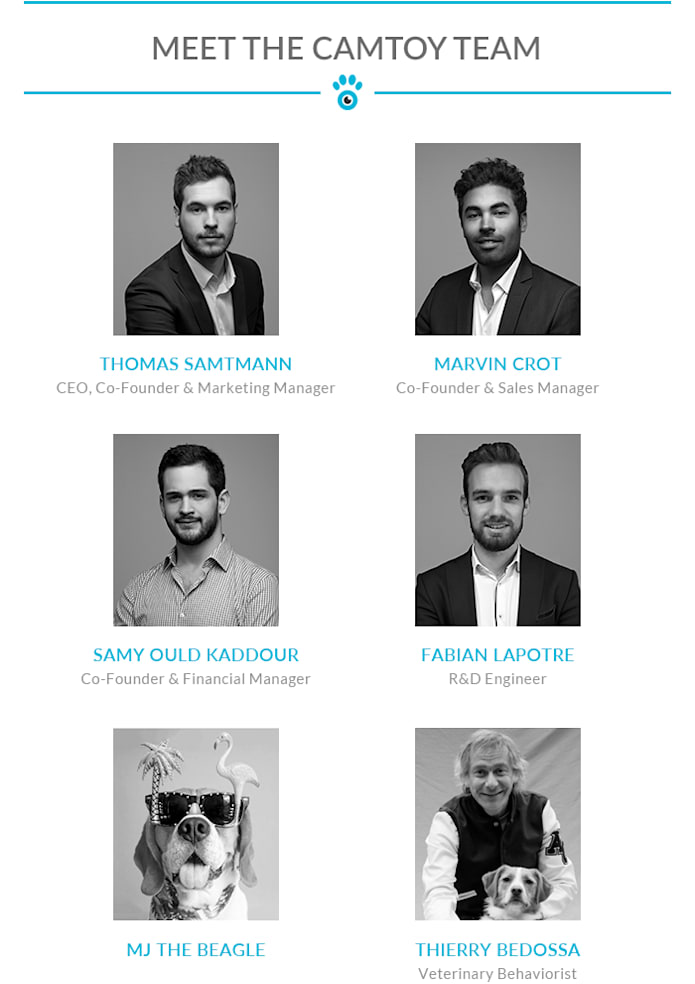 The history of Laïka starts with Thomas Samtmann and his adopted rescue dog Kimi. While Thomas was away, Kimi showed signs of separation anxiety and would destroy everything in his home and bark loudly all day. Thomas eventually installed a camera in his house and saw firsthand all of the terrible things that Kimi was doing throughout the day, but he was still unable to do anything about it. He didn't want to just check on her, he actually wanted to interact with her and play with her during the day to calm her down. With that thought in mind, the idea for Laïka was born. 

At the time, Thomas was a student getting his masters in Entrepreneurial Business at EDC Business School in Paris. He was nominated to participate in a contest called "Ocean Blue" with Marvin Crot and Samy Ould Kaddour who were in love with Thomas' innovative idea. Their project won the EDC Business School contest and received a massive amount of support from the school's professors to take initiative and pursue their dream to develop Laïka. 
 


Hey, you made it this far down, why stop now?! While you might not be able to support us with a pledge, you can always help us spread the word on Twitter, Facebook, Reddit, Instagram and anywhere else you can think of!

We can't thank you enough for checking out our project and helping us bring Laïka to life.
 




-I am not really a geek, is it easy to set-up Laïka?
Laïka is really easy to set-up, you only have to download the Laïka app, then connect the device to your  WIFI router. After that your Laïka package is set-up and you can play with your dog.
-Does Laïka work in my country ?
Laïka can work in every country, you only need a internet connection.
-Is there a warranty?
The applicable French law provides worldwide customers with a 1 year manufacturer warranty.

-Can I use Laïka with my cat?
Yes you can, but Laïka was not designed for cats.
Dogs and cats do not have the same constraints, Laïka was specially designed for dogs.

-Can I use my own treats with Laïka?
Yes you can use any treats that fit into the Barrel. However, treats that are too large or thick can not fit into the treat tosser.
-How long does the battery last?
laïka: 2hrs of optimal playtime .
When Laïka is awake but not in use, it automatically goes into its charging station, so it can stay constantly charged till it's next playtime.
Laïka Collar: A single charge of the collar can last up to 3 days.
-How to charge Laïka ?
The Laïka Package comes included with a charging station. You can both drive it into the charging base or it can autonomously go into the charging base, and it will begin charging.

-Can I share the pictures or videos captured by Laïka into my social media accounts?
Yes of course, you can share pictures or videos simply and quickly from the app into any social media. You also can share it to the Laïka community.
-How durable is it ? Why did you design Laïka like this?
We have set up a partnership with a famous French design agency : OVA design,  to create an aesthetically beautiful product. But the main problem was to create an object that is not going to have roughness, so that the dog is not able to chew or to destroy Laïka.
From a resistance and safety point of view, the external shape and materials used for Laïka were chosen with veterinarians according to the constraints related to dogs.
Laïka will be covered with an ABS plastic.

-Does LaÏka require a SIM card?
Laïka does not require a SIM card, it require only a wifi connection.

-When can I get Laïka?
Laïka will be shipped to all backers and for the different perks on June 2018.

-Do you ship worldwide?
Yes, we ship the Laïka Package internationally! A follow up email will be sent to confirm your shipping address once campaign ends.
-How much does shipping cost ? Is taxes and tariffs covered ?
Backers will only need to pay $20 to ship in every part in the world.
No the cost or perks does not cover taxes, tariffs or GST.
- If i 2 dogs for example to i have to buy to Laïkas ?
If you have two dogs you only need to purchase one Laïka package and add only one tracker. Laïka can be also used with two dogs each one wearing a laïka collar tracker.
- Why do i need the tracker ?
For optimum use, we designed a Tracker so that Laika can follow your dog independently without having to control it.
Laïka tracker also allows dog owner to have data on your dog's physical activity and give you information about the right moment to simulate the dog
-If I have other questions, who should I contact?
If you have other questions, please contact us at hello@camtoy.fr