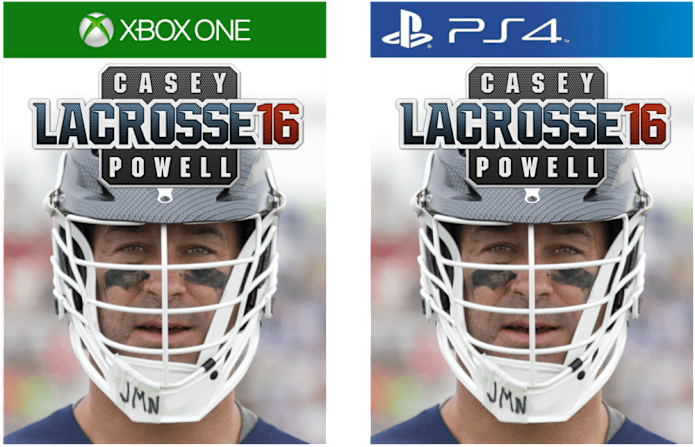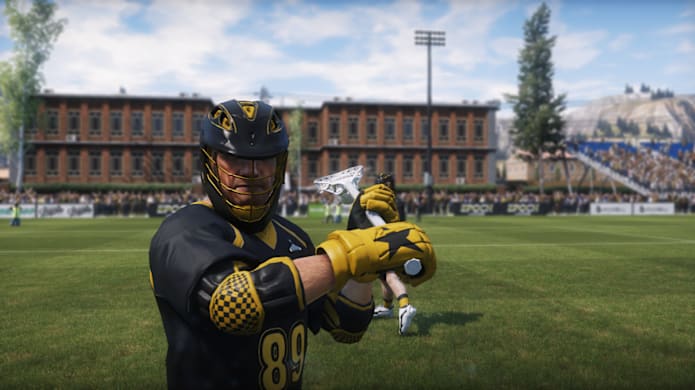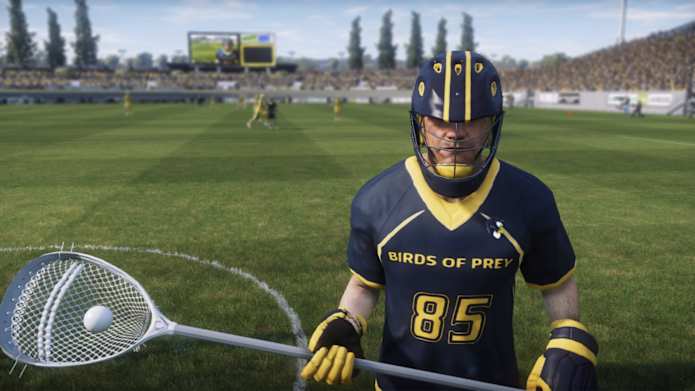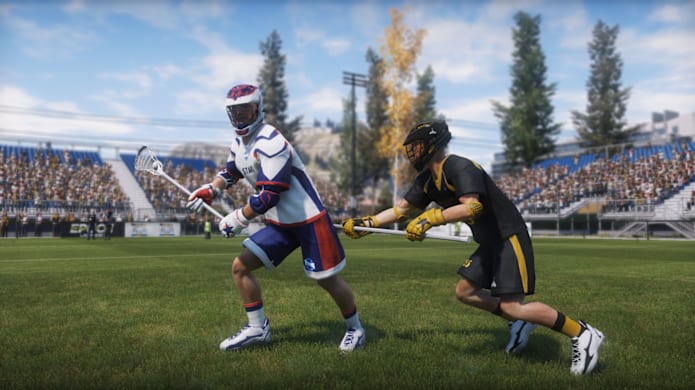 Game Overview
Casey Powell Lacrosse 16 is a console sports simulation where authentic lacrosse gameplay, high quality graphics, multi-year dynasty mode, competitive online multiplayer, real-time RPG leveling, and in-depth character customization are seamlessly integrated and delivered over Xbox, PlayStation, and the PC.
Gameplay:
Lacrosse 16 combines the player movement and passing of basketball with the stick control, shooting, and hitting of hockey to create a high scoring, action-packed lacrosse video game.
• High Scoring: Say goodbye to that "I can't score" feeling of standard sports video games. Lacrosse averages 20+ goals per game. Get ready to sting corners!
• Big Hits: Line up the ball carrier for huge hits by perfectly timing up your attack. Imagine a football linebacker with a titanium shaft. Lay him down!
• Combination Stick Checks: Strip the ball away from the offense with various sword-like stick checks. Slice and dice!
• Evasive Dodging: Execute combination dodge moves to work your way past the defense. Lacrosse players are pure athletes. First you break their ankles, and then you break their heart.
• Quick Stick Passing: Perform amazingly accurate and fast passing to exploit your opponents. Tic-tac-toe anyone?
• Face-offs: Control every movement of your players stick in first person face-offs. Clamp, pinch and pop, laser? Its in your hands!
• Groundballs: Decide if you are going to pick up the ball with two hands, one hand, or go for the quick Indian pickup. The team who wins the GB battles, wins the war!
• Transition Offense: The team who knows how to create numbers is the team who knows how to score goals! Find the 2v1s!
• Transition Defense: Its on you to decide when to stop ball, when to scrape, and when to rotate. Transition defense will make or break you!
• Settled Offense: There are times to push transition and there are times to settle the ball down. Do you know the difference? Championship teams do...
• Settled Defense: How far do you want to close out to play the ball? Are you going to pack it in and play zone? Slide from the crease or adjacent? Want to lock off their two best players? If you can't play defense, you are going to be in a world of hurt...
Developed by:
Crosse Website
Crosse Studios is a Pittsburgh-based company that is dedicated to creating entertaining lacrosse video games across a multitude of platforms, allowing players to access fast-paced, competitive and engaging lacrosse simulations. Founded in 2009, Crosse Studios developed the industry's first field lacrosse video game. Crosse Studios has since developed five lacrosse video games for Xbox 360, including two professional indoor games fully licensed and endorsed by the National Lacrosse League.
Crosse Studios released its first mobile lacrosse game, Lacrosse Dodge, for iOS and Android in 2013. The highly anticipated release garnered a 4.5 out of 5 stars user rating and spent several days inside the Top 25 Paid Apps in the United States, ranking ahead of mega hits Temple Run and Words With Friends at the time. Most recently, Crosse Studios released five more mobile games, including Flick Lacrosse Lite, Laxy Bro, Lacrosse Arcade 2014, Lacrosse Shot, and College Lacrosse 2014.
Big Ant Website
Big Ant Studios is an Australian video game development studio founded by CEO Ross Symons in 2001. Some of the developer's most popular titles are Australian sporting titles such as the AFL Live series, Rugby League Live as well as Don Bradman Cricket 2014 which was released in late 2014. Located on the Southbank of Melbourne's Yarra river, it is one of Australia's largest and most experienced studios.
What We Need & What You Get
To develop a high-end Lacrosse Video Game it takes a lot of time, resources, and money. All contributions made will go directly into building Lacrosse 16 for Xbox, PlayStation, and the PC.
Authentic Lacrosse Gameplay and Artificial Intelligence

High-Quality Graphics

Motion Capture Animations

Multi-year Dynasty Mode

Online Multiplayer

Real-Time Skill Leveling

In-Depth Character Customization
• Quick Game - Short on time? Pick up the controller and play the fastest game on two feet from the comfort of your living room! Lacrosse 16 will feature hundreds of custom teams and thousands of unique players!
• Massive Dynasty Mode - Negotiate player scholarships, sign sponsors, hire top-flight coaching staff, and set intense training programs to build the ultimate team.
• Online Multiplayer - Nothing is more rewarding than playing online versus friends and competitors. Our engine is built from the ground up with online gaming in the forefront. Quickly pick up the game for competitive ranked play or run a top-tier franchise with your friends through Dynasty Connect. Play competitively in ranked or unranked matches or mini-games. Earn badges and experience the rise to the top of the leaderboards.
• Character Creation - Create teams and players in the fully featured Lax Academy and share them online. Laxers are gear heads who love to rock the newest and coolest equipment. The Lax Academy opens up endless customization options from the player's height, weight, skin and physique to facial features and hairstyle. Equipment selection allows for customizations of helmets, jerseys, shoulder pads, elbow pads, gloves, stick shafts, stick heads, war paint, socks and shoes.
The Impact
The impact a high-quality Lacrosse Video Game can have on the sport of lacrosse is HUGE:
For the first time ever, people who have never played lacrosse can pick up a controller and play a full game of lacrosse. This will open the sport up to millions of people around the world who have never even heard about the game, who are too old to play, or are intimidated that "they don't know the rules."

Through the release of Lacrosse 16 we can expose millions of people to lacrosse like no other medium can.

The next step in Lacrosse Video Games is within reach. With your help, we can build an awesome lacrosse video game and help grow lacrosse.
Other Ways You Can Help
Tell people about the Lacrosse 16 and the Test Team

Remember, people are busy and don't hear every piece of news. A lot of great things fall through the cracks.
Risks and Challenges
As with developing any video game there are a lot of risks and costs involved.
1. Quality: Matching the quality of current sports video games is a challenge, but our experience proves that we will deliver a high-quality experience.
2. As requested by PayPal: "The delivery of rewards or perks are subject to best efforts and not guaranteed." (We are required to include this.)