Our campaign is over, but if you still like to get a Kreyos Meteor you can preorder at www.kreyos.com
In the Press:
For media & press inquiries, please contact press AT kreyos.com
CNET: Kreyos Meteor smartwatch attempts to one-up the Pebble
TNW: Kreyos smartwatch crowdfunding campaign passes $1 million in contributions
TechHive: Kreyos Meteor smartwatch pairs voice and gesture control
GigaOM: Kreyos Meteor smartwatch aims to be the Star Trek communicator of our time
VentureBeat: This 'hands-free' smartwatch is powered by voice and gesture control
BusinessInsider: Lets You Answer Calls And Change Songs By Waving Your Hand
LaptopMag: Kreyos Meteor Waterproof Smart Watch Launches with Gesture Control
9to5Mac: Indiegogo project 'Kreyos Meteor'
Geeky Gadgets: Kreyos Meteor Smartwatch Offers Both Voice & Gesture Control 
Gizmag: Kreyos Meteor smartwatch brings Star Trek tech to life
Technology Personalized: Kreyos Meteor vs Pebble vs Sony: How they Compare?
Jeffhilimire.com: 11 reasons I backed the Kreyos Smartwatch
CrowdfundMafia: Kreyos Smartwatch, an Indiegogo Blockbuster!
CrowdfundingGuide: First Smartwatch With Two-Way Voice And Gesture Control, Exceeds Crowdfunding Goals In One Day

For Press coverage/info please visit bottom of the page
UPDATE (15-JULY-2013): We have had many request for a comparison of the popular smart watches on the market. So here it is:
Pebble: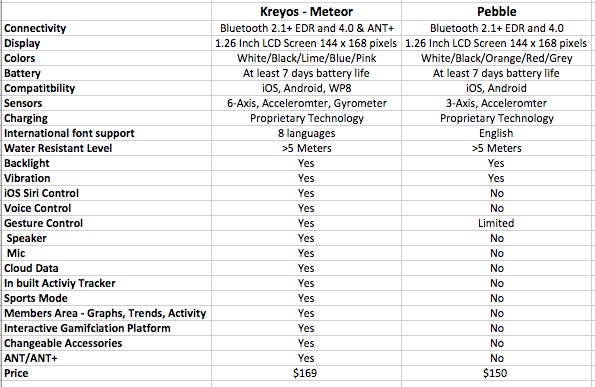 Sony SW2: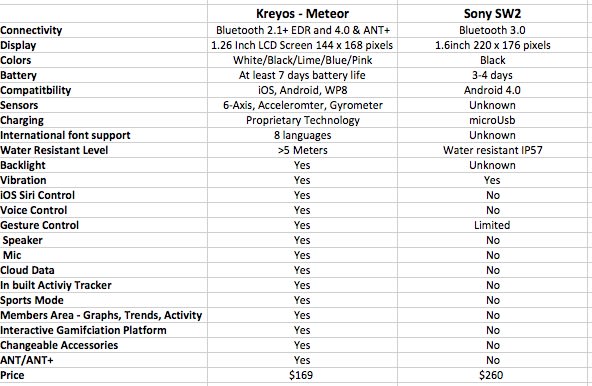 MetaWatch: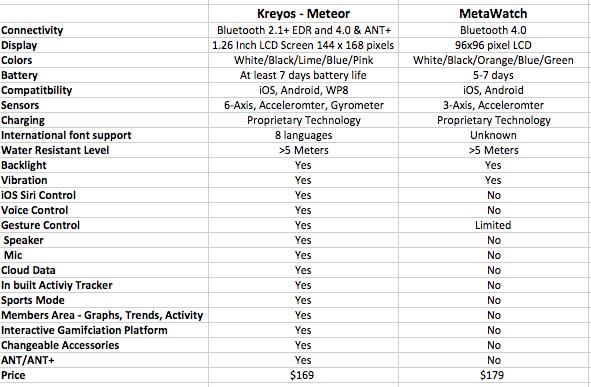 Agent: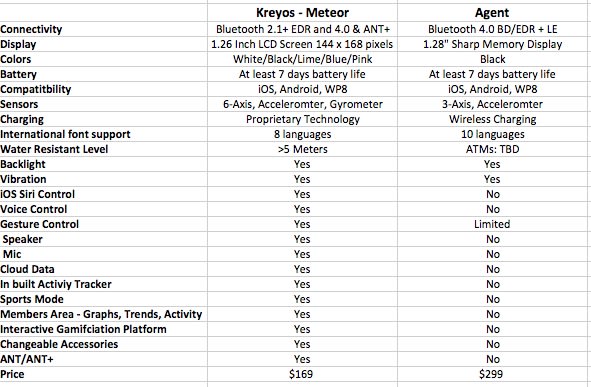 Martian: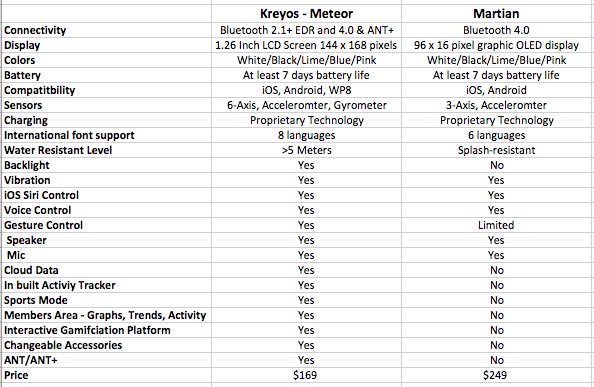 For the full comparison of ALL watches in one image, please click here
These tables are meant for comparison purposes only. All trademarks are property of their respective owners.
Be the First to Mobilize Your Life with the Kreyos
All-In-One "Meteor" Smart Watch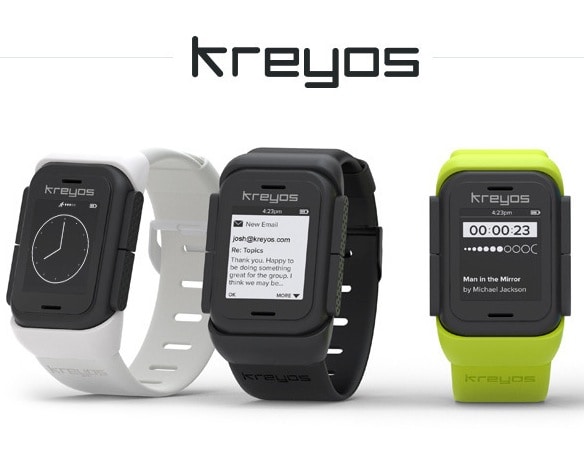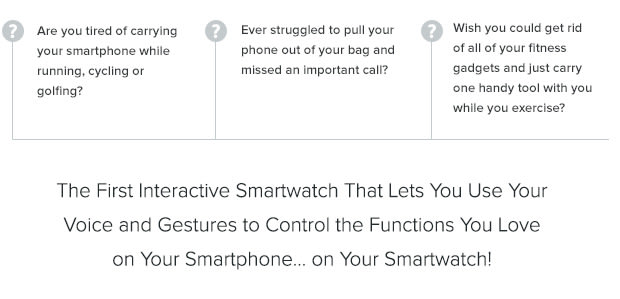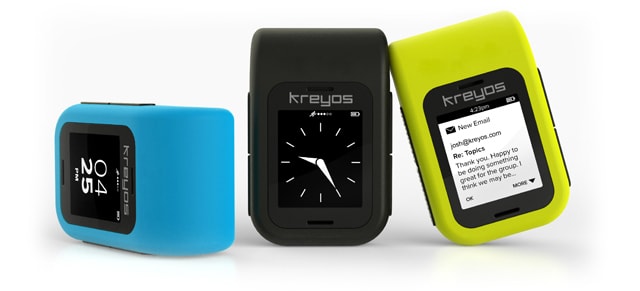 We can ease your tech aches and pains.
The Kreyos Meteor is a hands-free, two-way communication system that you wear on your wrist. On your belt. On your bike. Or even on a lanyard around your neck.
Because it is light and portable, it's easy to wear while on the move – whether you're on a long bike ride or a short-trip to the grocery store.
For the first time ever, you now will have hands-free control over the powerhouse mini-computer that sits in your pocket.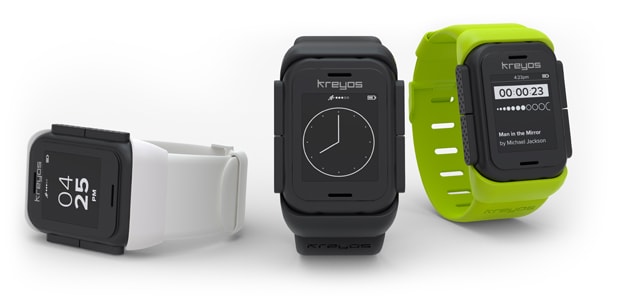 UPDATE (01-JULY-2013): Kreyos Meteor has the ability to answer phone calls DIRECTLY from your wrist without reaching for your phone in the pocket. You can answer the call with a  gesture or by simply pressing the answer button on the watch. We added this update as many backers are confused whether they can answer calls from their wrist. 
Question: Does the Kreyos Meteor have a sim card slot?
A: No, your Kreyos needs to be connected to your smartphone via Bluetooth in order to answer calls. Its not meant to replace a smartphone.
Since the first time Captain Kirk spoke into his "communicator," people have dreamed of using their voice to control communications.  As the only waterproof, interactive smartwatch to feature a microphone and speaker, the Kreyos Meteor is the first to allow you to control your smartphone – and your smartphone functions – remotely using voice commands.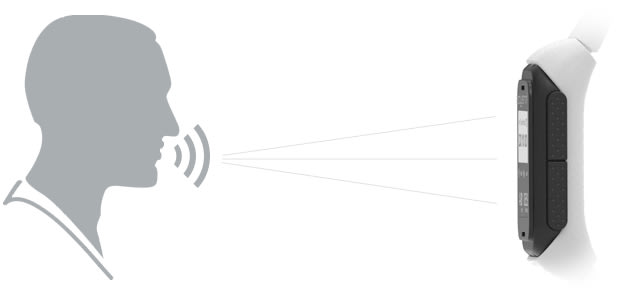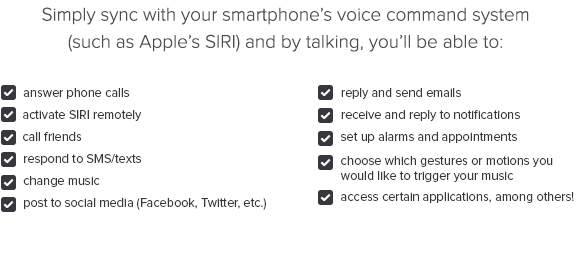 UPDATE (28-JUNE-2013): Gestures controls could be configured in the free Kreyos App.
Wish you could send texts without typing? Or change your music without pressing a button?
Talking to your watch makes communication easy, but we also added motion control right into the Kreyos operating system. Using a 3-axis gyroscope, controlling your Kreyos Meteor Smart watch is as easy as moving your hand.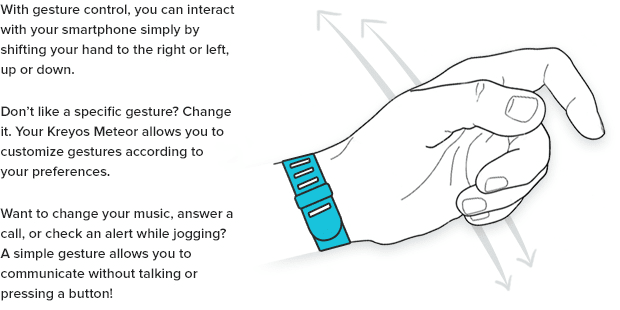 In the Meteor, four different wrist motions come preconfigured – and you can pick an action to correspond to specific activities. In the future, we'll be adding a variety of additional motions to the Kreyos platform, enabling you to expand the motions in your repertoire. And developers also will have the freedom to build additional gestures into applications.
Because of its hands-free functionality, the Kreyos Meteor gives you more freedom to move around your world – without losing contact with your social, business and family networks.

UPDATE (28-JUNE-2013):  Kreyos Meteor can keep time even when disconnected from your phone. Kreyos Meteor also has inbuilt "widgets" that comes included. It works independently WITHOUT any smartphone connected.
Daily Activity Tracker
Calendar 
Countdown Timer
Sports Mode – Walking, Running & Cycling 
Multi World Clock
Analog Display
Digital Display
Multi Silent Vibrating Alarms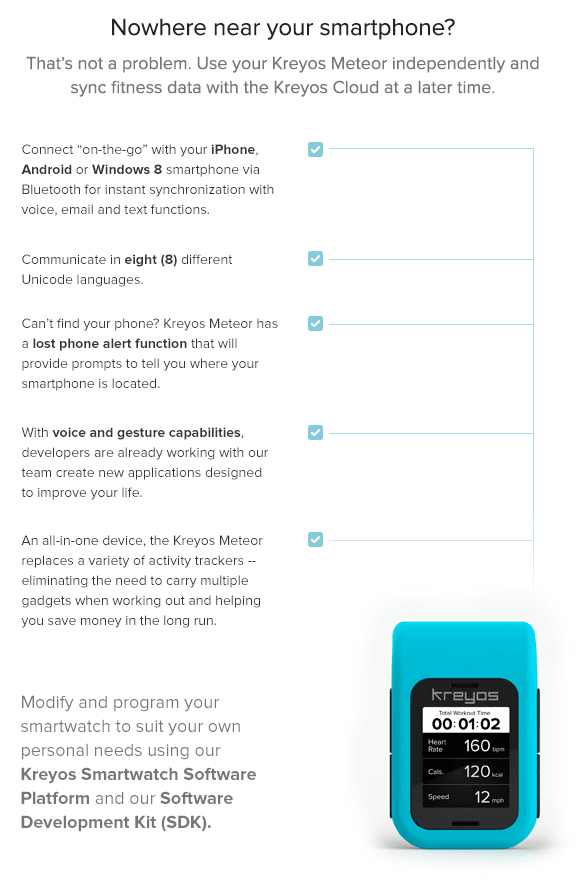 UPDATE (28-JUNE-2013): We will be setting up a platform for developers to upload watch faces. Uploaded watch faces will then be available directly on the Kreyos App for downloading and pushing updates to the watch instantly.
Customizing your watchface is easy.  The Meteor includes more than 20 digital and analog watch faces.  Change the look and feel of your watch whenever you feel like it.  Of course, 20 is just the beginning!  More to come in the future!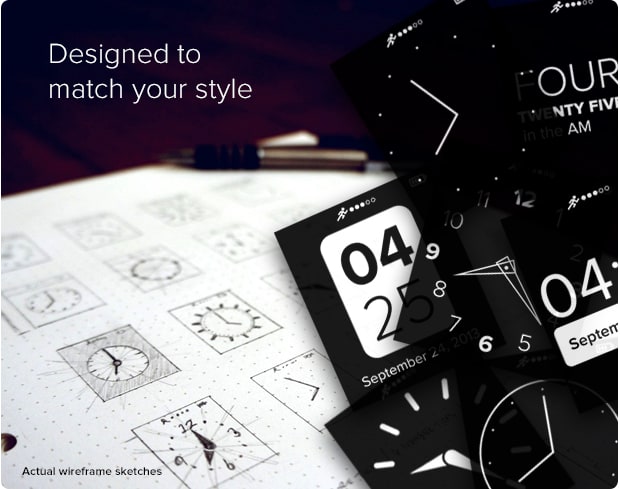 No two humans are alike. So why should everyone have to wear their smartwatch on their wrist? That's why we created a series of watchbands and accessories designed to fit your lifestyle.
All of our watchbands and accessories are designed using high-grade, durable silicone. As a result, they are waterproof, flexible and fun to wear – whether you're a couch potato, a fashionista, or a professional athlete! 
This season, we're offering our watchbands and accessories in a series of "hot" colors perfect for those who are fashion forward: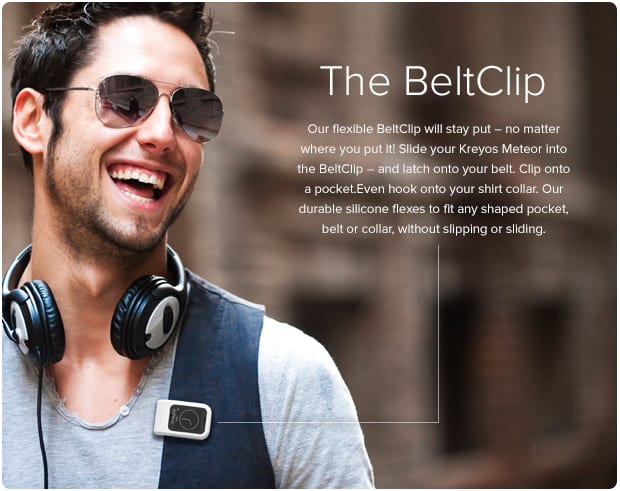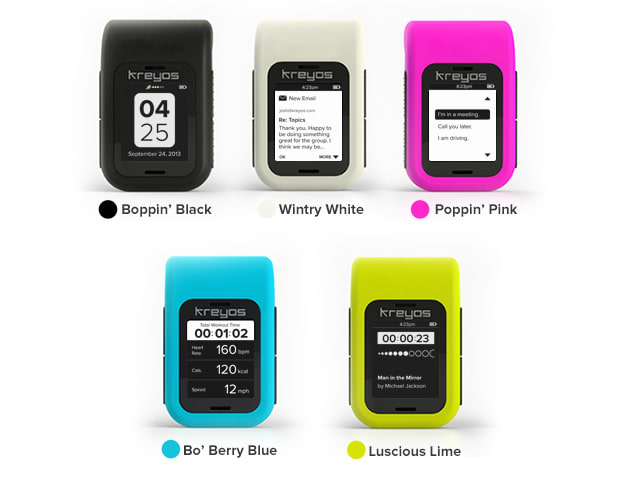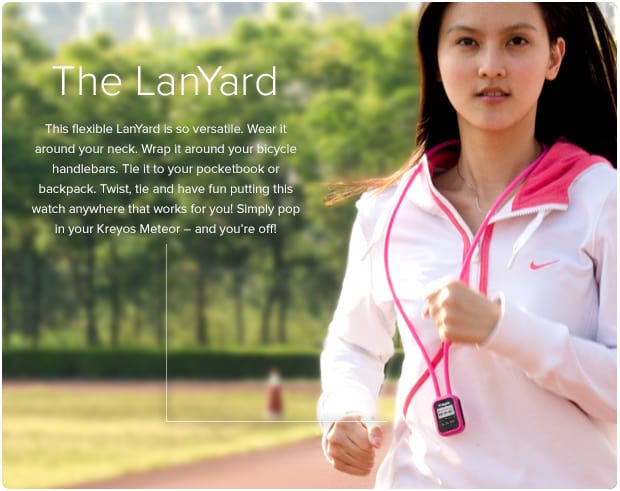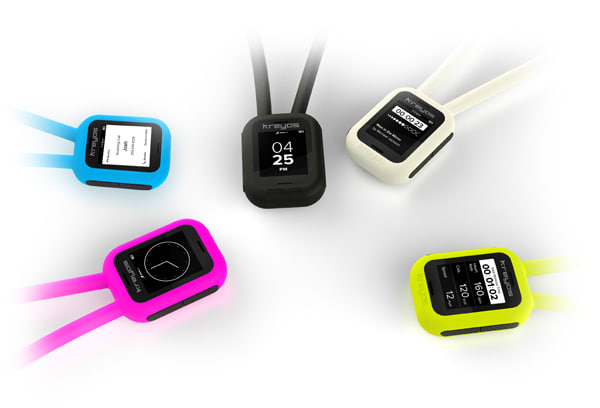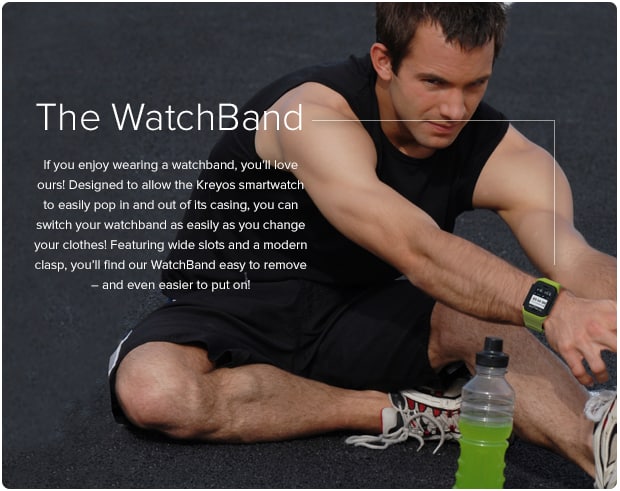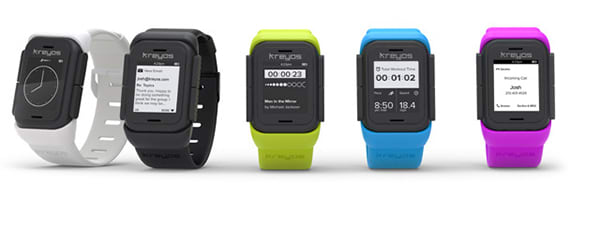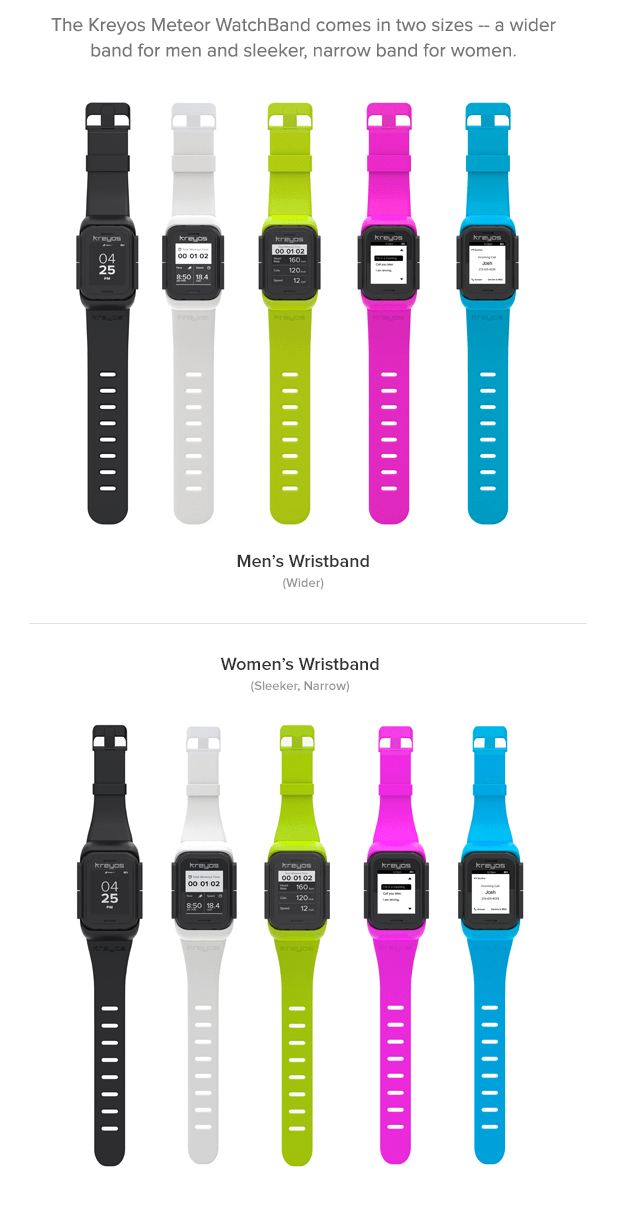 Because you can wear it as a watch, hang it from your belt, attach it to your bike or wear it around your neck, the Kreyos Meteor frees you up to do the things you need to do – without worrying about dropping or losing your smartphone.  And it gives you the freedom to communicate – via voice, text, or email – even when holding a phone or tablet is inconvenient.
Watch for more fun, flexible accessories and colors in the future!  You'll want to collect them all!

UPDATE (28-JUNE-2013): Kreyos Meteor has a built-in accelerometer. Daily Activity "widgets" is built into the watch, so it tracks stats like steps, floor climbs, calories and distance taken daily. You will be able to sync them into your smartphone's app. This is standalone, works totally fine without your smartphone with you. It automatically syncs the data to your app when its near the smartphone.
Kreyos Meteor WILL WORK directly with bluetooth or ANT+ sensors without being connected to the smartphone. Meteor WILL BE ABLE to receive data directly from the sensors WITHOUT a smartphone connected and populate it on the watch.
Kreyos Meteor itself has a sports mode for people who wants to track when they start and stop activities like, Walking, Running & Cycling. It has a 3,4,5 grid data option, CUSTOMIZABLE in any way you prefer . 
Grid Options include the below:
a) Total Workout time
b) Time of the day
c) Total Distance
d) Altitude
e) Elevation Gain
f) Speed
g) Average Speed
h) Top Speed
i) Pace
j) Average Pace
k) Calories Burned
l) Current Heart Rate
m) Average Heart Rate
n) Max Heart Rate
o) Current Lap Time
p) Average Lap Time
q) Best Lap Time
Question 1: Is Kreyos Meteor able to show running speed data in sports mode?
A: Yes, when a smartphone is NOT available, Kreyos uses metrics from the accelerometer and gyrometer and calculates your speed. In the event of a smartphone being available it will receive data from smartphone's GPS.
Question 2: Is Kreyos Meteor able to show Cycling speed data in sports mode independently?
A: No, for cycling it will require either a smartphone GPS data available or a ANT+/Bluetooth Speed cadence sensor to show speed data on the watch.
Question 3: Is Kreyos Meteor able to show Heart rate data in sports mode independently?
A: No, you will require a ANT+/Bluetooth Heart rate sensor for the watch to display the heart rate data.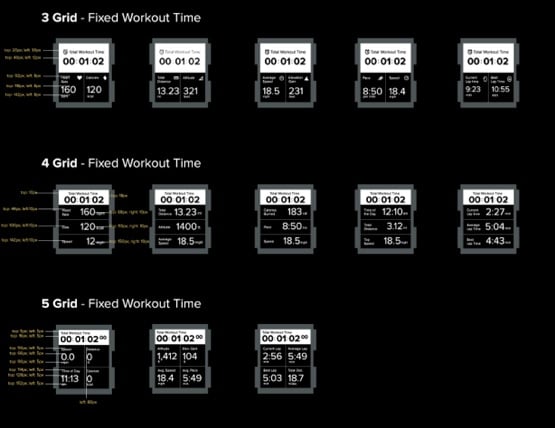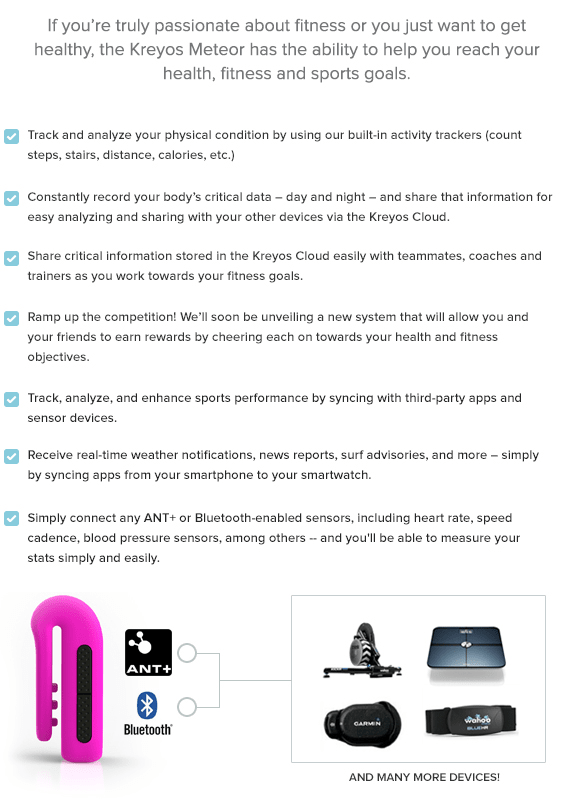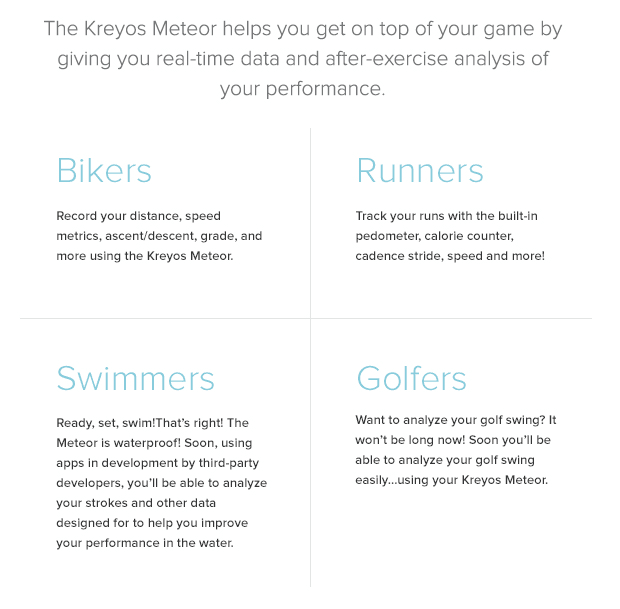 Whatever your sport, the Kreyos Meteor will work for you.  Ever try and ride a horse with a smartphone?  Or race a dirt bike across country without breaking that expensive glass screen on your smartphone?  How about swimming in the ocean?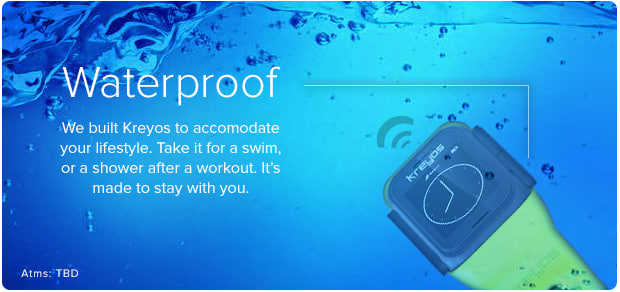 Or snorkeling offshore?  No matter what you love to do, the Kreyos Meteor will help you maintain your fitness, share your progress with friends and teammates, and shout your successes to the world…via social media!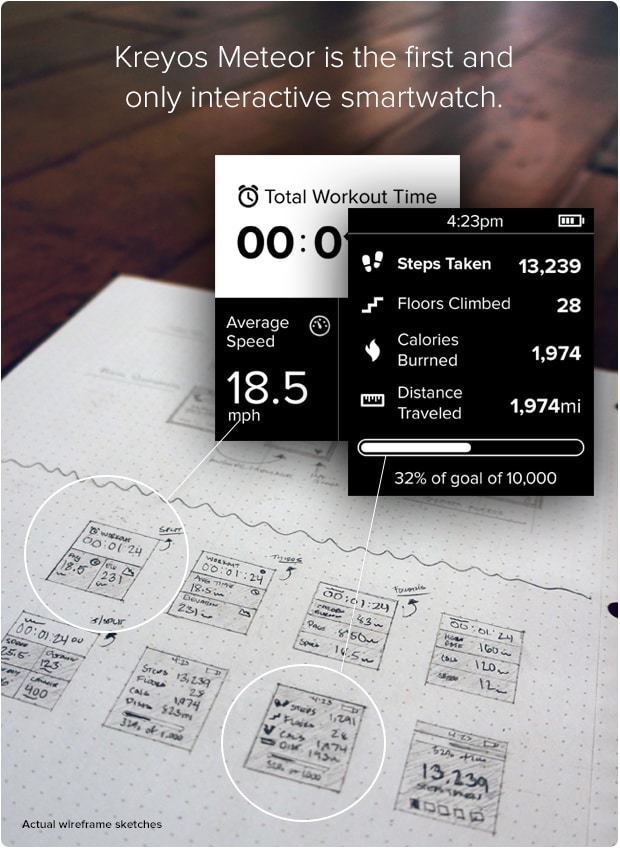 Unlike the first-generation smartwatches that only provide one-way notifications, the Kreyos Meteor is the first and only interactive smartwatch to let you use voice and gestures to control your smartwatch.   Built into the operating system of the smartwatch itself, this technology is far beyond the capacities of the first-generation watches prepping for the market today.  In fact, voice and gesture control cannot be easily added to other watches because adding voice and gesture control requires hardware, rather than software, integration.
That means, quite simply, that the other "smartwatches" on the market won't have full gesture and voice control capabilities for a long time --- if ever.
And that's not all.  Because we already have our Kreyos Platform and proprietary operating system designed and developed, we are in the position of being able to get to market faster than anyone else.  In fact, we don't need the money for development.  We need it for production.  And that means that as soon as we reach our target on Indiegogo, production begins.
And if you're an early adopter now, you'll be the first to hear about future upgrades to the Kreyos Smartwatch.  And you'll be among the first to enjoy downloading new and exciting applications, programs and UI changes.  That's right.  You won't have to buy a new watch. You'll update your watch online.  Simple.  Effective.  Powerful.
That's the Kreyos Meteor.

UPDATE (28-JUNE-2013): Watch apps can be written in C. Also we will be creating an desktop emulator, making it easy for interested developers to create watch apps for the Kreyos Meteor.
If you're an app developer, click here to sign up for our developer's mailing list. We'll keep you in the loop for the latest SDK updates.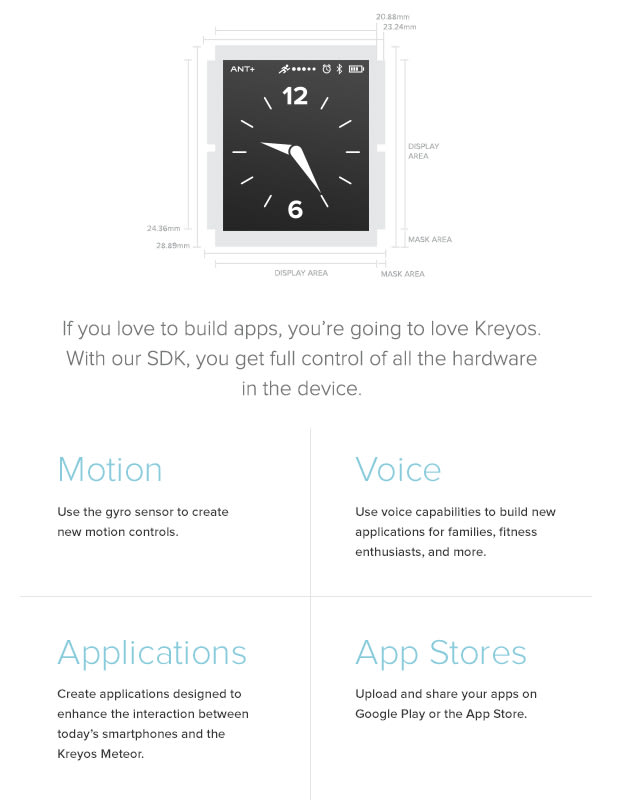 Examples of potential apps that can be build using the Gyrometer.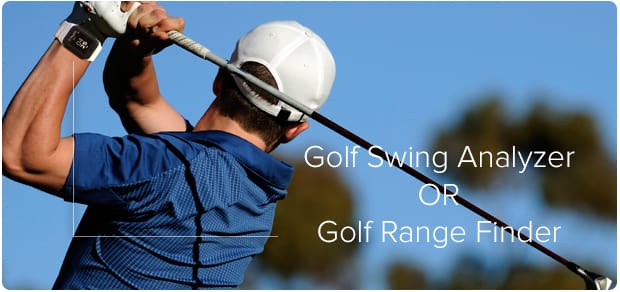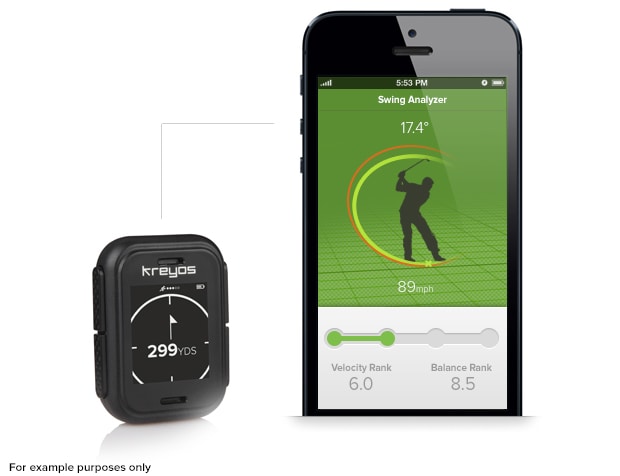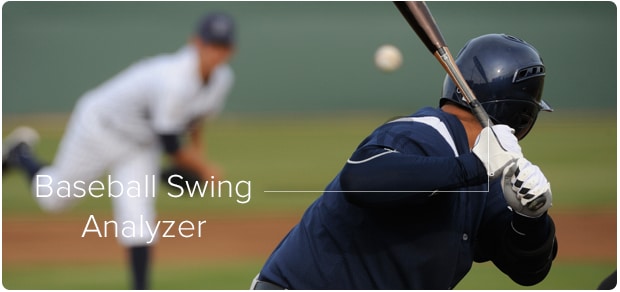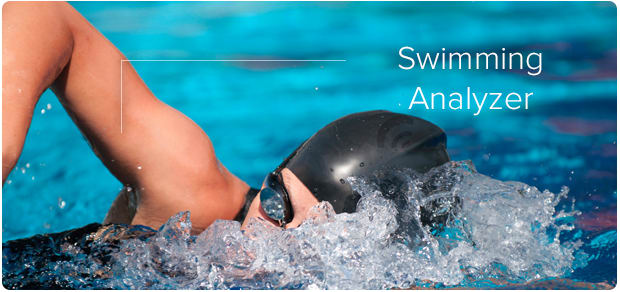 Kreyos has tested, dropped, hit, dunked, tested again – and discovered that the Kreyos Meteor is ready for production.  A few of them are in the hands of select media for review, and we're simply burning to turn on our production line. 
We expect to have our first batch ready for shipment in late November after we reach our Indiegogo goal. 
As a supporter, you will be among the first to receive your own Kreyos Meteor. So pledge today – and you'll be enjoying the most advanced smartwatch on the market in time for the holidays.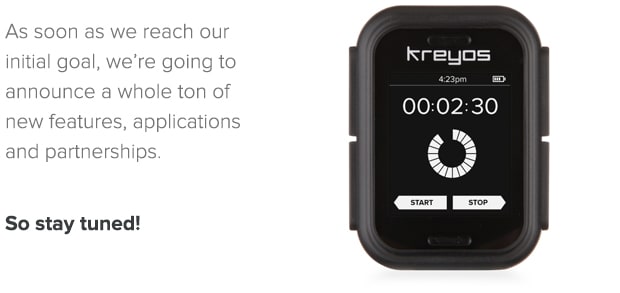 Here are some actual sketches of the watch in the early phase. Also we have included some of the UI wireframe sketches of the watch. More to come...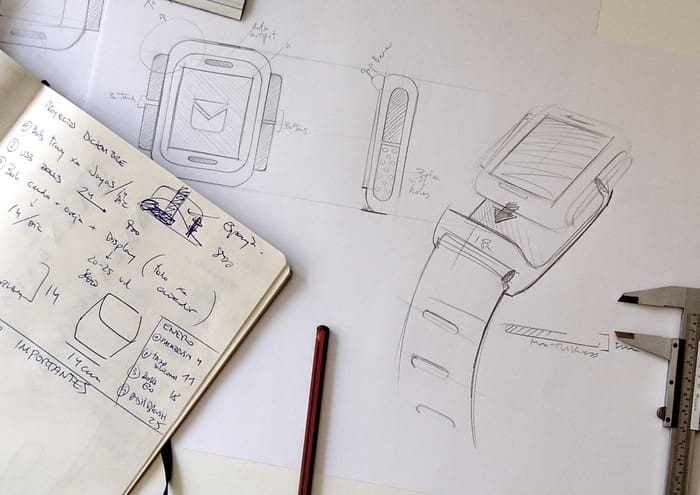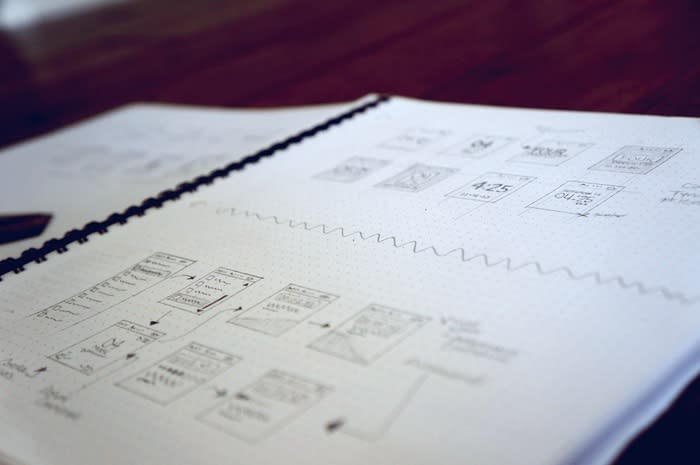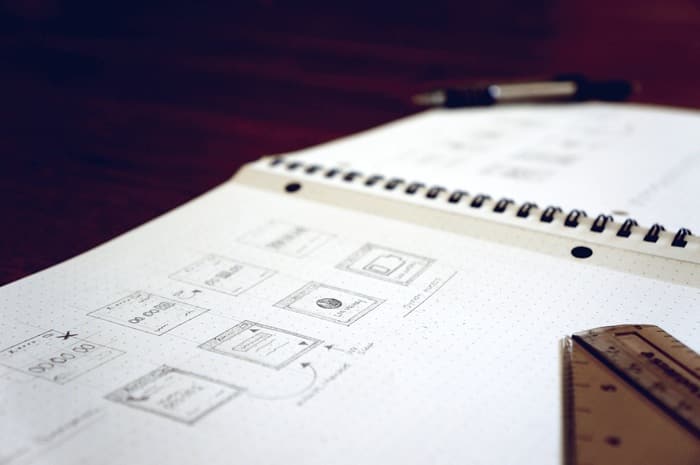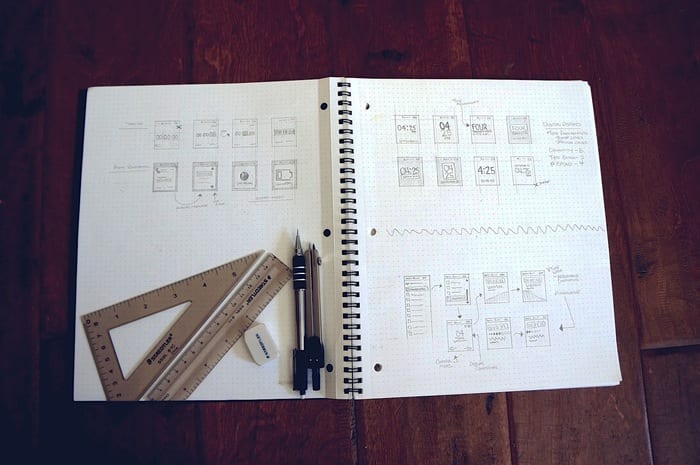 We have completed most of our moulds required for injection parts. What you see in the pictures are ACTUAL injection samples, NOT PROTOTYPES made from 3D printers.  
To produce Kreyos Meteor we have chosen to work with one of the world's most respected factories in China. Our lead engineer, lives in Shanghai and travels back and forth to meet with our manufacturer. He is managing the project development with dedicated engineering resources supplied by our manufacturer.
Injection moulding tools at the manufacturing facilities below: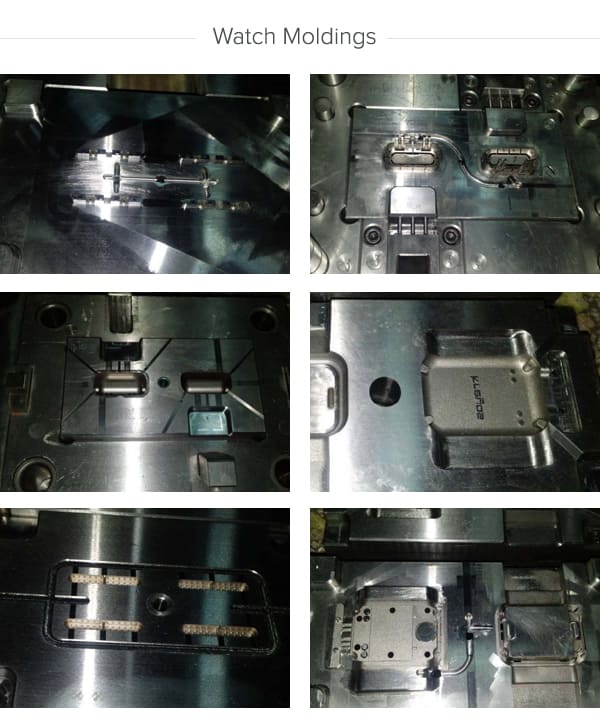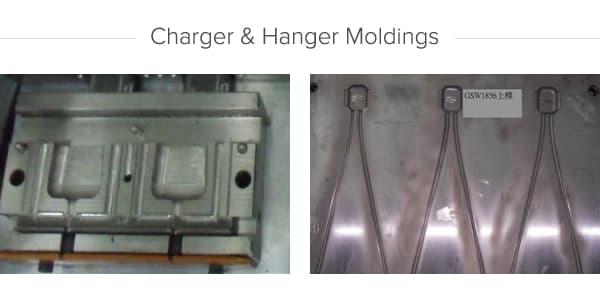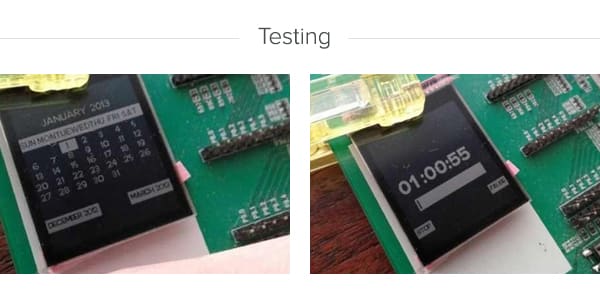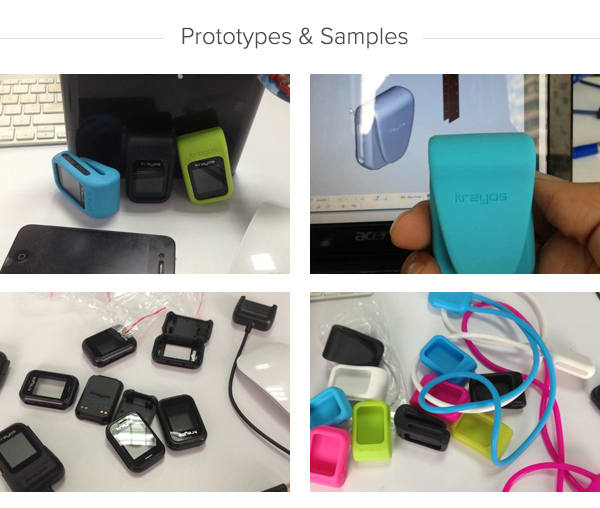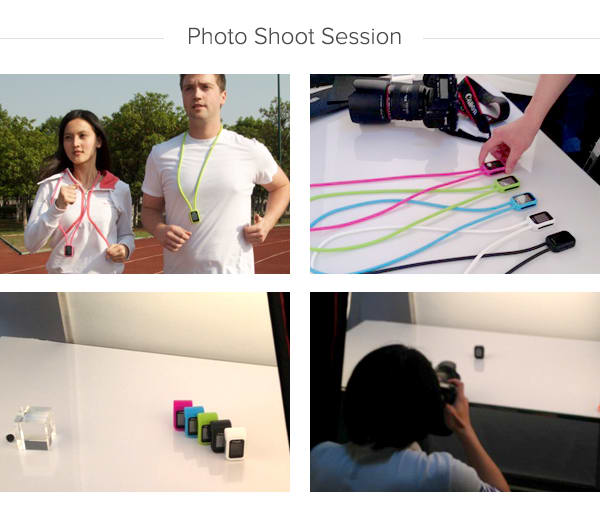 We need your help to finalize our software development and go into mass production.
Here is how we will invest the funding we receive:
1) Software Development: We have started the IOS, Android, WP8 software development but the majority of the funding requested will be applied to complete final software coding, testing and UI design.
2) Mass Production: We need your support to secure procurement of the long lead components and meet the minimum order quantities required by the EMS factories. 
With your support we expect to have the first production of Kreyos Meteor in your hands by late November, we want to get Kreyos Meteor to you before Christmas!. We are very excited about this project and hope you are too. We appreciate your support and please share Kreyos with your friends too!
The amount of funding we require to achieve the final milestones is $100,000. We hope you will find it in your heart to help us deliver this long sought after, valuable and useful technology. 

Kreyos is a truly international team. Founded in the United States, our team features experts in different fields, located in the USA, Singapore, Spain, China, Taiwan, and the Philippines. 
Over the years, our team has worked for world-class companies, including HP, Microsoft, Acer, Lenovo, Hitachi, Toshiba, Amazon, Best Buy, REI, among many others.  
We each have a real passion for electronics and consumer products – and we obviously enjoy a variety of sports.  
In short, we built the Kreyos smartwatch because we really want to use it ourselves, and some say that's the best way to innovate. 
We consider it our mission to pool our talents and bring the Kreyos to the world. 

Ultra Low Power MCU
Ultra Low Power 1.26 Inch Memory LCD Screen 144 x 168 pixel 
4 Waterproof Buttons
Vibrating motor
ANT/ANT+
Bluetooth 2.1+ EDR and 4.0 (Low Energy)
3-Axis Gyrometer 
3-Axis Accelerometer
Water Resistant Mini Speaker
Water Resistant MEMS Microphone with HIGH SNR and Flat Wide Band frequency response
Water resistant - Good for swimming and shower (ATMs: TBD)
150 mah Lithium Rechargeable Battery (7 days battery life)
USB Interface for Charging and Watch OS Update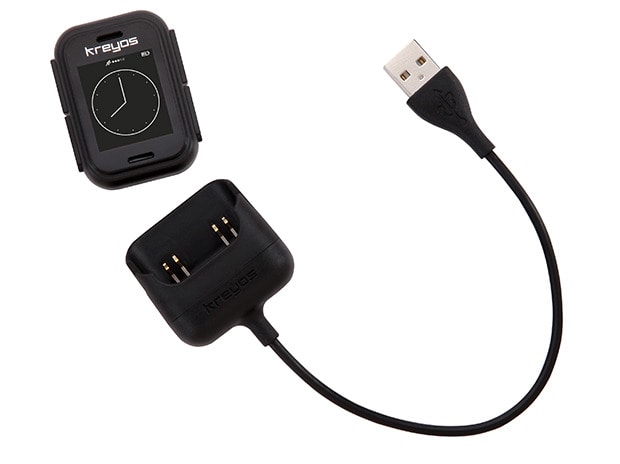 Stretch Goals
UPDATE (01-JULY-2013): Our 1st Stretch Goal of $300,000!
Stretch Goal #1: Gamification Platform
The great thing about the Kreyos Meteor is that it's interactive. We wanted to extend that and also make sure its fun and enjoyable at the same time for our users.
With your support it became a reality for Kreyos. We're very excited to announce our partnership with Badgeville (www.Badgeville.com), the leader in gamification platform. This allow us to provide our users with the best gamification experience possible. With the integration our users would be able enjoy the following below in the members community area and also on the Kreyos App.
Social: Share your achievements with your friends
Motivation: Activities earn you points, badges and achievements!
Fun: Make fitness fun! Share & compete with your friends.
Tracking: Set goals! Track your progress with your Kreyos Meteor by simply syncing your stats wirelessly to your Kreyos app.
UPDATE (11-JULY-2013):  Our 2nd Stretch Goal of $600,000!
Stretch Goal #2: Two Free Screen Protectors
All Indiegogo backers will receive TWO FREE Screen Protectors with their purchase of the Kreyos Meteor. Yes, you've heard us correctly, not one but TWO! Even though our screen is already scratch resistant, it wouldn't hurt having an extra layer of protective skin on it.
UPDATE (27-JULY-2013):  Our 3rd Stretch Goal of $1000,000!
Stretch Goal #3: Sleep Tracking
Stretch Goal #4: $1.5Million.... 
Announcing our new stretch goal at $1.5Million
Our team will build a new app for iOS, Android & WP8 which allow Meteor users to use gestures to control applications on Windows and Apple computers. Once the Meteor is connected via bluetooth to the computer, the user can use gestures to control applications such as Powerpoint during a presentation, i.e: previous slide, next slide and so on. More applications will be coming soon. If we do hit this goal, we will have this app ready 3-4months after we delivery the Kreyos Meteor.
There are always significant challenges in manufacturing and delivering any electronics product at scale. Mass manufacturing isn't the same as prototype development with 3D printers; we have to make sure they are secure and reliable, and also most importantly that they can be manufactured efficiently at mass volumes.
BUT..............
a) We have completed MOST of our moulds required for injection parts. What you see in the pictures are ACTUAL injection samples, NOT PROTOTYPES made from 3D printers. This is a HUGE DIFFERENCE from other projects, which use prototypes made from 3D printers.  It is impossible to discover manufacturing issues when creating a prototype from a 3D printer. Injection moulds usually require long lead times up to 45 days. Of course, that doesn't include the unforeseen issues and edits that nees to be done to improve the mould.  Sometimes, that process can add 90 days to the original schedule.  But that's not in our "worry" equation now. it could take up to 90 days. But its all out of the "worry" equation now :)
b) Our team has more than 15 years of experience developing electronic and tech products. Kreyos Meteor is designed with mass production in mind.  Therefore, countless hours have been put into the ID design, PCB layouts, etc.  This ensures that we  won't have "unforeseen" issues during manufacturing and assembly.
c) EMS Manufacturing Partners - We partner with well-known EMS Factories (Electronics Manufacturing Service) to ensure we can manufacture the Kreyos Meteor on a mass scale. These EMS factories manufacture millions of electronic units monthly. With the Kreyos Meteor's layout, assembly and planning completed, any risk has also been decreased significantly.
Lead times vary for different components.  Some take as long as three months just to deliver. We will be splitting our component orders based on manufacturing times.  Therefore, as soon as we have a good idea of estimated orders, we will immediately place orders for components that take longer to manufacture first. This will decrease our time to receive the components from suppliers.
There are a number of unforeseen circumstances that can cause problems during the actual physical shipping of the Kreyos Meteor. Therefore, we will be working directly with world-class fulfillment companies that are extremely experienced in logistic. This will ensure that we are able to get your KREYOS Meteor Smartwatch into your hands in the least amount of time!
WOW! Thank you for reading this far. We will be doing OUR BEST, using all OUR RESOURCES, EFFORTS and ENERGY to deliver the best Kreyos Meteor Smartwatch to you. At Kreyos, we want to help you mobilize your world -- and we going to do whatever needs to be done to deliver your new Meteor to you on time!  We promise! :)
A: Following the end of the project (AUG 12th), backers will be contacted to confirm color choices, men's/women's strap and also selections for accessory buyers. You will be required to fill in the survey to make sure we have all the correct information from you.
A: No problem, just click CONTRIBUTE NOW and put in the actual amount you need to pay. Select "No perk, I just want to contribute." Pay for it and done!
A: YES! You can setup the alarm directly from the watch or via the Kreyos App.
A: YES! Kreyos Meteor has backlight inbuilt so you can view at night! With a shake it will activate the backlight.
A: Please contact us at the email below.
English, French, Spanish, German, Simplified Chinese, Traditional Chinese, Korean, Japanese, and many more to come.
YES, its designed to fit most 22mm watch bands.
A: You only need to pay shipping once for the same shipping address.
A: No, unless you choose the double or more perk options, you would have to place them in a separate order.
A: No, we will be working with world class logistic companies, also we will have all the necessary paperworks, CE, FCC. 
A: Clients in the EU will be responsible for any VAT that arises.
A: No problem, just click CONTRIBUTE NOW and put in the difference you need to pay to upgrade. Select "No perk, I just want to contribute." Pay for it and email us at the below to inform us of the change.
A: Unfortunately, you will have to pay in 2 separate contributions.
A: It is 25cm in length.