Short Summary
Seattle's 2000 ProParks Levy identified 2.5 acres at 2400 S Massachusetts St for development as a neighborhood park.  A park plan was generated in 2004 and an initial budget included grading, infrastructure improvements, lawn, pathways and two parking lots.  The improvements were completed in 2006.  Inspired by the music and legacy of Jimi Hendrix, a community led petition to name the park for this iconic Seattle native was supported by the Seattle City Council and approved by the Seattle Parks and Recreation Department.
Jimi Hendrix Park is located next to the Northwest African American Museum in Seattle's vibrant Central District, a thriving multi-cultural community rich in heritage.  Friends of Jimi Hendrix Park, a dedicated group of community members and park users, and the Jimi Hendrix Park Foundation, have come together since 2009 to lead a public process that brings to life an open green space that will be welcoming and provides an experience that clearly defines its namesake.
The Friends of Jimi Hendrix Park's mission, is to guide community collaboration, create enthusiasm and lead a fundraising effort to accomplish the goal for completing improvements to the park that are sustainable, original and influenced by the artistry of Jimi Hendrix.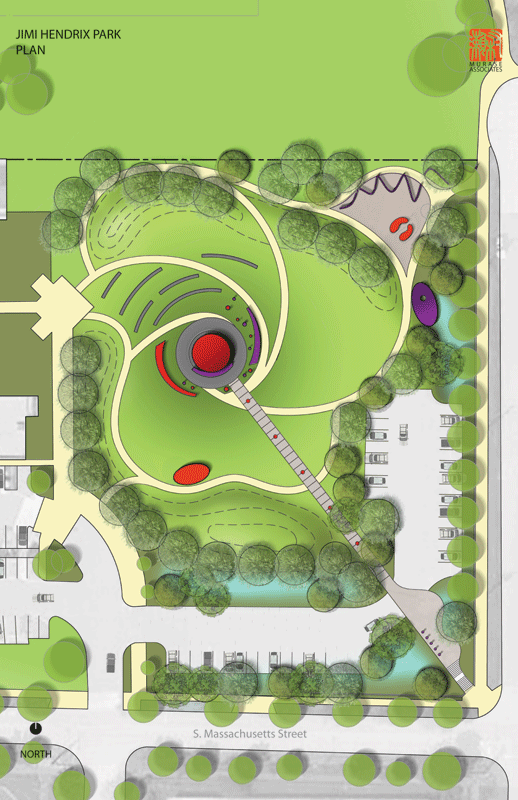 Community Involvement
Public brainstorming sessions to solicit community input for park improvements was conducted by consulting landscape architects, Murase Associates. Three conceptual designs emerged incorporating  popular ideas  that when combined with the legacy of rock legend Jimi Hendrix are imaginative, neighborhood friendly and create diverse use.  
The design process funded by the Department of Neighborhoods Large Project Matching Fund produced a preferred plan and design narrative in 2011 that was approved by the Seattle Parks and Recreation Department.  The design is bold, colorful and electrifying as the park's namesake and transforms an empty grassy space into a multi-use location which includes:  
• Interpretative walkways
• Two rain gardens
• Central shelter and other picnic stations
• Sculptural seating shelters
• Enhanced landscaping
• Sound wave wall tribute
What We Need & What You Get
Following a year-long public design process, the Friends of Jimi Hendrix Park in partnership with the Jimi Hendrix Park Foundation, announced the launch of a capital fund-raising campaign to finance construction of the park that will celebrate the life, music and legend of Seattle's hometown icon, James Marshall Hendrix.  The non-profit foundation, with the assistance of the Friends of Jimi Hendrix Park, aims to raise $1.5 million in private funding to supplement a $500,000 Seattle Parks and Recreation's Parks & Green Spaces Levy Opportunity Fund.
Now, we need your help to fund the iconic Sound Wave Wall in Jimi's image. Celebrating sound waves, the Sound Wave Wall is a curved colored steel wall with cut outs of notable figures of Jimi Hendrix performing. As the sun passes over the wall, people can walk past his long shadows.
The height of the wall will vary from 4'to 10' high, and openings will be sited to allow for great views along the path, which connects Jimi Hendrix Park to Sam Smith Park, our gateway. The wall will be oriented for maximum visibility from the street. In addition to the large cut-outs, there will be perforations in the steel to allow for screened images and patterns to form when looked at from varying distances.
The Impact
The park is a hub that will strengthen the cultural pulse of the Emerald City as it creates a cohesive link between Sam Smith Park and the I-90 Trail, Colman Playground and the Seattle Children's PlayGarden. Jimi Hendrix Park will become a community gathering space that reflects a musical theme with elements that present a variety of activities to include, walking, active sports, performance, environmental education and history. The development of the park will have global appeal and most importantly will attract citywide intergenerational use and provide wide interest for neighbors and school groups.
Because we are a volunteer organization, every dollar raised would go to the Park. We deeply appreciate your support.
Other Ways You Can Help
Contributions to the Jimi Hendrix Park Foundation are tax-deductible. For more information or to support the cause, visit www.jimihendrixparkfoundation.org.
or send a check payable to:
Jimi Hendrix Park Foundation
 P.O. Box 58152
Seattle, Washington 98138
Share this campaign! Please forward this to a friend, post it on your social media sites, and encourage others to contribute. Help us Create An Experience!