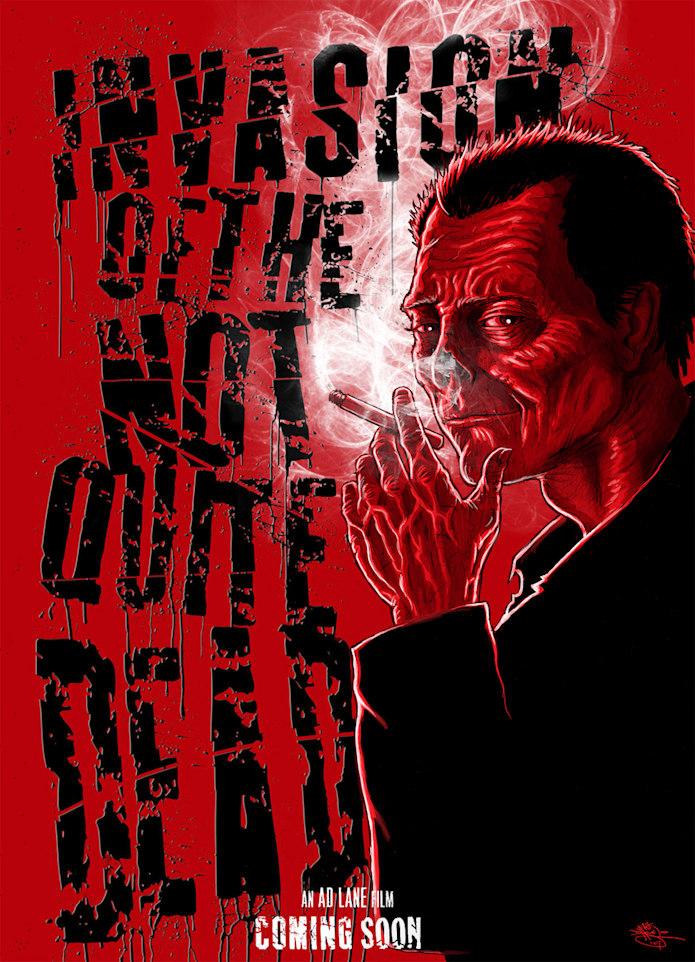 THANK YOU to everyone who backed our Indiegogo... as of December 2017, we're now just a couple of scenes away from completion on shooting & the film is around 40% edited...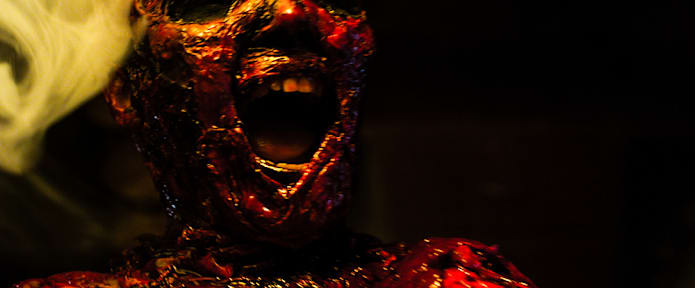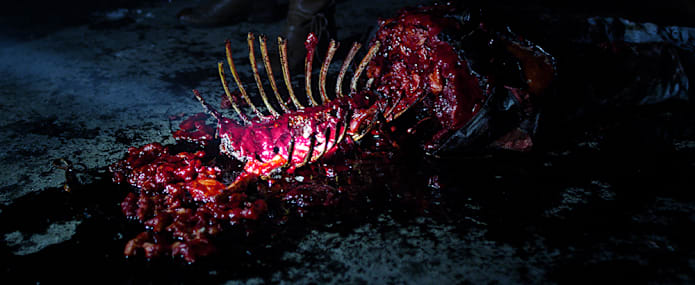 'Invasion of the Not Quite Dead' is a brutal character driven horror film, tackling subjects like domestic abuse, bullying & mental illness... We see the characters go through their own personal hell before the true horror of the film kicks in, this way it makes the film feel that much more brutal & honest... and unlike a lot of modern horror films we won't be having any CGI blood/fire/explosions/car scenes, we feel as though CGI can bring you out of a movie, we want to make sure that this film sucks you in so that in the end... THIS FILM WILL HURT YOU.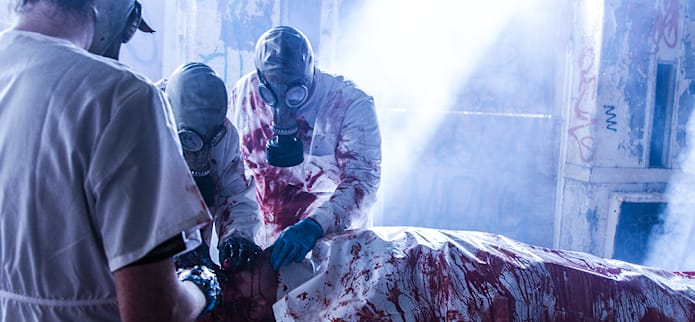 To give 'INVASION' a really creepy surreal look, we'd shoot in abandoned buildings...

Our indiegogo is to raise funds for our last big scenes of the film, a few of which are some big GORE scenes, so we're very excited about getting back in the trenches to shoot those, our bare minimum target is £10k, this will get the film finished... but the more we raise the more we can do, it opens up more doors of practical FX scenes we grab over the next couple of months, it also means we can have a better post production, but best of all it means things get done quicker...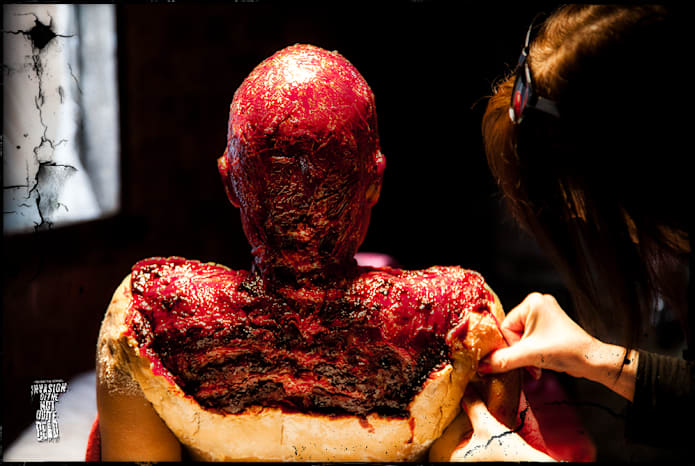 KATE GRIFFITHS (our special fx & make up artist) working her magic...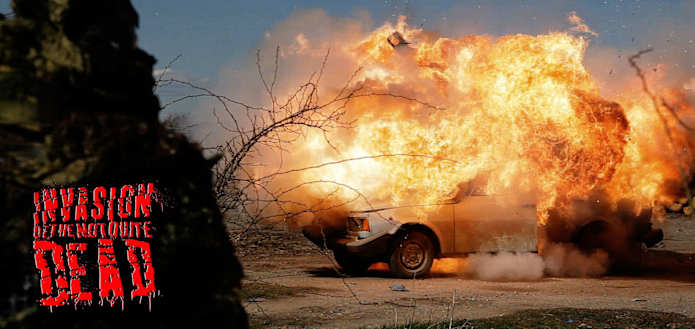 Shooting the intro in Bulgaria gave AD a chance to blow up a car for REAL.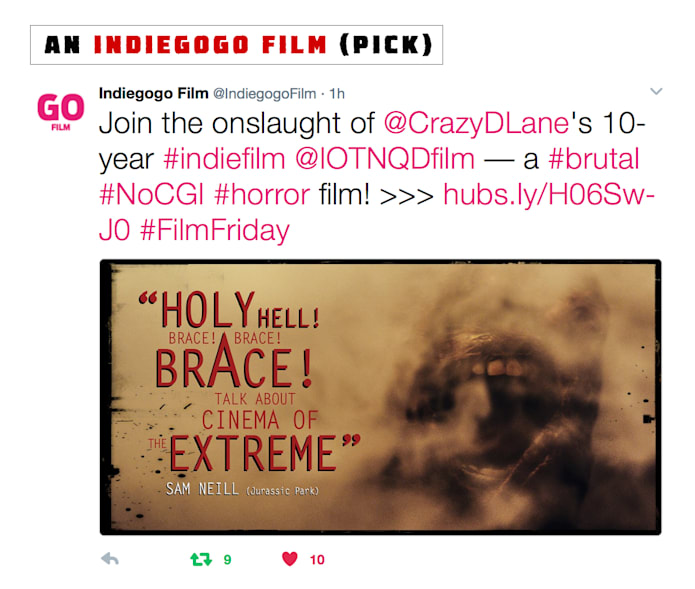 We're proud to say that INDIEGOGO film has chosen our project twice to be a featured film over on their main twitter feed...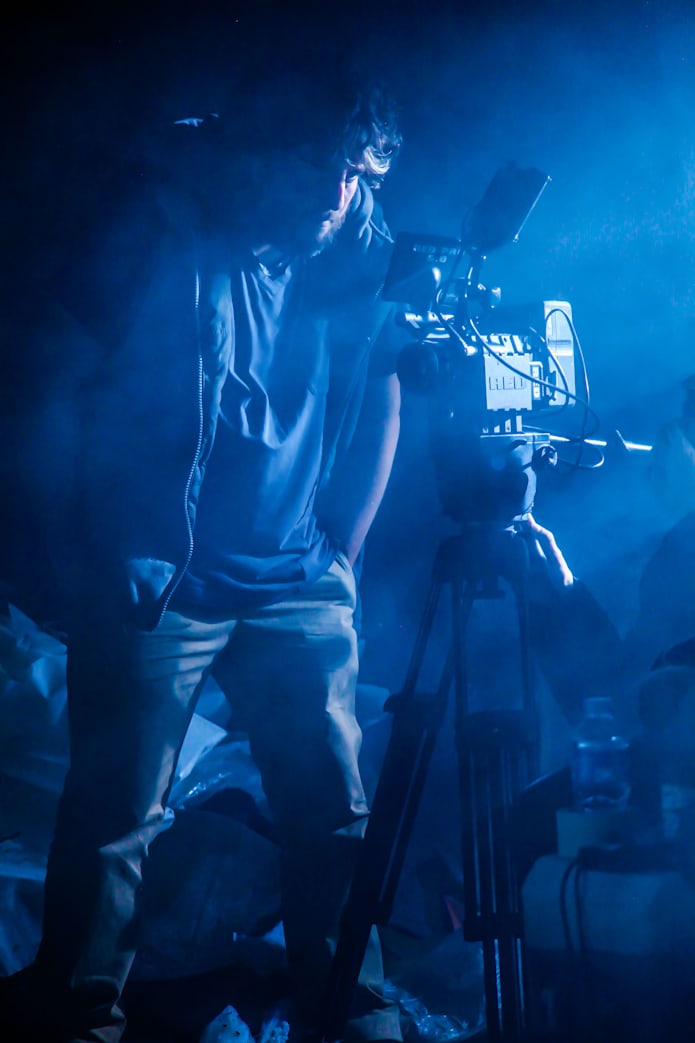 You don't spend 10 years on a film & it not effect you mentally... truth is, this film had broke me, into a thousand little pieces, & it's only in the last year I've been putting those pieces back together again... Being so passionate about my film & so obsessive, with every detail, meant that it was very much a stop/start production... & throw in trying to survive life, well everything took its toll & in the middle I had a mental breakdown... I didn't stop making the film, instead I'd put that into my filmmaking, so what we have here is a brutally raw & edgy film - AD LANE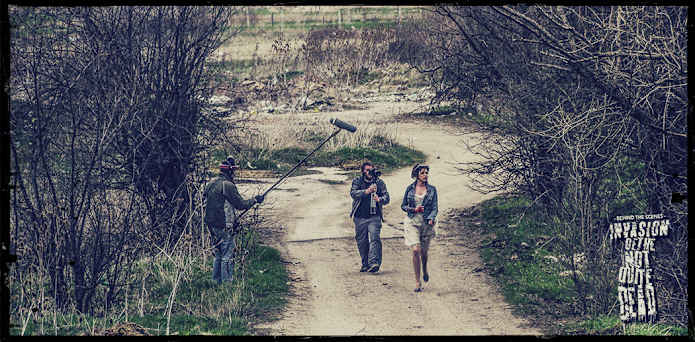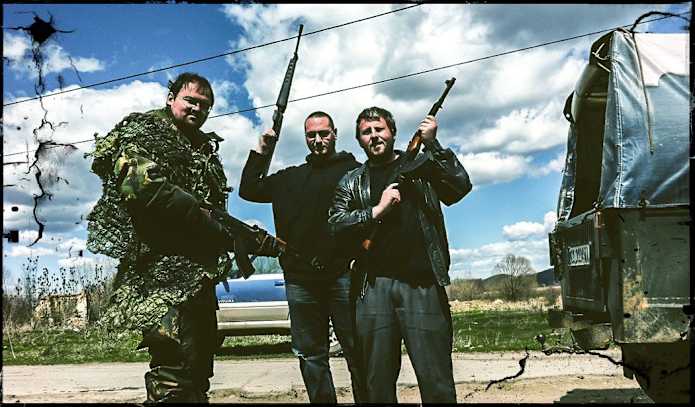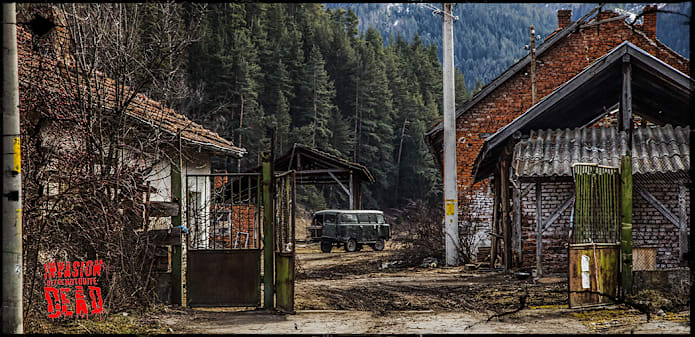 In 2011, AD & his skeleton crew headed out to Bulgaria to shoot the stand alone intro sequence... very little went right on the shoot, it was a real worst case scenario shoot... but the footage came back beautiful, and with a bit of creativity AD was able to make the footage work... but it was shooting in Bulgaria that started AD on his journey into darkness...
Just Another Broken Clock was the short film/music video that AD LANE made during his breakdown, if not for making this, it is unlikely AD would of been able to carry on with his project.
A very emotional Interview filmed in early 2016, showing where AD's passion & his reason for never quitting his film.
In March 2017, AD premiered teaser #3 at MOONLIGHT DRIVE-IN CINEMA to a packed crowd there to see MATT DAMON in 'THE GREAT WALL' & then 3 hours later it was launched online, in its first 3 week it's had over 20k views.
(Click below to watch Sparky and Eliza turn NOT QUITE DEAD!).
As a film project we do get quite a lot of FAN SUPPORT videos, but no one has ever gone to this much trouble, we are in absolute awe of these two... thank you both.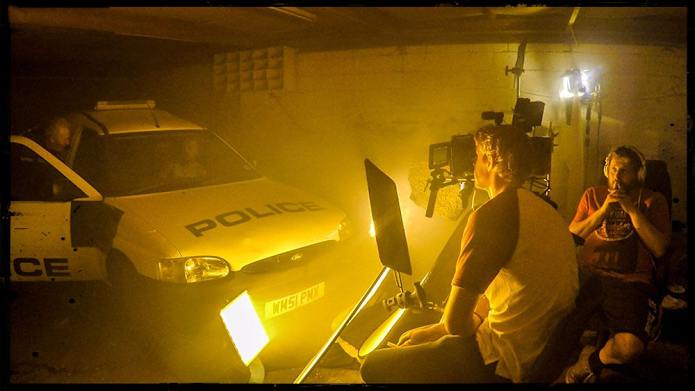 So after a 10 year battle to make this film, several years crowdfunding, even more years shooting, we're now at 95% shot. We're so incredibly proud of what we've been able to accomplish with such a skeleton crew, a cast so insanely dedicated (some have spent years on the project) & an indie filmmaker so off his head CRAZY that he risked his own mental & physical health to make a film that he was so passionate about, to fight without compromise, to keep his vision in tact, to take his absolute love for the genre in order to give true horror fans something unique & different, taking them back to a time when horror meant something, back to a time before CGI was an everyday tool for the indie filmmaker & taking fans truly back to a time when horror was scary, atmospheric & brutal as hell to watch.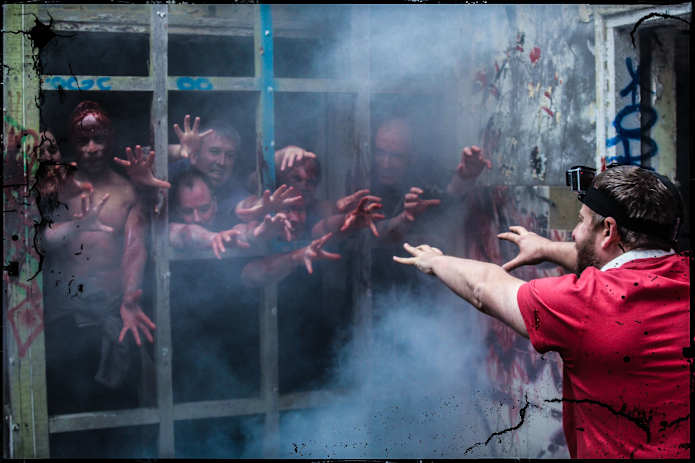 This is a film project that would inspire AD as much as it would destroy him, a story that he desperately needed to tell with characters he obsessively wanted to hurt, this is a film that aims to seriously hurt the viewer in an unrelenting manner, a brutal no holds barred good old fashioned NO CGI horror film that puts the real horror onto the characters & will leave an ever lasting shiver down the spine of anyone who dares to watch it.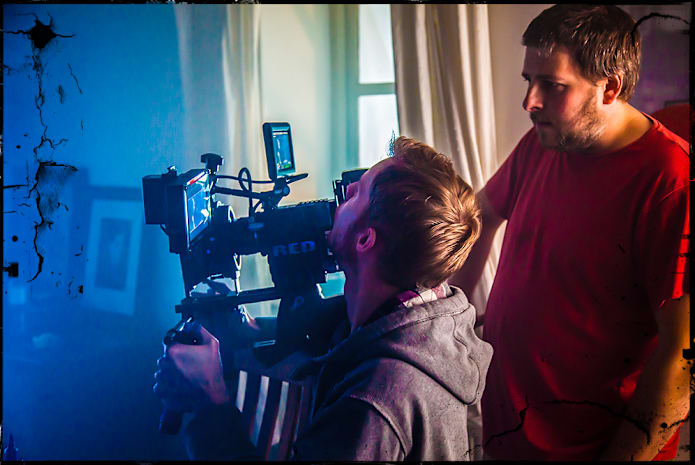 In 2009-2012 AD would do epic MONTHLY no sleep twitter fundraising marathons to raise money to make his debut horror film (putting his health seriously in jeopardy), they would range from 50 hours to his most ambitious 106 hours (Dec 2012). AD wanted to show the world his absolute passion & dedication to not just making a film, but rather to do it in such an obsessive way, he'd still be fighting for the damned thing 10 years later, he'd have such an incredible attention to detail that even Stanley Kubrick would have got annoyed.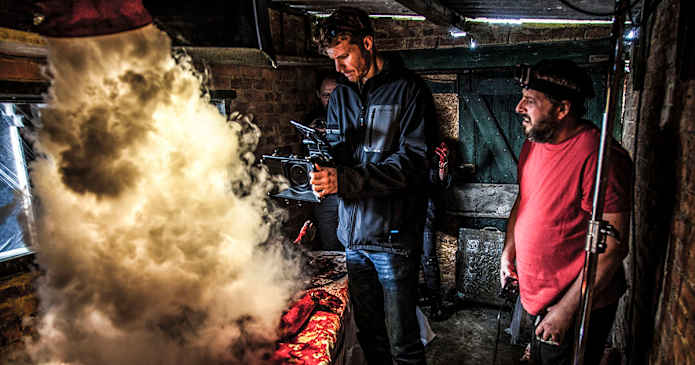 This was filmed in the shed at the bottom of AD's garden, doubling up for an experimental room.

'INVASION OF THE NOT QUITE DEAD' is a brutal character driven story that takes place in and around a small suburban sleepy village called Little Grimsby. After 15 years away, Sam Peterson returns to try and fix his severely broken family, an ex wife who despises him, two sons who want him dead and a brother who wouldn't p*iss on him if he was on fire. This is the story of a once broken man who gave up on everything he loved in order to selfishly try for a better life and then after 15 years decided he wanted a chance at redemption, BUT... is he too late?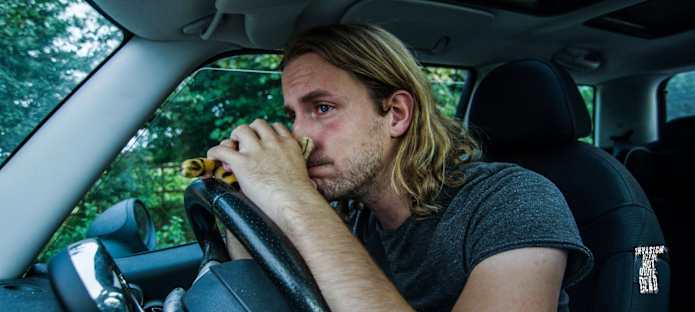 Sam picked the wrong time to move back to Little Grimsby, a virus is sweeping the town, making the locals semi-insane and when darkness comes, so do the 'NOT QUITE DEAD', this is a film inspired by UK realism movies like 'THIS IS ENGLAND', 'BRASSED OFF', 'LITTLE VOICE' & mixed in with AD's love of 70's and 80's horror films, including 'Dawn of the Dead', 'They Live', 'The Fog' & 'Invasion of the body snatchers', not to mention a hint of his love for 50's sci-fi B-movies.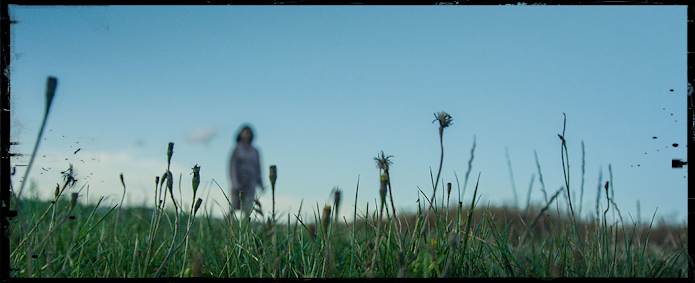 Technically this is 'NOT QUITE A ZOMBIE FILM', writer/director AD Lane wanted to do something unique, rather than a blatant rip off of an already established horror franchise, so there is a real mystery as to what the NOT QUITE DEAD's actually are... are they DEAD? are they NOT QUITE DEAD? or is it something else entirely?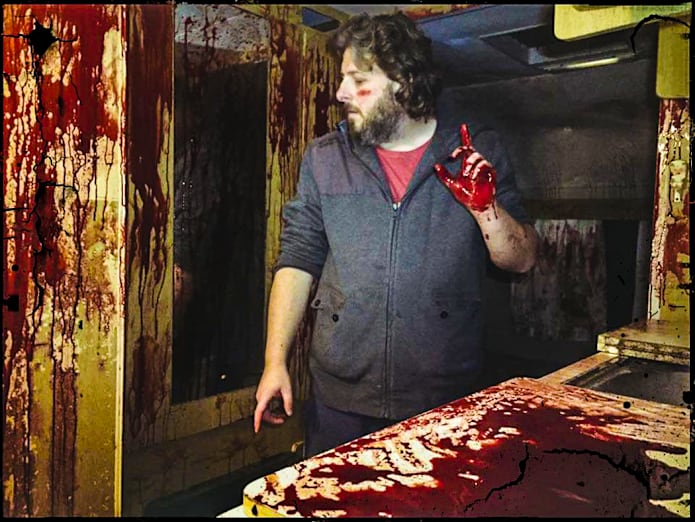 We've put a real emphasis on the word REAL & PRACTICAL FX, we truly believe that those two elements are what makes a great modern horror, to take things back to a time before CGI cartoon blood, fire, explosions, CGI anything done poorly just takes you out of the film, we want make sure YOU feel everything, so all blood is FAKE/REAL, we blew up a Car (for REAL), we have scenes that could be from the film 'THE FOG', yes... the original & not the CGI riddled remake... this film has all the main qualities to be a future cult classic indie horror film,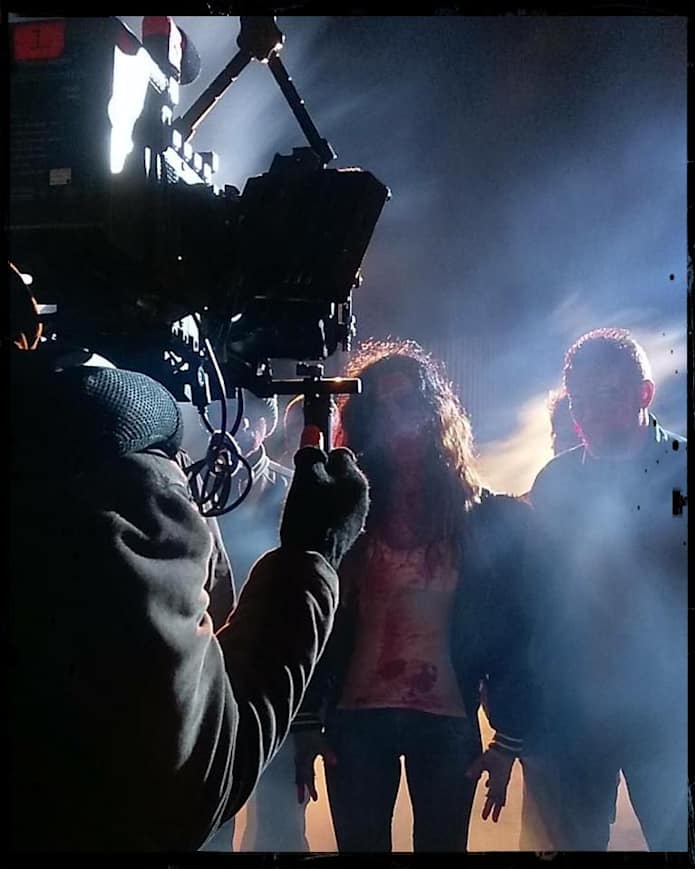 Our make up FX artist Kate Griffiths has made some truly horrific effects, with the emphasis again on REAL, she would visit her local butchers to get rib cages, bones, & we daren't ask too many questions, but it all looks so brutally/shockingly real, giving the film the gritty realistic edge than many indie horrors fail to capture.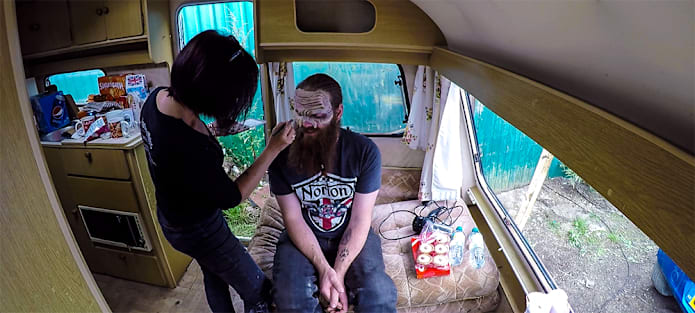 One area we was incredibly stubborn & passionate about getting right was the look of the NOT QUITE DEAD's, we desperately wanted them to have a unique look about them, so AD would push for them to look like the iconic poster that was created several years earlier by an incredible artist Jesse D' Angelo.
So that means each CLOSE UP to camera Not Quite Dead's would have to have special horror contact lens's, scary unique teeth & full facial & arm/hands prosthetics... as well as a HUGE amount of blood... & speaking of blood, we only use the best industry blood on this film, courtesy of PIGS MIGHT FLY SOUTH (www.pigsmightfly.co.uk) who have just been incredible, supporting our film.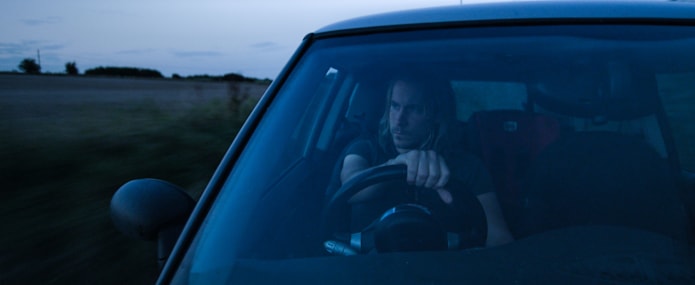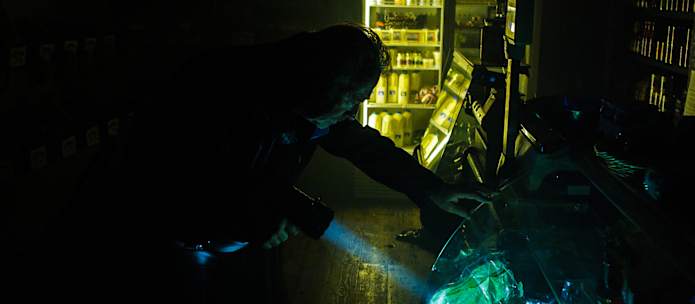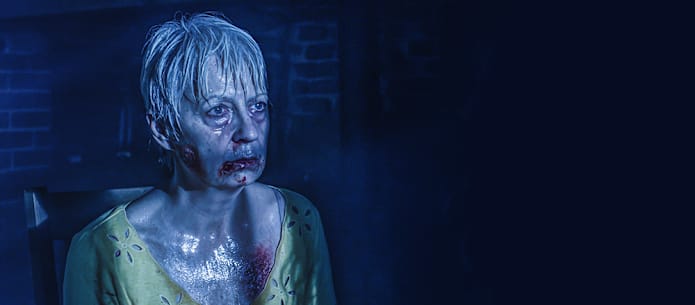 The film has been shot beautifully by cinematographer Josh White, under the intense direction of AD LANE, they have made a stunning looking film, shot on the RED SCARLET 4K, this film was always aimed for the BIG SCREEN.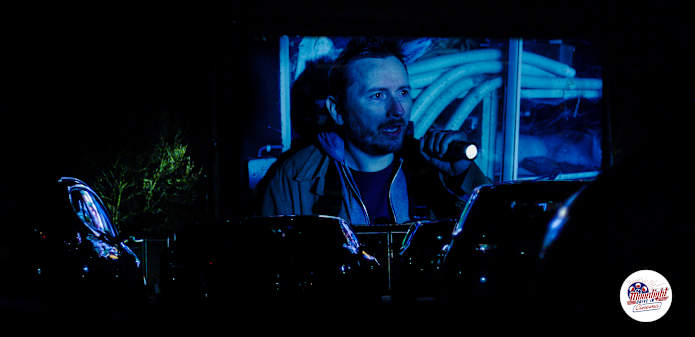 This was a dream so big & a project so ambitious that he could only ever aim for the BIG screen.
After fighting for 10+ years for his film, AD has now partnered up with the UK's largest DRIVE-IN Cinema (http://www.moonlightcinema.com) they have agreed to put on several showings for the films backers, this will take place up & down the country, so anyone who had backed the film for £20 or more from AD's previous campaigns (& now this one) will get an opportunity to watch the film on one of their BIG SCREENS (with AD in attendance to do a special Q&A afterwards) if all goes to plan, it will be at the end of 2017, with the backers getting a first look at the film.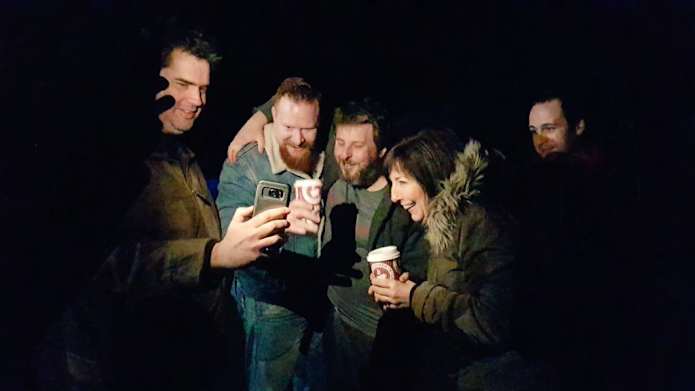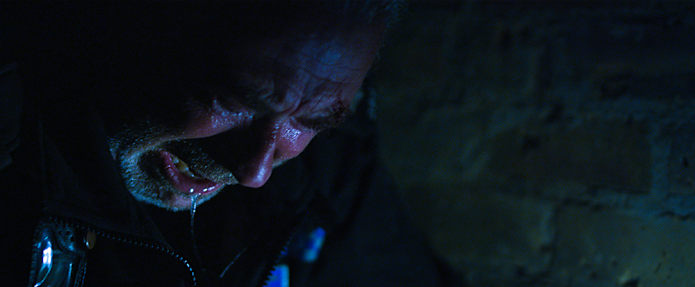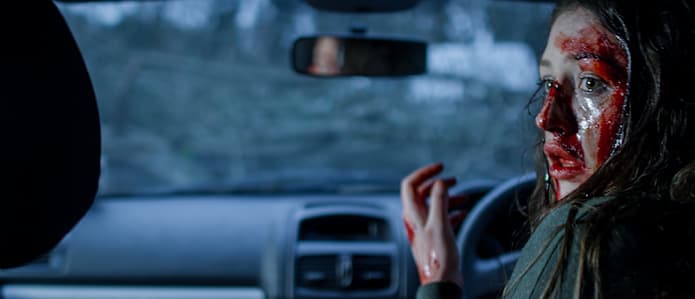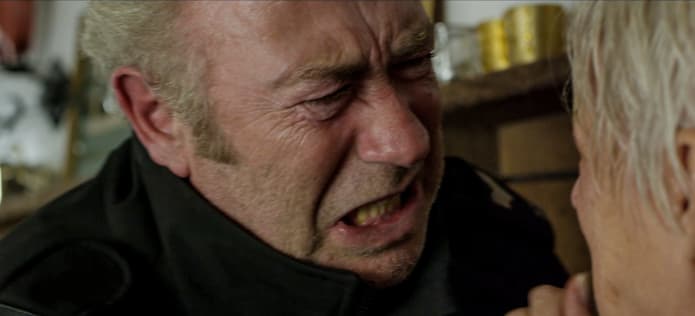 In order to make the characters as realistic as possible, AD would throw in very realistic storylines, tackling serious issues like mental breakdowns, domestic abuse, bullying & loosing a child, it's a very raw & gritty film that is meant to take you on an uncontrollable emotional journey... and as one of our taglines go, 'THIS FILM WILL HURT YOU', the characters are so strong that you will feel what they feel.

'Invasion of the Not Quite Dead' is a 100% purely practical effects only movie, meaning we splatter blood, we use real mist for all night shots, & all car scenes are filmed on location in real cars...
Keeping with our mission statement of NO CGI gore/mist, we've been doing it all practically in camera, giving the film an original 'THE FOG' look/feel rather than the dreaded CGI remake.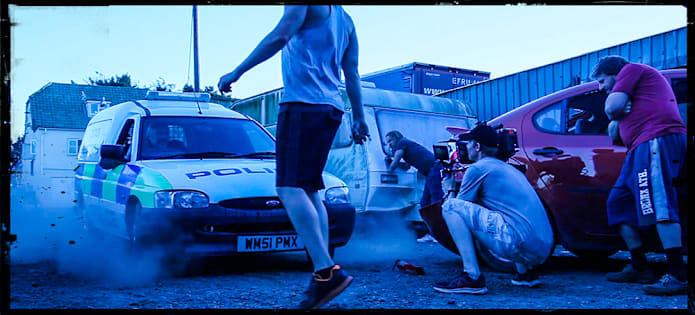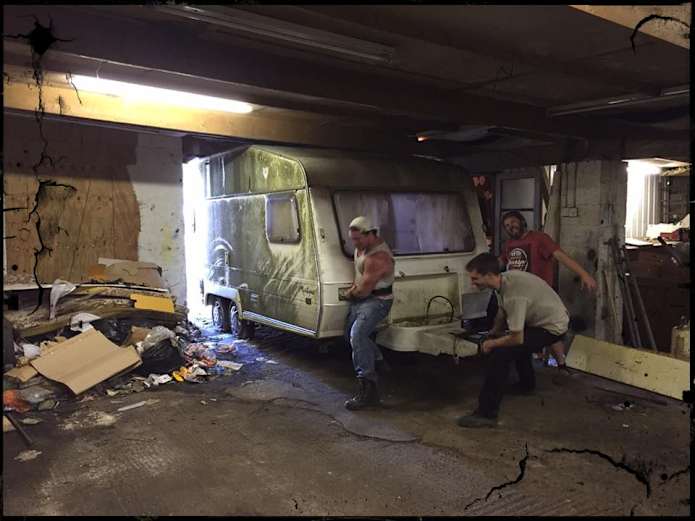 (Guerrilla filmmaking at its finest) AD would shoot in abandoned buildings to get extra production value & a very unique look he needed for his films intro sequence.
Above is a STILL from the film and this is a perfect example of what the film is truly about, it represents the importance of character performance, AD's favourite filmmaker is Stanley Kubrick so there is a whole 'PUSH THE ACTORS' to absolute breaking point, making 'INVASION' more than just a horror film but a real character driven performance piece. One of the films tag-lines is 'THIS MOVIE WILL HURT YOU'.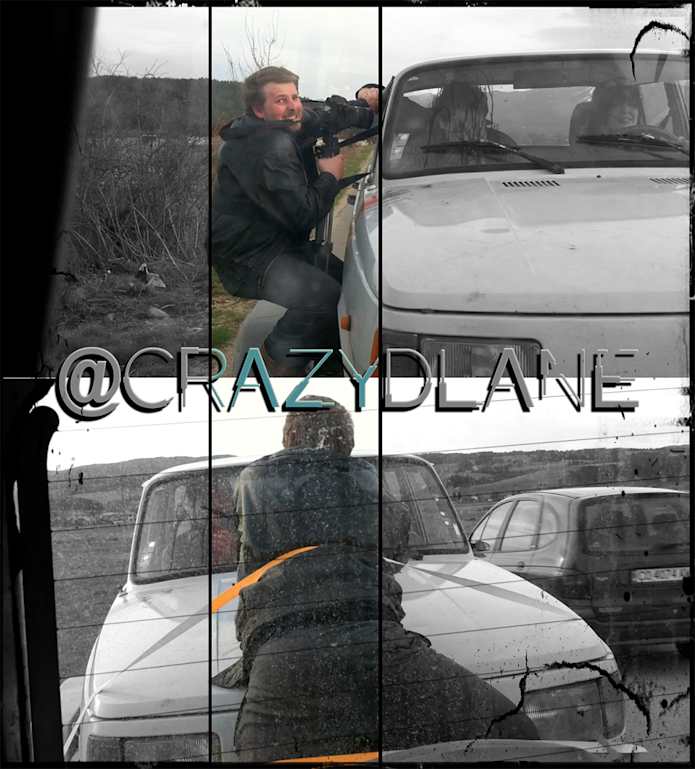 AND... finally... the writer/director AD LANE doing whatever it takes to get the shot when shooting the stand alone intro sequence in Bulgaria. When you don't have a budget for a car camera rig, then its time to BECOME the car camera rig.


This is obviously not a normal every day project, but what is incredible about it, more than most is how dedicated the cast have been with the stop/start/stop/start process of filming & how they stuck with the project for years & years. 'INVASION' lead actor FRANK JAKEMAN was attached in 2009 and has only just wrapped in December 2016, simply amazing dedication from a truly incredible actor.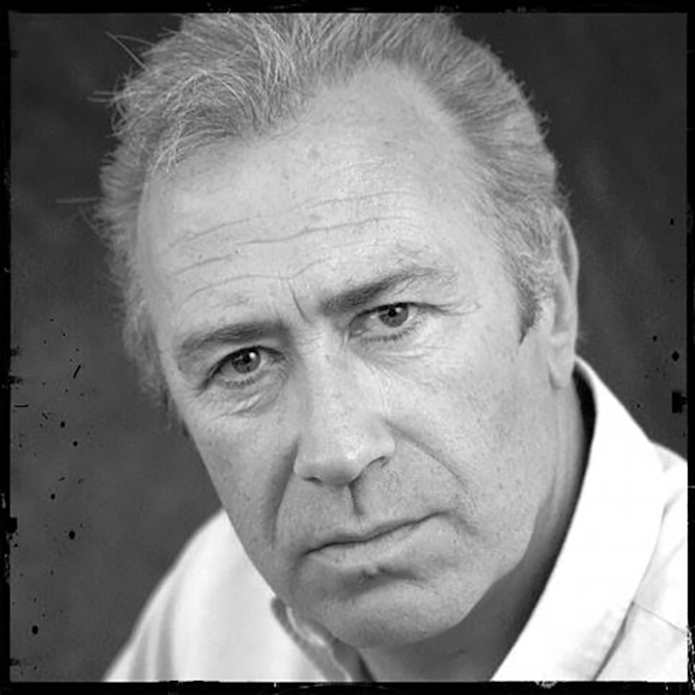 FRANK JAKEMAN (Sam Peterson)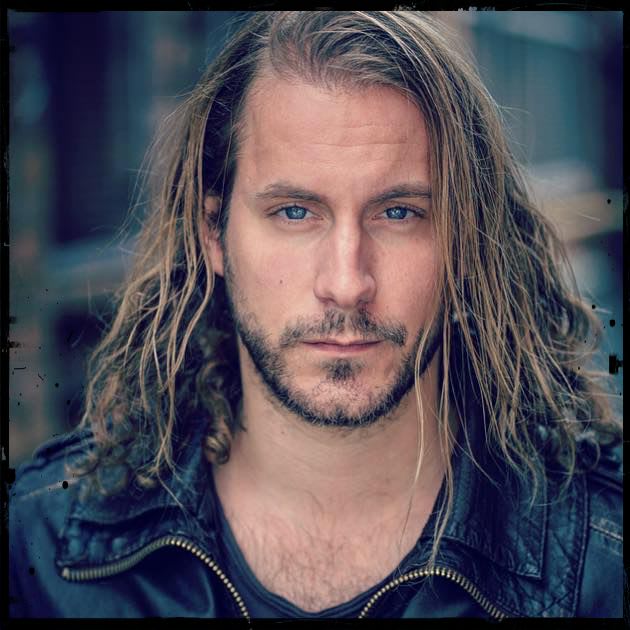 ​MARC ZAMMIT (Doug Peterson)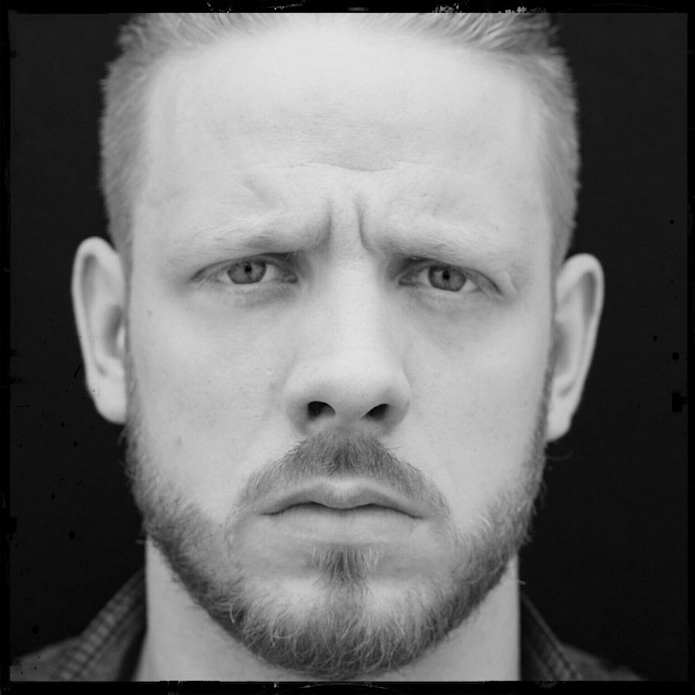 ​NEAL WARD (Lee)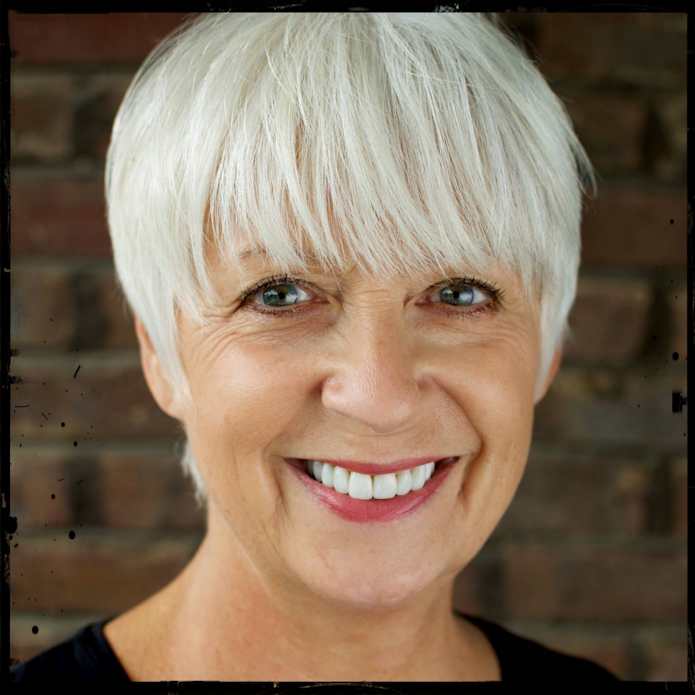 ​NINA STRATFORD (Babs Peterson)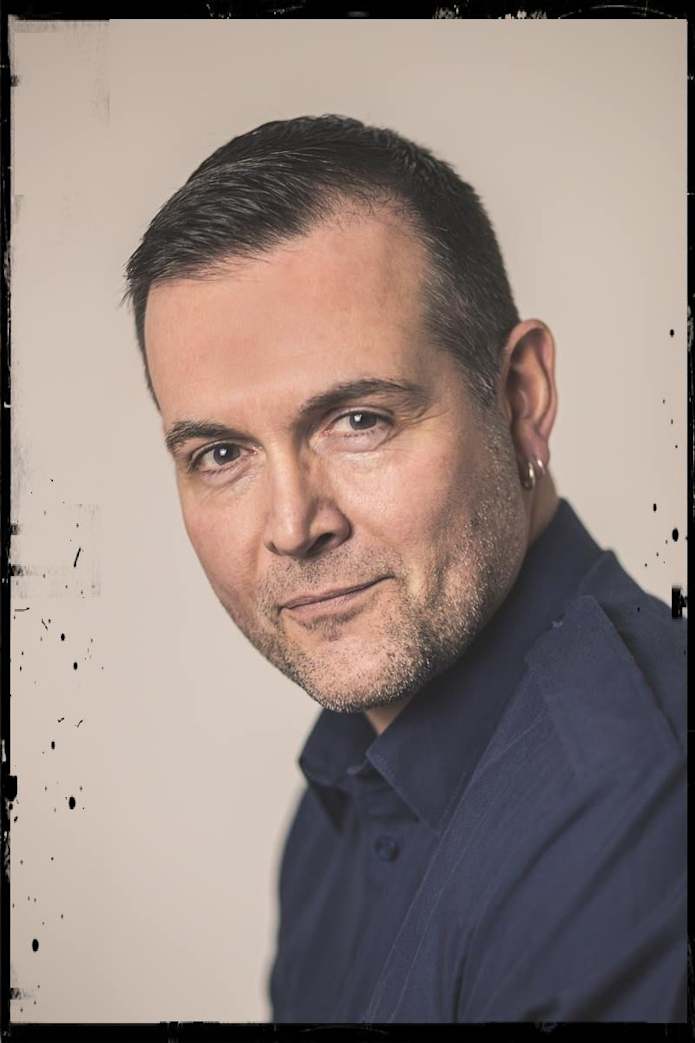 ​JOE RILEY (Joe Peterson)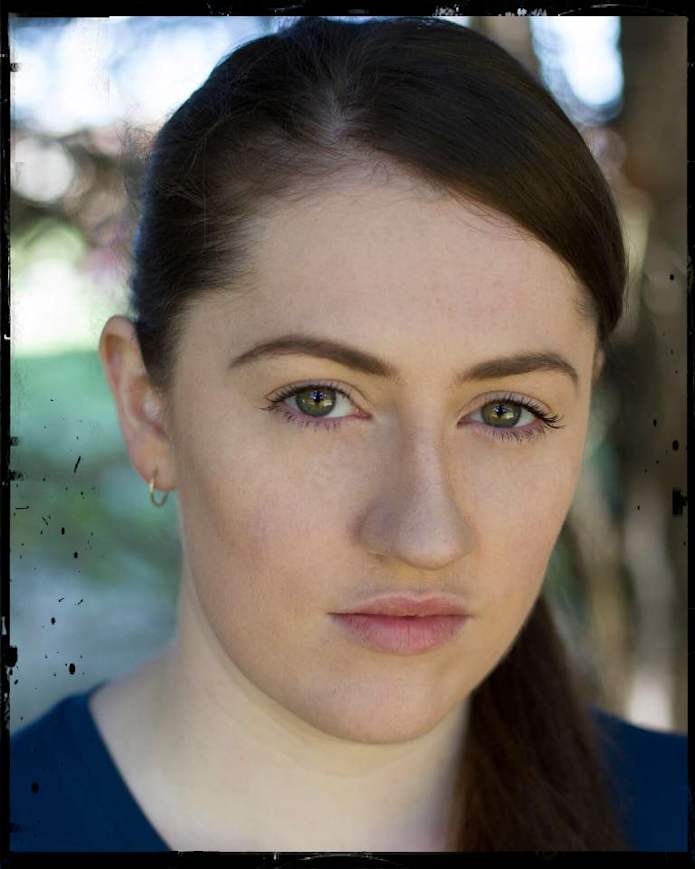 ​LYDIA KAY (Allison Peterson)

So... first of all, this film is an absolute labour of love (hopefully established at this point), but what does surprise a lot of people is how a huge amount of the scenes are done with a crew of 2-3 people, to say we was a skeleton crew is really downplaying the term skeleton crew.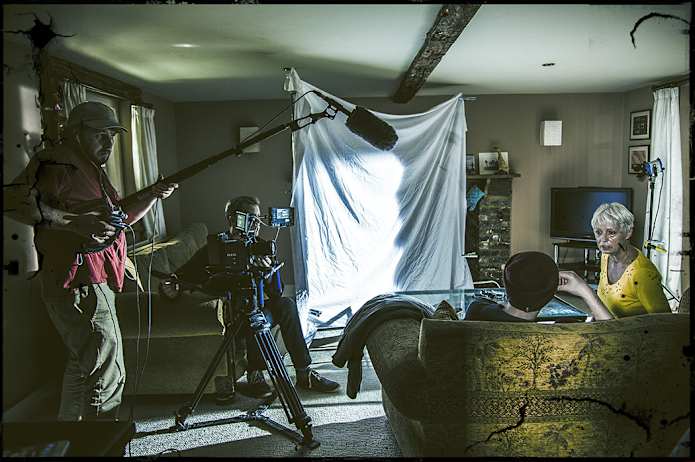 There would be quite a few occasions Writer/Director AD Lane would be on Sound/Writing/Producing/Directing/Catering/Making Of duties on any typical shoot day, a luxury at times was having the core crew of 5-6 people, so it's amazing when people say how cinematic the film looks, even on scenes that had a crew of 2 people.
'Invasion' has always been about creating the most cinematic film on it's limited budget, pushing creativity as far as possible over having money to solve problems, this is a prime example of what an independent film is & should be.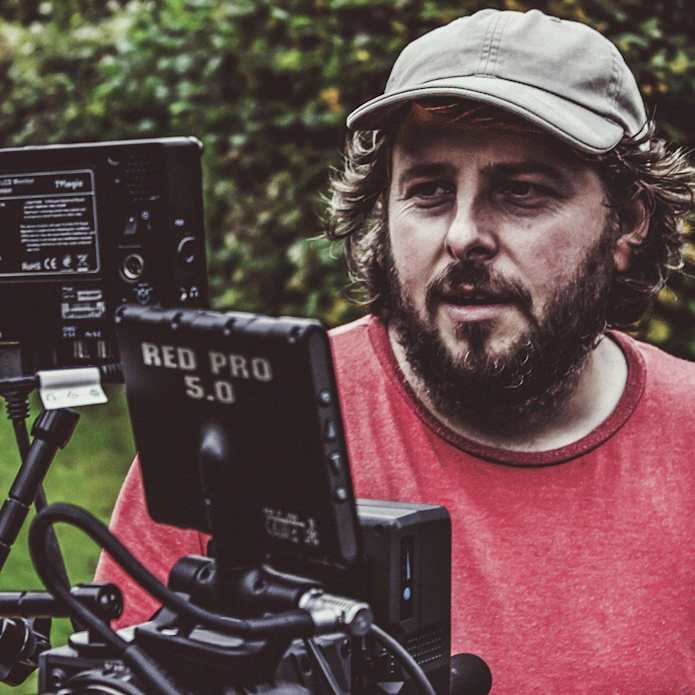 Writer/Director CRAZY D, LANE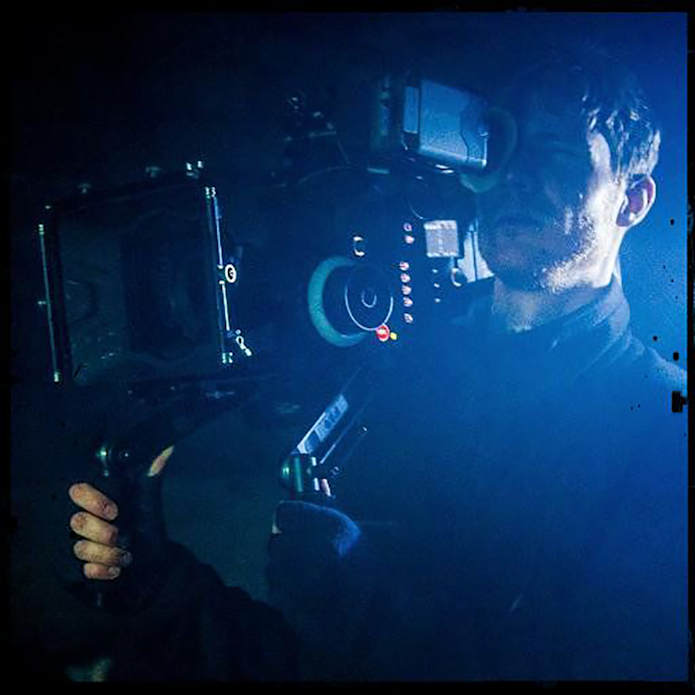 Cinematographer JOSH WHITE (www.josh-white.co.uk)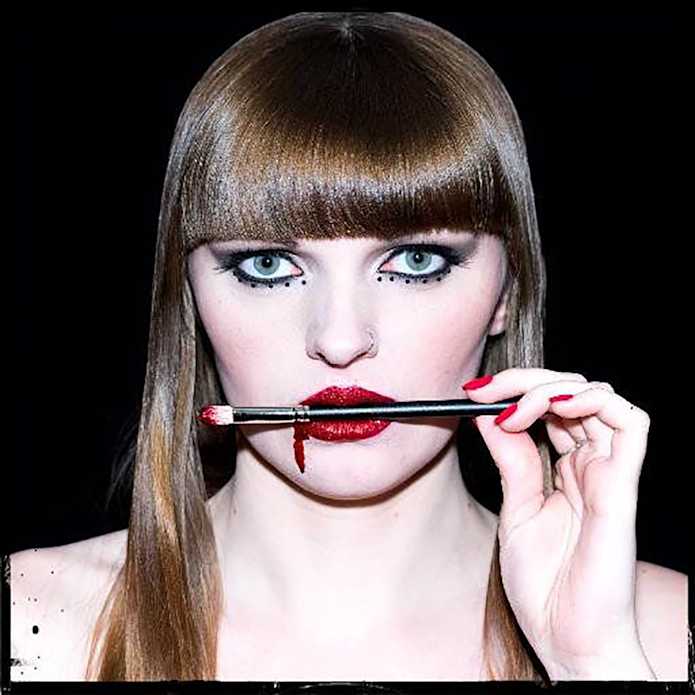 Make Up & FX KATE GRIFFITHS (www.theatricalmakeupartist.com)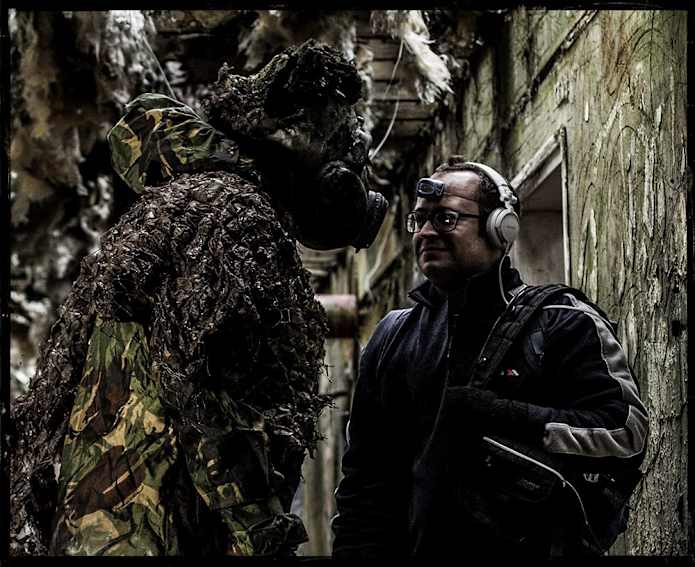 Sound & Visual FX DANNY ALLEN (www.rocktopuss-studio.co.uk)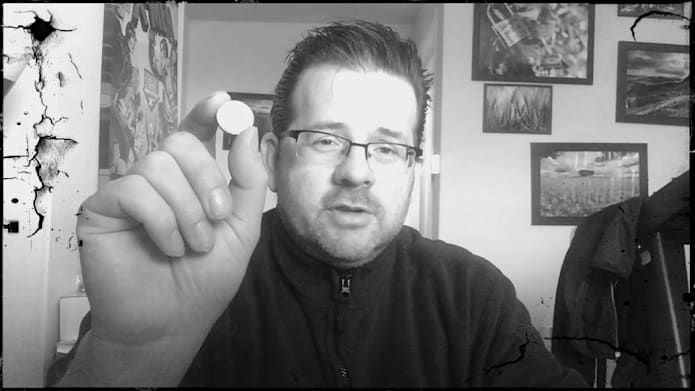 So from 2009-2012 AD would do epic no sleep twitter film fundraising marathons, (MONTHLY), ranging from 50-106 hours, it was during that time he would get over 2000 people from 42 countries to support his dream, here are a few incredible messages of support from his original backers:
Dave Bullis "Somewhere between insanity and determination lays AD Lane." - that's my quote/sentence.
Sean Evans (Back to the Movies) "I'm always inspired by people who give up the world to chase their dreams. Ad has a passion that mere words cannot describe. His love of film and his dedication to this pain staking project is a testament to this wonderful person. Keep dreaming, keep achieving".
Kathleen Crawford: "AD Lane is one of the first people I ever encountered on Twitter. Who is this guy? I wondered what kind of person does this round the clock tweeting and fundraising? Just seeing his passion, enthusiasm, and drive made me want to help him see his dream come true. And while making his dream come true, he always took the time to lift others up and to bring others along on this crazy journey.  So who is this guy? Turns out he's my friend".
Simon Middleton: "I'm so glad I stumbled upon your project many years ago and decided to help fund your dream. I still wear my Invasion t-shirt with pride to this day. Can't wait to see the finished film".
Robert Rosengart: "Am a huge horror film fan. From the moment I saw this opportunity to support AD in his quest to make this unique horror film, I was onboard. We all knew it would be an uphill battle as an independent filmmaker. We lived through all his ups and downs including those "fun" twitter all nighters. And life did intercede.  But he did it.  His way. His vision. And I can't wait to see the finished product. "

Over the course of the 10 year journey writer/director AD Lane has been documenting his entire experience through video diaries, on set making of's & interviews with cast and crew. During the course of this fundraiser AD will be launching a special producers lounge, a password protected area of the 'INVASION' website that will house special MAKING OF's, CAST  & CREW interviews, we will also preview rough scenes for backers to get a glimpse of the editing process, showing how different a first edit can compare to a final edit.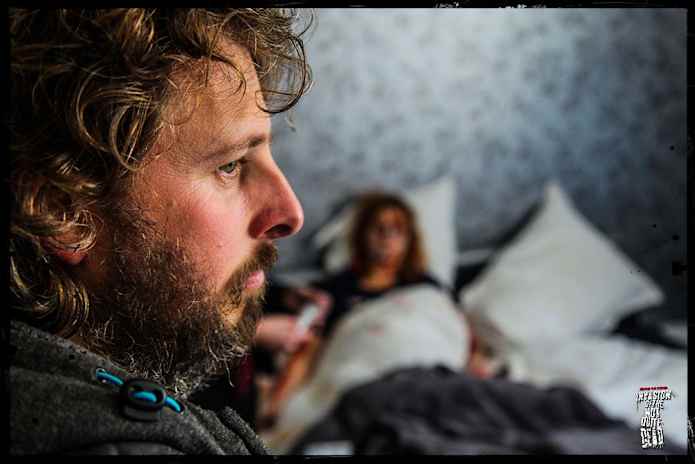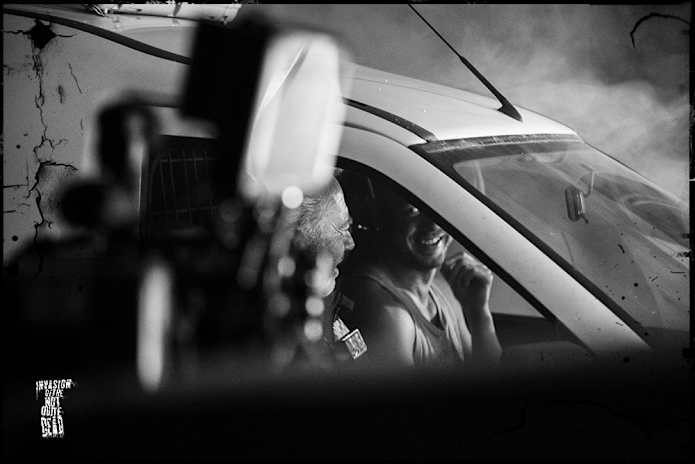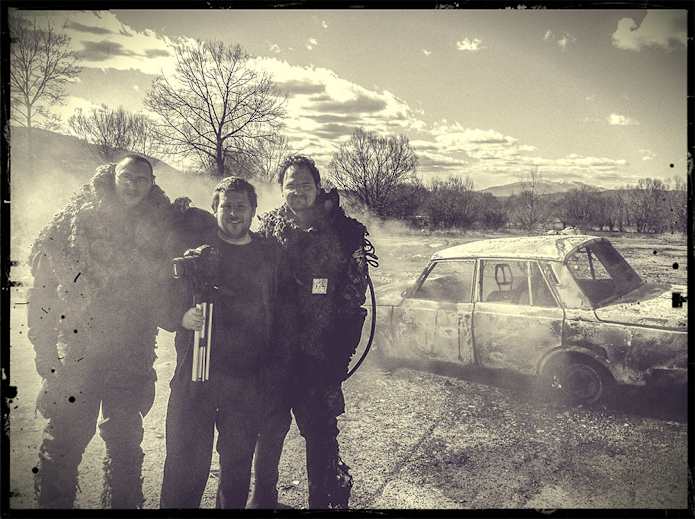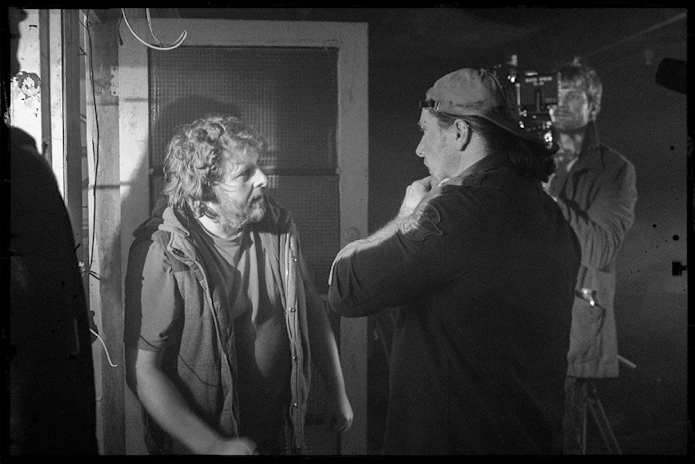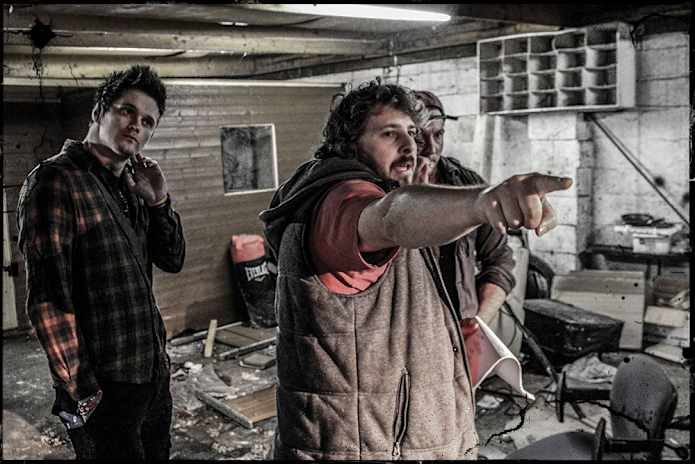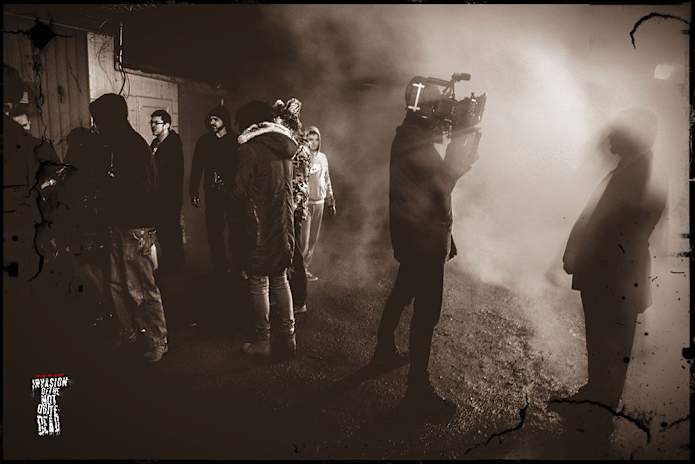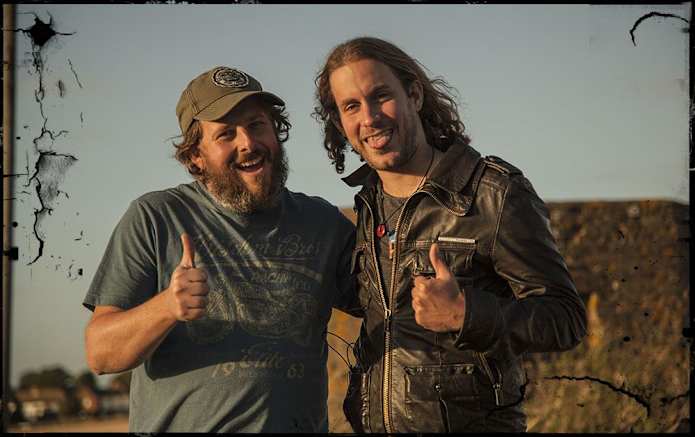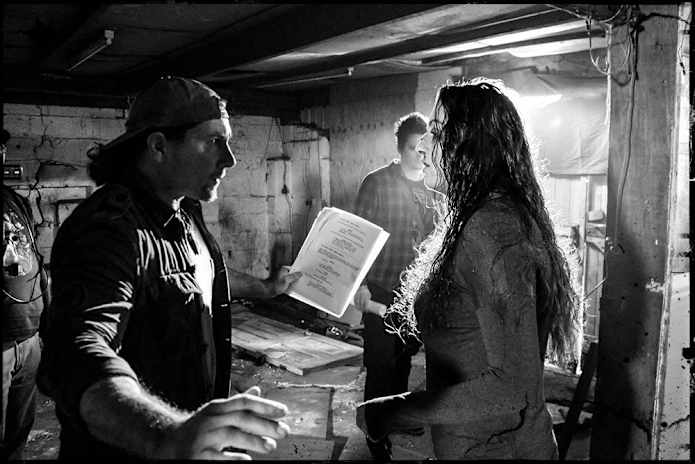 Ok, so why would a 1 month film fundraiser be life changing, it's simple, (it's not simple), AD has put everything into making his film, blood, sweat, tears, savings, bank loans, credit cards. In order to make sure the film didn't die, he did whatever it took to keep the film alive, but unfortunately he fell short of around 5% to shoot just before Christmas, he managed to get all the main cast wrapped, but there's still a hand full of scenes to grab (tie up the loose ends), & a bunch of big make up scenes, so this fundraiser will also determine how many on AD's wishlist will get shot, like for example a DRIVE-IN massacre scene & also the Mayor accidentally shooting someone with a shot gun, (remember the NO CGI rule) so this has to be all done in camera, with squibs & blanks, adding to the realism. So going back to LIFE CHANGING... first of all, whatever happens with the fundraiser, it's already changed AD's life to return to social media with his personal account, due to him having a mental breakdown, it became harder & harder for AD to overcome the fear & anxiety to make his big return to Twitter/Facebook, so already as we speak, his mental wellbeing is up by 100%, already this fundraiser is 100% a success, secondly, he is setting stretch goals, because when you spend 10 years on a project that it ultimately the longest crowd funding film in history, it's obviously a tough sell to get people to back it, so he is setting it at the bare minimum he needs to complete the film, which is £10,000, but even that, means he'll be doing most of the post production work himself, so if it goes past the original target & then into stretch goals it means AD's life will then significantly change, to not have to spend every hour working freelance to cover the films financial debts will give AD the time back to put into the film, but thats only if it hits the last stretch goal.

From day one this has been about the fans wanting to see a unique & original horror film, nothing has ever changed, it's a film being made by true old school FANS of horror for true old school fans of horror, with the emphasis on practical effects, no cgi gore or explosions, an eerie MIST that is present for all outdoor night shots & again all done practically in camera, but the biggest twist on the genre is how it's very REAL, with strong believable characters who you can relate to, believe in & be upset by if anything happened to them, this film is an absolute rollercoaster of an emotional journey, 'THIS FILM WILL HURT YOU'... so please support this film with social media shout outs, back us if you're in a position to, but more than anything it's about spreading the word, & to everyone who has continued to support this project, you are about to change a lot of peoples lives by helping this project to the finish line, & for that we THANK YOU...