instant moonlight
A "glass spider"?
Our goal is to develop and offer you "instant moonlight" as a unique beauty-care product. This contains the bioactive peptide "HDB-243", recently discovered by our team in the venom of the spider Heteropoda davidbowie. This peptide instantly suppresses muscular contractions at the skin surface, reducing wrinkles and giving a "Botox-like" effect without the need for injections. Don't worry: you won't be putting a real spider on your face! Our product is a perfect copy of the natural peptide.
Revolutionary instant anti-wrinkle cream inspired by natural venoms,
brought to you by matoxine.
Beauty from the beast
We are about to make a pilot production of instant moonlight cream in order to finalize clinical validation, achieve all regulatory requirements and product registration. We decided to take this opportunity to produce and offer a first collection of exclusive anti-aging creams.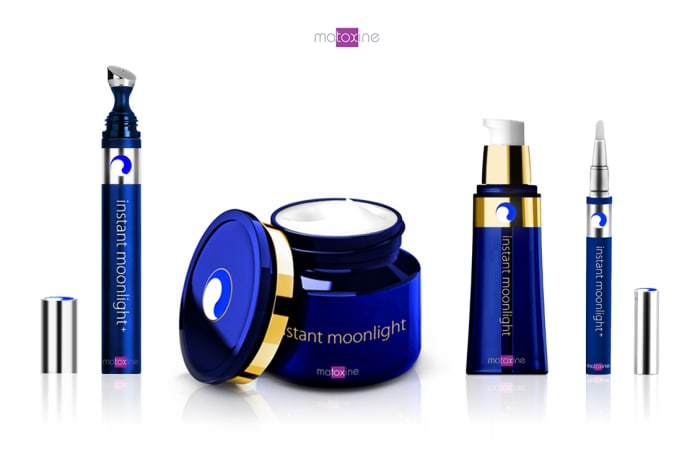 Illustration of  instant moonlight cosmetics line (designs subject to changes),
high quality products made in Switzerland.
instant moonlight is available in two formulations, "day-in, day-out"
Our first products will be launched as a cream in two distinct formulations:
instant moonlight gold cream is used as a daily face cream to plump, firm and moisturise the skin, smooth the appearance of fine lines and provide a more youthful complexion. See jar and dispenser in the middle.
instant moonlight+ platinum is a concentrated cream with special applicator for fast acting and targeted treatment of wrinkles, such as crow's feet. It is ideal for the treatment of wrinkles in the delicate skin around the eyes and acts within minutes! See wave-pen on the left and click-pen on the right).
Each will be available in two packagings:
For the handbag: instant moonlight gold dispenser & instant moonlight+ platinum click-pen. See on the right.
For the bathroom: instant moonlight gold jar & instant moonlight+ platinum wave-tube. See on the left.

matoxine products are paraben-free and hypoallergenic so they are safe to use even on sensitive skin.

Optimized by evolution - Discovered by us - Made possible by you.
Our story...
...from "station to station"
As an expert in the study of venoms, lover of Nature and David Bowie fan, when eight years ago a shaggy haired yellow spider was named Heteropoda davidbowie, our boss Reto couldn't resist working on it. Our scientific team investigated the so-called davidbowie spider venom and discovered numerous bioactive peptides over the years. One of these revealed remarkable potential for anti-ageing treatment. We named it HDB-243 (HDB for Heteropoda DavidBowie) and our project began!
Who is Heteropoda davidbowie, a "spider from mars"?
.... and it all started with him. Him? Heteropoda davidbowie of course: the fuzzy blonde Malaysian spider able to create miracles. Let us tell you how.....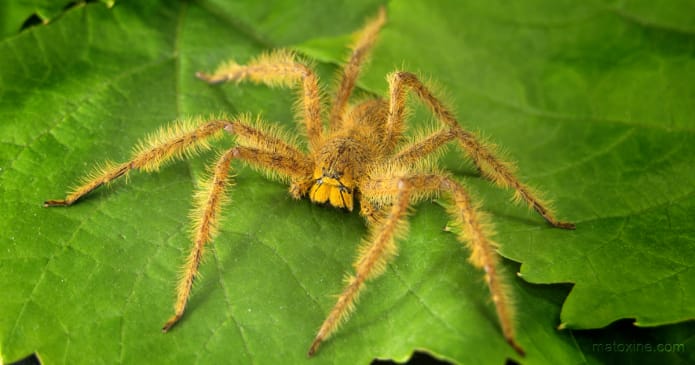 Close-up view of our dear friend Heteropoda davidbowie.
Heteropoda davidbowie is a large yellow huntsman spider from Malaysia. It was named in honor of rock star David Bowie in 2008 by its discoverer, German biologist Peter Jäger in order to raise awareness about animal species threatened with extinction. It refers to David Bowie's early 70's band "The Spiders From Mars", songs such as "Glass Spider", and the resemblance of the frontal view of the spider to the singer's painted face and orange hairs in his early career.
From "ground control to major tom"...
...we have analyzed the venom in our labs over the past 6 years. This venom is extremely complex, and our work led to the discovery of 136 different bioactive peptides (small proteins). Our original idea was to give each a funny name like stardustine, aladdine, majortomine, lifeonmarsine, spidersfrommarsine, ziggyne, letsdancine, lazarine, and so on. A tribute.
This mass spectrum of a fraction of the venom of Heteropoda davidbowie reveals its complexity.
Some of the venom peptides were intriguing, so we decided to… "move on"!
We investigated their biological activity in the lab on validated pharmaceutical tests (electrophysiology) and one molecule revealed unexpected surprises. This is "HDB-243", the active ingredient of instant moonlight: a bioactive peptide, in other words a small protein that has a biological activity.
So, how is he going to make us look younger "the next day"?
HDB-243, the active ingredient of instant moonlight is a bioactive peptide, in other words a small protein that has a biological activity. Our research has demonstrated that it acts on the neuromuscular system. HDB-243 possesses a high potency in blocking a receptor located at the skin surface, which induces instant inhibition of muscle contraction without any need for skin penetration. This relaxes the clenched facial muscles that cause wrinkles and makes skin smoother, for example at crow's feet around the eyes. instant moonlight cream uses a chemically synthesized version of the peptide, which is a perfect copy of the natural HDB-243 isolated from spider venom.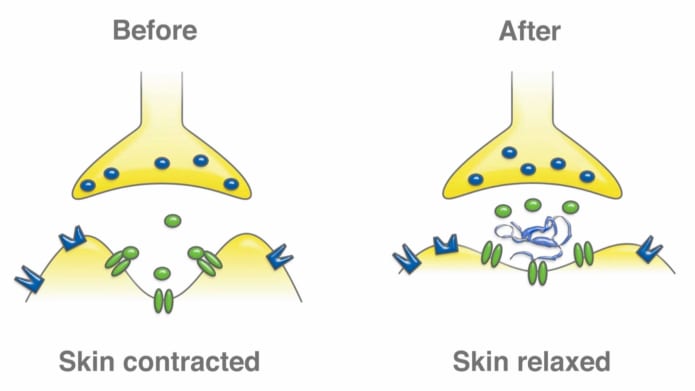 The HDB-242 peptide blocks receptors of the skin surface preventing contraction by a relaxing effect.
matoxine efficacy, a "moongage daydream"?
We tested instant moonlight on a few volunteers, and were ourselves amazed of the results.
This was after 15 minutes and there is no photo editing!
Our Goals
So "where are we now"?
To make this reality and share our passion, we are launching our crowdfunding project. Using our state of the art methods for analyzing animal venoms, we have already identified the molecule HDB-243, confirmed its biological activity in the lab and validted its efficacy as an instant anti-wrinle cream on a few volunteers.
Our goal is now to achieve clinical studies with a first production and offer you theses exclusive products before they even make it to market.
Join us on our venomous venture and "let's dance"!
Your funding will enable us to advance instant moonlight from the discovery stage to production and market (in USD, $*) and offer you exclusive pre-market products:
$ 5'000.-     Synthesize the HDB-243 peptide

$ 3'000.-     Formulate an exclusive cream

$ 6'000.-     Produce the pilot samples, filling & packaging

$ 2'000.-     Perform expanded toxicity, safety and tolerability testing

$ 8'000.-     Perform additional efficacy studies in humans

$ 1'000.-     Logistics
Total : $ 25'000.-
*1 $) is roughly 1 swiss franc (CHF) or 0.90 euros (EUR, €)
"Did you ever have a dream?"
Of course we have future plans and we also look for opportunities such as:
Distribution agreements, wholesale.
Investment opportunities to boost our pipeline with new products.
Partnerships to develop exclusive ingredients.
Please feel free to contact us with inquiries or other messages.
Risks and challenges, "over the wall we go"
instant moonlight will make it to market anyway, funding is available. Our idea is to scale-up the budgeted pilot study scheduled for the final clinical validation and take this opportunity to produce and offer you a first collection of commercial products, an exclusive pilot series. We look at this crowdfunding campaign as a great opportunity to evaluate market-opportunities and get feedback from you, while offering you unique cosmetics with a large discount. Should we not meet the target budget, we will simply produce less.
The matoxine team cumulates many years of experience of peptides from animal venoms, entrepreneurship, the cosmetic industry, design and communication. As we have already validated bioactivity testing and smoothly synthesized the peptide, we are confident about the success of instant moonlight. Also, given that the HDB-243 peptide is very selective, used in tiny amounts for local activity on skin only and is too large to penetrate in the body, there is no foreseeable risk of toxicity.
Of course, with science we know to expect the unexpected, and we are used to facing it! Therefore, if any unforeseen surprises arise we will keep you updated and explain how we handle this.
Join us to make it happen and spread the word!
THANK YOU
Our dreamteam
Who are we, a "space oddity"?
matoxine: state of the art Swiss pharmaceutical research. We are world experts in the study of animal venoms with over 25 years' experience. Over this time, we have successfully contributed to the discovery of numerous novel drug candidates (for example to treat pain, multiple sclerosis, infections, gluten intolerance or for animal health), diagnostic reagents and cosmetic ingredients from venomous organisms and other natural sources. matoxine is the beauty care branch of the Swiss company, Atheris SA. We are based in an old farmhouse in the outskirts of Geneva, with views of the mountains.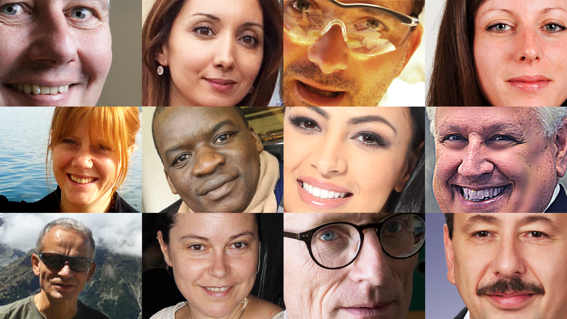 Samia Abrrah is graduated in executive management in Paris prior to establishing herself in Switzerland. What Samia loves most are her two children and cosmetics, she is our "Secret Life Of Arabia" (see second on first row).

Dr Miriam Arrell is a biochemist specialized in the analysis of proteins & scientific writing. Our "Prettiest Star" just gave birth to the next generation of David Bowie fans and arachnidologists (left on middle row).

Dr Frank Gafner is a phytochemist at the origin of several successful cosmetic ingredients. Not only does our "Fantastic Voyage" love Nature, he also belongs to the happy few who are inspired by Nature (bottom left).
Dr Vera Oldrati is a pharmacist specialized in venom-based drug discovery. She is our diamond "Glass Spider"who just obtained her doctoral degree with the help of the davidbowie spider (top right).

Iman Oubou holds a master degree in biochemistry and has a strong entrepreneurial spirit. Our "Moonage Daydream" was gifted by Nature and got elected Miss Colorado in 2012 and Miss New York in 2015 (third on middle row).

Prof. Gyorgy Panyi is an expert in assessing the biological activity of toxins to evaluate their biomedical potential. Our dear "Sweet Head" likes playing basketball and torturing medical students with biophysics (bottom right).
Dr Michael Pennington is a world renown expert in peptide synthesis with strong focus on venom toxins. Amongst others Mike also is a great rock'n roll guitar player, but our "Little Wonder" is rather tall (right on middle row).
Frédéric Perret is a research scientist with more than 10 years of expertise in the study of venoms. He is also one of France's undiscovered footballing talents, he is our invaluable "Shadow Man" (third on first row).
Ziggy is the dog in residence, named by Reto¹s kids after guess who?! Unfortunately he doesn't bite, so we won't be harnessing any kind of "Stardust" venom (you can see Ziggy on the matoxine website).
Did You Know?
Venomous animals of the world, can they be "heroes"?
Venomous animals can be found all around the planet: in the air, on the land or in the depths.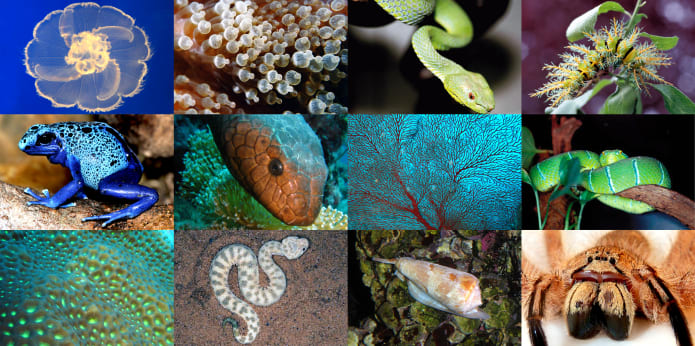 Bottom right is Heteropoda davidbowie.
More than 550'000 species of venomous animals have been described. Venomous animals aren't just killers: they save lives. Venoms from snakes, spiders, scorpions, snails and many more are a rich natural cocktails, each made of hundreds of proteins, peptides and small molecules. Mother nature has designed these molecules to perfection over millions of years of evolution to act, when used individually, as amazing medicines and cosmetics.
While the cocktail can kill, each molecule can heal.

Three-dimensional view of a spider venom toxin, a peptide made of amino acids.
From venoms to drugs, a "fantastic voyage"?
Indeed, venom bioactives are a proven source of innovative drugs to treat many major human diseases. Six venom-based drugs are already on the market, and many more are under development. These include drugs to treat hypertension, stroke, angina, diabetes and pain. Venoms also contain molecules that have the potential to make powerful natural cosmetics solutions. As a result, venomous animals have saved more lifes than they killed.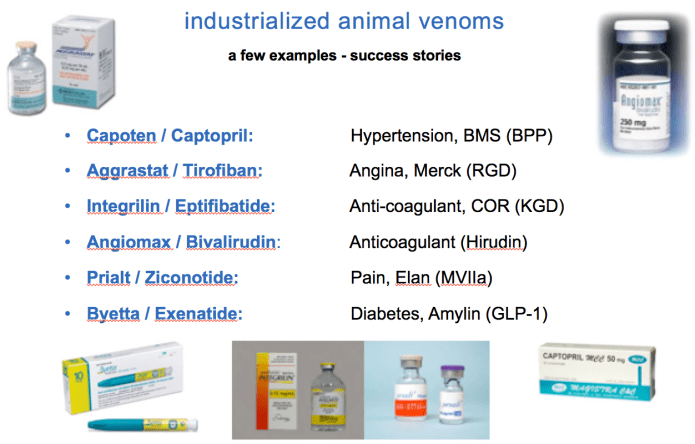 Venoms also contain molecules that have the potential to make powerful natural cosmetics solutions.
Venoms for Beauty
We love to explore Nature's secrets to enhance human lifestyle
Our highly skilled research team harnesses the hidden power of venoms
We create next-generation beauty care products
matoxine offers high quality Swiss cosmetic products inspired by the exceptional potential of venoms.

matoxine is the beauty care branch of the Swiss company, Atheris SA, a world expert in animal venoms with more than 20 years experience in the discovery of bioactive peptides and proteins for health.

Optimized by evolution - Discovered by us - Made possible by you.
matoxine
Chemin d'Alcire 1
CH-1228 Geneva
Switzerland
phone: +41 79 581 73 72
email: contact@matoxine.com
web: matoxine.com
Indiegogo: indiegogo.com/matoxine
Facebook: facebook.com/matoxine
Instagram: www.instagram.com/matoxine/
Twitter: twitter.com/matoxine
Youtube: @youtubematoxine
see also: atheris.com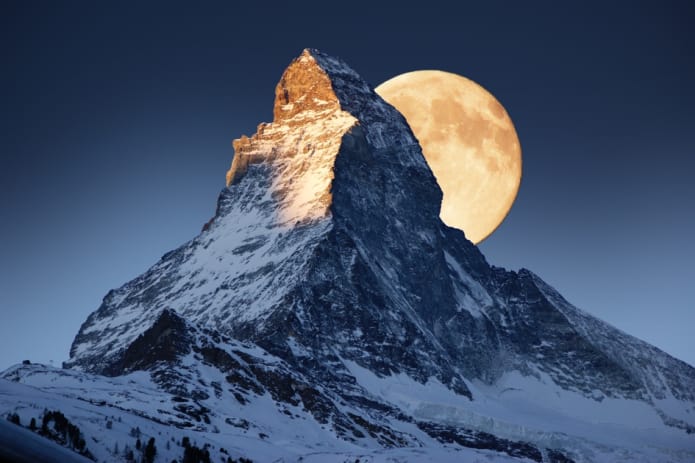 matoxine, instant moonlight and HDB-243 are trademarks of Atheris SA - Copyright ©2017