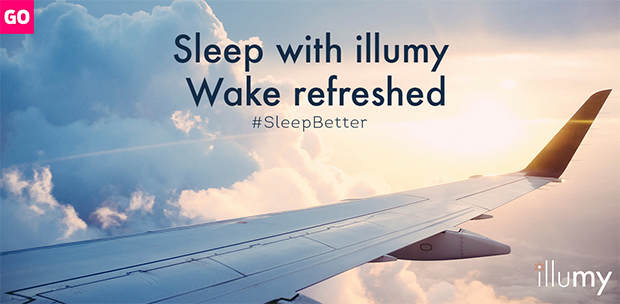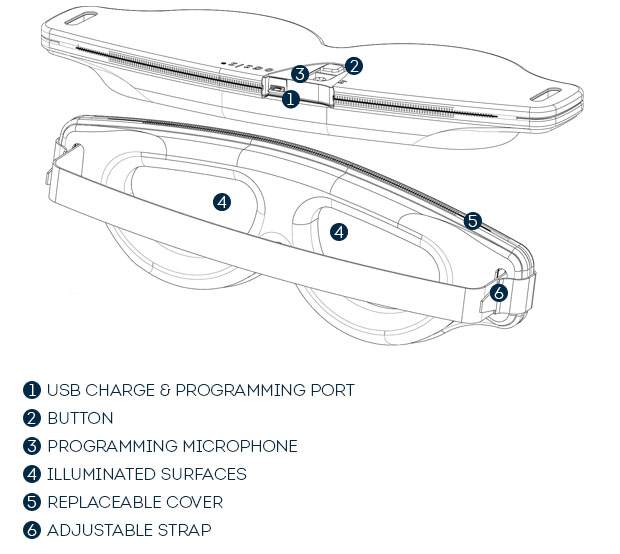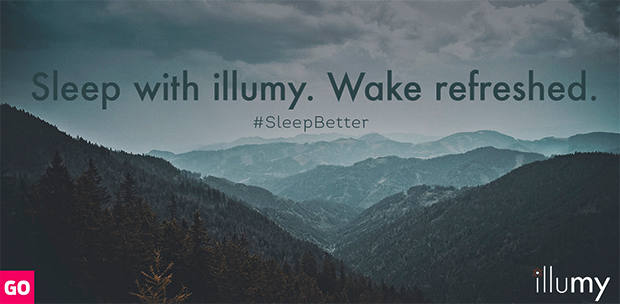 To design illumy, we sifted through scientific journals and spoke to sleep experts. Our first challenge was fitting the capabilities we wanted into the mask without making it heavy or bulky. Rather than build buttons and a display onto the mask, we decided to take advantage of a user interface almost everyone already has—a smartphone. This allowed us to ensure that the mask was lightweight and comfortable while effectively blocking external light.
The most challenging nuance was getting the lights right. As we dug through sleep research, a clear picture began to emerge. Humans have developed sensory responses to cues that occur every day in nature, but our modern lifestyle often prevents us from receiving those cues. A sunrise is rich in blue light, and studies have indicated that exposure to blue light in the morning is as effective as a cup of coffee. Red light, on the other hand, is calming and prepares you for bed. We designed our mask to provide light that provokes these natural responses, allowing you to fall asleep faster and to wake more gently and quickly.
(NASA uses similar light patterns in the space station to help astronauts regulate their sleep cycles—read more here.)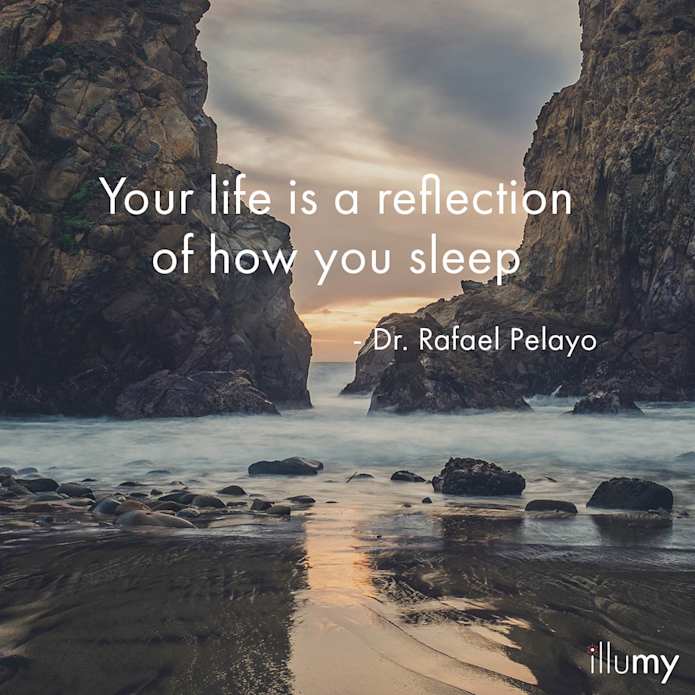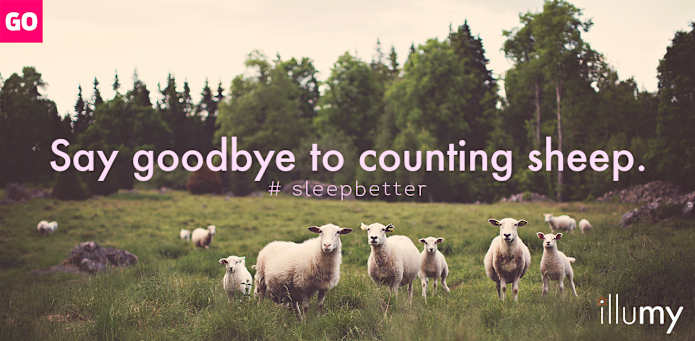 "I've grown dependent on the mask to sleep while traveling as many hotels don't have reliable blackout curtains. Also use at home on nights when I have to wake at a very early hour as it's light out when I go to bed."
- Josh H.
United Airlines Pilot
"Really nice looking product and excellent quality. The blue morning light is excellent and it is nice to be able to adjust the wake up time. It is blocking out light 100% from the outside without any problems. The app is very good"
- Michael von der Recke
Denmark

"I'm very impressed! Overall a comfortable mask and it stayed on well all night. The app is very simple and easy to use."
- Joe W.
"Congratulations on illumy, it is an impressive device. It seems very well made and is quite comfortable."
-Justyn B
UK

At Sound Oasis, we are passionate about helping people to sleep better. Our complete line of products has always focused on helping people fall asleep and stay asleep - naturally. 

illumy, the latest product in our line of sleep masks, expands on this goal by recognizing that waking refreshed and relaxed is just as important as falling asleep easily. Waking up to a blaring alarm clock is not only annoying, you often wake up during the deepest part of your sleep, and that can leave you groggy all morning.

illumy was envisioned by our team to let everyone benefit from this science of light
developed for NASA.

We are very proud of this product and very proud of the team that brings it to you. We encourage you to try illumy for yourself and see what a great night's sleep can be.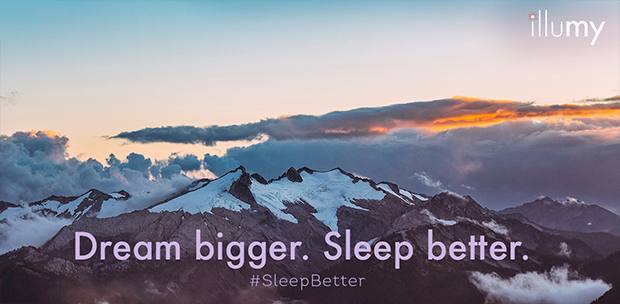 Troy Anderson - Co-Founder

Mr. Anderson graduated with a  Bachelor of Commerce degree in marketing from the University of Calgary and an MBA degree in international business from the University of Leuven in Belgium.  Mr. Anderson has served in various product marketing and new business development capacities with Black & Decker Canada (where he met his future business partner, Rudy Vandenbelt), Black & Decker U.S. and The Schawbel Corporation (a Boston based R&D firm). Troy and Rudy have invented and successfully commercialized a multitude of "first in the world" consumer products.

Rudy Vandenbelt – Director of R&D / Co-Founder
Rudy graduated with a Bachelor of Applied Science in Mechanical Engineering from Queen's University in Kingston, Canada.  He began his product development career at Black and Decker which coincidentally is where he and his current business partner Troy Anderson first met.  Since 1994 the two partners have managed the development, manufacture, and sale to retail clients of over 100 of their own unique and proprietary consumer products and appliances.

Philippe Genereux – Technical lead
Phil holds a Bachelor's degree in Aerospace Engineering and a Master's in Mechanical Engineering. He started his career as a partner in a medical device startup creating a product from his University research. His affinity for research and new ideas continues as he works on as many aspects of product design and invention as he can possibly manage. This approach has led the team to file patents for medical devices, air cleaners, and sleep technology.

Adam Clarke – Software Developer
Adam holds a Bachelor of Mechanical Engineering. He has 3 years of experience in designing, prototyping, and manufacturing of consumer goods. His love of model building and tinkering since a young age has given him the many skills necessary for product development. Self taught in the areas of software development, he has contributed to the design and function of websites and developed successful apps across multiple platforms.

Everyone knows someone who would love a natural sleep alternative that WORKS. Share our campaign with your friends on social media! 







Q: Can you adjust the brightness of the illumy sunset?
A: Yes. In the sunset mode, press and hold the sleep button. The red sunset will dim as you hold the button. Release your finger when you have reached your preferred sunset brightness.
Q: Will the head strap fit both large and small heads?
A: Yes, illumy has an adjustable Velcro® strap so it comfortably fits all sizes of heads.
Q: How does the Sleep Enhancement work? 
A: If you suffer from insomnia or need extra help waking up, our optional Sleep Enhancement® technology uses pulsing lights to help. At bedtime, the dimming sunset will pulse at increasingly slower Delta frequencies consistent with falling asleep, and in the morning the "blue sky" light will pulse at increasingly faster Alpha frequencies to assist with waking and alertness. You can turn this feature on or off in the illumy app. 
Q: Can you only adjust the illumy settings with the illumy app on a smartphone or tablet?
A: No, you can also program your illumy using your computer by visiting this page on the Sound Oasis website: www.glotosleep.com/programmer/. Select your illumy alarm settings, connect your illumy to the computer with the programming cable, and press the sync button.
Q: Do I need to use illumy every day?
A: Everyone is unique. Some people use the sunset every night to distract from racing thoughts and their unreasonably long to-do lists. Some people use the sunset on nights when it's particularly difficult to fall asleep (the same way a lot of people use our nature sound machines).
Others use illumy during particular seasons of the year. December to March can be pretty dreary in the morning, and one of the best ways to overcome this sleep inertia is with illumy's sunrise.
Over time you'll find the right combination, but we think a lot of people are going to enjoy illumy every day.
Q: Where can I download the illumy app?
A: The app can be found here:
Q: How long can I expect the battery to last?

A: If you use illumy every night, you can expect about 2 weeks of battery life. This will depend on your settings, of course. Shorter sunset and sunrise settings will extend this time.
Q: illumy has a washable cover—what is the best way to wash it?

A: The electronics should not be submerged in water, so the best way to wash the cover would be to follow these simple steps:
1.       Remove the strap.
2.       Open the zipper.
3.       Remove the electronics module.
4.       Place the cover and strap in the washing machine and use a gentle wash cycle.
5.       Allow the cover and strap to air dry.
6.       Reinsert the electronics module into the cover and replace the strap. You're all set for another great night's sleep!

The foam can also be washed with a mild detergent and warm water using a soft cloth.
Q: When will I receive illumy?

A: We are working to have stock available by April. The earliest backers will receive illumy even sooner, as stock comes off the production line. We'll do our best to deliver to all of our backers by April 2017. We'll keep you updated as the campaign progresses and after the campaign, so you'll always have a good idea of what to expect.
Q: How do you determine your shipping prices?

A: We use actual shipping prices that we were quoted by various couriers. We chose the best value for each location so your shipping cost is minimized no matter where you are located.
Q: Which countries is the campaign open to?

A: Just about anywhere! We're using multiple couriers so that we have full worldwide coverage.
Q: Does illumy come with a warranty?

A: Yes. Your sleep mask is covered by a one-year replacement warranty.
Q: Do I need Bluetooth to program illumy?
A: We designed illumy to use a platform-independent programming method. Your settings can be synced using most mobile phones, PCs and Mac devices. Since we use audio tones to program illumy, just about any device with a browser and sound output can be used to transfer your settings to your sleep mask. No pairing, no conflicts between multiple devices, and no worries about compatibility.
Of course, the most convenient way to program your sleep mask is using the iPhone or Android app.
Q: Do I need to use the programming cable to sync my settings?
A: In many cases the programming cable is the most reliable method. However, phones with accurate audio reproduction from the phone's speaker can be used to program illumy wirelessly through audible tones. Check out our YouTube video to see how it works: 
Q: Will illumy help me stay asleep during the night?
A: It sure does. Illumy is designed to block out external light. If someone turns on the light during the night, you won't even notice.
Q: I often work night shift; can I use illumy during the day?
A: illumy is ideal for night shift workers who need to sleep during the day. The red sunset helps you relax and prepare for sleep, and the blue sunrise will help you get ready for that next overnighter. The alarm can be set for any time of day or night.
Q: Are there other ways I can use illumy?
A: illumy can be used to get a boost in the afternoon. A power nap has been shown to increase productivity while exposure to blue light can boost alertness. Why not combine the two? Set a 10-minute sunrise for 30 minutes from now, put on illumy, and wake up refreshed after a 30-minute nap.
Q: Does illumy do sleep tracking?

A: No. We know that most people who are interested in sleep tracking already use a device such as a Fitbit or smartphone app. We focus on accurate light control/illumination and user comfort for the best sleep possible.