HYPAR Smart Boat
HYPAR the world first personal Smart Boat that can be quickly transformed into a Backpack, Kayak, Sailing or even a Solar electric boat and more...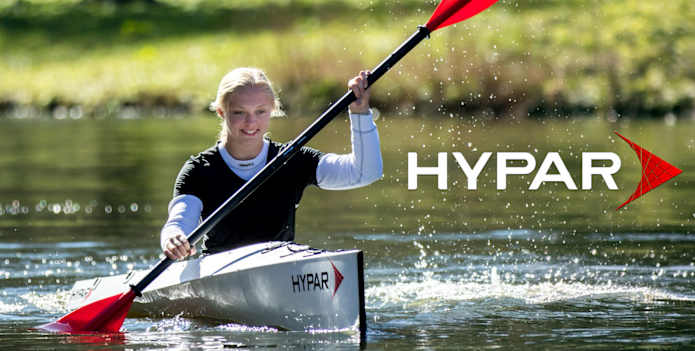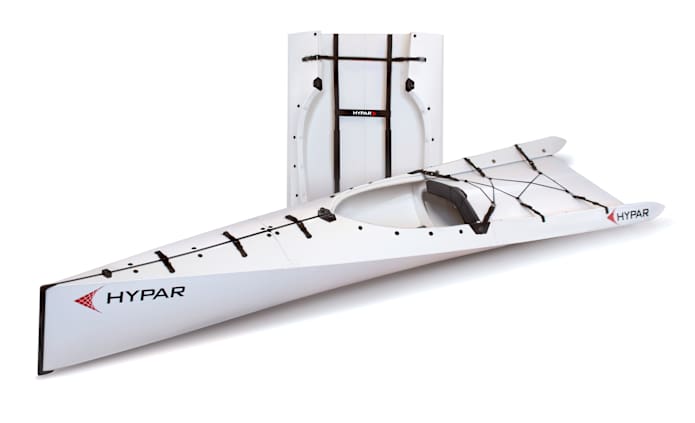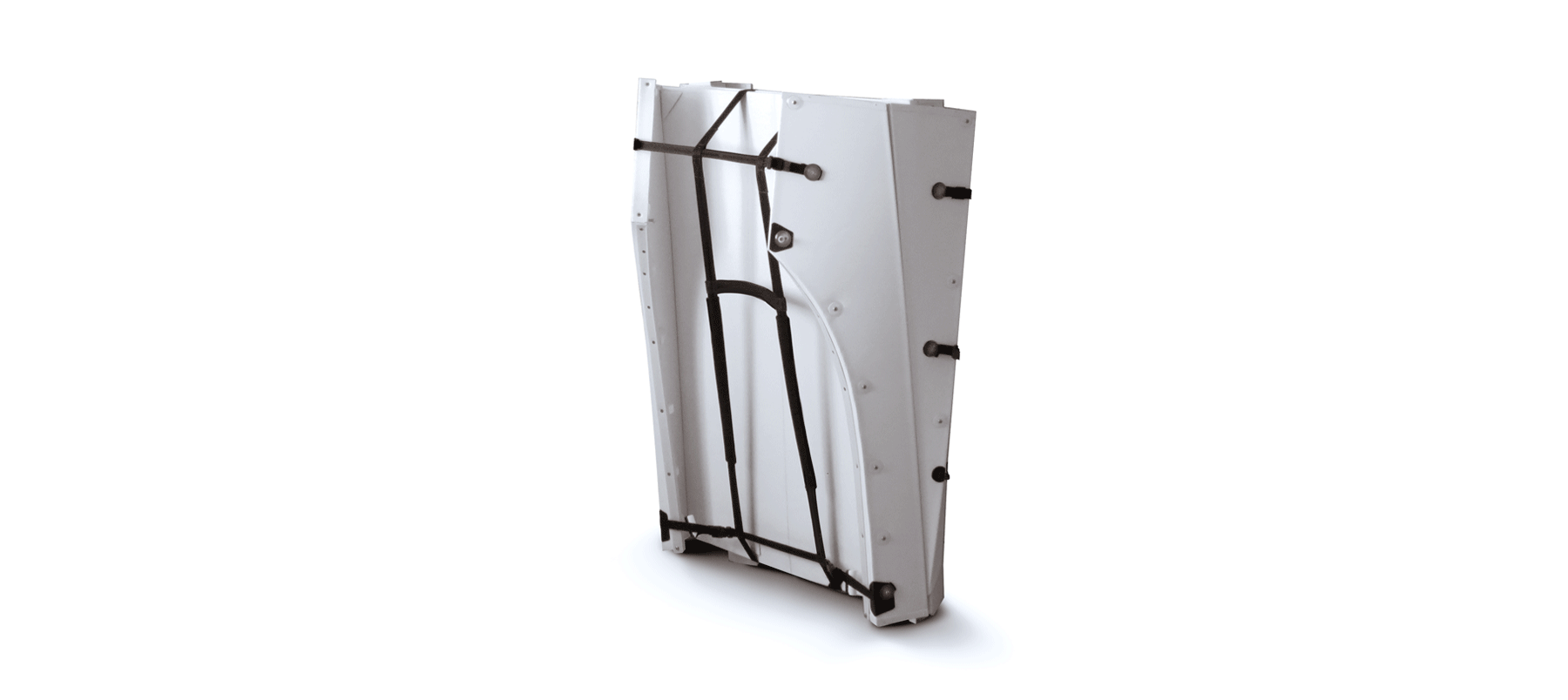 WHAT?
HYPAR is a patented personal Smart Boat. When folded, it can be carried anywhere as a light-weight backpack - making it incredibly easy to handle, transport and amazingly convenient to store.  
Thanks to its modular design and the exceptional proportions of the hull shape, HYPAR sustains an easy and fast reconfiguration setup from a backpack in to kayak, dinghy, sailing boat, solar boat and many more to come!
HYPAR greatly performs in any environment: from placid metropolitan waterways to braking sea waves and gale wind.
Any corners of the planet are open to HYPAR. Performance and reliability of HYPAR design will suit beginners as well as experts.
HOW?
The gorgeously streamlined HYPAR bow slices into the water vertically while its wide flattened stern meets the surface horizontally. This gives the boat a shape consisting of two counterpoised hyperbolic paraboloids, hence the name HYPAR.
HYPAR's innovative hull shape ensures exceptional speed and stability whilst the ground-breaking 'folding' design enables instant transformation from a boat into a backpack - all in less than 3 minutes. This ensures you can quickly and conveniently fit a performance watercraft inside your car, or any other transportation or storage space.

WHY HYPAR IS SMART BOAT?
The unique shape of the HYPAR hull provides an exceptional combination of performance and versatility. The hull versatility is enhanced by a modular design, an advanced folding caracteristic, a snap connectivity and high tech materials. These determine the basis of the smart boat concept. The smart boat concept in its nature is an adaptive platform capable of evolving to meet any unseen challenges in the future. HYPAR standards and our Open Design policy let everyone contribute to HYPAR evolution with personal ideas and refinements.
As a result, HYPAR can be transformed into many configurations - from backpack to kayak, rowing, sailing or even solar powered boat and much more. All what is needed for a new HYPAR configuration, is to obtain the required equipment and ensure it is designed to HYPAR standards. In most cases, you won't even need tools to refit your HYPAR and most reconfiguration take just moments to accomplish. 

Currently we are testing the following configurations:
    Sailing mod: Sailing ability is one of many advantages of HYPAR concept. For sailing HYPAR is equipped with sails and rigging. The fin & rudder are controlled by foot pedals.
    Solar mod: Solar unit designed as unified block of light Solar panel, MPPT controller and DC engine. Direct sunlight provides energy for propulsion, and on shore, the Solar panel can be used to power camping equipment or personal electronic gadgets.
    Surfing mod and Fishing mod and more in progress....



HYPAR PRESS
HYPAR has been frequently featured in the international press, attracting many positive comments and overviews from both water sports and eco-design enthusiasts world-wide.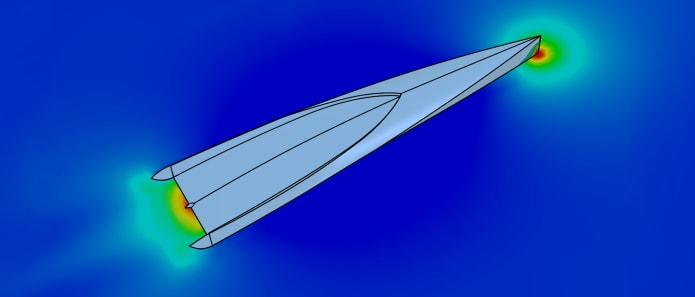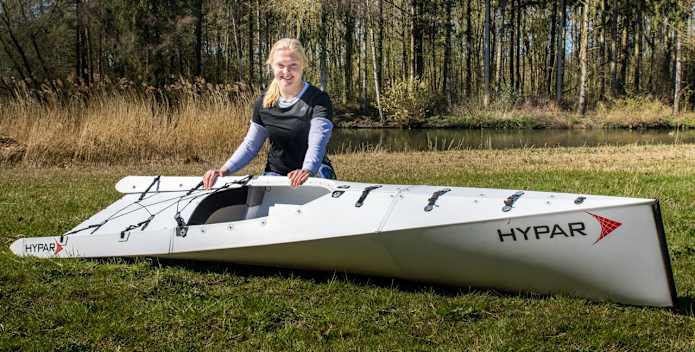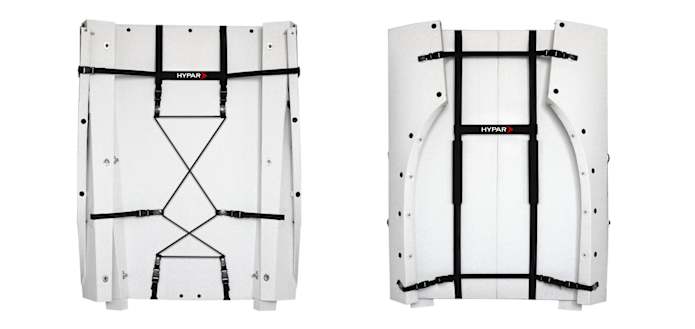 SPECIFICATIONS 
Assembly Boat<>Box time 3-5 minutes
The boat size: length: 985 inch | width: 31 inch | height 15 inch 
weight: 22 lbs | capacity: 220 lbs
The case size: length: 31 inch | width: 9 inch | height 40 inch  

The boat size: length: 300 cm | width: 80 cm | height 40 cm 
weight: 10 kg | capacity: 100 kg
The case size: length: 80 cm | width: 23 cm | height 102 cm  
 

REVOLUTIONARY MATERIAL
The HYPAR design team has been working in close collaboration with DS Smith France, a leading European plastics manufacturer. DS Smith introduced a new grade of advanced, reinforced honeycomb cell matrix, polypropylene material Akyboard™ specifically adapted for marine conditions and the unique design aspects of HYPAR, with an estimated ability to withstand more than 20,000 repetitive folds!
Towards a sustainable solution for the environment and for absolute user convenience, the HYPAR and DS Smith teams have ensured that the hull material would be 100% recyclable with a lifelong replacement policy. Please note that out of use HYPAR hulls will be replaced with only a small fee charged to cover transportation and recycling.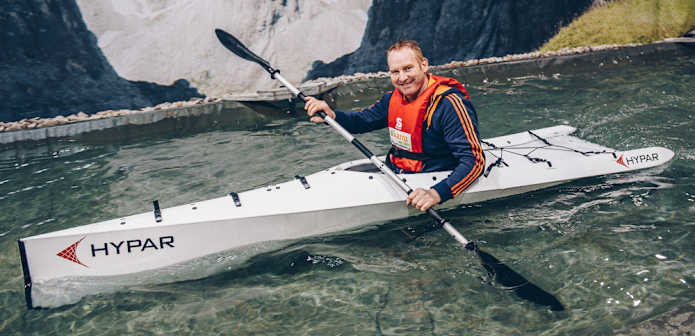 TESTED BY CHAMPIONS
HYPAR was featured during the Boat Show in Düsseldorf last January and was tested by Jochen Lettmann who is a German slalom canoeist who competed in the 1990s. We also partner with Jochen  to test and review important modification of HYPAR that we will present for the Market.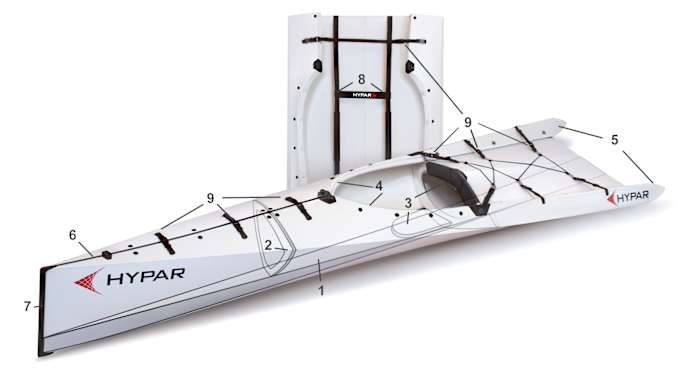 FEATURES
Light collapsible Keelson.
Front bulkhead with Adjustable footrest.
Comfortable seat and backrest.
Reinforced cockpit rim suiting spray skirts.
Transom Spoilers.
Watertight gaskets. 
Bow stem clamp.
Carry harness.
Quick-release buckles.
​Post package.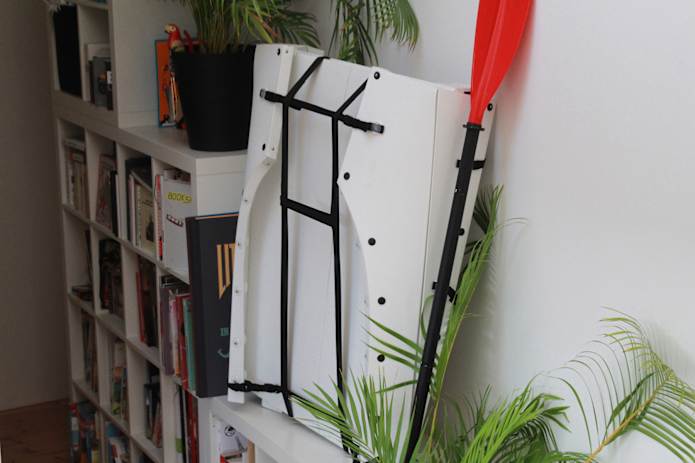 FOLDING ASSEMBLY
Transforming HYPAR from backpack to boat is intuitive and simple, taking approximately three minutes to fold or unfold. You can reconfigurate HYPAR to suit your mood. Reconfiguring HYPAR to suit your chosen setting is super simple and requires no tools. All key fittings and support for modifications are included with every HYPAR purchase. Detailed, full instructions and a comprehensive assembly video are all included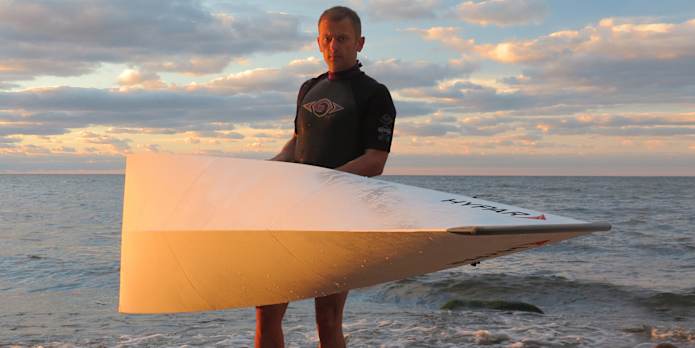 REWARDS
HYPAR thank you! | $5
Every bit of support helps! You'll receive HYPAR updates, news feed and tweet. Thanks!
HYPAR club exclusive membership for the first two years | 25$ 
Priority access to exclusive information about the development of HYPAR, forums, webinars and expeditions. Invitations to be involved in HYPAR testing  and filming events, best deals and priority delivery.  This is the shortest path for dealership or collaboration in the development of HYPAR.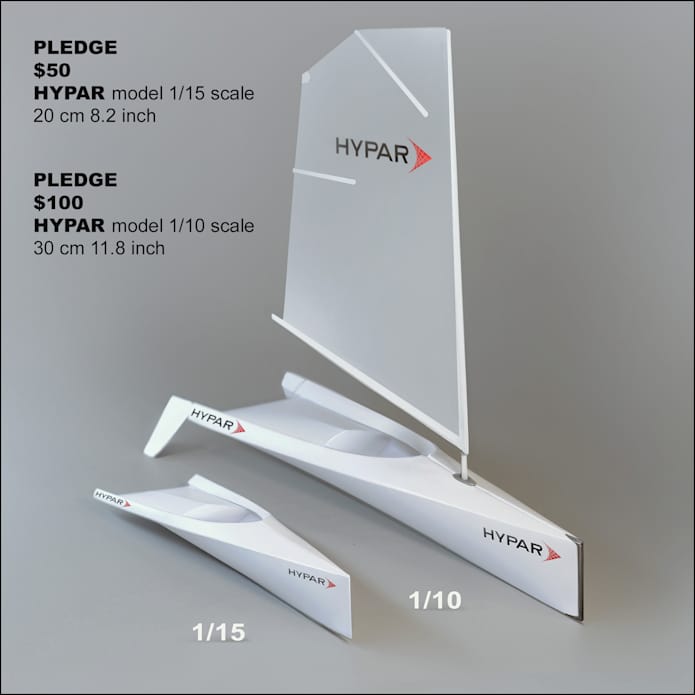 HYPAR model 1/15 scale | 50$
Shipped by May 2017
20 cm 8.2 inch 1/15 scale model to keep it on your desk for inspiration or as a toy for your kids. Model made of thin polypropylene plastic sheet like the real HYPAR. Free shipping anywhere.

HYPAR model 1/10 scale | 100$
Shipped by May 2017
30 cm 11.8 inch, 1/10 scale model with additional sail, mast and rudders to keep it on your desk for inspiration as a toy for your kids. Model made of thin polypropylene plastic sheet like the real HYPAR. Free shipping anywhere.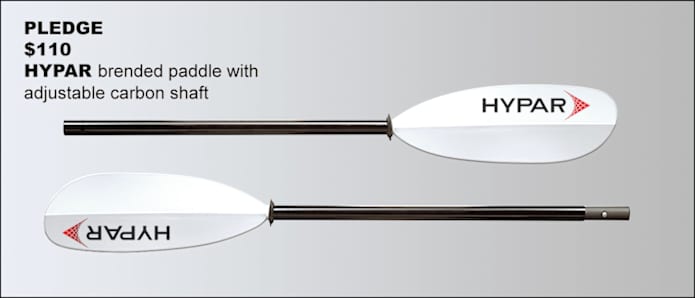 HYPAR carbon adjustable paddle | 110$
Shipped by June 2017
This is a robust and light HYPAR-branded paddle. With fiberglass reinforced nylon blade and four-piece adjustable carbon shaft. Perfectly fits into the HYPAR case!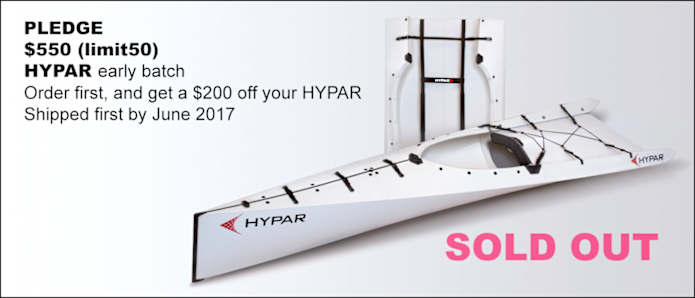 Early batch HYPAR/ first batch: $550 (limit 50)
Shipped first by June 2017
Order first, and get a $200 discount on your HYPAR smart boat. You will be among the first owners of HYPAR.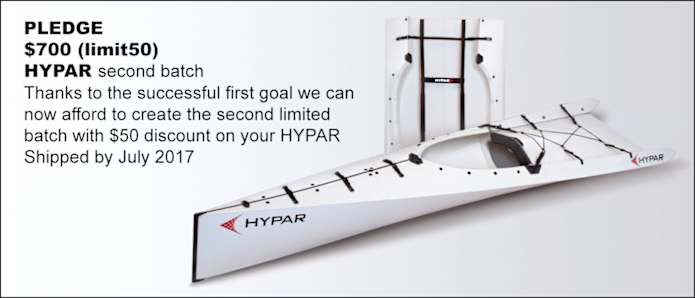 second batch HYPAR/ second batch: $700 (limit 50)
Shipped first by July 2017
Our first batch is completely gone and many of you have asked us to make an effort on another batch. Thanks to the successful first goal we can now afford to create the second limited batch with $50 discount on your HYPAR smart boat.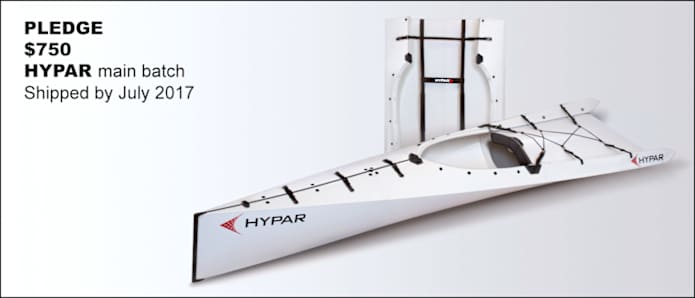 HYPAR / main batch: $750
Shipped by June 2017
Get your own HYPAR, discover the smart boat!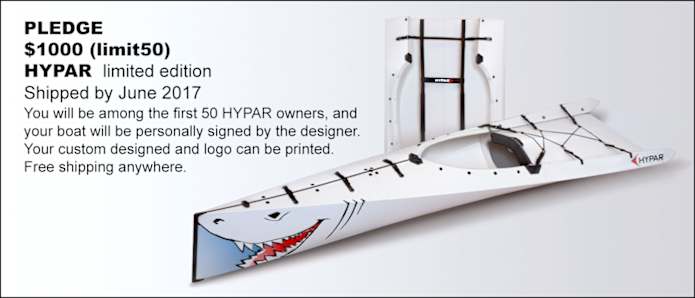 HYPAR / limited edition: $1000 (limit 50)
Shipped first by June 2017
You will be among the first 50 HYPAR owners, and your boat will be personally signed by the designer. Your custom designed and logo can be printed on the  bow section. Free shipping anywhere.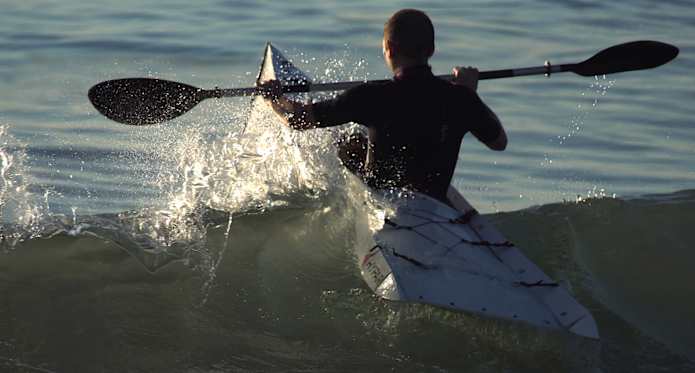 RISKS AND CHALLENGES 
The HYPAR smart boat is challenging to produce at scale. Our team has worked hard to set these logistical and production challenges. All key members of HYPAR team poses professional experience in boating and water sports in addition to professional design and manufacturing skills. We also working in very close collaboration with DS Smith plastics France, a leading European plastics manufacturer, to develop the most advanced product and material.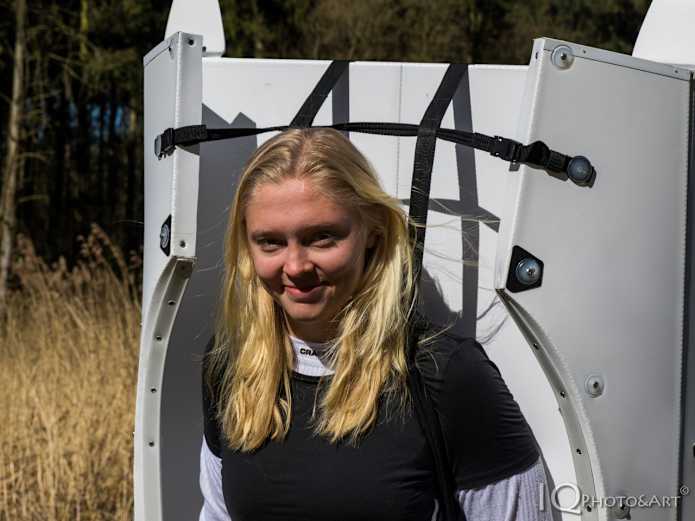 PRODUCT SAFETY
HYPAR is designed for performance while also being comfortable and enjoyable to use. The HYPAR team have tested every prototype in extreme weather conditions, to make sure we have a product that meets rigorous safety and endurance standards. HYPAR's Akyboard polypropylene base material is robust and durable with integrated UV protection, easy for maintenance and repairs. The HYPAR hull is backed by life-long protection through a revolutionary recycling policy where damaged hulls shall be replaced, with only a small fee charged to cover transportation and recycling.

MANUFACTURING 
We have designed HYPAR from the beginning for mass manufacturing in mind. We will streamline the process by:
- Important manufacturing will be done in France by DS Smith, to retain tight control of operations, quality and logistics.
- Rely on the automation and unique technologies of DS Smith.
- Using established relationships with various contract manufacturers.
FULFILLMENT 
Where many Indiegogo projects have run into shipping delays, we will keep our backers happy!
Maintaining a realistic time frame.
Dividing production into batches.
Limiting the number of HYPAR kayaks available on Indiegogo.

ABOUT US
We are a small, dedicated team of professional designers and manufacturing experts. Together, we're thrilled to launch HYPAR kayak. We believe that active outdoors interaction with Nature enhances people's lives, and we have designed HYPAR with a Dream to make the world a better and more sustainable place.
THANK YOU FOR YOUR SUPPORT!  
We want to say THANKS to all who have helped the HYPAR project and express our special gratitude to:
Business partners : DS Smith plastics, Hobbywarehouse
Video: Ronald van Proosdij, Bartek Jankowski.
Photography: Ilse Schaffers.
Sport experts: Jochen Lettman, Naomi Westra.
Support: Sergey Mazur.

YOUR SUPPORT  
HYPAR needs your support for this Indiegogo campaign to fund-raise production and development. 
Be among the first HYPAR owners or acquire one of HYPAR perk.  If HYPAR Crowdfunding exceeds our pledge, we will get a chance to speed up the development of smart modifications and extensions.
We believe in the importance to invest time and money in the creation of a good product rather than in advertising. A good product should be discovered and shared by people. This way we can significantly reduce HYPAR cost for our user.
But this journey can be accomplished only in company of committed friends and supporters. 
This is why we ask you to share the word about HYPAR. 
Become part of the HYPAR revolution!

HYPAR TIMELINE