Harp & Shamrock Croft has a heart for feeding people. Their commitment to putting healthy, local food on Spartanburg tables is unparalleled and they are a gift to our community.
Caroline Sexton, Executive Director at Hub City Farmers' Market
About Us
Harp & Shamrock Croft, LLC, est. 2013, is simply on a journey to realize our dream with hard work and dedication anyone can accomplish what they set out to do. For us that dream was to start a farm.
We are a small family farm in the upstate of South Carolina with a mission of bringing local, fresh, and sustainable food to the community. What started out as a dream has become a successful reality. We are not experts by any means as we still have a lot to learn, but the excitement grows from mid-January on each year as we engage in farming by producing more great food. Our goal is to continue to expand in size and grow larger quantities of produce for the community to enjoy.
The Campaign
If we want to plant early enough to have fresh vegetables by the end of winter for our market and on-site customers, then we need to construct a much larger greenhouse (high tunnel) by early January. That's why we are coming to you.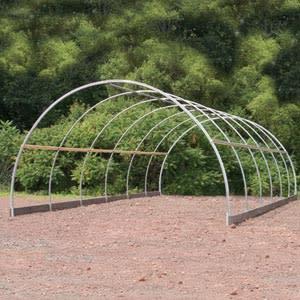 (an example of the greenhouse frame that was given to us)
The new greenhouse would allow us to grow specifically in this structure while using our much smaller high tunnels as seed starting stations since we start all of our transplants by seed onsite. As a registered nursery we are licensed to sell plants, so you can imagine how quickly the space in these structures fills up.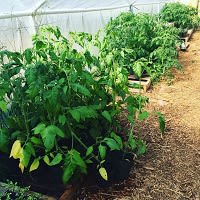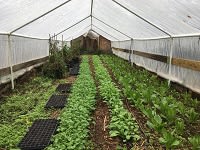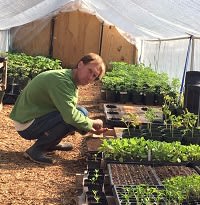 (a look inside one of our diy smaller high tunnels)
The Campaign to complete the construction would help cover the costs for:
6mil four-year plastic
End wall construction
Oversize door
Channels and springs to lock plastic 
Side venting system
Remaining hardware
Labor
The total cost for equipment and additional expenses to get the structure functional is $3,500.
You may ask yourself "why should I give to this Campaign?" It feels good to give; especially when the cause is to make people healthier and support a small family farm that has worked hard to build a reputation for success in just a short time. Any funds raised over this amount will be invested into the overall farm operation, so you can be assured your dollars will be spent wisely.
(breakdown of expenses that we hope the Campaign can help us reach)
Your generosity will be rewarded as we will give back, too. Please take a look at our Perks for various giving opportunities. We are happy to tailor these Perks to your needs as well. The Perks represent what we as a farm are all about and hope that you can see the value in supporting us.
We understand you want to give to a great cause. We believe concrete examples can help overcome any reservations. We will allow our accomplishments to attest to our success and worthiness of more investment by you and others who share our vision.  
What We Have Accomplished So Far In Our Short History
So far Harp & Shamrock Croft, LLC, has:
Approximately 5,000 lbs of harvested food through November 1, 2017 (compared to 2,500 lbs in all of 2016)
Finished the on-farm store front to simplify customers' purchase of produce
Completed a successful inaugural year Community Supported Agriculture (CSA) through three eight-week seasons that provided fresh, weekly vegetable shares to over 150 people
Raised organic-fed, pasture-raised chickens for eggs to sell on-site and at local farmers' markets
Partnered with Hub City Farmers' Market to provide produce for their CSA Shares and Mobile Market to a more diverse demographic in areas classified as food deserts
Introduced and increased the number of visitors to the farm and provided more educational opportunities for farm work days
Engaged the surrounding community by hosting events on the farm to educate, entertain, and feed
Finally Launched a YouTube channel focusing on gardening and homesteading tutorials
We are a community-driven farm that thrives in knowing what we produce is making those healthier. In just a few short years, we have gone from just a few thousand square feet in growing space to an acre.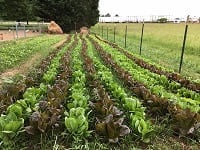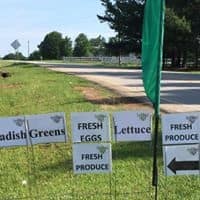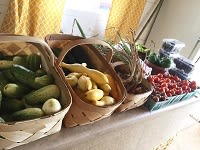 The Impact of Having A Larger Greenhouse
Because we are small farm with limited space to expand on, the greenhouse would allow us to grow during the off season, but also extend our growing season as well. Simply, a greenhouse would allow us to grow year-around, save space, and:
Increase quantity and availability of chemical-free produce for purchase onsite as well as during winter markets (we take great pride in our main farmers' market and work hard to bring a good variety of produce each week)
Use the success that we have achieved in growing in our smaller high tunnels to the next level
Most importantly, the Campaign will permit us to avoid taking on any further debt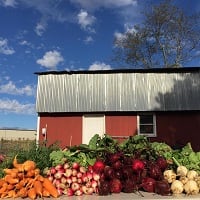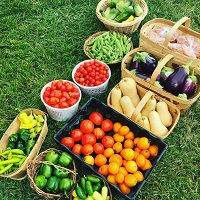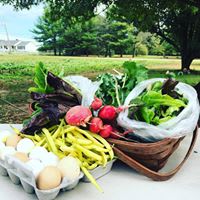 Other Ways You Can Help
We understand that not everyone has the means to give, but we still depend on others passing the word for us. This is what you can do for us:
Share our IndieGoGo Campaign with your network of friends and family encouraging everyone to support us
Follow us on Social Media (Facebook, Twitter, Instagram, YouTube, Etsy) to get updates and special announcements on the Campaign or how life is going for us on our farm
Visit our website for locations and times of markets and store hours
It is really that simple. We live in a time where Social Media makes a huge impact. Please consider supporting us in any way that you can.
Thanks
If you have any questions regarding this Campaign, please ask. We want to be transparent about our needs: Contact Us.
Thank you for considering our Campaign!