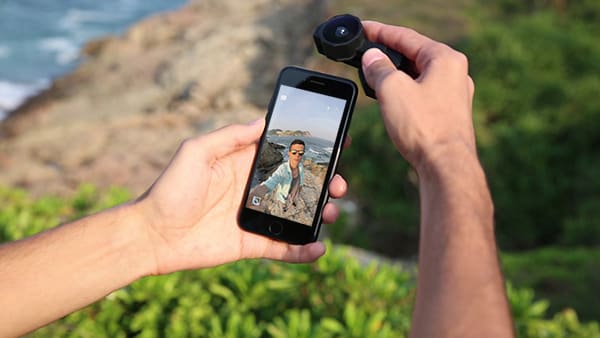 Shoot amazing 360 pictures with 6K resolution. A simple add-on that does magic to your photos -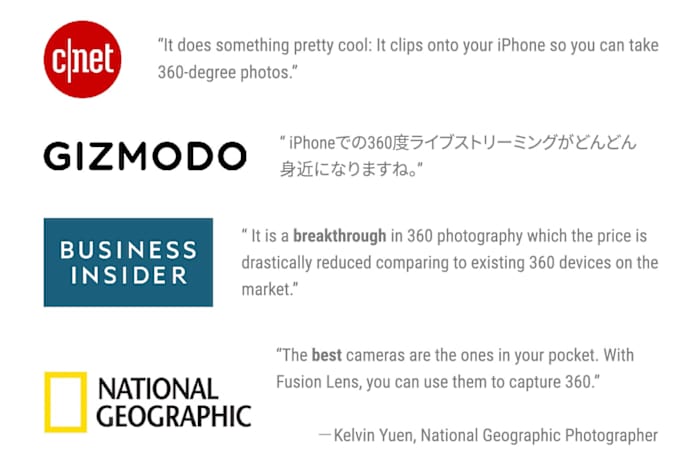 To showcase the solid technology, here's a technical demonstration on how to shoot 360 with Fusion Lens. 

Fusion Lens is a newly developed optical design with 6 lens elements in 2 groups. Using the native front and rear cameras of an iPhone, Fusion Lens introduces an ultra-wide range of light ray to hit your iPhone camera CMOS. It enables an iPhone camera to have over 180-degree field of view each side.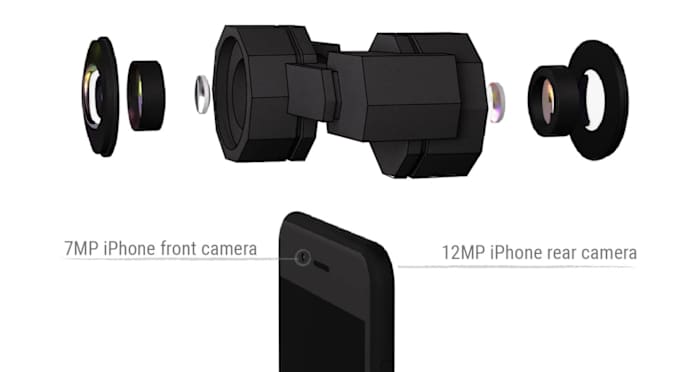 Go everywhere with you. Seize everything. Fusion Lens is your best companion.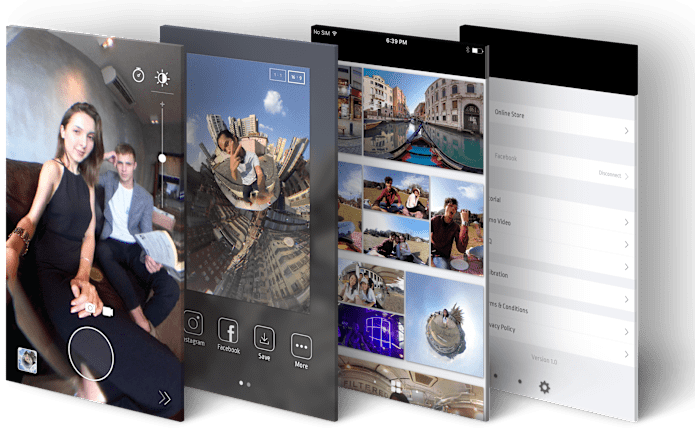 Outdoor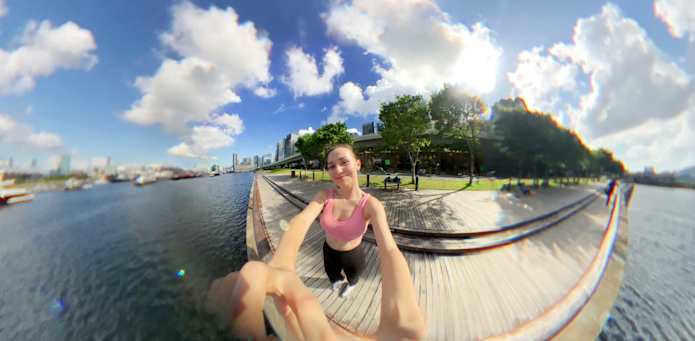 Indoor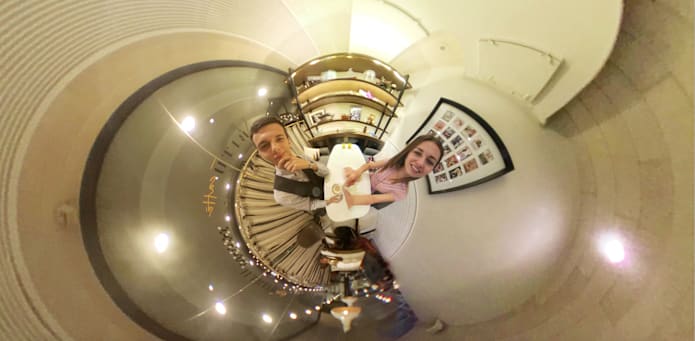 ​


Fusion App is intelligent in the way that it delivers seamless image based on our computer vision algorithm. The fast processing app delivers your epic 360 photos within seconds!
Simple but Splendid.


With Fusion Lens and Fusion App, taking a 360 snapshot has never been easier before. Shoot everything with one touch from your fingertip. From a single touch, you seize everything.


With two HD cameras in your pocket. Fusion Lens offers 6K for stills and 4K for time-lapse videos. Every detail is sharp and clear, making your moment even more glamorous!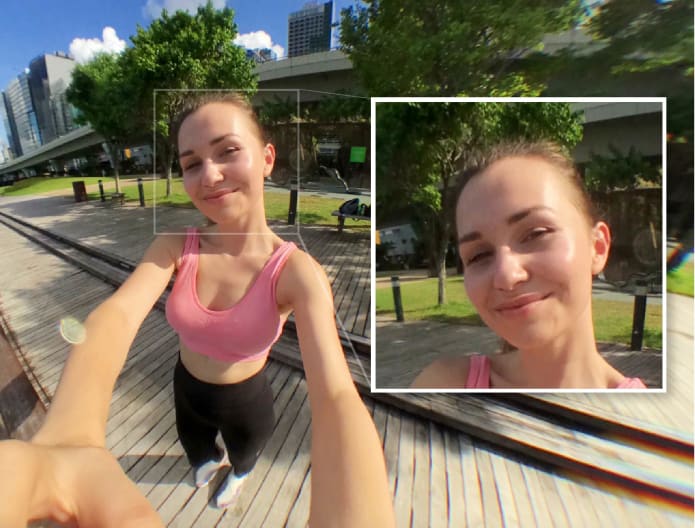 Unchain your vision, Shoot everything in 360.

Having fun? Share with friends and fam! Select how you want your photos, like 360 view, tiny planet, panoramic view, or even VR! Let your followers immerse in your moment as you did!



Fusion Lens is meticulously engineered for precise alignment between the lenses and the cameras. You don't have to adjust the position. Just snap it on your iPhone. All set. 

You just met the first 360 product without battery charging! We use your native iPhone cameras and battery. Just grab and go. Never worry about out-of-battery again!    

Fusion Lens is so portable weighing only 40-gram. It would not make your iPhone clunky and hinder your filming experience. The most carefree 360 shooting ever!

Never wait for clumsy Bluetooth and Wifi connection again! Fusion Lens is perfectly integrated with your iPhone. Just launch Fusion App for shooting beautiful pictures!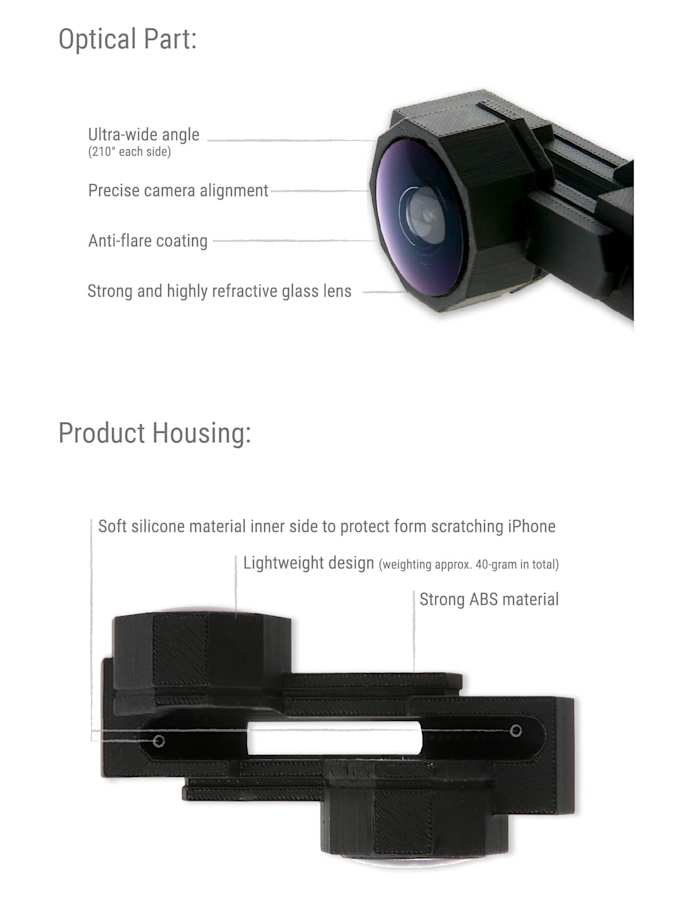 Fusion lenses are designed for iPhone 7, 7 Plus, 8 and 8 Plus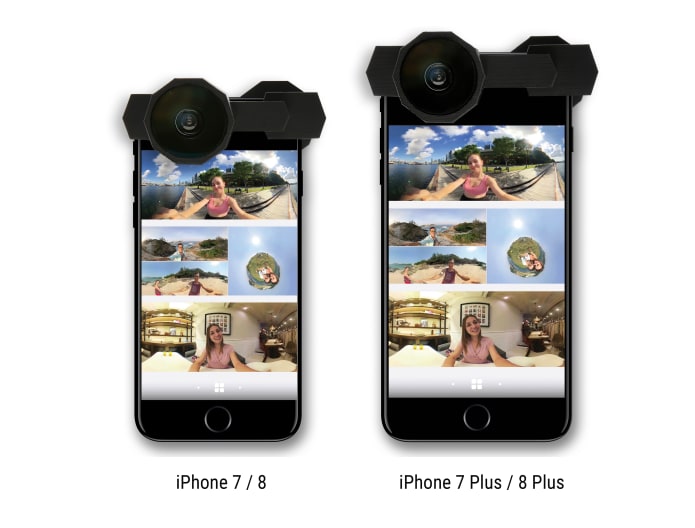 iPhone 7 and iPhone 8

iPhone 7 Plus and iPhone 8 Plus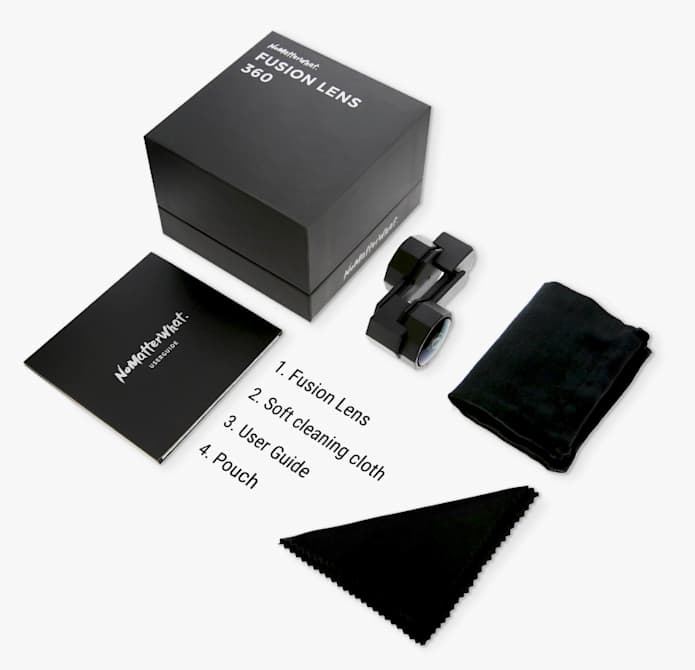 • Fusion Lens          • Soft cleaning cloth          • User Guide          •  Pouch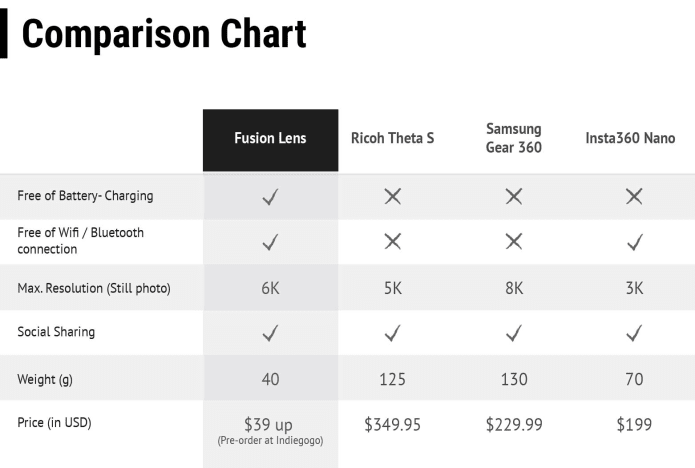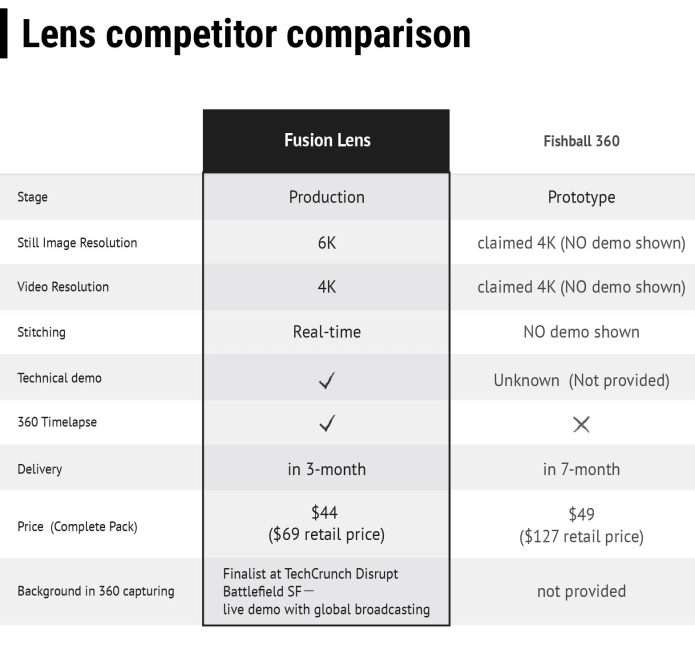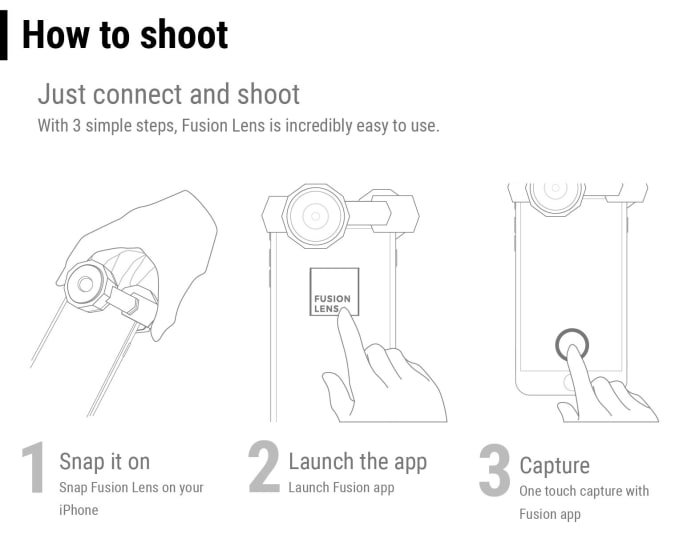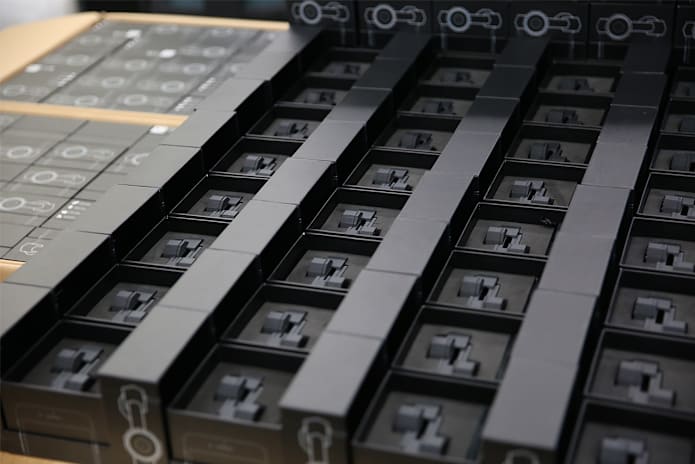 Fusion Lens is in the production stage. Your strong support will give us the needed affirmation to place a larger component order and start mass production. With your support, we can bring Fusion Lens to people worldwide. We have confidence in delivering the best Fusion Lens as promised.

Expertise in VR and 360 Computer Vision Technology




Over the past 4 years, we've been dedicated ourselves to VR and 360 image processing technology. We are a team strong in computer vision. Before Fusion Lens, we've launched Spincle app - the first camera app to shoot 360 mini-video. We entered TechCrunch Disrupt Battlefield SF in 2016 as the top finalist worldwide. The app has over 200,000 downloads and created over 500,000 360 contents globally.


Team

At Fusion Lens team, we have one vision: Provide a simple and affordable solution for everyone to capture and share immersive memories. We want to get everyone involved in 360 photography - the new medium of photography. It should be as easy as shooting a selfie. We envision one day that everyone can experience the joy of immersive photography. Capture every life moment in full without missing anything important. 
Join us on this 360 journey!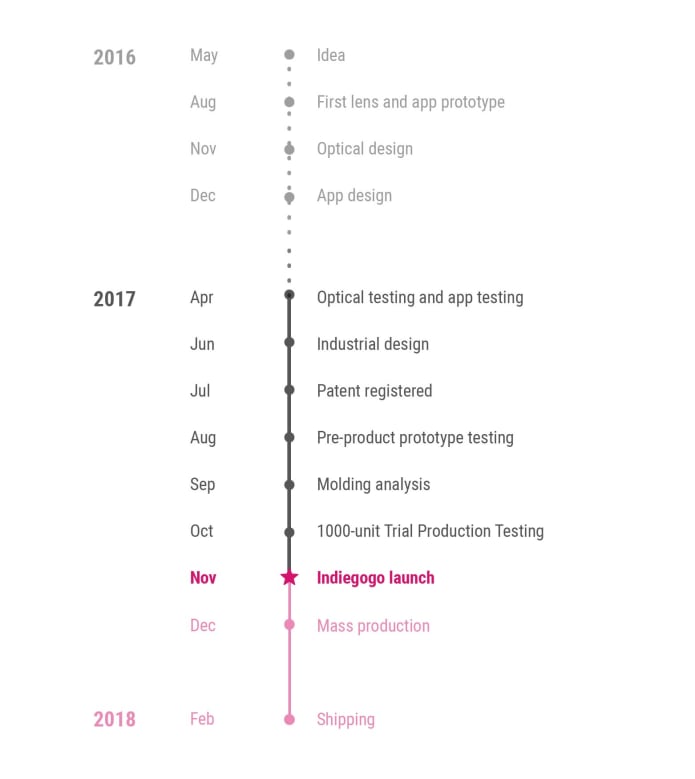 Heart-breaking Message from Fusion Lens
Over the past 4 years, we've been devoted ourselves to VR and 360 photography by promoting simple capturing and sharing tool to the community. We've created 360-related apps like Spincle – 360 camera app, Swipeable Panorama for Instagram and VR Gallery for Android and iOS. These apps are provided to the community free-of-charge.
We're a small startup with a big vision. Although we located in a small town - Hong Kong, we entered the highest stage in the startup world: TechCrunch Disrupt Battlefield in 2016. Being the top finalist worldwide, we showed our 360 capturing live demo with global live-broadcasting.
We prove our solid technology by showing our live demo, creating a long-take technical demo and launching 360-related apps to boost the community. These are what we've been doing for years.
Soon after we launched on Indiegogo, a competitor launched their "prototype-stage" product on the same platform. They claimed they have "seamless stitching" result. They claimed they have 360-video. We've been falsely accused that we do not have video mode (actually we have). We've been accused of not having the perfect technology as they do. Facing these accuses, however, we've NEVER SEEN THEIR DEMO, not even a single 360 photo.
It's heart-breaking to see start-ups shouting out how great they are but NEVER provide evidence. We believe if you do have the nice technology, show it to the world with your technical demo, the actual result shot from your product. We'll be happy for you. Not attacking other startups at their back while you can't prove your product really works.
We are only a small startup. We work hard in developing technology that is useful for the community. We do not have and do want to do exaggerating marketing. But we could not stay silence facing these attacks. Our core value is to build things from the ground and showcase our solid technology, not just concept-talking.
In the road of developing 360-photography technology, we've been fighting for 4-years, and we will keep fighting. We will never give up.
Fusion Lens Team

About
What is Fusion Lens?
Fusion Lens is a dual-lens system to empower an iPhone to capture 360 images. It is an accessory with two sets of the optical lens covering the front and rear camera. Snap it on your iPhone, two lenses will align perfectly with your iPhone cameras without the need of adjusting lens position.
How does it work?
It needs both Fusion lens and Fusion app to capture a 360 image.
Once you snap Fusion Lens on your iPhone, the lens system precisely aligns with your iPhone front and rear facing cameras enlarging field-of-view in iPhone cameras. Shoot with Fusion App, the app captures images from both cameras and instantly stitches two separate images into a 360 photo in real-time. The app brings you an instant 360 images which is ready for social sharing and virtual reality experience. 
 
How to download your app?
The app will be available at the App Store for Free. You will receive a download link upon receiving the Lens. QR code with the download link is printed on the packaging box and user guide, you will be able to get the link from our emails too.
Will you support iPhone X and Android?
Yes we will. After finishing the first batch shipping to our Indiegogo backers. We will be the launching Fusion Lens for iPhone X and Android phones. Stay tuned by following our social media to get notified.
Product Features
Which iPhones does it work with?
Fusion Lens works with iPhone 7, 7 Plus, 8 and 8 Plus
Can Fusion Lens capture 360 video?
YES! Current Fusion Lens lets you capture 6K still 360 photo and 4K 360 timelapse video. We 're working on the video capture. It is expected to have this feature supported in Mar-Apr 2018. For any new feature launched, simply update the app at the App Store, you will be able to get the latest features.
Does it work with my iPhone with a case?
Fusion Lens works best with naked iPhone without a case. It ensures the precious alignment between the lenses and your iPhone cameras.
Why do you offer Limited Vintage Collection made by 3D-printing?
We currently focus on mass production for Fusion Lens Original. However, we will start mass production for Vintage style too. We now offer Vintage style made by 3D-printing at a limited amount. Once the mass production is ready for Vintage, backers who backed our 3D-printed Vintage Lens will get a retail version as our gratitude to thank your early support.
When will you launch Vintage Collection retail version?
We will launch the retail version between Apr-May 2018, backers who backed the 3D-printed version will get a retail version when the mass production is done.
Safety & Regulation
Will snapping Fusion Lens scratch my iPhone?
Protection of your iPhone is guaranteed. Fusion Lens is designed with soft material (silicone) in the inner side. Soft plastic will protect your iPhone from scratching and ensure firm attachment between Len on the phone.
Shipping
When does shipping begin?
Shipping will begin in Feb 2018
Where do you ship?
We ship worldwide! Shipping rates vary depending on your country.
Do I have to pay VAT / GST?
Yes. Depending on your location, you may have to pay VAT/GST.
Customer Services
How can I check my order status?
By pre-ordering through Indiegogo, you automatically have an account created. Log back into Indiegogo using the email you pre-ordered, to verify your information.
If I have other questions, how can I reach you?
Drop us a line at hello@fusionlens360.com. We will response within 24 hours.