THE PROJECT
Dear Friends, 
We are currently in preproduction on the short film "Fugue" which we plan to shoot in a few weeks. It is a fiction loosely based on my personal experience of being in a near fatal car crash and my subsequent stay in a Greek hospital.  
The script was selected by the Hellenic Broadcasting Company (ERT) among 200 applications to receive a production grant of 14,000 euros, after three stages of evaluation process and several seminars with influential Greek filmmakers.
However, this is a rather demanding production and it has been a tremendous challenge raising the remainder of our budget. Which is why we have turned to you. We are trying to raise 7,600 euros in just 4 weeks here on Indiegogo. This is mostly for production, in order to rent the equipment we need to shoot (camera, lenses, lights, dolly), to pay our amazing crew, and also for post-production (sound editing & mixing, color correction...).
If we reach our goal, we can start shooting!
4 weeks will go by in a heartbeat, so please consider donating TODAY and also please share our page, like us on Facebook and follow our updates! 
Check out our rewards for contributing to the film. With your help, we will make a great movie. Thank you so much for your support! 
Laura Neri - Writer/Director
---------
Αγαπητοί φίλοι, 
Βρισκόμαστε στο στάδιο προ-παραγωγής της μικρού μήκους ταινίας «Φυγή», την οποία σχεδιάζουμε να γυρίσουμε σε λίγες εβδομάδες. Πρόκειται για ταινία μυθοπλασίας η οποία βασίζεται στην προσωπική μου εμπειρία. Πριν κάποια χρόνια κόντεψα να πεθάνω σε αυτοκινητιστικό ατύχημα και πέρασα κάποιες εβδομάδες σε Ελληνικό νοσοκομείο. 
Το σενάριο της ταινίας επιλέχθηκε ανάμεσα σε 200 αιτήσεις, έπειτα από τρεις φάσεις αξιολόγησης και σεμινάρια με καταξιωμένους Έλληνες κινηματογραφιστές για να λάβει χρηματοδότηση ύψους 14,000 ευρώ από την ΕΡΤ. 
Παρόλα αυτά, επειδή πρόκειται για αρκετά απαιτητική παραγωγή, έχουμε καταφέρει να εξασφαλίσουμε μόνο μέρος του προϋπολογισμού μας. Γι' αυτό το λόγο απευθυνόμαστε σε σας. Προσπαθούμε να μαζέψουμε 7,600 ευρώ σε 4 μόνο εβδομάδες εδώ στο Indiegogo. Αυτά τα χρήματα θα πάνε κυρίως στο γύρισμα, για ενοικίαση του εξοπλισμού (κάμερα, φακούς, φώτα, dolly...), στο φανταστικό συνεργείο μας, και στο post-production (μοντάζ και μιξάζ ήχου, επεξεργασία χρωμάτων...). 
Αν τα καταφέρουμε, μπορούμε να ξεκινήσουμε το γύρισμα! 
4 βδομάδες θα περάσουν σαν μία ανάσα οπότε παρακαλώ σκεφτείτε να συνεισφέρετε ΣΗΜΕΡΑ και επίσης μοιραστείτε τη σελίδα μας, κάντε μας like στο Facebook και παραμείνετε ενήμεροι!
Δείτε τα δώρα μας για την συμμετοχή σας. Με την βοήθειά σας, θα γυρίσουμε μια όμορφη ταινία. Ευχαριστούμε πολύ για τη στήριξη! 
Λάουρα Νέρη - Σεναριογράφος/Σκηνοθέτιδα
WHERE DOES THE MONEY GO / ΠΟΥ ΠΑΝΕ ΤΑ ΧΡΗΜΑΤΑ
Making films cost money, but people are often surprised by HOW MUCH MONEY - so for those of you who are new to this, here is an overview of our expenses.
Οι ταινίες κοστίζουν λεφτά, αλλά πολύ συχνά, ξαφνιάζεται κανείς από το ΠΟΣΑ ΠΟΛΛΑ ΛΕΦΤΑ. Γι'αυτούς που δεν το έχουν ζήσει από κοντά, θα βρείτε εδώ μια εικόνα για τα έξοδά μας.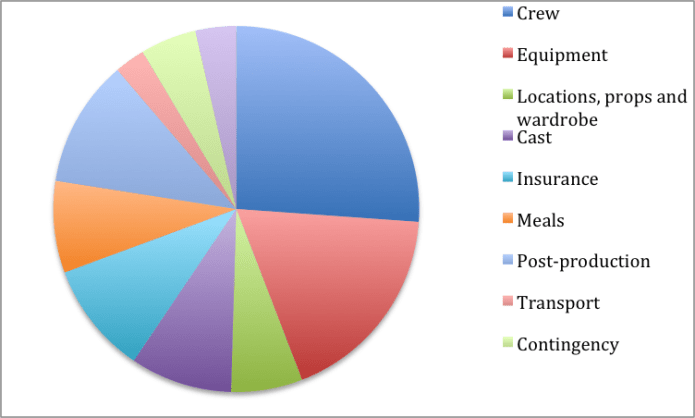 THE CREW / ΟΙ ΣΥΝΤΕΛΕΣΤΕΣ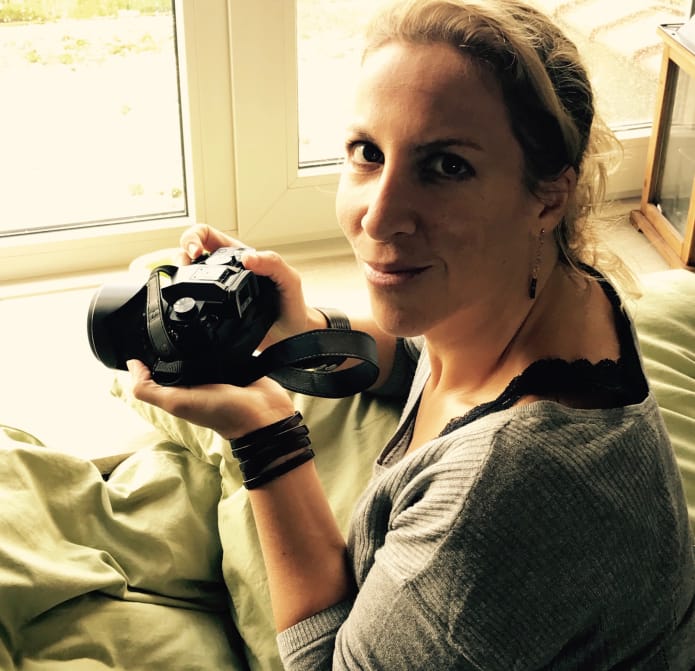 LAURA NERI - WRITER-DIRECTOR
/ ΛΑΟΥΡΑ ΝΕΡΗ - ΣΕΝΑΡΙΟΓΡΑΦΟΣ-ΣΚΗΝΟΘΕΤΙΔΑ
Laura Neri is a half Greek & half Italian filmmaker. She was born in Belgium, where she studied film & screenwriting at the Free University of Brussels (ULB) under the mentorship of Palme d'Or winner Luc Dardenne. She then got a Master of Fine Arts in Film Directing at the University of Southern California, Los Angeles, where she received a full scholarship and was the recipient of a grant by the Academy of Motion Picture Arts & Sciences.
Neri wrote and directed several award-winning short films which screened at festivals worldwide, including her short film "A Kiss on the Nose", which screened at more than 50 festivals and received multiple awards (including Best Short, Best Emerging Filmmaker, Best Screenplay, Best Actress, Best Drama, etc.), and was bought for distribution by Rete4, SiTV, United Airlnes, etc. Her first feature film "Kill the Habit" amongst others got her a "Best Feature Director" award at La Femme film festival (Los Angeles) & was selected for distribution on iTunes & amazon.com. Several of her screenplays have been selected for prestigious screenwriting workshops, such as eQuinoxe Europe & MFI Script 2 Film, & were finalist for Film Independent Director's Lab & semi-finalist for Sundance's Screenwriting Lab. Her work was recently selected to be part of a women directors showcase at Paramount Studios.
She splits her time between Brussels, Athens and Los Angeles.
---------
Η Λάουρα Νέρη γεννήθηκε στο Βέλγιο από μητέρα Ελληνίδα και πατέρα Ιταλό. Σπούδασε Σινεμά και Σεναριογραφία στο Πανεπιστήμιο των Βρυξελλών (ULB), όπου ο Λικ Νταρντέν, νικητής του Χρυσού Φοίνικα στις Κάννες, ήταν ο καθηγητής και μέντοράς της. Στη συνέχεια απέκτησε Μάστερ σε Σκηνοθεσία από το University of Southern California στο Λος Άντζελες, , όπου την επέλεξαν για πλήρη υποτροφία και έλαβε επιχορήγηση από την Αμερικανική Ακαδημία Κινηματογραφικών Τεχνών και Επιστημών.
Η Νέρη έχει σκηνοθετήσει διάφορες ταινίες μικρού μήκους οι οποίες βραβεύτηκαν σε φεστιβάλ άνα τον κόσμο, μέσα σε αυτές και μικρού μήκους «Φιλάκι στη Μύτη», η οποία έπαιξε σε παραπάνω από 50 φεστιβάλ και απέκτησε πολλά βραβεία (Καλύτερη ταινία μικρού μήκους, Καλύτερο νέο σκηνοθέτη, Καλύτερο σενάριο, Καλύτερη ηθοποιός, Καλύτερη Δραματική Ταινία, κ.α.), και έχει μισθωθεί για διανομή στο Rete4, το SiTV, και τα United Airlines. Η πρώτη μεγάλου μήκους της, «Kill the Habit» (Σκότωσε τη Συνήθεια), της έφερε το βραβείο «Καλύτερος Σκηνοθέτης Μεγάλου Μήκους» στο φεστιβάλ La Femme (Λος Άντζελες) και έχει μισθωθεί για διανομή στο amazon.com και το iTunes. Τα σενάριά της έχουν επιλεχθεί από περίφημα εργαστήρια σεναριογράφων, όπως το eQuinoxe Europe και το MFI Script 2 Film, ήταν φιναλίστ για το Film Independent Director's Lab και ημιφιναλίστ για το Sundance's Screenwriting Lab. Πρόσφατα, επιλέχτηκε η δουλειά της μαζί με άλλες σκηνοθέτιδες για παρουσίαση στα περίφημα στούντιος της Paramount.
Ζει μεταξύ Βρυξελλών, Αθήνας και Λος Άντζελες.
Production / Παραγωγή
Marni Films is a young independent company, based in Athens, that produces shorts, features and creative docs by filmmakers at their first steps. Their goal is to keep greek cinema's new wave alive by supporting young artists and delivering innovative productions for tv, cinema and internet platforms.
-------
Η Marni Films είναι μια ανεξάρτητη εταιρεία παραγωγής με έδρα την Αθήνα, που αναπτύσσει ταινίες – μικρού και μεγάλου μήκους – και ντοκιμαντέρ από δημιουργούς στα πρώτα τους βήματα. Στόχος τους είναι να διατηρούν ζωντανό το παγκόσμιο ενδιαφέρον για το ελληνικό σινεμά, ανακαλύπτοντας νέα ταλέντα. Τους ενδιαφέρουν projects που χαρακτηρίζονται από μια αυθεντική κινηματογραφική ματιά και απευθύνονται σε διεθνή ακροατήρια.

THEODORA VALENTIS – PRODUCER / ΘΕΟΔΩΡΑ ΒΑΛΕΝΤΗ – ΠΑΡΑΓΩΓΟΣ
Theodora grew up watching her father, Nikos Nikolaidis, directing various films, either at their home or in peculiar locations. Her education supported this upbringing further, with a Mass Media degree at Westminster University in London, and Master's degree in Communication Studies at University of Leeds. Being her father's assistant, Theodora was involved in the production of numerous TV advertisements while her experiences included art direction in various short and feature films. She also worked in Greek TV Channel 'Mega Channel', in the department of Greek programming, where her duties included reading and assessing scripts, in order to put them in production. In 2011 she founded Marni Films.
-------
Η Θεοδώρα μεγάλωσε βλέποντας τον πατέρα της, Νίκο Νικολαΐδη, να σκηνοθετεί μια πληθώρα από ταινίες στο σπίτι ή σε περίεργες τοποθεσίες. Με τέτοια 'ανατροφή', ήταν φυσιολογικό να ακολουθήσει μια εκπαίδευση που θα υποστήριζε περαιτέρω αυτές τις εμπειρίες. Αφού ολοκλήρωσε με επιτυχία τις σπουδές της στα Μ.Μ.Ε. στο Westminster University του Λονδίνου, συνέχισε το μεταπτυχιακό της στις Επικοινωνίες, στο Πανεπιστήμιο του Leeds. Απασχολήθηκε ως βοηθός του πατέρας της σε πολυάριθμα τηλεοπτικά διαφημιστικά, ενώ οι συνεργασίες της συμπεριλαμβάνουν καλλιτεχνική επιμέλεια σε διάφορες μικρού και μεγάλου μήκους ταινίες. Συνεργάστηκε με το Τμήμα σχεδιασμού Ελληνικού Προγράμματος του Mega Channel, για να διαβάζει και να αξιολογεί σενάρια, πριν μπουν στη γραμμή παραγωγής. Το 2011 ίδρυσε τη Marni Films.

PHAEDRA VOKALI – PRODUCER / ΦΑΙΔΡΑ ΒΟΚΑΛΗ – ΠΑΡΑΓΩΓΟΣ
After graduating from the Marketing and Communication Department of the Athens University of Economic and Business, in 2005, she worked in distribution where she had the opportunity to attend international markets as a buyer and also organize the press office. In 2006 she started her collaboration with the Athens International Film Festival that carries on until this day. She got her MA in Film Studies from the University College London as a scholar of the State Scholarships Foundation. She has since worked as head of programming of the Athens Film Festival, while later she became editor in chief of CINEMA Magazine, the only film magazine in Greece. She currently works as a producer in Marni Films while she has recently become a member of the EAVE Producers Network.
------
Mετά την αποφοίτησή της από το τμήμα Μάρκετινγκ και Επικοινωνίας του Οικονομικού Πανεπιστημίου Αθηνών, το 2005, η Φαίδρα Βόκαλη εργάστηκε στη διανομή, όπου είχε την ευκαιρία να συμμετάσχει σε markets διεθνών αγορών ως buyer αλλά και να ασχοληθεί ενεργά με την οργάνωση του γραφείου τύπου. Το 2006 ξεκίνησε τη συνεργασία της με το Διεθνές Φεστιβάλ Κινηματογράφου της Αθήνας – Νύχτες Πρεμιέρας, που συνεχίζεται μέχρι σήμερα. Απέκτησε το μεταπτυχιακό της στον τομέα Film Studies τo 2009 από το University College London με υποτροφία του ΙΚΥ. Στη συνέχεια εργάστηκε ως υπέυθυνη προγράμματος στο Φεστιβάλ, ενώ παράλληλα έγινε αρχισυντάκτρια του μοναδικού κινηματογραφικού περιοδικού στην Ελλάδα, του ΣΙΝΕΜΑ. Πλέον εργάζεται ως παραγωγός στη Marni Films, ενώ πρόσφατα έγινε μέλος του EAVE Producers Network.

MINA DREKI – LINE PRODUCER / ΜΙΝΑ ΝΤΡΕΚΗ – ΥΠΕΥΘΥΝΗ ΠΑΡΑΓΩΓΗΣ
Mina was born in Halkida and entered the field of production in 2002, as an writer's assistant. Having studied Communications and Linguistics in London, she worked in various position in TV and film production companies while translating, sub-titling and writing for magazines. After the "non-stop" experiences with foreign productions in Greece, such as Mamma Mia!, in co-ordinating and administrating positions, she carried on working with Greek productions companies. Now she manages and co-ordinates different projects, including films, events, researches.
-----------
Η Μίνα γεννήθηκε στη Χαλκίδα και μπήκε στο χώρο των παραγωγών το 2002, ως βοηθός αρχισυντάκτη. Έχοντας σπουδάσει ΜΜΕ και γλωσσολογία στο Λονδίνο, συνεργάστηκε με πολλές εταιρείες παραγωγής σε τηλεόραση και κινηματογράφο ενώ παράλληλα έκανε μεταφράσεις, υποτιτλισμό και εργάστηκε σε περιοδικά. Μετά τις απανωτές εμπειρίες με ξένες παραγωγές στην Ελλάδα, όπως το "Mamma Mia!", συνέχισε να συνεργάζεται με ελληνικές εταιρείες παραγωγής, σε θέσεις διοικητικές και οργανωτικές. Τώρα οργανώνει και συντονίζει διάφορα projects, ταινίες, εκδηλώσεις, έρευνες.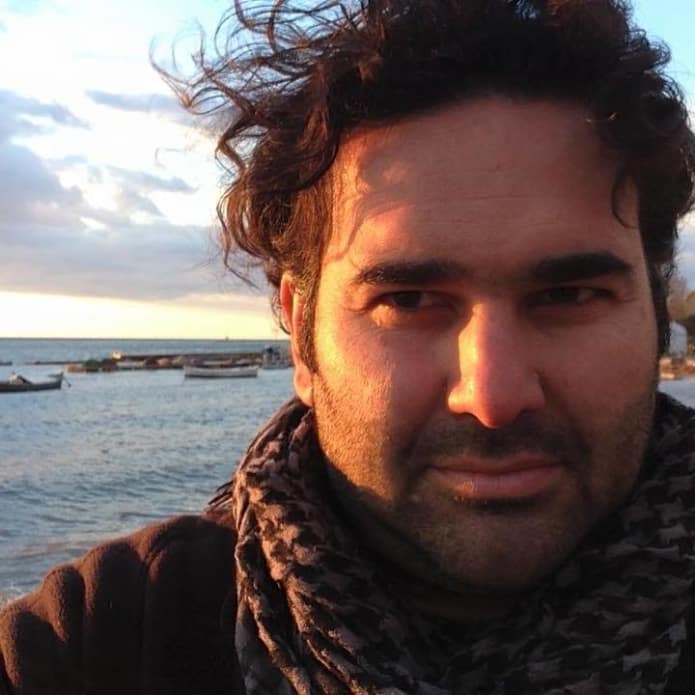 PAΝTELIS MANTZANAS - DIRECTOR OF PHOTOGRAPHY
/ ΠΑΝΤΕΛΗΣ ΜΑΝΤΖΑΝΑΣ - ΔΙΕΥΘΥΝΤΗΣ ΦΩΤΟΓΡΑΦΙΑΣ
Pantelis Mantzanas was born in 1976 in Athens, Greece. He studied cinematography at the L. Stavrakos Film School and has worked as a cinematographer and lighting designer for theater and dance performances.
His cinematography credits include many award-winning feature films, short films and documentaries which have been selected in numerous film festivals around the world, as well as TV commercials and music video clips. 
He has been the recipient of several awards, including Excellence in Cinematography at the Barcelona International Film Festival and most recently Best Cinematography at the New York Film Awards.
-----------
Ο Παντελής Μαντζάνας γεννήθηκε το 1976 στην Αθήνα. Σπούδασε κινηματογράφο στη Σχολή Κινηματογράφου Λ. Σταυράκου και εργάστηκε ως κινηματογραφιστής και σχεδιαστής φωτισμού για θεατρικές και χορευτικές παραστάσεις.
Οι κινηματογραφικές του αποδόσεις περιλαμβάνουν πολλές βραβευμένες ταινίες μεγάλου μήκους, ταινίες μικρού μήκους και ντοκιμαντέρ που έχουν επιλεγεί σε πολλά φεστιβάλ κινηματογράφου σε όλο τον κόσμο, καθώς και τηλεοπτικές διαφημίσεις και μουσικά βίντεο κλιπ.
Η δουλειά του Μαντζανά διακρίθηκε με το βραβείο Αριστείας στη Κινηματογράφηση στο Διεθνές Φεστιβάλ Κινηματογράφου της Βαρκελώνης και πιο πρόσφατα με το βραβείο της Καλύτερης Κινηματογραφίας στα Βραβεία Κινηματογράφου της Νέας Υόρκης.
http://pantelismantzanas.weebly.com/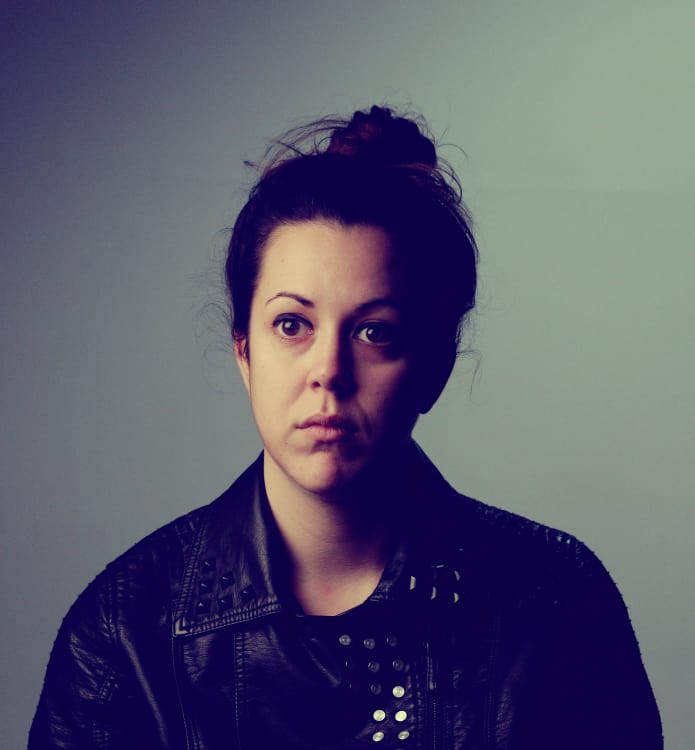 ERMINA APOSTOLAKI - PRODUCTION & COSTUME DESIGN
/ ΕΡΜΙΝΑ ΑΠΟΣΤΟΛΑΚΗ - ΣΚΗΝΟΓΡΑΦΟΣ & ΕΝΔΥΜΑΤΟΛΟΓΟΣ
Ermina Apostolaki was born in Athens, Greece. She studied Business Administration and Stage/Costume Design at Vakalo Art and Design College and holds a Master's degree from the Technical University of Berlin in Stage Design and Spatial Composition.
She has worked on many theater and film productions, both in Greece and Germany. Her work has been presented in festivals in Greece and abroad (Athens, Inzucht Festival Berlin, Cinequest, Palm Springs, Drama, etc).  She has collaborated with different theaters in Athens and in Berlin (Schaubühne, Michael Cacoyannis Foundation, Experimental Stage-National Theater, etc.).
She is currently enrolled in a Masters program on interdisciplinary spatial design at the National Technical University of Athens and a "post-nostalgia Design meets Utopia" program at Vakalo. In 2017 her work for the plays "Don't forget to go home" and "The motherfucker with the hat" was presented at the World Stage Design Exhibition 2017 (Emerging Designers). She was a fellow at the International Forum 2017 of the Berliner Festspiele.
----------
Η Ερμίνα Αποστολάκη γεννήθηκε στην Αθήνα και σπούδασε στο Πανεπιστήμιο Πειραιά, τμήμα Οργάνωσης και Διοίκησης Επιχειρήσεων, ενώ παράλληλα παρακολούθησε το εργαστήριο Σκηνογραφίας - Ενδυματολογίας της Σχολής Βακαλό. Ολοκλήρωσε τις μεταπτυχιακές της σπουδές στην σκηνογραφία και την σύνθεση σκηνικού χώρου στο Technical University of Berlin.
Εργάζεται στο θέατρο και τον κινηματογράφο, στην Ελλάδα και στο Βερολίνο (Schaubühne, Ίδρυμα Κακογιάννη, Πειραματική Σκηνή-Εθνικό Θέατρο, κ.α.). Δουλειές της έχουν παρουσιαστεί σε διάφορα φεστιβάλ. (Αθήνας, Inzucht Festival Berlin, Cinequest, Palm Springs, Δράμα, κ.α.)
Αυτή την περίοδο, παρακολουθεί το μεταπτυχιακό πρόγραμμα Αρχιτεκτονική Χώρος Πολιτισμός, (Γνωσιολογία της Αρχιτεκτονικής) της Σχολής Αρχιτεκτόνων Μηχανικών του Μετσοβείου Πολυτεχνείου, καθώς και το ερευνητικό πρόγραμμα της Σχολής Βακαλό "post-nostalgia - το Design συναντά την ουτοπία". Η δουλειά της για τα θεατρικά έργα "Ο Μάδαφάκας με το καπέλο" και "Don't forget to go home" παρουσιάστηκε στο World Stage Design Exhibition 2017. Επίσης ήταν υπότροφος του International Forum 2017, στα πλαίσια του Theatertreffen στο Berliner Festspiele.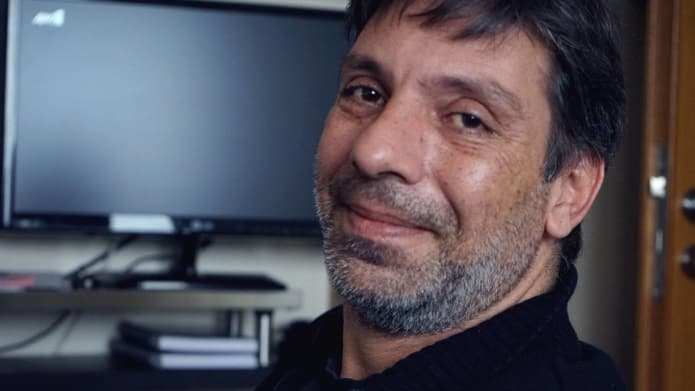 VASSILIS GLYNOS - EDITOR / ΒΑΣΙΛΗΣ ΓΛΥΝΟΣ - ΜΟΝΤΕΡ
Vassilis Glynos is a video director and editor with twenty years' experience in Greek television. He has lived in Greece, Brussels and New York City, where he studied at NYU. His combination of independence and team spirit allowed him to successfully build relations with many nationalities and to operate efficiently in all kinds of workplace environments in different countries.
Professionally, Vassilis has worked in many, and diverse projects in the audiovisual industry throughout his career. As editor and director, he has undertaken responsibilities in a variety of TV shows and other projects ranging from Reality TV in its heyday, to TV games, documentaries, short films and promotional campaigns. His credits include "Kati Psinetai" (the Greek version of "Come Dine with Me"), "Fort Boyard", "Super Deal", "Big Brother Greece", and most recently the comedy series "Trihes".
Always operating under pressure for quality work and with tight deadlines has taught him the importance of cooperation and the virtue of always planning ahead.
He is married with two children.
---------
Ο Βασίλης Γλύνος είναι σκηνοθέτης και μοντέρ με εικοσαετή εμπειρία στην ελληνική τηλεόραση. Έζησε στην Ελλάδα, στις Βρυξέλλες και στη Νέα Υόρκη, όπου σπούδασε στο NYU.  Ο συνδυασμός της ανεξαρτησίας και του ομαδικού πνεύματος του επέτρεψε να οικοδομήσει με επιτυχία σχέσεις με πολλές εθνικότητες και να λειτουργήσει αποτελεσματικά σε κάθε είδους περιβάλλοντα εργασίας σε διάφορες χώρες.
Επαγγελματικά, ο Βασίλης έχει εργαστεί σε πολλά και ποικίλα έργα στον οπτικοακουστικό κλάδο καθ 'όλη τη διάρκεια της καριέρας του. Ως μοντέρ και σκηνοθέτης, έχει αναλάβει ευθύνες σε διάφορες τηλεοπτικές εκπομπές και σε άλλα έργα που κυμαίνονται από την Reality TV στην ακμή της, μέχρι τηλεοπτικά παιχνίδια, ντοκιμαντέρ, ταινίες μικρού μήκους και διαφημιστικές εκστρατείες. Τα έργα του περιλαμβάνουν το "Κάτι Ψήνεται", το "Fort Boyard", το "Super Deal", το "Big Brother", και πιο πρόσφατα την κωμική σειρά "Τρίχες".
Το να δουλεύει συχνά υπό πίεση για ποιοτική δουλειά και με αυστηρές προθεσμίες τον έχει διδάξει τη σημασία της συνεργασίας και να βλέπει πάντα μπροστά.
Είναι παντρεμένος με δύο παιδιά.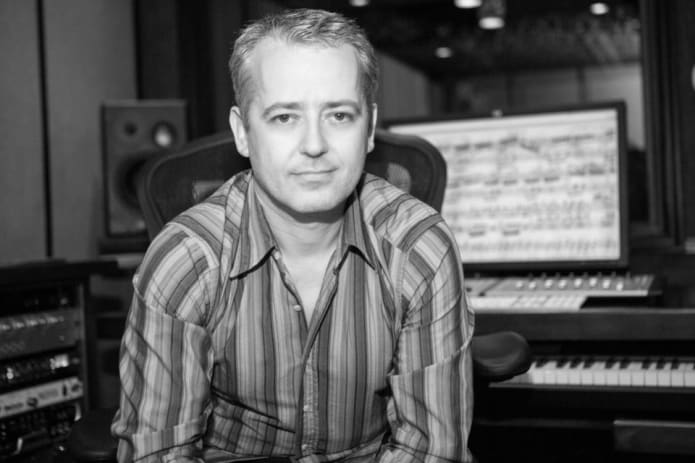 ALDO SHLLAKU - COMPOSER / ΑΛΝΤΟ ΣΛΑΚΟΥ - ΣΥΝΘΕΤΗΣ
Aldo Shllaku is an award winning classically-trained film and TV composer. He holds a degree in music composition from Université de Montréal, during which time he was part of an international selection of composers for the New Music Sessions, in collaboration with Le Nouvel Ensemble Moderne. Once in Los Angeles, Shllaku completed the prestigious Scoring for Motion Pictures and Television graduate program at the University of Southern California (USC), where he was awarded the program's highest honor, the Harry Warren Award. Aldo Shllaku has composed music for many feature films, documentaries, and TV programs. His music can be heard in films such as "Kill'em All", "Lupin III", "Paranormal Asylum", "The Blue Hour", "David and Goliath", etc. 
Shllaku's music scores have earned him a Best Original Song award from the Manhattan Film Festival as well as 5 Gold Medals for Excellence at the Park City Film Music Festival, including one for his first collaboration with Laura Neri: her short "A Kiss on the Nose".
When not in his music studio, you will find Aldo sailing in the magnificent Southern California waters.
-----------
Ο Άλντο Σλάκου είναι βραβευμένος και κλασικά εκπαιδευμένος συνθέτης τηλεόρασης και κινηματογράφου. Έχει πτυχίο στη μουσική σύνθεση από το Πανεπιστήμιο του Μόντρεαλ, κατά τη διάρκεια του οποίου ήταν μέλος μιας διεθνούς επιτροπής συνθετών για το New Music Sessions σε συνεργασία με το Le Nouvel Ensemble Moderne. Έπειτα στο Λος Άντζελες, ο Σλάκου αποφοίτησε από το διάσημο Scoring for Motion Pictures and Television πρόγραμμα του Πανεπιστημίου της Νότιας Καλιφόρνια, όπου βραβεύτηκε με το μεγαλύτερο βραβείο του προγράμματος, το βραβείο Harry Warren. Ο Σλάκου έχει συνθέσει μουσική για πολλές ταινίες μεγάλου μήκους, ντοκιμαντέρ και προγράμματα τηλεόρασης. Η μουσική του μπορεί να ακουστεί σε ταινίες όπως "Kill'em All", "Lupin III", "Paranormal Asylum", "The Blue Hour", "David and Goliath", κ.α.
Η μουσική του Σλάκου έχει βραβευτεί με βραβείο Καλύτερου Πρωτότυπου Τραγουδιού, και 5 φορές με το Χρυσό Μετάλλιο Αριστείας στο Park City Film Music Festival – μέσα σε αυτες και το "A Kiss on the Nose", η πρώτη του συνεργασία με την Λάουρα Νέρη.
Όταν δεν βρίσκεται στο στούντιο του, του αρέσει να κάνει ιστιοπλοϊα στα νερά της Καλιφόρνιας.
THE CAST / ΟΙ ΗΘΟΠΟΙΟΙ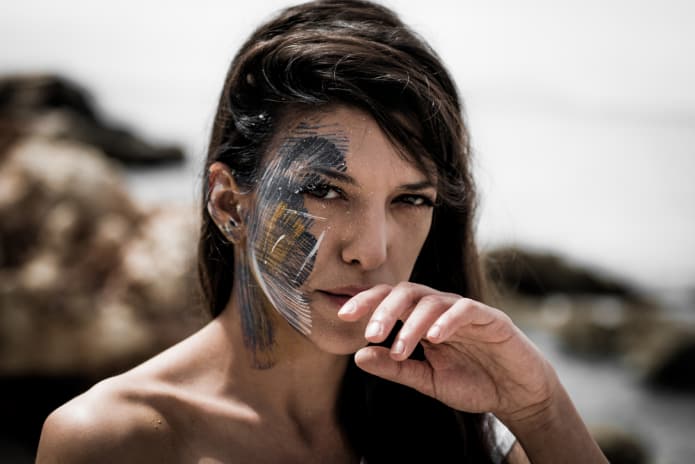 ELIA VERGANELAKI / ΕΛΙΑ ΒΕΡΓΑΝΕΛΑΚΗ
Verganelaki was born in 1982 and grew up in Chania, Crete. She studied Russian literature at the University of Thrace, & Theatre and Cinema at the "Delos" Drama School with Dimitra Hatoupi.
She works as an actress and composer for the screen and the theatre. Her acting credits include "Apnea", "The Republic", "Personal Responsibility", "Opposites Attract", etc. Lately she has been working in New Zealand for Florian Habicht's latest movie, "Under a Full Moon", in which she and Matthew Sunderland are the protagonists. On stage, she has acted in many plays in Athens and Crete, including at the Athens & Epidaurus Festival and at the Athens Concert Hall, working with many well known Greek directors such as Stelios Pavlidis, Katerina Evaggelatou, Mihail Marmarinos, Roula Pateraki, Yannis Karahisaridis, etc.
In 2013, she received a grant from the Academy of Arts in Berlin to stage her monologue "Human Requested" at the Berlin Art Week, where she received an award. Since then, she has staged two more monologues, and her solo performance "Klimaka" is about to begin a tour of Europe. Verganelaki teaches acting as well as kinesiology & improvisation, and spends her time between Crete, Athens & Berlin.
She has a soft spot for the cinema, eats lots of sweets and believes in miracles.
----------
Γεννήθηκε το 1982 και μεγάλωσε στα Χανιά. Σπούδασε ρώσικη φιλολογία στο Δημοκρίτειο Πανεπιστήμιο Θράκης, θέατρο και κινηματογράφο στην Ανώτερη Δραματική Σχολή "Δήλος" της Δήμητρας Χατούπη.
Εργάζεται ως ηθοποιός και συνθέτις στο θέατρο και τον κινηματογράφο. Έχει συμμετάσχει σε μικρού και μεγάλου μήκους ταινίες των Άρη Μπαφαλούκα (Άπνοια), Δημήτρη Τζέτζα (The Republic), Γιούλη Κολοβού (Personal Responsibility), Γιώργος Σουμελίδης (Opposites Attract), κ.ά. Τον τελευταίο χρόνο ταξιδεύει στη Νέα Ζηλανδία για τα γυρίσματα της νέας ταινίας "Under a Full Moon" του Florian Habicht, όπου πρωταγωνιστεί μαζί με τον Matthew Sunderland. Στο θέατρο έχει συμμετάσχει σε παραστάσεις με το Φεστιβάλ Αθηνών και Επιδαύρου, Μέγαρο Μουσικής Αθηνών, κ.α., και έχει συνεργαστεί με τους σκηνοθέτες Στέλιο Παυλίδη, Κατερίνα Ευαγγελάτου, Μιχαήλ Μαρμαρινό, Ρούλα Πατεράκη, Γιάννη Καραχισαρίδη κ.ά. 
Το 2013 πήρε Υποτροφία στην Ακαδημία της Τέχνης του Βερολίνου, ανέβασε τον θεατρικό μονόλογο "ΖΗΤΕΙΤΑΙ ΑΝΘΡΩΠΟΣ" στο φεστιβάλ Berlin Art Week, όπου βραβεύτηκε για την μουσική της παράστασης. Από τότε έχει ανεβάσει άλλους δύο μονόλογους. Η παράστασή της "KLIMAKA, A SOLO PERFORMANCE" θα ταξιδέψει στην Ευρώπη τους ερχόμενους μήνες. Διδάσκει Υποκριτική και παραδίδει σεμινάρια κινησιολογίας και αυτοσχεδιασμού.
Ζει μεταξύ Κρήτης, Αθήνας και Βερολίνου, έχει αδυναμία στο σινεμά, τρώει πολλά γλυκά και πιστεύει κυρίως σε θαύματα!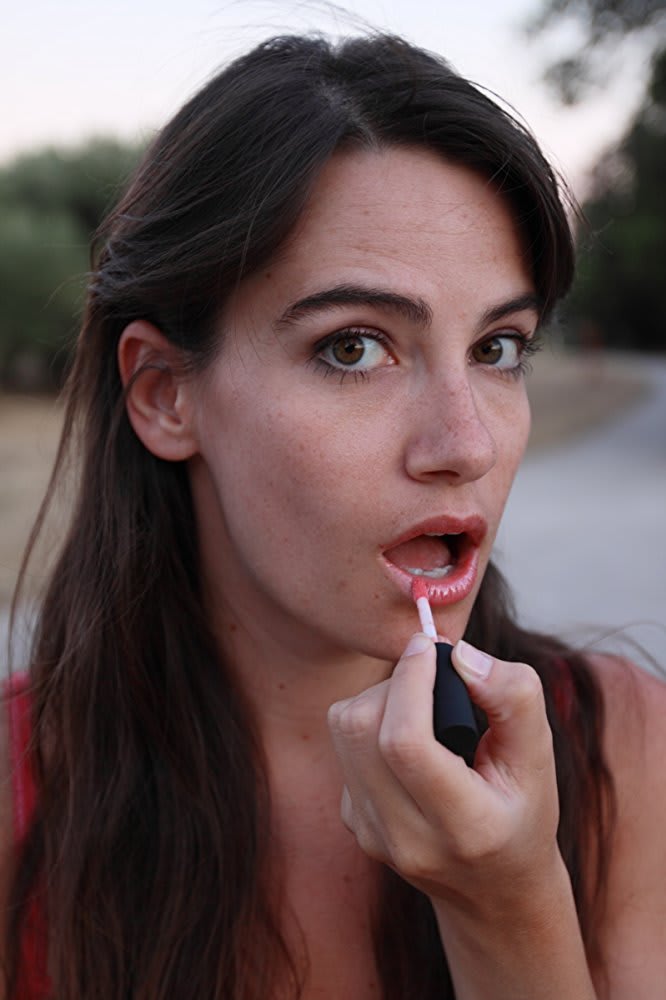 CHRISTINA MITROPOULOU / ΧΡΙΣΤΙΝΑ ΜΗΤΡΟΠΟΥΛΟΥ
Christina Mitropoulou is a Greek actress, screenwriter & playwright, born in Thessaloniki and raised in Athens. She studied theater at Yale University and has worked in the US, Singapore & Greece.
As an actress, she appeared in over 15 films, including "Straight Story" & more recently "Notias" (Tassos Boulmetis) and "Ap'ta Kokala Vgalmena". She has had recurring roles on the series "Klemmeni Zoi" (Stolen Life) and "Koukles" (Dolls). She has also guest starred in numerous TV shows, such as "Yungermann", Amyna Zonis", "Happy Together", etc. Onstage, Mitropoulou held the leading role in the original cast of the play "Babushka" by Michael Spengos and has performed in a dozen productions in some of Greece's most prestigious theater venues.
Mitropoulou is one of the creators of the TV show "I Mahi ton Fylon" (War of the Sexes) and a writer on the sitcom "Min Arhizeis ti Mourmoura" (Don't Grumble) and on "Kati Psinetai" (the Greek version of "Come Dine with Me"), while two of her short films received a production grant from the Greek Film Center. She has penned the rock musical "The Ballad of Reading Gaol", inspired by Oscar Wilde's eponymous poem, and the concept album for rock band KollektivA.
She believes that happiness is best when shared.
--------
Η Χριστίνα Μητροπούλου γεννήθηκε στη Θεσσαλονίκη και μεγάλωσε στην Αθήνα. Σπούδασε υποκριτική και creative writting στο πανεπιστήμιο του Yale στην Αμερική. Έχει εργαστεί ως ηθοποιός, σεναριογράφος, και θεατρική συγγραφέας στο Λος Άντζελες, τη Σιγκαπούρη και την Αθήνα.
Ως ηθοποιό την έχουμε δει στο σινεμά στο «Νοτιά», «Straight Story», «Πρώτη Φορά Νονός», «Αυστηρώς Κατάλληλο», «Απ' τα κόκκαλα βγαλμένα», κ.α. Στην τηλεόραση έχει συμμετάσχει στις σειρές «10η εντολή», «Άμυνα Ζώνης», «Γιούγκερμαν», «Κλεμμένη Ζωή», «Αληθινοί Έρωτες», «Ευτυχισμένοι Μαζί», «Κούκλες» και «Το Σόι Σου». Στο θέατρο η Χριστίνα έπαιξε για δύο σεζόν στους «Ήρωες» στο Μικρό Παλλάς, στο «Αιδοίου Μονόλογοι» στο Θέατρο του Νέου Κόσμου και το Badminton Theatre καθώς και στο πρώτο ανέβασμα της «Μπάμπουσκα» στο Ιωνικό Κέντρο. Πιο πρόσφατα την είδαμε στη χοροθεατρική παράσταση «Ανασφάλλω», που έγραψε η ίδια, στο θέατρο Αργώ και μετά στο Ίδρυμα Μιχάλης Κακογιάννης.
Ως κειμενογράφος, δύο σενάρια για ταινίες μικρού μήκους της έλαβαν χρηματοδότηση από το Κέντρο Ελληνικού Κινηματογράφου. Στην τηλεόραση έχει γράψει στην κωμική σειρά «Η Μάχη των Φύλων» και για την πετυχημένη σειρά του Alpha «Μην αρχίζεις τη Μουρμούρα». Οι τελευταία της συγγραφική δουλειά είναι «Η Μπαλάντα της Φυλακής», σε συνεργασία με το συγκρότημα KollektivA.
Θεωρεί πως η χαρά πρέπει να μοιράζεται.