Frogglez Goggles - Comfortable Swim Goggles is powered by The Grommet and Indiegogo, partnering to help undiscovered products go from prototype to market.

Plus many many more each day - Frogglez is taking the swim goggles market by storm!
WHY FROGGLEZ?
I am a parent of 3 little kids that now are 9, 7 and 5 years old. I struggled with swim goggles for years trying to find a pair that was comfortable, did not pull hair out or involved a battle to get on. Finally I began making prototypes of what now has evolved into the patent pending Frogglez Goggles. My kids have worn these prototypes for over a year now and parents kept asking me where they could get a pair...
Now, the first few prototypes were nothing to write home about - put together with love, sweat and sometimes tears (the kids have been great most of the time :) ), but the final product turned out great! I decided to call the company "Made By My Dad" per my kids suggestion.
Frogglez Goggles are swim goggles made out of neoprene (wetsuit material) with a patent pending strap design. This design fits 90% of children between the ages of 3 and 9 very comfortably. There is no need to adjust the swim goggles as they conform to the back of the head and create a snug but not overly tight fit.
Furthermore, we selected the best fitting goggles we could find after 2 years of trying different types. Then we tinted them to match the color of the Frogglez strap to block some light for the pink and the blue, and made them a cool gray for the green Frogglez.
We do make Frogglez Goggles in REGULAR and LARGE size, giving you some options for finding the best fit:
REGULAR: Kids 5/6 and under (head circumference of 19 inches or less)
LARGE: Kids 6+ (head size 19 inches or more)
If in doubt about which sized would work best for your little ones, wrap a string around their head and measure it!
Frogglez Goggles come in 3 different colors, PINK, GREEN and BLUE. 
Frogglez are designed for non-competitive swimmers that simply want a more comfortable, fun and stylish option compared to the archaic, traditional swim goggles.
 *exact colors will vary slightly
SECOND PLACE ON DAILY GROMMET PITCH - Product Launch Competition!
We were VERY excited when the Daily Grommet (www.DailyGrommet.com) selected Frogglez as a TOP 10 PRODUCT out of over 145 entries which competed at the Daily Grommet LIVE product pitch #grommetpitch in Fenway Park, Boston. You can view our entry here:  http://www.dailygrommet.com/blog/frogglez/ - and we were THRILLED when we got SECOND PLACE (should have been first, but who is counting) :)

We Are Ready:
The successful protoypes have been tested for a complete swim season
The artwork and logo are done 
The packaging is done 
The hangtag for retail display is done 
The website is done - www.FrogglezGoggles.com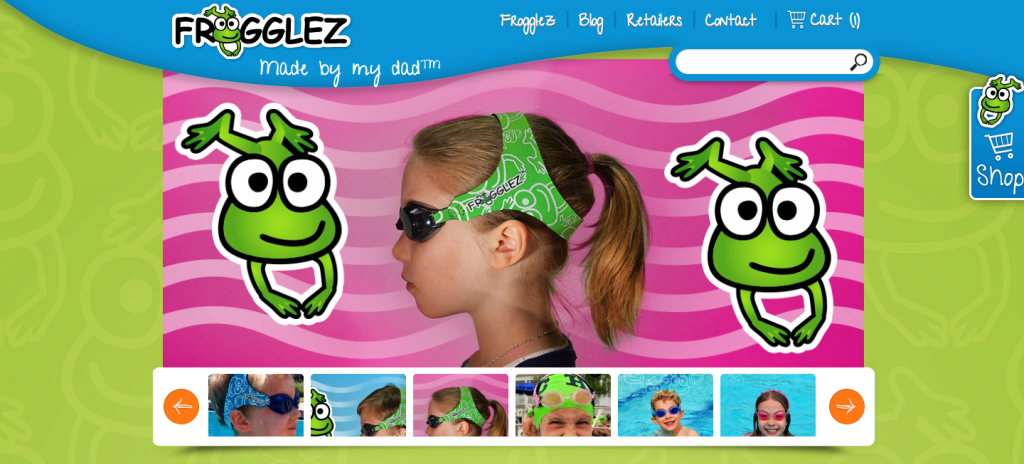 The patent is pending (since 7/2011)
The trademark is done and accepted
We have established relationships with social media giants that are all very exicted about Frogglez Goggles. 
All that is left is to create the final product in a quantity we can launch with - 3000 units or more. 
There is no guesswork, we are ready to go!
How will we spend the funds?
Finalize the prototypes to make sure they are perfect
Place an order of 3000 Frogglez Goggles or more
Launch a social media campaign
If we collect more than our required minimum then we will consider adding further designs.
To ensure a successful launch of Frogglez Goggles, I kindly ask all of you help spread the word about Frogglez Goggles on Facebook, Twitter, Pinterest or any other social medium you have access to. 
Thank you thank you thank you!
Don't have children? Be different, buy a pair as a gift! It's unique and thoughtful, exactly what everyone is looking for in a gift.
THE DETAILS
Frogglez Goggles
made out of neoprene covered in a smooth, comfortable material that glides over hair, not pulling on it like traditional swim goggles do
one size fits most without tedious adjustments (2 sizes available just in case)
strap stays above ears vs traditional straps that pull ears down
printable strap design allows for unlimited style options
Frogglez float, other goggles sink to bottom of pool
kids can put them on by themselves without trouble
Kid size, leak preventing goggle design tinted to match strap
Patent Pending Design
Protected by Trademark
Frogglez Goggles are a complete redesign of traditional swim goggles. Testing over the last year by real kids has proven that Frogglez Goggles are a hit. Parents consistently asked me where they could get a pair (their kids bugged them to get some as well).
By choosing to invest in Frogglez Goggles you become part of something big, something fun, something different - a shift in the swim goggle market from a utilitarian to a fashion and comfort oriented design. Frogglez Goggles will continue to evolve and grow with more designs, shapes and options being offered over time.
Everyone who invests in Frogglez Goggles will receive continuous updates on new products and developments, plus, first right to order new designs and products before anyone else, at a discount.
THANK YOU
Thank you for taking a look at my project. Please take a look at my offers and consider backing me so that Frogglez Goggles can be available for the 2013 swim season.