Stijn is an artist who started his career as an electrical engineer. He's the innovator behind the idea of using Julia set fractals to create mesmerizing 3D shapes. He's got quite a following within the 3D printing community, and his Julia set vases that he's published on Thingiverse are some of the most beautiful things I've ever seen. Here's a link to Virtox's 
.
Here are some pictures of other works by Virtox. Beautiful, right?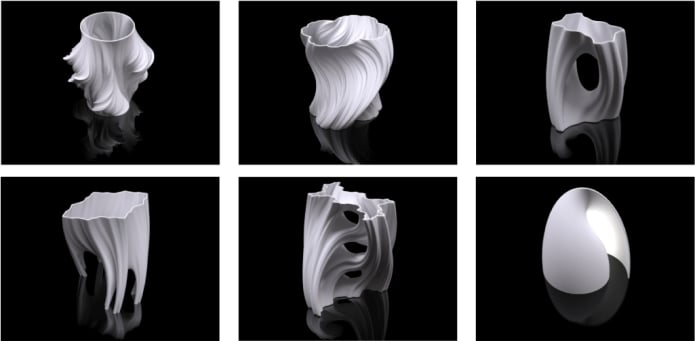 Nigel Fluharty
Nigel is an Oakland-based artist, sculptor, and lighting specialist! Nigel is on our core fabrication team and will be the steel mastermind behind fabrication.
Levon Fox
Levon is another wonderful Oakland-based artist and sculptor who is formally trained as an architect. Levon is the brains behind how we should divvy up our shape into bite-sized steel pieces that we will weld together to create the flowing curves that are Fractal Rock.
A Gray
A is a fiberglass specialist who is going to help us finish Fractal Rock to its beautiful white rocky texture and ensure that our lighting is epic and will glow on the playa!

We want to raise $8,000 on Indiegogo. Where are those funds going?
Here's an explanation of our budget:
Indiegogo fees and reward fulfillment/shipping: $1,600
Build site and insurance: $1,500
Materials cost (steel, fiberglass, consumables and some equipment): $6,500
Lighting (LEDs): $1,000
Generator for lighting and fuel: $1,200
Labor for fabrication: $8,000
Labor for design work: $1,500
Engineering analysis: $2,800
Transportation (to and from Burning Man): $2,500
On-site insurance (at Burning Man): $1,100
Storage of the piece (post Burning Man and until we can get it to another site or back at Burning Man next year!): $1,000
Campaign video: $1,000
Total project cost: $29,700 (including Indiegogo fees/rewards)
Indiegogo target: $8,000
Other funds raised: $22,000 (from Burning Man and personal donors)
You can also take a look at our timeline below:

September 2015: Pooja and Virtox begin designing what will become Fractal Rock
January 2016: Design is somewhat finalized. Application process for Burning Man grant begins
March 2016: Burning Man Honorarium Art grant is awarded. Build planning begins in earnest.
April 2016: Indiegogo campaign video is recorded and produced.
June 2016: Indiegogo campaign launches and runs throughout June. Structural engineering analysis and shop drawings produced. Building of internal steel structure commences.
July 2016: Building of external steel structure takes place
August 2016: Finishing of the piece with fiberglass and preparation for transportation to the playa
August 22, 2016: Build crew arrives onsite to install Fractal Rock at Black Rock City!
September 2016: Burning Man runs through the first week of September! Then we pack up and bring Fractal Rock back home, storing it somewhere until we can find another place to install it or bring it back to the playa next year.
October 2016: Finish fulfilling and shipping rewards that haven't already been fulfilled!

I'll deal with the simpler issue first: transportation. Our plan is to build Fractal Rock in four sections, with one vertical axis and one horizontal (but not in the most obvious way). All pieces will be fully constructed at our workshop, and once completed, we will load them onto a 24' flatbed truck, bring them on playa, and use on-playa cranes to assemble the pieces. 
If you've been following this project, you'll notice that we've changed from our former plans to use foam to construct the piece and will now be building the structure purely out of steel and fiberglass! We're constructing the piece in the following four parts:
INTERNAL SUPPORT: An internal steel support structure that is being engineered by the external structural engineering firm Rbhu and will be fabricated by steel fabricators
EXTERNAL STEEL CAGE: An external steel cage this is composed of thousands of small steel triangles that are welded together (think the Bliss Project sculptures)
WIRE MESH: A layer of wire mesh to cover this steel cage
FIBERGLASS EXTERIOR: A fiberglass exterior for finishing that will polish the piece and add structural strength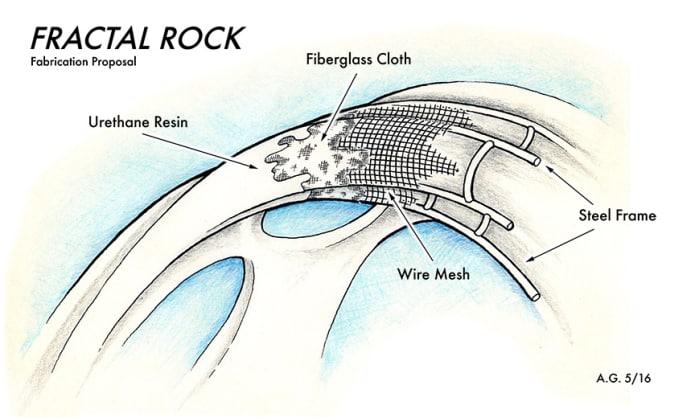 We started our structural analysis of the piece early on to ensure that it would be safe, and as mentioned above, we have been working with an external engineering firm that has experience with Burning Man projects. Their expertise and our research will yield a beautiful, strong piece.

We're doing our build in the Bay Area, and could use assistance on any of the following tasks:
Steel fabrication (cutting, shaping, welding, assembly)
Fiberglass coating
Finding another home for Fractal Rock after Burning Man
If you're interested, please fill out this form!

Thank you for reading about our project. We hope you get a chance to experience Fractal Rock in some way, whether it is through our 3D printed rewards, VR experience, in-person at Burning Man, or even just through this campaign page! If we see you at the burn, please be sure to say hi! If you want to reach out, you can email us at fractalrock2016@gmail.com.
Attribution: 
Thank you to Bryan Perez, our talented videographer!
Some of the Burning Man footage we used in the video was published under a Creative Commons license. The footage can be found here.

Timeline: This is a large project, and Burning Man is in 3 months. This is why we've spent the last several months planning, finding a crew, and figuring out exactly how we're going to build this thing. We've worked out a build schedule that will ensure we get the piece done in time. We're also working with experienced fabricators who know the ins and outs of building for Burning Man, so we're confident we can do this well.
Budget: One risk is that there could be unforeseen costs that might go way over budget and risk the project. In order to prevent this danger from occurring, we have researched all costs carefully. In many cases, we've been discussing costs for months with vendors and laborers. We're pretty confident in our budgeting for this project. There is, of course, the risk that we will not meet the fundraising goal. If we do not meet the Indiegogo goal, we will still complete this project (this is possible because of the grant we have received) but might have to complete it at slightly smaller scale. 
Structural engineering: We've been consulting with an external structural engineering firm, who are working with us to design the structure and give it an engineer's stamp of approval.
Crew: We've got a solid core team, consisting of the two artists, a project manager, a lighting and build manager, and a fiberglass expert. This is the minimum that we would need in order to make this project a reality, but if you are interested in volunteering, we'd love your help! Please email us at fractalrock2016@gmail.com and/or fill out this form!
Rewards: The hand-crafted rewards (the 3D printed models and bases) have been planned for and are already being worked on. I have also identified and vetted suppliers for the rewards that are not hand-crafted and have done careful research into shipping and material costs for all rewards. These estimates have been included in our budget calculations.