Become Fluent In Another Language
in 6 Months
A mobile app designed to take you from nothing all the way to fluency. Learn to think in another language fast.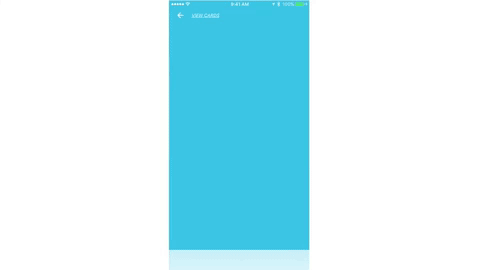 Rapid Language Learning Like Nothing You've Tried Before
If you're learning Spanish, then everything you look at on a daily basis is a combination of Spanish and pictures. No English.

Different from typical language learning apps, lessons, and books. It changes what you're learning every day and how you're learning it.

You start by learning pronunciation. When words don't sound foreign anymore, they stick.
Yes, It Really Works!
Proven Process with 4.5 Stars on Amazon

This process is proven to work. Our book, Fluent Forever, has hundreds of positive comments and reviews from happy customers. People can't stop talking about the Fluent Forever Method.



Learning Tools No Other App Or Program Has
 
Optimized word order for easier absorption
Fluent Forever places words in actual environments where the word would regularly be used.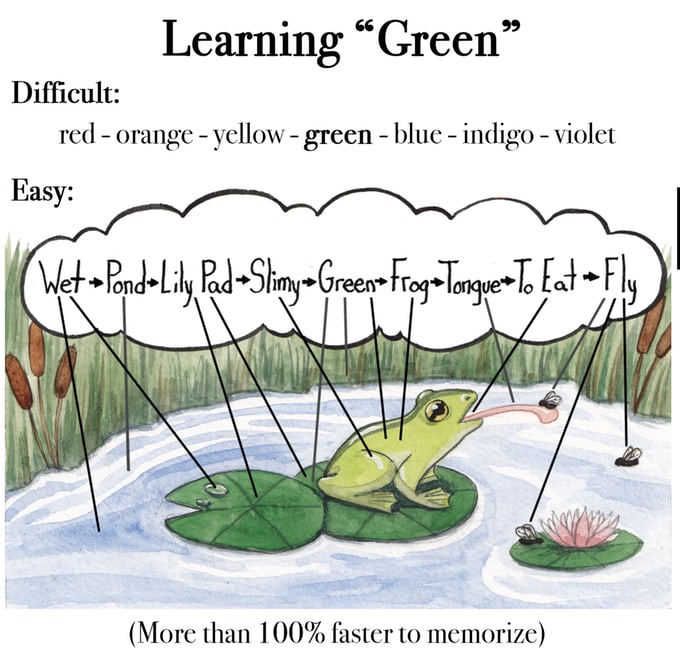 Phrase difficulty ratings for easier comprehension
Pick easy, medium, or difficult-level phrases and recordings to learn at your own pace.

Image search tool for select-your-own visual reminders. 
Use a photo from your own albums, access Google Images, or use our own image library to match phrases with photos. Great for visual learners!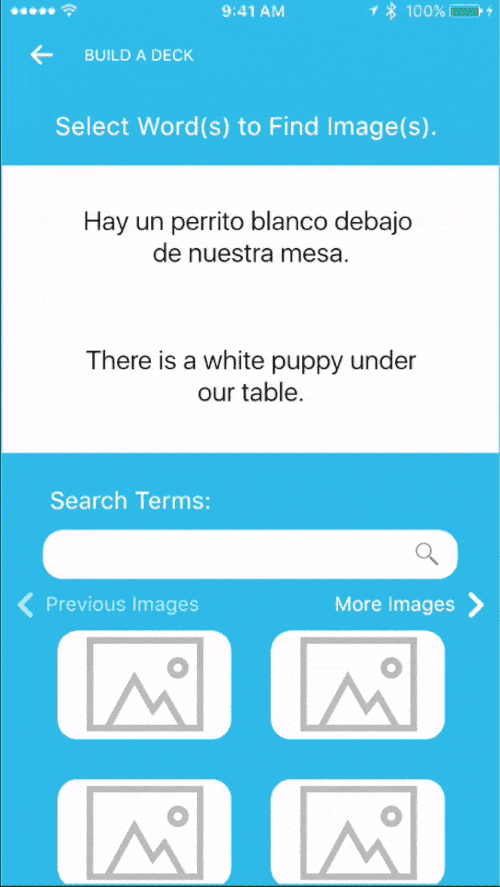 Customized learning plans and flashcards
Create tools to help you learn different elements of languages: vocab, conjugations, or word order. Create and add your own lessons and sentences.

Access to approved user-generated content
Save yourself time by accessing our community and proofread, user-generated flashcards and phrases.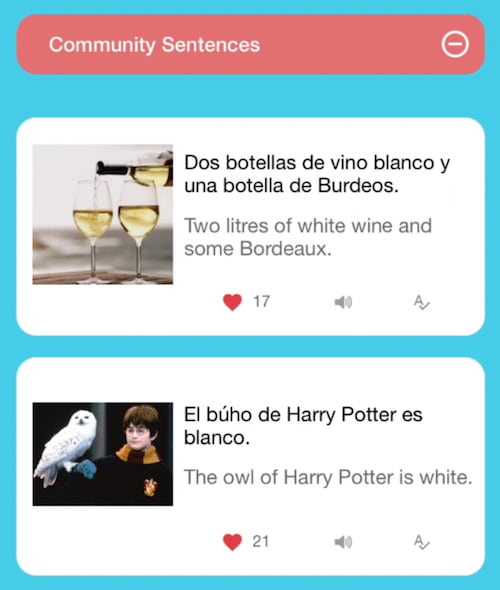 Access to staffed native-speakers
Interact with Fluent Forever native-speaking staff members. Help always at your fingertips!

More coming soon!
Push Information Into Long-Term Memory

We use the most powerful learning tool: A Spaced Repetition System.

The app will walk you through a series of choices: which words do you want to learn? What sentences will you use to learn them? What pictures do you want for each word? While you're making those choices, you're learning your target language. In the background, the app automatically prepares customized, fully immersive flashcards for future review. 
It knows which words you're going to forget and tests you on them beforehand. 
You learn vocab and grammar in the process of creating your own tools.
 

What Languages Will It Support?
Spanish (Latin America), French, German, Italian, Russian, Korean, English, Spanish (Castilian), Portuguese, Dutch, Hebrew, Arabic, more coming soon!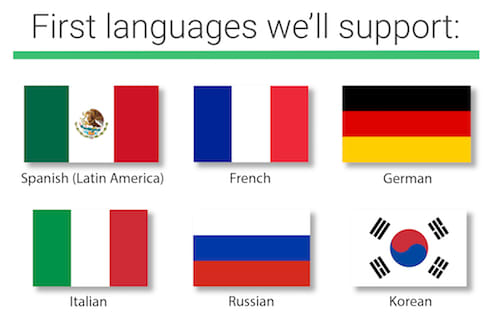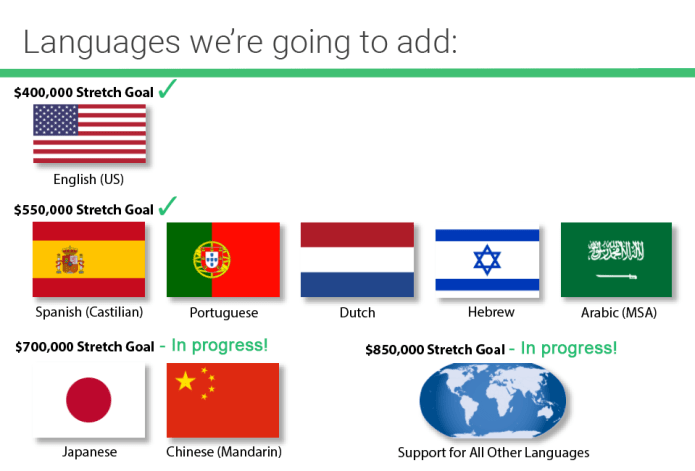 Your Pre-Order Includes:
All Fluent Forever Indiegogo Pre-orders come with:
1. Exclusive early access to the Beta Fluent Forever App
2. A subscription to the final version of the app (based on the perk you select)
3. A 16.5% lifetime subscription discount
Select Your Perk:






 
Fluent Forever Stretch Goals:


*For this stretch goal, in all languages we don't officially support, we're adding a framework for users to learn any language they want, and also to share their learning resources with other learners.
Frequently Asked Questions

How many months do I need to learn a language?
That'll depend on two things: how much time you're studying every day, and how challenging your language is. 
Based on my own experiences, if you're studying for ~45 min/day and you're an English native speaker, you should be able to reach a fairly solid level of fluency (CEFR levels B2/C1) in the following amounts of time:
6 months: Level 1 languages (Closely related to English): Spanish, French, Italian, Portuguese, Spanish, Dutch. German is a level 1.5 language, so ~9 months.
12 months: Level 2 languages (Significantly different from English): Russian, Hebrew (If we get support for all languages, this category would also include things like Hindi, Icelandic, Greek, Hungarian, Turkish, Urdu)
24 months: Level 3 languages (Very different from English): Korean, Japanese, Mandarin, Arabic
What is the difference between a single-language perk and a multi-language perk? 
A single-language perk means you'll only have access to learning a single language at a time. Multi-language perks allow you to switch and learn any language at any given time, for up to two users.
How many people can use Fluent Forever on my account?
This depends on the perk you select. Some perks offer multiple user access, others do not. Please see each perk for further details. Once the app officially launches, you'll be able to pay for additional users. 
What's the timeline?
If we meet our minimum funding goals, we'll start by creating a beta version of our app for Spanish (Latin America). I suspect that should be ready to play with by April of 2018. Everyone who's learning Spanish will get two months to use the app during that time, and then we'll release a full version for Spanish onto the Android/iOS app stores in June of 2018.
The other languages - French, German, Italian, Russian, and Korean - will start their beta tests shortly after the Spanish (Latin America) beta. As THOSE 2-month beta tests are completed, we'll add those languages into the final app. We should have all languages finished up and added to the final app by August of 2018.
If we start nailing our stretch goals, then we'll keep our original v1.0 release date, but our overall timeline will extend to add the new features and languages to v1.1+. We'll keep the beta test dates the same for Spanish (Latin America), French, German, Italian, Russian, and Korean. 
As for the other languages, we'll have later beta test start dates (aiming at a September beta launch for English, Spanish (Castilian), Dutch, Portuguese, Hebrew, and Arabic. Aiming at November beta launch for Japanese and Mandarin, and January beta for all other languages). 
No matter what language(s) you choose, you'll get at least 2 months of beta test access included with your pre-order. Once those two months are over, you can decide whether you want your subscription to start immediately [and keep creating new flashcards], or whether you'd like to start it later. Whether you start your subscription immediately or not, you'll be able to review any of the flashcards you created during your beta test for as long as you'd like.
 
Credits:
Many thanks to the extraordinary members of the Fluent Forever team, who have been putting in long hours to get this project (and the last one) ready!
To my readers and backers, I love you. Thank you.
Risk and Challenges
I've run and delivered a Kickstarter, and it's taught me a lot. Kickstarters are an *extraordinary* amount of work, they can easily balloon out of control in terms of the administrative challenges involved and the amount of work promised. For my last Kickstarter, in the process of raising ~10x the minimum requested funds, I managed to promise around 10x the minimum requested work: I ended up delivering 65 different products. It turned out well - the products are high quality and my backers and customers have been happy - but it was nearly 4 years of full time work.
I now have an established company, with an established customer base and a support structure for handling large projects. I'm not going to be caught unprepared by the administrative burdens of a successful Kickstarter, though we will need to expand our staff considerably to handle an influx of >10k new backers. New staff always takes time to train, and so that transition will be a challenge.
In terms of the app design itself, I have detailed mockups for every aspect of the app, and I've done two proof of concept projects with two app design houses this year, in order to make sure that the app is feasible, to see what the process of working with an app design house is like, and to test out those app design houses. I already have design houses chosen for the project, I'm confident in the quality of their work, and so I'm not particularly worried about whether they can deliver a quality app.
Initially, there were some legal concerns about our particular use of image search in flashcards, but we've already consulted with lawyers and it appears that providing URLs of images and caching those results locally on mobile devices is considered a form of Fair Use for copyrighted imagery. We've already programmed a Proof of Concept for our image search engine and so the technological hurdles have already been overcome.
I don't foresee any design challenges that are going to be difficult to overcome with the base version of the app. There are some stretch goals that will be fairly challenging to implement and aren't fully hashed out yet, particularly our support for 'unsupported languages', and our hands free, audio-only flashcard support. If we achieve those goals, they will delay development of the final version for a while, but that just means that backers get a longer beta test to use the app, so I don't foresee that causing problems. (It may make FUTURE customers sad that they need to wait longer, but backers are #1 :) )