About Flowers of Battle
Since 2010, Freelance Academy Press has brought readers innovative books, instructional DVDs and rich supporting material in the fields of Historical European Marital Arts. In 2017, we are pleased to introduce our most ambitious project to date:

This ambitious project goes well beyond anything we have done before: a four (volume set of illustrated, hard-cover books, combining color, 1:1 facsimiles of the master's original manuscripts; professional, annotated translations, and extensive, peer-reviewed essays. With your help, we can produce a fifth volume covering the inheritors of this tradition.

Few historical fencing masters are as dear as Fiore dei Liberi to the heart of the modern Historical European Martial Arts (HEMA) community. Credited by fencing historians as the father of Italian swordsmanship, his magnum opus, il Fior di Bataglia (The Flower of Battle), composed in early 1409, is one of the oldest, most extensive, and most clearly elucidated martial arts treatises from the medieval period.
Four versions of il Fior di Battaglia—the earliest surviving Italian source on the martial arts—survive today and form the basis for the modern study of armizare. Each has important similarities to and differences from each other. The key similarity is the organization of the material, which systematically covers abrazare (wrestling and hand-to-hand fighting),  daga (dagger, with an emphasis on self-defense and armoured combat techniques), spada a un mano (single-handed sword), spada a due mani (two-handed sword), spada in arme (sword used in armour), azza in arme (poleaxe used in armour), lanza in arme (spear used in armour), and finally all weapons a cavallo, or on horseback.  
The key martial techniques, called zoghi or "plays" by Fiore, are identical between manuscripts, but each manuscript contains plays and key information not seen in the others, and each is done in a different artistic style.  


Status: Ready to print. 
Delivery: October 2017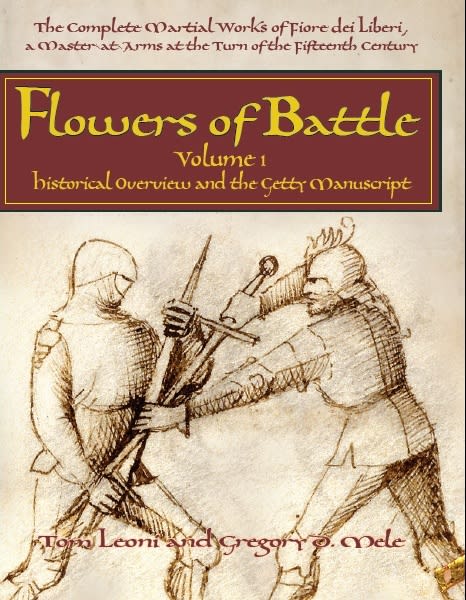 Held by the J. Paul Getty Museum in California, MS. Ludwig XV 13  is the largest and most complete of the four surviving manuscripts. Dedicated to the young, bellicose Niccolò d'Este, Marquis of Ferrara, this edition of Fiore's work details the names of his famous students, the five duels he fought against rival masters, and explains in detail the instructional schema he developed to make the work accessible to students. Beginning with grappling, it progresses through the various sub-systems of armizare, ending with mounted combat.
These details all make the Getty Manuscript the most logical and obvious choice for Volume One, which sets the stage for the entire series. It has 183 pages of cutting-edge research, covering:
The life of Fiore dei Liberi, his students, and patrons;
Arms and armour in the Getty Manuscript, and their relationship to surviving examples;
Dueling and chivalric culture in Italy at the close of the 14th century;
A detailed analysis of the manuscripts' use of pedagogy, numbers, and metaphor to teach the Art of Arms;
The Flower of Battle's relationship to other medieval combat manuscripts.

Status: Translation and front-matter complete. Layout pending.
Delivery: January 2018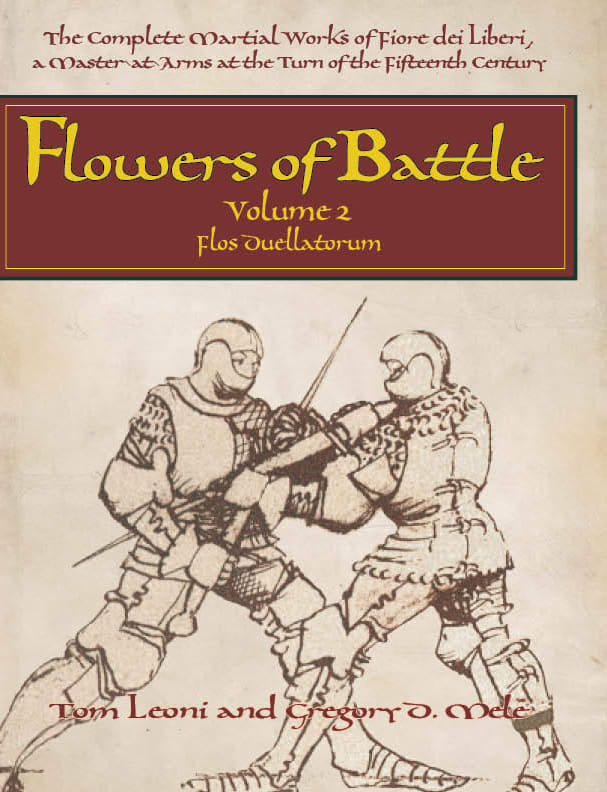 Volume Two presents the most well-known of the dei Liberi manuscripts, held in the private collection of the Pisani-Dossi family in Italy. Published in a detailed facsimile by Francesco Novati in 1902, this work was the principal access to Fiore dei Liberi's work until the late 1990s. While it follows the organization of the Getty Manuscript, it yet has a wholly different artistic style and text in rhyming couplets. Our poetic translation preserves the rhyming scheme of the original Latin and Italian verse, provides a short introduction on the manuscript and its relationship to the other three dei Liberi texts, and includes a full English translation of Novati's original commentary containing extensive research and bibliographic footnotes as an appendix.

Status: Translation in progress, front-matter in progress. Layout pending.
Delivery: May 2018.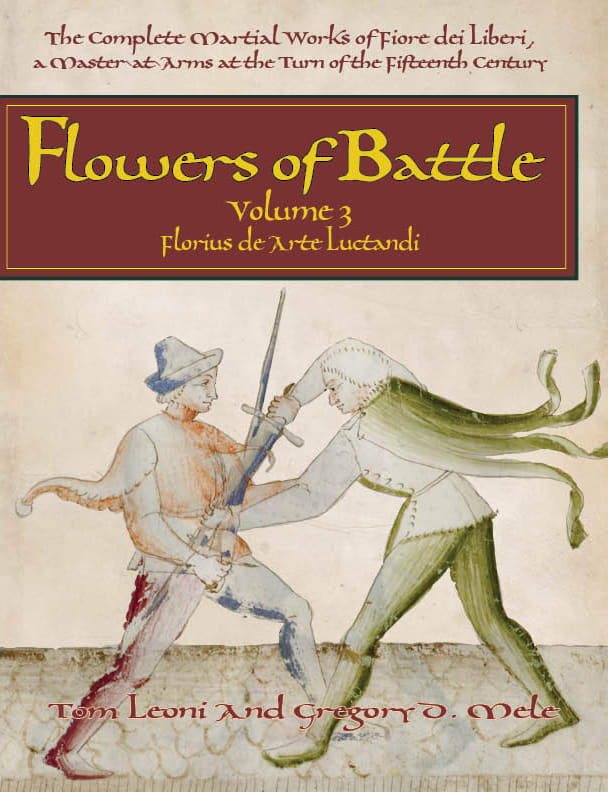 Only discovered in the last decade, MS. Latin 11269 or Florius de Arte Luctandi  was hidden in plain sight within the Bibliothèque Nationale in Paris. Likely created in the 1420s after the author's death, it is lavishly illustrated in painted figures and is interesting not only for being an example of reverse translation from a vernacular to Latin, but also as an ennoblement of a practical art in literary verse form. The manuscript also differs from two of its predecessors in beginning with mounted combat and ending with grappling on foot—an organization reflective of the knightly duel.

The introduction to this work looks at the rhetorical flourishes and adaptations to the earlier manuscripts, and what it tells us about Fiore dei Liberi's legacy.

Status: Translation Complete, Front-matter in progress. Layout pending.
Projected Delivery: Late 2018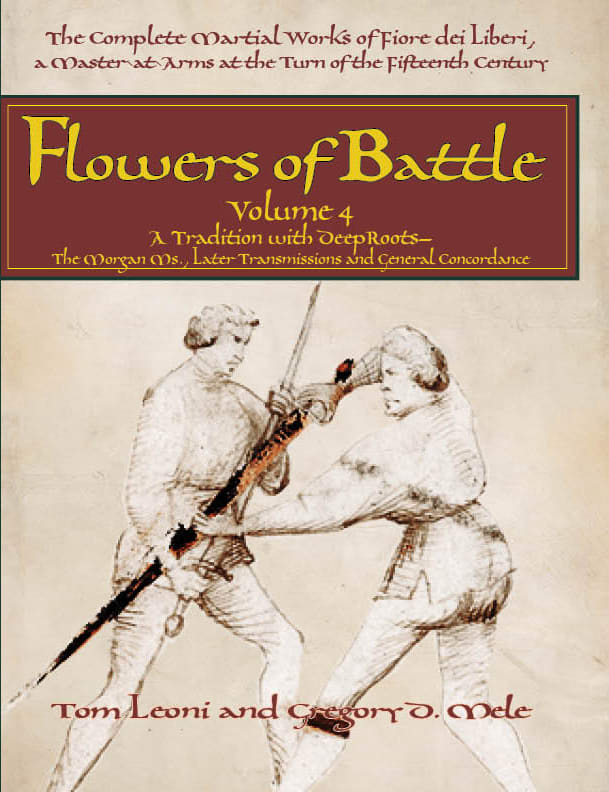 Created by artists trained in the same school as the Getty Manuscript, the Pierpoint-Morgan MS. is an enigma—incomplete, using similar text to the Getty but the same organizational structure as the Florius, and making no mention at all of Niccolò d'Este. This volume presents the same treatment of complete translation and edition as was done for the previous manuscripts, combined with images and text from late 16th and 17th century editions of Fiore's work (or works derived from it), and a complete concordance of the plays found throughout the four core manuscripts, completing and indexing the entire series.
Where the Money Goes
Like many small presses, we began Freelance using primarily print-on-demand and short-run digital printing. This technology has come a long way, particularly in the realm of black and white and hardcover printing. However, it has its limits, particularly in full-color books. Simply, digital printing is like using a giant laser-printer, laying down toner, rather than ink, which sits on top of the paper. Technological improvements make the quality look much better than previously, but the durability of the book is an issue: deletions (blank spots where the toner was thin) are common, and over time the pages do not age well.

Because of this, the first and foremost cost of this project will be the use of traditional, offset printing for Volume One, which remains the industry standard for doing a high-quality book right. Although the per-book cost is lower, we need to print a minimum of 1000 copies, have them transported and warehoused—and with 8.5 x 11" books that is a lot of space and a lot of weight.
Our second major cost is the 5000 Euro fee owed to the BNF for world-wide permission to use their scans in print, due at the time of publication.
The Good Stuff: Perks
We have some great bonuses built in to the pledge levels. 
Supporter - $25: You are a part of bringing this vision to life, and we will make sure everyone knows it! Your name will be listed in the credits of Volume One as a Supporter and you will receive a high-resolution digital download of a unique, high-color Fiore dei Liberi "Sign of the Sword" poster, suitable for framing.
Subscriber - $100: Flowers of Battle, Volume One is yours! This perk gets you a hardback edition of Volume One, PLUS two printed color 8.5 x 11" posters: Fiore's "Sign of the Sword" and "I'll Mess You Up: The Sword in One Hand", and listing as a Subscriber in Volume One. All of this for the projected retail cost of Volume One! (Poster ships with the book.)
Scolaro d'Arme (Scholar at Arms) - $125: Includes everything at the previous level, plus nine 8.5 x 11" posters of the Nine Masters of the Dagger, suitable for framing. You gain access to a special download: Il Fior di Battaglia: Sala d'Arme Edition, a beautiful, a full-color PDF containing the Getty MS with Tom Leoni's translation in-line. Perfect for tablets! (This PDF will never be commercially available!)
Magistro d'Arme (Master at Arms) - $250: For the discerning student of armizare! At this level you get everything from the Scolaro level PLUS a PDF copy of Guy Windsor's Mastering the Art of Arms, Vol I: The Dagger, PLUS a B+W, spiral-bound Sala d'Arme Edition of the Getty MS and a hard-cover of Volume Two: Flos Duellatorum. (Shipped separately.)
Rival Masters - $500. Fiore fought five duels against other masters jealous of his secrets. Now you can have them! A simple perk for the simple swordsman: all four volumes PLUS the unlocked fifth volume, PLUS your name as a Subscriber in Volume One.
Fiore dei Liberi  -  $600: Our second-highest patronage level gives you all four volumes of the series, including a SIGNED hardback edition of Volume One (replaces the unsigned copy), a color, spiral edition of the Sala d'Arme Edition, and all other $250 level perks.
Niccolò d'Este - $1,000: Our top patronage level gives you all volumes autographed by the authors in a slip-case, a unique, case-bound, color edition of Robert N. Charrette's Fiore dei Liberi's Armizare: Chivalric Marital Arts, your name listed in the front matter of Volume One as a series Patron, all other perks, and and a commemorative, inscribed bastoncello (medieval commander's baton).
What if We Don't Reach Full-Funding?
A fair question! We have based our cost estimates on producing the first two volumes, so unless the fund-raiser is a complete bust, we can guarantee that the first volume will come out on time and precisely as promised, albeit without some of the bells and whistles (like the full-color front-matter—see Stretch Goals below). From there, things become more complicated, with each volume's sales having to fund the next in the series. Based on projected sales and past projects, we are fairly confident that the entire project would be completed, but the timeline could take significantly longer, with at least a year between volumes.

Obviously, nothing is without  risks, and we've all backed projects that haven't come to fruition, or have done so veeerrrrryyyy late. Publishing notoriously runs late, and we are a staff of two plus some freelance designers. 

However, we've tried to head off the problems at the pass by doing most of the things that lead to delays BEFORE launching our campaign! Here are a few reasons why we feel confident about this project, and think that you should, too:
This isn't our first rodeo. So far, Freelance Academy Press has published 25 unique titles and distributes a dozen more. 
We already have the first volume completely finished—all that is missing is adding the pages listing our contributors (you!) and sending the book to press.
Volume Two is already in layout (design) and assuming the fundraising is a success, can be ready to go to print within a few weeks. 

 Volume One  is the largest and most detailed book in the series—over twice the size of following volumes—and serves as a general overview and introduction to Fiore dei Liberi, his work, and his world. Over a decade of research and five years of active writing has gone into refining the extensive essays you will find within. We are quite proud of the finished product and believe readers will be pleased—but it could be even better. Here's how:
 

$12,000—Full-Color Front Matter!
While all of the front matter is HEAVILY illustrated, it would be far more elegant and telling to present Fiore's work alongside full-color exemplars from his contemporaries. Since a picture is worth a thousand words, here are a few examples so you can see for yourself!
B+W: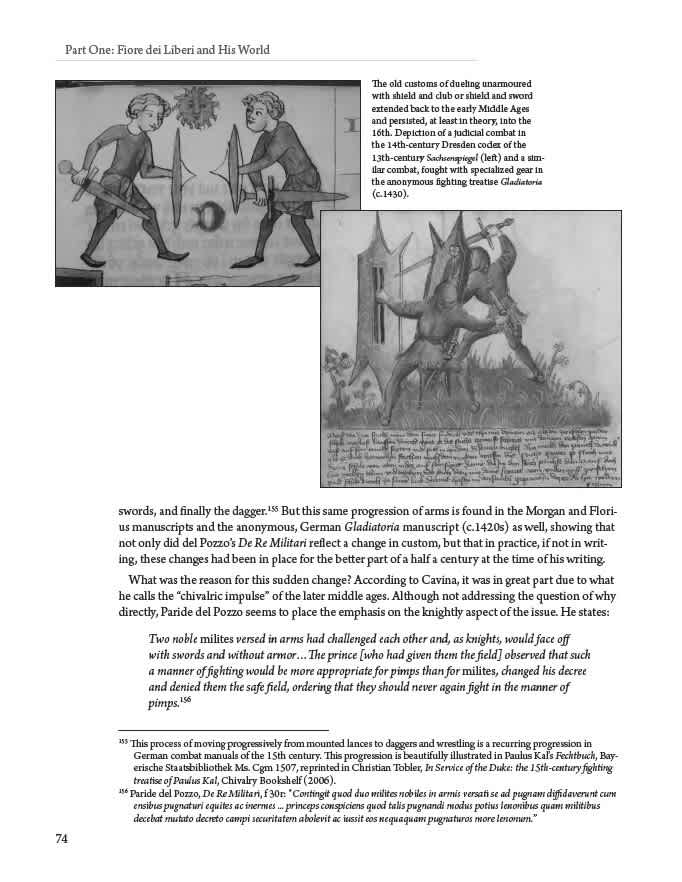 Color: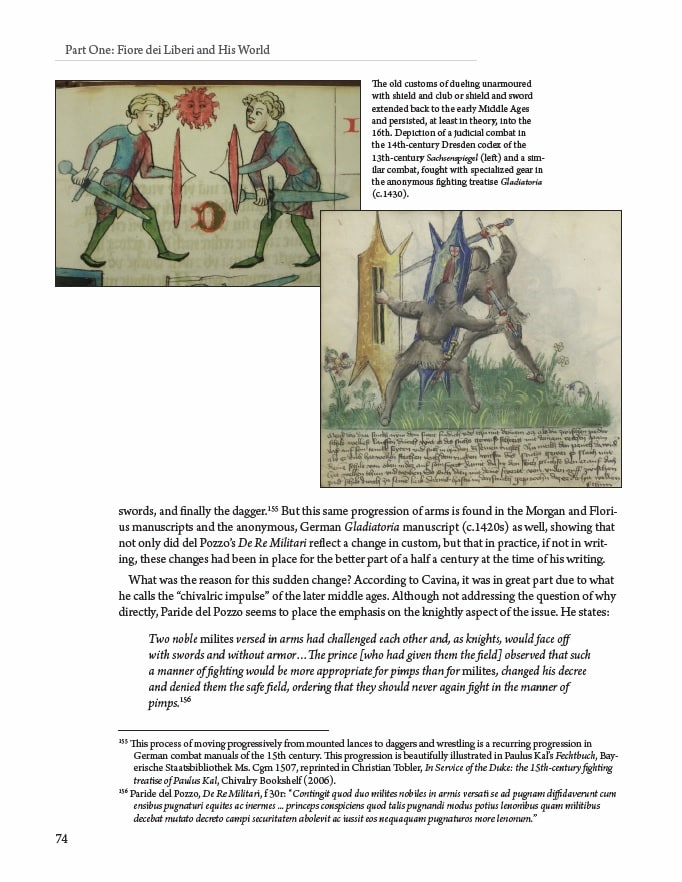 B+W: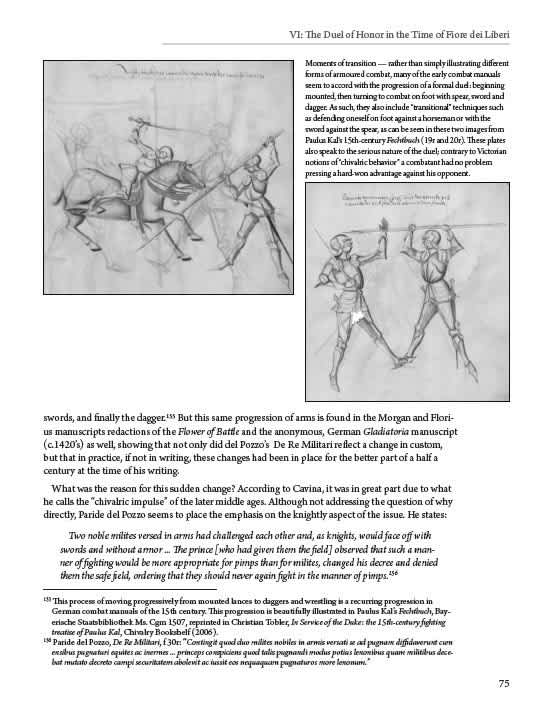 Color: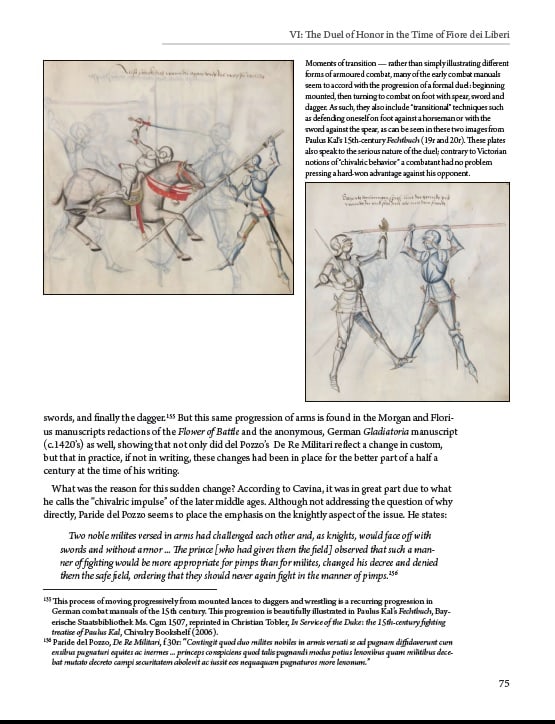 $16,000—Fifth Volume: Leaves of Battle—Fiore dei Liberi's Martial Heirs and Influence 
At this stretch level we will remove the samples of the related German material from Volume Four...and present it in its entirety in Volume Five. Accompanied by scans from a 17th century, Veronese redaction of Fiore's prologue, a new translation of Fillipo Vadi's De Arte Gladiatoria and an introduction on the last known master of the "Dei Liberi Tradition" and the relationship of his work to the Pisani-Dossi and Florius manuscripts, this volume completes the series by encompassing all of the known material with a clear, lineal connection to Fiore dei Liberi. This automatically upgrades the Rival Masters, Fiore dei Liberi and Niccolo d'Este packages.

$30,000 - Mastering the Art of Arms Series Added to Perks
In our perks structure, everyone at the Magistro level and above gets a digital copy of Mastering the Art of Arms, Volume One: the Dagger, courtesy of renowned armizare researcher and teacher, Guy Windsor. If we reach this goal, that perk will upgrade to all three volumes of the series! Another $40 in freebies and months of training materials, yours free!
$32,000 - See a Swordfight Through Fiore's Eyes.
Inspired by Guy's generosity, renowned historical novelist (and one of our backers!) Christian Cameron thought he'd lend his own talents to help us reach our final goals. Christian  is a devoted practitioner of armizare, so much so that in his novels The Ill-Made Knight, The Longsword, and the about-to-be released The Green Count, a young Fiore himself appears as a companion-at-arms and martial instructor to the series hero, William Gold, and is seen through his eyes. Inspired by Guy Windsor's generosity, Christian has offered to pen a short story from Fiore's point of view. Ever wonder what was going through the master's mind when he fought his five, famed duels? This is the closest we'll ever get to finding out.

We hope you are as excited about this project as we are, and are eager to support it. Of course, you may be excited but unable to contribute, but that doesn't mean you can't help!  
Crowd-Funding is driven by word of mouth. If you find this project worthy, please help us get the word out by sharing this campaign page.
Indiegogo makes this even easier via its share tools! Check them out!