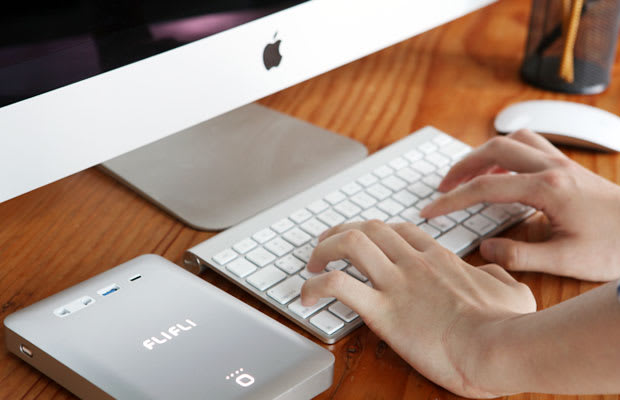 We designed Apple's new friend LifeBattery AIR to match your MacBook beautifully. It is also compact and convenient to take it wherever we go. Sleek, elegant curves along the edges inspired by the case of Macbook are created and these edges are ergonomically friendly and easy to hold.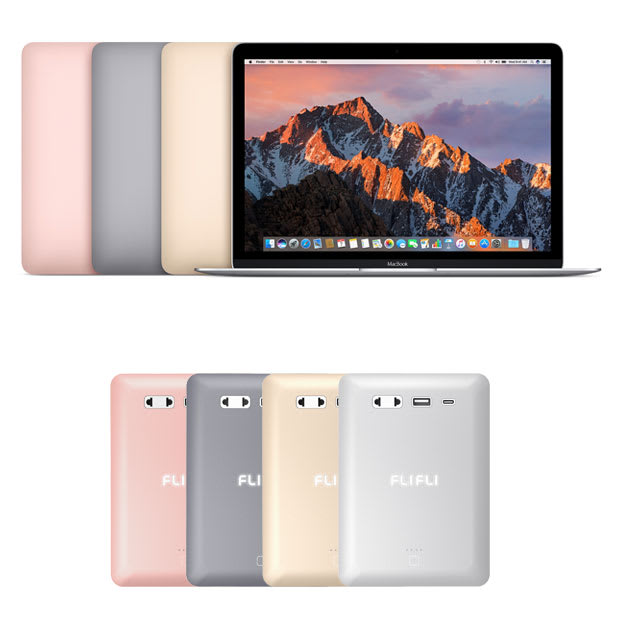 Find your color for your life! LifeBattery AIR uses four beautiful colors of Macbook design. (Rose Gold, Gold, Silver, and Space Gray) When placed with your Macbook, will perfectly coordinate with the design and color. No electronic product can be more coordinative with Apple's design.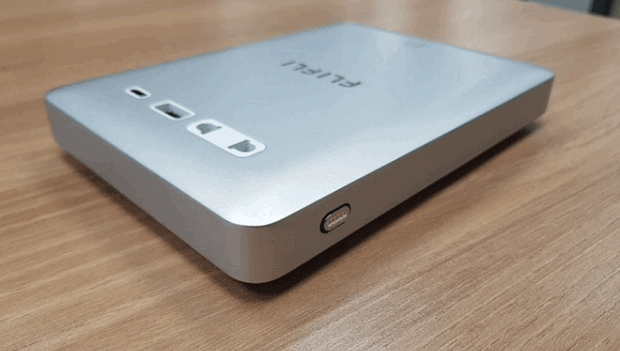 Easy and stable magnetic charging input connection just like MagSafe by Apple will prevent your port from getting damaged. Simply just Cling! There you go.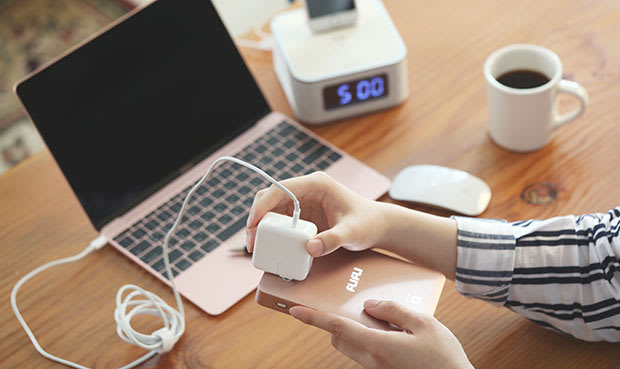 Apple – Need to charge Apple with AC port? Many other batteries have their output ports at the side of them. And this makes Apple's charging plug to lift the battery a little and stays unstable.
Able - Able to plug in on top! Enables your battery stay flat!
Stable – Stable connection. No worries about your battery being lifted up.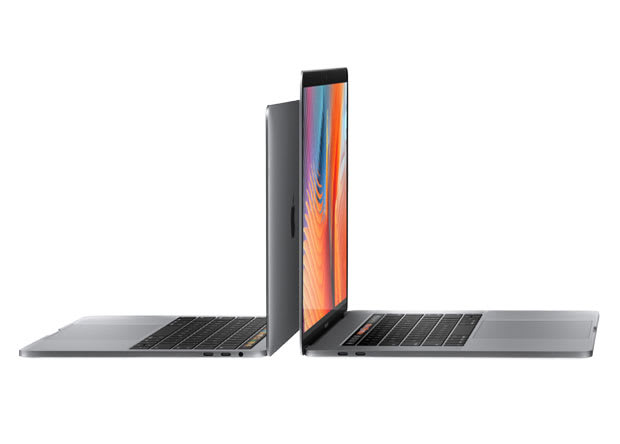 AIR will take care of all Apple products you have. We have been working extremely hard to power your any Apples including Macbook Touch Bar without any problem. You can just sit behind and relax, while AIR feeds your Apples.

LifeBattery AIR is limitless. Macbook, iPhone, iPad, you name it.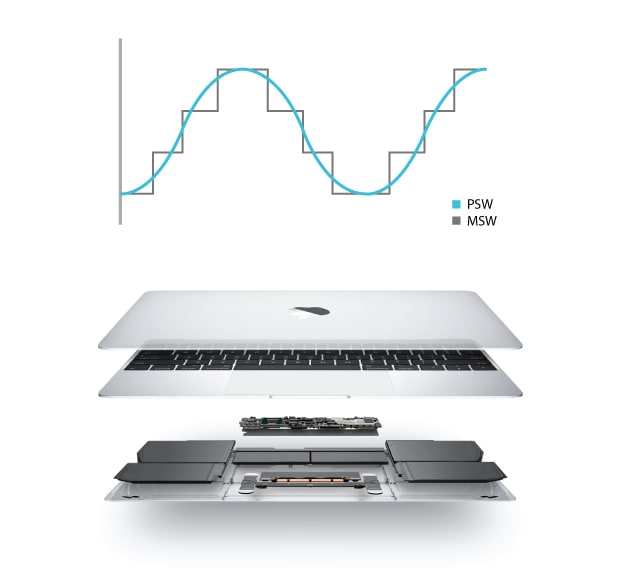 Our great Apple Devices, especially Macbooks and iPhones need it's sensitive and exquisite electronic wave flows to be charged in unharmful and environmental way. Therefore, we grafted the latest delicate performing technology PSW (Pure Sine Wave) system embarked to LifeBattery AIR which naturally produces clean electricity to Apple devices without forcing over Apple's technological limit automatically.
 
MULTI-CHARGER FOR AIR
You will not get into a rush to charge your multiple LifeBattery AIR if you get this Multi-Charger. Just place your batteries on the ports, then Multi-Charger will automatically recognize your battery level and start charging with the highest remaining LifeBattery, and will work on next ones in order.
Powerful Multi-Charger for LifeBattery AIR is currently under development. Estimated mass production date will be the same as AIR production. (September 2017) One with 3 charging ports and another one with 5 charging ports will be released. (Specifications will be updated shortly.)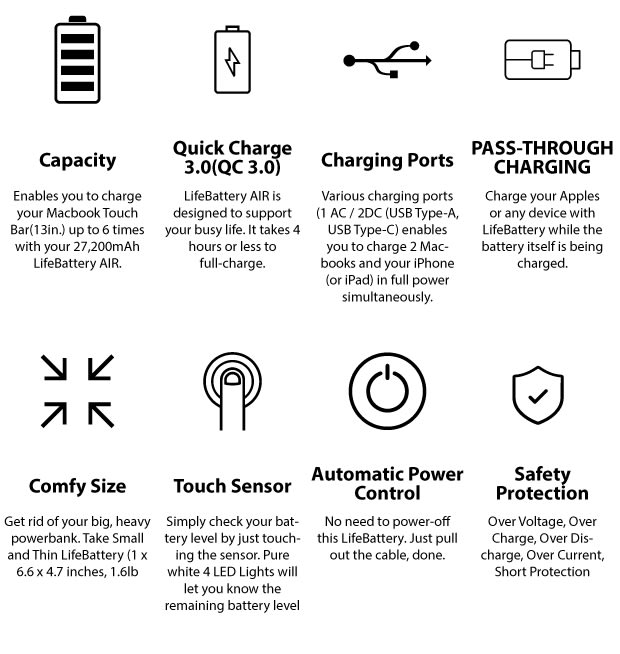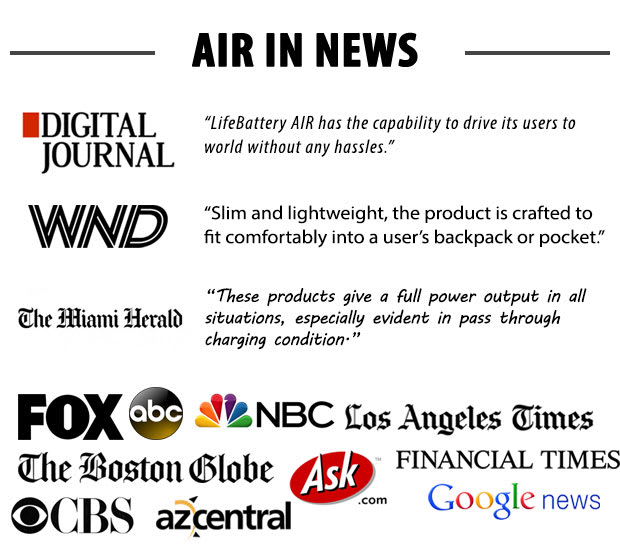 | | |
| --- | --- |
| | Bob Joe  All I have to say is this is amazing! This product is perfect for someone such as myself! I work a lot on the go and this definitely helps a lot in terms of charging my work laptop and phone. This will definitely save me the hassle of looking for a charging port and whatnot. Definitely industry breaking material here!!! |
| | lucas Prane1  I am always in the maximum potency requiring a lot of energy so I can get my work done. I am very happy to see a new product that help to increase my computer power. Currently power banks needs some improvements and looking at LifeBattery AIR we can clearly see that, Quality is superior, the Designing is matching with our machines, it has touch options and can deliver it's energy to more than one device, it is indeed an unique innovation, I am looking forward to get my hands in one! |
| | Mario Lopez  Dude good call on sharing this. I love how sleek it is. |
| | Phillip Emmons  Thanks for sharing this Erik! It looks awesome. I hate these power banks we have now. |
| | Erik Briggs  This looks really cool. We gotta get this funded cause I'm gonna need one. |
| | Jonathan Paul  I really hope this get's funded! I am going to have to get one of the Early Bird Specials! I love this concept, and this would be very useful in combination with all of my devices. |
| | Jonathan Paul  Best of luck in getting this awesome product funded! I would love one for my Macbook! 68 hours of charge time is simply amazing! The different ports are great as well. I really hope this get's funded so I can receive one. Good Luck :) |
| | Jon Riding  Amazing! This looks far superior to traditional "Power Banks" and the amount of charge it can provide is wonderful. If you have a Macbook or other Apple devices, this is a must have. I will be getting one hopefully! |
| | Johnny Fortune  Wow, looks awesome! Can't wait for the release :) |
| | lurii Znak  Nice one! I really like the idea and design. Good luck with your campaign! |
| | Ben Reins  Superb innovation, I can't wait! Hope my contribution helps, wishing you all the best! |



-    Which outlet types can I choose?
For the output: Outlet type C/F/A, USB Type-A and C; For the input: we provide you with magnetic charger.
-    Do you ship to my country? How much will shipping cost?
Yes! We ship all over the world. We do not charge any amount for shipment of your perk items.
-    How will my order be shipped?
Estimated carrier we would use is UPS (This may change). We provide free shipping to Worldwide. No matter where you are located.
-    What is your refund policy?
Refunds will be available until your product is dispatched to your place. We do not provide refunds after dispatch.
-    When is AIR expected to ship?
Working prototype and design mock-ups were already done. Our first mass production will start at the beginning of September. The very first shipment to Early Bird backers will be proceed in December 2017. Second shipment to Indiegogo backers estimated is January 2018.
-    How much does AIR weight?
LifeBattery AIR is designed to make your life with no fear of your device battery level. Only weighs 1.6lb.