Prototype Testing
The next step, after a long process of creativity and engineering, was testing proof of concept and functionality. We were very excited to hold FlexCharger in our hands for the very first time and to reveal to others how this unique product works and the way it was going to feel like for them, when they use it. Here are some impressions.

Using Sleeves or Covers
We designed FlexCharger to be utmost flexible. So now you can also leave Sleeves or Covers on while charging. Even the Tiltable Dock Connector can be used with your smart device protection. The connector is elevated slightly so there is enough space for these difficulties and guarantees a good connection.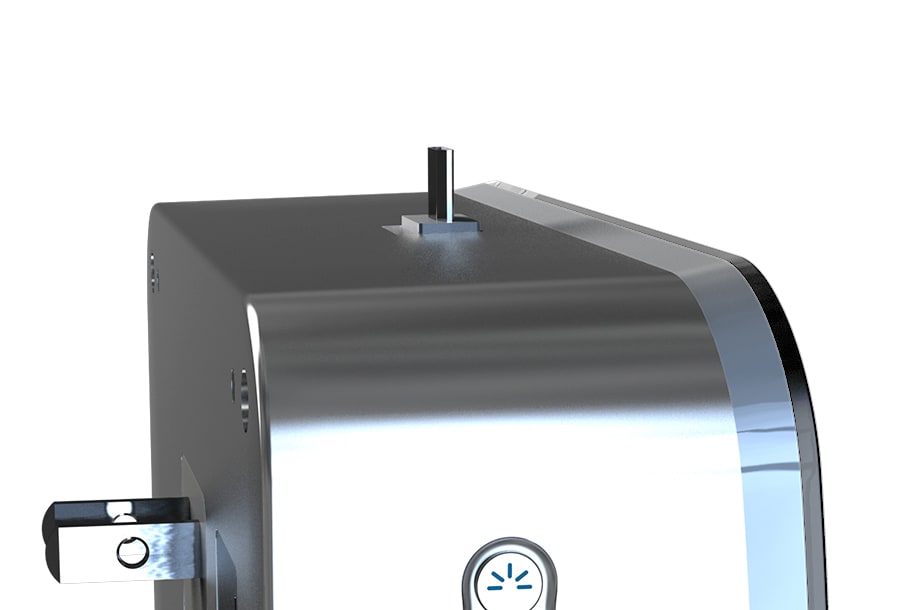 Dear Apple User
We would have loved to introduce "pure" Apple Lightning Connections to FlexCharger. We decided against this, because of the extreme costs that would occur (for you) when original Apple certified Lightnings are built in (see Apples MFI Program). We are determined to win you for FlexCharger, so we included 3 Original Certified Apple Lightning Adapters in the Perk. Nevertheless FlexCharger allows the use of adapters, so you shouldn't have difficulties. Furthermore, if we did produce an Apple Version and you or a family member changed to a non-Apple device in the future, you would then have to purchase adapters from Lightning to Micro-USB (as far as we know there are no Apple certified adapters available). Share any thoughts you might have. We'll appreciate an email from you.
We have a lot of experience in bringing products on the market, so the risks are minimized. We have a really great relationship with our production partner who is already in the charger business for many years (see also our WallCharger campaign). We have taken all steps to avoid potential problems. We will accompany the tooling and production process by our own experts in close contact with the producer in order to adjust or correct problems. Contingency plans are agreed upon in case of production problems. We will continuously inform our backers during certification, production and shipping with regular updates.

Should you have any questions please don't hesitate to contact us anytime.
Why Indiegogo?

There is no better way for us to discuss the features of a new product with customers. Out of experience we know that we will get many useful comments which will help us to finalize/design FlexCharger in a way you will actually enjoy.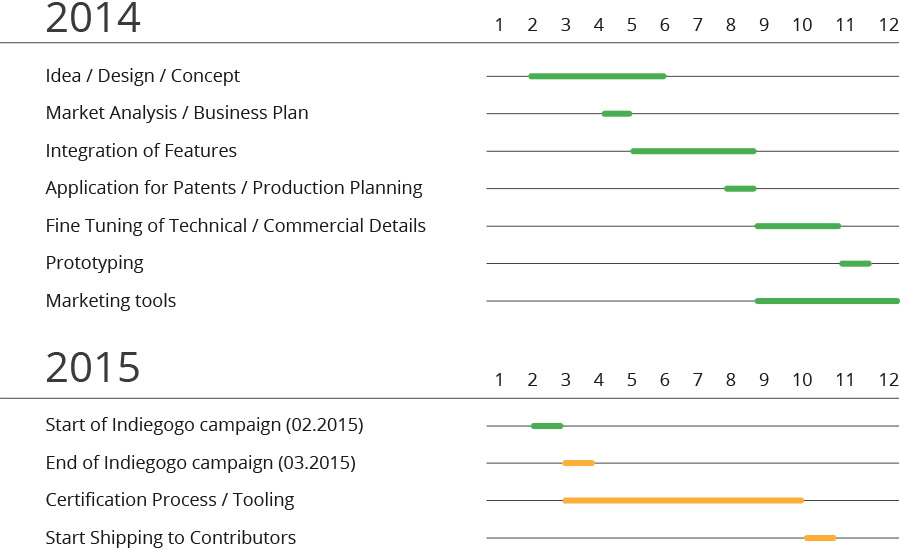 The rule for the shipment to the contributors is First in (order) First out (shipment).

PLEASE NOTE: International Backers
Backers will be responsible for any and all customs, import duties, and/or local taxes you may incur in your country of residence.  We recommend you ask your local tax authorities what you will incur based on the value of your pledge.  Please understand, we have no control over what your own country will charge you in VAT and import duties.  As a final note, we cannot misrepresent the customs information. We appreciate your understanding of this matter. Due to our past experience for Indiegogo campaigns, we believe to know that import taxes will not occur. 

Partner/Team
We are a German team of idea makers, creative thinkers, engineering & production experts with long years of experience in development, production as well as marketing & sales (..see our successful WallCharger campaign) who work closely together to create products which deliver true value, that find usable solutions and make great products even greater.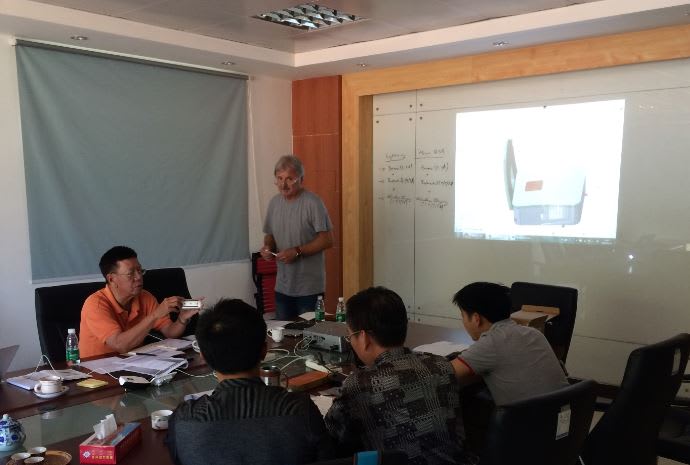 Peter in close cooperation with the production team


In 2014, we set out with a goal to change the way people charge their devices. Our vision was simple – to fill every home with easy to use charging stations and diminish the use of untidy cables. We're making it very comfortable for everybody to charge with any smart device, in every room of their home. We strive to provide the newest charging technologies, adding flexibility and bring that all together into one product with beautiful design, flawless technology and a high standard of quality.
We're doing what we started out to do. 
Changing the way people charge – one home at a time.
Reference
In February 2014 we started the WallCharger campaign successfully on Indiegogo.
So far we can say that our contributors are happy. Get your own impression by reading the comments and by browsing through the campaign!
Important for you as a contributor is that we have long experience with charging devices and also know exactly how to organize an Indiegogo campaign. The FlexCharger team is more or less the same as the WallCharger team, including the production partner. This is a very experienced company already producing charging and other electronical devices for many years. Furthermore, when you browse through the WallCharger comments page you will see that we had absolutely no complaints concerning the quality. 
The different versions of WallCharger
FAQ's
Which Wireless Charging standard are you going to integrate?
We decided to integrated the Qi standard which seems to be the most sophisticated and successful standard in the market.

Why do you call your Wireless Charger "True Wireless Charger"?
As a result of FlexCharger fitting directly into your power outlet, there are no cables whatsoever, therefore being "Truely" wireless. Other Wireless Chargers have a cable running from the Charger Pad to the outlet. As far as we know, FlexCharger is the only "True" Wireless Charger.

What do I have to add for shipping?
- International $ 15
- Germany $ 5
Shipping is something we do not want to earn money with, so we calculated very tough to offer you the best rates possible.

How many different versions do you offer?
3 versions
- FlexCharger S
- FlexCharger W: Wireless Charger integrated in the tray
- FlexCharger W/R: Wireless Charger + Wi-Fi Repeater integrated
I heard about a new USB - C standard. Does this mean that my FlexCharger is not future proof?
The C - standard is a great move of the USB Implementers Forum (USB IF). We really appreciate this new plug because it will bring us many advantages. Nevertheless it wouldn't make sense to integrate it already because it will take a couple of years until we get the first devices with the new standard integrated. Should you in the meantime acquire a device with USB - C, simply buy one or more adapters and FlexCharger will stay up to date! As soon as it makes sense we will integrate the new standard in our FlexCharger.

If I'm going to use adapters, is FlexCharger designed for this?
FlexCharger was developed with the option of using Lightning adapters. These adapters can easily be connected and then integrated into the form of the casing. We also integrated a storage compartment at the back, primarily for Lightning adapters and or 30 pin adapters from Apple.

And what if I want to use an adapter for the Tiltable Dock Connector?
This is also possible. Simply tilt your smart device towards the wall and you will get the necessary stability when touching the wall with the upper edge of the smart device.
Do I need to pull FlexCharger out of the power outlet when extracting the retractable cable for Walk & Charge?
No. Simply pull downwards or sidewards. The retractable mechanism is designed in such a way that you can't pull out this cable straight towards yourself.

I use a case for my smartphone. Can I plug it in the Tiltable Dock Connector?
Yes. We elevated the connector slightly in order to prevent loosing contact. 
I use a case for my smartphone. Can I plug it in upright position on the Tray?
FlexCharger has a mini 3.9" (10 cm) cable for on-tray charging – integrated and retractable for vertical or horizontal charging. By charging devices in a vertical upright position, the cable can be passed through the tray window and connected. This concept also allows for sleeves or covers to be kept on while charging.

Can I charge a large tablet on FlexCharger?
Yes. We recommend that you either charge horizontally on the tray with the long retractable cable or vertically with the short tray cable (USB 3.0 would also be an option). Although possible, we do not recommend the Tiltable Dock Connector because of eventual problems with stability.

Does my smartphone have enough stability when plugged into the Tiltable Dock Connector?
Yes. With our Tiltable Dock Connector your smartphone can be simply leaned against the wall. This ensures stability.

Isn't there too much weight on the FlexCharger if I load 5 devices (full flight) on it?
This depends on your wall socket. If the wall socket is correctly fixed in the wall there should be no difficulties. We did many tests in full flight configuration and had no problems at all (..with a stable wall socket). Other than that, we installed two stabilizers to the back lower part of the casing to resist the downward tilting force and made these retractable for exact positioning on the wall.
USA: I have vertical outlets (power plug is turned 90°).
Is FlexCharger operational with such an outlet?
Of course. We know about this problem in the US and therefore designed a so called HOM Adapter (Horizontal Orientation Management). You can order an HOM Adapter Perk (for more information see Features), Simply swop the standard adapter for this one and FlexCharger will be operational also with horizontal outlets.
Is the 6.6' (2 m) retractable cable a source for problems?
No. We integrated a really smooth running high quality automatic cable drum with a special flat cable for an easy cable spool. If you pull it out until the red mark on the cable only, it will enjoy a very long life.

Disclaimer
Technology and Design may be subject to minor changes due to product development. 
Patents
Patents for FlexCharger are pending.