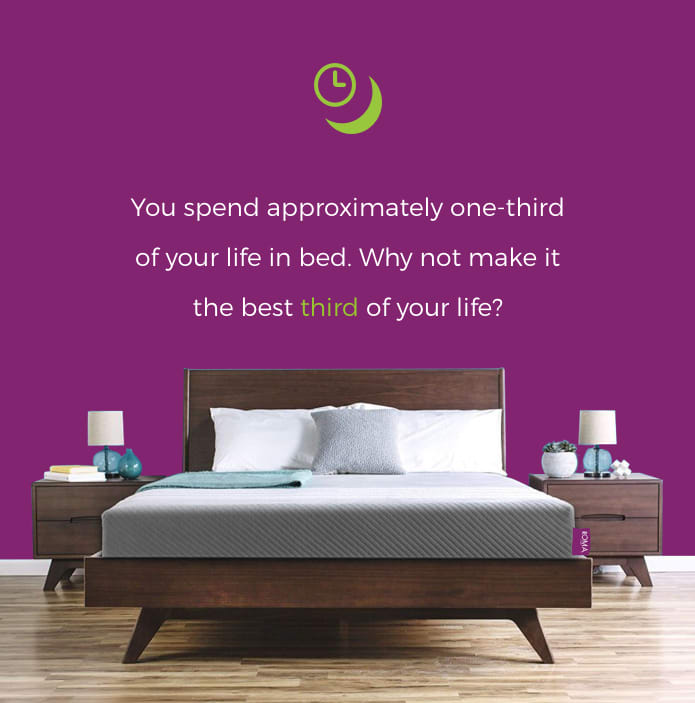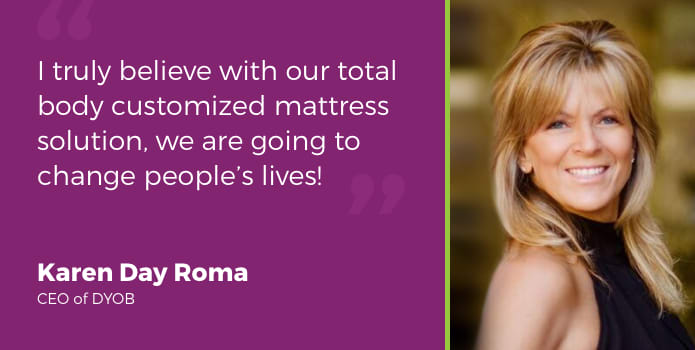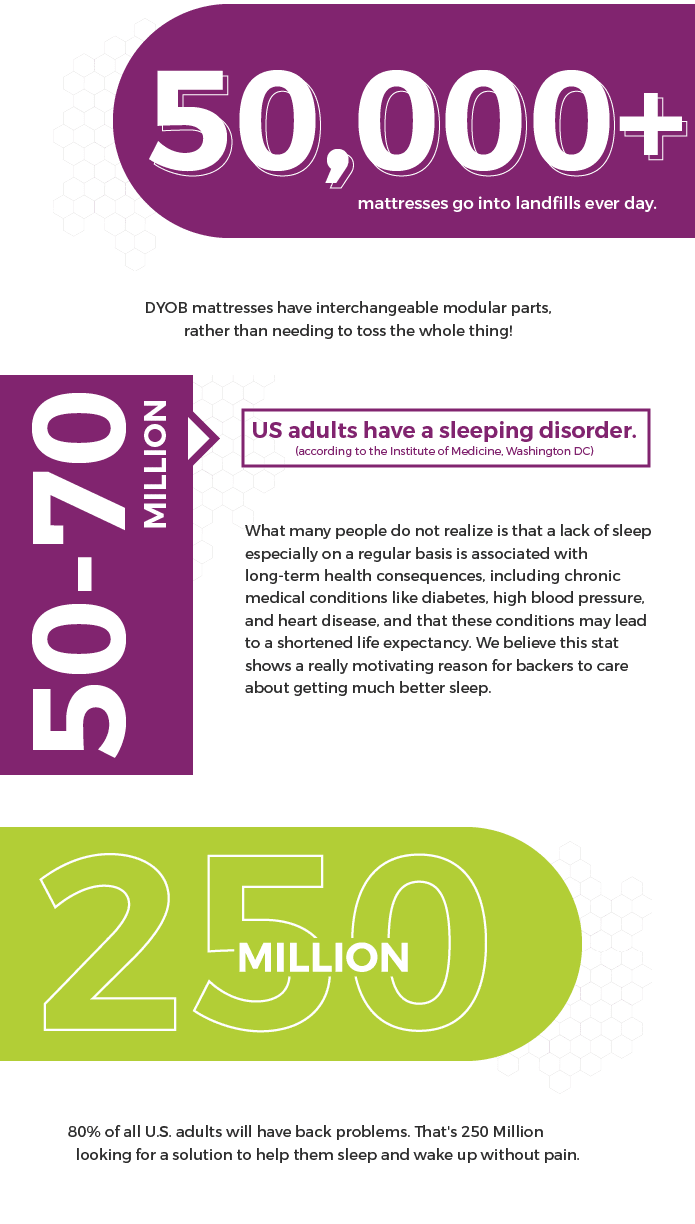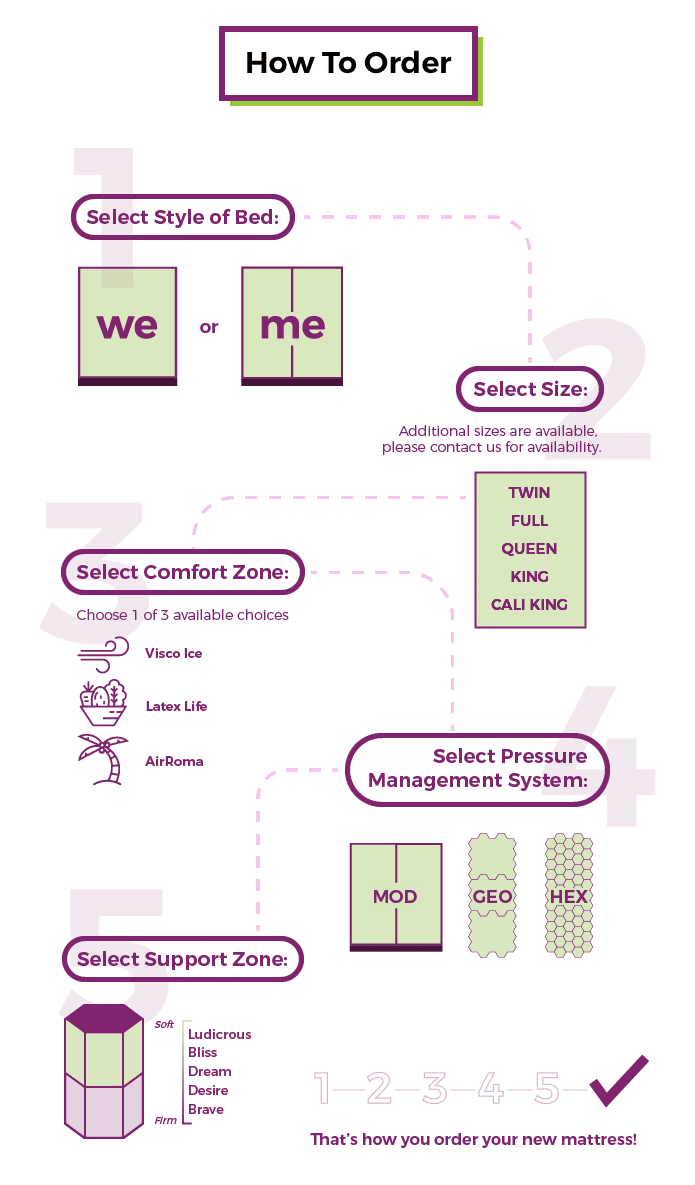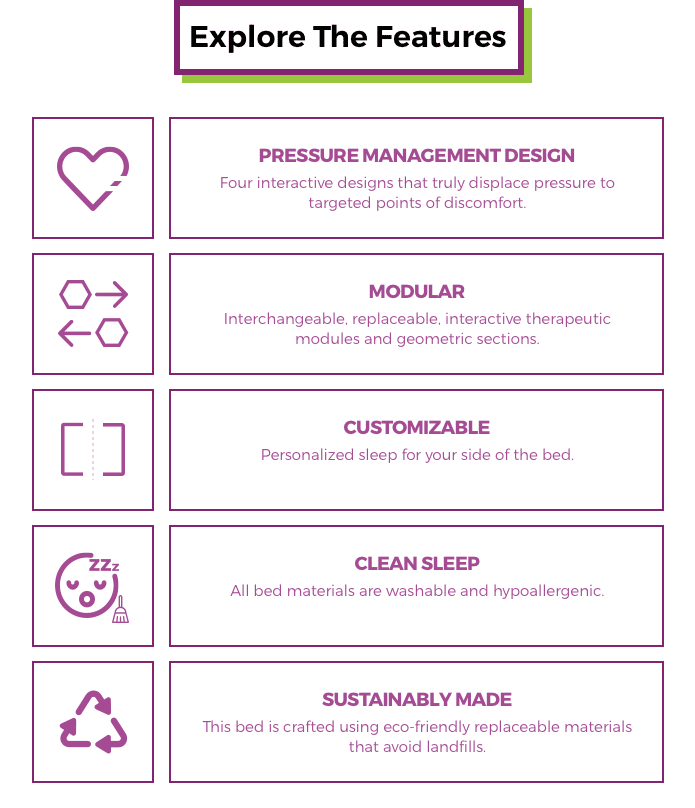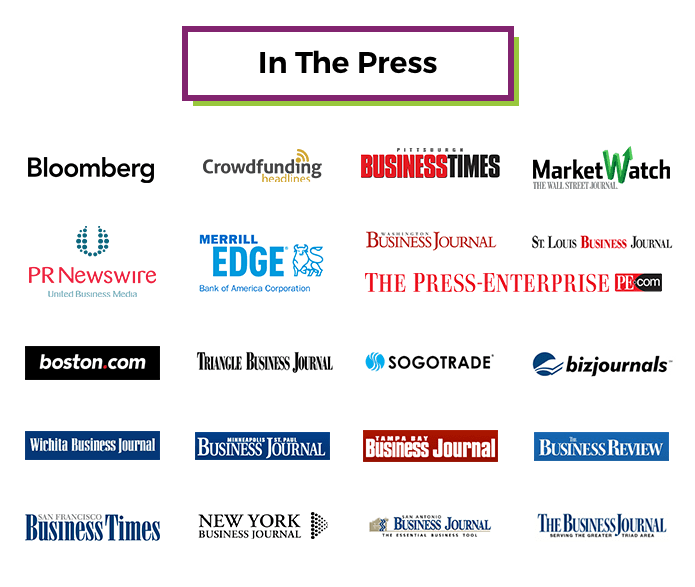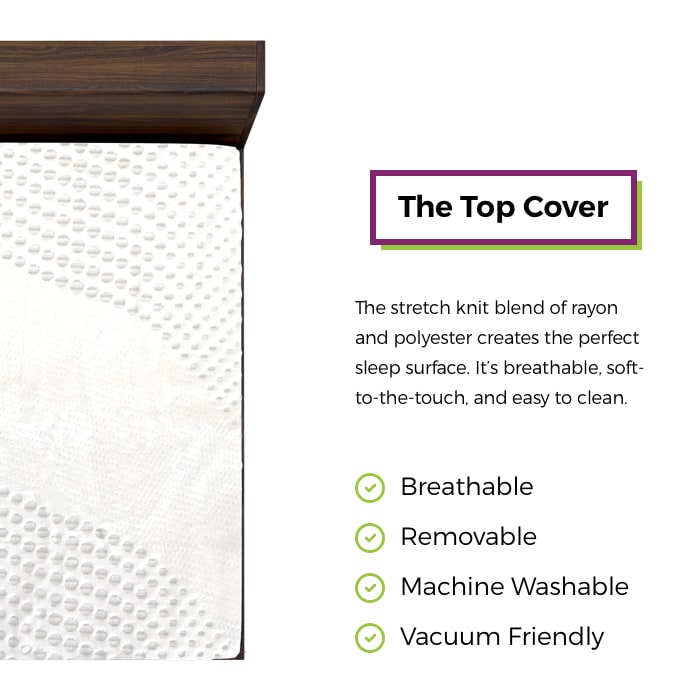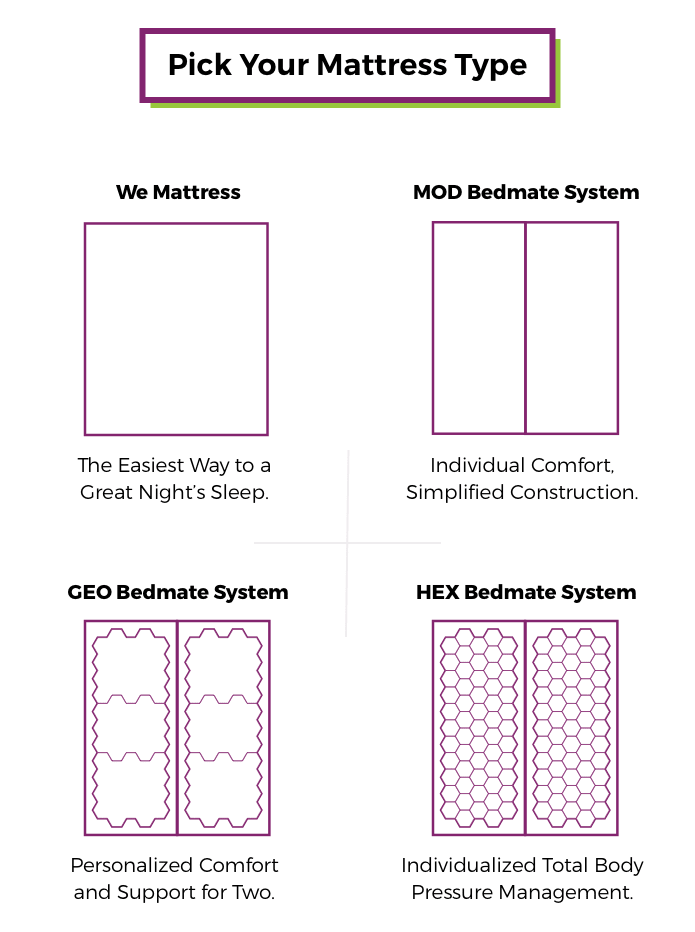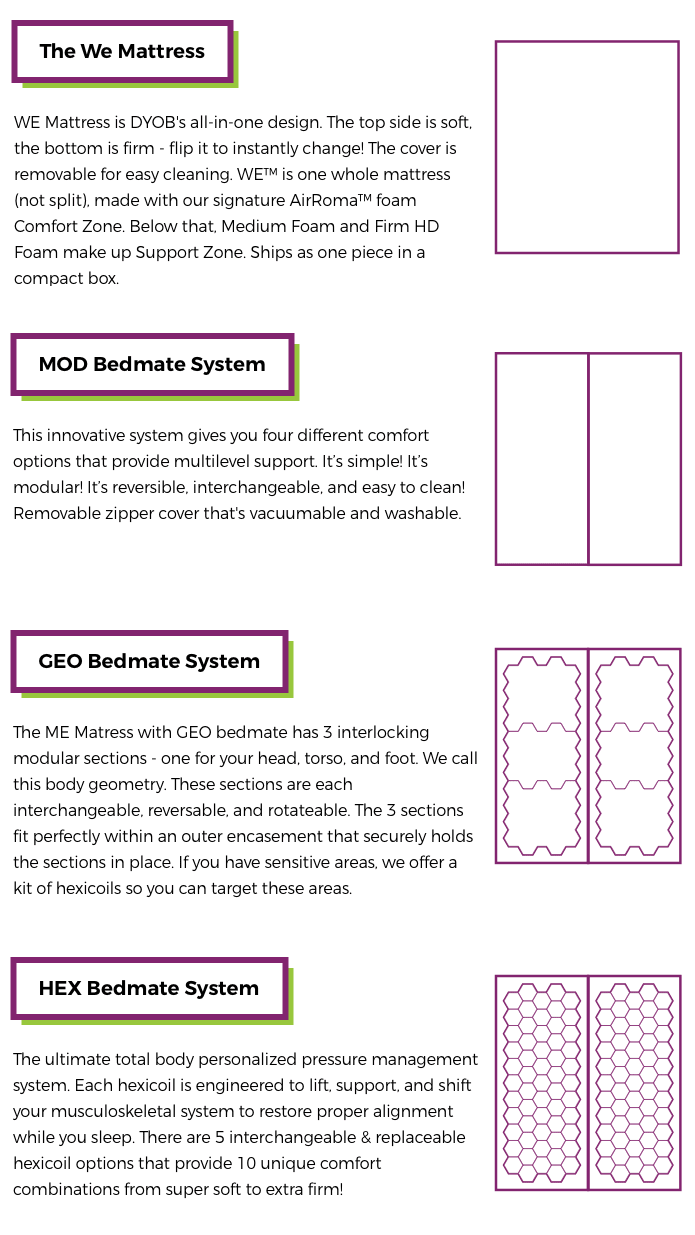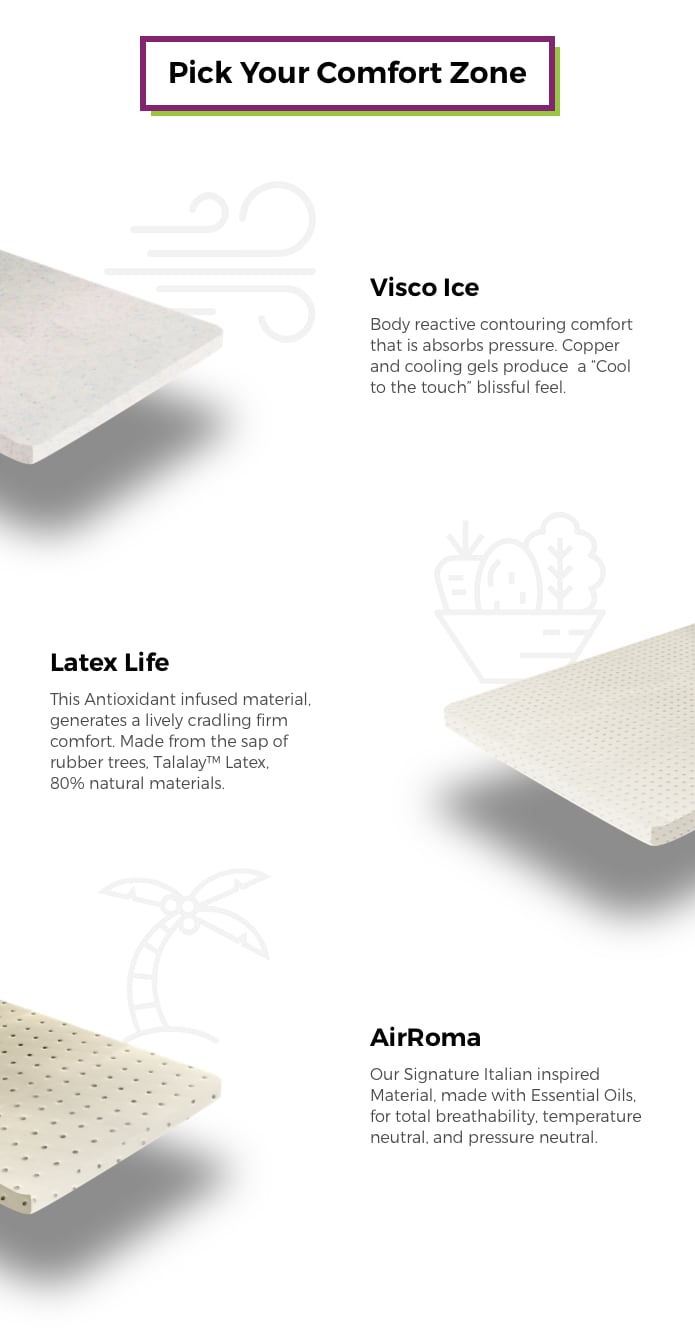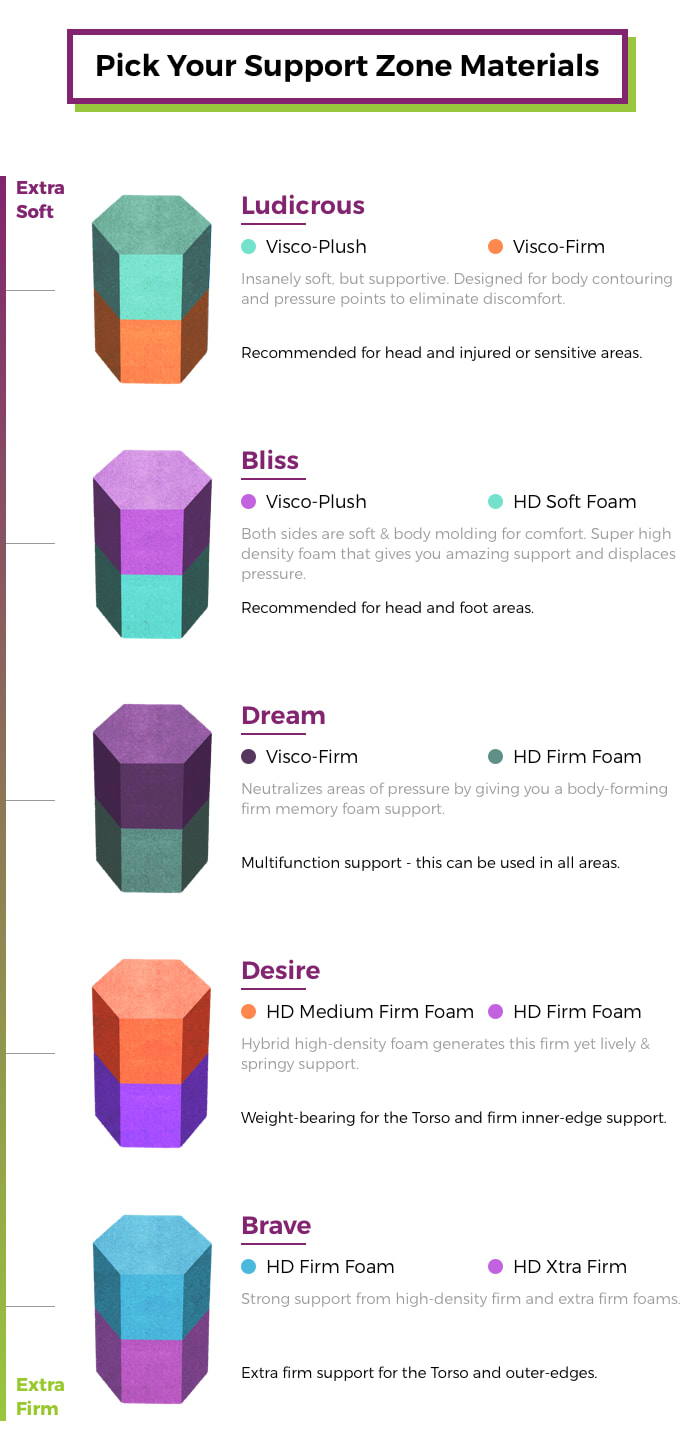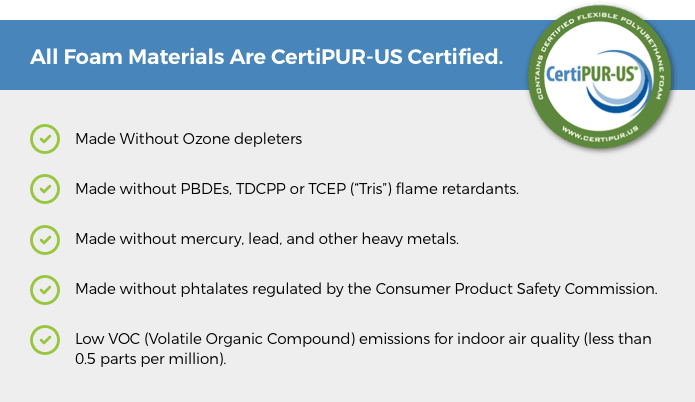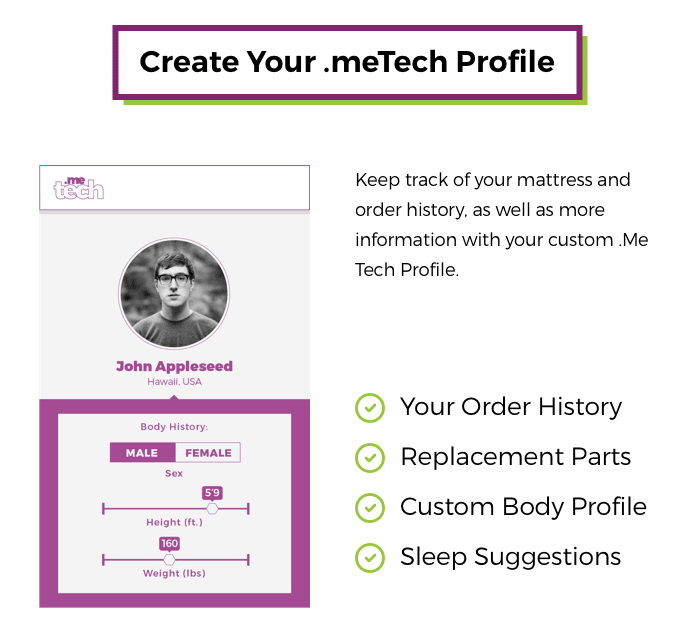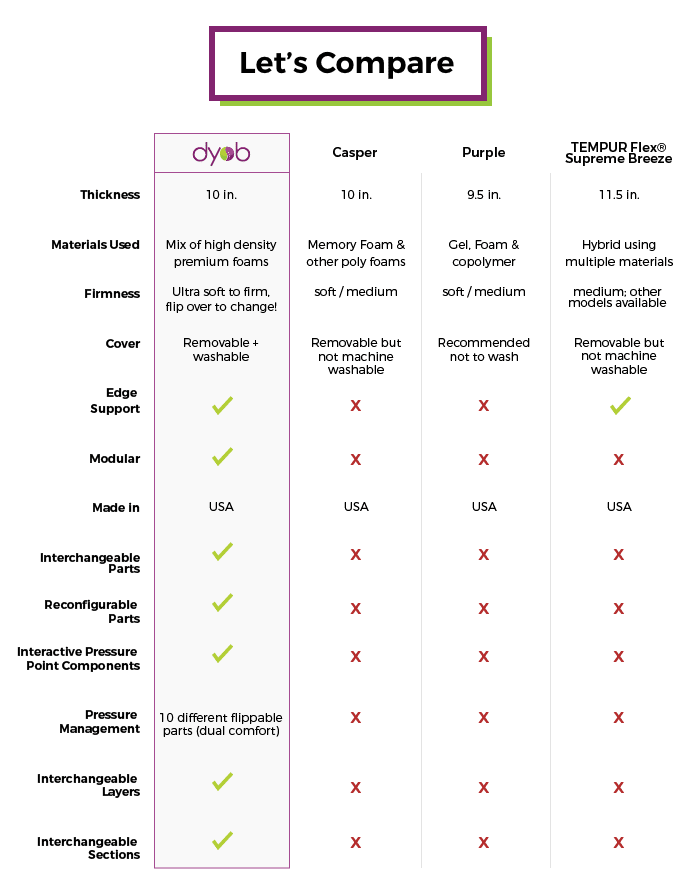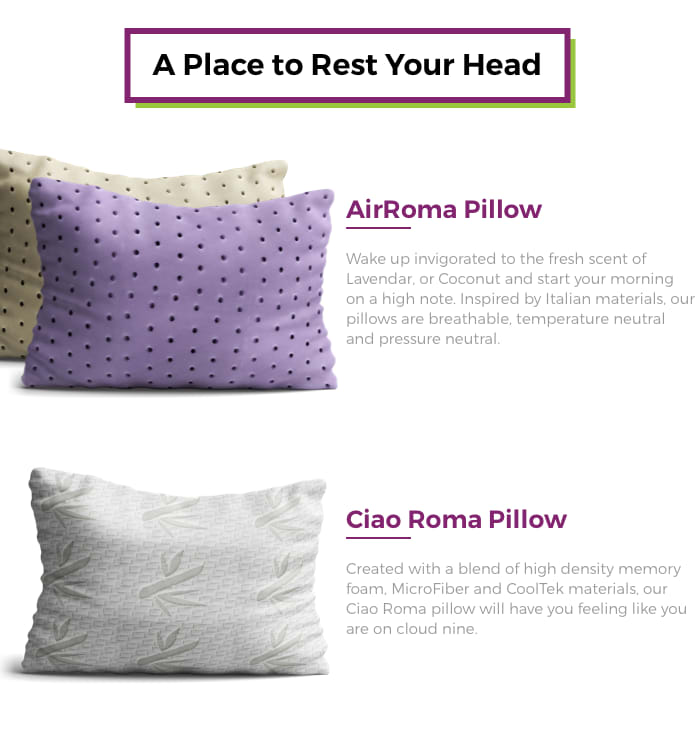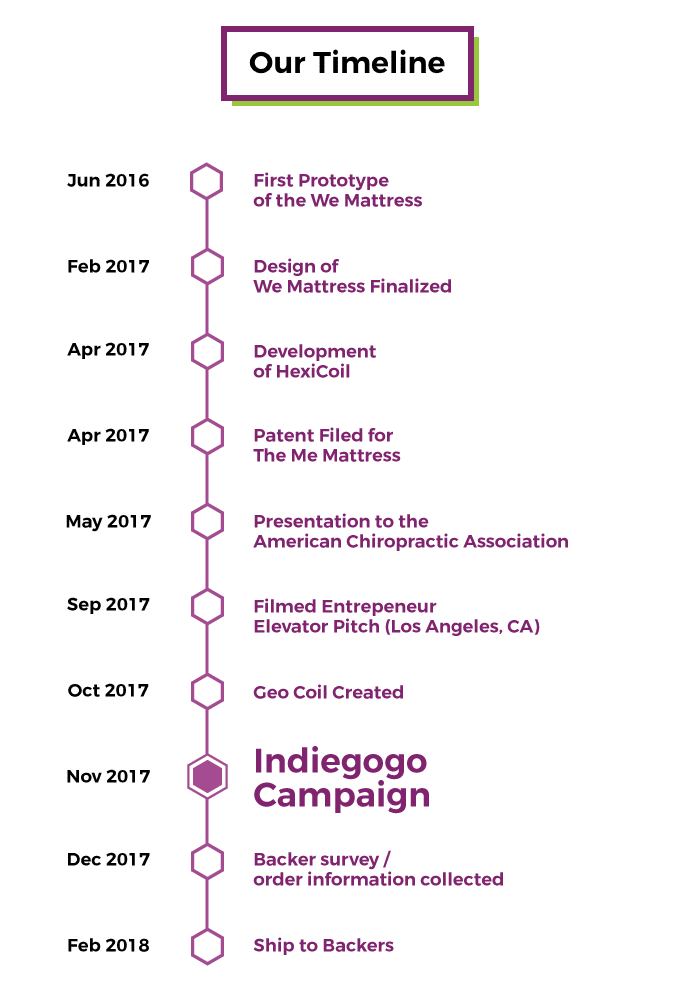 1. Can DYOB be personalized for two people with individual sides?
Yes, absolutely. This is the essence of Design Your Own Bed! You can pick your own comfort zones and support zones, depending on your body's needs. Even better, is you can adjust your side of the mattress ANY time your desire! Just make sure to sleep on your side of the bed to avoid any fights.
A true industry first...the Roma Me Mattress has multiple dual comfort therapeutic module components that range from super soft to extra firm. These interchangeable modules can be strategically placed in your mattress housing to eliminate any pain that your body has. Some mattresses allow you to inflate or deflate the pressure thru your entire side, but that doesn't help if you dislocated your shoulder and have to reduce pressure points in your shoulder area. The Me Mattress ™ allows you to target specific areas that are causing discomfort and adjust that spot until you achieve zero pressure! This is truly Revolutionary!!!
2. How do I redeem my perk?
Upon completion of the campaign, you will receive an email with instructions to go on our configurator and answer the questions. You will enter your unique promo code that is provided in the email upon checkout.
3. What is the delivery period for my Mattress?
The delivery period depends on the variation of the ROMA "ME" Mattress. Depending on your unique configuration, different structure and some layers can be produced quickly while others take longer. However, DYOB secures a delivery period of maximum 3 to 5 days after online configuration. Free Shipping in the USA, delivered to your door.
4. Where and how can I try out the Mattresses?
The best way is to support this campaign and try one out for yourself! Truly, design your own mattress. It's easy and we will walk you thru the steps! DYOB will launch our virtual fitting app that allows our experts to custom fit you to your mattress. We can make suggestions for your optimal sleep needs. Your body constantly changes. People gain and lose weight, fall down stairs, get in accidents every day. The Roma Me Mattress is primed to help with those daily changes. Our patent-pending modular design is extremely flexible and can be adjusted any time you feel any discomfort. That is the beauty of this mattress. The Me Mattress™ will grow with you and age with you. Literally every component is interchangeable, replaceable and flippable. The combinations are infinite.
5. Is there an adjustment period for my new mattress?
DYOB offers solutions to decrease the "break in" period. Our modular interchangeable design is an Immediate gratificationist's dream! As you make adjustments to your mattress, you are guaranteed to feel an immediate difference. Have fun with this... you will learn more about your own body and how to manage pain and pressure.
6. Is DYOB the right mattress for those who have back/neck pain?
Yes. That is why our DYOB Configurator has particular questions addressing those needs, such as spine injuries or back pain, reading in bed etc. We help you to design the optimal sleep comfort and support zones to achieve REM sleep. It is important to note that your mattress cannot replace medical treatment. We are working directly with the Chiropractic Association to fit people to their mattress. Our exclusive Bedfittings™ allow the doctors of Chiropractic align your body to your mattress to achieve musculoskeletal support! Total body pressure management!
7. How long can I use my mattress?
We designed this mattress grow with you and be the last mattress you will ever purchase. Every piece is modular. What does that mean….well, every piece is interchangeable and replaceable. This is the only interactive mattress that can be adjusted every time you feel discomfort. Our mattresses have the added benefit that you can unzip and wash the ticking and vacuum out the inside of the mattress to help eliminate allergens.
8. On which surface can a DYOB mattress be used?
DYOB designed mattress systems that can be used on every surface! You can use it on an adjustable frame, a slatted platform bed, a traditional frame, a pallet, or any creative sleep surface DIY'ers create...even the floor. We do prefer combinations that are designed with a surface that optimize airflow. Our engineers are on the forefront of a breakthrough platform that will be industry disrupting again. The reveal is projected for early 2018.
9. What is the structure of the DYOB Mattress?
The DYOB Mattress is designed with nature. The hexagon is used in geometry, crystals, rock formations, chemical bonding, and beehives. Now we brought it back to one of our needs...Sleep! The Roma Me mattress utilizes Body Geometry™ to give you optimal comfort zones and support zones so your body heals from daily activities while you sleep. Heal while you sleep and let your interchangeable mattress components do all the work for you. All our modular therapeutic modules fit together to move with your body to continuously displace pressure and allow for proper musculoskeletal support. Nothing is like it. Remember, when it comes to your sleep, "Its all about me and I deserve the Best™
10. Why Modular?
DYOB's roots created this modular concept for two main reasons…
1) Customized Comfort to your body on your side of the bed. Utilizing interchangeable and flippable parts so you can properly align your body and time your experience discomfort. 80 % of all Americans will experience back problems in their life. 22 million people in the US have sleep apnea. Just imagine what your life would be like if you could sleep pain free, all night, every night??? Sleep = Success and Happiness! My background in mattress manufacturing for the Health Care Industry as a child gives me the unique experience to actually see all the pain people endure living daily life and as you age. Bed sores, broken bones, brain injuries, gun shot wounds and many other ailments make it impossible to sleep. There are so many problems, but no real products that help... until now.
2) The other focus to go modular is to be environmentally friendly and sustainable. 50,000 mattress are discarded every single day in the US. All of these fill up landfills and take up our land. Our interchangeable modules can be rotated, flipped and adjusted so you can first play with the parts you have, to adjust for the proper support your body desires on any given day. Our cover has the unique ability to be removed so it can be washed for a clean sleep. Also, you can vacuum away any allergens, dead skin, and other debris that collect inside the mattress to help keep your mattress clean and safe.

Every business and every invention has risks. We have fully designed, tested and are ready to go into the manufacturing of our product. We have done our own rigorous testing of materials in accordance with top quality standards. While there is a remote chance we missed something, if anything comes up during the current process of securing required and optional certifications, we will make necessary adjustments in order to conform and re-evaluate our timeline.