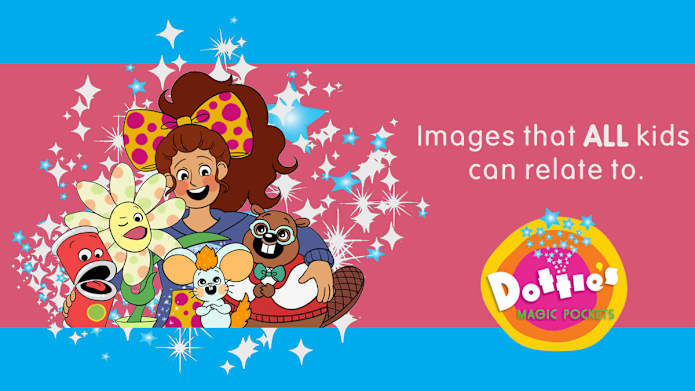 Dottie's Magic Pockets started a decade ago, with the mission to represent queer families in children's media so our children – and their friends – had images they could relate to. 
First, we at Dottie's Magic Pockets released a two-episode DVD, which went on to play in film festivals around the world and be embraced by thousands of kids. According to the Sacramento Examiner, "the only drawback in this groundbreaking video is that it's not five hours long." A few years later, we created a singalong adventure CD, The Super Secret Seashell Cave, with two dozen original songs that Cool Mom Pick called "cool kid entertainment … music and silliness for all kinds of kids, from all kinds of families."
Though some progress has been made in children's media since then, we are nowhere near where we should be! The number of gay families continues to rise, and since we are still overlooked by much of the mainstream media, we decided to create this singalong book: Who's in Your Family?.
By bringing Who's in Your Family?  into the world, we are not only adding a book to sit alongside our DVD and our CD, we are showing the powers-that-be that there is an audience for inclusive kids' media – and maybe, just maybe someday Dottie will be the TV show we always dreamed it would be
I'm in! How can I help?
 You can pre-order a copy of the book and more now! All the money raised will help us cover the costs of production and delivery of the book along with other perks we've created for you.
Any amount of money helps us further this project—and the more people who contribute, the stronger we appear in the world of TV production! So please consider giving even five dollars. And after you do, please spread the love by sharing our IndieGoGo link below. 
Dottie Perks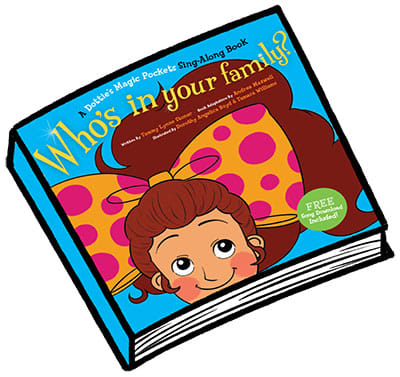 DOTTIE STICKER PACK - one sticker each of Dottie, Motilda, Randal, James and of course, Uncanny!
WHO'S IN YOUR FAMILY BOOK (PDF) - a bright and colorful PDF version of the book
WHO'S IN YOUR FAMILY BOOK - our brand new fun and engaging book
THE SUPER SECRET SEASHELL CAVE CD - a download of our fantastic sing-along CD with 16 original songs and an amazing journey to a seashell cave!
A SIGNED WHO'S IN YOUR FAMILY BOOK - Dottie will sign a personalized note to you or your little one!
DOTTIE'S MAGIC POCKETS POSTER - a colorful 11 x 17 poster of the whole gang!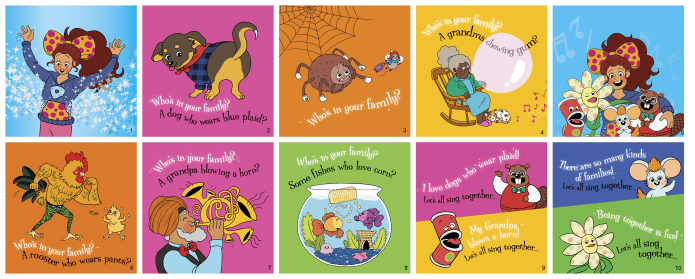 THREE ART PRINTS FROM THE BOOK - pick three images and will send you beautiful prints! Perfect decorations for a child's bedroom! Pick from the pages aboce.
A "DOTTIE" FAMILY PORTRAIT - our two talented illustrators will Dottify your family! Send us a family photo and they will make you part of the Dottie gang! (this will not ship in DEC 2017)
Spread the Magic
Because we are dedicated to making inclusive children's media available to all kids, we will be donating one book for every ten ordered. Our goal is to get 100 books into libraries all across the country! With your purchase we can make that happen!
If you are a parent, maybe you have a parent group you could post to—or your child's school has a parent Facebook page or other group who would be interested in continuing to increase the empathy and compassion of children in a fun, engaging way! If you are a teacher or a librarian, maybe your library would like to carry a copy of Who's in Your Family? If you are a grandparent, what better way to quietly support your child's family than sending this book to your grandkids this holiday season? 
We created Dottie's Magic Pockets for our kids and your kids. It's a labor of love that is truly all about love. Thank you for spreading the love and being a part of it!