Short summary
Hello! My name is Matei, I am a 26-year-old van lover and I live in Romania. I've been in love with Volkswagen vans my whole life and I've been chasing one since I've been able to drive. I was involved in smaller charity and social projects in the last few years, but now I want to take it to the next level. Along with my love for the VW TYP 2 T1, I want to share joy and love. This year, after almost ten years of searches, God answered my prayers and so I found my long waited VW TYP 2 T1 van: DeceBus (the name is mix between Decebal - who was a very important and famous ancestor of Romanian people, the King of Dacia – and the English word Bus).
What We Need & What You Get
The story of DeceBus is a really interesting one. After endless failed searching on the Romanian and international market for a TYP 2 T1 VW van, I finally found it, unexpectedly, after I've started posting ads in a newspaper. The press is slowly dying in Romania and we don't have special magazines for retro cars like in US, Germany or France. But I felt like the odds were in my favor.
Having such a nice van just for myself would be selfish. DeceBus brings a huge smile on my face every time I see it and I am sure it will be able to make others smile too. My plan is to turn it into a working van that will bring happiness, joy and smiles on children's faces. I plan to dress up as Scooby Doo, and together with the van and a bunch of friends (also dressed as Scooby characters) to go to children hospitals, children care centers and in poor villages in Romania. There we will spend quality time with the children, we will bring them sweets, clothes and writing materials (believe it or not, there are children in Romania that don't have all the conditions to learn or go to school). I want to support the healthy development of children, because a happy and healthy kid means a bright future.
This dream of mine started after working for a famous Romanian TV channel, where I had the chance to be part of several charitable projects. I had the chance to meet people with really poor life conditions, children that had nowhere to stay and nothing to eat, entire families that needed help to survive day by day. This kind of experiences made me realize that I have to change and become a better person, more altruistic, more caring. I've started to help people around me, both old ones and children. So my dream started to contour itself. I want my dream to make other dreams come true; I want to be able to help and bring positive energy in this world together with my van.
Finding DeceBus was a real adventure as I was saying. After one year of posting ads in the newspaper, I've received a phone call. I think it was the call of faith. Three days later I was driving to see the sleeping beauty I've been dreaming about all my life.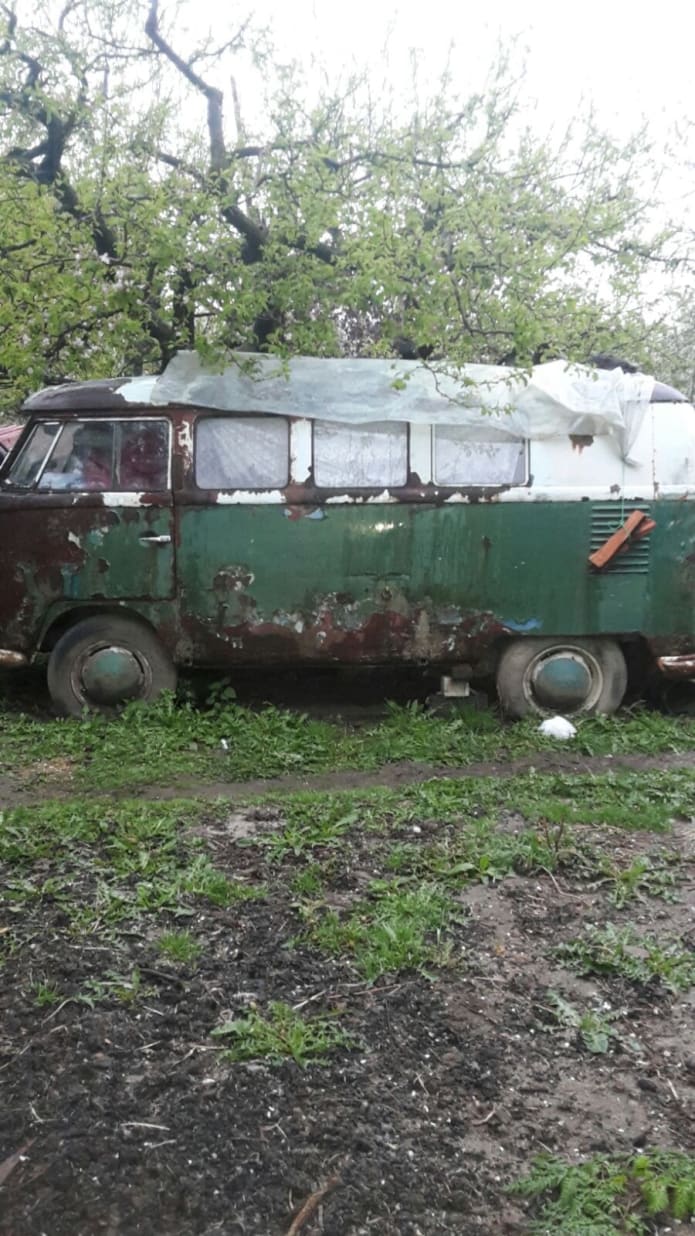 And there it was, in a deplorable state, full of rust, literally "eaten" alive by nature. The previous owner was an old lady that used the van as a dump. For me, it was love at first sight, I knew that soon it will be mine and I will do anything I can to bring this beauty back to life.
Before reaching Romanian soil, DeceBus was born in Germany in April 1958. It arrived in Arad city in Romania and afterwards in Arges county (the place from where I saved it). DeceBus was used by a family with 7 children, to travel around their small village. But the communist party didn't allow them to use the car because it was produced by a foreign car manufacturer. So, since the `80s, it was abandoned in their garden. During the summer time, the old lady used to sleep in it.
DeceBus needs a total reconditioning. As you can see from the pictures and the movie, its condition is really bad. It needs an extreme make-over, an impressive "facelift". It has to be completely decomposed, it needs a very hard bodywork and all the parts that are viable have to be redone. It needs a lot of new components such as: brakes, engine, headlights, new interior, new paint, new wheels, etc. Afterwards, everything has to be put back together and so DeceBus will be resuscitated and brought to life. Even though many people, even some of my closest friends, told me that I should give up because this project is a dead end, I believe with all my heart that together with your help, we can bring DeceBus back on the road. I found a team of really good professionals, a crew of engine surgeons that will perform an open heart surgery on DeceBus. The whole thing is not a piece of cake, it takes a lot of work, materials and of course, money.
It takes no less than 50,000 USD to make DeceBus breathe again! I know, it's a lot of money, maybe you think I'm crazy. I believe that through my dream I can fulfill others' dream. I can bring happiness in small villages to kids that don't know what a smartphone or a personal computer is. I can reach there with a colorful van, with my friends dressed in funny cartoon characters and we can bring them books, toys, school supplies, food, lemonade and ice-cream. But, the most important "thing" we can bring, using DeceBus, is joy. Joy and time to spend with the little kids. Time and joy, these two very valuable components of our life.
If you decide to help me help others, I will offer you some of the following perks:
10$ - You'll receive  our sincere gratitude for helping us complete this project.
25$ - Your name in the end credits of each YouTube series with the restauration of DeceBus and our sincere gratitude for helping us complete this project and your name on the door of contributours.
100$ + shipping - A special designed T-Shirt with DeceBus and your name on it.
500$ + shipping - Unique hand-made painting (A3 format) with VW TYP 2 T1 DeceBus personalized done by Romanian artist.
The impact
This project will have a special role in Romania. According to recent statistics, in June 2016, Romanian state reported 58,022 children who were registered for parental separation services. 22,289 of them were located in care centers (administrate by the state and by private foundations). In the state care centers, 7,788 children were aged between 0-13 years old. This mean they need clothes frequently, school supplies, food, sweets and toys. But more important, they need happy moments, joy and special attention. They need books, they need small cartoon sketches, they need smiles on their faces and color in their lives. Because when teenagers reach the age of 18, the Romanian state throws them into society without clear perspectives, without a proper education. Without a bright future.
It's in my duty to do something. I'm aware that I'm a small drop in a huge ocean, just a pawn on the chess board. But it's my duty to try to help, along with DeceBus and my friends, as many kids as I can.
More details about the stats are available here: http://www.copii.ro/statistici/. Feel free to ask for the translation of the documents you need.
Planned actions
Find the dream car - done
Save the hippie symbol - done
Explore DeceBus's documentation history – done
Find the proper car shop to restore the car – done
Crowdfunding inauguration party – done
Set up a webpage -
Clean and disassemble DeceBus -
Purchase spare parts -
Reconstruction of DeceBus -
Buy an engine -
Reconstruction of the mechanical part -
Paint job -
Interior remake -
DeceBus registration -
An inauguration party for the return of the joy symbol -
Risks & Challenges
Like any restauration project, especially when dealing with classic vehicles, there are always challenges like sourcing parts or finding compatible parts. I have to buy the parts from different countries like Holland, Germany, US, France or even Columbia. It is very risky because I have to create this huge puzzle: follow the stocks, find the suitable parts, pay for them, wait for them, put them together. All these steps just to make the car run again like it used to 59 years ago.
Another challenge is represented by the social aspect. In Romania there are a lot of poor and unhappy children. After I will finish the crowdfunding project and I will start restoring the car I have to do a very precise roadmap with the hospitals and care centers which will be visited by DeceBus in the next years.
Other Ways You Can Help
Help me spread the word to people that may be able to help in any way. I am confident that many people cannot contribute monetarily. But there are other ways you can help me fulfill my goal and help me to help others! Use all the share tools available on Indiegogo to spread the fundraiser, tell a friend, post it on your social networks. I am grateful for any help you can give, whether it is by contributing or by letting others know. Any spare parts that can be donated are welcomed. For any other questions please feel free to send a message.
The photo below is not mine. I got it from www.vwforum.ro. It was taken in Romania a couple of years ago. Don't let DeceBus reach this poor condition. Thanks!