Cynaps (derived from 'synapse') is the world's first bluetooth enabled, bone conduction headset, discreetly installed into an easy to wear hat. 
No earphones are required.  Just wear your hat, and the sound from your phone or PC is conducted directly into your inner ear through vibration.  You can listen to music or have a phone or Skype (for PC & Mac) conversation, even while doing an activity that requires your ears, eyes and hands to be available.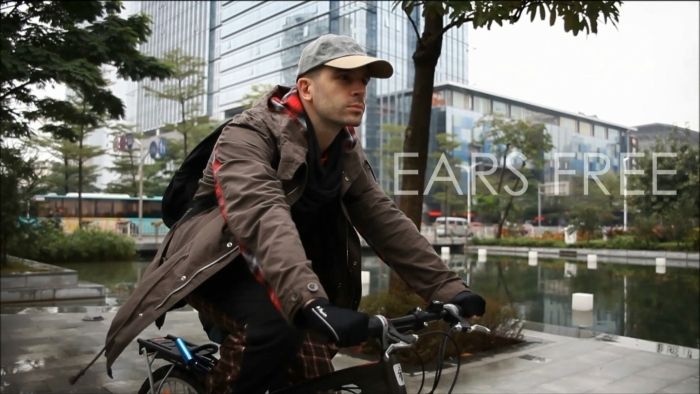 Driving and biking are perfect examples.  Normal bluetooth earpieces cover your ear, and you lose your ability to hear exactly where other cars may be around you.  Cynaps lets you keep this crucial ability, while enabling you to discreetly take a call, anytime, anywhere, keeping you safe and giving you back all of your senses!  Also, it's not putting pressure on your eardrums like conventional headsets or handsets do, so you won't get the headaches, earaches and arm-aches you normally get after a few hours of holding and talking on a handheld phone.  You can talk for much longer with Cynaps without getting tired.  And you can freely do whatever you want, at the same time.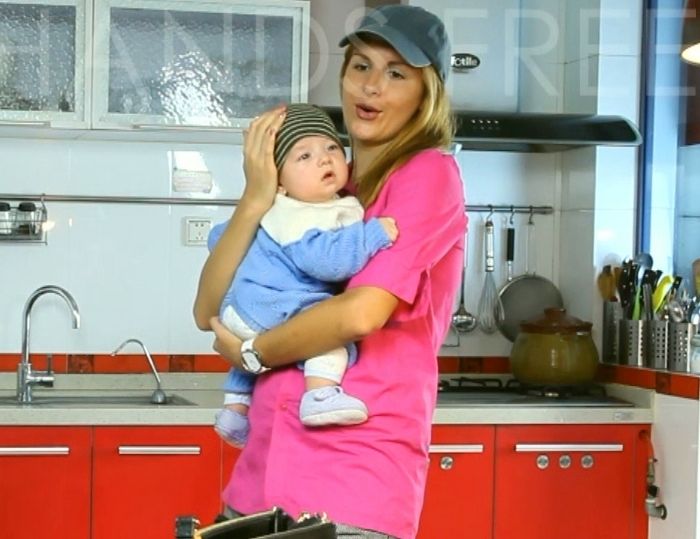 The battery life of Cynaps is amazing.  Standby time is around 30 days, and the average talk time is between 6 and 10 hours.  This wide range depends mostly on the volume setting and how frequently the audio part is used.  The microphone uses up almost none of the battery life, while the audio (vibration) accounts for almost all of it, so listening to very loud music on full volume can use up the battery in just a couple of hours.  Most people will be able to talk comfortably on medium volume for about 7-8 hours between recharges.  Most people can charge it once a day, but if you practically live on the phone or want to turn the volume up extra loud, it's worthwhile to have an extra Cynaps and battery backup on hand, just in case.
The controls are super easy. Just press the bill to take a call or play the current song on your phone or PC.  Also control the volume level and navigate your playlist, all from the simple control buttons under the bill.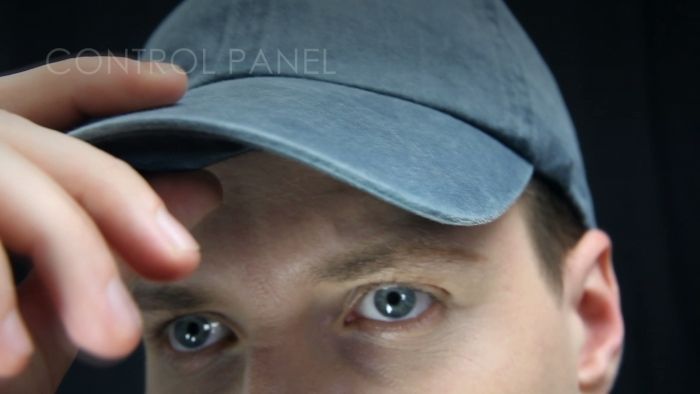 Cynaps can connect to any bluetooth enabled phone, PC or audio player.  Pairing is as easy as pressing a button to make Cynaps discoverable, then selecting Cynaps on your phone or PC.
Bone conduction has been used for years in hearing aid technology.  One very cool advantage of Cynaps is that many people who cannot hear well enough to talk on the phone now have a good chance of hearing clearly on a phone or being able to listen to some good music! 
Check with your doctor to find out if Cynaps can help.  Chances are, it can!
Working in a loud environment that requires earplugs?  Want some tunes but can't hear them?  Now you can!  Even with protective earplugs in, Cynaps is crystal clear.  In fact, the sound is even better, richer and more pure with earplugs in!  Never miss a call, and always have some good tunes on hand to get you through the day.  Now if it could only make you coffee too :).  Perfect for any place you'd normally use earplugs: traveling, resting, etc.
Increase your productivity at the computer dramatically while on the phone.  Those of you who touch-type know just what we're talking about.  How hard is it to hold the phone with one hand and poke at a keyboard with the other?  After about 10 minutes, you might be ready to hang up, even on your best friend!  Imagine having both of your hands free to look up something online and having no pressure to get off the phone because your ear or hand is getting tired.  Get more done - and keep your friend too :)
Here's a quick run-down of the pledge rewards, along with some photos:



Please note: The price of these kits are reduced especially for our Indiegogo campaign, so get it while you can, now at the lowest price!



$50: You guys get the heart and soul of our project: the Cynaps bluetooth module with mic and transducers, at the lowest price. This includes everything you need to to make your favorite cap bluetooth ready in about 10 minutes, as well as any headgear such as a headband (super easy) or a helmet.  If you want to install into a motorcycle or bike helmet, it's also pretty easy; you will only need some extra adhesive to mount the control module wherever you prefer.  For bike helmets, you can mount it in front, wires down, buttons out (the packaging is water resistant, but it's better to mount it wires-down, just in case), and for motorcycle helmets, you can mount it inside the shield, and raise it up slightly when you need to access the controls. We'll make more how to's on this soon!  Also, we'll repair any defects with the module for 3 months.
Also, notice how the microphone and transducers are detachable?  That's right, we'll support you by selling these spare plug-and-play parts separately on our site after the campaign is over, and we'll also repair any problems you may have even after the warranty period, all at minimal cost, so you'll be able to keep your Cynaps working for years without spending an arm and a leg. 
By the way, we are working on some improvements to this module, which should be ready in a few days, and we will update the picture with the new improved look! 
Everything you need to install Cynaps into your favorite cap
$60: One hat, ready to go, with Cynaps installed and one headlight included, along with 3 months warranty
Blue hat with the Cynaps bluetooth headset preinstalled, plus a charging cable and headlight
$75: All three hats with 1 Cynaps module, preinstalled in one of the hats (three hats, one headset), 2 headlights and 3 months warranty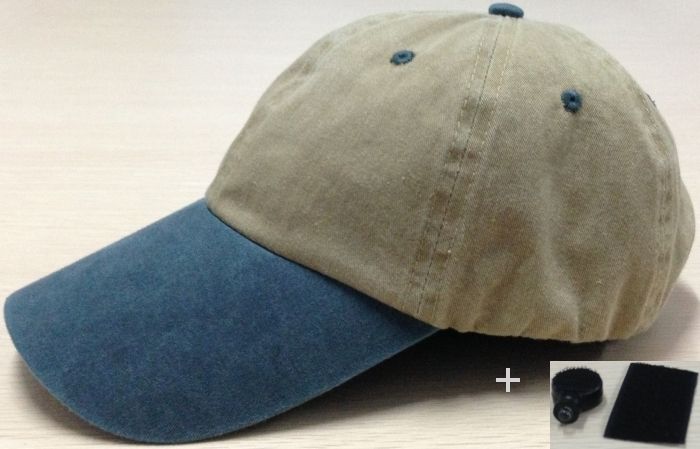 1. Brown hat without Cynaps, plus a headlight
2. Grey hat without Cynaps, plus a second headlight
3. Blue hat with Cynaps bluetooth headset preinstalled, with charging cable
$79:  One authentic Nike Dri-Fit Featherlight running cap with Cynaps professionally installed and looking awesome!  You can choose between white, black or dark blue.  Easy to hand-wash and super comfortable for jogging, golfing and other activities.  Please note, we are not currently affiliated with Nike; we are simply doing this as a special bonus item for our Indiegogo supporters, to give you something extra cool!  Free worldwide shipping.



$80: Hacker's toolbox with Desktop vibration speaker kit! A few cool things to work with here. We'll include one of our brown top color hats, two headlights, a headband which is compatible with Cynaps, three 7 inch extension cables to lengthen your transducers and mic lengths, THE CYNAPS MODULE, with a few supplies to help you install into the hat or headband, as you like, as well as two desktop vibration speakers that will give your Cynaps the power to turn your desk, window or anything into a speaker or speakerphone!  Check out the demo video below to hear the quality:
This kit makes the most of your Cynaps and it's the most fun for those of you who love to experiment or try out different ideas to see what you like! We have to say, the headband is really comfortable :).  Everything is covered for 3 months in this pledge.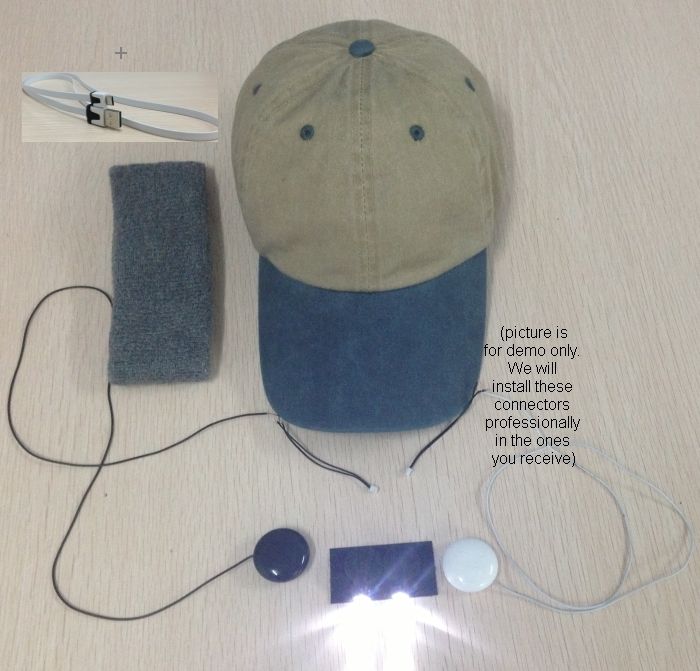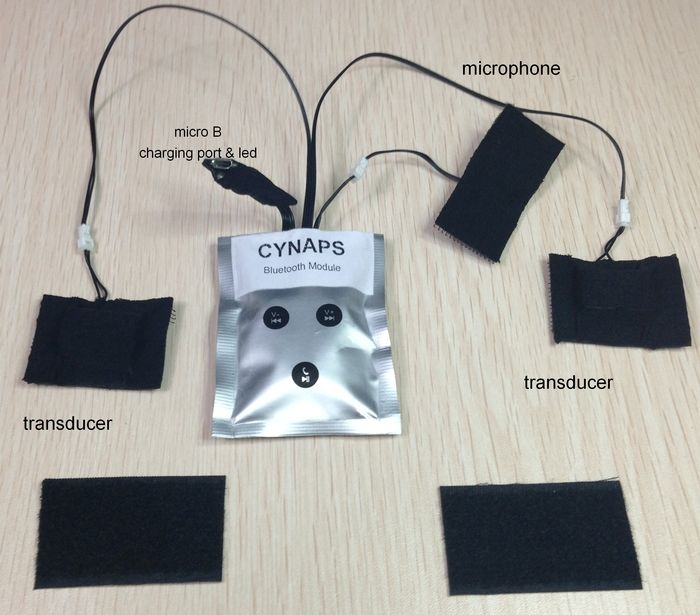 $100: 2 hats with Cynaps bluetooth headsets installed in both, 2 headlights, 1 USB battery backup and 5 months warranty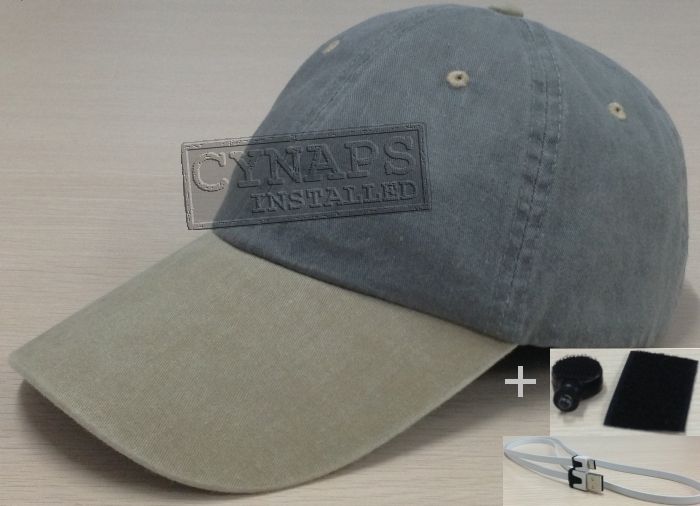 1. Grey hat with Cynaps preinstalled, charging cable and a headlight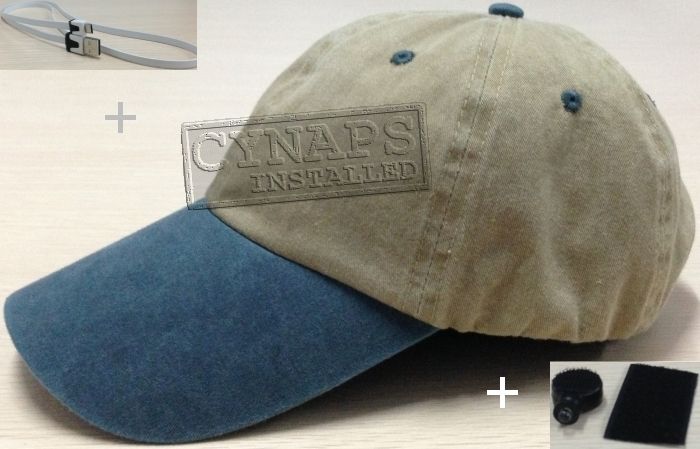 2: Brown hat with Cynaps preinstalled, charging cable and a headlight
3. USB battery backup with its own charging cable
$129$:  One Giro Indicator Sport bicycle helmet with Cynaps professionally installed and looking awesome!  You can choose between black/charcoal, blue/black and red/black. Check out the performance here! http://www.youtube.com/watch?v=CnFYBeeSwdA
150:  An awesome deal for our top supporters.  You'll get all three hats, with Cynaps already installed in all of them, ready to use.  You'll also get 6 headlights, a USB battery backup, a car charger, and the longest warranty of all, 6 months on the whole shabang.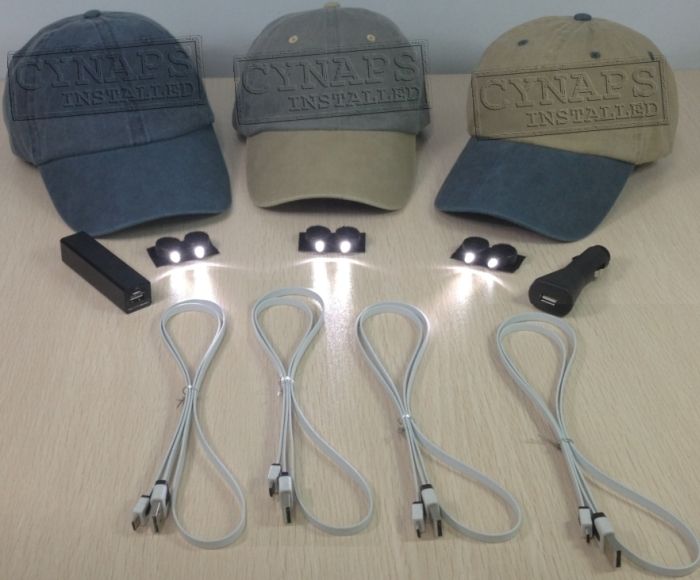 The whole shabang
 
$199: You get the whole shabang pictured above, but we'll switch out the normal cotton hats for these Nike Dri-Fit Featherlight Caps in black, white and navy blue.  Definitely worth the extra money; they are easy to clean and super comfortable!

Tech Specs:
Battery: 1000mAh
Talk time: 6-10 hours, standby time: 30+ days, charging time: 3-4 hours
Microphone:
Sensitivity: -36 to -46dB, Impedance: 2.2K ohm
Max Current consumption: 0.5mA, Frequency response: 100 to 10,000Hz
Transducers (each): 0.8W normal, 1.5W max
Resonant Frequency: 16 +/- 0.5 kHz, Frequency: 300-19000 Hz 
USB Battery Backup: 2600mAh, 5V 1000mA usb output
Car Charger: 5V 500mA usb output
Headlight Batteries:  Model CR1620 (2 installed in each light)
Please note: The bluetooth microphone capability of Cynaps is currently not supported by Skype Mobile.  This is the case for most bluetooth headsets, including ours.  This is an issue with Skype Mobile in particular.  You will be able to hear the audio, but your microphone input will be on your phone, meaning you can still talk using Skype Mobile if your phone is on a desk nearby, for example. Skype is currently working on this issue for all headsets.
Skype for PC & Mac has no problems; you will only need to set up the headset in your bluetooth settings on your computer to work with Skype.  We'll put some guides together for this soon, and we'll also try find a way to make our microphone work with Skype mobile.  So far, Skype for PC has worked awesomely with our module in every way; you can use the controls on the bill to take a call, control the volume and hang up when you're done.
Pictures and Videos:
Cynaps working demo: http://youtu.be/ruHdO7EBEgU
Hacker's Toolbox Desktop Vibrating Speakers: http://youtu.be/wEsqvvJqg-8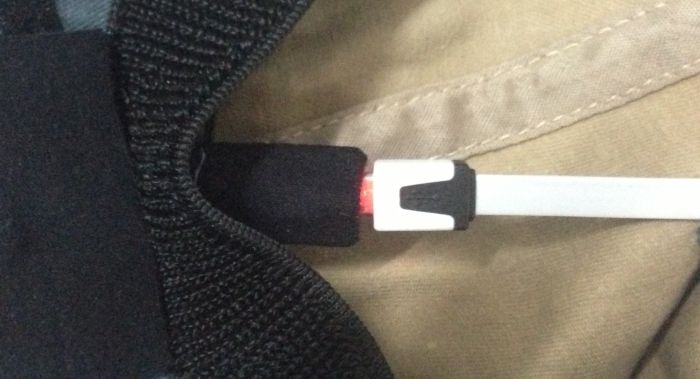 Close up of the USB cable charging the module. The red light goes out when charging is complete.
One of the prototypes for CES next week
Naked! Our bare Cynaps module, striking a pose for the camera
About Us:
Max Virtual LLC is supported by a team of professionals spanning three countries. Product development is headed by Mike Freeman in Greensboro, NC and Shenzhen, China. Promotional material is organized by the CRV2Studio team, also in Shenzhen.
Our technical drawings, machining and injection molding processes are done by our own team of 8 people in Bangalore, India, headed by Samuel Gerald, lead designer and electrical engineer. Sam will be in charge of the plastic housing for the Cynaps module, which will arrive in just a few days, and we can update the photos as soon as it arrives.  We have two more projects lined up after this one, which will focus more on the India team, so you can meet them in the next video...it will be a fun one :).
Finally, we have a great team in Greensboro, NC to help us cover the final assembly of our products, shipping, customer service and warranty repairs in the US. That's right, we're not gonna make you ship your Cynaps all the way back to China for repairs :)
We're all very excited to launch our first project on Indiegogo, and we'd like to thank the community for the chance to do something magic. We hope this will be the beginning of many more awesome projects. Our first priority is to make you guys happy and to always keep surprising you with good ideas, quick and clear communication and timely completion of each and every project we do. That's what we promise, and that's what we're gonna do!
Challenges:
The challenges of this project have been many, and we have already managed to overcome most of them. Researching and designing the current Cynaps module circuit board was the most challenging part. It was also the most fulfilling. We have spent a considerable amount of time in establishing solid relationships with the suppliers involved, doing all business in person, leaving nothing to chance and ensuring very clear communication. Sending an email is easy, but nothing beats getting to know who you are working with on a first name basis, shaking their hand, and showing them exactly what you need. This process has been very rewarding for us and has solidified a mutual commitment between us and our suppliers.
It's also allowed us to make Cynaps better. By telling our suppliers about certain objectives, in person, we have received great ideas from them that we would have never otherwise implemented. Modifying the hat for compatibility is a great example. The supplier knew exactly how to modify the hat in order to keep it looking great while increasing its comfort and compatibility with Cynaps. Giving them relevant information about our project also greatly increased their interest in our cooperation and excitement about doing business together.
We feel confident that we have worked out all the big hurdles with the design and function, and we have put our prototypes through the ringer to check durability and consistency. So far so good, but we also want to hear from you, our backers. We will be posting demo videos and photos of improvements and tests for you guys to see during the campaign, and we would love to hear any ideas you have for us to improve on the design and even add on new bits and pieces to the project!
What If.....?
We have three main suppliers: the hat, the circuit board and the bone conduction transducers. Having a permanent base in Shenzhen, China, we have developed very good relationships with these suppliers, and we expect no problems. However, if something should go wrong, we have several prototypes and will be able to change suppliers without much difficulty. Most of the time spent so far has been in the design of the hat and the circuit board, and now that this part has been done, to redo anything with a new supplier would only delay our project by about 2 weeks, in a worst-case scenario.
We've prepared like crazy for our debut on Indiegogo by securing our suppliers and double confirming lead times in order to make a strong first project and show you guys what we can do. We hope you like it and continue to support us through this and many more exciting ones in the coming months.