Con Man - Teaser. Enjoy!



Wray Nerely (Alan Tudyk-Me!) was a co-star on Spectrum, a sci-fi series which was canceled -Too Soon- yet became a cult classic. Wray's good friend, Jack Moore (Nathan Fillion) starred in the series and has gone on to become a major movie star. While Jack enjoys the life of an A-lister, Wray tours the sci-fi circuit as a guest of conventions, comic book stores, and lots of pop culture events.  The show will feature all the weird and crazy things that happen to Wray along the way to these events.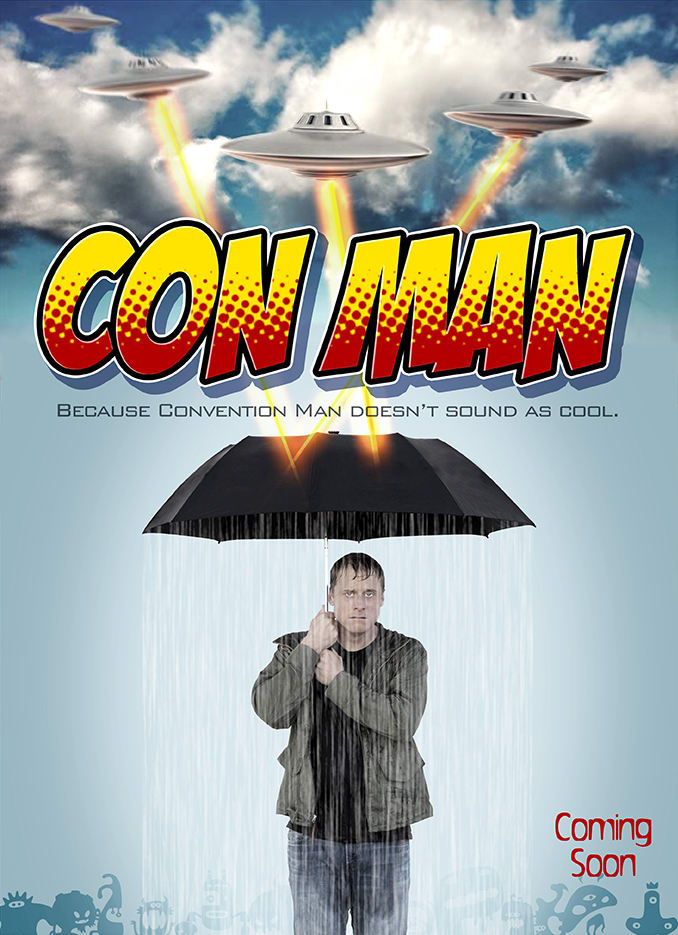 The series is a light-hearted take on the personalities, luminaries, and characters in the sci­fi community we are privileged to call ourselves members. Con Man is a way to share some of the surreal occurrences we have had, while telling the story of a guy learning to love and embrace his fans.
I wanted to make a show that featured all of my favorite convention artists and friends together. Not only that, I wanted to celebrate the world where heroes, villains, zombie hunters, and space pirates all overlap. I especially wanted to work with my friend Nathan Fillion again.


We are seeking funding for the first three episodes of the series. So why are we here on Indiegogo and not debuting this on a more traditional network or outlet? 
The convention world is unique and not easily understood from the outside. To tell this story right, you need to have first hand experience. Although, to tell this story for more than cable access production values you need a partner. In show business, a network/studio could add plenty to the business of Con Man, but at the expense of the show. Complications such as dictating what guests we may have, changing the tone of the show, going into production freezes, having a delayed release, or forcing the show to only be described by a tagline like "Extras meets Galaxy Quest," ­ though we will admit that is sort of an on the nose description.
The most important reason to use Indiegogo is that we have genuinely passionate, stalwart and powerful fans. We've even seen fans get movies made. We realized pretty quickly we ought to cut out the middle management and just get you involved as soon as possible. We'll have more fun having you on board this early in the process, and we know you'd love to see what we're up to along the way. Not to mention, sci-fi conventions wouldn't exist without you. You built this world but you've only seen one half of it. You know the carnival, let us introduce you to the carnies.

I would like to direct your attention to the giant wall of rewards to the right with dollar amounts attached. The rewards are great, but more than that, every dollar you spend goes to creating the world of Con Man.
Want examples? $5? You just bought some sharpies for signing. $10? You bought fruit for the fruit basket that gets stolen from Wray in episode 2. $100? You just bought the furry costume head of a Vardak Warrior worn by  Nigel Thrice, the "second best motion capture artist." $1000? You just rented Nathan's character some skis and bought the fake snow that will stick to his wavy locks.
If you can't support us with dollars then your enthusiasm and support is equally valuable - tweet, Facebook, tumblr, Linkedin, Mypace, Friendster, and ICQ the project as much as you can. Don't be afraid to use morse code or smoke signals. Talk about it with friends and associates at work, comic shops, dog parks, and all secret or not-so-secret gatherings. Spreading the word about the campaign is just as important! We're so thankful for any support you can offer during our campaign.

The number may seem like a lot for initial three episodes, but the production costs are high and the series is demanding. This isn't a living room sitcom; we need to put on a fake convention. Or two. We also need to build a spaceship. It's a big cast and our friends from the sci-fi community will be joining us. That means at LEAST paying SAG minimums or they wouldn't be allowed to show.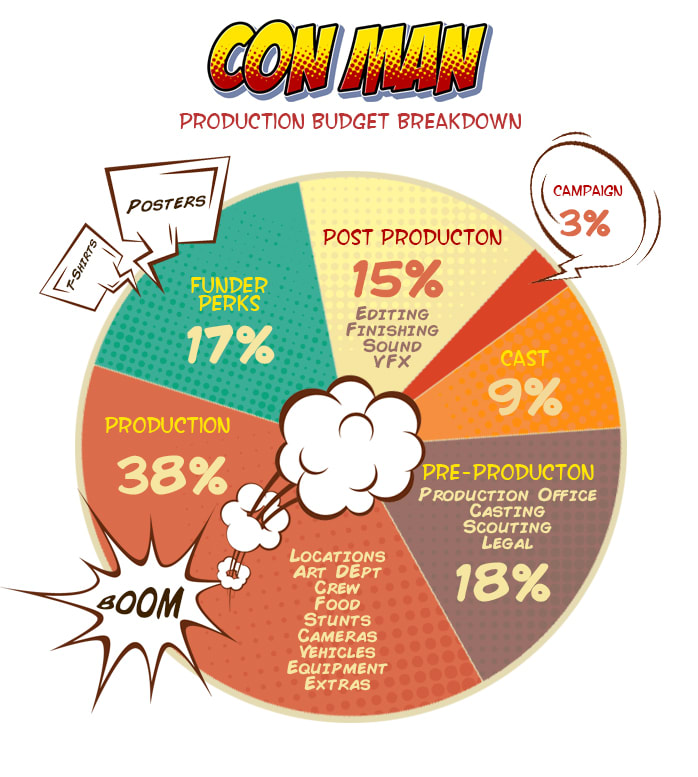 Rewards! Loot! Plunder! Booty! Treasure! I should probably tell you about them as we've teamed up with some amazing people who also love the idea of Con Man. In their amazingness they are helping bring Con Man and exclusive offers to you our amazing fans who are likely to be amazed.
Instead of just a standard backer blog where we post updates and a few still photos, we've teamed up with HANG W/ to provide live (and archived) on-set and behind the scenes content to applicable backers. Some contributors will even get to sit in on exclusive or private Hang W/ times with myself or Nathan.

Hang w/ allows myself and Nathan, producer PJ Haarsma, and the cast and crew of Con Man to share exclusive behind the scenes experiences - LIVE from our phones to yours! You even get to chat LIVE with us right through the app. We'll also archive these so you can catch up an anything you missed! 
While doing blog posts are great, we really love the idea of being able to share stuff on a schedule or off the cuff with fans, rather than waiting till something has happened and typing up a post and editing photos. 
You can get started now - download the app to your iPhone, iPad or Android Device and follow AlanTudyk, NathanFillion, PJHaarsma and ConMan.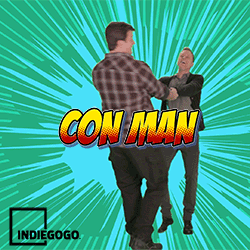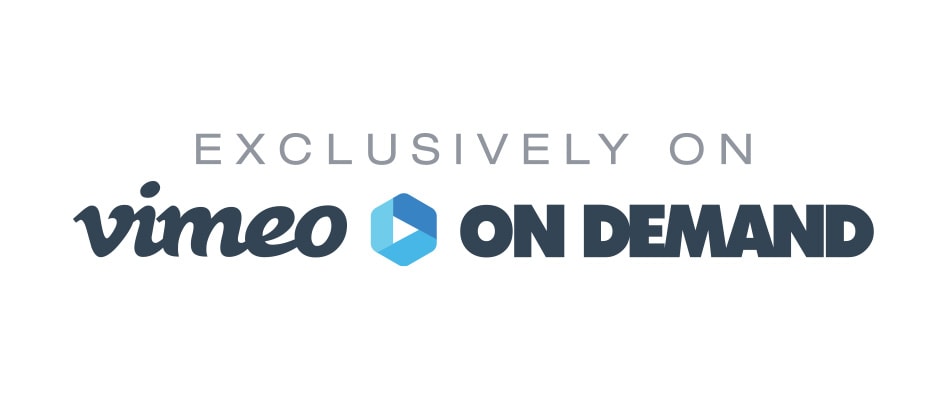 Secondly - Thanks to Indiegogo's partnership with Vimeo, we're able to offer the episodes in hi-def streaming to funders who pledge $25+! Not only will you get early access to the episodes before the public, you'll also get to stream them as much as you want for 90 Days. The series will feature English Closed Captioning and subtitles in additional languages as voted on by you, the funders!That's all the episodes, whether we produce 3 episodes or 3,000*!
*=Or Twelve.
As for the physical rewards, we've got a mix of Con Man and SPECTRUM rewards. Spectrum is the space show within-the-show. We have some one time posters and  memorabilia that won't be available outside the campaign. Some of them are even signed by Jack Moore and Wray Nerely, whose signatures look surprisingly similar to Nathan's and mine.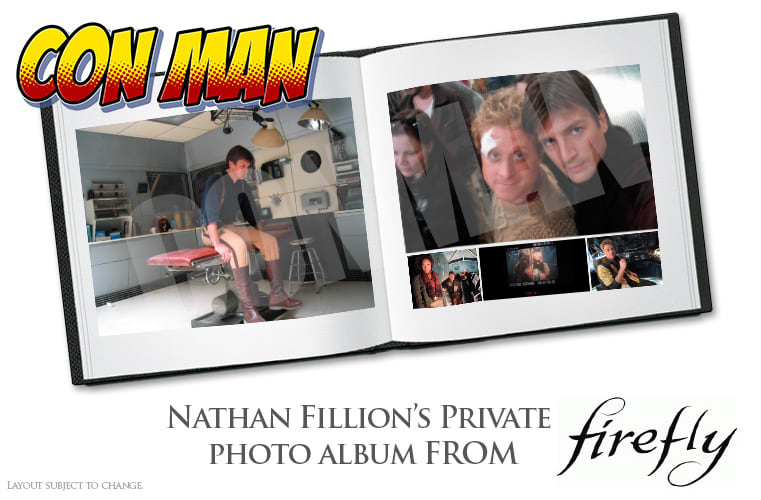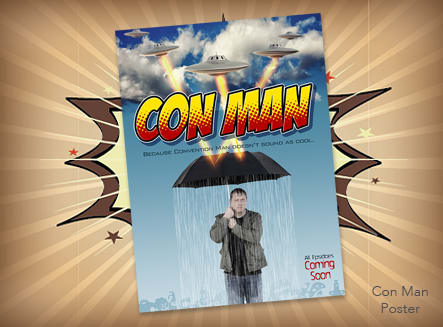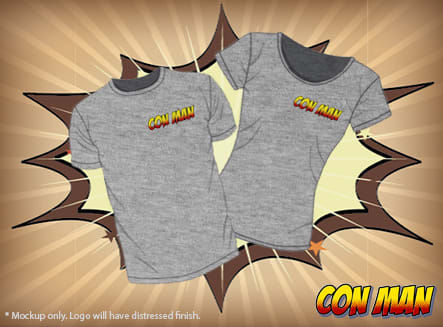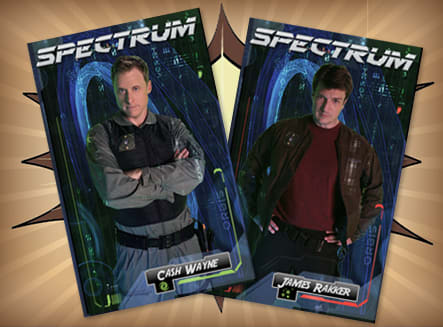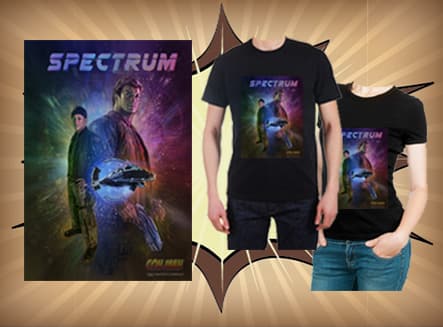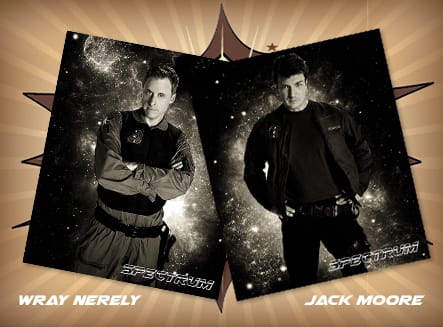 We're excited to make this series, and have a lot planned. But, ultimately Nathan and I just wanted to say thank you. Your support is the inspiration behind this story we want to tell.  Like most things in the convention world, it wouldn't exist without you. Thank you.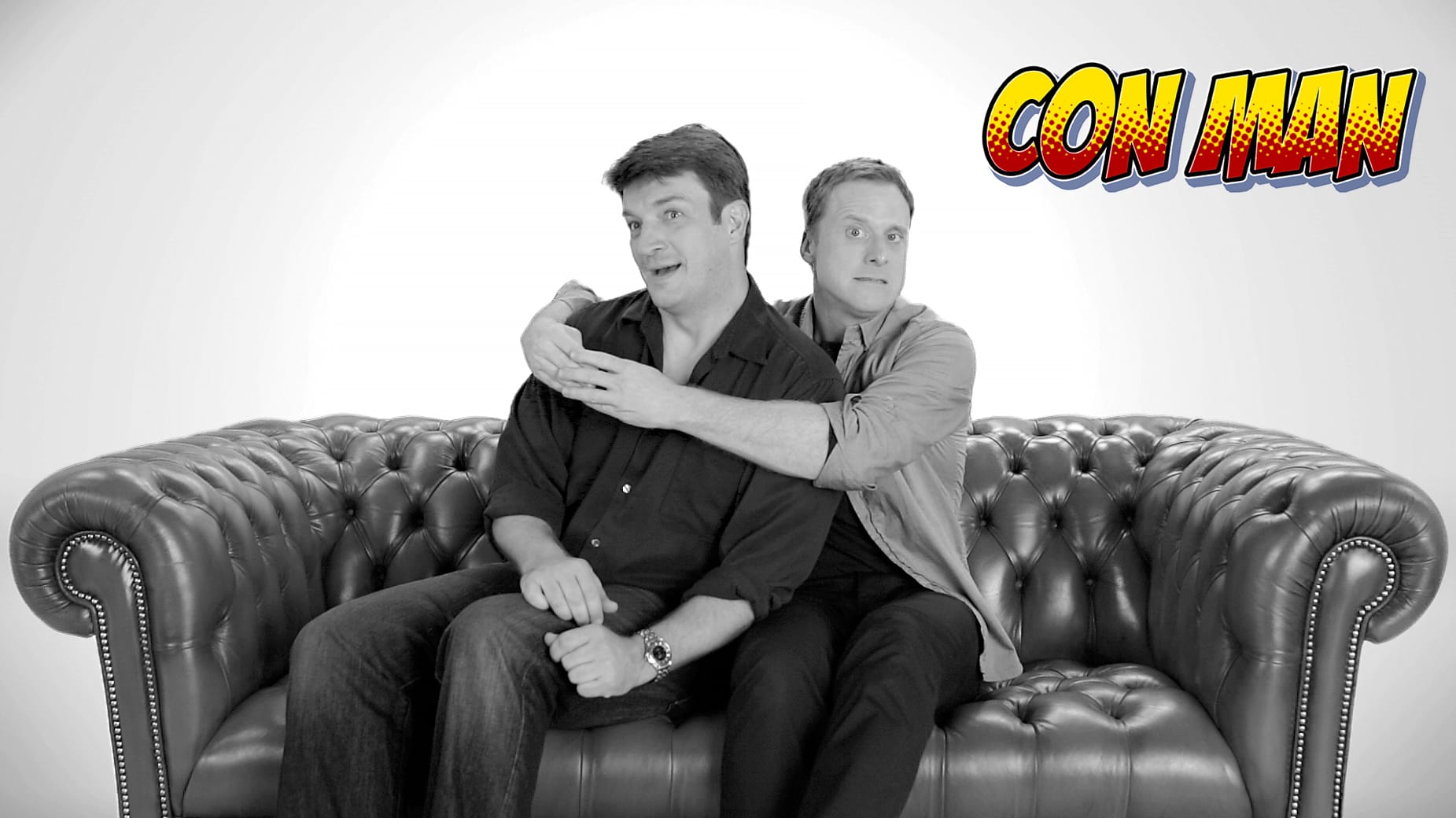 Frequently Asked Questions!
Q:  When do I get my Perk?
A:  Each Perk has an Estimated Delivery month listed in description. You will be notified of any delays.
Q: Can I upgrade to another Perk?
A: Unfortunately, Indiegogo does not have a built in function for this. However, if you do want to upgrade to a higher perk level, we recommend that you simply donate the difference between your original payment and your desired new Perk level. Be sure to contact George Rohac via the contact user button on his profile -https://www.indiegogo.com/individuals/10023076 so we can update your record.
Q: What if I forgot to add shipping for my Canadian or International order?
A: Similar to the procedure for Perk upgrades, we recommend that you make a separate payment to account for the missing shipping charges. Be sure to contact George Rohac via the contact user button on his profile so we can update your record. For US Funders no additional amount is needed, we factored that into the base perk amount. 
Q: I don't see the update on my Indiegogo contribution profile after you confirmed my upgrade?
A: Unfortunately Indiegogo doesn't allow us to update information for you or us, we're tracking this separately and will make sure you get your proper perks and items, thanks!
Q:  Will any Perks go out before the Campaign is completed?
A:  Only the Hang W/ Con Man Private access codes.
Q:  Speaking of Hang W/ Con Man Private access codes I haven't gotten mine yet!
A:  Hang W/ has had such an overwhelming response with the Con Man Fans that they are feverishly working to get them all emailed out.  Do check your Spam, and if not there then email Hang W/ and request your access code at:  Feedback@hangwith.com
Q:  Who gets Hang W/ access codes?
A:  Any Funder @ $15 and up get private Con Man Hang W/ access & $250 and up for private Hang W/ Alan and/or Nathan.
Q:  How do I tell you what T-Shirt size I need?
A:  When the campaign comes to an end we will send you an email inquiring of the cut & size you want that you can reply to.
Q:  What are you guys going to do with all this money?
A:  There is a pie chart on the main page that illustrates where the dollars are divided into. And, each Stretch Goal past the original goal ($425,000 = 3 Episodes) adds another Episode.
Q: When is the series taping, I want to know if I can be a headliner?
The series is taping over the majority of this June in the Los Angeles, CA area. We want to make clear to everyone contributing to be a background character that you will be required to sign a waiver to be a background character in the series. That sounds weird, but we have to follow the law and do it for insurance purposes and to even be legally allowed to show it anywhere. We couldn't put you in it if you don't sign off! You'll get these forms the day you visit the set.
Q: Are there any considerations I need to know about for the Mogul tier?
Yes, for that perk in particular you must agree to the following terms:
It is valid for YOU + 1. 
It will be somewhere in Los Angeles, CA. 
The event will be in a public group setting.
To be scheduled at a mutually agreed upon date.
A meal is part of the event.
The meal cost is included.
Alcoholic beverages are included.
Gratuity is included.
You may take photos.
You can bring something small to be signed.
The signed item should not be resold or re-auctioned.
Travel and accommodations are included.
We expect all winning bidders and their guests to conduct themselves appropriately when attending an experience. Polite manners and respect for the generous donor and adherence to any rules or parameters are a must. Any behavior deemed inappropriate by celebrity, or representative, warrants immediate dismissal from said event.
DVD/Blu-ray Specific FAQs
Q: Will the discs be region locked?
A: No! We're going to make them region free so you can play them no matter where you are. 
Q: I got the Volunteer level, can I switch to the AV-Tech? 
A: The AV-TECH perk does NOT include streaming, so if you really want to swap your contribution you can, but it means you will not receive codes to stream the series when it is released online. You will have to wait till you the discs are sent out at the end of the year. If you still want to change contact George Rohac via the "Contact User" button and tell him you want to swap your perk over.
Q: I'm at Super Fan/Talent Wrangler/or Higher how do I get a disc copy?
A: When the campaign closes we'll send out surveys to get information about your perk choices including whether you want a Blu-ray or DVD. At the end of the year we'll send the disc versions out. 
Q: I got a Volunteer perk but I also want a disc what do I do?
A: Just select the AV-TECH perk and contribute OR you can contribute the difference to upgrade to a SUPER FAN perk level and contact George Rohac via the "Contact User" button and tell him you want to upgrade. 
Q: I backed at Bodyguard/Cosplayer but I want to get AV-Tech and I live in Canada/Outside the US, do I have to pay the extra shipping?
A: Yes. Since we're shipping the discs at the end of the year we'll be sending out two shipments, so we need to make sure we can cover shipping costs to get everyone their perks and as much goes into the production of the show as possible. No additional shipping is due at the Super Fan or above perk levels as a thanks for contributing so much to the campaign.