We may have missed our mark on the crowdfunding campaign, but beautiful biology will continue on. Visit us at www.revolutionbio.co to see the latest updates!  
It's a gardener's dream - a unique, beautiful, and personal plant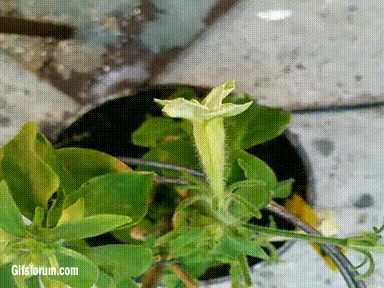 In June last year, did you suddenly realize that your border really needs more red in it? Now you don't need to re-plant, you can just change the color of your flowers! 
This petunia has creamy white blossoms, but when you water it with our special solution flowers turn from white to vibrant red in 24 hours - and then stays red for the life of the flower.  To return to white, just water with regular H20. All of the new flowers will be white. 

Color changing flowers are just the first step in personalized plants. We hope you'll join us in planting a whole new garden. 

Why do you need a color changing flower? 

Why color changing flowers?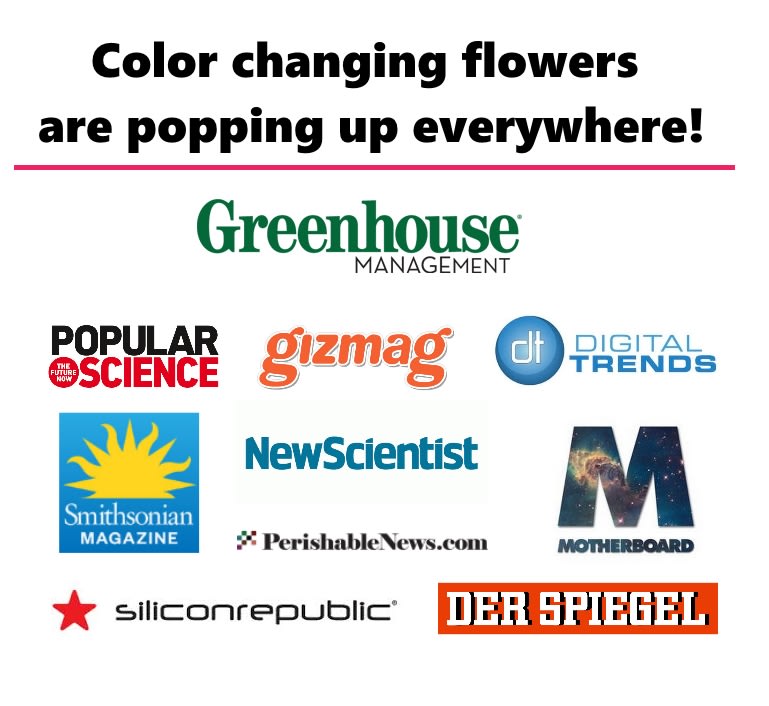 Making flowers change color was artificial, slow, and out of your control. 
For cut flowers, you needed dyes or chemicals, neither of which color the flower fully and completely.  Florists sometimes remedy this with spray paint to get the brilliant hues you see in your average daisy bouquet.   Who wants to smell spray paint? 
The color changing flowers you grow in your garden, hydrangeas for example, change color slowly, and according to a complex network of environmental cues that you might not be able to control. 
We've taken the guessing out of it with the color-changing petunia - just share a beer with the plant and watch it change color in hours!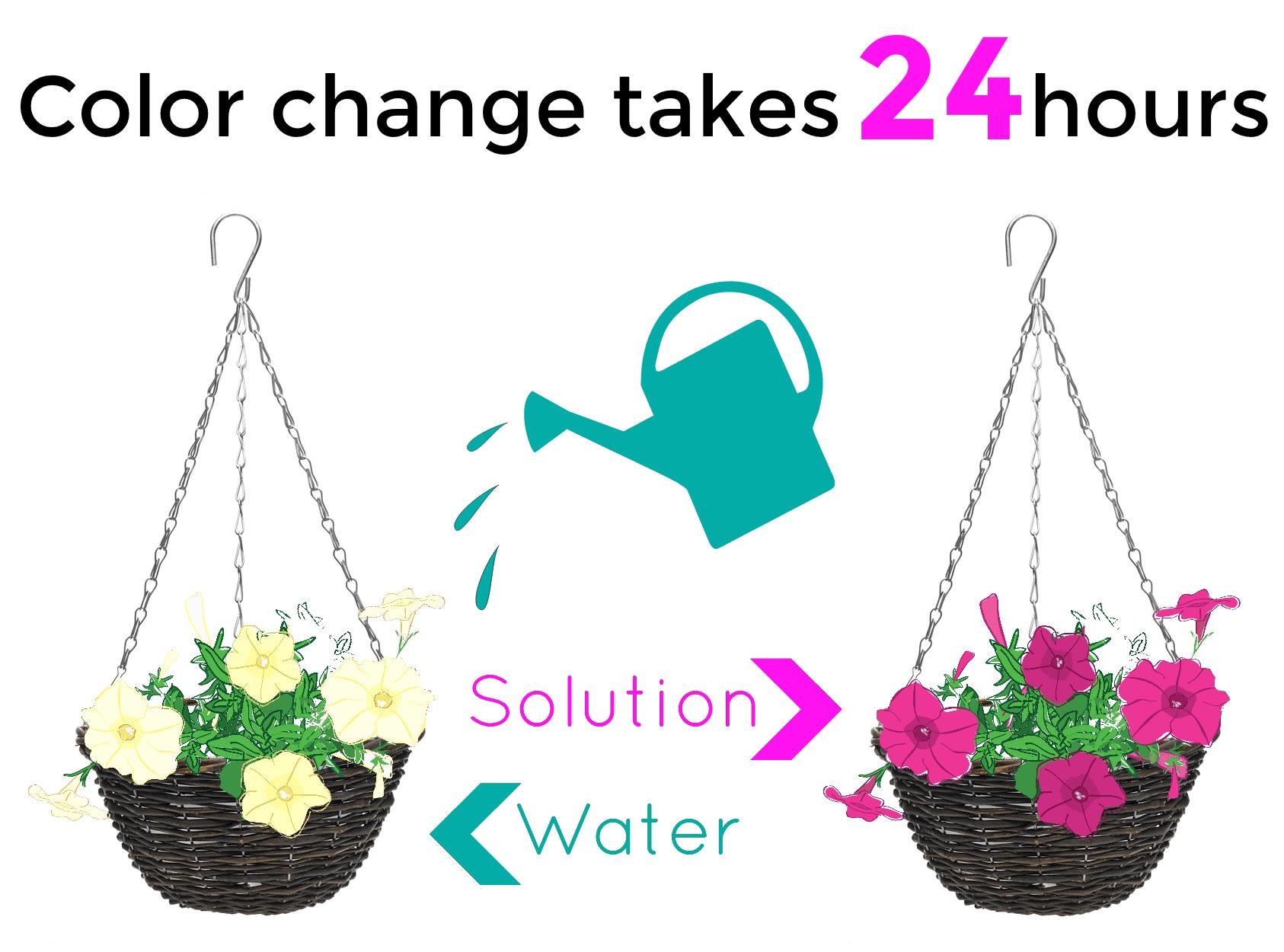 How does it work?
Add ethanol to the soil just once (the other half of the beer you use to catch slugs maybe), and flowers turn a vibrant red.  That's it!
Here's what people are saying: 
"So beautiful, and my kids will think they're magic flowers!"  - Laurie, N.
Your flowers connect science with people through beauty! - Alicia L.
"Excellent. Flowers are beautiful, especially if they change color" - Tom R.  
"Truly beautiful science!" - Heather U.
What do you get?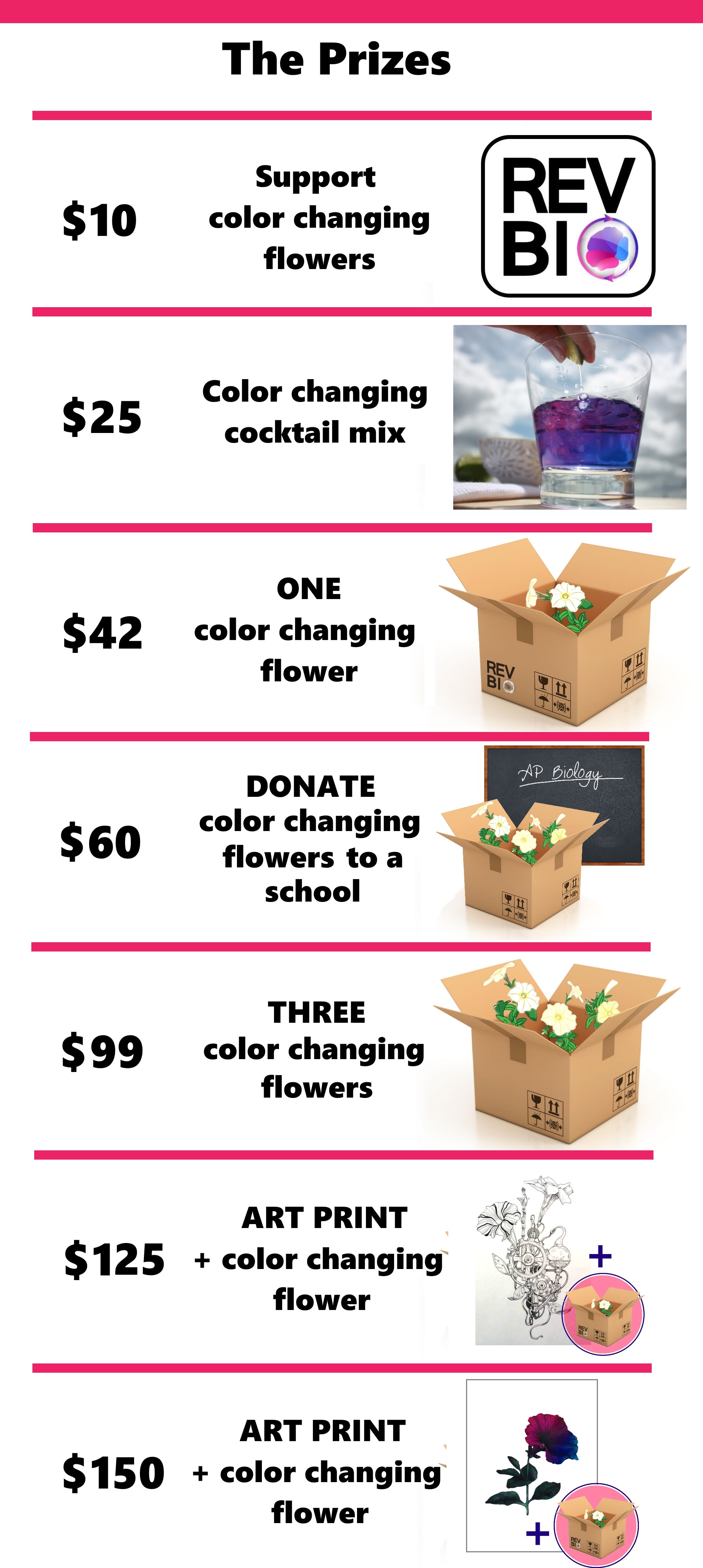 We're Revolution Bio

We are Keira Havens and Nikolai Braun, plant molecular biologists passionate about biotechnology.   One day we decided the time was right to take a daring step outside the comforts of the laboratory and make something beautiful and functional. Learn more at our FAQ!
Science is one big experiment - sometimes it doesn't work.  One risk here is that we'll run into unexpected obstacles and the project will take longer than advertised.
We've done our best to minimize this risk - we're working with a great team, on an appropriate timeline, with a reasonable goal.  We are experienced professionals, and prior to this have years of success making plants that change color.  We have a rock star team assembled to deliver this project, plus, we already  have a functional color-changing flower now. 
We are devoted to using safe biotechnology practices, and preventing the unintended spread of these strains. We will not release a plant unless we know that it is safe-- for people and for the environment. A big part of this, for us, is doing it right. And engaging the public in a conversation about the real risks and rewards or this set of technologies.
Right now, we are able to follow a streamlined regulatory pathway that will allow us to ship these flowers in the USA.  Regulations in other countries are more difficult to navigate, and it may be that regulatory concerns will prevent us from either exhibiting the art installation or distributing these flowers to households outside the USA.  Even though the project is a year and a half from completion, we have already started working with regulatory teams in the USA and the UK.  Global friends, if you'd like to support this project, we encourage you to buy some of the fantastic art available.  
For more on environmental risk assessment, please see our FAQ.
We're excited about building a more beautiful future with you.