---------------------------------------------------------------------------------------------------------------
(ITA) Guarda il video di presentazione del regista Thomas Torelli:
(ENG) Watch this short video presentation from director Thomas Torelli to find out why your support is important for this project:

Scegli l'amore per cambiare il mondo.
Choose Love è un coinvolgente e toccante documentario che esamina le implicazioni ei valori scientifici del perdono così come i benefici per la salute fisica, mentale e spirituale a livello individuale e collettivo. 
Choose Love racconta di un "viaggio" di trasformazione che attraverso la conoscenza e la consapevolezza, porta ad aprirsi alla Vita attraverso un processo alchemico di guarigione.
Nell'empatia, nell'amore e nel significato autentico del perdono sono custoditi i semi di una nuova umanità. Il film vuole raccontare questo percorso, arricchendo l'aspetto filosofico e spirituale con le nuove frontiere scientifiche. Si darà voce alle persone che ce l'hanno fatta ed a quei popoli ancestrali che nel corso della storia hanno saputo, nonostante tutto, per-donare.
Storie vere. Una strada di apertura, di perdono e di amore che percorrendo le vie della verità, abbatte pregiudizi, schieramenti e divisioni. 
Cambiamo noi stessi per cambiare il mondo perché è solo sentendosi forti e radicati, che si può trovare dentro di sé la forza di per-donare. Scegli anche tu, scegli l'amore. 
SOGGETTO
Ogni giorno siamo portati a compiere delle scelte e non sempre le risposte che diamo sono dettate dal nostro profondo sentire. Troppe volte agiamo d'istinto, d'impulso o per conseguenza di complicazioni emotive passate. 
"Smettila di aver ragione" argomenterà Deepak Chopra nel film. Quante guerre, quanti conflitti e quante incomprensioni nel mondo si eviterebbero, se solo le persone si ponessero in reale ascolto? "La Mente è più forte dei geni", con questa affermazione Bruce Lipton apre le porte ad una nuova concezione scientifica dell'uomo. Se fino a qualche anno fa si pensava infatti che fossimo vittime del nostro DNA, oggi si sta sempre più scoprendo che le scelte di tutti i giorni, possono attivare o spegnere determinati geni. Sempre più studi dimostrano quanto la pratica della meditazione o il valore del per-dono ad esempio, siano una forma di prevenzione in grado di rafforzare il sistema immunitario, nervoso e circolatorio.
Filosofia, storia, scienza e spiritualità. Tutto è legato e con il precedente film, Un Altro Mondo, ho voluto portare alla luce i legami nascosti tra tutte le cose e quindi l'importanza di un atteggiamento positivo in grado di generare consapevolezza e cambiamento; insieme a Food ReLOVution, questo nuovo film ne sarà la diretta conseguenza o se vogliamo: il passo successivo. 
Protagonisti del film scienziati, filosofi ma anche persone "comuni" che sono riuscite ad andare oltre; "guerrieri della luce" che sono riusciti a superare episodi drammatici scegliendo nonostante le difficoltà, il per-dono. In Choose Love daremo voce ad una superstite del genocidio in Ruanda, candidata poi al Nobel per la Pace, che durante il processo contro il boia che sterminò la sua famiglia, ebbe la forza di alzarsi in piedi assolvendo i carnefici, dando all'umanità un'indimenticabile lezione sulla forza del perdono. 
Ogni giorno, ognuno di noi si trova davanti alla possibilità di scegliere: scegliere di vendicarsi, di arrabbiarsi, di alimentare l'odio con la violenza oppure, scegliere una strada che va in salita. Una strada apparentemente più difficile, ma fondamentale per realizzare lo scopo per il quale siamo nati: imparare ad Amare.
Film poster, illustrazione di Sandra Equihua
Gli intervistati//////////////
Un ringraziamento speciale a tutti gli stimati professionisti che, con il loro personale contributo, arricchiranno il nostro film. Potete guardare i teaser nella sezione Gallery! Per le biografie complete potete visitare il sito del film.
Interviste già fatte:

Deepak Chopra, Bruce Lipton, Everett Worthington

Phil Walleystack, Nina Webb, Bill Webb

Scarlett Lewis, Elena Bianchi, Yolande Mukagasana
Deepak Chopra, M.D., è uno dei più influenti medici del nostro tempo, oltre che un'autorità internazionale nel campo del Bene-Essere Psico-Fisico, della Spiritualità e della Trasformazione personale. Autore di oltre 80 best-seller con oltre 20 milioni di copie vendute in tutto il mondo e tradotte in ben 43 lingue. Tra i più noti: Le 7 leggi spirituali del successo, La Pace è la Via e il più recente Super Brain. È fondatore della Chopra Foundation e Docente presso note università americane come Columbia University e Harvard Medical School...
Bruce H. Lipton, PhD, è un'autorità internazionalmente rico­nosciuta nell'arte di collegare la scienza con lo spirito, e voce di punta della nuova biologia e l'epigenetica. Biologo cellulare come formazione, Lipton ha insegnato alla Scuola di Medicina dell'Università del Wisconsin, e più tardi ha condotto studi pionieristici alla Stanford University. Autore de La Biologia delle Credenze...
Claudio Pagliara, medico oncologo dal 1982, autore del libro La via della guarigione, consulente tecnico del Tribunale di Brindisi, ospite della trasmissione Report su Rai3, intervistato da Michele Santoro in relazione a casi di tumori dei dipendenti di un petrolchimico e dal TG1 medicina sull'importanza del cervello nella cura e nella prevenzione della malattia...
Everett Worthington Jr, PhD, psicologo e professore di Psicologia presso la Virginia Commonwealth University, è l'autorità principale nel mondo nello studio scientifico del perdono. Everett ha pubblicato 35 libri e circa 400 articoli e capitoli scientifici, soprattutto sui temi del perdono, del matrimonio e della famiglia. È autore di L'arte del perdono pubblicato in Italia da Eco, un saggio divulgativo frutto di oltre un decennio di studi sui modi e tempi con cui si attua il processo del perdono e sui benefici psicologici conseguenti....
Elena Bianchi è laureata in Lettere e Filosofia. Si è avvicinata ad un percorso spirituale a causa del profondo disagio emozionale che ha provato fin da bambina. Da cinque anni accompagna le persone nel loro percorso di consapevolezza e crescita spirituale e tiene seminari sul perdono e sulla riprogrammazione delle credenze inconsce...
Scarlett Lewis, madre di Jesse Lewis, ucciso in classe durante la sparatoria nella Scuola Elementare Sandy Hook in Connecticut (USA) nel dicembre 2012 con altri 19 compagni e 6 adulti, istituisce la fondazione Jesse Lewis Choose Love in onore del figlio con la finalità di diffondere il messaggio di amore, compassione e perdono e per promuovere l'educazione emotiva nelle scuole. Vincitrice dell'International Forgiveness Award, del Live Your Legacy Award e del Common Ground Award...
Yolande Mukagasana, nata nel 1954 in Rwanda, è sopravvisssura al genocidio dei Tutsi del 1994. Yolande perse in quell'occasione il marito e i figli riuscendosi a salvare in maniera miracolosa anche attraverso l'aiuto di una donna Hutu. L'agghiacciante e commovente racconto di quella incredibile storia è reso fedelmente nel libro La morte non mi ha voluta...
Phil Walleystack, Cantautore aborigeno dell'Australia Occidentale.
Bill Webb. È uno dei Wardani Elders della comunità aborigena della zona di Margaret River, Australia Occidentale.
Nina Webb. È una dei Wardani Elders della comunità aborigena della zona di Margaret River, Australia Occidentale.
INTERVISTE DA FARE:
Gherardo Colombo, ex-magistrato, entrato in magistratura nel 1974, svolgendo le funzioni di giudice fino al 1989. Fra il 1989 e il 2005 è stato pubblico ministero presso la Procura di Milano per diventare poi giudice di Cassazione. Nel 2007 lascia la magistratura per dedicarsi instancabilmente alla promozione della cultura della legalità fra i giovani e a tal fine fonda l'Associazione culturale "Sulleregole".  Il suo nome è legato a molte delicate e celebri inchieste che hanno scosso le fondamenta del Paese. Oggi è presidente della casa editrice Garzanti e numerosi sono i libri pubblicati a sua firma.
Daniel Lumera, docente, scrittore, formatore internazionale. Dirige la Fondazione MyLifeDesign ed è presidente della International School of Forgiveness (I.S.F.), un progetto formativo interamente dedicato alla divulgazione di una nuova idea ed esperienza di perdono, inteso in senso laico e universale, per la trasformazione degli individui, delle relazioni, della società e per la risoluzione dei conflitti tra stati, popoli, etnie e religioni. È autore di La Cura del Perdono, una nuova via alla Felicità, del Metodo dei 7 Passi del Perdono© e della Giornata Internazionale del Perdono...
Ivan Nossa. Dopo la laurea Ivan si inventa presto un lavoro avviando una sua società che gestirà per vent'anni con buon successo. La sua passione per la ricerca interiore e per la scrittura lo portano però a 47 anni a cambiare completamente percorso, aprendosi con fiducia alla vita. La vita gli porterà un grande dono, inizia a collaborare con l'autore americano bestseller Joe Vitale da cui apprende i segreti della legge di Attrazione, del potere della mente e l'importanza del nostro percorso interiore. Questa collaborazione lo porterà a partecipare a due bestseller in lingua inglese The Midas Touch e The Prosperity Factor...
Sister Rosemary Nyirumbe, religiosa ugandese che ha una visione chiara del cristianesimo: «La fede è meglio praticarla che predicarla». Rosemary ha dedicato tutte le sue forze per sostenere le vittime delle violenze dell'Lra, in particolare le ragazze sequestrate, brutalizzate e fatte schiave sessuali dei miliziani, le baby soldato cui è stata rubata ogni innocenza, donne rese strumenti di morte nelle foreste d'Africa...
Joe Vitale, – una volta senzatetto e ora ispiratore motivazionale con milioni di fans e lettori – è l'autore, conosciuto in tutto il mondo, di numerosi best seller, con milioni di copie vendute, come The Attractor Factor, Zero Limits, Corso di Risveglio e molti altri. È una delle star del film e del libro di enorme successo The Secret che ha ispirato milioni di persone e di un'altra dozzina di film...
e altri...

Backstage Bruce Lipton interview
Di cosa abbiamo bisogno/////////
Le prime riprese di questo film sono iniziate nel 2016 con l'emozionante incontro con Deepak Chopra. Da lì è cominciato un percorso tuttora in divenire, che ci ha portato ad incontrare persone speciali provenienti da tutto il mondo che hanno condiviso con noi la loro incredibile esperienza. 
Grazie ai nostri precedenti film "Un Altro Mondo" e "Food ReLOVution" la rete di persone che ci seguono e sostengono sta crescendo, ed è grazie a loro che possiamo continuare in maniera indipendente a produrre film che possano risvegliare coscienze, anime e cuori. 
Una nuova avventura sta partendo e abbiamo bisogno di tutti loro, e di te, affinché questo nuovo progetto possa essere completato nel migliore dei modi ed essere quindi, per molti, uno strumento di riflessione e di consapevolezza.
Con questa campagna il nostro obiettivo è di finanziare una parte del film raccogliendo €55.000 euro. Questi fondi saranno fondamentali per completare il film nel 2018 e mantenere l'indipendenza nel linguaggio e nei contenuti.
Il tuo supporto sarà fondamentale per:
Girare le interviste mancanti (

Gherardo Colombo, 

Daniel Lumera, 

Ivan Nossa, 

Sister Rosemary Nyirumbe, 

Joe Vitale e altri)

Girare le riprese di copertura in Africa e negli Stati Uniti;
Montaggio del film
Fare la color correction sul software DaVinci
Fare il Mix Audio e il Sound Design;
Comprare materiale d'archivio;
Sviluppare una colonna sonora originale di alta qualità;
Arricchire il film di grafiche;
Rendere senza confini il film con traduzioni e sottotitoli.
Questi i nostri principali obiettivi per rendere il film un capolavoro. Il nostro sogno è andare oltre a tutto questo perché se saremo così uniti da superare il primo step, passeremo alla fase successiva:
Migliorando la distribuzione, la comunicazione e rafforzando l'area marketing;
rendendo più capillare l'azione di consapevolezza grazie al doppiaggio in Italiano delle interviste in lingua originale (es. Bruce Lipton, Deepak Chopra ecc.);
Partecipando ad importanti festival;
Master e DCP per proiezioni in sala.
Cosa succede se non raggiungeremo l'obiettivo?
Non ci fermeremo perché il nostro motore sono tutte le persone che in quattro anni di proiezioni e cinquecento date, ci hanno dato la soddisfazione di aver iniziato un percorso. Ci adatteremo e continueremo a lavorare. I fondi che riceveremo saranno comunque utilizzati per finire il film nel migliore dei modi e… potrebbe volerci forse un po' più di tempo e la strada potrebbe essere un po' più faticosa, ma non ci fermeremo fino a quando il film non sarà finito e pronto per la visione.

Backstage Deepak Chopra interview
Perché è importante/////////
Arriva un momento nella vita di ognuno in cui espandendo la coscienza ci si trova davanti a delle scelte. Delle scelte importanti e che richiedono una grande forza, ma i cui effetti non hanno limiti di tempo e spazio.  Cosa fare di fronte ad un bivio che ci porta a scegliere tra la facilità del buio e la difficoltà del percorrere la via della luce? Quale strada scegliere?
Come descritto sopra, nel cuore dei popoli ancestrali c'è il seme di una nuova umanità che nonostante i soprusi e le difficoltà, ha inseguito una natura di cooperazione e di pace. La scienza sta sempre più riportando a galla quanto detto migliaia di anni fa ed è solo una questione di tempo; è necessario oggi lasciar andare la rabbia, la violenza e l'odio per fare spazio alla bellezza di cui tutti siamo parte.
Inseguire la Via dell'amore non sarà sempre semplice poiché è necessario scendere nel mondo, conoscere la luce e l'assenza di luce per poi evolvere. Questa scalata potrà forse essere in alcuni momenti difficile, ma fondamentale per comprendere la vita ed il motivo per il quale siamo nati: imparare ad Amare e superare le difficoltà, con il per-dono. Per far questo dobbiamo conoscere e radicarci in noi stessi.
Nelson Mandela, Mahatma Gandhi e molti altri grandi della storia, attraverso infiniti insegnamenti, ci hanno tramandato la saggezza che la propria rivoluzione interiore cambia il mondo - la nostra mente e le nostre azioni plasmano la realtà. Abbattiamo quindi i pregiudizi, rafforziamo l'empatia, la comprensione e l'amore che naturalmente scaturisce dai nostri cuori e diveniamo noi stessi l'esempio.
Bruce Lipton, Deepak Chopra, Joe Vitale, Scarlett Lewis, Daniel Lumera, Claudio Pagliara e molti altri si sono già uniti a noi per rafforzare questo movimento riLOVuzionario che con Un Altro Mondo, nel 2014 ,è stato avviato. Abbiamo ora bisogno del tuo contributo affinché un altro mondo diventi sempre più possibile.
Come ci puoi aiutare ///////
Vogliamo rendere visibile attraverso i nostri film/documentari una realtà non condizionata da interessi economici, distributivi e politici ed è per questo che la produzione e la distribuzione dei nostri progetti avviene in modo indipendente; proprio per questo la raccolta fondi è determinante affinché il progetto si realizzi e sempre più persone possano porsi delle domande, che le porteranno a fare delle scelte.
Potrai aiutarci pre-acquistando il film oppure selezionando uno dei perk che abbiamo preparato per te e per chiunque vorrà essere parte attiva del cambiamento. Dvd, penne, magliette, shopping bag sino ad arrivare ai titoli di coda o di testa.
Che si tratti di €2, € 21, €377 o più, il tuo sostegno sarà per noi essenziale perché oltre ad aiutarci a completare il film nel migliore dei modi, sarà il segno tangibile che questa rivoluzione proviene non solo dal desiderio di una persona o di un gruppo ristretto di "visionari", ma dal cuore e dalle intenzioni di migliaia di persone che, consapevoli del potere delle proprie scelte, decidono di essere parte attiva del cambiamento con i loro strumenti e i loro canali.
Qualsiasi sia il tuo contributo, ti preghiamo di passare parola del nostro progetto. Solo così possiamo arrivare a una rete capillare di persone, necessarie per la giusta riuscita dell'operazione che ci siamo prefissati. Il successo della nostra campagna passa dal tuo aiuto. Per noi sei indispensabile!
Parla di "Choose Love" alla tua famiglia, ai tuoi amici, ai tuoi colleghi, ai tuoi vicini, condividi il nostro lavoro e il nostro impegno via e-mail, usa Twitter, Facebook e tutti i social su cui sei solito andare per pubblicizzare la nostra campagna Indiegogo. Puoi anche cliccare "Mi piace" sulla nostra pagina Facebook e ti terremo informato riguardo gli aggiornamenti del progetto.
Qualsiasi sarà la tua scelta, te ne saremo grati perché siamo sicuri che sarà un dono che arriva dal tuo cuore, e dalla tua voglia di condividere tutto questo con i tuoi amici e conoscenti. Il successo del progetto che tutti insieme stiamo portando avanti passa prima di tutto dal tuo aiuto per cui, sin da ora, grazie.
Unisciti a noi e sii parte del cambiamento. SOSTIENI CHOOSE LOVE. Scegli l'amore per cambiare il mondo.
Grazie!!!!
Thomas Torelli & tutto il team
Chi siamo  //////////////
THOMAS TORELLI / Regia, Soggetto e Sceneggiatura
Thomas Torelli nasce a Roma nel 1975. Dopo il diploma si specializza in fotografia e l'immagine diviene il suo lavoro. Scrive e produce sette documentari, tra cui Zero – Inchiesta sull'11 Settembre, distribuito in tutto il mondo e in concorso nel 2007 al Festival del Cinema di Roma, Sangue e Cemento, curando anche la regia, sul terremoto in Abruzzo: 55.000 copie in dvd e candidatura ai Nastri d'Argento come Miglior Documentario e, nel 2014, Un Altro Mondo, che si acclama subito con grande successo di pubblico e critica. Attualmente lavora, come regista e autore, a Food ReLOVution, un documentario sull'industria della carne....
CREDITS
Grazie di cuore a tutti voi!
"Perk" (premi)////////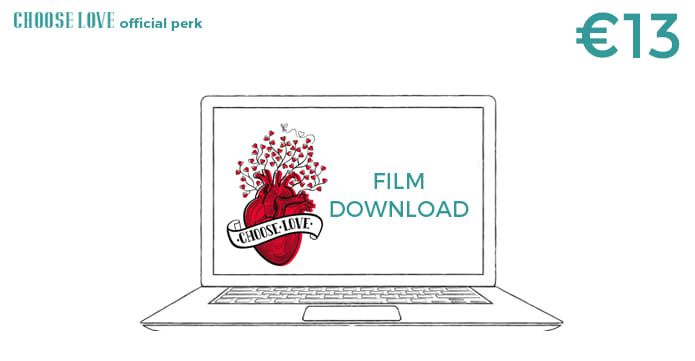 -------------------------------------------------------------------------------------------------------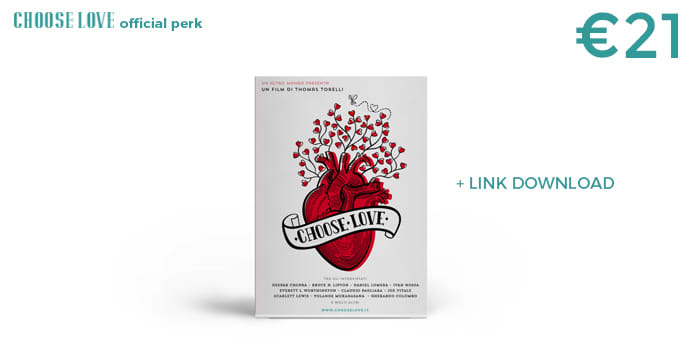 -------------------------------------------------------------------------------------------------------
-------------------------------------------------------------------------------------------------------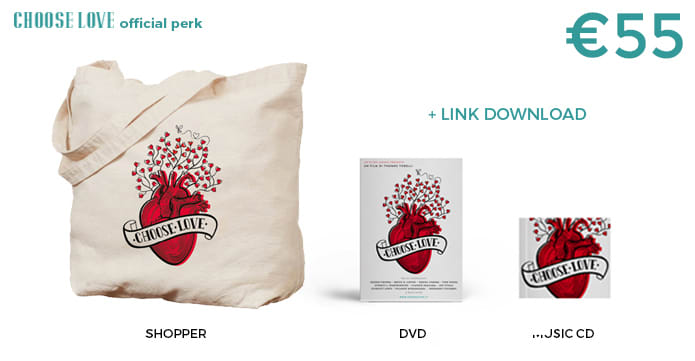 -------------------------------------------------------------------------------------------------------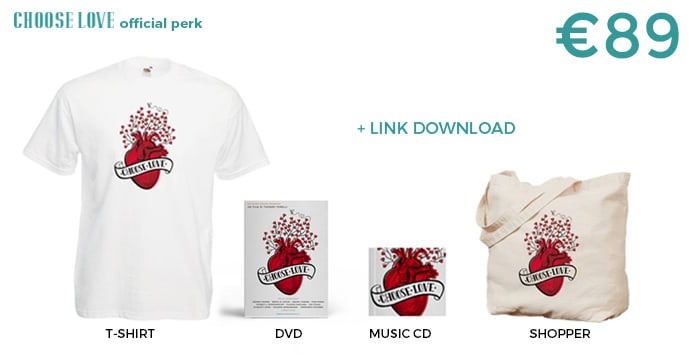 -------------------------------------------------------------------------------------------------------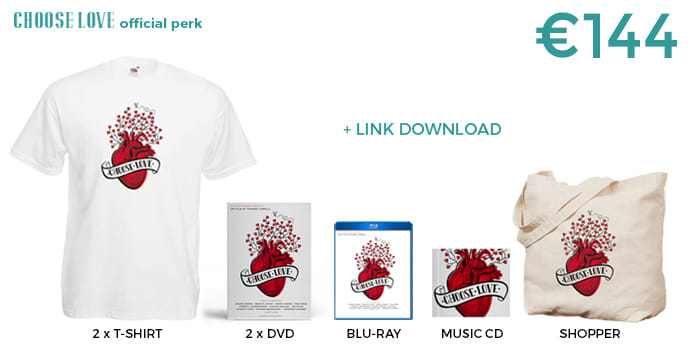 -------------------------------------------------------------------------------------------------------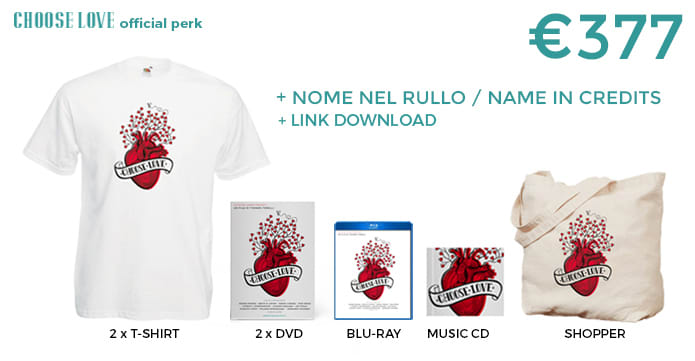 -------------------------------------------------------------------------------------------------------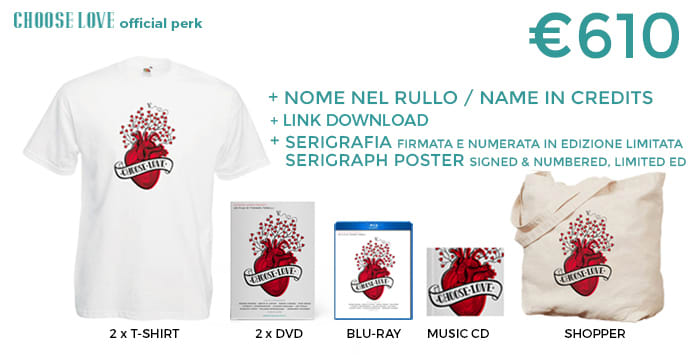 -------------------------------------------------------------------------------------------------------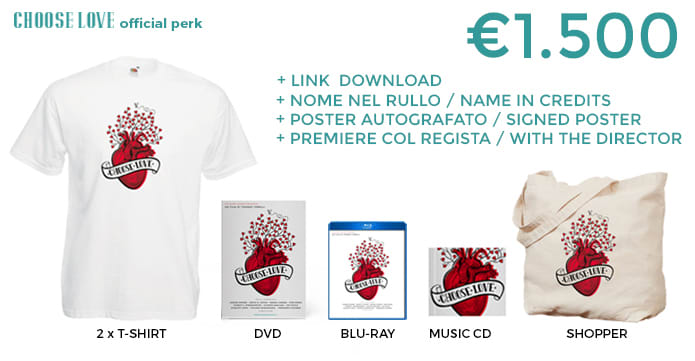 -------------------------------------------------------------------------------------------------------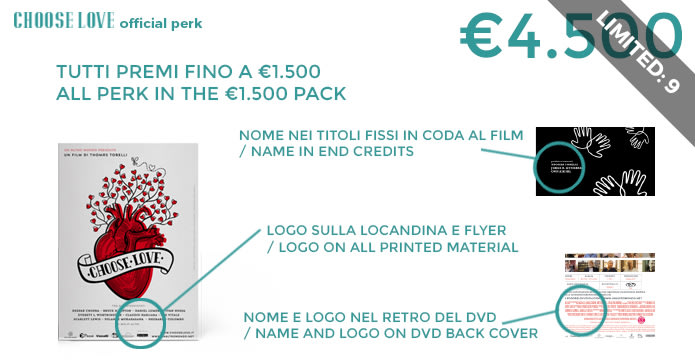 -------------------------------------------------------------------------------------------------------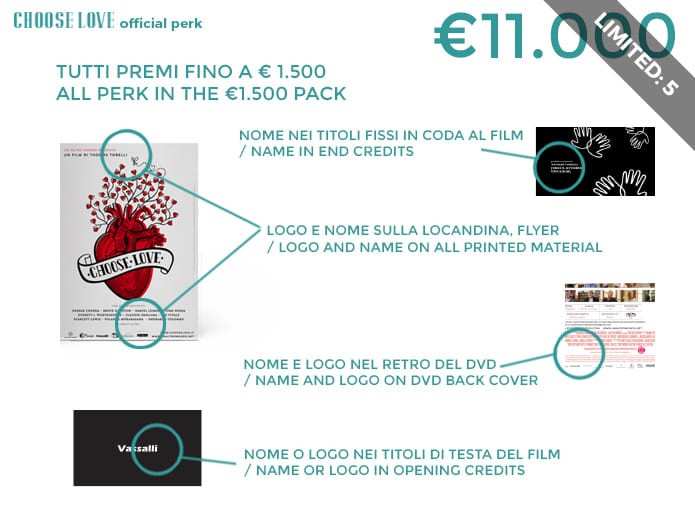 -------------------------------------------------------------------------------------------------------

Choose Love trailer (English)
Poster illustration by the super talented, Emmy and Annie Award winner Sandra Equihua
About the film
- Choose love to change the world -
A compelling and moving documentary that examines the scientific implications and values of forgiveness as well as the physical, mental and spiritual health benefits for individuals, relationships, and societies as a whole.
Choose Love explores many different facets of forgiveness, addressing new scientific findings and raising some important questions. The documentary describes a journey of transformation through a growth in knowledge and awareness. The seeds of a new form of humanity are present in empathy, love and the true character of forgiveness. Choose Love talks about this choice, accompanying the philosophical and spiritual aspects with new scientific insights. It gives voice to people who have made this journey, and tells the stories of people throughout history who, despite everything, have chosen the path of forgiveness, such as the aboriginal people from Australia.
True stories that describe a process of openness, forgiveness and love that breaks down prejudice and divisions. We need to change ourselves to change the world, because it is only by feeling strong and grounded that one can find the power for forgiveness. 
Synopsis
We are asked to make choices every day, and the answers we give are not always governed by our deepest feelings. Too often, we act instinctively or impulsively, or are influenced by past emotional issues. 
"Stop attaching so much weight to being right", argues Deepak Chopra in the film. How many wars, conflicts and misunderstandings in the world could be avoided if only people were really listening? 
Bruce Lipton (who outlines a new understanding of life based on his pioneering research in epigenetics) tells us that the Mind is more powerful than our genes, opening the way to a new scientific concept of man. Until a few years ago we thought we were victims of our DNA, but we are increasingly discovering that everyday choices can trigger or turn off certain genes. More and more studies have shown how the practice of meditation, or the positive impact of committing an act of forgiveness, can help to strengthen the immune, nervous and circulatory systems.
Philosophy, history, science and spirituality: we now know that everything is connected. In my previous film, "Un Altro Mondo" (Another World), I tried to shed light on these hidden ties between all things and to stress the importance of a positive attitude in creating awareness and change. Together with Food ReLOVution, this new film can be seen as a direct successor: representing, if you like, the next phase. 
The participants in the film are scientists and philosophers, but also "ordinary" people who have taken the extra step: Warriors of light who have managed to overcome terrible experiences by choosing forgiveness. In Choose Love, we will hear from a survivor of the Rwandan genocide, who was subsequently nominated for the Nobel Peace Prize. During the trial of her family's executioners, she found the strength to stand up and absolve them, providing humanity with a memorable lesson in the power of forgiveness. 
Each of us has the opportunity to make a choice every day. We can choose to seek revenge, to get angry, to feed hate with violence, or else we can choose the uphill way. This road may seem much harder, but is essential for achieving the purpose for which we were born: learning to Love. 
Interviewees//////////////
Deepak Chopra, M.D, 

FACP, founder of The Chopra Foundation and co-founder of The Chopra Center for Wellbeing, is a world-renowned pioneer in integrative medicine and personal transformation, and is Board Certified in Internal Medicine, Endocrinology and Metabolism.  He is a Fellow of the American College of Physicians, Clinical Professor at UCSD Medical School, Researcher, Neurology and Psychiatry at Massachusetts General Hospital (MGH), and a member of the American Association of Clinical Endocrinologists. The World Post and The Huffington Post global internet survey ranked Chopra #17 influential thinker in the world and #1 in Medicine. Deepak Chopra is the author of more than 85 books translated into over 43 languages, including numerous New York Times bestsellers

Bruce H. Lipton, PhD is an internationally recognized leader in bridging science and spirit. Stem cell biologist, bestselling author of The Biology of Belief and recipient of the 2009 Goi Peace Award, he has been a guest speaker on hundreds of TV and radio shows, as well as keynote presenter for national and international conferences. His research at Stanford University's School of Medicine, between 1987 and 1992, revealed that the environment, operating though the membrane, controlled the behavior and physiology of the cell, turning genes on and off. His discoveries, which ran counter to the established scientific view that life is controlled by the genes, presaged one of today's most important fields of study, the science of epigenetics. Two major scientific publications derived from these studies defined the molecular pathways connecting the mind and body. Many subsequent papers by other researchers have since validated his concepts and ideas.
Claudio Pagliara is an oncologist, general practitioner, researcher and lecturer. As president of ARCA (Association of Support and Research into Cancer) he has visited hundreds of cancer patients at the terminal stage at their home, free of charge. While still a student he published, with Dr. Nicoletta Montanari, the book "Tossicità dei Farmaci" [drug toxicity], edited by CLEUB (University Editor Library Cooperative). Author of numerous scientific publications, he has been a speaker at many conferences and has held several lectures. He was a researcher for the Mario Negri Institute.
Everett Worthington Jr, PhD is a leading researcher on the science of forgiveness. Worthington is a professor of psychology at Virginia Commonwealth University and a clinical psychologist. His research and writing focus on forgiveness and other virtues, religion and spirituality, and issues related to marriage and family. His mission is to help individuals (every heart), couples and families (every home), and even communities and countries (every homeland) forgive. He's the author of the book The New Science of Forgiveness.

Elena Bianchi

 

is a powerful voice in raising awareness about violence against women. A victim of abuse herself, Elena has transformed her suffering into inner strength by practicing compassion and forgiveness. This healing transformation has allowed her to now dedicate her life to help other women through seminars and talks

Scarlett Lewis is the mother of Jesse Lewis who was killed in his first grade classroom during the tragedy at Sandy Hook Elementary School on December 14, 2012 along with 19 classmates and 6 teachers and administrators in one of the worst school shootings in US history. She founded of The Jesse Lewis Choose Love Foundation in honor of Jesse and to spread a message he left on their kitchen chalkboard shortly before he died, Nurturing Healing Love, the formula for choosing love, and to promote social and emotional education in schools as well as a consistent message of compassion in our communities.
Yolande Mukagasana, Candidate for the Nobel Peace Prize 2010. She was a Tutsi nurse and anaesthetist working at a hospital in Kigali. She fled to Belgium during the Rwandan Genocide; her husband, her children and many of the people she knew were killed. In Belgium, her qualifications were not recognized so she worked in a senior's residence. She later adopted some of her nieces whose parents had been killed and other Rwandan orphans.
Phil Walleystack, Phil is a singer/songwriter inspired by the Noongar culture. He takes traditional sounds of the didgeridoo, boomerangs and tapping sticks and blends them with contemporary instruments like the cello, guitar and drums. By bringing Aboriginal and non-Aboriginal culture together, Phillip is motivated to create understanding and education though music and entertainment.
Bill Webb, Australian Aboriginal elder
Nina Webb, , Australian Aboriginal elder
To do:
Gherardo Colombo is an Italian former magistrate and judge specialized in political corruption cases. He was a member of the Court of Cassation between 2005 and 2007. 

In 2007 he left the magistrate to dedicate himself to the promotion of the culture of legality amongst young people through his "Sulleregole" Foundation. Since then he has written many books about legality, the criminal justice sytem, education, forgiveness and compassion.

Daniel Lumera teacher, international trainer, writer and lecturer.At the present he directs the MyLifeDesign Foundation and he is the President of the International School of Forgiveness (I.S.F.). His experience and his researches gave birth to the "Life Design" model, the aware design of one's own life, a training path which became systematic thanks to the work of a ten-year research team and thanks to the cooperation with universities, research entities of the National Healthcare Institute, with Guni UNESCO and the Club UNESCO for the Protection of Intangible Heritage . In 2013 he was the only Italian researcher chosen to publish in the World Higher Education report of the Global University Network for Innovation of UNESCO.

Ivan Nossa After 

giving up his business of many years he decoded to follow his dream of becoming an author. 

Life brought him a wonderful gift. He began to work with the best-selling American writer, Joe Vitale, from whom he learnt the secrets of the Law of Attraction, the power of the mind, and the importance of our inner journey.

This collaboration led to the publication of two best-selling books in English:

The Midas Touch

and

The Prosperity Factor

. After this wonderful beginning Ivan has 

successfully authored several more books including Il Potere e la Magia della Gratitudine (The Power and Magic of Gratitude) amongst others. He translated and wrote the introduction for the Italian edition of Joe Vitale's book, The Secret Prayer (La Preghiera Segreta).
Sister Rosemary Nyirumbe has dedicated her life to counteracting violence in her native Uganda. Her humanitarian work earned her a spot in TIME Magazine's 2014 "100 Most Influential People" list, and in 2007 she was named a CNN Hero.  

Sister Nyirumbe has spearheaded the Saint Monica Girls' Tailoring Center for nearly 15 years, offering shelter to thousands of women who come to learn tailoring, catering and other valuable professional skills. According to Pros for Africa, a development partner of Saint Monica, many of the girls who find their ways to the center have suffered abduction, rape and torture. 

Nyirumbe funds the school in part by selling bags the women make out of soda tabs. A 2013 documentary narrated by Forest Whitaker, 'Sewing Hope', tells the story of Nyirumbe's efforts to rebuild her country after 25 years of war under Joseph Kony and his Lord's Resistance Army (LRA).

Joe Vitale - is the bestselling author of books such as The Attractor Factor, The Key, Zero Limits, Life's Missing Instruction Manual amongst others. Joe Vitale also was a lead contributor to the film 'The Secret'. He is one of today's key figures surrounding the phenomenon of The Law of Attraction.
and others..
What we need //////////////
Work on this film began in 2016 with a fascinating meeting with Deepak Chopra. That was the starting-point of a journey that is still in progress, and which has led us to meet special people from all over the world who have shared their amazing experiences. 
As a result of our previous films, Another World and Food ReLOVution, we have a growing network of followers and supporters, and it is thanks to them that we can continue to produce independent films which aim to re-awaken peoples' hearts, souls and consciences. 
A new adventure is starting, and we need everyone's help to ensure our new project is completed in the best possible way, providing a source of reflection and knowledge for many people.
Our aim in this campaign is to raise €55,000 to fund part of the film project. This money will be crucial to help us complete the film in 2018, and to maintain its independence in terms of language and content.
Your support will enable us to:
Shoot the remaining interviews (Gherardo Colombo, Daniel Lumera, Ivan Nossa, Sister Rosemary Nyirumbe, Joe Vitale and others) 
Shoot coverage footage in Africa and in the USA;
Color correction using DaVinci software
Mix audio and Sound design;
Acquisition of stock and archive material;
An original, high quality soundtrack;
Graphics;
Give the film a global audience by adding translations and subtitles.
These are the things we need to achieve to make our film into a masterpiece. Our dream is to go beyond this, because if we can work together to achieve this first step, we can then proceed to the next phase:
Improving distribution and promotion, as well as the whole area of marketing;
Increasing audience awareness by dubbing interviews in other languages into Italian (e.g. those with Bruce Lipton and Deepak Chopra);
Taking part in important festivals;
Master and DCP for cinema screenings.
What will happen if we don't reach our goal?
We won't stop, because we are inspired by all those people who, in the course of four years and five hundred screenings have given us a reason for continuing this journey. We will adapt and continue to work. In any event, the money we receive will all be used to complete the film in the best way possible, and although it may take rather longer and be more demanding, we won't stop until the film is finished and ready for viewing.
The impact /////////////
The most important work that we have to do as independent documentarists is to make films that have the potential to inspire and empower, bring people together, create a critical mass and become a movement that has the potential to revolutionize the world as we know it.
We have seen how important it is to create a film, to co-create a film that matters, and crowdfunding is the perfect way to allow people who want to be part of something important to be able to do so. After the overwhelmingly positive response to Another World and Food ReLOVution (both partially crowdfunded through Indiegogo) , we are now ready to take another step towards the awakening of consciences with Choose Love. 
It's amazing to see the community of people ready for change grow everyday and see that we really can make a contribution with our work. We feel so proud and happy that we were able to make it happen independently while also protecting the integrity of our projects. Choose Love,  just as Another World and Food Relovution, is a film with an important and powerful message can become more than a film, it can really become an unstoppable movement towards the creation of a better world.
We believe that this film will empower people by reminding us that we have the power to change things if we really want to, starting with ourselves. The film is about forgiveness, empathy, awareness, compassion and above all, about understanding and love. 
We believe that this film will stimulate critical thinking to make the best decisions possible with the potential to make this world a better place.
There is a moment in all our lives when we're faced with important choices and need to open our minds. Such choices require a great effort, but they can also have enormous consequences.  So what should we do when we reach a crossroads, and have to choose between hiding in the darkness and exposing ourselves to the light? Which way should we choose?
As we said, our ancestors can teach us a new kind of humanity: a way to pursue peace and cooperation in the face of abuse and hardship. We must let go of anger, violence and hatred and make room for the beauty of which we are all a part.
Following the way of love will not always be easy because it involves engagement with the world, and recognising the light and absence of light in order to evolve. The way may sometimes be difficult, but it is crucial if we are to understand life and the reason we were born: to learn to Love and to overcome hardship with forgiveness. 
Nelson Mandela, Mahatma Gandhi and many other great historical figures have handed down their wisdom in their teachings: that our inner revolution can change the world, and that we can shape reality with our minds and actions. Let us therefore abandon our prejudices, and strengthen the empathy, understanding and love that naturally flows from our hearts, and so become an example ourselves.
Bruce Lipton, Deepak Chopra, Scarlett Lewis, Daniel Lumera, Claudio Pagliara, Yolande Mukagasana and many others have already joined us to support this revolutionary movement, launched in 2014 with "Another World". We now need your contribution, to help make another world even more possible.
How you can help us /////////
Through our documentaries, we want to show a reality that is not constrained by outside interests, in relation to finance, distribution or politics, and so we produce and distribute our projects quite independently. For this reason, it is crucial to raise funds for our project to be realised, allowing more and more people to ask the questions that enable them to make choices.
You can help us by ordering an advance copy of the film; or by selecting one of the perks/tokens of thanks we have designed for you, and for anyone else who wants to play an active part in the change. They include DVDs, posters, T-shirts and tote bags, and even a mention in the opening or closing credits.
Whether you donate €2, € 21, €377 or more, your support will be vital to us. Because, in addition to helping us complete the film in the best possible way, it will be the tangible sign that the impetus behind this revolution is not just one person, or a small group of "visionaries", but many thousands of people who know the power of choice and have decided to play an active part in the change, spreading the message by every means.
The success of our campaign also depends on getting the word out to as many people as possible. Please consider supporting us by sharing this campaign with your friends, family, colleagues, neighbors, teachers and students via email, Facebook or Twitter , your blog or using the Indiegogo share tools. You can also like us on like us on Facebook, we will keep you informed on the campaign as it progresses.
However you choose to help us, we will be grateful, because we are sure your gift will come from the heart and reflect your desire to share all this with those around you. Making a success of our joint project relies greatly on your help, so thank you in advance for whatever you can do.
Join us and become part of the change. Choose love to change the world.
Thank you!!!!
About Us /////////
THOMAS TORELLI / Director & Writer
Director and writer Thomas Torelli is a Rome-based filmmaker. Early work included editing and executive production. His critically acclaimed and award-winning feature documentary  ZERO: An Investigation into 9/11,  premiered at the 2007 Rome Film Festival and was distributed worldwide. He has produced and authored 7 documentaries, including Sangue e Cemento, which he also directed, about the Abruzzo earthquake, nominated at the Nastri d'Argento for Best Documentary of the Year. He recently completed Another World which premiered at the 2014 RIFF - Rome Independent Film Festival and the Phoenix Film Festival to wide public and critical acclaim. The film won the "Best Documentary Award" at the Clorofilla Film Festival, the official festival of Legambiente (Italy). It won two awards at the the 27th edition of the Bienal Internacional de Cine Científico - BICC Ronda (Spain): the Public Choice Award "Diploma ASECIC / BICC 2014" and the "ASECIC Guillermo F. Zúñiga Trophy" to the Best Scientific Film. His most recent film Food Relovution was released earlier in 2017 and has just won the "Best Documentary Award" at the Clorofilla Film Festival 2017.
EMILIANO TOSO/ Music Composer
Emiliano Toso, PhD is a music composer and cell biologist who explores the new health perspectives offered by merging epigenetics, spirituality, and music. In 2013 he created the "Translational Music®" project with the support of Dr. Bruce Lipton, with whom he collaborates. Translational Music® now opens the European congresses of Gregg Braden, Neale Donald Walsch e Bruce Lipton. His music is used worldwide in yoga centers, holistic centers and schools, and is used by writers and artists to expand creativity and concentration, by doctors and dentists to lower pain and stress in their patients.
The crew
Written and Directed by / THOMAS TORELLI
Produced by / THOMAS TORELLI - UN ALTRO MONDO
Main Sponsor / VASSALLI
Main Sponsor / KATARZYNA KOZACZYK
Sponsor / DOMUS TUA DI RAFFAELA RIZZA
Sponsor / FILMATRIX
Sponsor / ANNA RITA ZAMBELLI
Editor / ANNALISA SCHILLACI
Director of Photography / FRANCESCO PENNICA
Camera  /  CARMELO CAMILLI
Soundtrack / EMILIANO TOSO
Sound Design / GIULIO DEL PRATO
Post-production / BLUMA LAB - RICCARDO GATTO
Assistant Director / CLAUDIA PALAZZI
Production Assistant / CLAUDIA PALAZZI
Production Assistant / SERENA BOLOGNESI
Art Director e Graphic Designer / GABRIELA RAMIREZ
Comunicazione & Marketing / GABRIELA RAMIREZ
Illustration: SANDRA EQUIHUA
Copywriter / IGOR ARTIBANI
Copywriter / LUCA GONZATTO
Media Partner / TERRA NUOVA EDIZIONI
Media Partner / DOLCE VITA MAGAZINE
Partner / MY LIFE DESIGN FOUNDATION
TO ALL OF YOU, THANK YOU!!!!