Stop Compromising
You spend an average 3-5 hours per day on mobile devices. You love to take your entertainment around with you, but you're not getting the full experience. Sure, your phone has 326 pixels per screen inch, and access to your extensive media library, but it puts limits on how you enjoy your movies and shows. Why can't you have it all; big picture, strong sound, and more?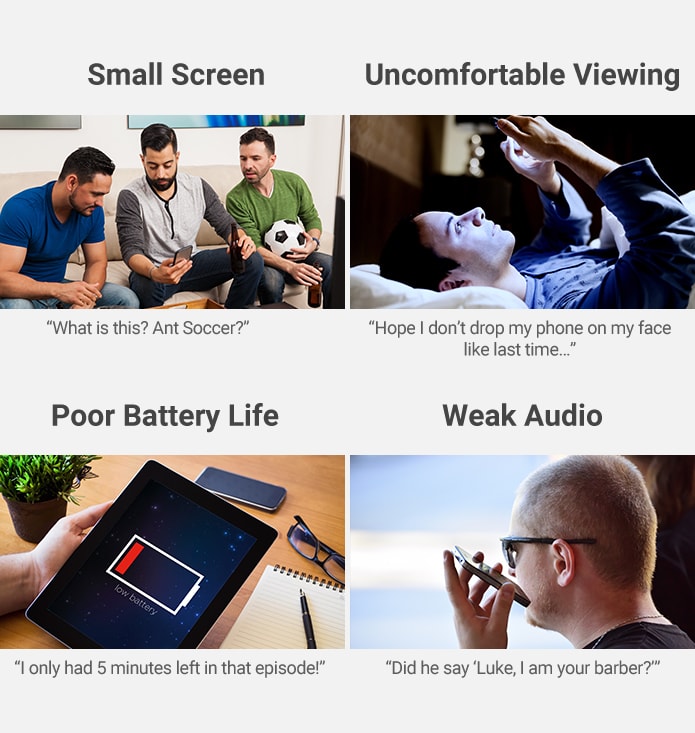 Imagine if you could get a huge screen, booming sound, and all your mobile content from a device that fits in your pocket.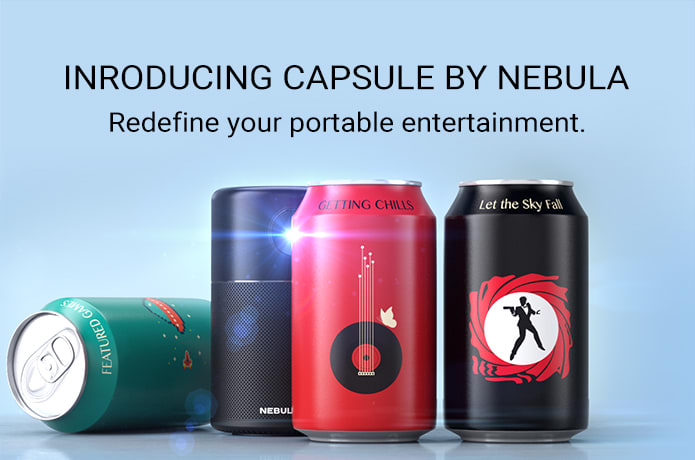 Featured In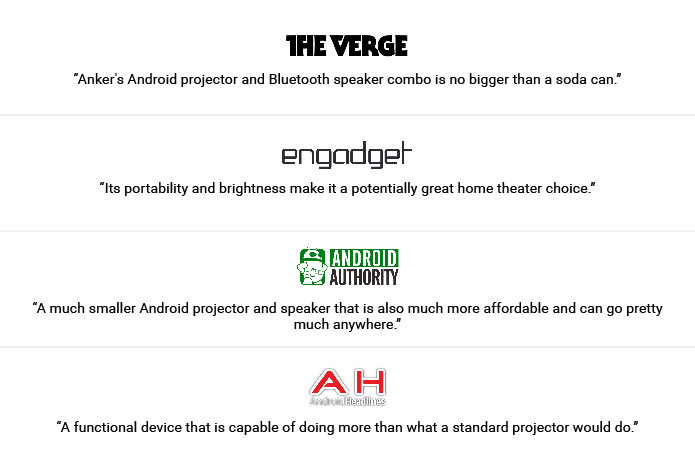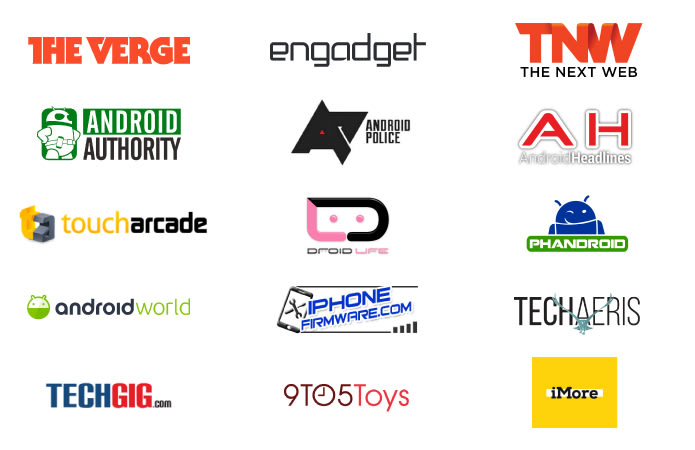 Remarkable Clarity and Contrast
With DLP® IntelliBright™ Technology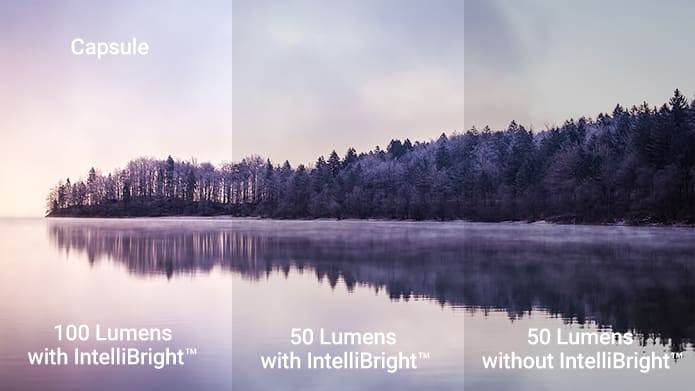 Nebula Capsule is the big screen in your pocket. But it's not just big, it's impressively bright and vivid. Using the most advanced DLP® (Digital Light Processing) technology, IntelliBright™ algorithms adjust brightness and contrast to project a more radiant picture. Turn on the lights without losing the picture.
Enjoy your content in quality you never thought possible in places you never dreamed of.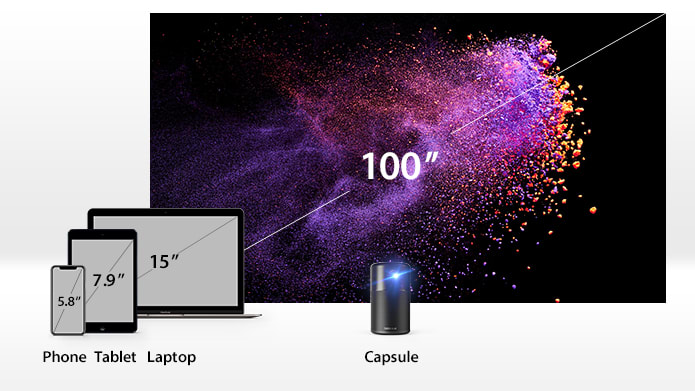 Bigger. Better. Super-Portable
360° Speaker
Heart-Pounding Sound, Wherever You Sit.
Nebula Capsule is the world's first projector equipped with a powerful 360° speaker to pump out sound in every direction.
It utilizes an innovative sound cone design to deliver room-filling sound with enhanced treble and bass. Get audio performance unmatched by any pico projector.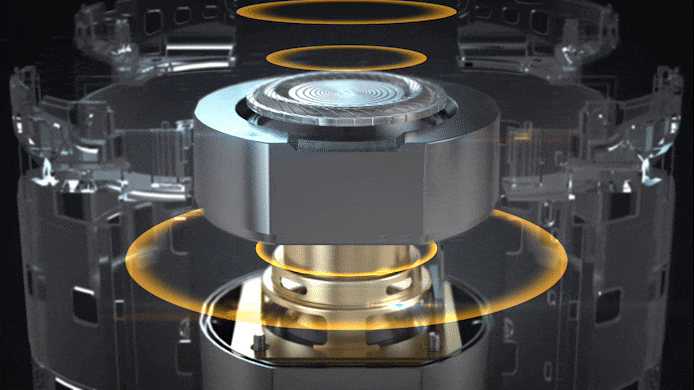 Capsule is outfitted with Bluetooth 4.0 to make it capable of functioning as an independent speaker.  It delivers louder, purer audio from 9,000 holes in its lightweight aluminum grill.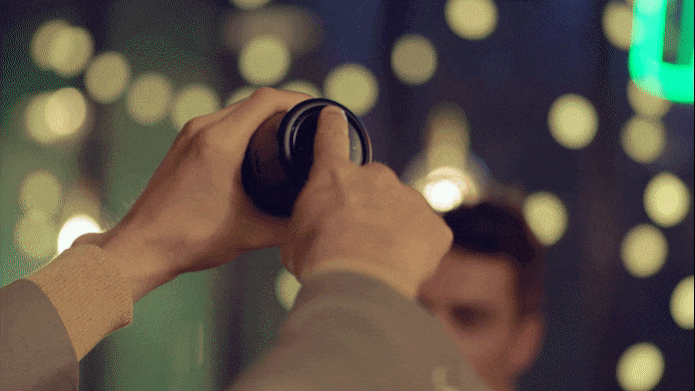 Advanced Power Management
Extended Playtime and Quick Charge Technology
Utilizing Anker's advanced battery technology, Nebula Capsule delivers up to 2.5 hours of continuous video or 40 hours of non-stop music on a single charge. Make sure your tailgating lasts til kickoff, or keep your Halloween party going through witching hour. An advanced chipset reduces power consumption while providing faster charging speeds for unrivaled power performance.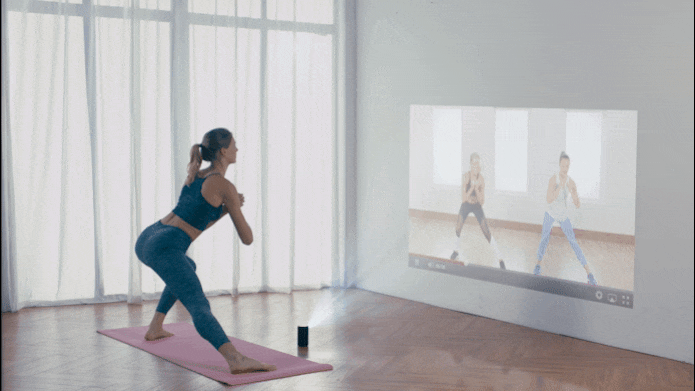 Thanks to Quick Charge technology Capsule recharges faster than it consumes power. Unlike any other pico projector, you can charge and play simultaneously. Plugging into Anker powerbanks makes portable playtime theoretically limitless.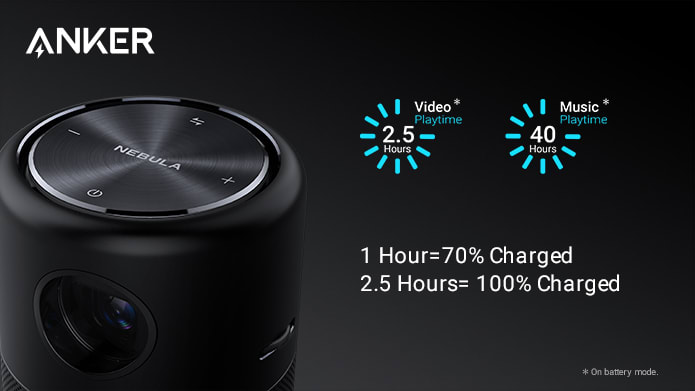 Android 7.0
Run Streaming and Media Apps Flawlessly
Imagine a pocket device that rivals the capabilities of a smart TV. Nebula Capsule does just that. Integrating the most advanced smartphone chipset ever used in a pico projector makes Capsule the smartest projector in the world.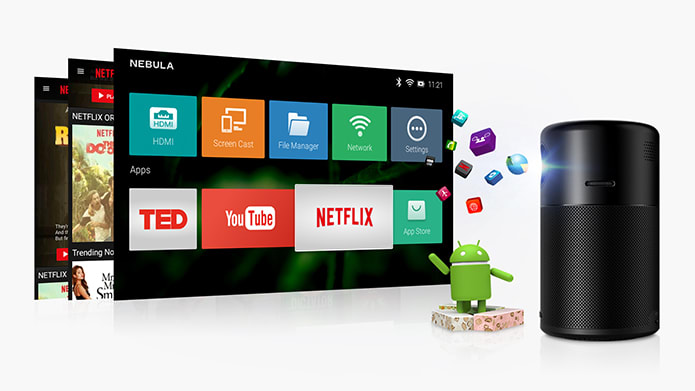 Use built-in Android 7.0 to instantly download any app, then seamlessly display content from your favorite streaming services; like Netflix, Youtube, and more for endless entertainment.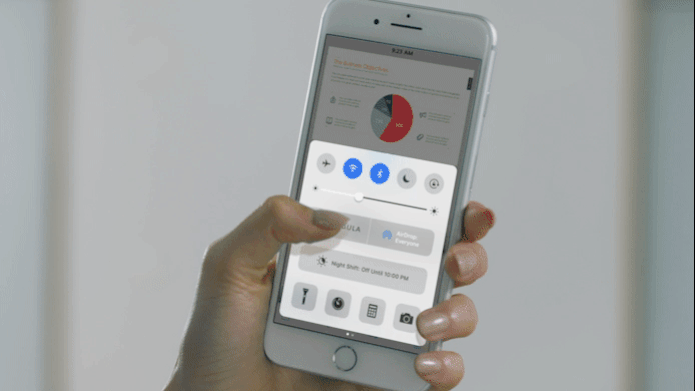 Wirelessly mirror the screen of virtually any mobile device via screencast (support Android/iOS). With incredibly stable Wi-Fi connectivity, HDMI input, and USB OTG, Capsule is able to connect with nearly any device.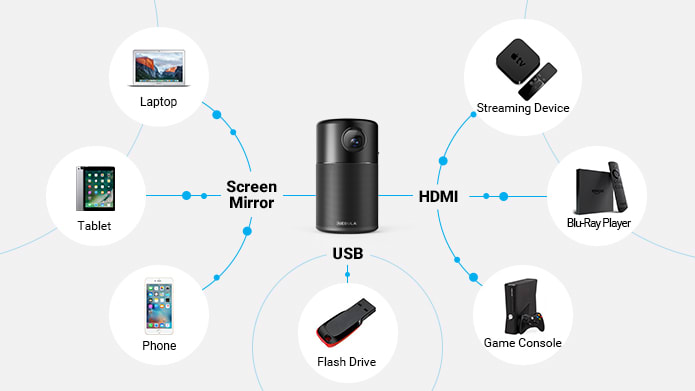 Soda-Can Size
Goes Wherever You Do
With a sleek 14oz design, Nebula Capsule smoothly slides into any bag or large pocket. A seamless aluminum body makes it stronger, lighter, and more durable.
Take it anywhere you go, from the living room, to the bedroom, to the backyard, and beyond!
With Capsule by your side you can immerse in entertainment—absolutely anywhere.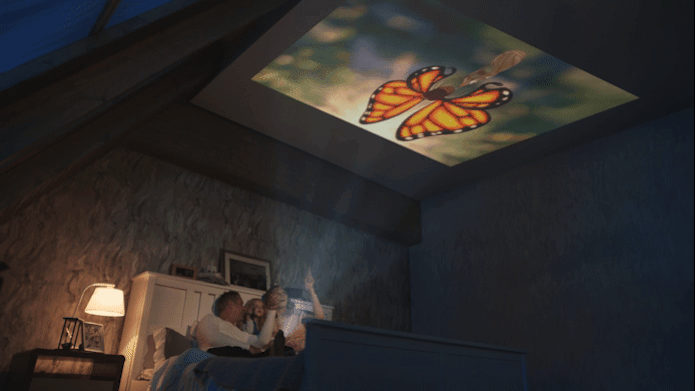 Take Family Movie Night to the Next Level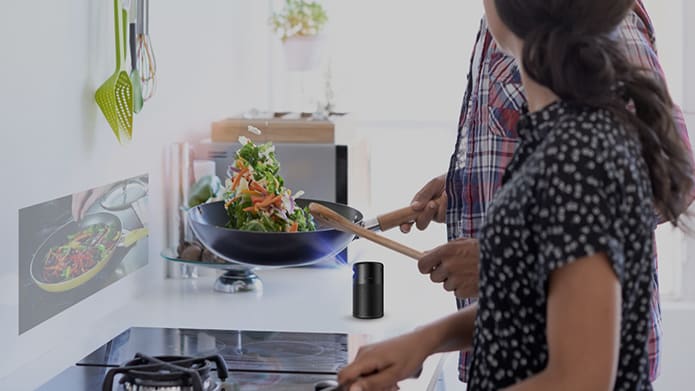 Follow Along Your Favorite Recipes
Make the Great Outdoor Greater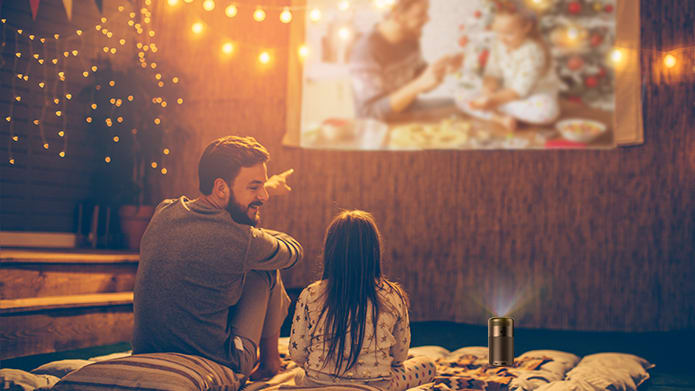 Transform Any Space Into a Theater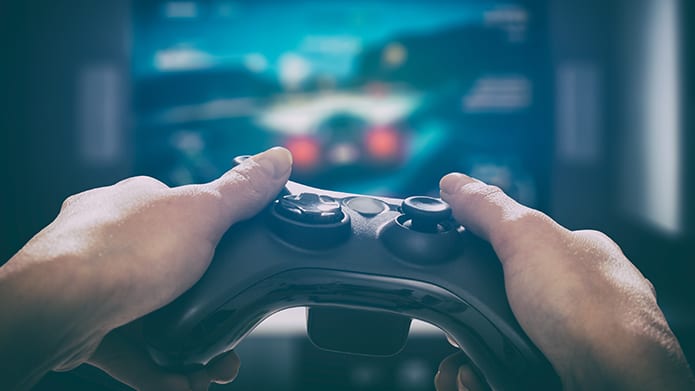 Big Screen Gaming—Anywhere
The Capsule Advantage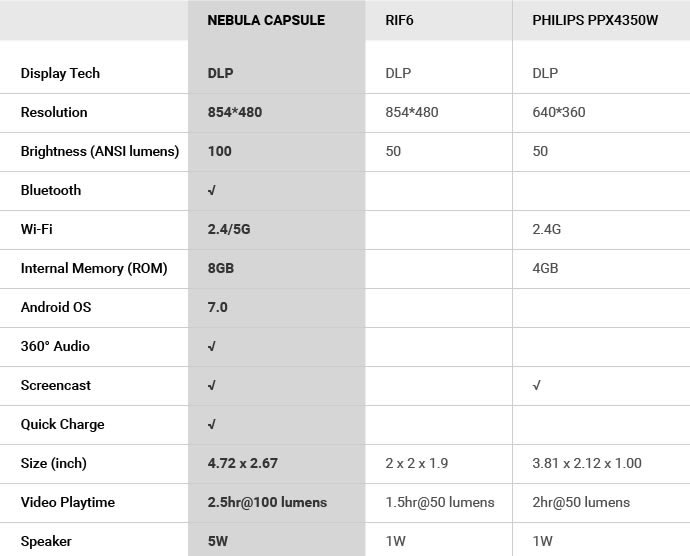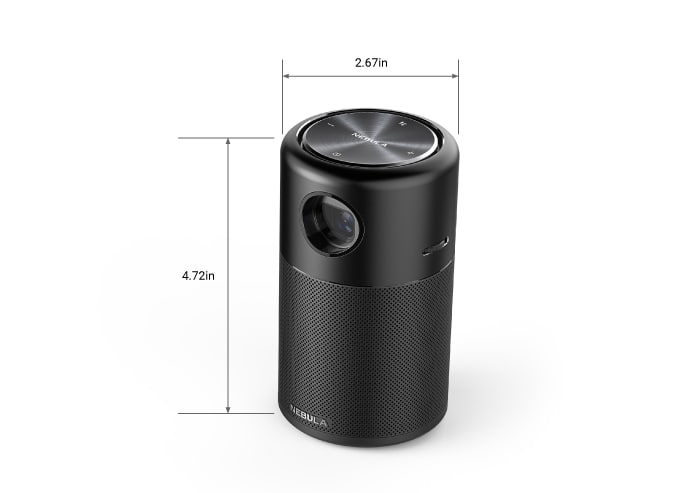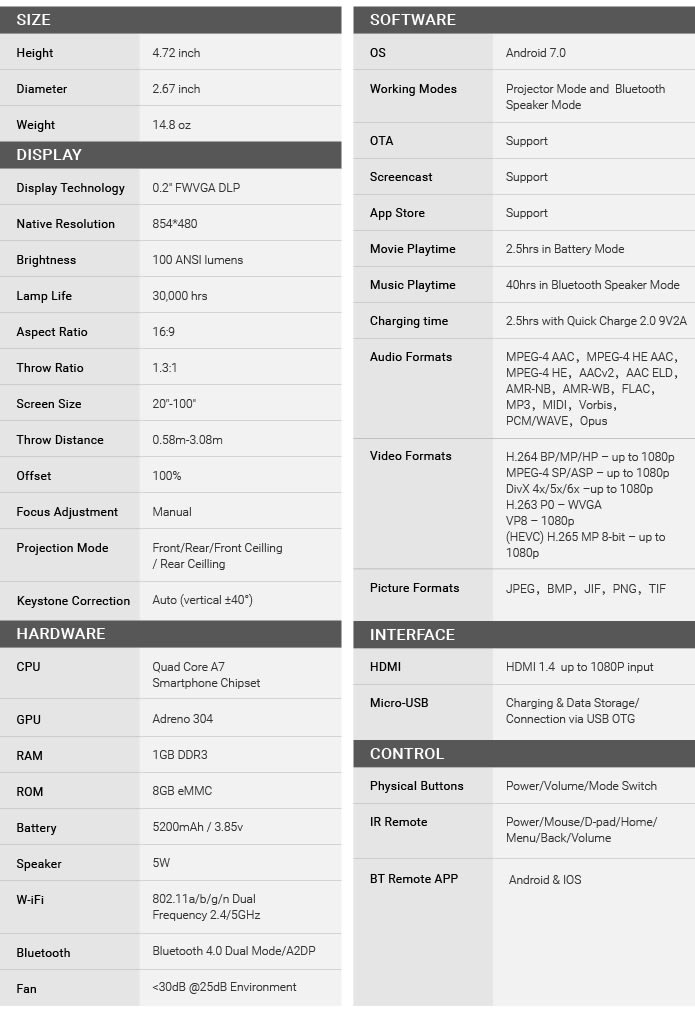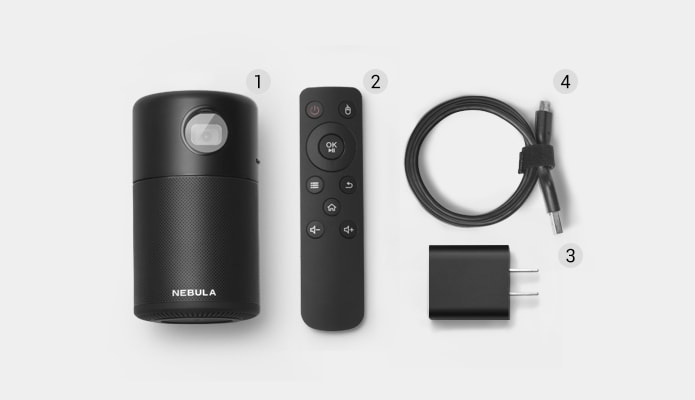 1. Capsule
2. Remote
3. Quick Charge 2.0 Wall Adapter
4. Micro-USB Cable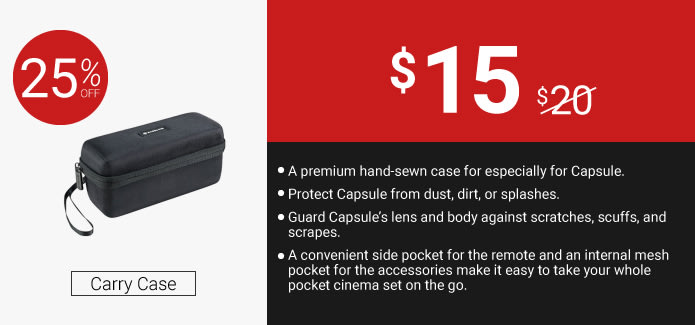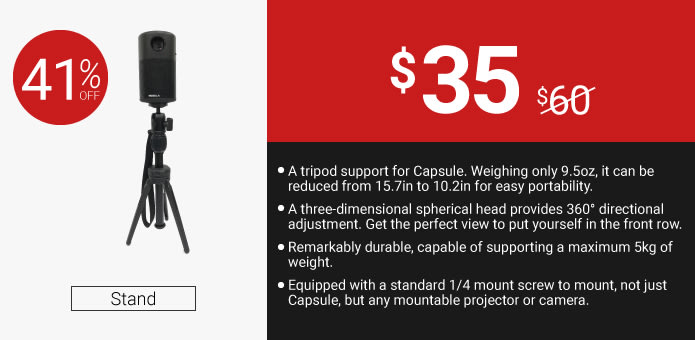 Stretch Goal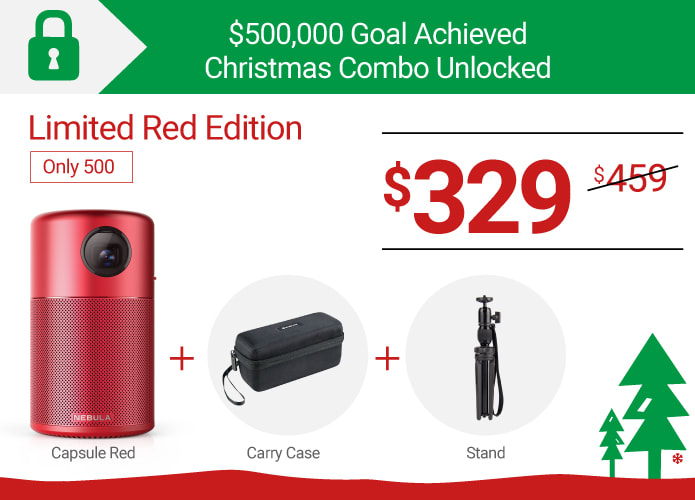 Christmas is coming and if you are still having trouble finding the perfect gift for your family and friends, here's the answer.
Introducing our unlocked stretch goal----Capsule Limited Red Edition.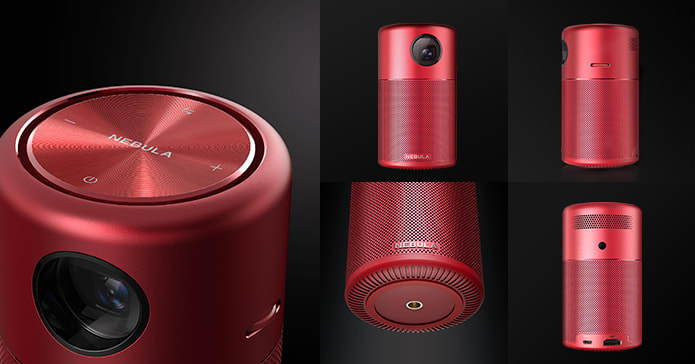 This red Capsule is exclusive to Indiegogo backers. Due to the increased cost for this color option, we are limiting the number to just 500 and will not offer this color through any other channel. Capsule Limited Red Edition has highly commemorative significance for both our team and all Indiegogo backers. We hope Capsule Limited Red Edition brings unforgettable memories to you and your loved ones and makes your new year more special!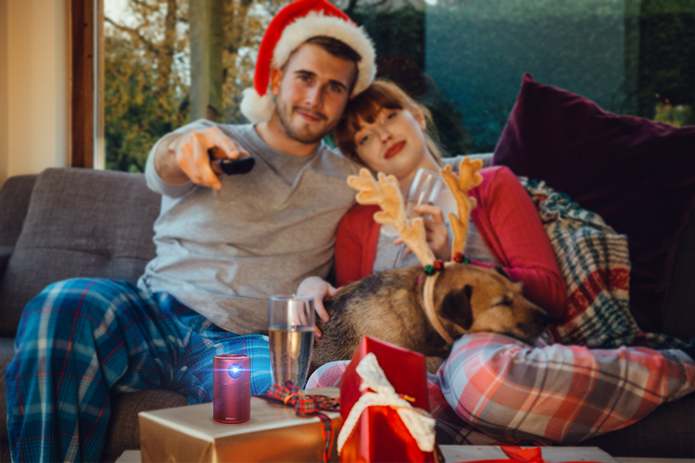 Referral Program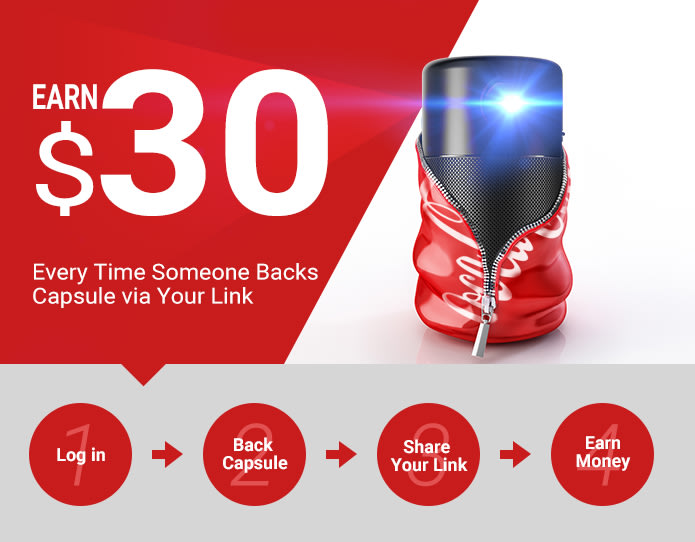 Guidelines
Step 1 - Log in to your Indiegogo account.
Step 2 - Back any of Capsule's perks. If you haven't backed Capsule already, you can do so for $1 via "Back It" and start making money.
Step 3 - Share your unique URL and get your friends to back Capsule.
Step 4 - Get paid after the campaign ends.
For more details, please visit: https://seenebula.com/pages/nebula-referral
Note: The rewards are unlimited. More successful referrals = more money in your pocket. You can only get paid when someone backs the Indiegogo Special, On-the-go Package, or Power Package via your URL. The $30 payment does not apply to the "Thank You," "Stand" or "Case" perks. Referral campaign runs from 10/2-10/31.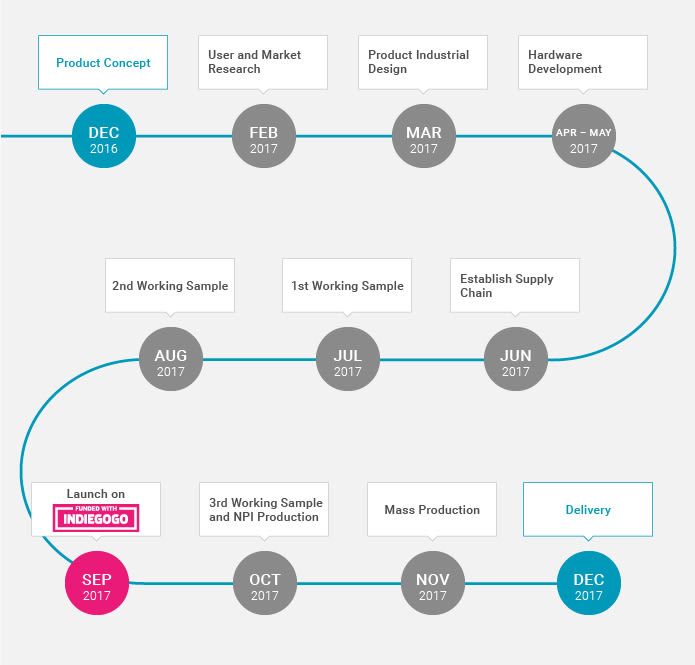 First Working Demo (Jul 2017)
The first working sample was manually assembled in July and we're very excited to share the demo video with you. We have been working to improve the brightness, power, performance, cooling, quiet operation, software, and other aspects ever since. After several rounds of system optimization and validation through testing, we are confident that the latest Nebula Capsule is remarkably easy to use. We've increased brightness by 20% and extended the battery life by 25% for more than 2.5hrs of video playtime. We are excited to get your feedback. Help us make Nebula Capsule better and redefine portable entertainment!

Who Are We?
Incubating with Anker, Nebula is an experienced team of visual engineers and mobile technology innovators that honed their skills working for major players like Apple, Samsung, Huawei, and more. In July 2017 we transformed portable entertainment with Mars. A go-anywhere projector with theater-grade picture and sound. Now we're going smaller and smarter with Capsule.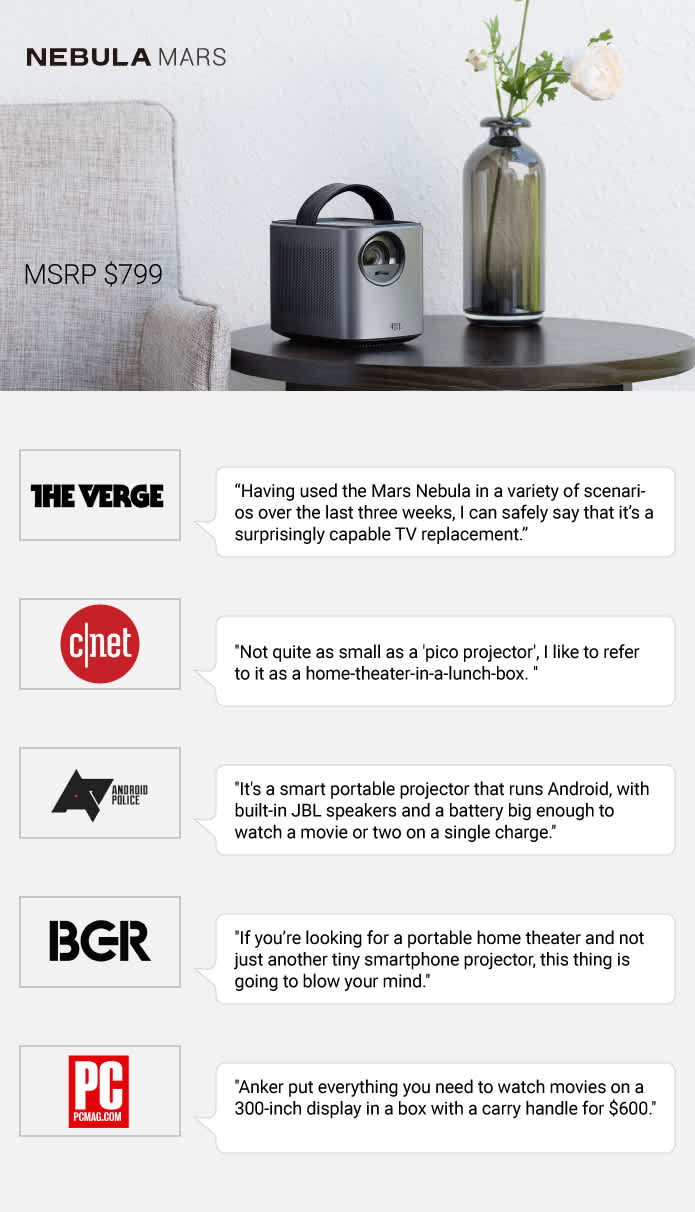 We're integrating the cutting-edge features of mobile devices into portable projection products to provide more functionality and transform the way we consume media. Backed by some of the biggest names in mobile and display technology; our mission: revolutionize portable entertainment.
Why Indiegogo?
As an established hardware manufacturer, we chose Indiegogo for very specific reasons. Most importantly, it's a listening tool. Launching a new product by crowdfunding makes progress inseparable from backer support. This makes us able to fine-tune Capsule, by adding features or adjusting our vision, to deliver the device that you really want.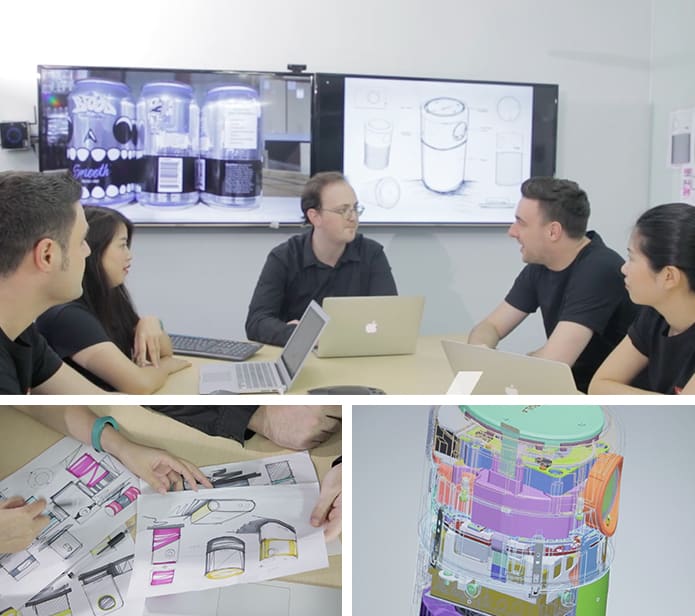 1. What is the Bluetooth range?
0-20m (0-65ft).
2. Can Capsule be connected to a 4G network?
No, but it can be connected to Wi-Fi.
3. How can Capsule be controlled?
There are two ways to control Capsule.
1) Use the supplied remote control. 2) Connect and use a Bluetooth mouse or keyboard.
4. How can I play content from Android or IOS devices?
For Android devices: screen mirror via Miracast; For iOS devices: screen mirror via screencast or use a Lightning to HDMI Adapter.
Note: Your permission to stream videos or music is based on the copyright from the content provider. Capsule supports HDCP for HDMI but not for screencast. If you want to view a  video with High-bandwidth Digital Content Protection, you should use an HDMI cable. 
5. How bright are 100 ANSI Lumens? Is it bright enough to see in normal lighting?
It can provide a clear 100 inch screen in a dim environment and support a clear 60 inch screen in an neutral lighting.
6. Can I upgrade the operating system, say from Android 7.0 to 8.0?
We support OTA for Capsule. When Android 8.0 upgrading file is completed, we'll publish it on www.seenebula.com.
7. Which languages does Capsule support?
Capsule supports English, Chinese, and Japanese but we plan to add more languages according to backer feedback.
8. What safety certifications does Capsule have?
CE, FCC, RoHS, BQB, CP65.
9. What's Capsule's charging input?
Charge with 9V/2A adapter and also can charge with 5V/2A when power off.
10. How long does it take for Capsule to recharge?
At 0% power Capsule can charge up to 70% in 1 hour. To fully recharge from 0% to 100% Capsule requires 2.5 hours.
11. What type of battery does Capsule use?
Lithium-ion Polymer.
12. What's the AC input of the charger? Do you provide adapter plugs for different countries?
The AC input is 100V-240V, used internationally. We'll provide UK and EU adaptors for British and mainland European backers. 
13. What's the shipping fee?
The shipping cost for a single Capsule is $15 globally. Please note if you're located outside of the US, you may be subject to import taxes, customs duties, and fees (i.e. VAT/GST).
14. Why should I order now?​
By backing Capsule now you'll get to own one of the very first Capsules off the line, plus you'll get exclusive access to special offers only available during the Indiegogo campaign.
15. What is your refund policy?
You can get a refund anytime before the campaign ends, please follow the steps on How to Request a Refund. As we need to lock orders in to go into production and shipment, we will not be able to offer refunds on orders after they've been shipped.
16. How long is the warranty?
Capsule is backed by a 12 month warranty.
17. How do I contact someone on the Nebula team?
For your convenience you can ask questions or leave your feedback in the "comments" tab of our Indiegogo page. You can also feel free to send us a message at  support@seenebula.com. We will get back to you as soon as we can.
18. Does Capsule come in any colors besides black?
Currently, we have only prepared a black version but we plan to add other colors.