Our Indiegogo campaign has ended but you can still pre-order Canary at:
canary.is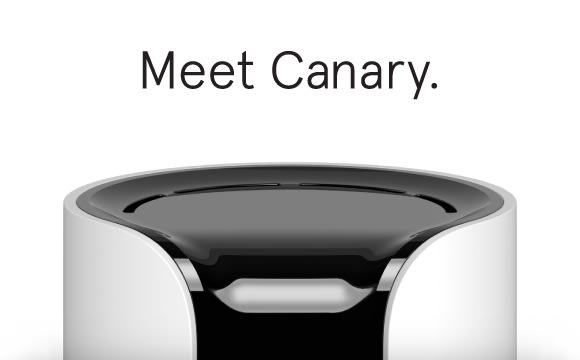 Canary is a single device that contains an HD video camera and multiple sensors that track everything from motion, temperature and air quality to vibration, sound, and activity to help keep you, your family and your home safe.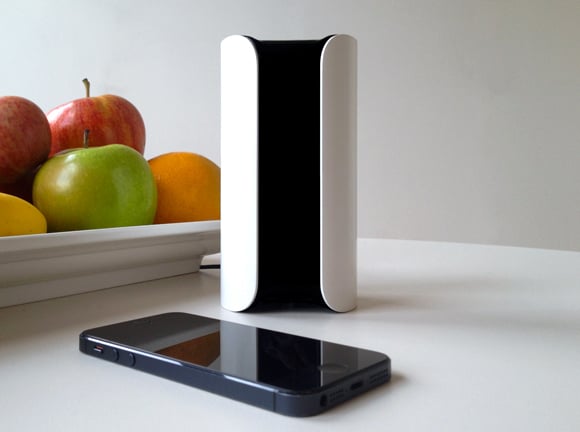 Controlled entirely from your iPhone or Android device, Canary alerts you when it senses anything out of the ordinary — from sudden temperature changes that can indicate a fire, to the sound and movement that could mean an intrusion. Instantly receive, view and act on the alerts wherever you are. Over time, Canary learns your home's rhythms to send you smarter alerts. Canary is the smartest way to stay secure.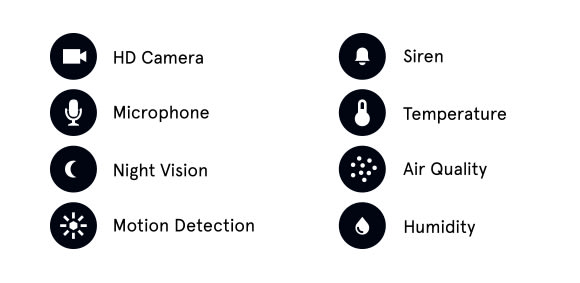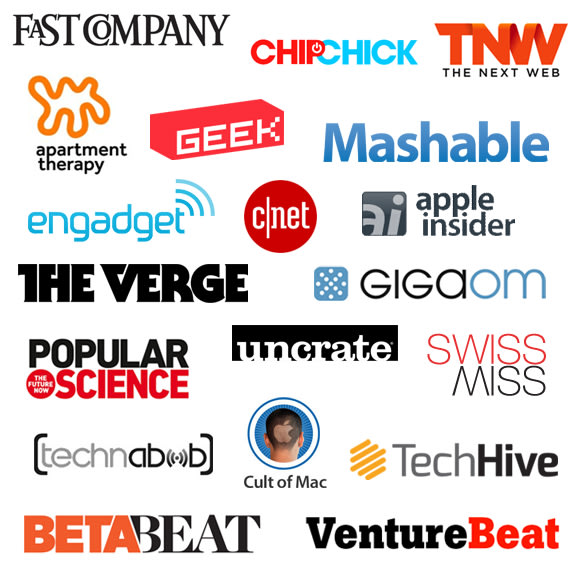 "A new startup called Canary is about to launch what could revolutionize the home security business" – Technabob
"Canary is easy on the eyes and the smartphone interface looks equally appealing." – The Next Web
"Canary helps the internet of things take on home security" – GigaOM
"Similar to the Nest learning thermostat, Canary will feature algorithms that learn about and adapt to activities inside your home." – TechHive
"Canary's a renter-friendly, dead-simple system that can keep you safe — or at least just provide some peace of mind." – The Verge
"Home security is entering a version 2.0 status with more relevant and accurate monitoring which may prove vital soon for home owners, renters, those living alone, and the elderly alike." – Apartment Therapy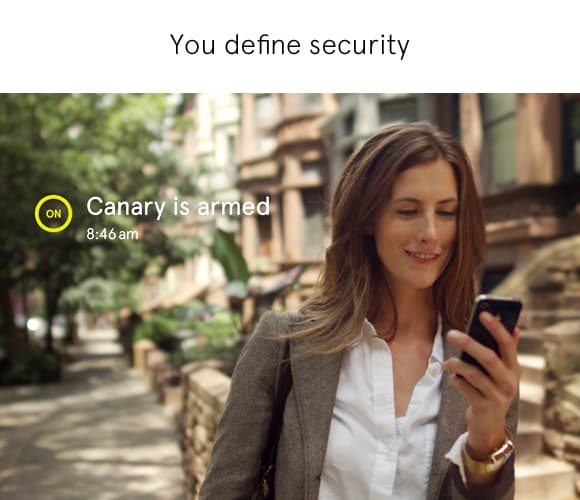 You define your experience with Canary. From controlling when Canary is armed to which sensors are in use, Canary is designed to give you a wide feature set that you turn on and off to fit your needs.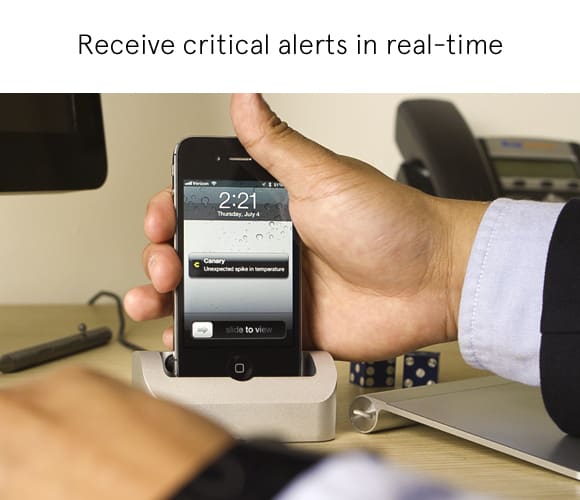 Being away from home doesn't mean you can't respond to emergencies. Canary alerts you immediately when it senses something is off.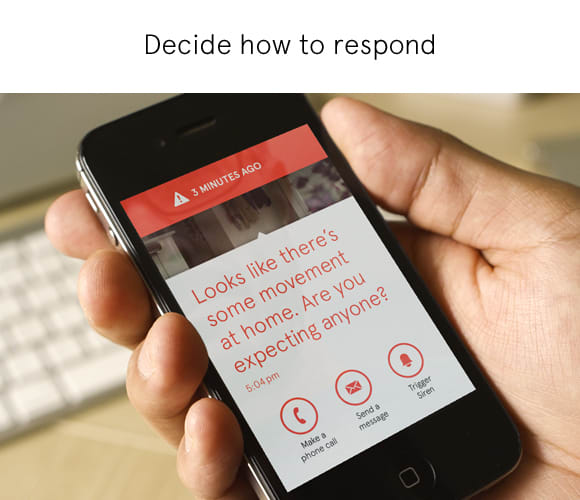 Once you receive an alert, you decide how to respond. Do you want to text your neighbor to check in? Call the police? You have the ability to decide.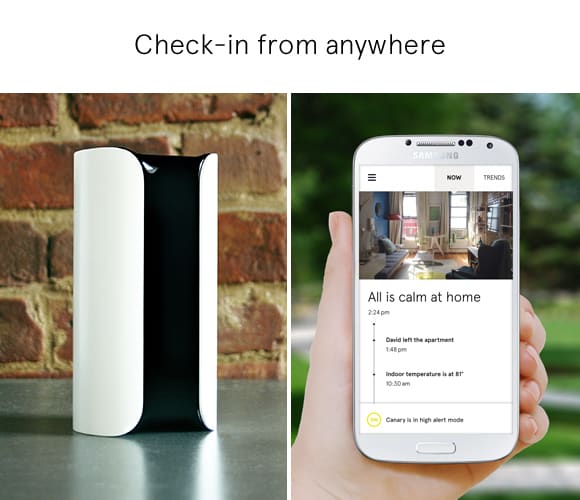 Canary's secure mobile app enables you to check in on your home from virtually anywhere — whether you are down the street or around the world.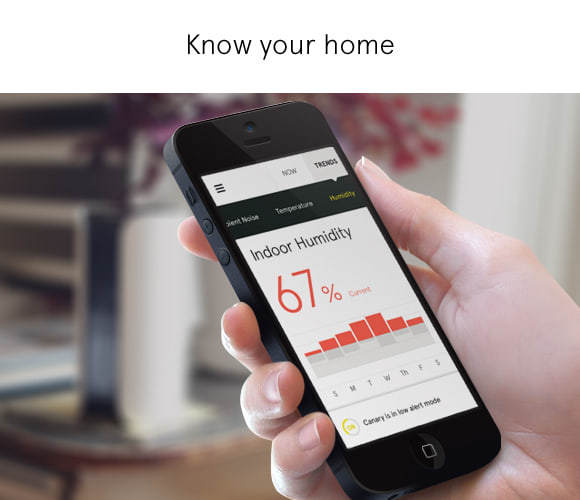 Within the Canary app you can easily monitor and track data from many sources within your home, including temperature, air quality, humidity, activity (video, audio & movement) and other trends in your home environment.

We believe that everyone — not just homeowners or the wealthy — should have the ability to secure the people, pets, and things they care about the most. We approached the product and user experience design of Canary with the following principles in mind:

Security shouldn't be intimidating or hard. This is why we designed Canary to be quick to set up and use right out of the box. We also designed the ongoing experience to be intuitive and easy to manage. If you can use a smartphone, you can use Canary.

Traditional home security systems have a 99% false alarm rate and this statistic isn't improving (see 'Disrupting a broken system' below for more info). Besides being annoying, the downside of false alarms is that it causes most households to stop using their systems over time. We believe that there is a better way. By designing a smart system that learns your home's activity and rhythm, over time you will have fewer false alarms. And fewer false alarms means more consistent use, which, ultimately, means more reliable security.

Security means different things to different people. So we didn't design a rigid one-solution-fits-everyone product. Instead, we fitted our device with the core features you want and put the power in your hands to decide when and how you use Canary. Control and respond from your smartphone. That is what home security should be.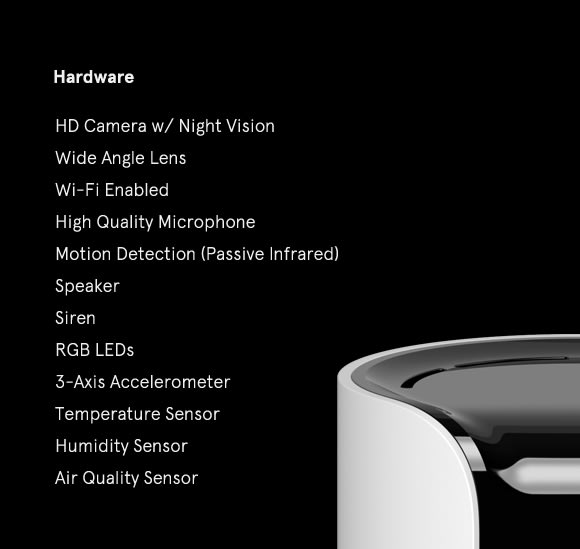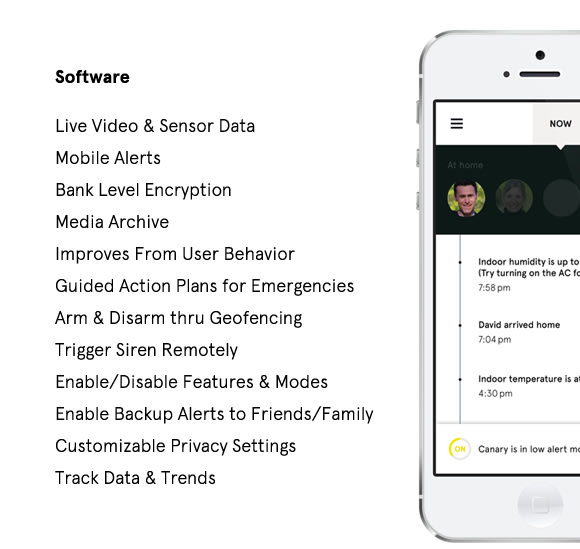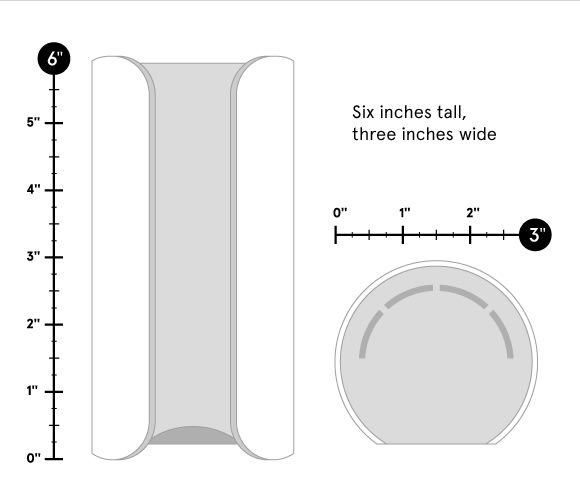 With Canary, the app and primary service are free, and accessable via as many phones as you'd like. That means you can download the free app, receive alerts, add your friends or family as your backup, and see live streaming of video, audio and other sensor data.
After the products ship, there will be additional (optional) service plans that include more data options (such as storing events over a longer period of time) and a call-center backup. These premium plans will have a surcharge but are optional and contract-free. Contributing to the campaign here in no way signs you up for a paid service plan. Updates to the app are free for users as well.

We set out to disrupt the home security industry by designing a solution that addresses the major consumer pain points of existing products.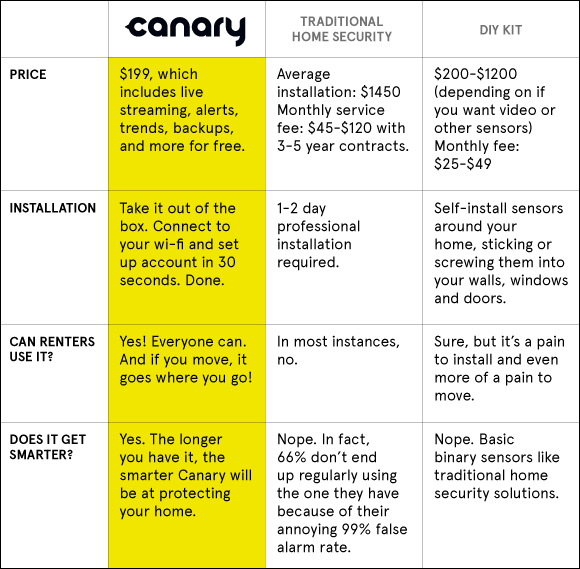 The old way of security is measured in numbers of sensors spread across your home. That approach leads to high costs, tons of complication, and lots of false alarms. All of which is out of your control.

In 2000, the cost of responding to false burglar alarms was estimated at $1.8 billion. This is a problem that affects more than just the home owners.These are our tax dollars at work.
False burglar alarm activations nation-wide are estimated at 99%. To illustrate this point, in 2002 Seattle police responded to 24,505 alarms, of which only 325 were valid caused by a valid incident.
People are so unhappy with their current systems, that 41% of residences with alarm systems are turned off during burglaries, and 2/3 of people with security systems don't regularly turn them on.
Rental-occupied homes are much more likely to get burglarized, according to the US Department of Justice. 
60% of burglaries occur in the daytime when the residents are away.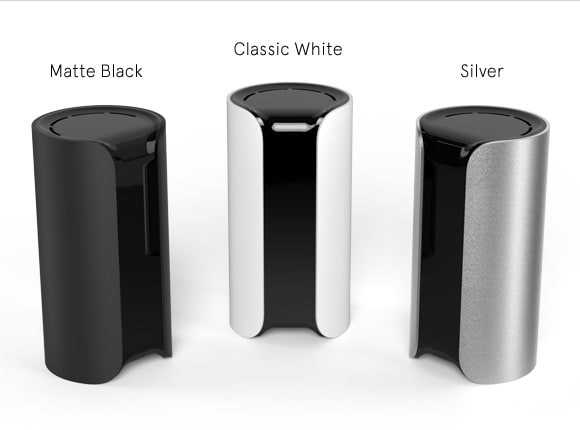 Here's a breakdown of the perks you can choose from when you support this campaign (select your perk from the sidebar at the top of this page). All perks include at least one brand new Canary and the free Canary mobile app (for any number of users & phones).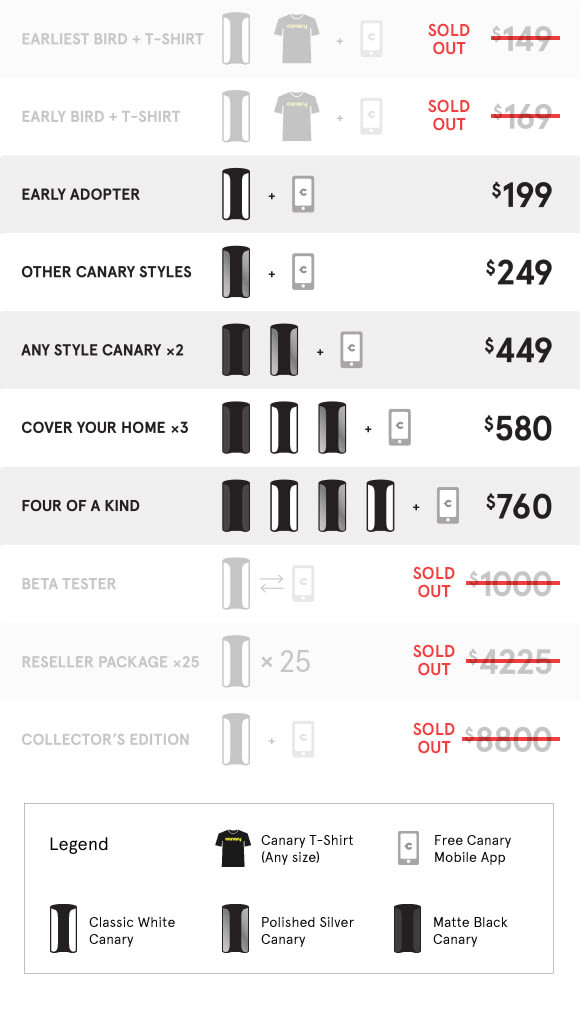 Adam Sager, Cofounder & CEO
Former Israel Defense Forces, security advisor to CEOs and Fortune 100 companies, founder of nation's largest security non profit organization
@SagerSpeak

Chris Rill, Cofounder & CTO
Built embedded systems and electronics for the US military, startup technical co-founder, FIRST robotics mentor
@ChrisRill

Jon Troutman, Cofounder & Design Director
User Experience & Product Designer, former product design lead at General Assembly, former art director at brand strategy agency
@jontroutman

Michael Klein, Software Engineer
Full-stack engineer with core depth in mobile application development
@kleincodes

James Krause, Industrial Designer
Award winning designer with diverse experience bringing products to market in the consumer goods and electronic industries
@hausofkrause
In addition to our core team, we've assembled an incredible group of engineers, designers, and industry experts who are collaborating with us to create the best product possible. Our partners include one of the top engineering firms in the country, founded by former IDEO engineer Gerhard Pawelka; the top video semiconductor company in the world; and a manufacturer with experience developing hundreds of thousands of products... a month!
Canary is hiring! Junior-, mid-, and senior-level software engineers, engineering and marketing interns, talented people: come join our core team! View our current openings or email us at jobs@canary.is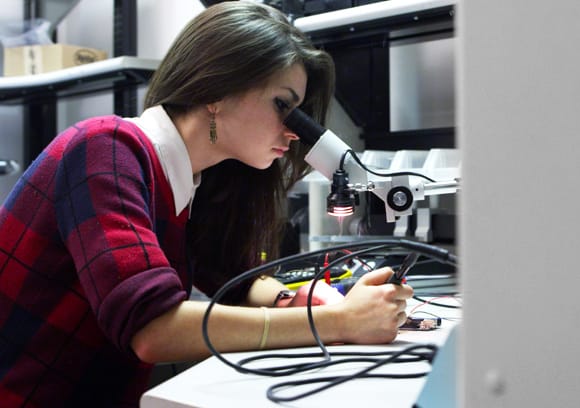 We currently have a working prototype and we're now focused on:
Finalizing the engineering schematics for the final product
Developing and iterating on the user experience for the mobile app
Developing the data visualization tools
We will soon begin the process of:
Designing packaging
Getting product certifications
Designing the supply chain process
Tooling
Materials procurement
Production

We have been working on Canary for the past year and we've come a long way. But now we need your help. Your support will allow us to initiate tooling and manufacturing so we can make Canary available to you and the millions of people who have never before had a home security option. Let's make our communities safer, our homes smarter, and our lives more connected — together.
So why should you support us?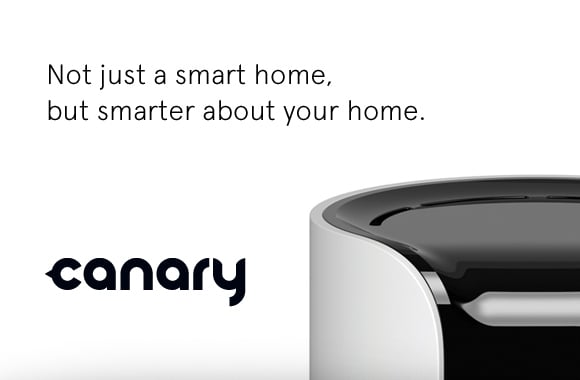 1a: How many Canary devices do I need in my home?
Depends on your type of home. Here is a basic guide: 1/2/3 Bedroom(s) Apt/House with 1 main entrance: 1 device 3/4 Bedroom(s) Apt/House with 2 main entrances: 2–3 devices Mansion/Estate: 3–4 devices
Note: You can have up to 4 Canary devices in one location that connect through the free app on your phone.
1b: Can I buy one for my office or my second home? Or use it to look after my child, elderly parent or even dog?
Sure! You can place them anywhere. And you can access both your primary locations, like your home or office, and your secondary/backup locations, from the same app. And multiple people can access a Canary from their apps, if you grant them access.
Canary gives you the option to check in on your home and loved ones and stay connected throughout the day. The smart intelligence recognizes disturbances, letting you know if something out of the ordinary is taking place. So peek in at your dog or your child at home with the nanny, or look after your parents in a simple way. Canary is there to connect you.
Canary can also be placed in your nursery where you can receive any alerts if anything seems out of the ordinary. Canary also has the ability to stream live video so you can check in on your child.
1c: Does this replace my existing security system?
Totally up to you. It's a stand-alone system so works by itself, but if you want to keep what you have, then Canary is an awesome addition. With Canary, you have security at the touch of your phone, without complicated systems and third party notifiers/middlemen, who waste a lot of time and money and lead to many false alarms. Now YOU will be the one in control of your home security, in a more efficient and affordable way than ever before.
1d: Can I choose what color I want for my Canary?
Yes, if you choose one of the 'Other Canary Styles' options you have the choice of matte black or silver. Otherwise, all Canary devices come in classic white.
1e: Can anyone set up Canary?
Absolutely! Canary was designed with the purpose of making installation a thing of the past. Canary is one single device, designed for everyone to be able to use. Simply, take it out of the box and plug it in. It's that easy.

2a: What are the shipping costs?
All shipping in the US is free of charge. There is additional cost for international shipping. Shipment does not include extra fees from customs, or additional costs associated with your country. Also, there is no guarantee that this will work in your country (e.g. unknown power & connectivity issues) – there are many hurdles we need to go over until we have a complete picture on the international market. If it turns out that shipment to your country proves impossible, we will reimburse your order.
2b: When is the soonest I can get a Canary connected in my home?
Estimated shipping dates for the device begin in May 2014. Our goal is to have the shipment out to you earlier but we have seen some of the challenges of others, and we wanted to make sure not to overpromise. Matte black and silver devices may ship a bit later than classic white. This we promise: we are working around the clock to bring this to market, and as soon as it's ready, it will be sent out to you!
3a: Can I use multiple phones with my Canary?
Yes. The app is free and a single Canary can be connected to multiple phones. For instance, if there are two people in a home, they both can be primary users on their device/s, and one could also connect to his office while the other connects to her office (if they have Canary devices there too!)
3b: How does the geofence work and can it support multiple smart phones in one home?
When setting up Canary on your smart phone, our application will create a geofence around your home. When you enter the geofence, Canary will detect this and 'disarm' itself, which means it won't notify you of movement or activity when you are home. When you leave the geofence, Canary will detect this as well and arm itself again. Canary also supports multiple users to interact with the device through our mobile app. The geofence can be overridden by manual settings (you can manually arm and disarm Canary via your phone or the web).
3c: I have a [dog, cat, etc], will this be a problem with Canary (eg false alerts)?
Canary was designed with pets in mind. We are building the software to identify and recognize patterns in your home (such as pets). Your interactions with Canary (through the app) will help teach the system what movements/activities are normal in your home (e.g. your dog walking across the room) so that is gets smarter and more customized to your space over time.
3d: How is Canary powered? What happens if the power or WiFi goes out?
Canary is plugged in, which is needed for the high volume and quality of video and sensors that we are processing. We have not included a battery within; however our system would detect a lost connection to either power or WiFi. In that case you will receive a mobile alert telling you that Canary lost its connection. You can go into the app and look at footage/data from before that power occurred, as well as be prompted with possible courses of action so that you can respond appropriately.
3e: What voltage does Canary Support?
Canary comes with an AC power adapter to plug your device into the wall. Canary will ship with an international switching power supply capable of 100v - 240v 50/60Hz cable.
3f: Does Canary Move (Pan / Tilt)?
Canary does not pan or tilt. However, it does feature a wide angle lens that should cover a large area. Canary should be placed in a location that allows it to cover the most area with its wide angle lens. Panning and tilting the camera would add the risk that Canary could miss an important event if pointed in the wrong direction.
3g: Will there be an SDK or API?
Canary doesn't yet have plans for an SDK. We do, however, have the implementation of an API on our roadmap and hope to make it available when we ship our product.

4a: Can I turn it off (privacy mode)?
Yes! Privacy and Security go hand in hand. With your Canary, you have full control of both. While there is an 'automated' mode that arms and disarms the sensors automatically, you can manually turn specific sensors (like the camera) on and off. Canary is always private and accessible only by you.
4b: How secure is it?
We use bank-level security. All communication between your Canary, the Canary Cloud and your smart phone is encrypted over SSL (HTTPS). Video and audio are stored and encrypted using AES-256 bit encryption. You, as the user, decide if you want to store the data over time.

5a: Will Canary work with Android, Blackberry, Windows? When will my platform be supported?
We are designing Canary so that it will work with any web enabled device, with extra features to enhance the experience in our native app. Prior to launch, we are developing for iOS and Android. Canary will also be accessible through a mobile-friendly and tablet-friendly web app which can be accessed on any web-enabled device.
5b: Does it work with… (my thermostat, connected lock, camera, etc.)?
Good question. The answer for now is…maybe and we hope so. While we admire and respect other products and companies like Smart Things and August, for now our focus is making Canary the best and simplest security product experience in the marketplace, unencumbered by the complication of other devices and solutions. Stay tuned for developments in this space.

6a: Can I mount Canary on a wall or ceiling?
Canary was designed to be placed on flat surfaces. Suggested locations include but are not limited to; countertops, tables, bookshelves (free-standing or wall-mounted shelves), end-tables, credenzas, etc
6b: What if someone steals or smashes my Canary?
Canary packs an accelerometer in the event that if your Canary is moved you can be immediately notified. If the device breaks and cannot connect with our servers, our system will send an alert to your mobile phone to notify you of the break in connection. You will be able to then see footage leading up to that incident.
6c: Do I need to use the Canary Cloud? Can I run my own storage server/FTP server/backend?
Canary Cloud is needed in order to take advantage of our learning system and advanced algorithms, the devices' data needs to be analyzed on our cloud system. Canary does not have any user accessible local storage. Canary does have a small amount of local memory that will be used as a buffer while the device uploads data to Canary Cloud. A separate FTP/Backend is not supported by the device, as the data needs to be anaylized in our Canary Cloud system for the learning capabilities to work.
7a: What are the challenges?
We are doing something that has never been done before: a completely revolutionary security device like nothing else in the market. While there may be manufacturing and production delays outside of our control, we promise timely and transparent communication throughout the process. Soon, Canary devices will be securing homes and connecting people to their homes and their families like never before.
Any more questions? Ask away!
We hope you join us.