Thank you to all of our Indiegogo supporters - We're in business!
 
Finally a morning ritual that awakens you! SUDANTA is packed with pure goodness of ancient herbs inspired by the 5000 year old science of Ayurveda! It will make this simple act of brushing your teeth into a refreshing and nurturing experience.
SUDANTA is an all-natural, fluoride-free, toothpaste. The Ayurveda based herbs have been traditionally used to keep the breath fresh and help protect and prevent gum and tooth diseases, and ensure healthier gums & teeth. It can be effective for toothache, dental caries, bleeding gums, tooth decay and bad breath. SUDANTA has been put together with utmost care in a state-of-the art-manufacturing facility.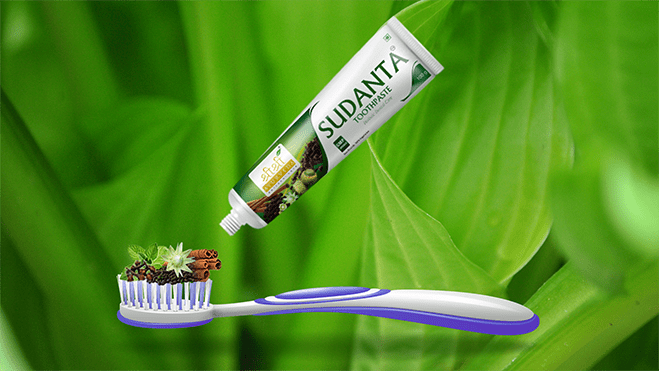 Five ancient spices and herbs: Cloves, Cinnamon, Black pepper, Bakul and Mayaphal  - come together to protect, nurture, refresh leaving you energized for a full-on power-packed day!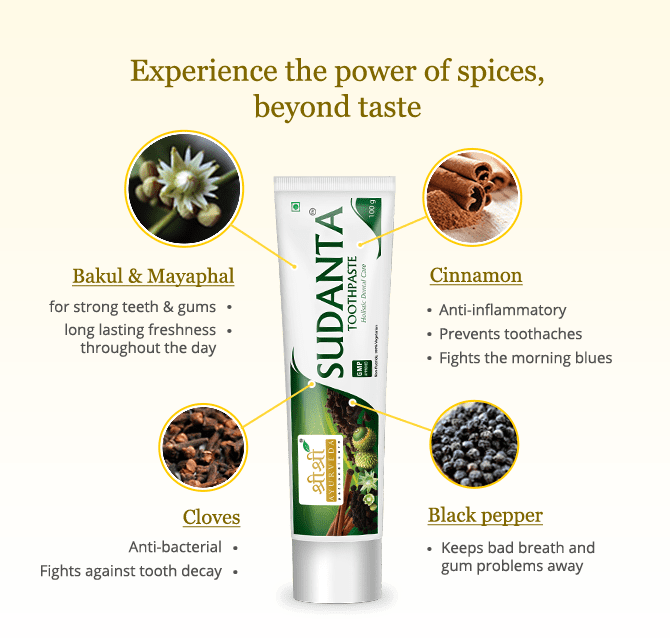 SUDANTA toothpaste is fluoride-free, paraben-free, vegan, gluten-free and cruelty-free (no animal testing). 
Everyone on our team meditates daily to ensure that the products are developed and made in the most positive and highly energetic atmosphere.
Why support this campaign?
1. So YOU have a healthier smile using an Ayurvedic, fluoride-free, gluten-free, vegan toothpaste​
Experience the very best Ayurveda has to offer. Sudanta's powerful herbal formula has benefits for your body and mind that you can feel even after using it for the first time.
2. Be part of the movement to bring Ayurvedic, natural, chemical-free products to the market
Toxic chemicals added to commercial toothpastes such as foaming agents, cleaning agents, artificial colorings, artificial sweeteners etc. has been linked to many health conditions.
Join hands with other pioneer-consumers around the world using their purchasing power to make a market for products that create true health.   
3. Buy the products at the special launch price while make a REAL difference in the worl​d!
Stocking up on your soon-to-be-favorite toothpaste at this amazing launch price, you can give yourself an extra pat on the back knowing that 100% of the profits from each purchase go directly to supporting quality education for tribal and rural children in India!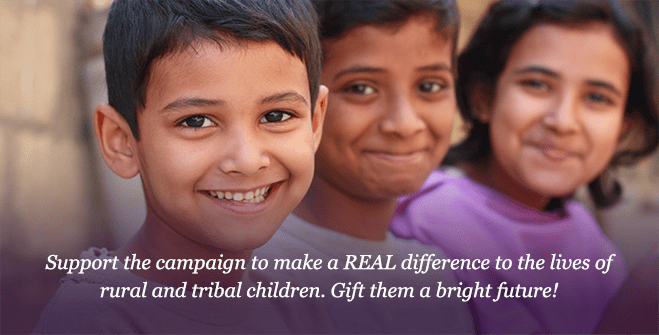 CARE FOR CHILDREN is a service initiative that has been providing quality education to tribal and rural children in India since 1984. In areas where child labor and poverty are widespread, today these schools provide holistic free education to over 51,000 students in 425 schools across 20 states in India, in slums, tribal regions and rural belts. Its heart-warming to know that in areas where girls are traditionally discouraged from going to school, the male:female ratio across Care for Children schools is 52:48!
By choosing theses products as part of your daily routine you can make a positive impact in the world!
Freshen up with Cinnamon​!
Simply smelling cinnamon is enough to wake you up and improve your cognitive function. This means that focus, memory, and concentration may come easier to you as you start your day with SUDANTA.
For thousands of years traditional Ayurveda has tapped into the healing properties of these potent herbs BAKUL and MAYAPHAL found in SUDANTA.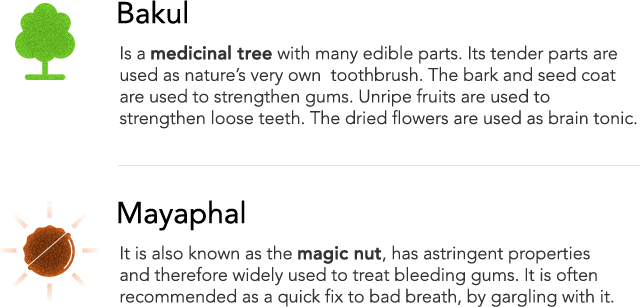 SUDANTA - Non-fluoride and natural toothpaste
If you were offered a meal with Sodium Fluoride, Triclosan, Sodium Lauryl Sulfate, and Diethanolamine, would you care to eat it? No, right?!? But they are standard ingredients in some of the best-selling toothpaste. You might not think much about the ingredients in your toothpaste but they add up.
Over the course of a lifetime, the average American uses about 20 gallons of toothpaste, and even if you spit most of it out, some of the chemicals it contains make their way into your bloodstream. Your mouth is actually one of the most absorbent places in your entire body. While you're dutifully brushing and swishing, the ingredients in your toothpaste enter your mouth and gums,  which are the gateway to every system in your body.
If you cannot eat it, do not use it on your skin or toothpaste! This is the Ayurvedic standard for pure and natural. Herbs that come from nature support our health without any side-effects.

SUDANTA is a conscious choice of conscious people: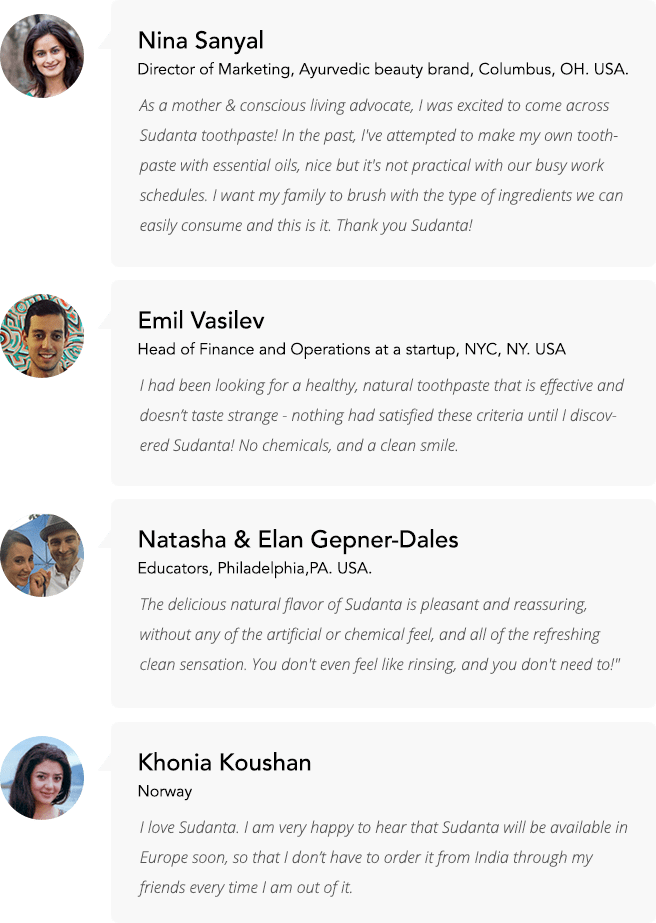 The additional kick to your personal-care. Combine SUDANTA with other unique items: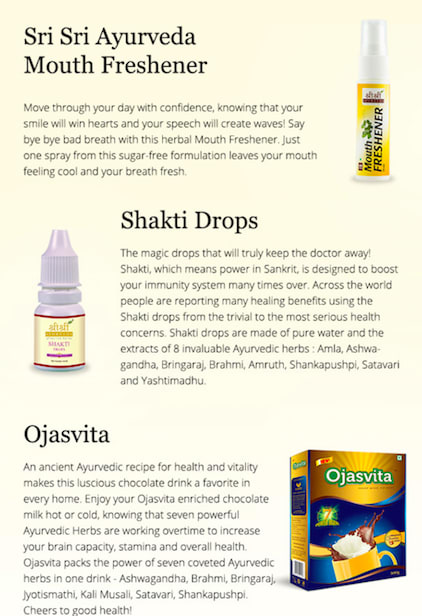 Sri Sri Ayurveda - The purest form of Ayurveda
Sri Sri Ayurveda was established by committed individuals with three decades of experience and has developed strong multi-dimensional capabilities across the Ayurveda value chain.
Sri Sri Ayurveda has a global vision of bringing the best of Ayurveda to the world. Each herb is carefully  researched, documented and time-tested for the precise benefits it promises. The Sri Sri Ayurveda personal-care products are made with State-of-the-art-manufacturing facilities to bring you the purest form of herbs that heal and nourish your entire family.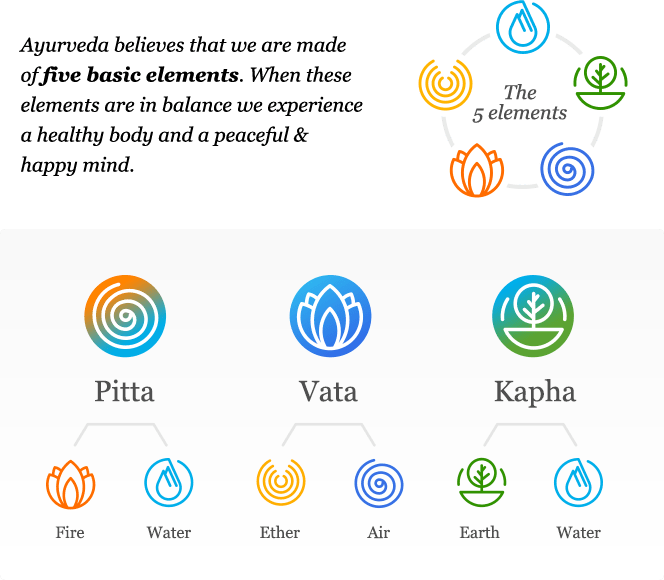 The five elements work together in a way that can be further classified as  Pitta - Vata - Kapha which determine the basic constitution of an individual. According to Ayurveda, an imbalance in Kapha is the root of all the Dental problems, and should be balanced for good Dental health. Ayurveda also says that the most effective ingredients for the teeth are those with a bitter and astringent taste as found in SUDANTA. 
Not only you are getting a naturally healthy and fresh smile and being part of the movement to bring healthier all natural products to the market, your smile also supports education around the world.