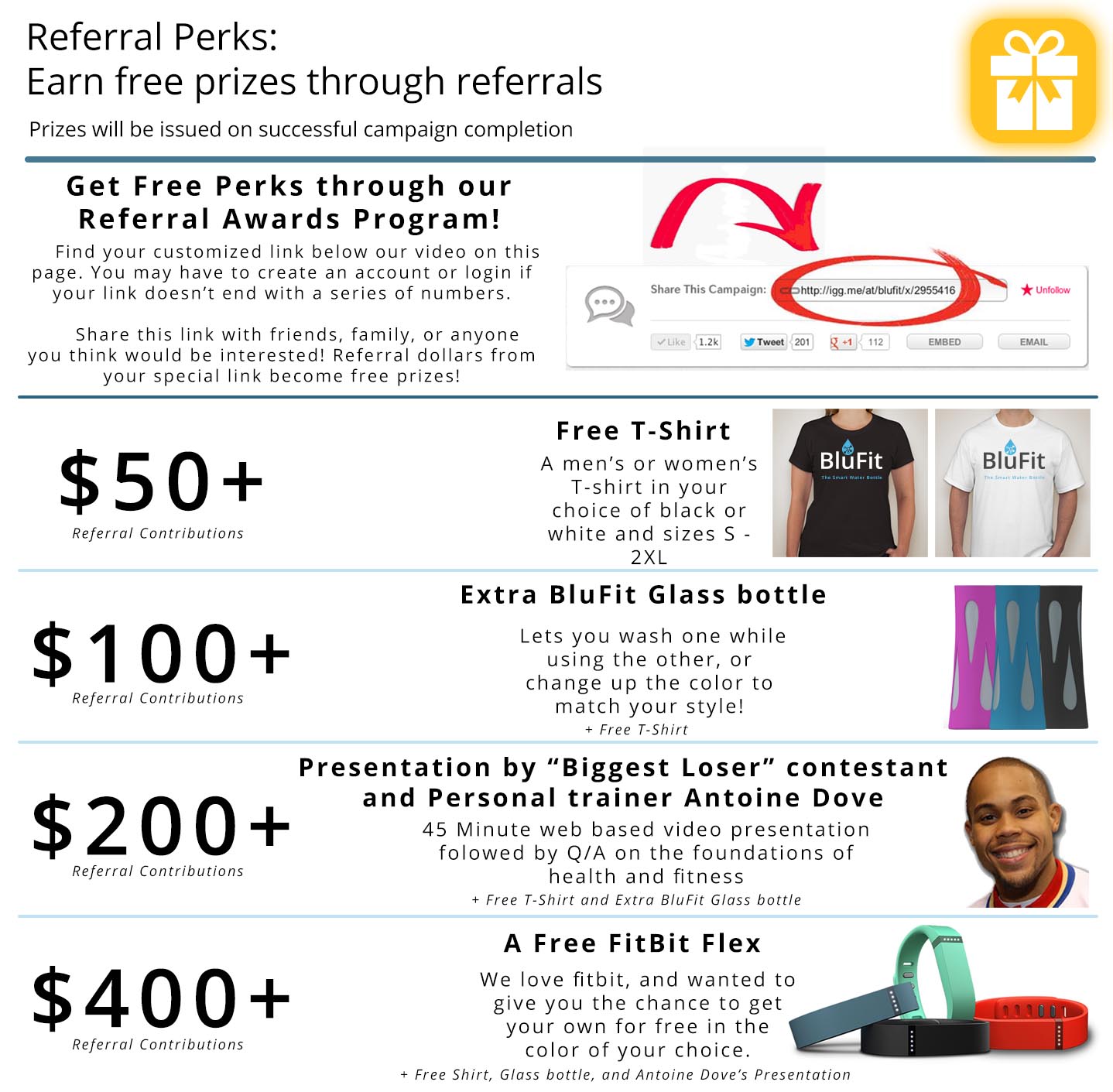 BluFit is the smart water bottle that helps you stay healthy by working with your phone to make sure you drink enough water. Studies show that nearly half of us are perpetually dehydrated leading to a variety of conditions, including decreased metabolism and brain activity.  BluFit solves this by determining how much water you need, how much you've drank and by alerting you when it's time to hydrate. This method ensures that your body is always operating at its best.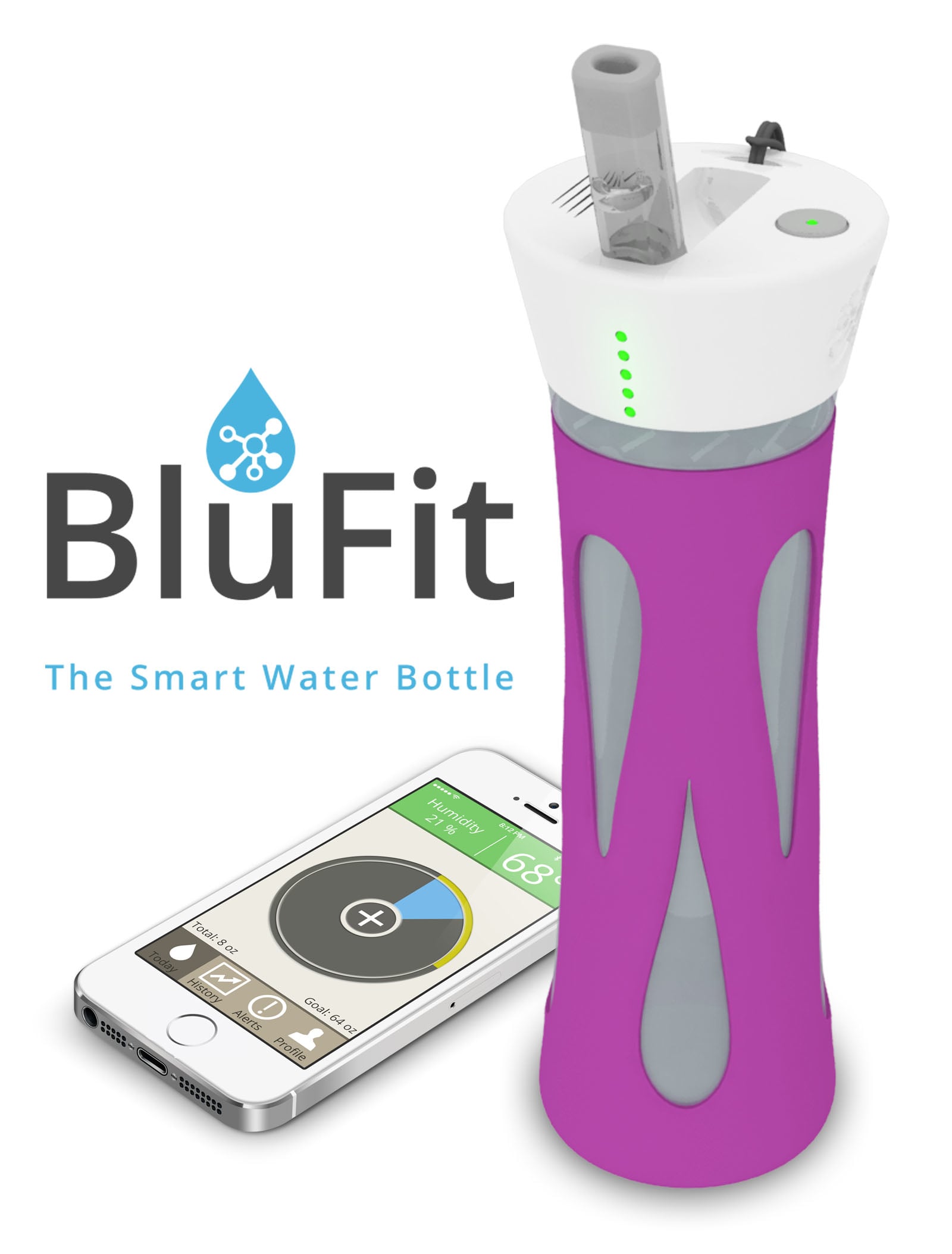 Water And You!
We all know water is essential to being healthy, yet nearly half of us still don't drink enough!  This is because many of us wait for our brain to tell us we're thirsty.  Problem is, by the time that kicks in, we're already 1 - 2% dehydrated.  This may not seem like a lot, but even this small amount can lead to changes in your mood, energy level, and your ability to think clearly and problem solve.
By keeping your mind and body hydrated, you give yourself a boost in metabolism, help control calories, and enjoy countless other benefits that you're likely not getting now.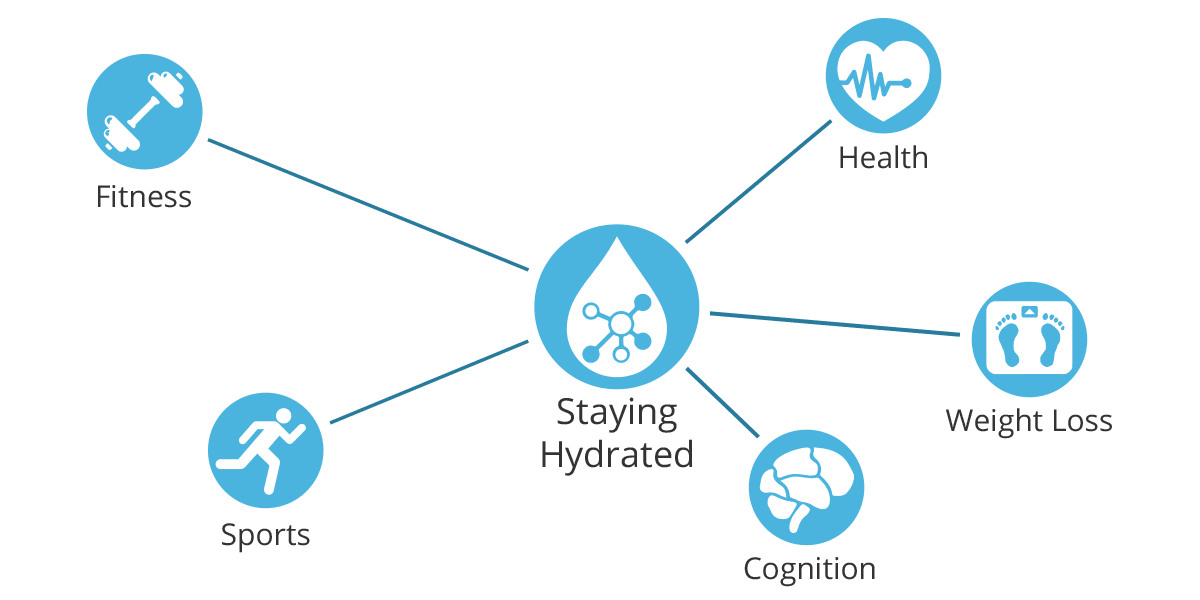 How BluFit Helps
First, our app collects a variety of factors such as weight, age, temperature and humidity to determine exactly how much water you need. Next, you start drinking from your BluFit bottle. BluFit automatically records the time and amount of water you drink and transmits the data to your phone. If you start to fall behind with your hydration, BlueFit has customizable alert lights, sounds and phone notifications to keep you on track. You'll never be dehydrated again!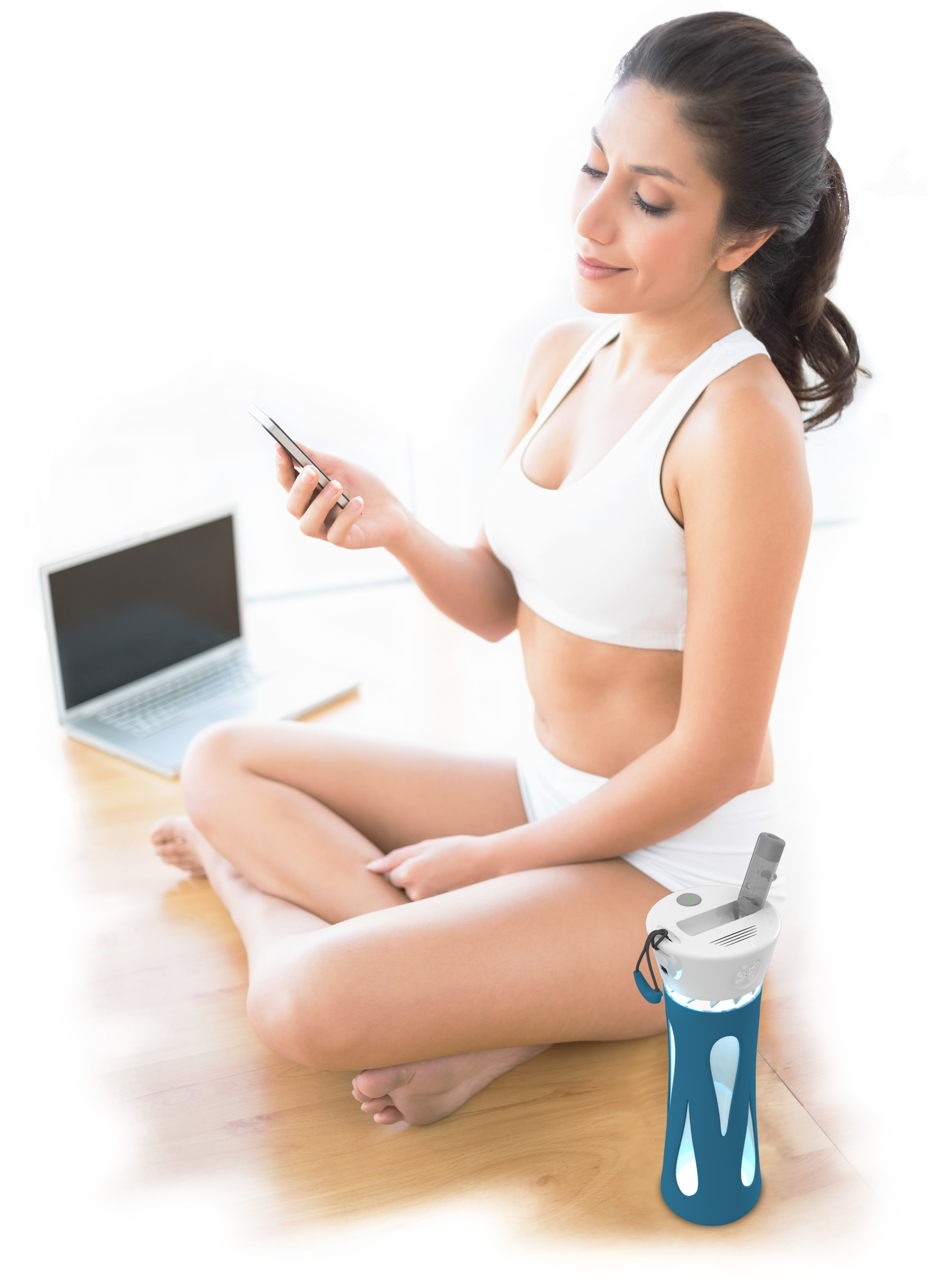 Through the app, you can enter information about yourself so that BlueFit can determine your daily water needs and set up personalized reminders. You can also skip our recommendations and enter your own hydration goals if you have have a medical condition, or need to increase your water intake for extreme training or exercise.
The app also shows your current hydration level, your goals, and graphs of your historical data so you can make sure your body is consistently operating at peak efficiency.

To keep you on track, the app works with your phone's notification system and the speaker and lights on the bottle to make sure you're consistently drinking the right amount of water.  The app notifications, bottle sounds and status light colors are fully customizable so you can pick the alerts that stand out most to you. The app can even help you find the bottle by tracking its location if it's lost or misplaced.
If you're out and don't have your bottle, no problem! Use the app to add any water you drink so BluFit can continue to monitor you and keep you healthy at all times.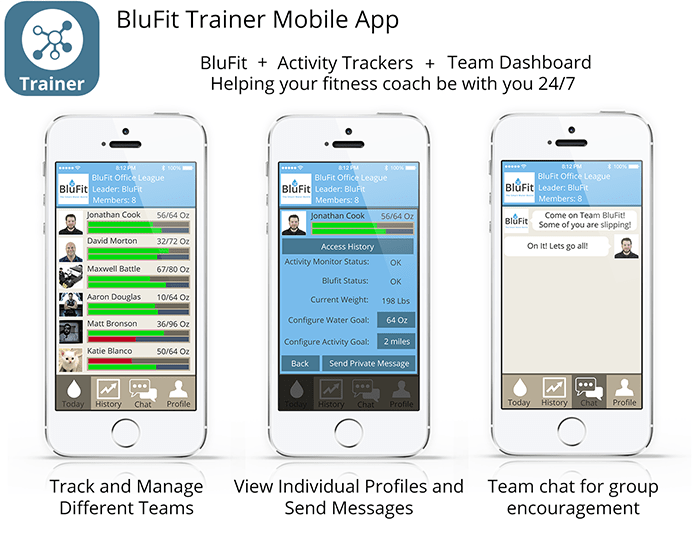 We're also developing the BluFit Trainer app in partnership with personal trainers.  This will allow those using BluFit bottles to share their hydration data with their personal trainer so they can receive feedback on their hydration goals and progress.  Your personal trainer will also be able to send you messages through BluFit Trainer, allowing them to offer up advice and encouragement.  Personal trainers will be able to monitor all their clients from one easy screen and easily adjust their teams goals.


We'll integrate with popular health and fitness devices and APIs so BluFit can better understand your body through the products you're already using.  Also, as new products emerge, we'll continually update our platform so BluFit always stays on top of your health.  Finally, our BluFit Data API and Sensor SDK will be open for developers to use so BluFit can be customized for an individual's unique circumstances and needs.

The Nuts And Bolts
BluFit runs on Bluetooth LE and is compatible with iOS and Android devices that support it.  For the iPhone, that's the 4S and above including the new iPhone 5C and 5S.
All hardware is built into the sleek and stylish BluFit flip top lid.  The 32 oz. bottle is made of glass so it's completely free of toxins typically found in plastic water bottles. Plus, it's dishwasher safe.  It also has a stylish rubber sleeve that protects the bottle from impact and lends a comfortable grip when holding it.  The rubber sleeve will come in both charcoal black and ocean blue so you can select the style that best fits you.
Inside the cap is a Bluetooth LE chip, water sensor, rechargeable battery and other electronics to make it all work together.  On the exterior of the cap are lights for notifications, a small speaker and a USB port for recharging the battery.  The battery will last around 7 - 10 days depending on use.  There's also a user configurable button located on the top of the cap that can count laps, track reps, or be customized by the app for a variety of health and fitness needs.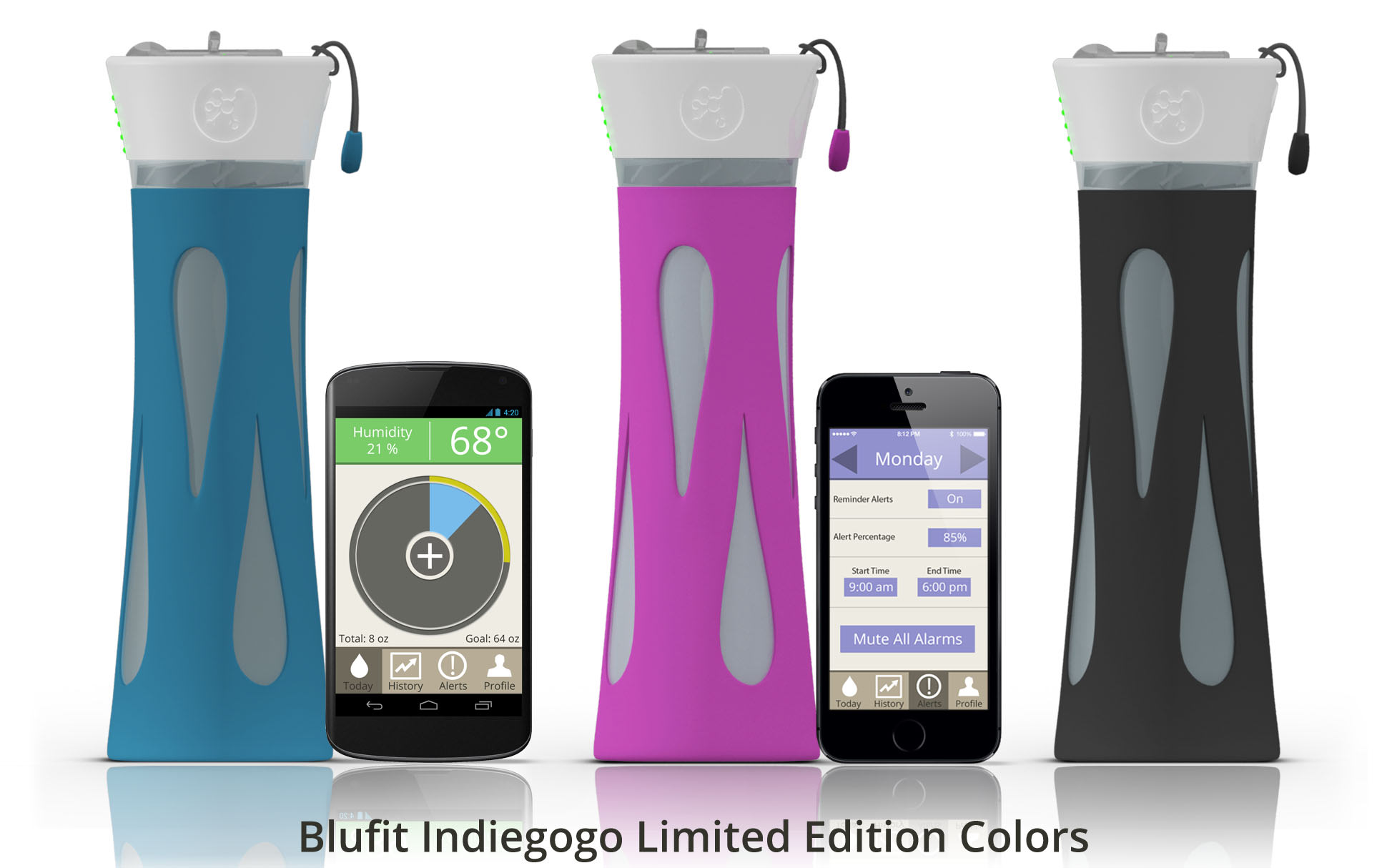 What We've Done
We've come a long way in a short amount of time! The idea came from our fitness and dieting friends and family who were failing to achieve their hydration goals. We watched them struggle as they measured, wrote down, forgot, and tried to train themselves to drink more water. We decided there had to be a better way. To our surprise, we found none existed, so we set out to create the first smart water bottle!
We spent months building and refining our first working prototype, BluFit Beta.  BluFit Beta allowed us to use BluFit everyday so we could gain valuable insight into how people use their water bottles, which was essential in creating the perfect water bottle design.
After narrowing down our design requirements we partnered with a design firm in Palo Alto with over 10 years of experience taking products like ours through the manufacturing process and into the hands of consumers. They took BluFit Beta and created a product that was stylish and could be mass produced, accurately priced, and carefully scheduled so we could be confident in our goal amount and delivery date.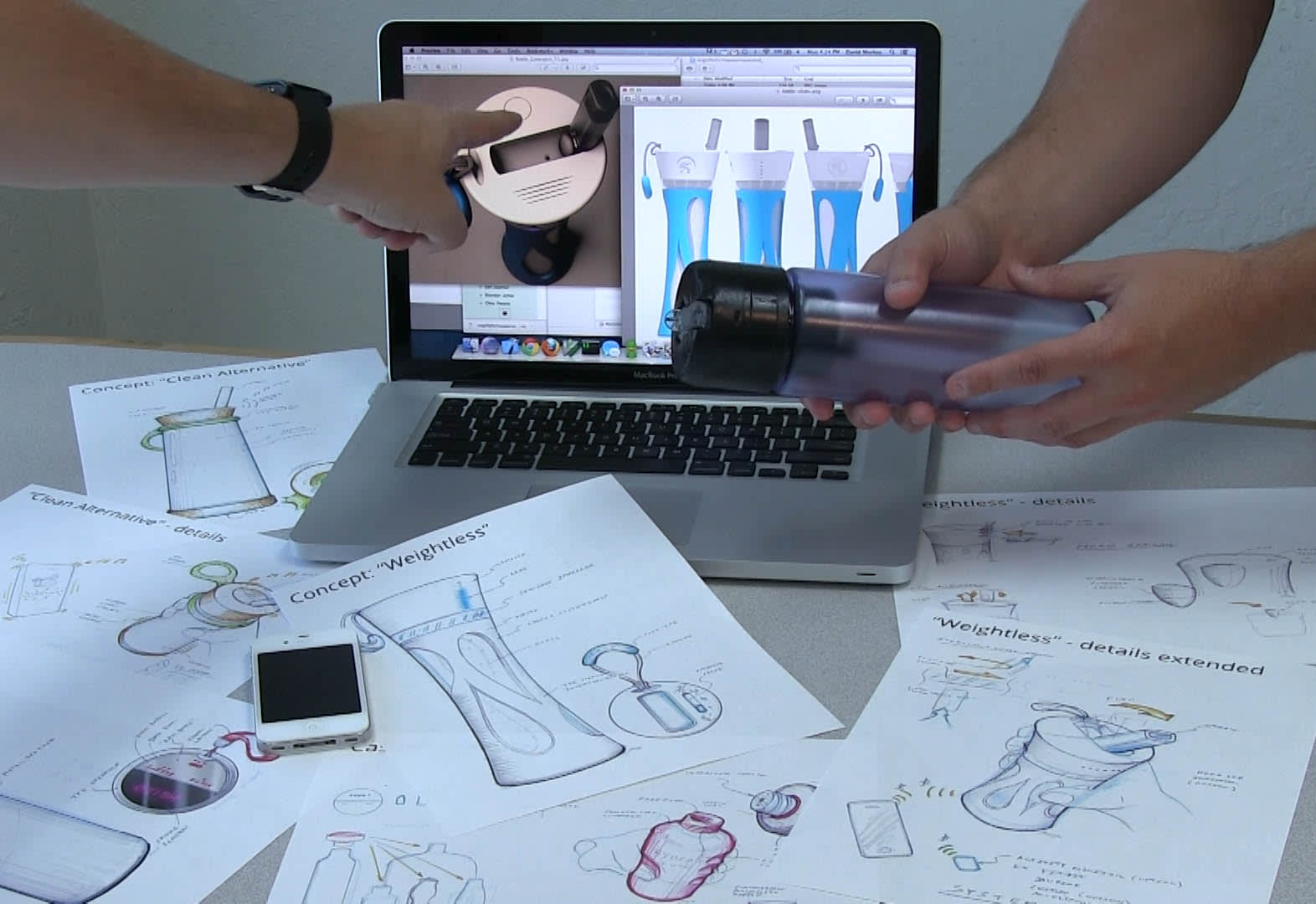 What We're Doing Next
With the roadmap from our manufacturing partner, the app and hardware prototyped, we now need your help to fund the final stage of our process. A successful campaign will allow us to begin factory production and put BluFit into the hands of people like you.
We have poured countless hours, late nights and personal dollars into the business and are truly grateful for your contribution to help us realize our vision. We are very excited about helping the world become a more healthy and hydrated place!


Risks And Challenges

There are 3 main pieces of this project that must be completed to bring BluFit to life:  software, hardware and manufacturing.
We have extensive experience in designing, planning and building high-quality apps on a variety of mobile platforms.  There is no doubt in our minds that we'll be able to continue this tradition and deliver the BluFit app by our deadline.
On the hardware side, we've partnered with a top design and manufacturing firm in Palo Alto that specializes in manufacturing consumer products.  They worked with us to turn our prototype into an easily manufacturable and cost effective product. They have extensive experience in the entire begining-to-end product manufacturing process and have an excellent reputation for delivering products on time.
FAQ
Q: What is the bottle made of?

A: The bottle is made of glass with a silicon sleeve to protect it from impact.

Q: Will the bottle be FCC/CE certified?
A: Yes, we will be getting CE and FCC certification and we'll be marking them appropriately.
Q: How do I select my color? 
A: We will contact you by email once the campaign has closed to select your color.
Q: How do I pay for shipping? 
A: If the perk you select requires a shipping payment and is being shipped to Canada, please add an additional $10 to your contribution amount, or $15 for any other international destination. If you forgot to add shipping, click the "CONTRIBUTE NOW" to add the missing amount . You can see your contribution by clicking on your name at the top, then click 'My Contributions.'
Q: How long does the battery last? 
A: 7 - 10 days with typical use.
Q: Is BluFit dishwasher safe? 
A: The bottle is dishwasher safe but the cap needs to be washed by hand.
Q: How much water does the bottle hold? 
A: Approximately 32 oz.
Q: Will I be able to purchase additional bottles in the future? 
A: We'll offer additional bottles for purchase after the initial units have shipped.
Q: Will there be support for metric units? 
A: Absolutely! We'll support both US and metric units.
Q: Will you support other languages besides English? 
We'll add in support for any language there is a demand for. If you'd like to help out with the translations, let us know!