We all do it everyday, where's my keys, wallet, phone? Only to find them some time later in the most obvious place!
Isn't it just annoying? Running late for a meeting, kids waiting in the car to go to the park, wife ask's, why you don't answer your phone? been there, done that, got the t-shirt! So if you have the same t-shirt then your going to love bluesavvy, a small coin sized item tracking device that helps you find those items.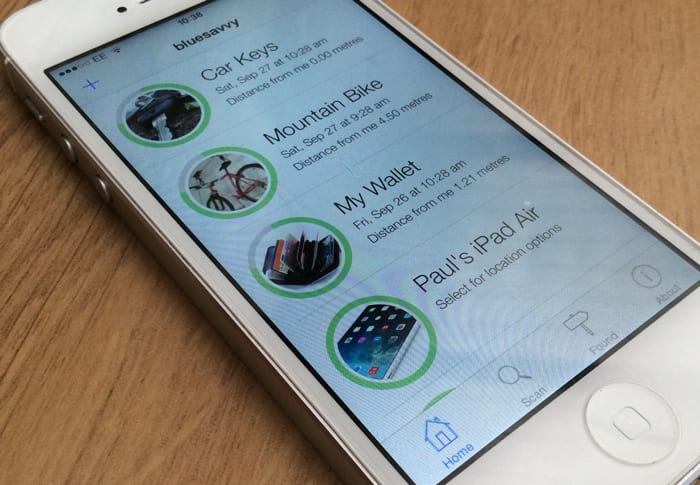 Endless Possibilities
Attach, stick, clip or slide your bluesavvy device onto any item, you'll never lose or misplace it ever again.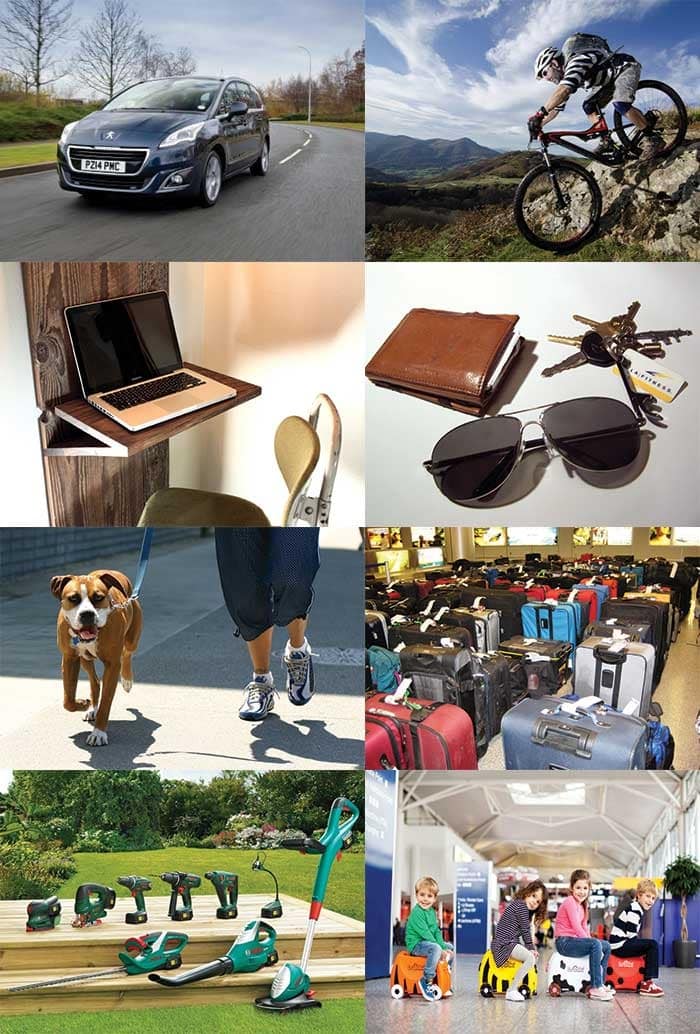 Don't have a smart-phone? We've got it covered.
We don't all own a smart-phone, packed with the latest mobile features. This is why we developed the 'home-kit'. Simply connect it to your broadband and you have the same functionality as the smart-phone app. The home-kit is accessed using a standard web browser, how simple is that? Used in conjunction with the mobile app, giving you that all important extra pair of eyes.


One tracker can be connected to multiple phones 
Each bluesavvy tracker can be connected to multiple phones. Share the tracker details with your spouse, friends, family or co-workers.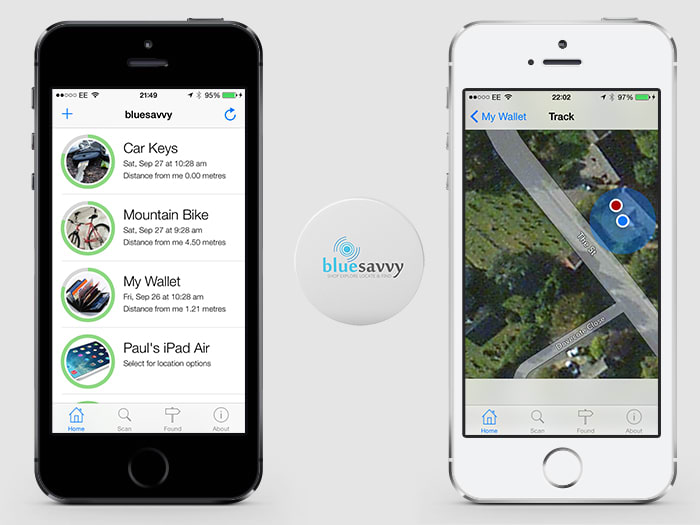 Protect and locate your animals 
At bluesavvy with have teamed up with largest international lost and found pet registers. Simply scan your animal micro-chip barcode when assigning your bluesavvy tracker and we'll update the national database. In the even your pet goes missing we can automatically notify, vets, dog wardens, and police forces around the world.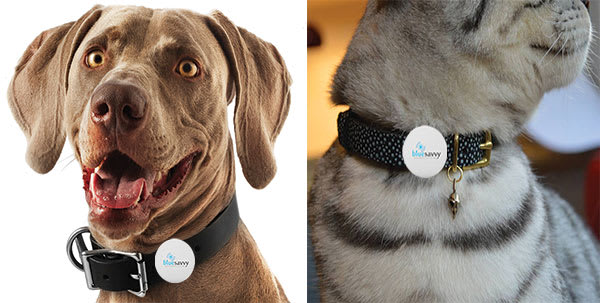 Can't find your phone? No problem bluesavvy can!
We just simply love this feature. How many times do you come home, switch your phone to silent, just so its not buzzing all night long, emails, tweets, candy crush requests. 
Annoying
, until the next morning when you can't find it! With bluesavvy we can make your phone ring even when it's on silent, how cool is that :-)
What makes bluesavvy unique?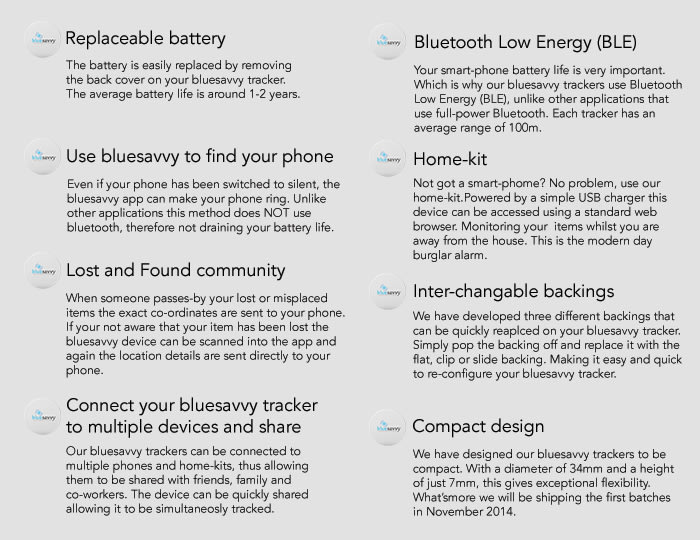 Bluesavvy basic features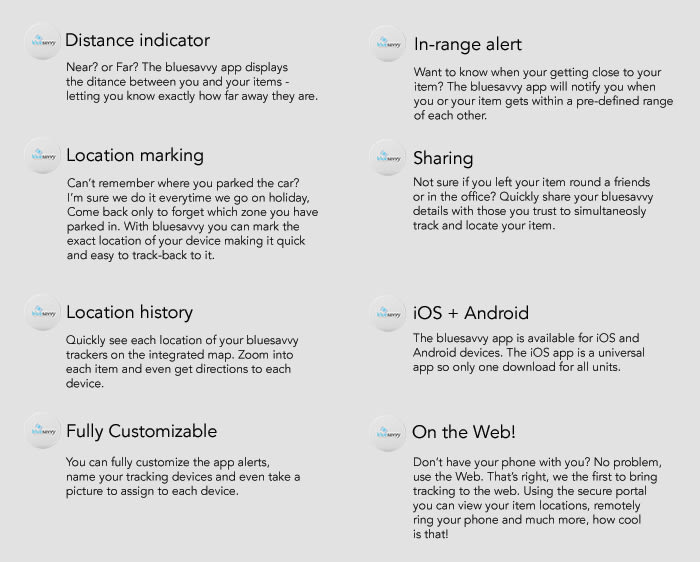 Tell your friends about bluesavvy and be rewarded
So how does it work? Login to IndieGoGo. Visit the bluesavvy IndieGoGo page and look below the main video to share and copy your URL.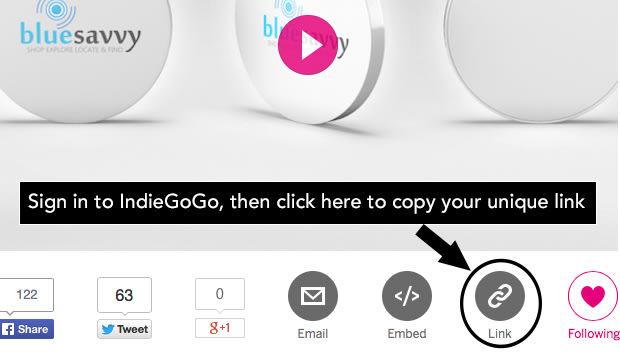 Copy your unique URL link and share it with friends. When anyone clicks on your unique link a "Referrer" is credited to your account. If that person becomes a backer, we'll credit you with some rewards.
 
Some of the Perks for backers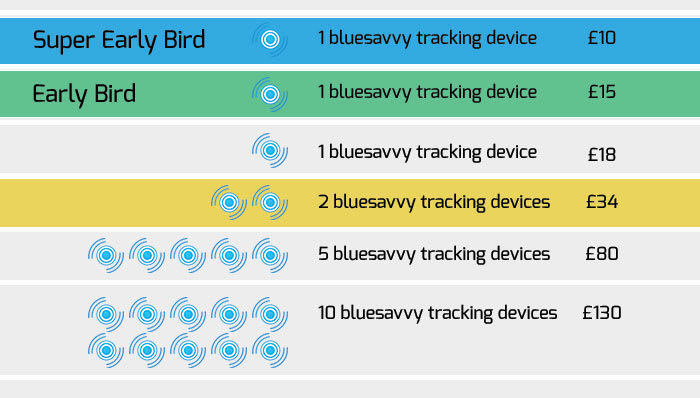 Product Design

We wanted to develop a product that could be multi-functional and fit multiple situations without having to design different products. We found that by providing different backings that we could keep a core product that fits all. The backing is inter-changable in order to replace the battery (battery life of around 1-2 years). The backings we will provide are;
Standard flat backed casing, option to feed keyring or key-loop through the hole in the case. Adhesive sticker to stick the item to an object.
Slide-on attachment, that can be attached to an animal collar, clothing belt or a wrist-strap making these wearable's.
Hook-on attachment: the unit can be hooked-over an item.



The bluesavvy app uses Bluetooth LE (BLE) technology and is compatible with iPhone 4s or later, iPad 3rd Generation or later, and Android 4.4 devices with Bluetooth 4.0. Our home and retail kits are accessed using a standard web-browser and require a standard USB power supply and LAN/Wifi connection.

Fulfilment
Once the funding has been completed we will place the relevant order's with our manufactures
 for the basic hardware and casings. We test and calibrate each unit individually to make sure it is reporting distances correctly. 

We'll be providing regular updates to all our backings during the project.

Your feedback

Your feedback, idea's and comments are very important to us and we value each any everyone of them, be it good or bad. So please feel free to get in touch with us about anything! email us at info@bluesavvy.com. Please also share our campaign with friends, family, on Facebook and Twitter. The more funding we receive the more goodies we can add to your perks!
 

Frequently asked questions 


So it looks similar to a few other projects I've have seen?
Bluesavvy may appear similar to other projects you may have seen. We don't use full-power bluetooth, which is what other projects use in order to 'buzz' and locate your items. At bluesavvy we use BLE (Bluetooth Low Energy) which means your battery life is not effected. What's more we have brought the smart-phone app to the standard web-browser.
What's the different between full-power Bluetooth and BLE?
We have found similar projects, however these use a full-power bluetooth connection, which as we all know drains your smart-phone battery very quickly. We only use BLE (Bluetooth Low Energy) which does not drain your battery life. 
How many phones can be connected to a bluesavvy tracking item?
You can connect as many phones or home-kits to your bluesavvy tracker as you require. You can share your item details quickly and easily.
Did you say I can also use the web?
Yes, we have designed an interface where you can remotely control your smart-phone configuration and home-kits. Thus you can track your items using the web and even ring your phone remotely. Cool eh! 
What is the battery life?
The average battery life is around 1-2 years. The battery can be easily replaced by removing the backing to the bluesavvy tracker.
What does the home-kit provide?
This is where we feel we are unique. Compare us to other projects, any items out of reach or misplaced need to be near a smart-phone. Okay that cover's most items, but what if your at work? someone removes items from your property! With a standard tracking app you would not be aware until your return. With our home-kit this becomes you extra pair of eyes, anything moves whilst your in the office or on holiday, we'll tell you!
What does the retail kit do?
As with all these 'crowd-find' applications your reach is restricted on the amount of users who install the application. We are fitting our retail units in shopping centres, police forces, taxi cabs and public transport. This means that one unit in a shopping centre would equals around 500 users downloading the application. 24 hours of constant monitoring.
Do you provide any different colours?
Yes, we will be providing different coloured units, we will update you during the campaign as to the colours we can make available.
When can I expect my bluesavvy tracker?
Our goal is to ship the first bulk units towards the end of November 2014. We have worked closely with our manufactures over the last year, providing prototypes and designs so that once funding has been completed that we can push the button and get delivery.
How can I find out more information?
We value you input be it the smallest of questions, please use the contact items in this campaign and we will endeavour to get back to you within 8 hours of your request. Were working around the clock to deliver an application and hardware device that you enjoy and want to shout about.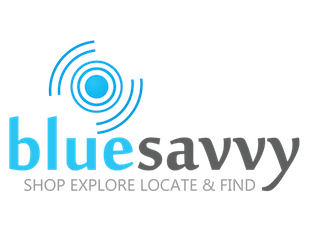 Helping you to make our community a safer place.