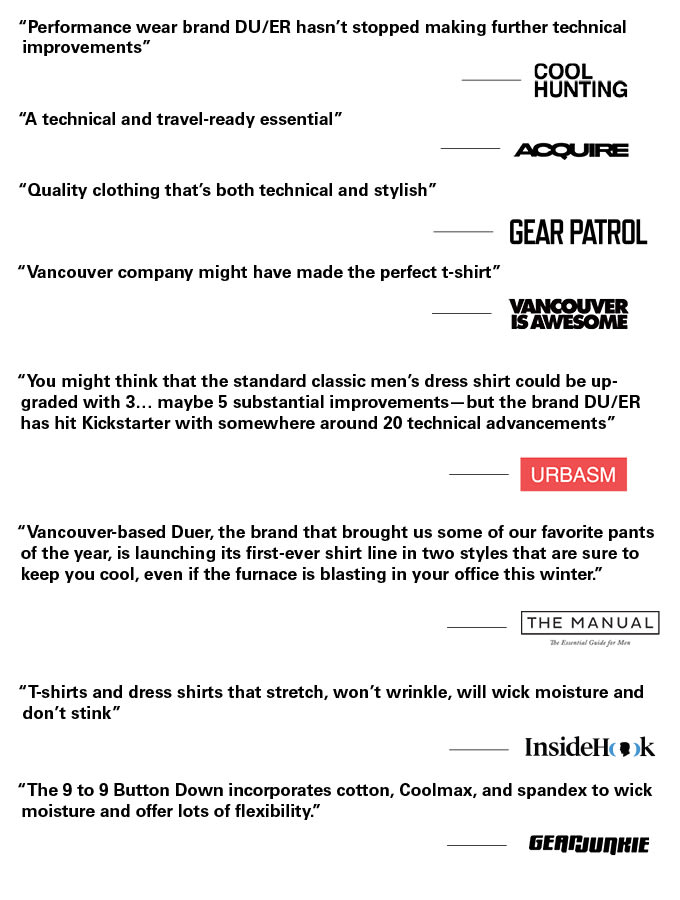 Your shirt options suck.
Traditional shirts are tight, uncomfortable and impossible to wear when you need to be active. Performance shirts have amazing attributes, but they look like shiny gym shirts - and can't (or shouldn't) be worn outside of the gym.
Can't one dress shirt and one t-shirt do everything you need them to do?
These ones can.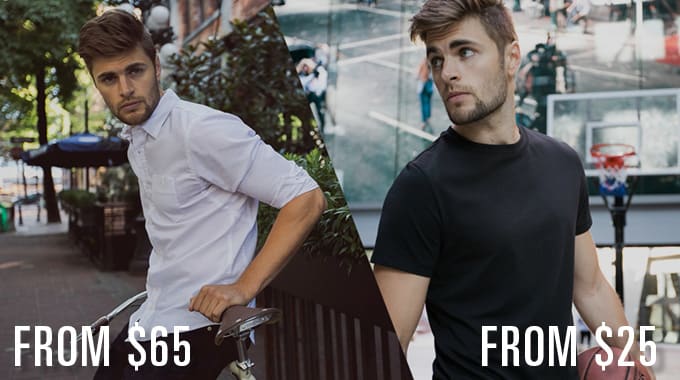 Do these prices sound too good to be true? If other brands tried to do shirts like these, they would cost around 2x. That means $75+ for a t-shirt and $180+ for a button down.
We're able to offer technically-infused premium apparel at a fraction of the price that you'd find elsewhere - while still developing top end fabrics, paying all of our workers fairly, and without cutting any corners. How?
By cutting out the middlemen. We only work with partner factories (who are invested in our business in some way) who sell directly to us, so we can sell directly to you.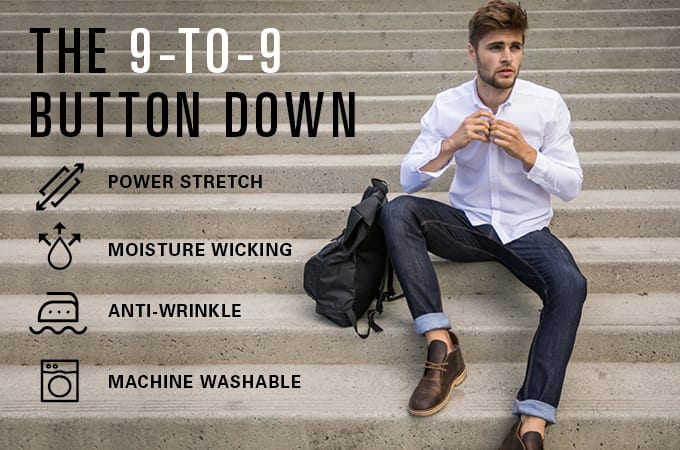 A button down shirt is a wardrobe essential, but you have limited choices if you want to look good and move freely. 
People think dress shirts = uncomfortable, but that's because other brands use fabrics that keep you hot and sweaty without any stretch. Since styles have gotten more tailored (ahem, slimmer), they're even worse to wear. While there are some "technical" polyester button down shirts out there, they don't breathe, feel scratchy and look shiny. 
Shirt technology hasn't kept up with modern lives. But we have.
This proprietary fabric includes cotton for comfort, COOLMAX® to keep you cool and sweat free, and spandex so you can reach, run and bike (or whatever you do in a day). We even added anti-stink and anti-wrinkle treatments.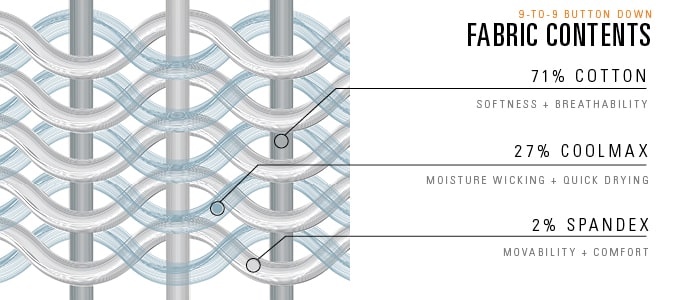 Our designers reviewed the best of fashion brands, performance brands, and everything in between to develop the features that will make this the shirt for all your adventures. 
From reinforced stitching to utility pockets with headphone ports, performance hems and collar stands, this shirt moves with you - no matter how big your life gets.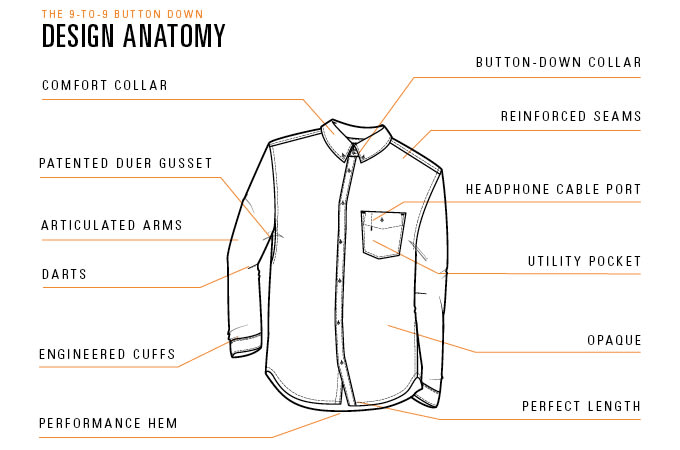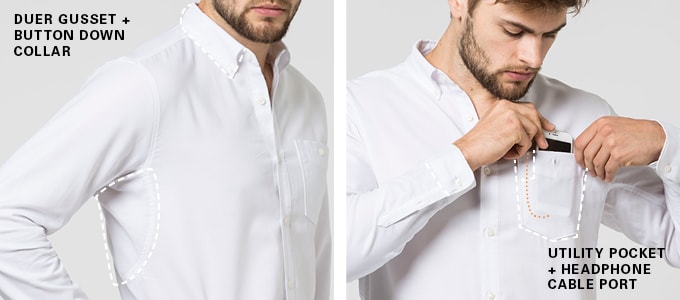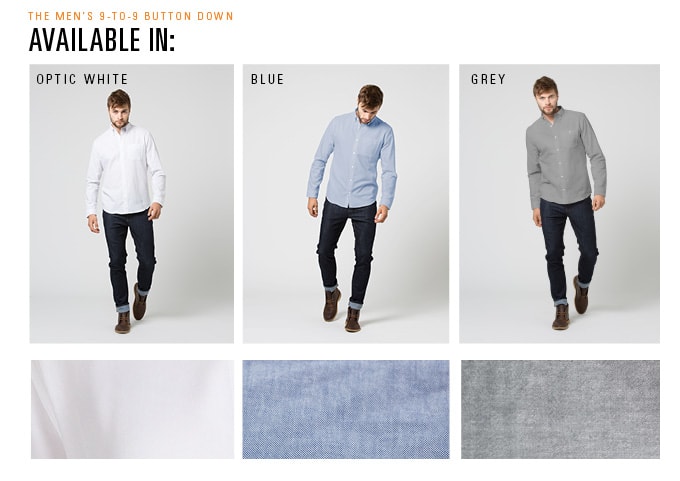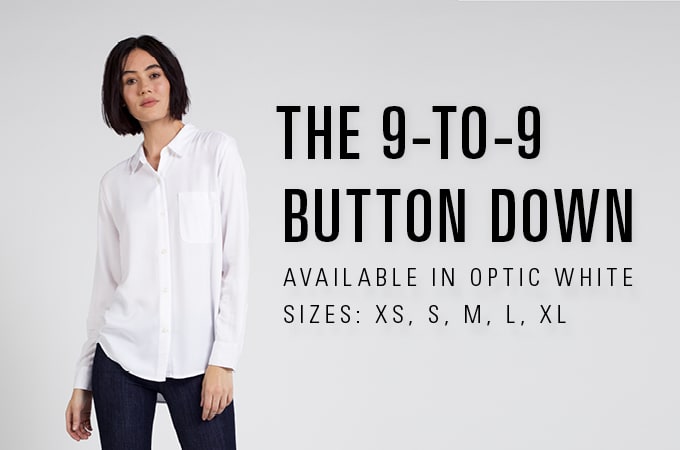 There are tons of t-shirts out there. But they tend to be basic cotton tees with no performance attributes (they get wet and they stay wet) or polyester monstrosities that don't breathe, smell bad and look worse.
Can't a t-shirt give you the best of both worlds?
This one can. Dress it up, dress it down, wear it to the gym and out on the town.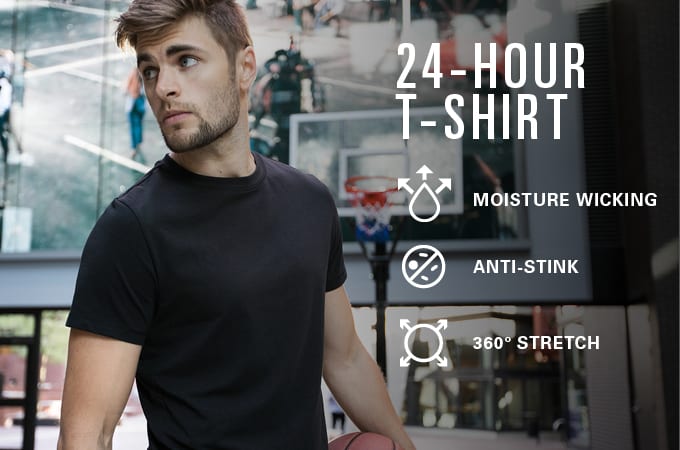 This T-Shirt's got your back. Cotton for classic cool. Lycra adds the stretch you love in workout tees, without the gym look. Plus Tencel®. Oooh, you're going to love Tencel®. It's a magical, sustainable and super soft fiber derived from Eucalyptus trees that absorbs moisture. It's also naturally anti-bacterial, so your shirt will never stink.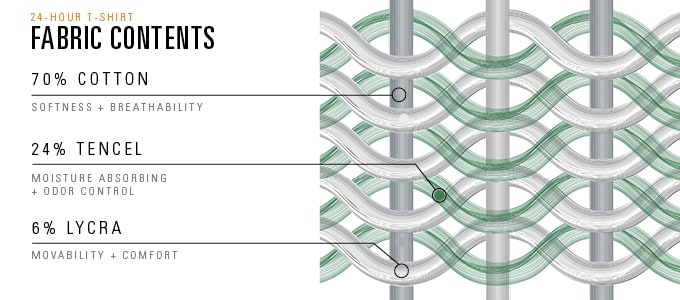 We live in t-shirts. Basic, but true. So we know what makes a good shirt. But we also bike, run and do yoga  - so we know sweaty, sticky situations.
These t-shirts marry the best of fashion AND function. Shifted seams avoid chafe points, reinforced stitching lends durability, heavier fabric weight avoids any accidental see-through, the length is perfect, the DUER gusset means you can move freely, and there's extras like headphone ports. Boom.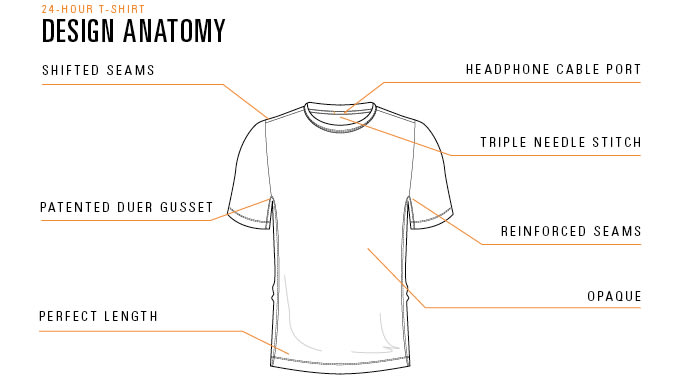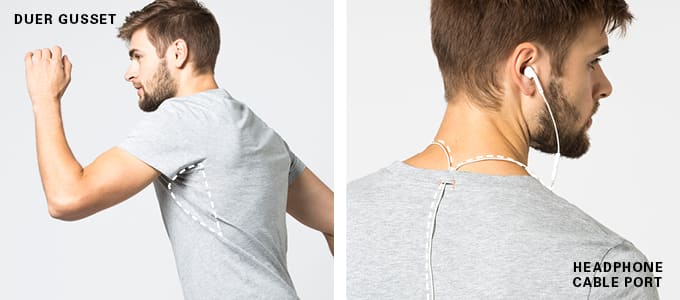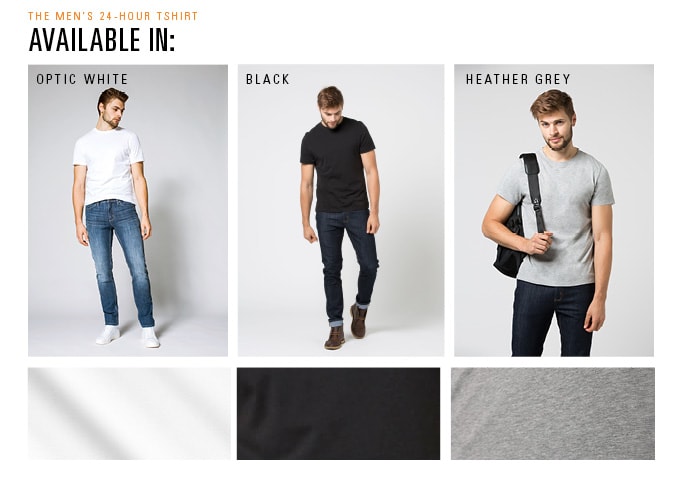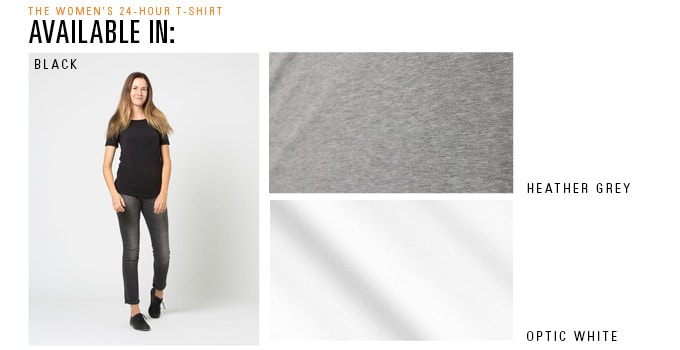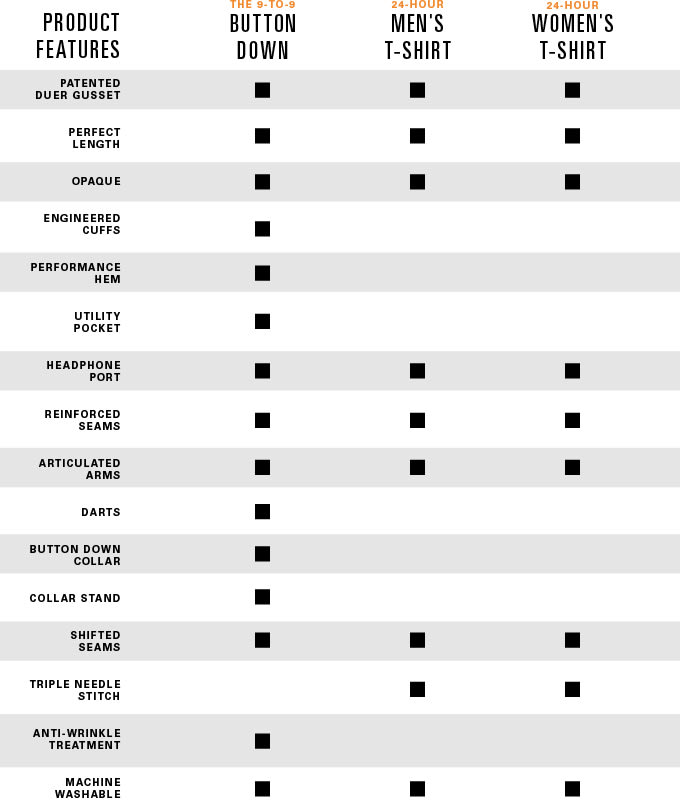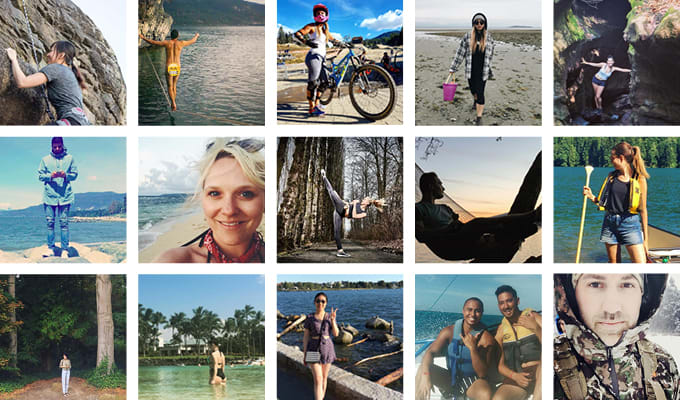 DUER is a small company based in Vancouver, with a sales office in New York. We were born of the idea that you shouldn't have to sacrifice performance OR style, and grew thanks to the support of Kickstarter.
We've launched every major innovation through this community - the world's first performance denim, an update on sweatpants, and the best pants for hot weather. We've now established ourselves as experts in pants, but we need your help to move on - and move up (literally).
Our previous backers fell in love with our pants, and asked us to solve their dilemmas in tops. We listened. This is for you, Kickstarter.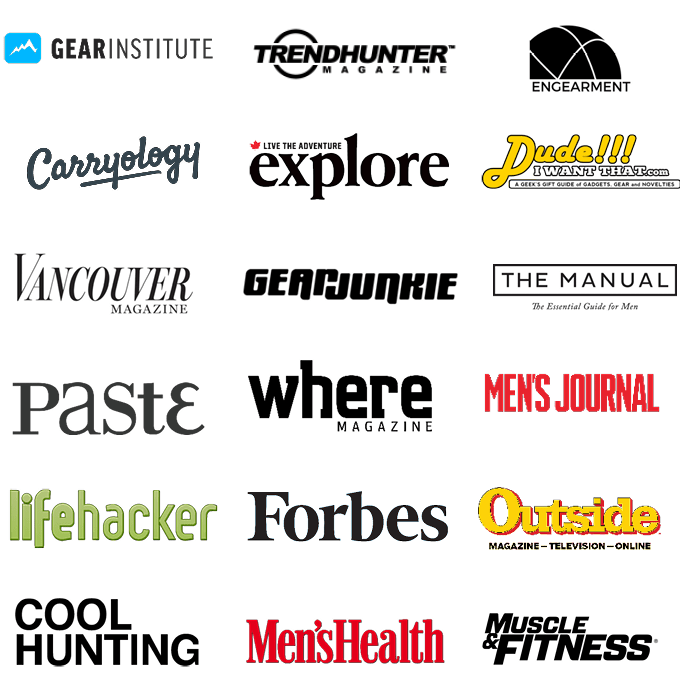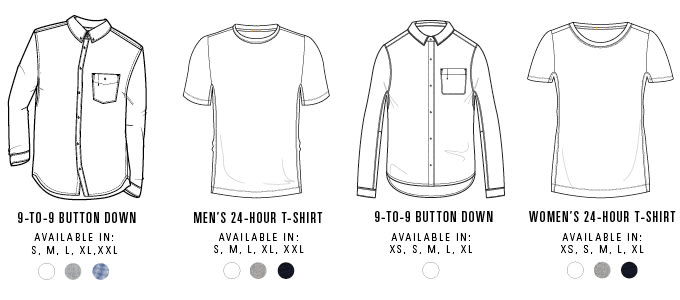 How to use this chart: This size chart is based on body measurements. To measure yourself, wear close fitting clothes and wrap a flexible measuring tape (or a string you'll measure later) around yourself, keeping the tape parallel to the floor and close to the body but not tight. 

* To measure your chest, measure one inch below your armpits. 
**  To measure your waist, measure the smallest part of your natural waist.
***   To measure your sleeve, place your hand on your hip with your arm bent at 90 degrees. Measure from the middle of the back of your neck, across shoulder and down your arm to the wrist.
**** To measure your shirt length, measure from shoulder (at neckline) straight down.
Care Instructions:
Machine wash cold with like colors. Tumble dry low. Do not use silicone softeners. Only use non-chlorine bleach when needed. Warm iron if preferred.