WHAT WE'RE DOING
We are going to take a new model of philanthropy nationwide!

You help determine what cities we go to next!


WE NEED YOU
Twitter: Follow @beremedy & @beremedynews and retweet our campaign updates.

Facebook: Repost needs from beremedy and "like" everything so people see it.

Video: Share our video and show your friends and family just how they can be the remedy, too. Awkward silences are perfect for this!
What is beremedy?
We've had one simple vision from day one: create the easiest way for you to help others. 
Screenshot from the new website

We fully believe that people want to help, but we're doing philanthropy the same way it's been done for years. It's time to reimagine it and make it fun, simple, local, real-time and transparent. Join us in creating the future of philanthropy and taking it across our country and then across the world.
Picture this: thousands of people in your community getting a notification of an urgent need and immediately rallying to meet that need! It's an amazing idea, right? But just how do you bring together those who can help with those who can use it?
That was the problem beremedy aimed to solve back in 2010. When Blake started
beremedy, he wanted to find a way to connect people with their "neighbors" in need. He believed you would help your neighbor if you knew they needed something, you just don't know they need it. With Facebook, Twitter, and a strong network of people that want to help, beremedy has been connecting those in need with those who can help for the past three years, and we're just getting started.
NEW INCENTIVE!
LOVE IS ART KIT is a brilliant company founded by a dear friend of ours Jeremy Brown. Simply put, LOVE IS ART is a kit that comes with everything a couple needs to safely make a tangible piece of abstract expressionistic art while being intimate with each other.  What is left is a one-of-a-kind abstract painting that represents that special moment, that can then be stretched, framed and hung on the wall -- a reminder of the love that was shared.  The kit also provides a unique bonding experience for the couples involved, as they work together as a team to craft their own unique masterpeice.
Choose any 4 colors of paint and either a black, white, or gray canvas! (Canvas size 41" x 54")
Check them out for yourself at www.LoveIsArtKit.com.
NEW INCENTIVE!
DASH PHOTOGRAPHY is offering one free Portrait Session to the first lucky person to donate $300. Recipient must be within 30 minutes driving distance from Atlanta to redeem.
Your City Could be Next
That's right - and you can help choose which cities we launch next! As you donate,
Leave a comment of your city and state.
Get your friends to do the same.
As a state hits 25 people you'll be on our radar and it'll be a race to launch!
We'll keep updates of the top 10 leading cities. It's all in your hands. If you need help promoting, reach out to us, we'll be happy to send you some things! Don't stop here, make a huge buzz anywhere online for your city and we'll be watching. This is all about passionate people that believe this will work in their town. 
PERSONAL LETTER
Blake here, the heart behind this step has nothing to do with technology or our organization. Its about helping MORE people. It's about people being helped immediately and it being easier for people to help their "neighbor." I've looked into the eyes of the person in need and seen how greatly a remedy affects their lives. I am determined to allow you the same experience. I want you to have an experience that taps into an innate desire for you to do good in this world. When you do it once, you'll want to do it again and that is humanity living at our full potential.. feeling completely alive. When an entire community embraces this, it's beautiful. I want your community to experience this. If I can be an idealist for a moment, here is what I want this to become. I wish for this to become a strong sustainable movement to help others that will destroy racial, political and religious barrios dividing us. I wish for everyone to be inspired to pull local resources to address urgent needs of their cities. And I wish for everyone to help others wanting nothing in return. Thanks for taking time to read and I hope you'll join our movement. 


Why Raise $30,000?
We've been able to help thousands of people in Atlanta and central Oregon (Bend, OR, to be exact.) During this time, we've perfected and dreamed up the next step in creating the easiest way to help others. This includes a new technology that we can't wait to share with the world! It's innovative, we promise! New technology means money. So this $30,000 is going to development. Not only is it going to be a great tool, it is crucial for us to be able to launch other cities. We've not asked anyone for a dime in 3 years! You can trust that it is going to good use! 
Where We've Been
CNN
TED
Blake's TED Talk 2012. Click here to see it.
So, how does beremedy work?
It's simple – see the need, be the remedy.
When a new need arises, the beremedy team shares this on our blog, Facebook,
Twitter, and through email. After the need has been posted, it's your turn to be a
part of making a difference in someone's life. You can donate the items needed, or
purchase them from Amazon. It's simple, fast, and it can change someone's life for
the better in no time at all.
Now, we've added a third step to the beremedy process. We want everyone –
neighborhoods, communities, the world – to see the remedy.
FUN!
A couple times a year, we dream up a unique way to help and champion a new campaign. For our campaign last year, we entered the Red Bull Soapbox Race.
We entered our car in the race and teamed up with the southeast's largest homeless organization in Atlanta. The homeless men, who were in a year long program, built our car and we did a four-week video series documenting their stories. Then, for 24 hours leading up to the race, we had people donate suits so these guys could have custom suits for job interviews and their graduation ceremony for their program. Here is a picture of the men who built the car: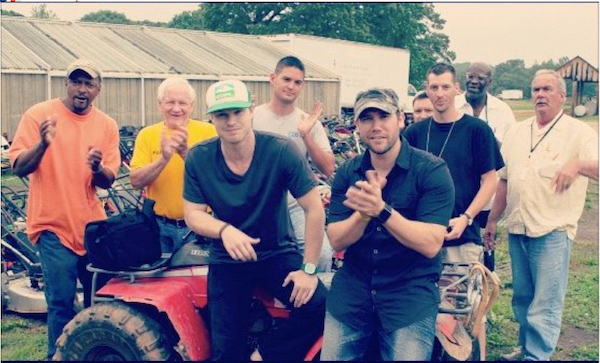 Car on Race Day:
Race day - people donated enough suits to provide 6 months of graduates with suits! 
What if we raise more than $30,000?
Everything we've done has been ONLY using a volunteer team! We love volunteering but imagine how many more people we could help if we had people working on this full time! Anything we raise over $30,000 will be used to bring on a full-time team. We will HAVE to have a full-time team to manage the technology and cities all across the nation. 
By helping reach our fundraising goal, we'll be able to bring people together
everywhere to make a difference, including your town, by finishing development
of the beremedy platform for a nationwide launch. This app will send you
notifications of new needs as soon as they arise, allowing you to respond to local
needs ASAP. After you meet a need, you can watch the story unfold as updates
happen in real time.