Bawdy Love Clothing
At Bawdy Love we have a vision of empowering individuals to find their personal beauty, and believe wearing pieces designed with uniqueness in mind encourages people to do just that.  Reaching all the intersections of size, ability, race, gender and beyond is tremendously important to us.  If you've ever felt like you couldn't love your body because it wasn't thin enough, tall enough, curvy enough, toned enough, short enough, anything enough, our pieces are for you.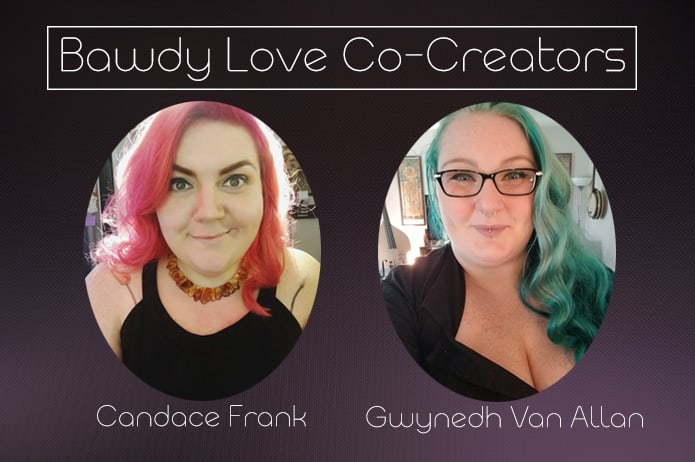 Our Story
Bawdy Love is the creation of Gwynedh Van Allan and Candace Frank, two queer femme plus size feminists bent on sharing radical self-love and enthusiastic personal sensuality with the world. Throughout our lives we've seen a lack of inspiring fashion for unique bodies. People of all shapes, sizes, ethnicities, ages, and genders have felt left behind by fashion, especially in the world of lingerie, intimates, and swimwear.
As teenagers we each learned to make the clothes we couldn't find on the rack. Candace translated her early love of fashion and creating into a successful career designing costumes for theatre, opera, circus, and burlesque. She eventually earned a Master's Degree in Theatrical Costume Design working with Seattle Opera, Cirque Du Soleil, and Ringling Brothers.
Gwynedh explored the complex realm of corsetry, delving deep into the history of body modification and enhancement via foundation garments. Her passion for the engineering and history of clothing exploded along with her enthusiasm for dramatic performance.
For over a decade we used our knowledge of clothing to create custom designs for performers and individuals, but for many years we still allowed exclusion from the mainstream fashion world to define our relationships to ourselves and our bodies. Then the rapid growth of the body positive and sex positive movements brought us new examples of the beauty and sensuality of unique bodies both like and unlike ours.  We saw bodies with full tummies, gender fluidity, thick thighs, flat chests, straight waists, all shapes of people who had been told they couldn't be beautiful because of their bodies, being accepted and powerfully sensual.  These bodies were not beautiful in spite of their uniqueness, but BECAUSE of it.  
Our self-love grew along with our knowledge and experience. We wanted lingerie that allowed us to express our passion, our sexuality, and our power. When we couldn't find it in stores we designed and made it ourselves. Through this process we learned that the true secret to sensuality was being at home in our own skin, and our purpose became fundamentally linked to helping others do the same.  
We needed to share this with the world.
Now We Need Your Support
We started Bawdy Love and were met with a tidal wave of enthusiasm and support, from our community and friends to body positive models and bloggers. We were surrounded by people excited about our creations.
But as the enthusiasm and demand rose it quickly became clear that while we had plenty of vision and ideas, and the skills to execute those, we lacked the capital means to keep up. With this campaign we hope to raise the funds necessary to enhance the efficiency of our production process, expand the business beyond the two of us, and refine our unique universal sizing technique.  
We passionately believe it is time for us to expand into masculine, gender fluid, and petite products. We have the designs, we lack enough skilled hands.  Your contributions will directly allow us to produce, market, and expand our lines to better serve a wider community.

Our Growth Plans
A new larger sewing studio where we have the space to train stitchers, test new products on real bodies, and hold events. 
Development of an incredibly precise universal sizing system allowing every piece to fit like custom.

Expanding designs to include new masculine and androgynous styles.

Vending and showing our pieces on the runways of more fashion events.

Hire more body positive fashion photographers and models to promote our products while increasing visibility of fashion on the underrepresented. 
What We Need & What You Get
Our designs are ready. The pattern making has happened. Now we need you! 
With every piece we make we gather more measurements which help us refine our unique universal sizing technique allowing every piece to feel custom and special.  Every donation will go towards tangible advancement of Bawdy Love.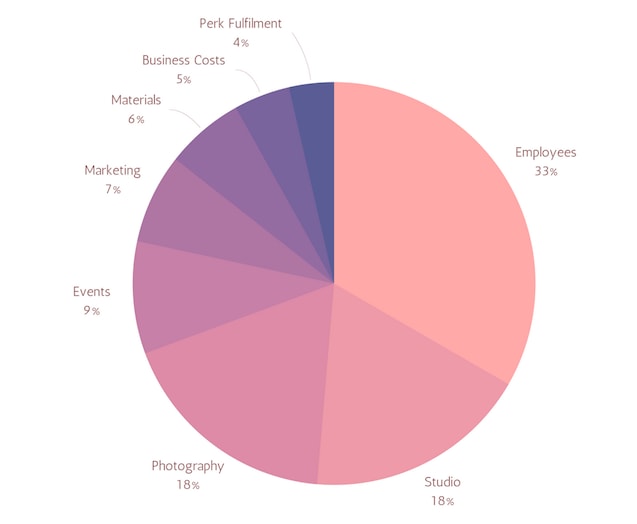 Our lowest goal of 15k will fund marketing and growth, allowing us to afford professional photography and to attend fashion events. We can find a sewing studio that accommodates our needs. And with each new measurement gained, more data for our universal sizing.
Our second goal of 25k will allow us more space for additional stitchers. We will be able to produce a whole new line of pieces and to take them to events and continue filling orders quickly to our exacting standards.
We have a whole host of wonderful perks for all budgets. You can choose what works best for you. The perks benefit you and us! With each perk of a lingerie item, we will ask for your measurements and make the pieces to your specifications. This will help us expand and refine our universal sizing method! See them in more detail to the right in the Perks section.
If we don't reach our full goal the money will go first towards fulfilling the perks and then we are prioritizing marketing. Our goal is growth so that the business can become self sustaining. Photo and video shoots are not cheap, even with all the amazing people willing to donate their time.
The Impact
With the expansion of Bawdy Love we will be able to create intersectional lingerie for everyone, of every size, shape, gender, ethnicity. We want to bring out the sexiness and beauty in every body.
When you contribute, you are also supporting a small, women-owned business with values that are rooted in supporting and uplifting women, people of color, and the LGBTQ+ community.
Risks & Challenges
Universal sizing isn't simple. The variety of human shapes and sizes is vast.  We are dedicated to gathering as much information as possible and continuously analyzing it for patterns in fit, comfort and practicality. We have been making clothing, in many forms and styles, for decades and have amassed a huge amount of knowledge on how to create pieces for a variety of people.
We design our pieces from this lifetime of knowledge and believe the more information we gather about peoples measurements and shapes, the more we will be able to identify trends in how to fit and flatter all shapes.
We envision an extremely precise sizing method that accommodates every unique body, regardless of size, height, and shape to create pieces that are practically custom.  Through this method anyone who's felt underserved by the existing fashion industry now has the keys to their own sensuality.
Our other large risk is simply not being able to keep up with demand. At the moment Bawdy Love consists of Candace, Gwynedh, and a select few and invaluable volunteers. We want very much to expand and hire so that we can fill orders more quickly but also so we can create all the new designs that are constantly pouring out of us. Labor is expensive, training is expensive, and we require high quality sewing. If we can reach our stretch goal we will be able to hire to keep up with demand and grow.
Other Ways You Can Help
We appreciate all help, not just donations! So if you find you cannot make a donation please use the power of social media to share share share. Every additional person that sees our campaign is another person that can be touched by our vision and help us grow. Word of mouth, emails, and the ever present power of social media are a wonderful help. We appreciate every share and mention.
Indiegogo has many tools to help with sharing right here in this page! So share share share!