Support bail and legal defense fees for Bree Newsome – as well as support for other courageous activists taking direct action in the movement for Black lives.
Ten days after the racist terror attack in Charleston, the Confederate battle flag embraced by shooter Dylann Roof came down in South Carolina.
It wasn't because South Carolina leaders acted – they allowed the flag to fly on the Capitol grounds even as the body of State Senator Clementa Pinckney, who was slain by Roof, lay in state at the Capitol on Wednesday.
The flag came down because one brave soul did what South Carolina leaders were not yet willing to do. A courageous woman, Bree Newsome, is now in jail, for cutting down the flag.
Instead of keeping it down, South Carolina officials have already raised the flag again -- in time for pro-Confederate flag rally! We need to bail out Bree and James Tyson, the activist who was arrested with her -- but also others who will follow them in taking peaceful direct action. Again and again, activists will take down these flags and put their lives on the line to defend Black lives.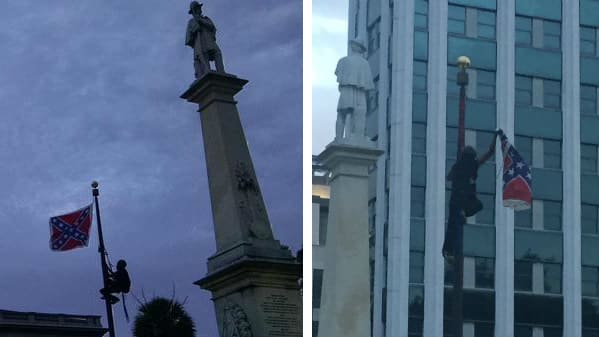 In the fight for social justice, doing what's right often means directly challenging injustice -- sometimes at the risk of the personal safety and freedom of those brave enough to take a stand.
That is happening in vital ways throughout our country in the movement for black lives and this is an important moment to stand in solidarity and support those on the front lines.  
The killings in Charleston, of Eric Garner, Freddy Grey, Rekiya Boyd, Mike Brown and so many others, has ignited a movement that is directly challenging persistent violence in communities around the country from Charleston, to Baltimore, to Los Angeles to Ferguson.
There is a network of local leaders springing up around this country – including the Black Lives Matter network, Black Youth Project 100 (BYP 100) and Ferguson Action – who need resources to respond rapidly when crisis occur. And this movement doesn't just need money for capacity building or for voter registration or to pay for organizational overhead. It needs the hardest money to raise -- no strings attached contributions that can be used to pay for bail and legal defense when activists are arrested.
CREDO will cover any processing fees from your credit card or indiegogo to ensure that 100% of your donations goes to Bree Newsome's legal support and the movement for Black lives.