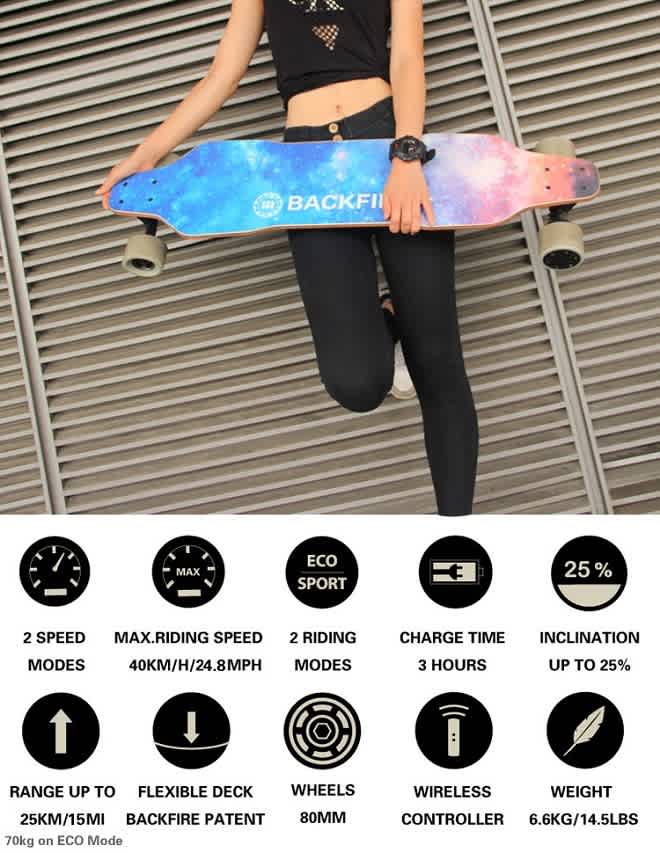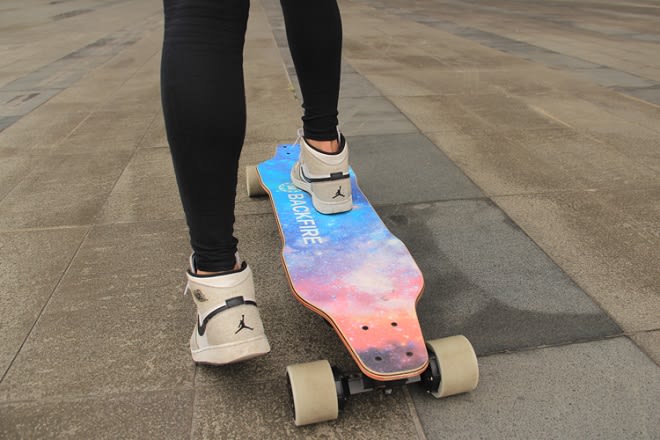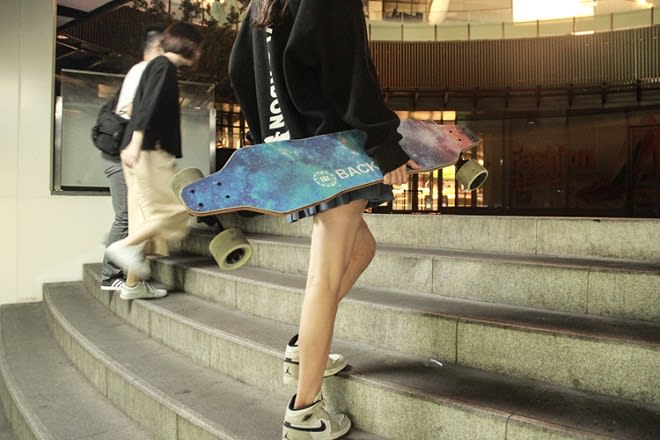 Backfire Team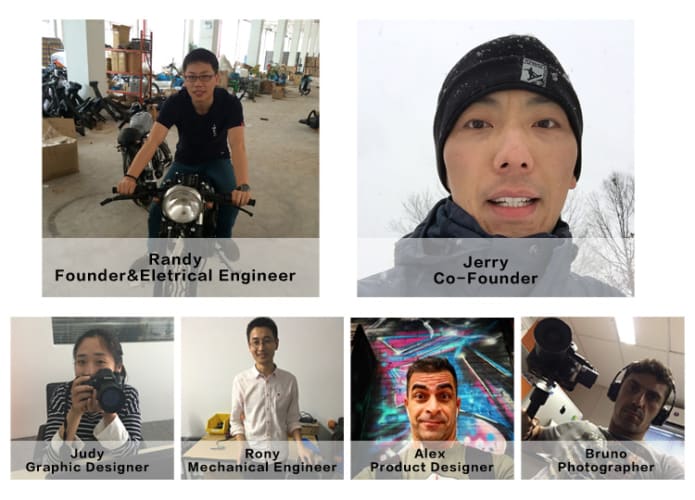 Randy and Jerry have been skateboarding lovers since early 2000's in college. In student age, they were troubled to spend their money for the expensive or even over-priced skateboards.  Therefore, Randy and Jerry co-founded Backfire Skateboards in 2009 with a mission for the company to deliver high quality, affordable skateboards and fun to all skateboarders in the world.  Backfire entered the electric skateboard field in later 2014 and introduced Backfire G1, then in 2016 started the project for Backfire G2, and come production in later 2017.  Randy leads the major R&D and lives in China. As a skater, Randy did a lot of testing on his own during R&D stage to make sure the board performs the best for the users.   Jerry came to the United States to get his Master degree in business and lived in Richmond Virginia with his family; currently leads the company's strategic planning and marketing.  
Backfire G2 Project Mile Stones
2016/04,  The project started
2016/09,  The initial phototype board finished
2017/01,   First 1000 Km road test finished
2017/05,  Small production for testing samples started
2017/07 to 2017/08,  BMS issue and non-brake issue on full charged battery were fixed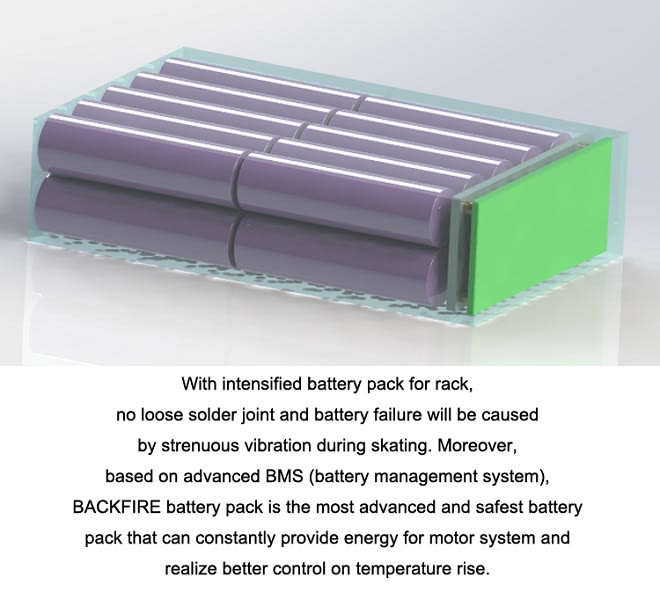 2017/10, Wheels vibration issue were identified and fixed
2017/11,  Plan to go on Indiegogo Campaign and continue mass production
2017/12,  Containers with the boards will sail from China 
2018/01, Containers will arrive U.S. and Germany warehouse and we will start sending the board out to customers. 
2018/02, Formal distribution with U.S. and Germany warehouse stock for local customers. 
WHERE WE SHIP
We are able to ship majority of the counties worldwide except certain countries with very strict import limitation of electric skateboards.  VAT and GST are also Included.  Please see reward details for the shipping cost that applies to you. 
WHEN WE START SHIPPING
We plan to ship the product in Dec. 2017 via container to U.S. and Germany warehouse, also via small package forwarding to other regions and countries.  We will keep you up to date on our progress and the expected delivery date of your order. 
*There are certain facts like Customs Hold are out of our control in International shipping process,which might add 7 to 10 days to the whole lead time. 
WHY ORDER NOW
By backing us now, you will get the best deal of Backfire G2 Board at the low prices only available to backers on Indiegogo.  We pass the savings on the freight to you as customers.  There will not be such a good deal after the U.S. and European distribution distribution.  

WHY ORDER FROM BACKFIRE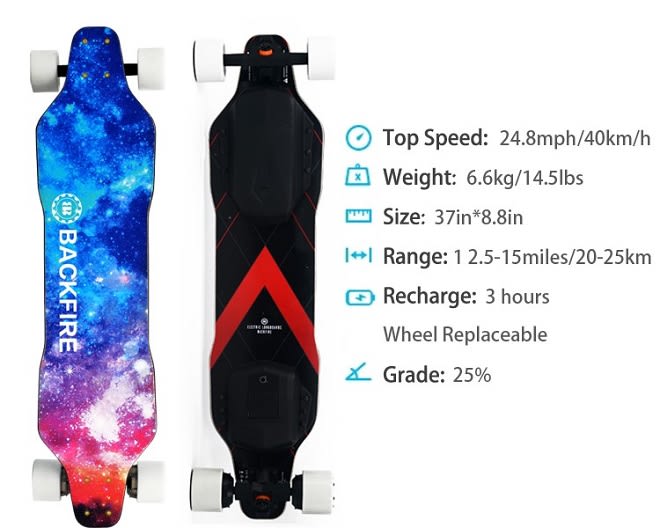 High Flexible Deck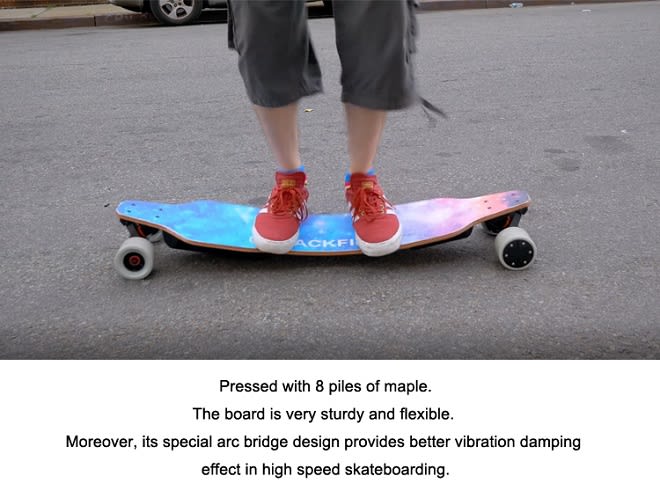 Trucks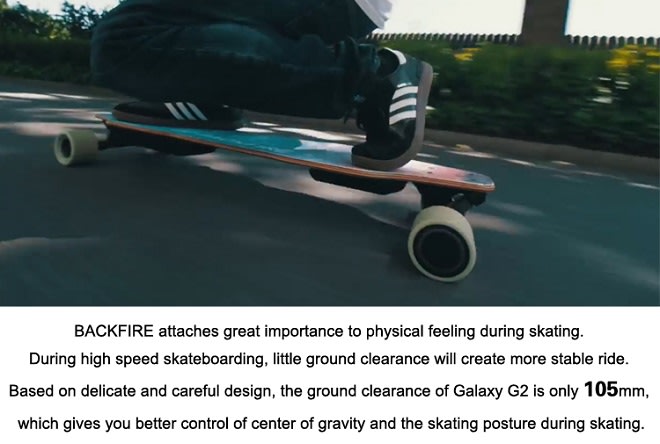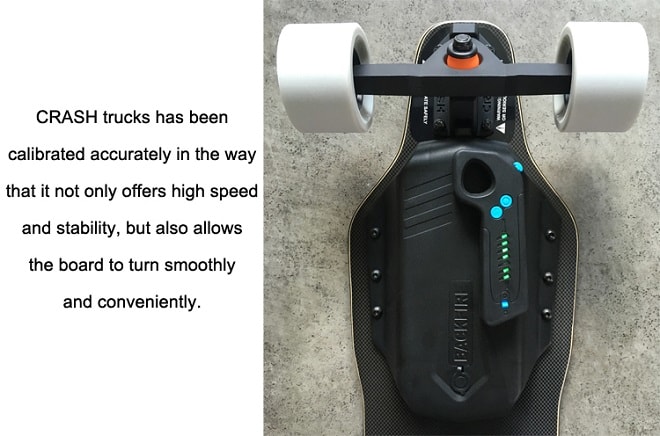 Replaceable Wheels: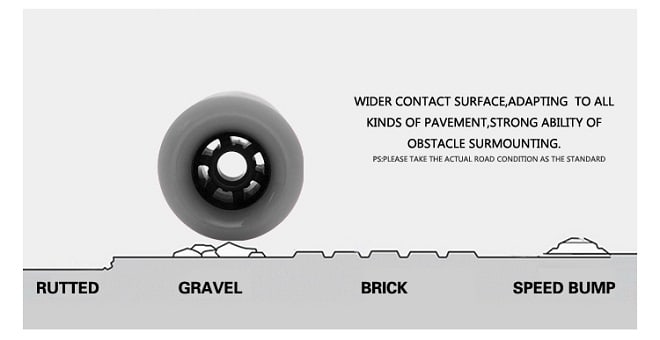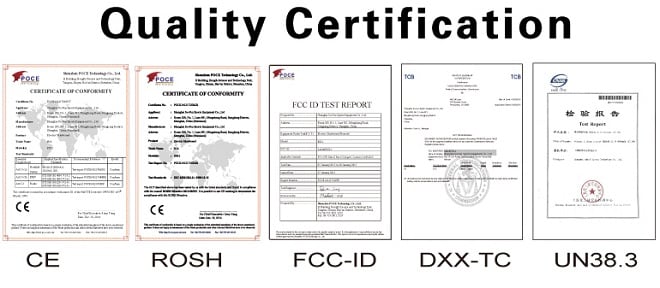 The package includes:
A full assembled board, the remote , the battery charger ,a USB remote charger, tools and user's manual.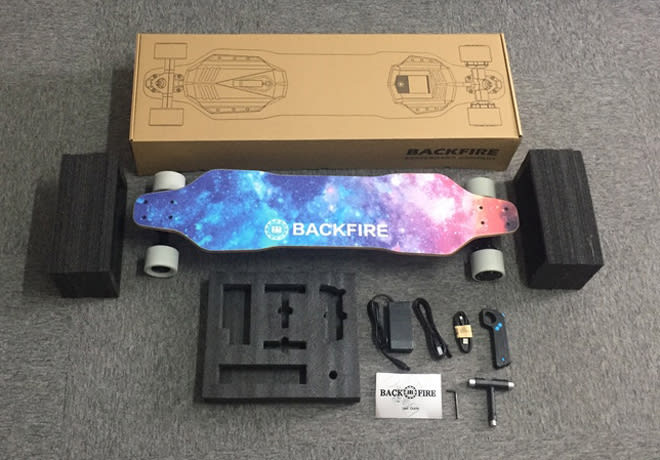 Production Stage:
Just to confirm with some questions from customers and for the review of Indiegogo :Is Backfire G2 fully in production?  Yes, it is.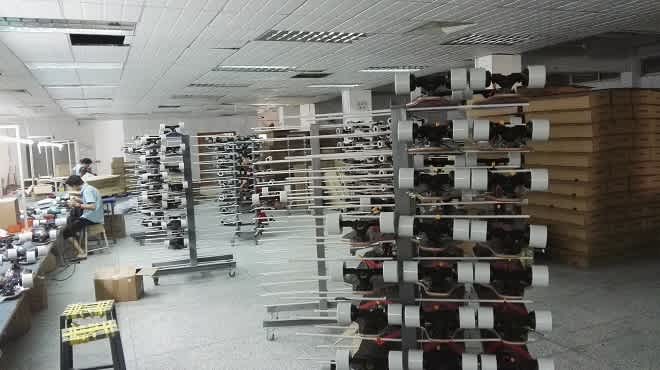 Reviews: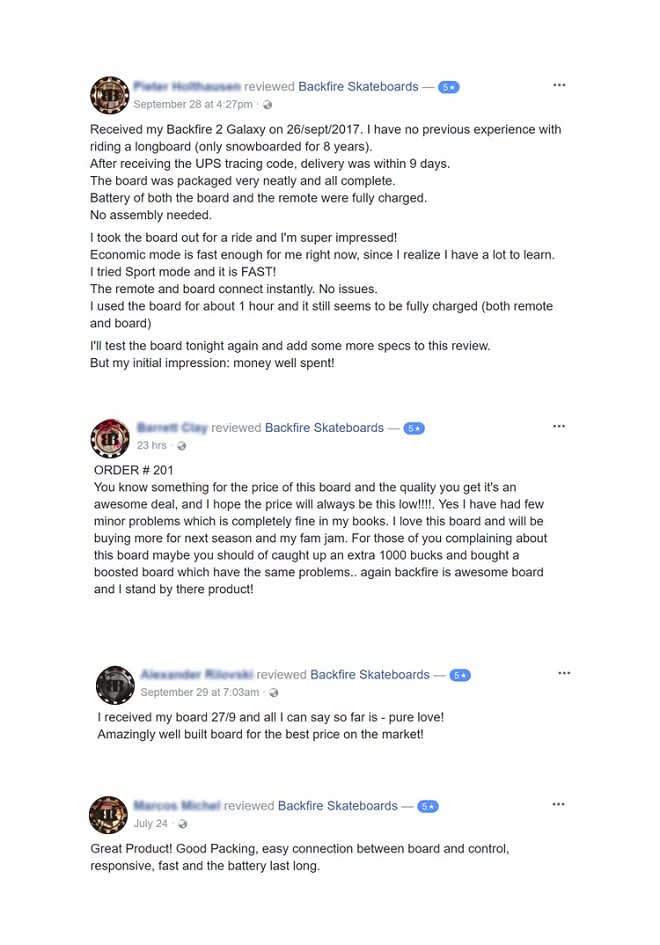 FAQ
What is the Backfire G2 Used for?  Economy and fast way to cut the traffic , travel from point A to point B.  Pure fun and enjoyment.

Where can we buy it? Right now, only on Indiegogo. We do not sell any Backfire G2 on any other websites now during the Indiegogo campaign.  After the Indiegogo,  Please check the update on our official website: www.backfireboards.com

How far can I go before recharging the battery? How long to fully charge? 25Km (15 Miles)  Maximum Range on ECO Model. 14.4 Km (9 Miles)  Maximum Range on Sports Mode, tested by the user 70Kg or about 156 lbs.   It takes 3 hours to fully charge the battery. 

Are there different types of plugs for the charger? Yes,  We will provide different the charger plug will be based on the destination country.

What are the dimensions and weight? The deck size is 37.5 Inch by 8.25 inch.   Total weight for the board is 6.6 Kg or 14.5 lbs

Is the blue and white underside deck available now? Sorry, no. The only deck design is the red and black underside now. 

Is Galaxy the only grip tape available?  Yes, that is the only one we offer now. 

What kind of braking system do Backfire boards have? Backfire G2 feature hub motors with regenerative braking. While traveling downhill and braking, you'll get some energy back into the battery.

What is the maximum weight of user can the board load?   260 lbs  (However, please do not try to jump on the board or break it with your strength).  

Is it waterproof? Backfire's IP55 waterproof rating enable riders to use the board in some conditions like after rain on the wet ground. You can not use the board during the heavy rain or sink the board into the water completely.  Even though, we recommend you  to maintain the board in good dry condition always , which will extend the life of it much longer. 

Where is it manufactured?  China

What are the recommend ages? We recommend the user's age to be 14 years and up. Children under 14 years needs to be under the Adult's supervision.  Please make sure you always wear a helmet and your personal protective gear just in case. Do not ride the board out of your skills and always care about your surroundings.

When does shipping begin?  Dec. 15th. 2017
What is the ETA to my door?  Jan. 15th of 2018.    If you choose Air shipping, the ETA will  be Dec. 24th 2017. 

How much is shipping? Please see the shipping at the check out page based on different countries.

I am interested in a distribution partnership?  We offer 10 Boards dealer options in the perks for starting dealers. If you have other questions, please reach out to Jerry@helloskate.com

Do I have to pay VAT / GST? No, it is included in the price and shipping total. 

What is the refund policy?  We can refund before the board is shipped. Once the board is shipped, we can not do refund.

What is your return / exchange policy? If you received your product and you aren't satisfied, you may exchange for you with in 15 days, less shipping & handling fees.

What is the warranty? We offer 6 months warranty on parts from the date when you receive the board. If a defect arises during the Warranty Period, Company will , at is options : 1). Send the new parts to replace the defect parts.  Most of the parts are fairly easy to be replaced with our design with our YouTube video instructions.  2). exchange the affected Products with functionally equivalent Products that are new or formed from new and/or previously used parts that are equivalent to new in performance and reliability. This warranty excludes normal depletion of consumable parts ( grip tape, wheels & bears) unless due to a defect in materials or workmanship, and damage resulting from abuse, accident, modifications, unauthorized repairs, neglect, abuse, water damage, or other causes that are not defects in materials and workmanship.

How do I choose more than 1 board? If the quantity is not editable at the check out, please make a new contribution for each perk.

How can I check the status of my pre-order? Please Log back into Indiegogo using the email you pre-ordered on Indiegogo to check the status. Otherwise, the ETA of the board will remain as advertised.

If I have other questions, who should I contact?

Press in U.S.:  Jerry@helloskate.com

Investment Inquiries: Jerry@helloskate.com 
         Sales Support: Jason.li@helloskate.com
         Tech Support:  Rony@helloskate.com 
         International Dealership:  Sales@helloskate.com 
Risks and Challenges
SAFETY
Please make sure you always wear a helmet and your personal protective gear just in case. Please make sure you get used to the board before you speed up. Do not ride the board out of your skills and always care about your surroundings.
LEGALITY 
Please check your local legal requirement of the electric vehicles and electric skateboards before you use it, the lows and regulations vary by countries, states or counties.
Other Risk or Challenges 
Backfire have sourced good suppliers and manufacturers who make the components for us. Certain suppliers might have different lead time and their own peak season production circle, Our biggest challenge is to control the lead time better. To be able to do so, we need collect enough funds in front to pay demand to meet the suppliers' MOQ (minimum order qty) requirement to have the suppliers prioritize our purchase order.  The shipping lead time and ETA could change from above if there is any facts out of Backfire's control form outside parties such as the carrier and Customs held etc.