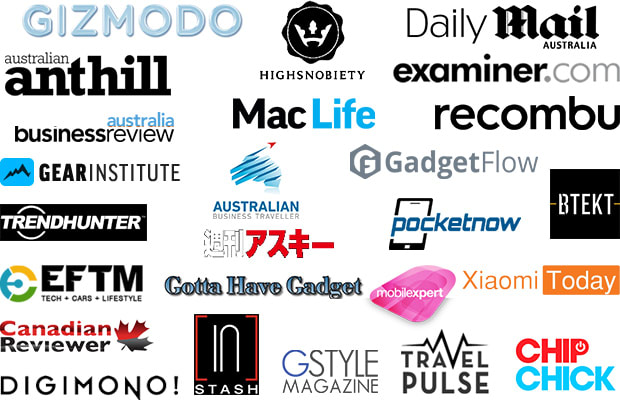 Our mission is to finally fix this problem by creating a portable charger that charges insanely fast from a wall socket. How fast? ASAP Dash charges up to 
16x faster than standard power banks
 in the market today.

Our patented fast charge technology puts us miles ahead of the nearest competition both in charge speed and size of the charger allowing you always be on-the-go. It's the first charger in the world to give you a whole weekend of charge to carry around that's pocket sized!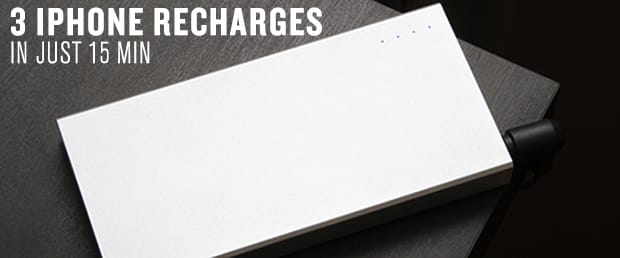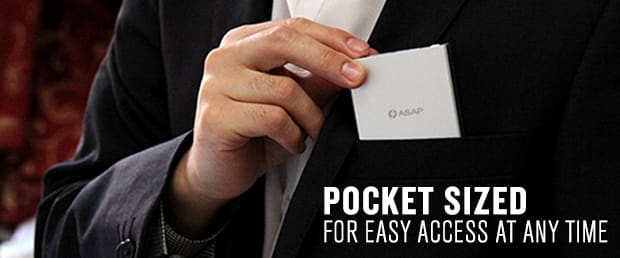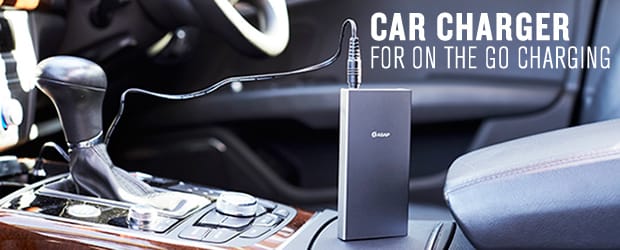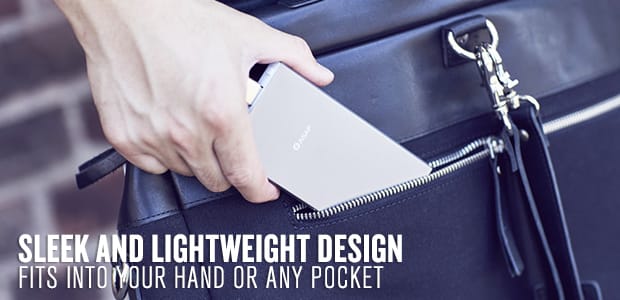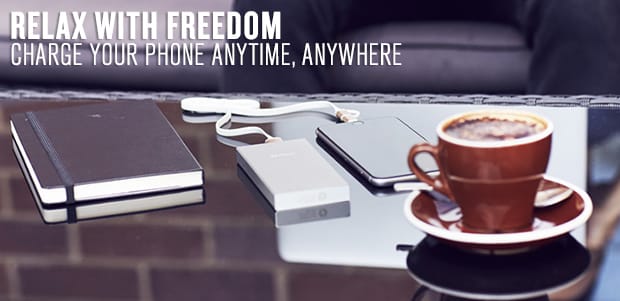 If you're familiar with crowdfunding websites you've seen many fast chargers power banks launching in the past year, here's a comparison chart showing ASAP Dash's stand out features.  
For all all customer service inquiries please email hello@chargeasap.com and the Customer Happiness Team will respond within 48 business hours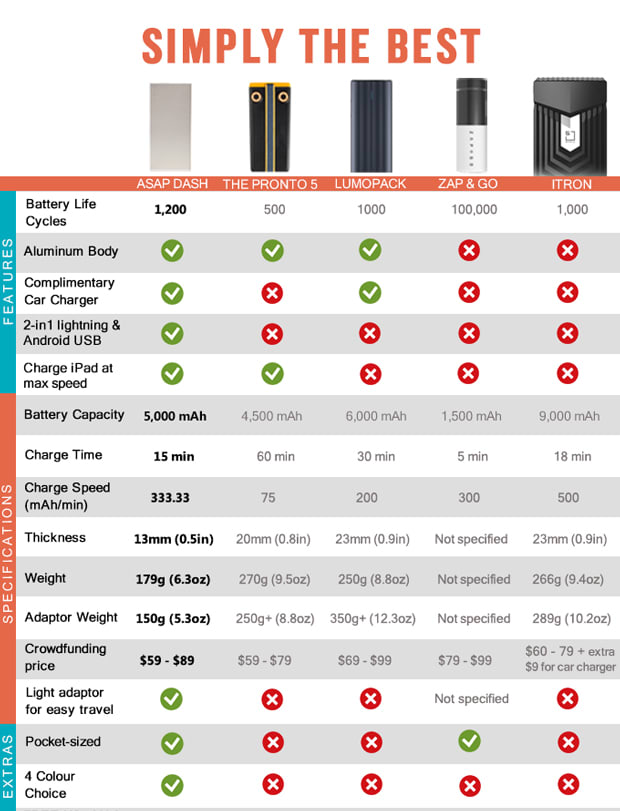 All competitor information has been collected from the latest publicly available campaign or website pages and is correct as of the date of campaign launch. 

ASAP (an acronym/abbreviation/slang) means "As Soon As Possible", which is how fast you can now be on the go with your smartphone.
Unlike other rapid charge chargers which have a tiny capacity (under 2,000 mAh), ASAP Dash stores an incredible 5,000mAh keeping your phone going for more than 48 hrs.
PLEASE NOTE: ASAP Dash charges in 15 minutes, not your phone. 
Check out how much power ASAP Dash can store in as little as 5 minutes: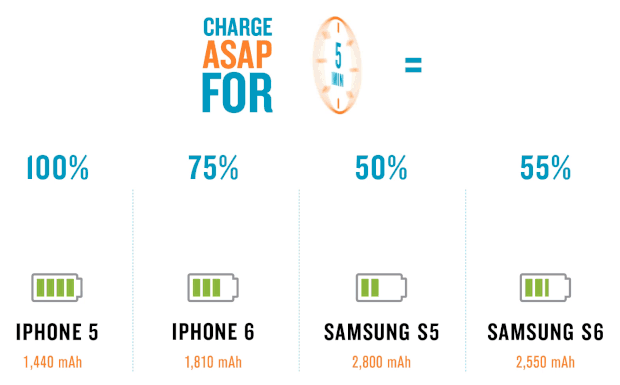 "mAh" refers to the battery capacity of your phone. Samsung phones have a larger capacity than iPhone and hence will typically last longer.
Most portable chargers take FOREVER to charge, we've all been there waiting up to 10 hours to power them up, keeping you stuck to the wall and defeats the purpose of portable power.

ASAP Dash features an amazingly slim and sleek anodized aluminum shell. We've really stripped down the charger and removed the unnecessary features to give you one of the thinnest high capacity chargers you've ever seen. Don't be fooled by the sleek profile as it does pack a punch of battery power!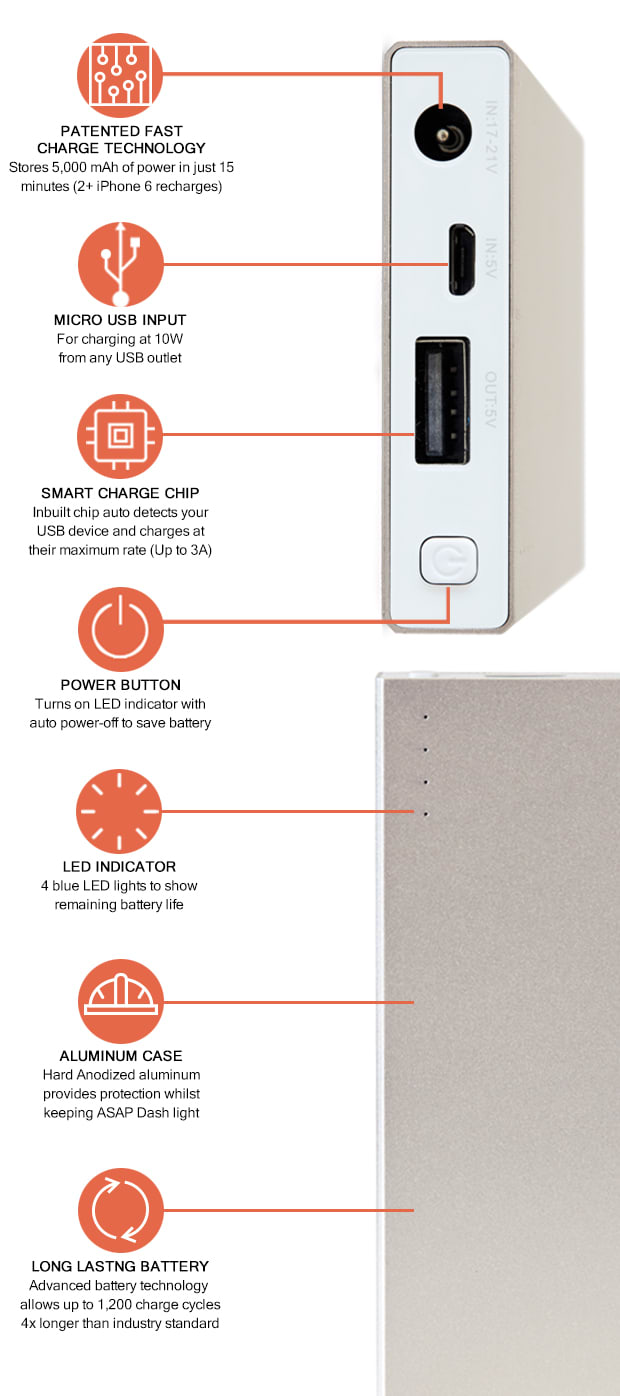 The ASAP Dash not only works with all Iphone and Android devices, it is also compatible with all USB devices. Most phone chargers or power banks are only capable of outputting 2.1 Amps. We're already preparing for the future phones that accept a larger input, the ASAP Dash comes with a 2.4 Amp output. This makes it compatible with all iPad's and tablets.
The high output also means your iPhone will charge 2x faster than your standard wall charger (1 Amp).
You can also charge your iPad at the max speed of 2.4 Amp vs most wall chargers and power banks which only charge at 2.1 Amps.
PLEASE NOTE: ASAP Dash charges in 15 minutes, not your phone.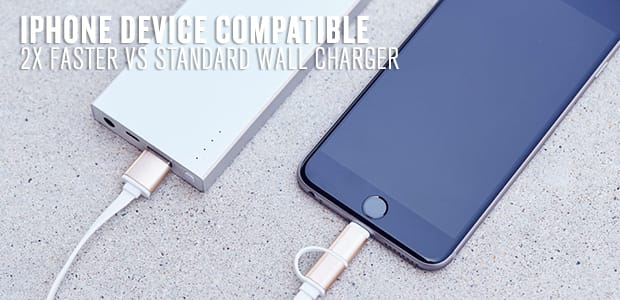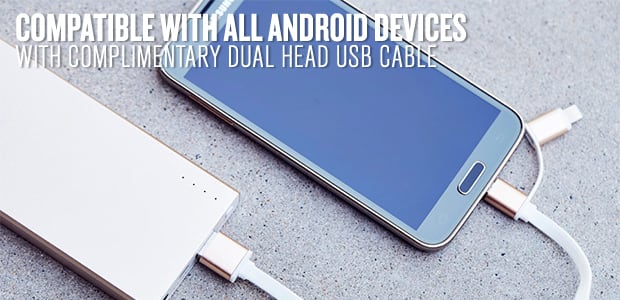 Have you ever used an old phone or laptop after charging it to 100% and it seems to run out FAST? It's because you've likely exceeded the battery life cycle.
Standard batteries today typically offer 100 - 300 cycles whilst premium battery packs can last up to 500 cycles (based on ideal conditions). Typically charging a battery at a higher than recommended wattage will result in it heating up (even exploding) or reducing its life cycle.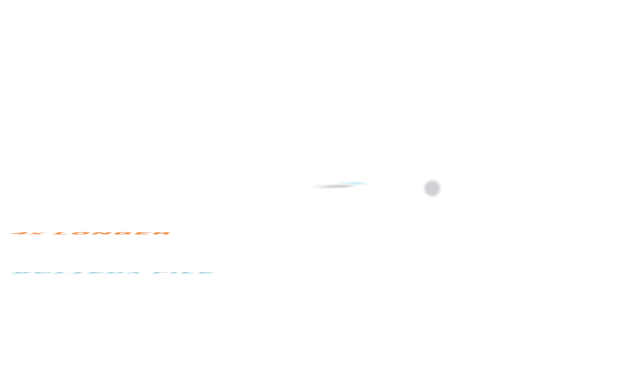 By using advanced battery technology, ASAP Dash solves this conventional problem with fast charge speeds and a 1,200 battery life cycle, that's 4x the industry standard.
This means most batteries when used 7 days a week will only last 1 year whilst ASAP Dash will last 3+ years even when used 7 days a week. Finally a reliable charger that lasts!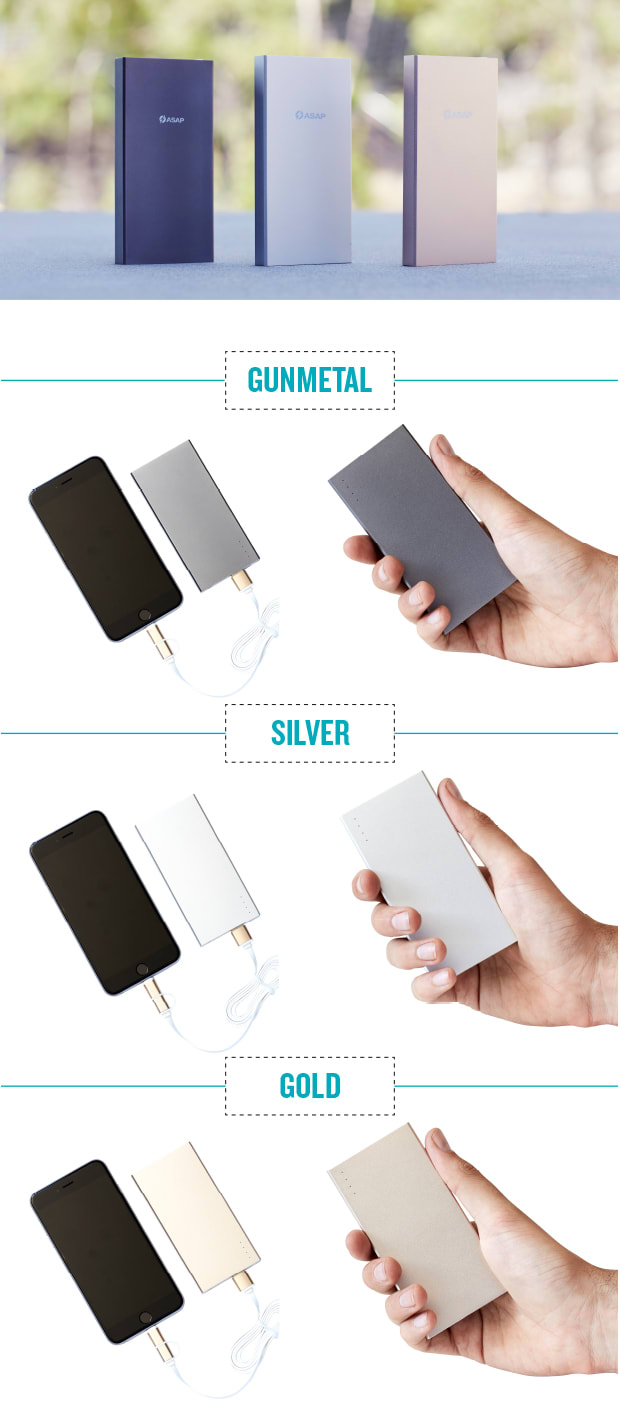 **ROSE GOLD EDITION NOW AVAILABLE**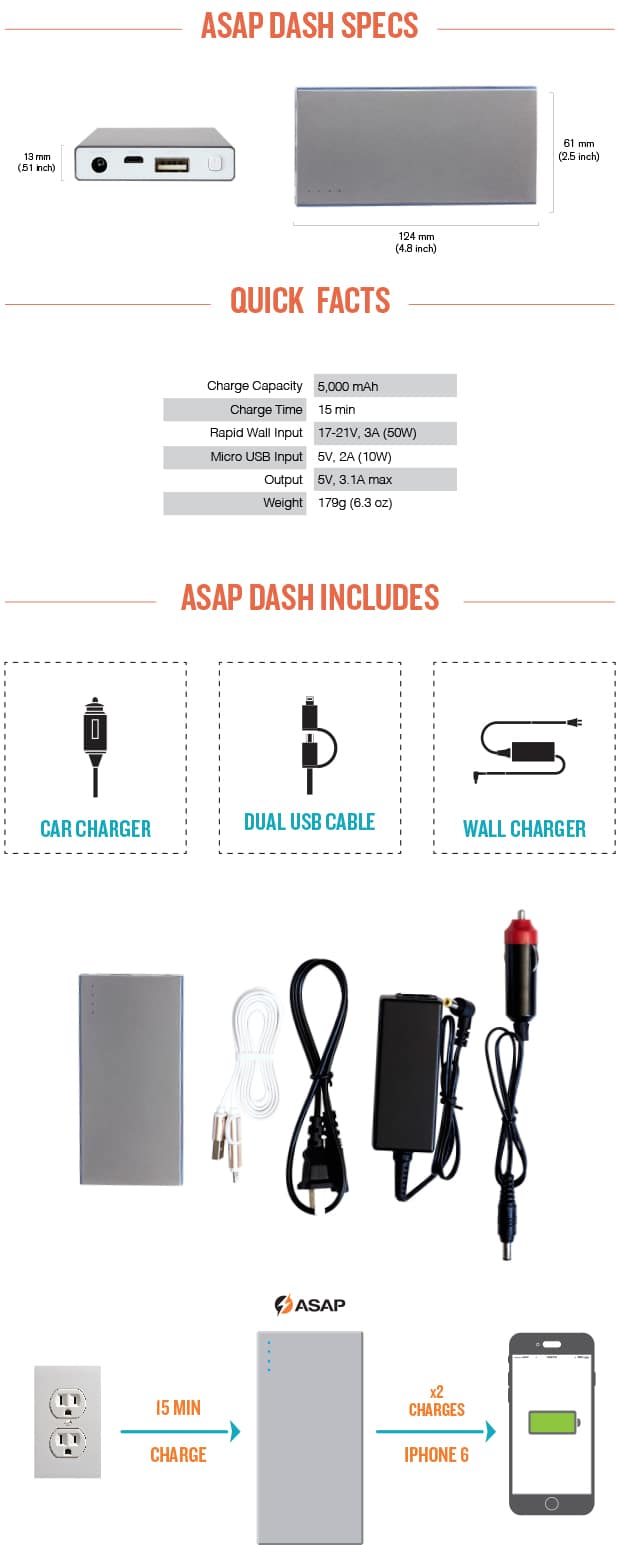 What makes ASAP Dash charge up so fast is the patented protection circuit board (PCB) that has been engineered with both smaller and fewer parts.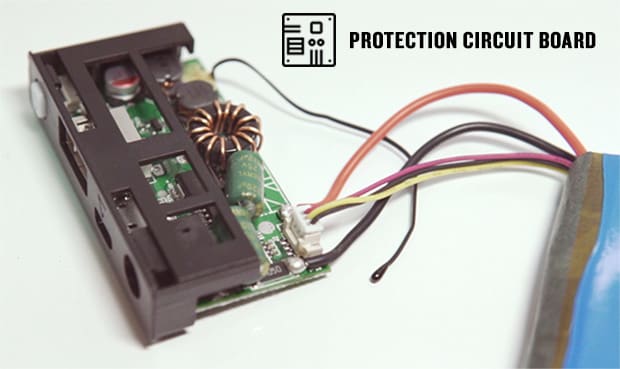 Our unique PCB (pictured above) is able to accept higher than standard wattage (60W) with a much higher energy conversion speed that results in a quicker charge despite a lower wattage input than competitors.
The result of a higher energy conversion speed is a much smaller adapter vs other fast charger brands, 40%+ lighter. With an adapter that's only 150g, that's light enough to fit in most pockets or bags for all your adventures.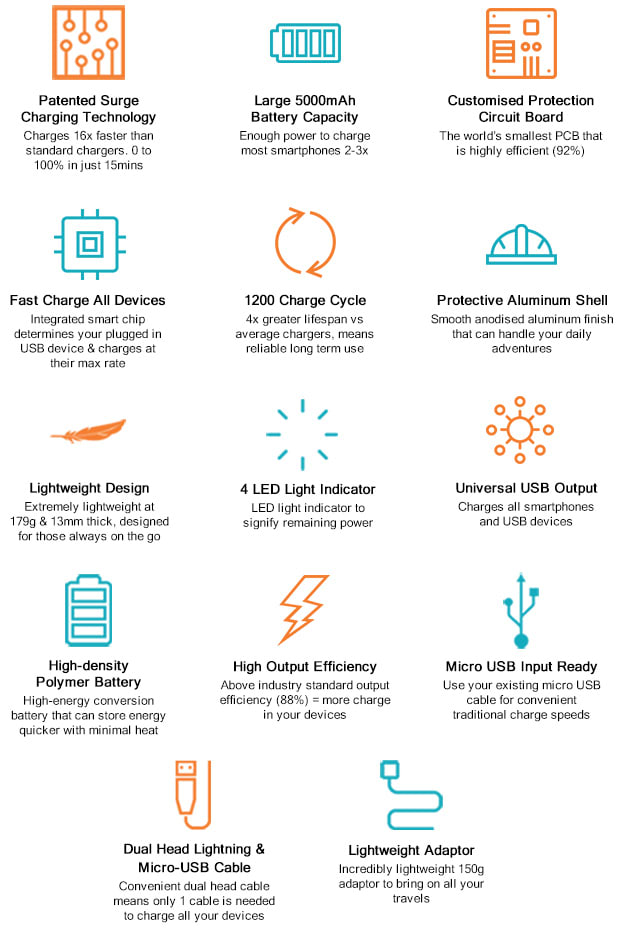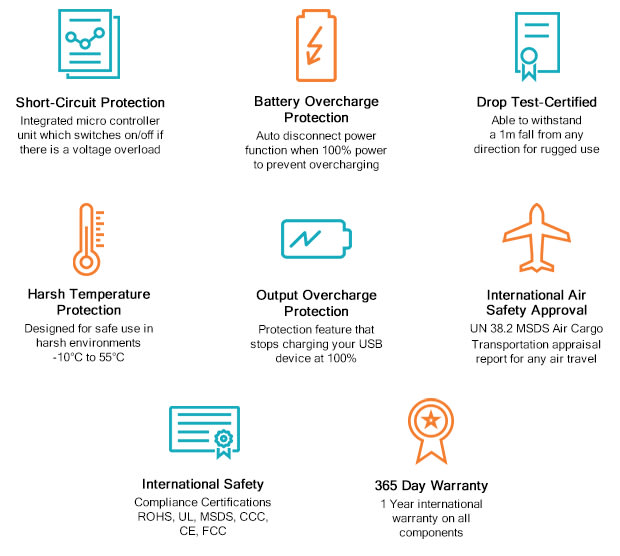 ASAP Dash units are put through a rigorous series of tests to ensure we're able to secure our international certifications. Some are outlined below.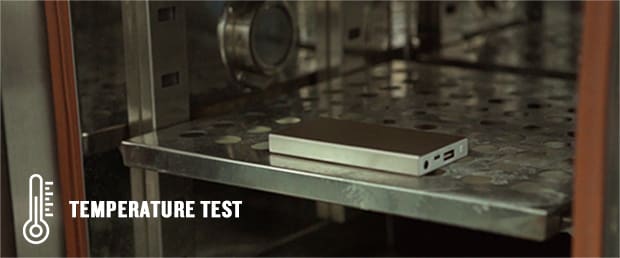 ASAP Dash units are placed inside a temperature chamber that mimics hot and cold weather conditions. They are put through extremes of -15°C to 60°C and tested after to still be in perfect working condition.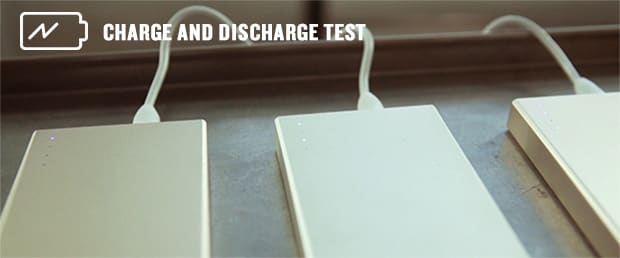 Chargers are repeatedly charged to 100% then drained to 0% to ensure the batteries are at perfect working capacity.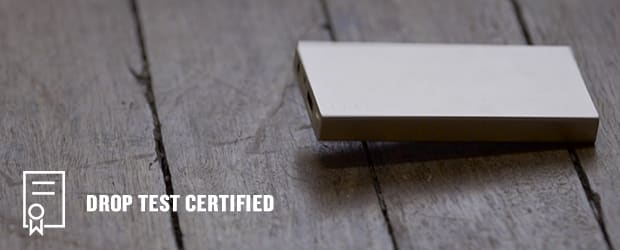 ASAP Dash comes with international drop test certification. This means ASAP Dash can be dropped from a height of 1 metre (3.28ft) onto any side of the unit onto a hard wooden surface repeatedly and will still be 100% functional.

We've gone the extra mile to ensure your ASAP Dash is a light as possible, so we're proud to be one of the first crowdfunding campaigns to offer our wall sockets in 4 different wall types, so you won't need to purchase a travel adaptor to use in your own country. You can choose from 1 of the 4 most popular international wall socket types below.

Type A: USA, Canada, Mexico & Japan
Type F: Europe & Russia, except for the UK & Ireland
Type G: United Kingdom, Ireland, Cyprus & Singapore
Type I: Australia, New Zealand, China & Argentina

The idea of ASAP Dash was born when founder Vinson Leow, a frequent world traveller, decided he could no longer cope with always being low on phone battery especially at the most inconvenient times such as using the GPS or catching an Uber. Today's solution of portable phone chargers solved this, however presented a new problem: they either take 2 - 4 hrs to charge but hold too little capacity or hold enough capacity but take 6 - 8 hrs to charge. The solution is a charger that can charge most smartphones 100%, fits into any pocket and charges in 15 - 18 minutes . With over 10,000 hrs of research and development into cutting edge battery and protection circuit board technology we've created our revolutionary surge charging technology.
We're a team of designers, engineers, and entrepreneurs across Australia and United States who've worked together the last 2 years to bring this vision to life.
With the latest ground breaking technology, cutting edge design and experienced suppliers with 15+ years in the electronics industry, we ensure safety, quality and portability.
We wanted to share ASAP Dash with the Indiegogo community here first because of the strong community of creatives, innovators and early adopters. With your help not only will you help kickstart the next generation of batteries and change the world's expectations of charging speeds, you'll bring us one step closer to furthering future applications of this technology. Imagine a world with unlimited battery power, living life unplugged and always on-the-go. Help us bring the fast charge battery revolution today!
For all all customer service inquiries please email hello@chargeasap.com and the Customer Happiness Team will respond within 48 business hours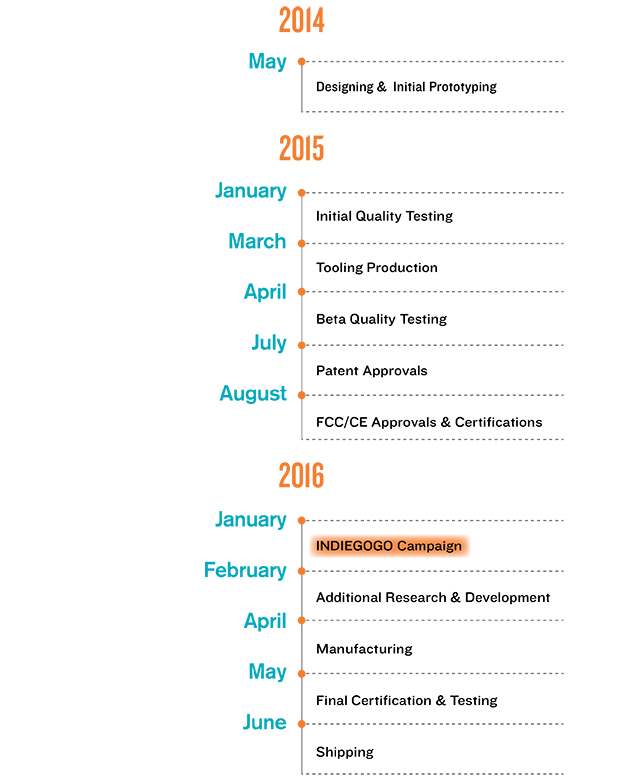 CAMPAIGN
Why would I buy ASAP Dash over any other charger?

If you don't like waiting for your phone to charge, then this is for you. Best yet, not only are we the fastest portable charger on the market, we are the only pocket-sized fast charger above 4,000mAh capacity
When is ASAP Dash expected to ship?

ASAP Dash is scheduled to ship June 2016.
How will my order be shipped?

We will be shipping with the most suitable premium courier and that will vary between countries. All shipments will have tracking which will be emailed to you once the delivery has been shipped.
Which countries do you ship to?

We ship to all countries excluding the following which have been flagged by courier services as restricted or high risk: Belarus, Cote d'Ivoire, Cuba, Democratic Republic of the Congo, Iran, Iraq, Lebanon, Liberia, North Korea, Sierra Leone, Sudan, Syria & Zimbabwe. If you would like a shipment to any these countries we will make alternative arrangements that may cost more, however we cannot guarantee the shipment's arrival.
Will I need to pay any VAT or import tax?

We will be shipping from Australia, Unites States or United Kingdom. Hence for countries that accept shipments from these countries VAT or tax free there are no additional duties or taxes.
FEATURES
Will the ASAP Dash charge my iPhone in 5 minutes?

No, there are two steps involved with using portable phone chargers to charge your iPhone on-the-go. 
Step 1: Charge the portable charger 
Step 2: Charge the iPhone. 
1) The ASAP Dash charges up incredibly fast. In just 5 minutes, the ASAP Dash stores enough power to charge an iPhone 5 from 0 - 100%. 
2) This step is where you use the ASAP Dash to charge your iPhone. A complete iPhone recharge from the ASAP Dash usually takes 60 - 90 min. The ASAP Dash has a built-in smart chip which detects devices and charge them at their maximum rate (3.1A / 5V).
Can I charge ASAP Dash whilst charging my phone?

ASAP Dash does not offer simultaneous charging as it would increase excess heat with the surge charging technology. Instead, just wait 15 minutes and you'll be able to charge on-the-go.
What is the battery life of the ASAP Dash?

Under ideal circumstances the ASAP Dash will charge and discharge over 1200 times which is 4x the average 300 cycles most charges provide today.
How long will the ASAP Dash stay charged?

Lithium polymer batteries have internal self-discharge that is dependent on external environmental conditions such as heat. Stored at room temperature, the ASAP Dash will loss 5% of its charge after 1 week and 30% every month. It is recommended to charge ASAP Dash for at least 5 minutes if left unused for more than 1 week.
Does the ASAP Dash come with international warranty?

Yes, all ASAP Dash orders will come with an international 365 day warranty.
Does ASAP Dash come with a big wall charger?

Heck no, unlike other fast charger brands where their technology has restricted users to bulky wall charger units making them impractical for travel, ASAP Dash's charger unit is a mere 150g (5.3oz), light enough for you to carry on any trip.
How many times can ASAP Dash full charge my smart phone?

This depends on the battery capacity of your smart phone. ASAP Dash has a capacity of 5000 mAh, which is 2 - 3 times the capacity of most smart phones today. However please note that this is not a direct comparison, for a detailed understanding please visit this link.
Can ASAP Dash damage my phone over long term use?

No. Your phone will act as if it is connected to a standard wall power outlet via your conventional charger and will not affect your existing phone warranty.
Have you considered adding Qualcomm Quick Charge (QC2.0 or 3.0) technology?

We've looked into this and there are 2 reasons we haven't included it: Firstly adding the QC technology will make the ASAP Dash at least 25% larger and we did not want to sacrifice the lightness or portability. Secondly the QC technology would increase the price of the ASAP Dash and we're aiming to keep it as the best value fast charger on the market.
How important is Qualcomm Quick Charge compatibility in considering buying my power bank?

If you are buying a new phone in 2016 the answer is NONE AT ALL. This is because all new phones released from 2016 onwards will use a USB Type-C connector instead of Lightning or Android connector which is FASTER than QC technology and hence will no longer be needed.
How important is the output current (Amps)?

VERY important- many competitors will mislead you and give you their total output from more than 1 connector. This is very false as 3 x 1 Amps outputs means 3 phones can only charge at a max of 1 Amp at a time. Our connector charges at 3.1 Amps (over 3 times faster) which is required for iPads, tablets and all current and future phones which will use a USB Type-C connector. Look out for only 3.1 Amps output chargers and power banks if you are buying a phone from 2016 onwards as it will otherwise not charge your phone at its max speed.
COMPATIBILITY
Which USB devices are compatible with the ASAP Dash?

The ASAP Dash has the ability to charge all USB devices including: iPhones, Android phones, Windows phones, iPads, Android Tablets, GoPros, Bluetooth headphones and the list goes on. We are also USB Type-C compatible.
Does the dual USB cable charge all USB devices?

The dual micro USB and lightning cable will charge all USB devices that are compatible with those 2 inputs. If your USB device does not accept these inputs you will simply need to use your existing cable to plug from the ASAP Dash into your USB device.
Can I charge the ASAP Dash from a regular USB wall or car USB outlet?

You can charge the ASAP Dash in the following ways: 
(1) To 100% in 15 minutes via the fast wall charger or fast car charger that comes with the ASAP DASH
(2) At regular speed using your current USB wall charger or car USB outlet 
Will the voltage be compatible with my country?

Our wall charger is compatible with all voltages internationally. You will have the option to choose 1 of 4 international standard wall plugs (Type A, F, G, I.) Please refer to our "Wall Socket Options" section to find your country. If your country does not support either type, you may use a travel adapter.
REFUND POLICY
You can initiate 100% refunds within the first 8 days of backing an Indiegogo campaign by going to your contributions tab on the Indiegogo page.
RETURN AND EXCHANGE POLICY
Please note all sales are final. Contributing to a campaign and claiming a perk on Indiegogo is not the same as buying a product online. There will be no exchanges or returns for change of mind. If you have a factory defect, please email the Customer Happiness Team on hello@chargeasap.com to arrange an assessment and replacement if deemed defective.
SHIPPING POLICY
If our shipping provider attempts to deliver to your address and the package is returned because of any of these reasons, there will be a reshipping fee: no-one is available to receive the package, the location is not accessible, you've provided the wrong address or you have moved without notifying us before the delivery dispatch.
If you have any questions please email the Customer Happiness Team on hello@chargeasap.com and we will respond within 48 business hours.