Arrow Smartwatch

for iOS & Android

.
Everything you'd expect in a high-end watch while integrating a rotatable HD camera, reimagining how you use wearable tech.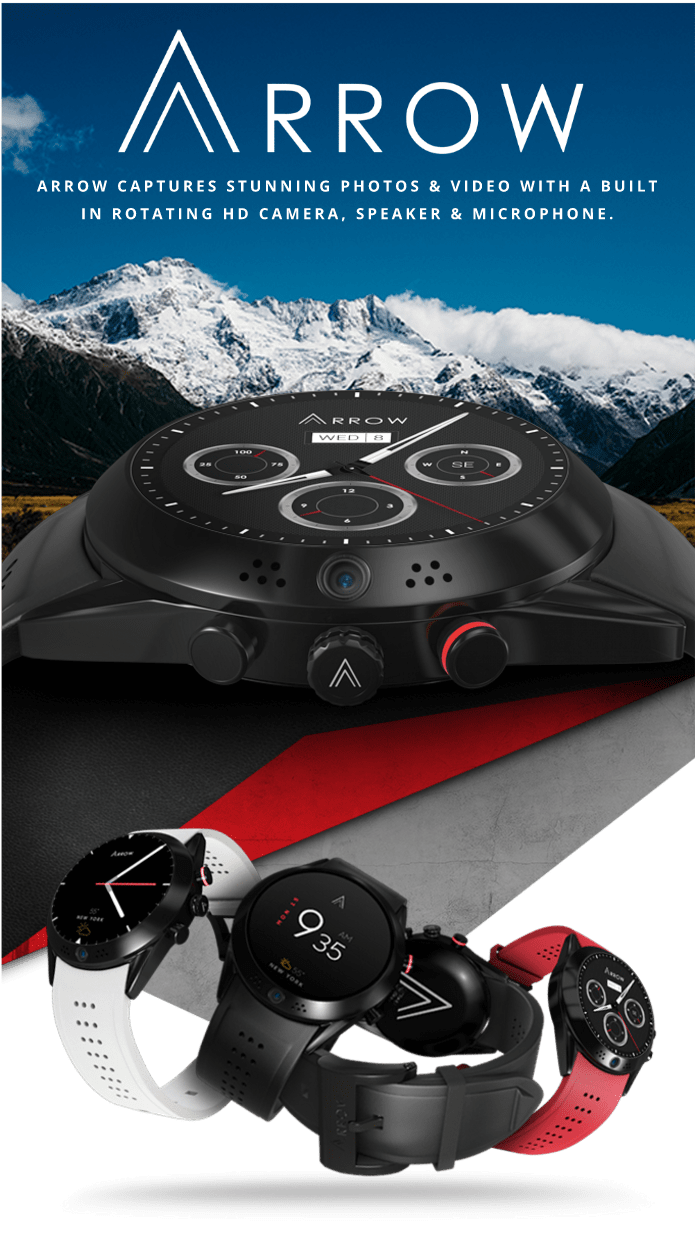 ►

Introducing Arrow Silver Edition

.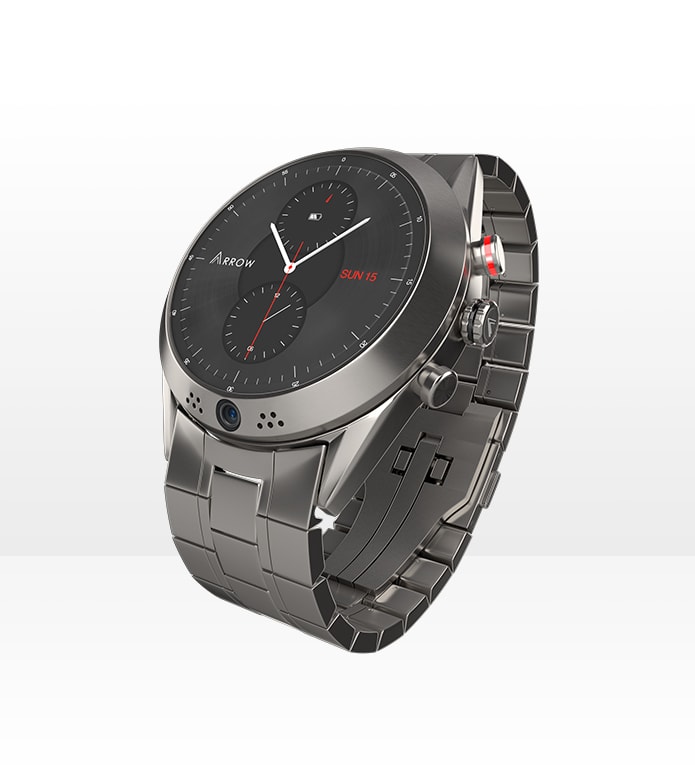 Finally, the luxury of leaving your smart phone in your pocket or backpack while never missing a spontaneous photo or video opportunity.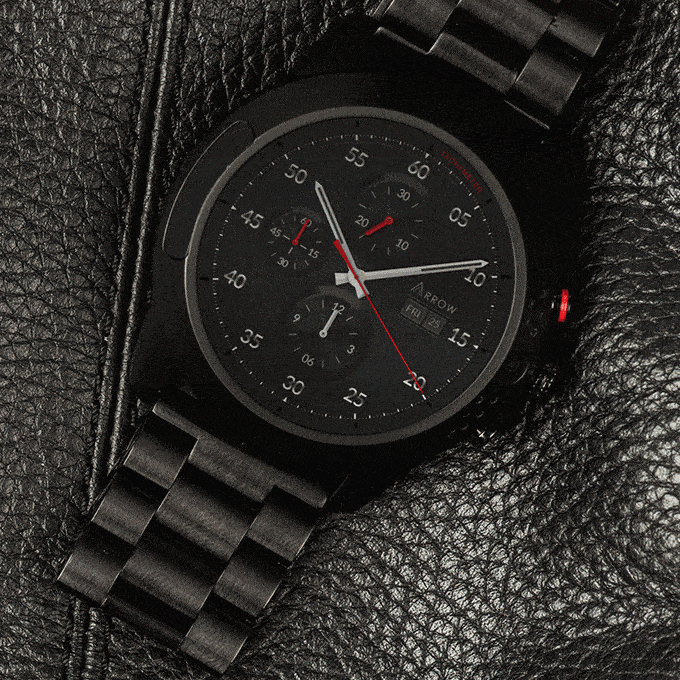 Arrow is feature-loaded without the rotatable HD camera but with integrated photo and video, it revolutionizes and reimagines the way you'll use a smartwatch.
Photo & Video

— 360° camera bezel with directional mic captures spontaneous photos or videos naturally, in seconds.

Sharing & Editing

— Transfer photos/videos to app, edit preset filters and instantly share or store to memory.

Fitness & Health

— Built-in sensors tracks your fitness goals with activity, steps, speed, calories, fitness goals and more.

Calls & Entertainment

— Accept or ignore phone calls, create or reply to texts with voice, control music, get directions, all hands-free.

Alerts & Notifications

— Color OLED interface alerts of texts, reminders, weather, calendar events, social media and more.
---
►

Arrow Smartwatch Overview

.

 
Engineered for business, fitness, iOT, media and hands-free functionality, designed to be convenient and match your style.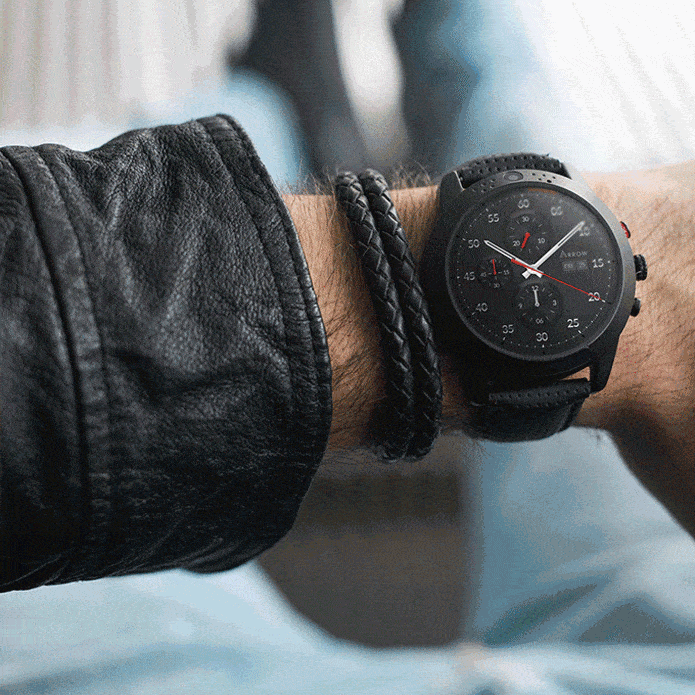 Functionality Overview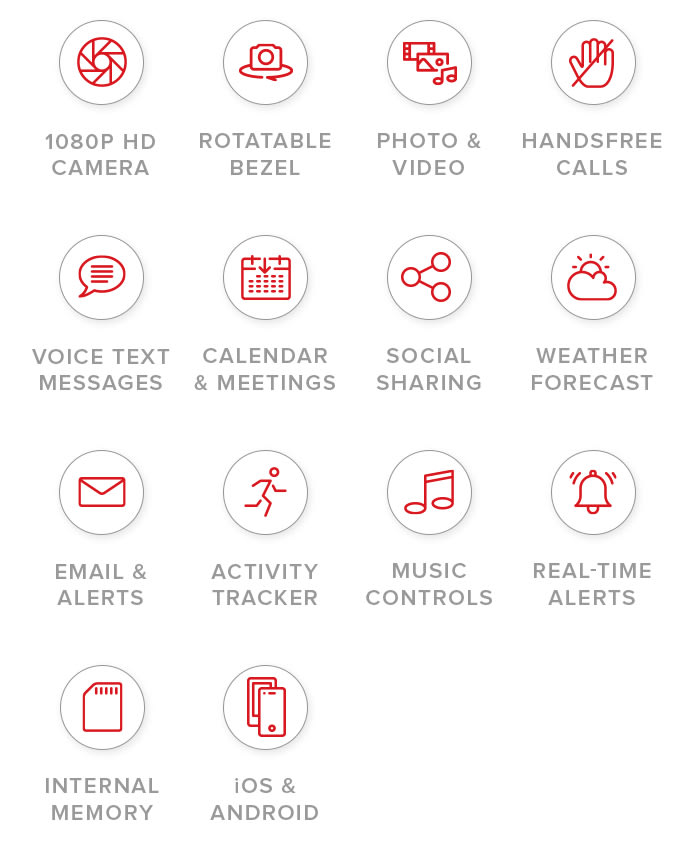 Get Silicone Band Arrow - Save $140
Get Leather Band Arrow for $179   —  Get Steel Band Arrow for $199
---
►

Media Reviews from the Experts

.
Since revealing our concept in late 2014, Arrow Smartwatch has earned the attention of 100's of publications.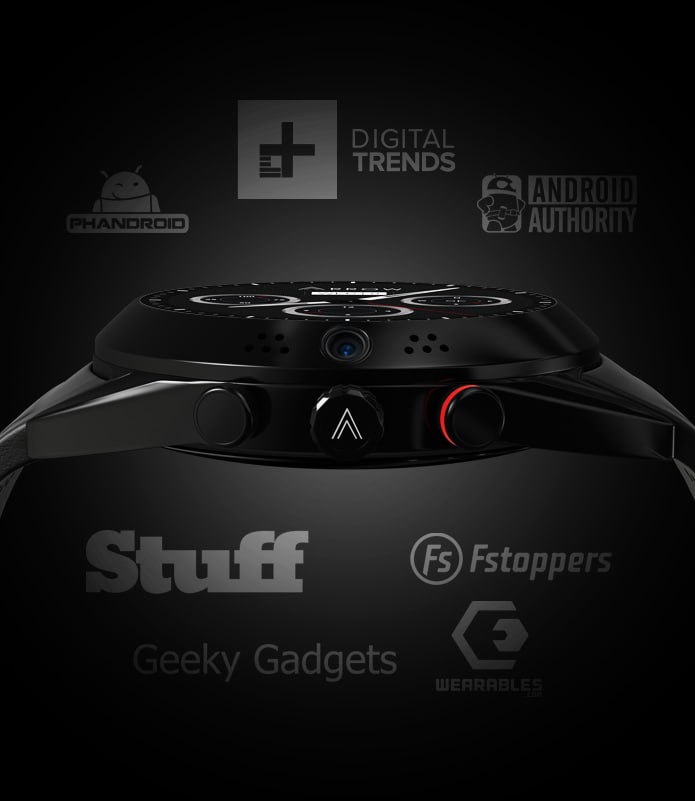 "A camera on a watch hasn't made sense until now... Arrow's approach sounds sensible with rotating bezel cutting down awkwardness experienced on devices like the original Galaxy Gear" — DIGITAL TRENDS
"They've used the Indiegogo platform to fund and launch the first-ever smart watch to be equipped with a 360 degree, rotatable 5-megapixel camera and microphone that allows wearers to shoot HD photography and videos entirely from the wrist, without having to reach for a camera or phone." —  FORBES
"It's capable of doing all the things we expect from a smartwatch - navigation, messaging, and alerts...the standout feature is 360 degree rotating camera and microphone." — STUFF MAGAZINE
"The convenience of simply lifting your wrist and pushing a button seems more natural to me than pulling something from your pocket, finding the app, and capturing an image" — FSTOPPERS
---
►

Photo, Video, Editing & Sharing Features

.
Arrow Smartwatch gives you the freedom to twist the bezel, point the camera and capture photos or videos from your wrist.

HD PHOTO & VIDEO CAMERA
Whether you're hiking a mountain, traveling for business, or out with friends the Arrow Smartwatch is your companion in capturing special moments and living your life without fumbling for your phone, yet alone unlocking it.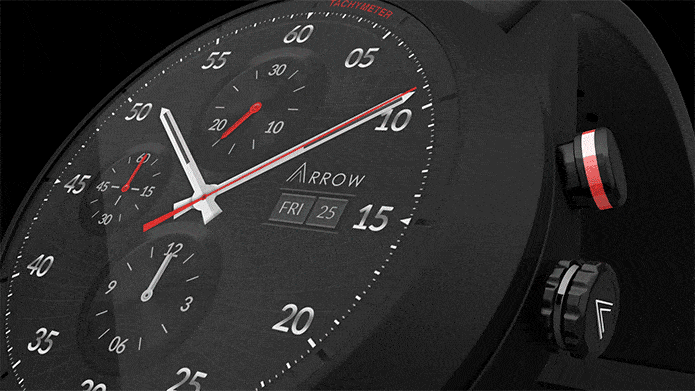 Press the red button on the Arrow Smartwatch casing to activate the camera and the 1.39" OLED screen will display a real-time image preview with a choice for photo or video. Rotate the bezel in any direction and instantly capture 5MP Photos and 1080P video.

360° ROTATING CAMERA BEZEL
The HD camera is stylishly integrated into the bezel of the watch at the perfect angle, allowing you to easily take selfies, photographs and videos in any direction imaginable. With this revolutionary hardware innovation, no longer do you need to contort your wrist into awkward positions or fumble for your phone.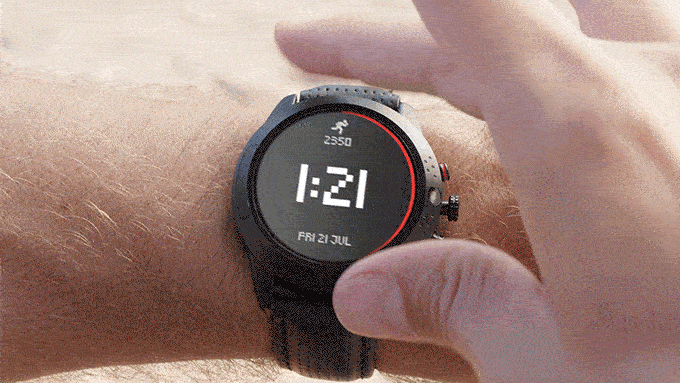 Our patented final design allows you to rotate a single lens, at any angle with the ability to preview your image in real-time as the display digitally reorients itself towards the user during rotation. With this form factor, you can easily take a selfie and then rotate the camera in any direction.

EDITING & SHARING 
The Arrow's 8GB on board memory stores every photo and video you take and makes it easy to transfer multimedia directly to your phone's Arrow App using Bluetooth or WiFi. From the app, quickly and easily edit and share photo's, save to your camera roll, send it by text to friends or upload to social media.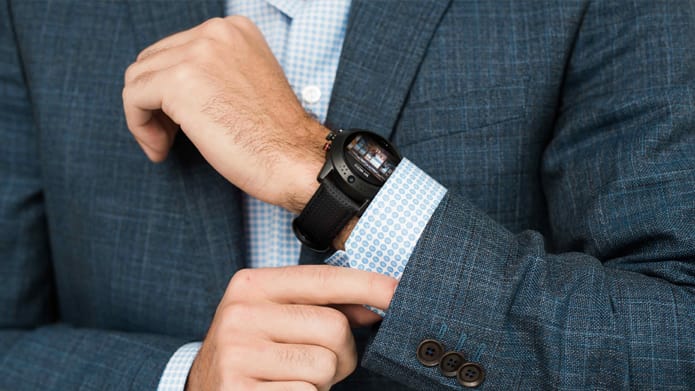 Sharing

— 

Transfer photos or videos to smartphone using Bluetooth or WiFi.
Editing

— 

Using the Arrow app on your smartphone, select photos and videos from your media gallery for the option to apply one-click filters and crop before sharing to social media.

DIRECTIONAL AUDIO & VIDEO
Arrow Smartwatch optimally records audio and video by leveraging its wrist mounted microphone and camera on a rotating bezel.
Unlike most smartphones, Arrow Smartwatch's microphone is configured next to the camera lens allowing it to record "directional sound" no matter what direction the camera is turned.

PHOTO & VIDEO STORAGE
By integrating 8GB of internal storage, Arrow Smartwatch can save photos/videos locally so it's not reliant on your smartphone or Wi-Fi.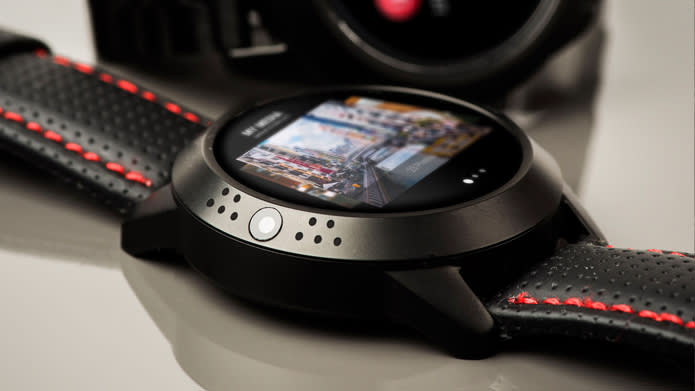 Free up internal memory on your watch by transferring photos & videos to the Arrow App.
The internal 8GB memory also stores music, allowing wireless connectivity from Arrow to Bluetooth headphones or speakers so you can listen without reliance on Wi-Fi or a smartphone.
Get Silicone Band Arrow - Save $140
Get Leather Band Arrow for $179   —  Get Steel Band Arrow for $199
---
►

Superior Connectivity

.
Arrow Smartwatch allows for hands-free phone calls or voice to text sms messaging along with multimedia audio/video playback.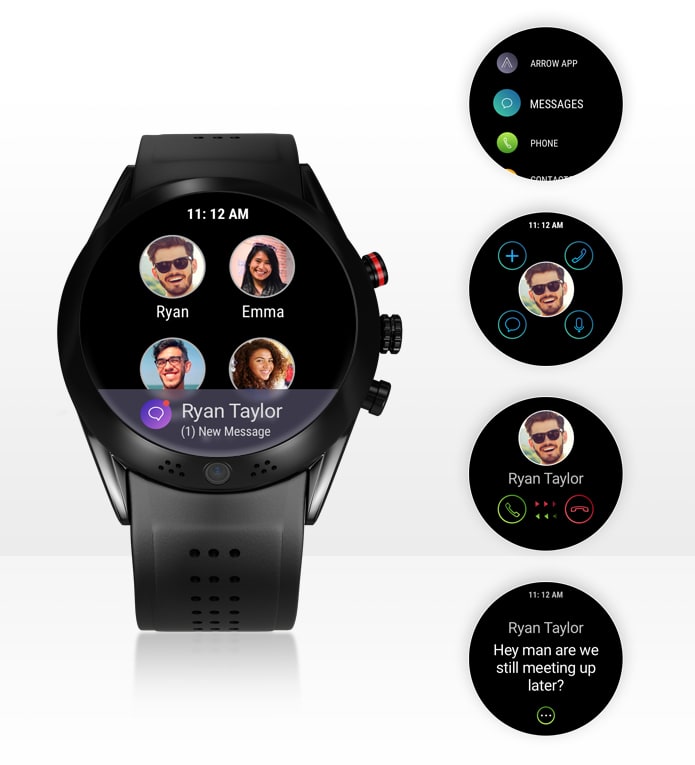 HANDS-FREE PHONE CALLS
Accept or ignore phone calls from your Arrow Smartwatch.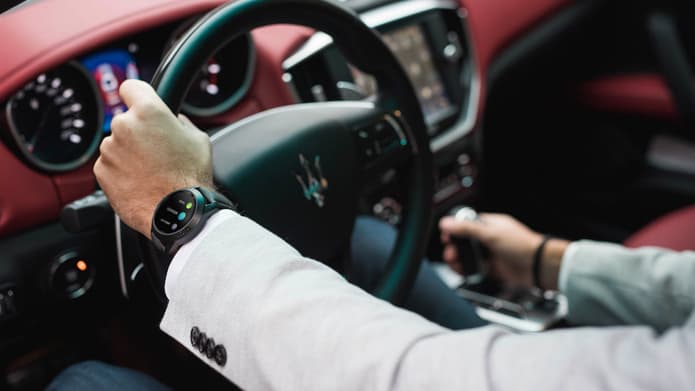 Arrow Smartwatch syncs your smartphone contact list and smartphone via Bluetooth to quickly respond to incoming phone calls:
Ignore Call

— Swipe down on the OLED screen to ignore an incoming call request.

Accept Call

— Tap the "Accept" icon to receive an incoming call, then start talking.

REAL TIME NOTIFICATIONS
Stay up to date and never miss an important update by syncing your Calendar, Email, Social Media, Text Message, Phone Calls, and other apps while connected to Bluetooth.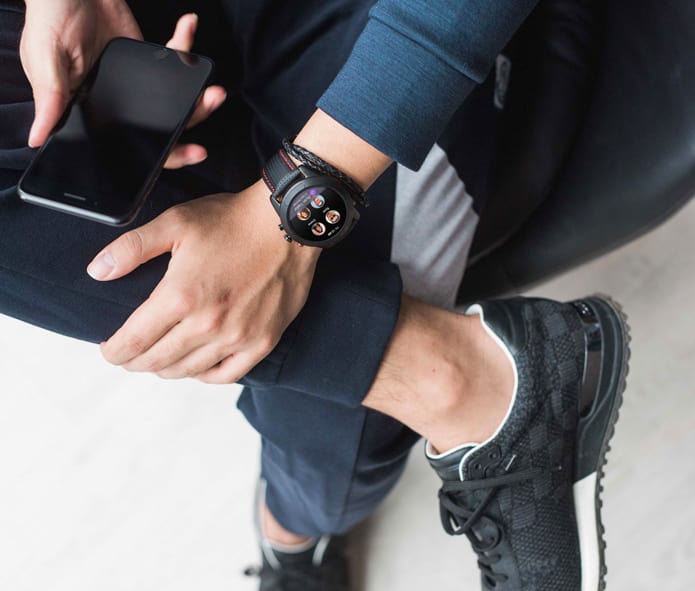 With Arrow Wear OS, which is Android 5.1 based, Arrow allows you to sync via Bluetooth to your smartphone operating system and receive alerts from your Android or iOS smartphone.
Get Silicone Band Arrow - Save $140
Get Leather Band Arrow for $179   —  Get Steel Band Arrow for $199
---
►

Health, Media & Software Features

.
Track fitness activity, stream music and more.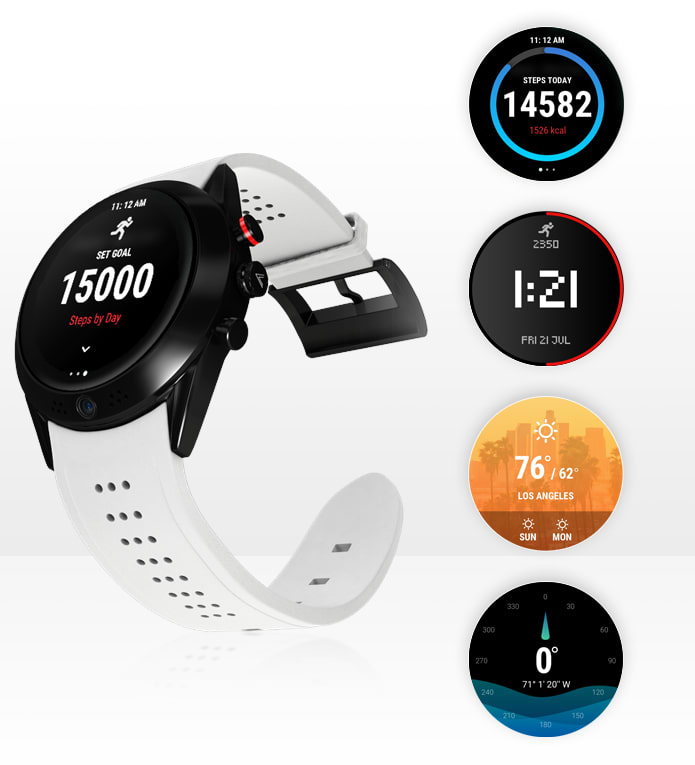 HEALTH & FITNESS TRACKING
Automatically track and compile your physical activity as part of your overall health goals with Arrow's built-in fitness tracker.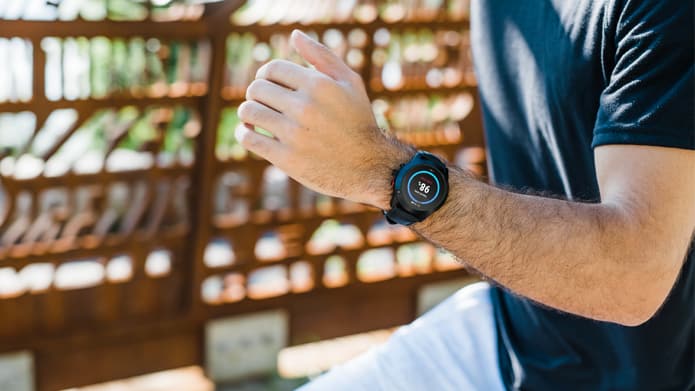 Accurately tracks your steps, speed, distance, route, and calories using its integrated accelerometer, pedometer and GPS internal hardware.
With the Arrow App fitness tracker you can calculate your daily, weekly, and monthly results to your preset fitness goals to stay on track and live a healthier life.

iOS & ANDROID APP
The Arrow Smartwatch Smartphone App will be available for download on iOS or Android in the Google Play or Apple Store.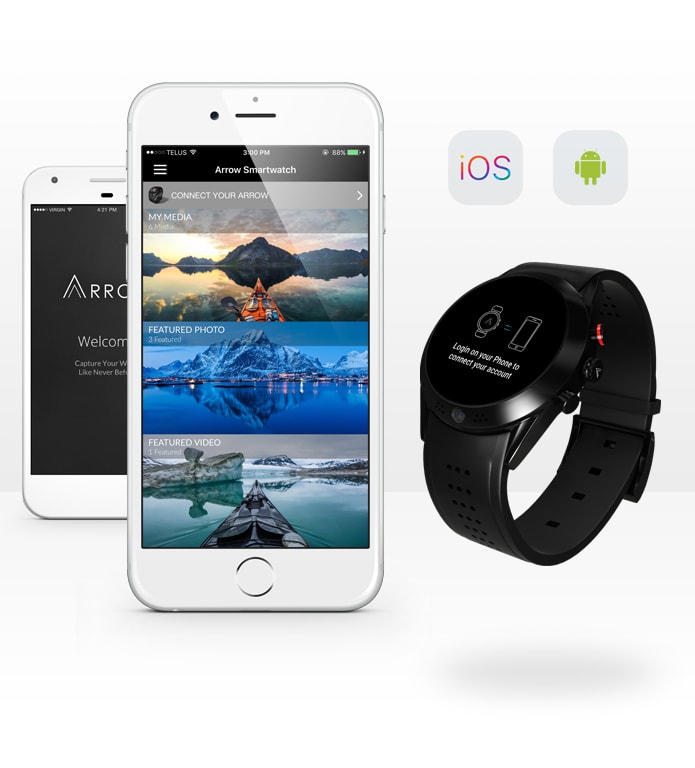 The Arrow App provides direct access to the content stored in your Gallery. Scroll through the Gallery to search through all of your captured content. Easily edit and share photo's, save to your camera roll, send it by text to friends or upload to social media. Within the Arrow App you can also customize controls, change watch faces, preferences, alerts, access Arrow fitness data and more:
OLED Watchfaces

— Change the appearance of your watch face by selecting from 11 preset themes or customize your own.

Live Weather

— Set your watch to display the weather in your current location or customize Arrow to your most frequented locations so you swipe through each.

Arrow Fitness

— Customize your daily, weekly and monthly fitness goals to receive alerts on that will better help you reach your goals.
Get Silicone Band Arrow - Save $140
Get Leather Band Arrow for $179   —  Get Steel Band Arrow for $199
---
►

Choose Your Arrow Watch Strap

.
Prices increase, instantly SAVE $150 off Arrow's retail price by selecting your watch strap and reserving now.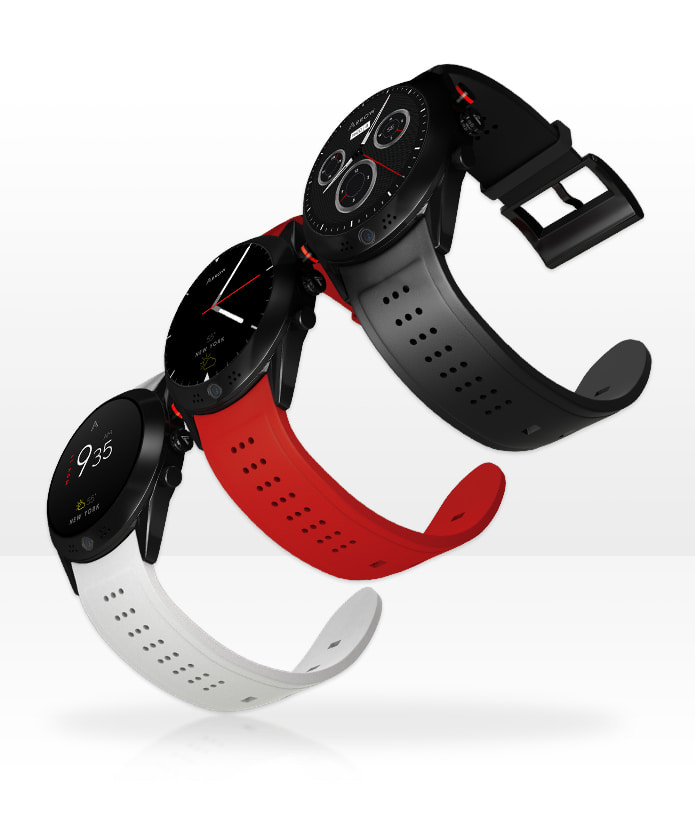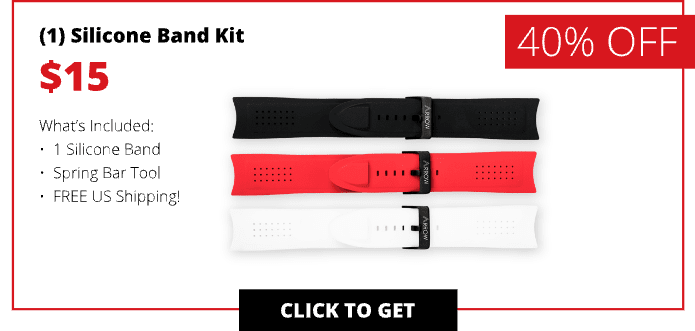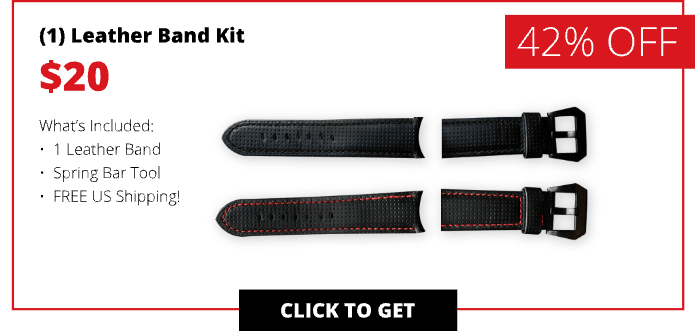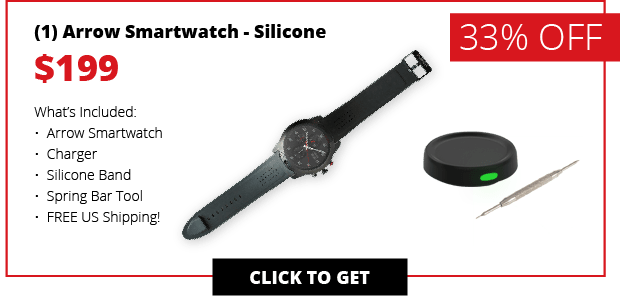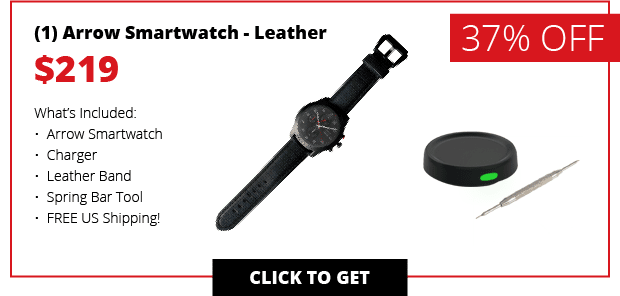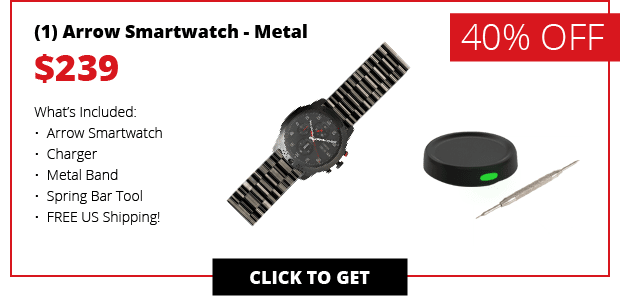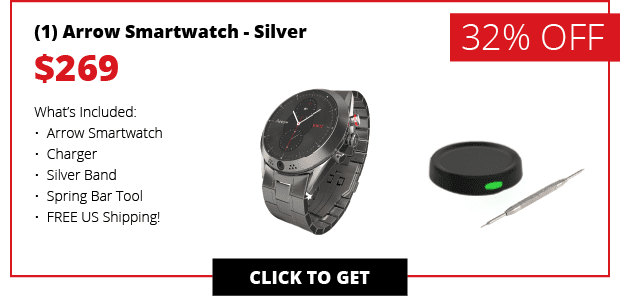 ---
►

Arrow Smartwatch Technical Specifications

.
Check out the hardware, software, connectivity and design that makes the Arrow Smartwatch so special.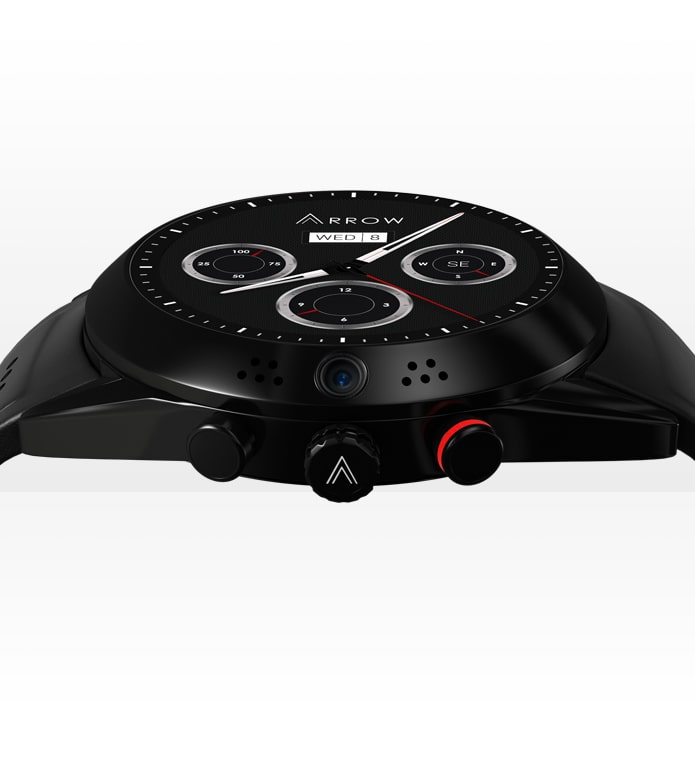 HARDWARE
Compatibility: iOS & Android Smartphones
CPU: MTK6580 quad core 1.3GHZ
Memory: ROM 8GB + RAM 512MB
Display: 1.39" OLED 400px x 400px resolution
Camera: 5MP Photo, 1080P HD Video
Sensors: GPS, Pedometer, Accelorometer
Battery: 400mAh 

Charging Time: 2 hours
Normal usage time: 1 day

Extras: Vibration Motor, Microphone, Speaker

SOFTWARE
Operating System: Arrow Wear OS, based on Android 5.1 OS
Smartphone App: Arrow Smarwatch iOS + Android
Supported Languages: English, French, German, Spanish, Italian, Portuguese, Polish, Turkish, Arabic, Persian, Russian, Hebrew, Korean, Thai, Japanese, Chinese

CONNECTIVITY
Wireless: Bluetooth 4.2 + WiFi
Location: GPS enabled

DESIGN
Watch Case: 50mm
Thickness: 15mm
Band: 24mm strap
Watchfaces: 11 Preset Faces
IP Rating: IP65, which means Arrow is dust proof and wash-down capable.
Band: Silica Gel, Leather, Stainless Steel

Get Silicone Band Arrow - Save $140
Get Leather Band Arrow for $179   —  Get Steel Band Arrow for $199
---
►

Arrow Smartwatch Manufacturing Timeline

.
We've come a long, long way since our initial concept in 2014 and now only have a few last steps until delivery!
As you can see, we have worked hard to bring the Arrow Smartwatch to you! The camera quality and software represented in this video are for prototyping and testing only. Backers will receive the Arrow Smartwatch with a 5mp camera and Arrow Wear OS as advertised on the campaign page. It is our mission to bring you an innovative and state-of-the-art Smartwatch with an amazing multimedia experience.

PRODUCTION & DELIVERY TIMELINE
Learn what we've completed and what is in process of being completed for each step within our production timeline.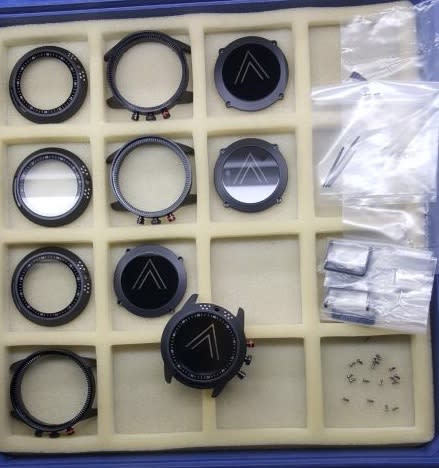 ☑ = Completed | ☐ = In Progress
☑

PHASE ONE

— Product Review & Factory Engagement
Completed on April 1st of 2016 with approvals on estimated material cost/quantity, tentative production timeline, engineer verifications and factory selection with the green light to move forward on Design & Prototyping. 
☑ Product Quotation — Estimate of materials required and cost to produce Arrow.
☑ Production Timeline — Factory and Arrow agree on tentative production schedule.
☑ Engagement Agreement — Prospective manufacturing factory agrees to production.
☑ Engineering Expert Verification — Lead engineer verifies ability to produce Arrow.

☑

PHASE TWO

— Design Blueprints & Prototyping
Completed in December 2016 with approvals on 2D/3D files, initial prototype, blueprint, certifications and final design with the green light to move forward on Tooling, First Article Inspection and Sample Testing.
☑ Product 3D Files — Engineers have 2D and 3D file blueprint to build first prototype.
☑ First Prototype Made — Head Engineer creates first prototype from design blueprint.
☑ First Prototype Works — Test, review and approval on first working prototype.
☑ Final Design Confirmed — Prototype approved with no major future design changes to the hardware. 

☑

PHASE THREE

— Tooling, FA Inspection & Testing
Started in July 2017 and started to get approvals on tooling, samples, material quantity, cost, assembly process and third party certifications with green light to move forward on Shipping & Packaging Development. 
☑ Tooling Development — Sample moldings are completed for Arrow Watch
☑ Bill of Materials — Sample approved with detailed material quote for mass production.
☐ Sample Delivery — 100 watches produced to review, improve and optimize assembly.
☐ Assembly & Quality Process — Arrow assembly steps created and optimized for quality.
☐ Product Certification — Third party engineer experts approve Arrow quality and process.

☐

PHASE FOUR

— Shipping Package Development
Scheduled to start Package Development in November 2017 with an estimated timeline of 10-30 days for designing, sizing, drop-testing and production.
☐ Package Test Approval — Box looks good, fits product, ships well and passes drop test.
☐ Package Sample Delivery — Box is approved by Arrow for production.

☐

PHASE FIVE

— Pilot Production & Quality Inspection
Arrow is scheduled to start Pilot Production & Delivery in December 2017 with an estimated timeline of 30-45 days for material preparation, product inspection and quality tests.
☐ Material Preparation — 300 units made with final manufacturing and assembly specs.
☐ Inspection & Quality — Final production quality test approved and workers trained.

☐

PHASE SIX

— Mass Production & Backer Delivery
Scheduled to start Mass Production & Delivery in January 2018 with an estimated timeline of 30-60 days for inspection, production line worker training, backer surveys, and order shipments.
☐ Third Party Inspection — Workers, materials and process ready for mass production.
☐ Prepare Shipments — Backers complete delivery survey for shipping to fulfill orders.
☐ Backer Fulfilled — Arrow Smartwatch shipments start to arrive at backers addresses.
Get Silicone Band Arrow - Save $140
Get Leather Band Arrow for $179   —  Get Steel Band Arrow for $199
---
►

Meet the Arrow Smartwatch Team

.
Meet the engineers, designers and team that transformed Arrow from concept to a reality.

The idea behind Arrow came from our two founders Dan and George, who collaborated closely with a team of designers and engineers to bring their vision of a better smartwatch to life. George and Dan realized the market was becoming saturated with wearables that focused on fitness tracking and notifications and saw the need for a multimedia focused smartwatch. Their passion to bring Arrow to the tens of thousands of loyal fans around the globe sparked a three year journey from concept to prototype. Utilizing connections around the world these two entrepreneurs have succeeded in creating a game-changing innovation that will disrupt the wearables industry. As the leaders of a growing startup their goal is to ensure that Arrow is here to stay, continuing to evolve for years to come.




---
►

Frequently Asked Questions

How long is the battery life?

Arrow has a battery capacity of 400mAh, and is designed to function for up to 20 hours with normal use; Your actual battery life may vary depending on your particular user case.

Does Arrow work with both iOS and Android?
Arrow is compatible with both smartphones with iOS 8.0+ and Android 5.1+ OS, but supporting features may be a bit different.

Does Arrow have standalone 3G/4G connectivity?
At the moment no, but we are currently working on finding a partner to enable Arrow with standalone 3G/4G connectivity. However, you can connect Arrow to a WIFI network.

Does Arrow support other languages besides English?
At the moment Arrow is English-centric with options of English and Chinese User Interface. But we welcome our community to help us build more versions. Talk to us if you are interested!

What fitness tracking features does Arrow have?
The Arrow offers GPS route tracking, step tracking, speed calculation, calorie burn tracking and goal setting.

How can I charge Arrow?
With each Arrow, you will receive a wireless magnetic charge enabled dock along with a USB charging cable. Charging time is around one hour and a half.

What is the strap width and length? What if I have big/small wrists?
Our silicon strap is 24mm width and 248mm length (buckles included); leather strap is 24mm width and 258mm length (buckles included), and steel strap is 24mm width and 208mm length. The strap is designed easily to change with any other of your favorite watch straps.
You can easily adjust the size of the band to fit a smaller wrist. For those that order the Black edition, extra links will also be provided for those with bigger wrist sizes.

Is NFC available for Arrow?
Arrow does not support NFC.

Will I be able to view notifications in other languages?
You will be able to view notifications in other languages, including English, Chinese, Hebrew, Russian, Arabic, etc., however the operating system is currently only available in English.

What is the video quality?
1080p HD.

How many Megapixels is the camera?
5mp.

Is the Arrow waterproof?
Arrow is not waterproof, but it does have a rating of IP65, which means Arrow is dust proof and wash-down capable.
---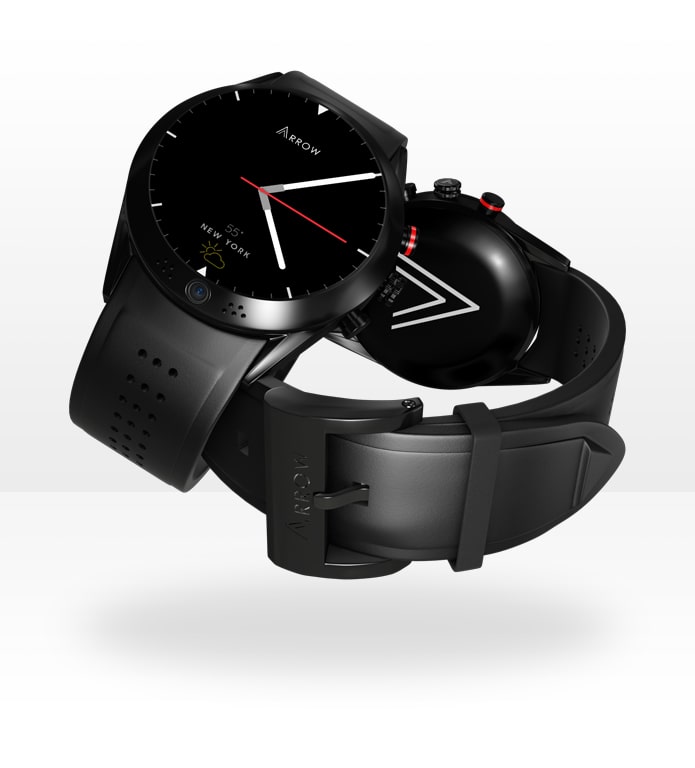 Get Silicone Band Arrow - Save $140
Get Leather Band Arrow for $179   —  Get Steel Band Arrow for $199