Meet the incredible Andrew Johns...     
Andrew is from Johannesburg, South Africa.
For the past 10 years, he has lived in Nkosi's Haven, a home for mothers and children whose lives have been affected by HIV/AIDS.
He is 20 years old.

Andrew has a dream.
He wants to go to college and study Business in the United States.
You can make this possible... No donation is too small!
All donations are appreciated deeply. 
"I am surrounded by children who look up to me, and I am intent to show them that you shouldn't let your current situation determine who you become in the future.  From being a young man who lives in an orphanage in South Africa, I am eager to attend a U.S. university, because being born in the ozone of apartheid's ending, I want to spend the next four years breathing the air of equal opportunity that is the American dream which in South Africa in 2015 is not yet a reality."   

                                                                                             - Andrew Johns
                    Read Andrew's story here:  (Seriously, read it. It's incredible.)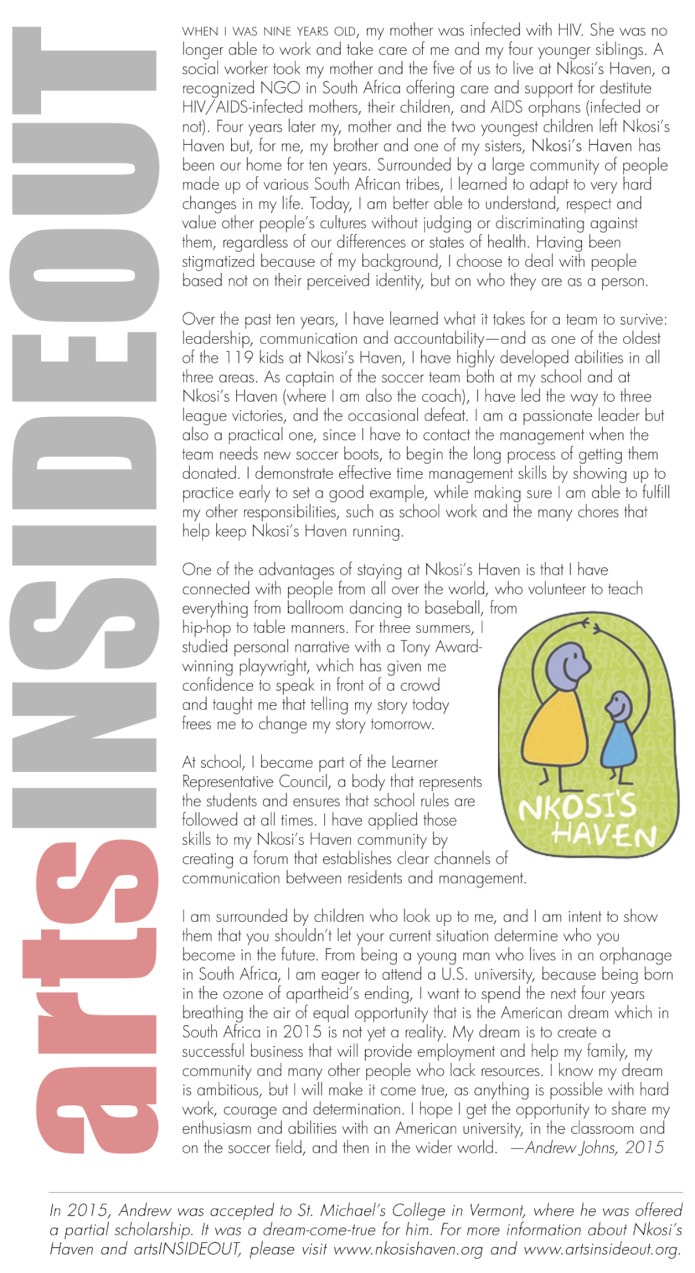 Through ASTEP (Artists Striving To End Poverty), Andrew met Dick Scanlan and Alex Sharp. After a lot of hard work over the past 2 years, Andrew has applied, been accepted to, and received a very generous scholarship from St. Michael's College in Vermont.  This is a truly groundbreaking achievement, and the first of its kind, for a person from his community.
And Andrew needs your help to make it all the way.
He still needs $29,000 to be able to attend St. Michael's.
Join us.

          Dick Scanlan
                                             Danielle Brooks        


           Alex Sharp

                         Help support Andrew and make his dream come true.
                                   Here's a breakdown of Andrew's school costs:

                                              Tuition                                   $ 40,425  
                                              Student Activity Fee                   325 
                                              Room and Board                     10,975  
                                              Health Insurance +
                                              Visa Application Fees              2,275
                                              SUB TOTAL :                         $ 51,725
                                              Scholarship                       -  (25,000)
                                        TOTAL NEED :                $ 29,000


                                                     Thank you for your support!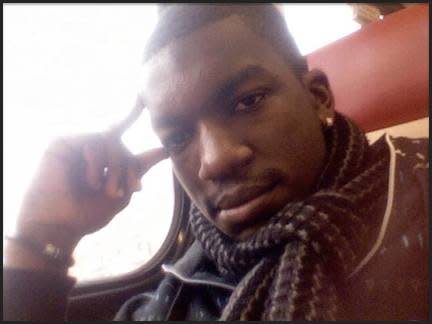 Learn more about Nkosi's Haven, ASTEP, and artsINSIDEOUT :

        http://nkosishaven.org/
        https://asteponline.org/2013/

        http://www.artsinsideout.org/
------------------------------------------------------------------------------------------------------------
Video Credits :
Footage shot by Rauzar Alexander and Kali Wilder
Edited by Sam Lilja
Music: "Carefree", "Inner Light"
Kevin MacLeod (incompetech.com)
Licensed under Creative Commons: By Attribution 3.0 http://creativecommons.org/licenses/by/3.0/
Produced by Alex Sharp