The collection
Alt-Write: creative reactions to uncertain times is a collection of new stories, poems and illustrations from leading names in the children's book world.
The past year has delivered a tumultuous series of world events that has left people reeling. Writers and artists feel a duty and passion to respond and interpret these events.
This collection, to be published in Spring 2018, is an outpouring of those emotions, an appeal to reason and a road map of the strange journey we've been on for the past year and a signpost for where we are headed.
Authors and illustrators asked themselves what they could do to help and the answer was to do what we do best, to write and draw and create. When you don't like the story the world is telling, tell a different story.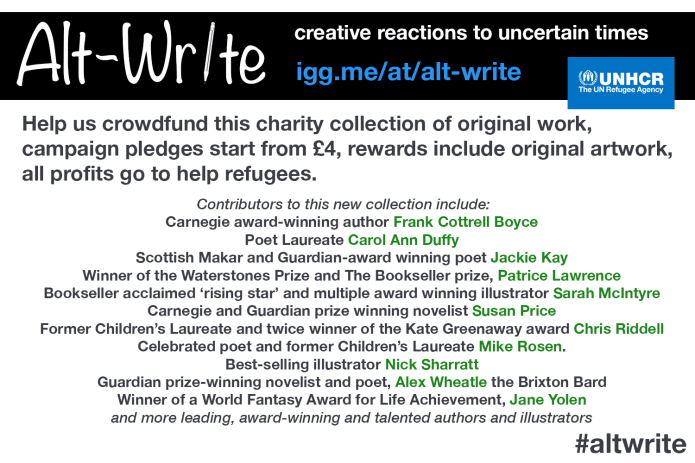 Crowd-funding campaign
This is a non-profit collection. All the money raised from sales will be donated to UNHCR (the UN refugee agency). All the contributors are donating their work, and some are also donating original artwork too. We need to raise £13,000 to cover production costs of the book.
We are asking for your support to bring this book to life. In our campaign video we talk about the need for a new narrative, for building bridges not walls and for compassion and understanding for those who have suffered from the devastating affects of war and conflict.
By donating to our campaign you can support the creation of new work, contribute to new understanding and secure yourself a copy of the book or the original artwork produced by fantastic writers and artists. 
For more about our costs breakdown please visit our website FAQ page. 
The editors
Editors Mary Hoffman and Rhiannon Lassiter are a mother and daughter team with a proven track record in publishing. In 2003 they co-edited a similar collection Lines in the Sand: New writing on war and peace published by Frances Lincoln in the UK and The Disinformation Press in the US. All the contributors' royalties and the publishers' profits went to UNICEF's emergency appeal for the children of Iraq. For more about the editors visit our website profile page. 
The contributors
Contributions to Alt-Write include a cover produced by former Children's Laureate Chris Riddell and new work by other talented writers and illustrators.
Contributors include
Carnegie award-winning Frank Cottrell Boyce (and a host of other Carnegie nominated authors)
Poet Laureate Carol Ann Duffy
Scottish Makar and Guardian-award winning poet Jackie Kay
Winner of the Waterstones Prize and The Bookseller prize, Patrice Lawrence
Rising star and multiple award winning illustrator Sarah McIntyre
Carnegie and Guardian prize winning novelist Susan Price
Twice winner of the Kate Greenaway award for best illustrated children's book and former Children's Laureate, Chris Riddell
Celebrated poet and former Children's Laureate Mike Rosen.
Best-selling illustrator Nick Sharratt
Award-winning novelist and poet Alex Wheatle the Brixton Bard
World Fantasy Award for Life Achievement, Jane Yolen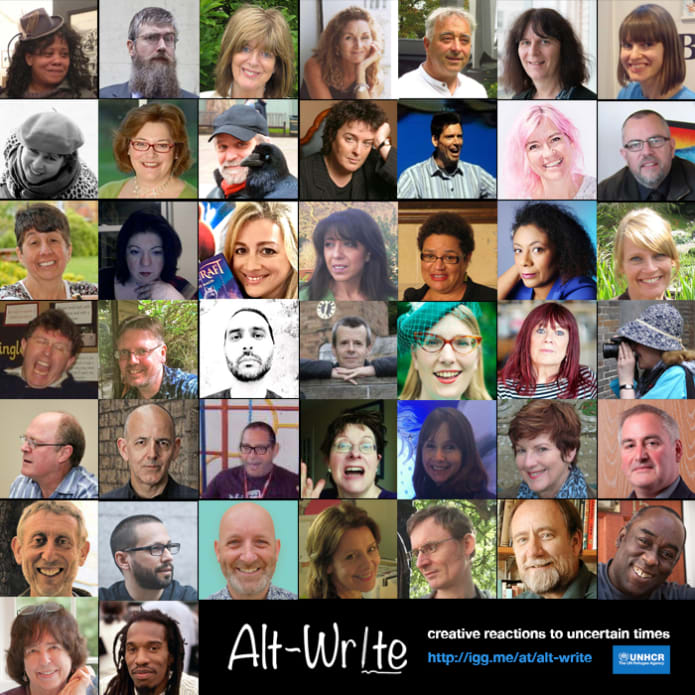 Our full list (so far, with more names to be announced) is: Patrice Aggs, Iris Anya Abras, Philip Ardagh, Ros Asquith, Christina Balit, Cathy Butler, Rūta Briede, Margaret Chamberlain, Lucy Coats, Frank Cottrell Boyce, Doug Cushman, Carol Ann Duffy, Kathryn Evans, Alan Gibbons, Miriam Halahmy, Shahrukh Husain, Inbali Iserles, Savita Kalhan, Jackie Kay, Tanya Landman (Foreword), Patrice Lawrence, Karin Littlewood, Antony Lishak, Paul Magrs, Irfan Master, Jonathan Mayhew, Sarah McIntyre, Michaela Morgan, Linda Newbery, Korky Paul, Jeff Perks, Andrew Fusek Peters, Chris Priestley, Saviour Pirotta, Susan Price, Jane Ray, Celia Rees, Chris Riddell, Michael Rosen, Lawrence Schimel, Nick Sharratt, John Shelley, Bridget Strevens-Marzo, Colin West, Alex Wheatle, Jane Yolen and Benjamin Zephaniah.
Almost all of them have produced new work for this collection.
See more about our fantastic contributors on our website.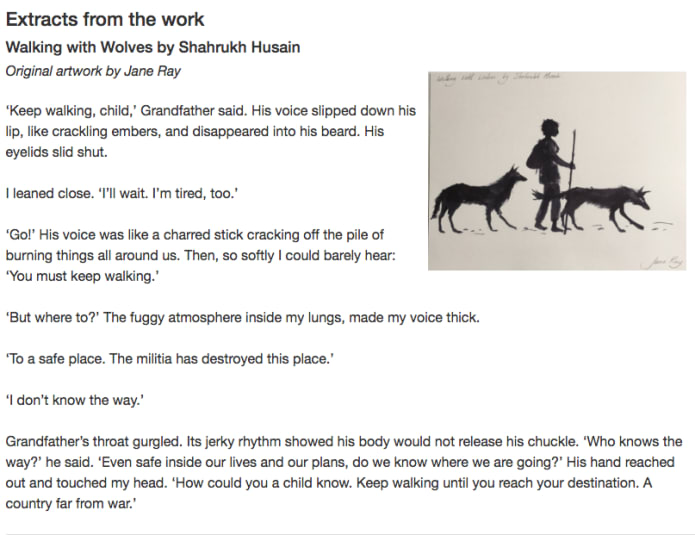 "And I Still Hear Nina Singing Mississippi Goddam" by Alex Wheatle (Video images some viewers may find distressing.)
Read more extracts on our website.
Publisher
The Greystones Press is a small but perfectly formed independent publishing company, specializing in good adult and young adult fiction and adult non-fiction. It is supported by a team of professional publishing experts who produce high quality books. For more about the team please visit The Greystones Press website.