What is allEars?
allEars is a festival for improvised music. It was started in 2002 by Lasse Marhaug, Maja Ratkje and Paal Nilssen-Love, but is now run by bass players Guro Skumsnes Moe and Christian Meaas Svendsen. The festival has always been booked by traveling musicians, ensuring that the music presented is always collected fresh from all corners of the world, and never booked for any other purpose than the music itself.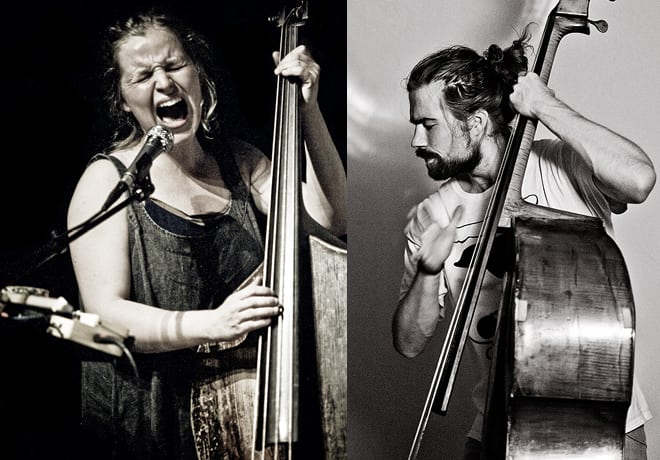 Guro and Christian. Photo credit: Peter Gannushkin
This campaign aims at making allEars 2018 an unforgettable experience for both audience and artists. The festival has a small budget, but we want to be able to pay our artists decent fees. All too often creative artists end up playing for little money under poor conditions. These artists are people who are devoting their life to music, not only their own creative output, but to the journey that music is. These artists are making a huge effort in creating sustainable communities in their respective cities. They are always helpful and supportive to traveling musicians, and they deserve nothing less than to be treated with the same hospitality and of course get paid for what they do.
By supporting us you help us create a festival which is sustainable for the local community in Oslo. You make sure that the artists are sufficiently paid and that they are treated in the best way. This in turn gives the audience the best musical performances. You also help us taking bigger risks in choosing venues and a sense of security for next year's endeavour.
MAIN PROGRAM 2018
In addition to the stuff below, there will be morning workshops at ILA fysikalske with some of the festival artists. We will also announce more activities in the near future!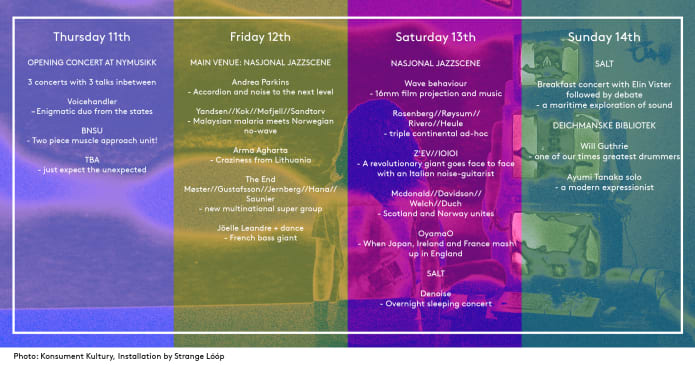 Z'EV/IOIOI (US/IT) // YANDSEN/KOK/SANDTORV/MOFJELL (ML/NO)
JÖELLE LEANDRE (FR) // ARMA AGHARTA (LT) // WILL GUTHRIE (AU) 
BNSU // MØSTER/GUSTAFSSON/JERNBERG/HANA/SAUNIER (NO/SE/US)
OYAMAO (JP/FR/UK) // ANDREA PARKINS (US) // WAVE BEHAVIOUR (FR)
MACDONALD/WELCH/DAVIDSON/DUCH (SC/NO) // AYUMI TANAKA (JP)
VOICEHANDLER (US) //  ROSENBERG/RØYSUM/RIVERA/HEULE (AU/NO/US)
DENOISE (AT) // MEMORIAL CONCERT (TBA)
What happens to all that money?
Your money will go to cover all the different expenses that we have to deal with: travels, accommodation, food, back-line, venue hiring, merch-production, promotion, ticketing + more. The artists get an equal fee for their performance (Norway-residing artists get a little less), their travel expenses are covered and they get at least two nights of accommodation. The organizers of the festival are not in it for the money, and will not take any of your contributions. Any surplus will go directly to cover expenses for future events. That's a promise!
Politics, philosophy and that type of stuff...
We live in a challenging time. A time where independent music and arts are increasingly devalued against an all-consuming economical capital.  It is a time when artists need to question and give an answer to the true value and importance of culture. This is an ongoing fight which allEars is very much a part of. At the same time we believe that art is not so important if not everyone is included to participate. For way too long this music has been reserved for a rather small homogenous group of people. It's not like we are trying to force this music on anyone, but we believe that everyone can find this music and the energy surrounding it joyful and meaningful. By bringing different people from all over the world together, we contribute in crossing all sorts of geographical, social and demographical barriers. That is a real and ever-so-important contribution to society: bringing people of different class, age, sex etc. together for mutual experiences. This is as an aspect of sustainability in the arts the way we see it.
$€£
Another important aspect of sustainability is money. We need to stop relying too much on government funding. We don't think it is evil or anything like that. In fact we are very thankful for all the contributions the festival have gotten so far. Turning towards crowd-funding might seem like no better at first glanse, but there is an important difference: through crowd-funding the public is already engaging themselves in the festival. They invest directly in the community we want to build. Also, as a backer, you get something in return. It can be a T-shirt, a gift package with LPs or CDs or even a private house concert with one of the festival's organizers. And of course you get a fantastic festival with superb musicians and outstanding live acts. We want you to know that wether we get money from the government, the public or from private sponsors we will never compromise on the autonomy of music. That is our stamp of approval!
Let's talk about...
We think music is important. In order for everyone to understand how important music is, we need to build a better vocabulary. That's why we will arrange for some debates and discussions for this year's festival. Keywords are sustainability, necessity, community.  We invite artists, the public, and some fancy names to talk about various themes within these topics. 
Other Ways You Can Help
There are many ways to help us out. If you for some reason can't or won't donate money we have many minor and not-so-minor tasks for you which we need help with. Driving artists, hanging up posters, cooking food etc. etc. etc.  Just contact us on Facebook and let's talk about options.