INTRODUCING AIR SLING: A COMPACT BAG FOR THE 21ST CENTURY.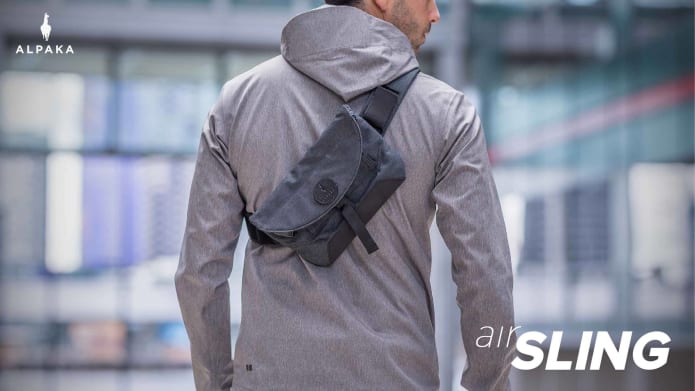 Backpacks are a great way to carry your stuff. When you have lots of it. But when you only need your essentials, your 24L pack isn't going to cut it. So instead of bringing the bulk or going without, what you really need is a compact bag designed for modern life: A small form factor that holds your core gear safely and securely. A bag that helps you plan ahead so your phone never runs out of battery. A case that doesn't sweat it when bad weather hits. All of this, while keeping you looking smooth and suave.
A BAG DESIGNED FOR EVERY DAY
Introducing the Air Sling. A light, sleek and durable sling bag handcrafted with the toughest materials and made for everyday use. The Air Sling is packed with functional features designed for any modern adventure. 
PREVIOUS PRESS COVERAGE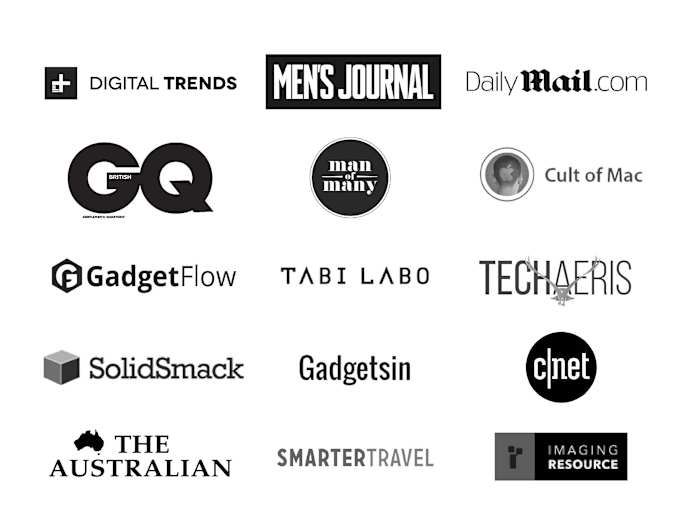 WHAT MAKES THE AIR SLING SO GREAT?
It's cut-proof, water-proof, light, tech-ready, has a removable strap...the list goes on. In short, it adapts to your lifestyle without weighing you down.

Below you'll see the abundance of features of this compact bag and how it supports your everyday life. You'll be surprised at what it can do.
Anti-Theft
Travelers can be easy targets for pickpockets. The Air Sling has integrated anti-theft features to make it theft proof.
Concealed zippers
Secure magnetic latch to prevent thieves from easily gaining internal access
Lockable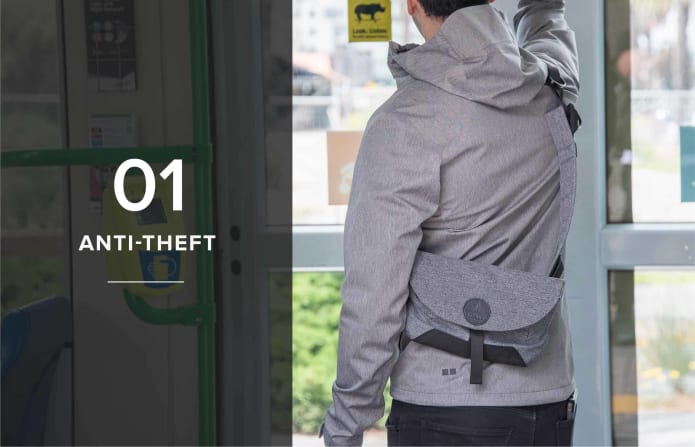 Cut-Proof
The Air Sling's external fabric is made from an ultra-durable material that is almost impossible to slash, tear or slice. In fact, this fabric needs to be laser cut. It's that tough.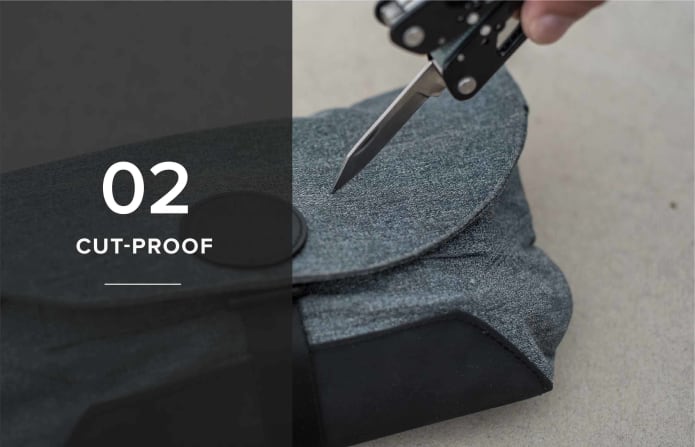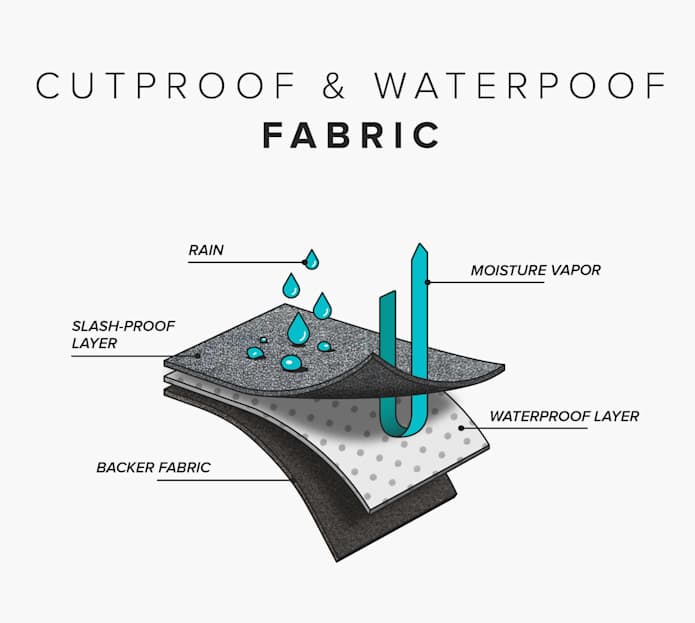 USB External Charging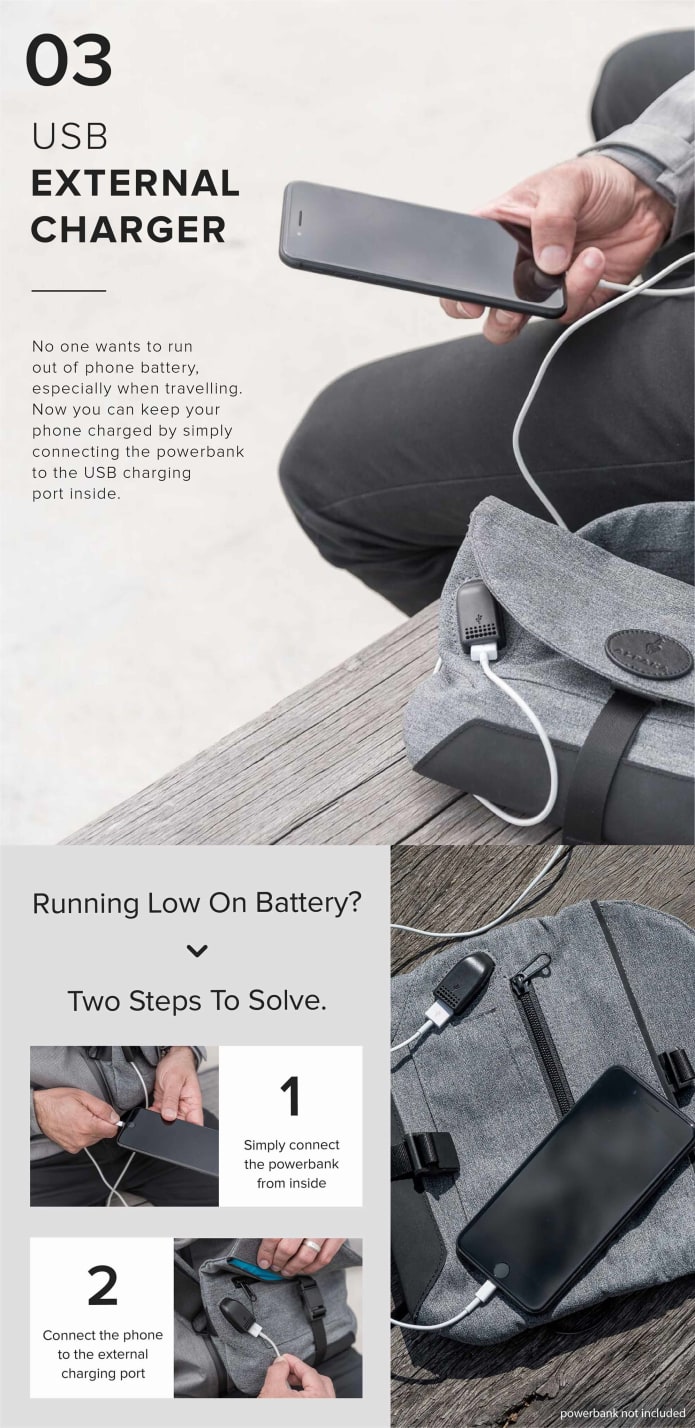 Waterproof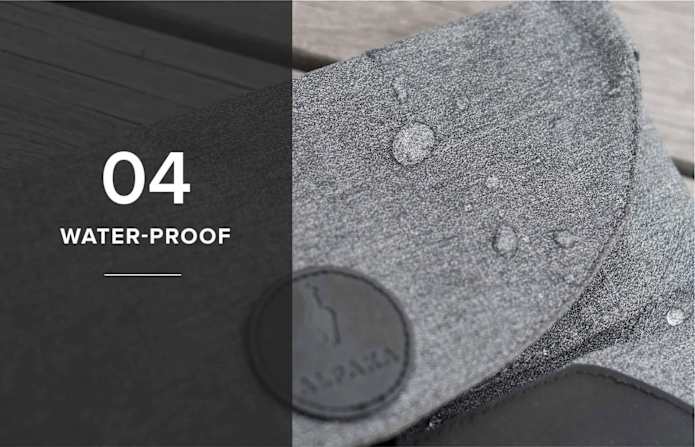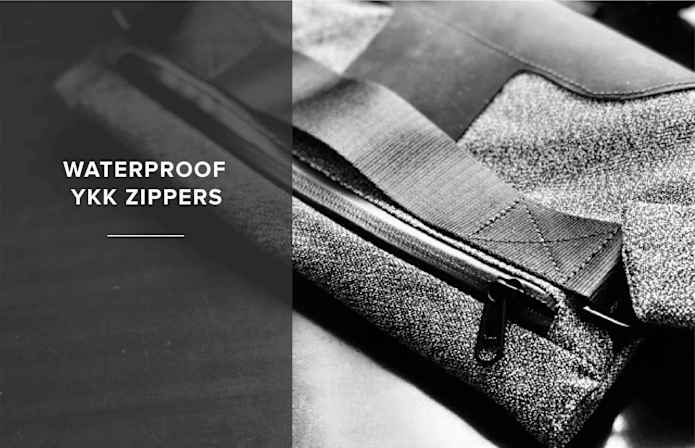 Magnetic Locking System
As with all of our products, we choose to use premium materials and elements. That's why the Air Sling comes with German Fidlocks to improve efficiency and give the bag that extra feeling of quality.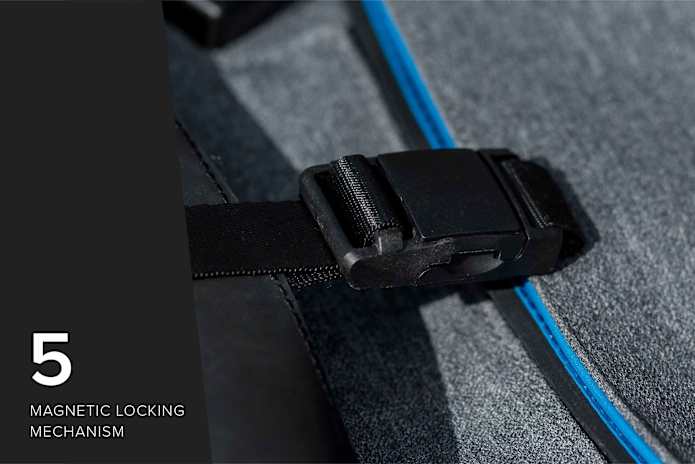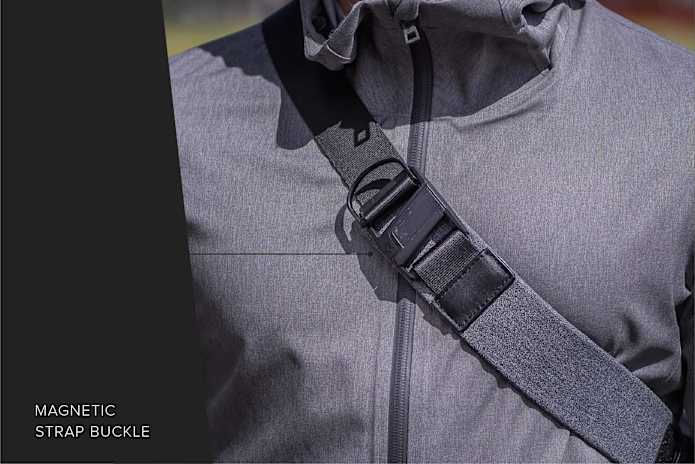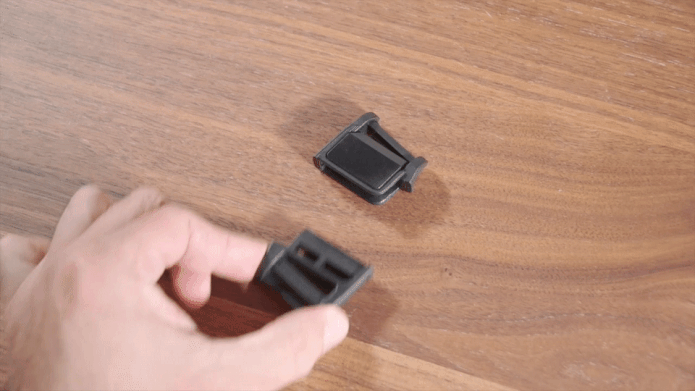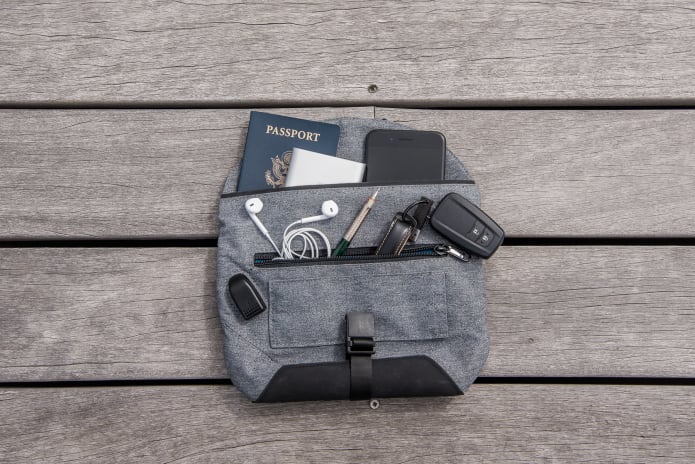 ADDITIONAL FEATURES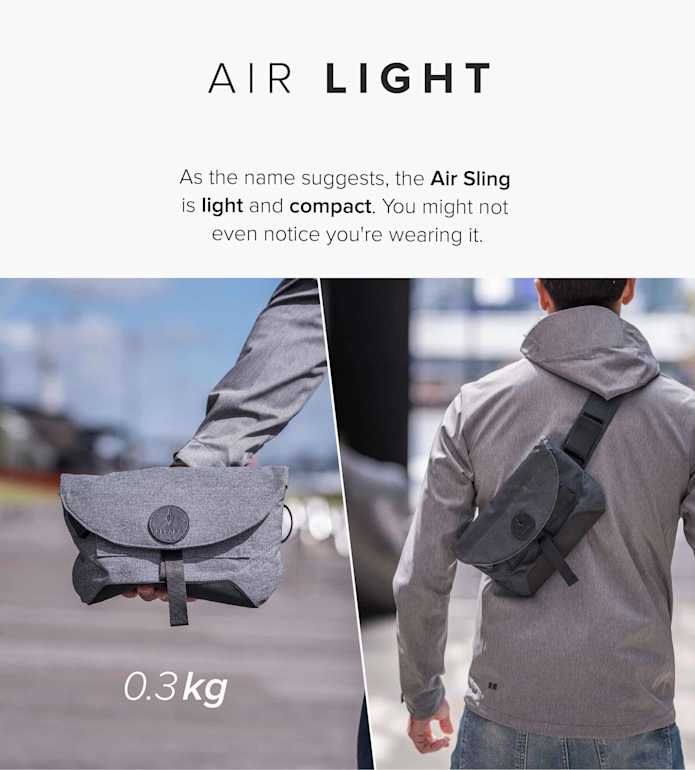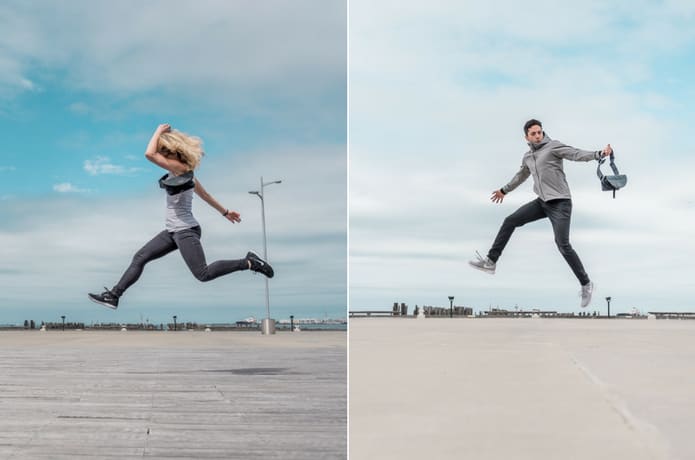 Reversible Shoulder Strap 
It can be worn over the left or right shoulder.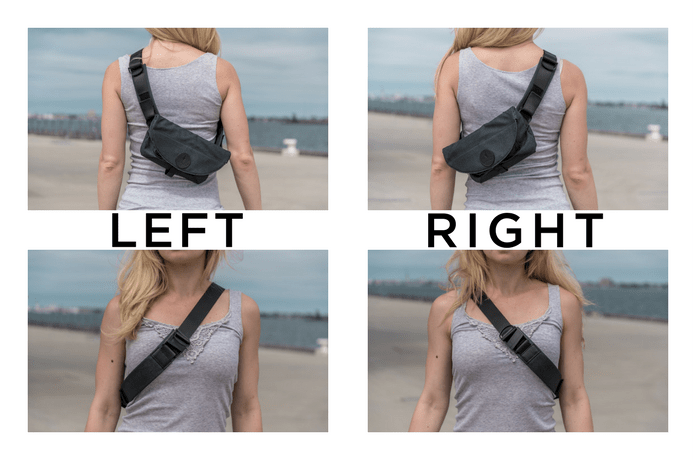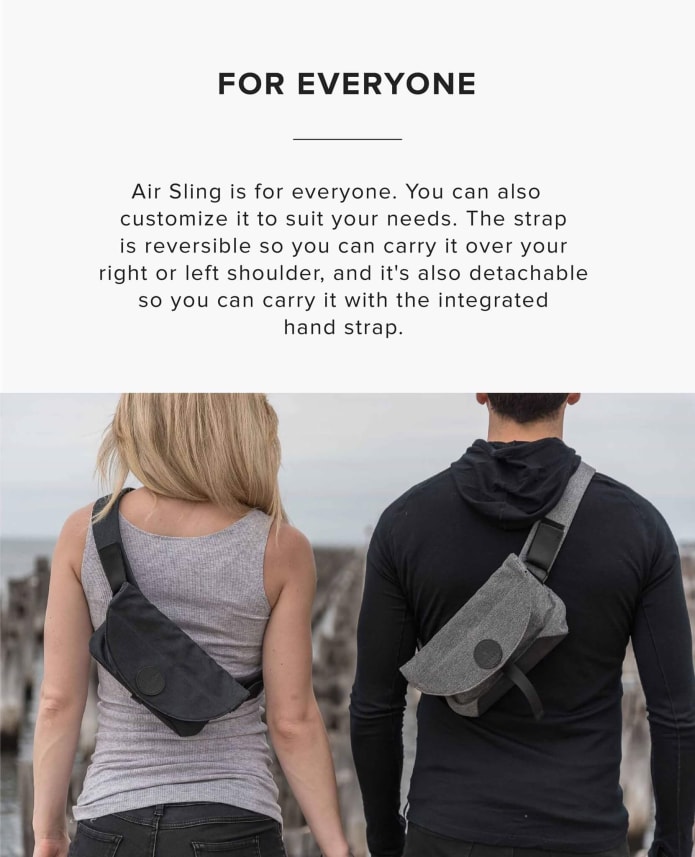 Commuter Friendly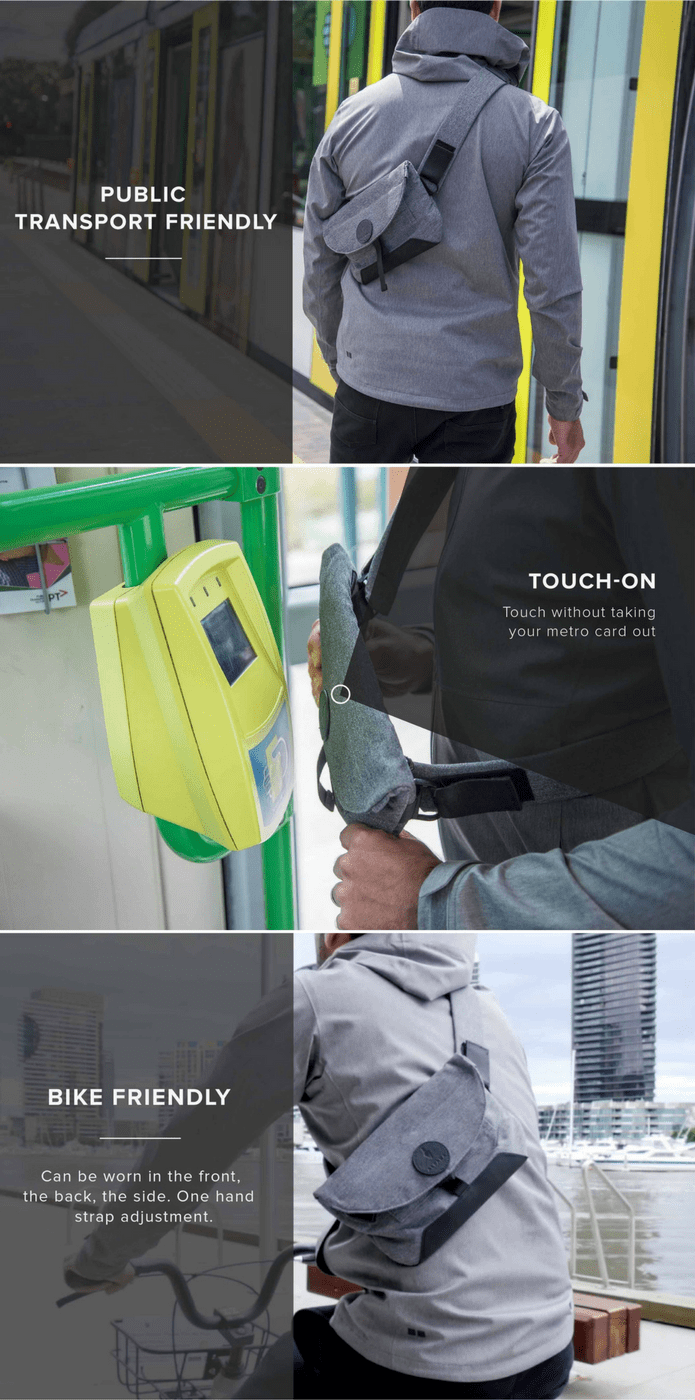 Hidden Passport Pocket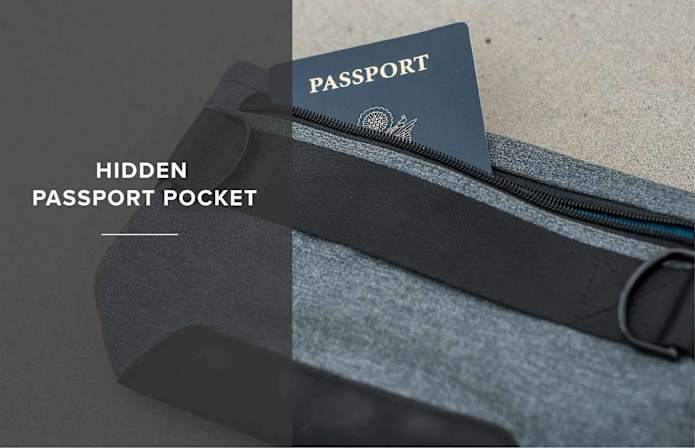 Efficiency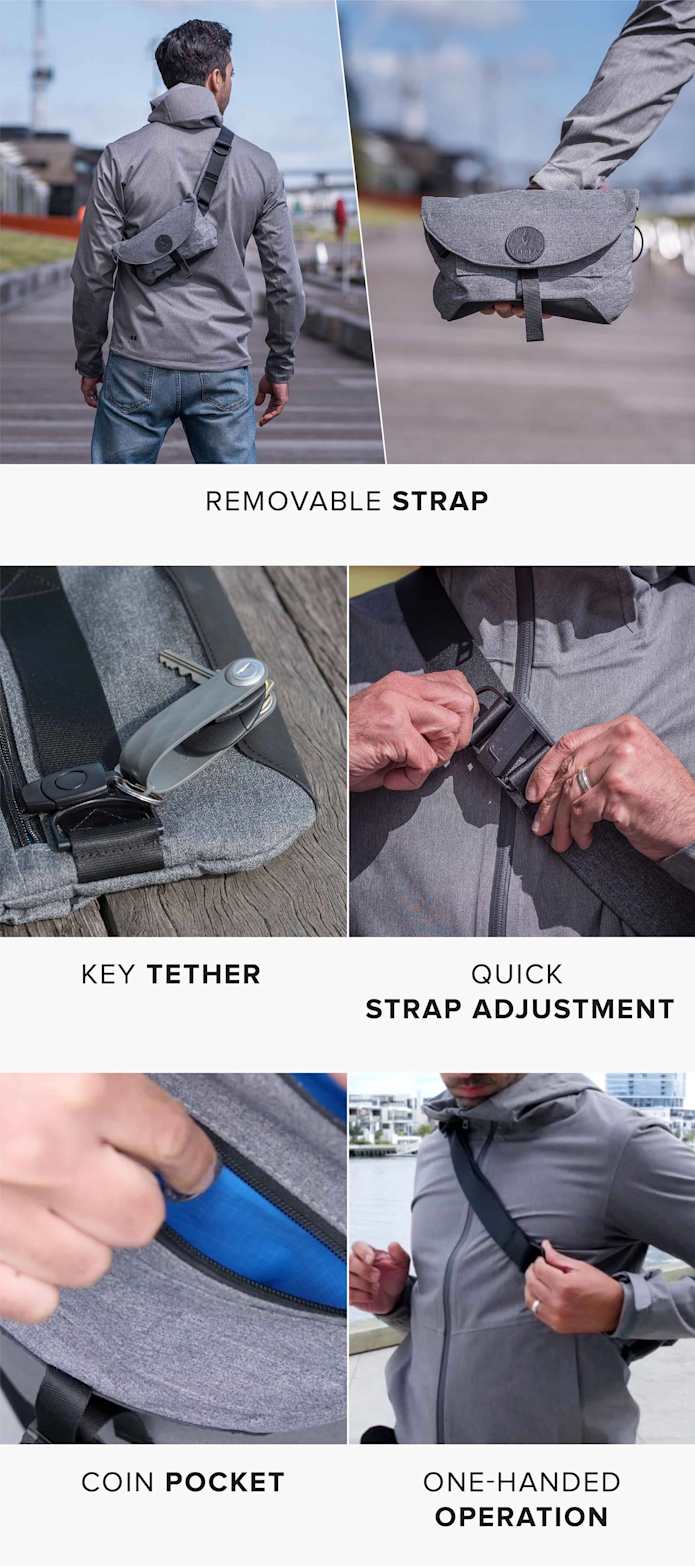 Different carry styles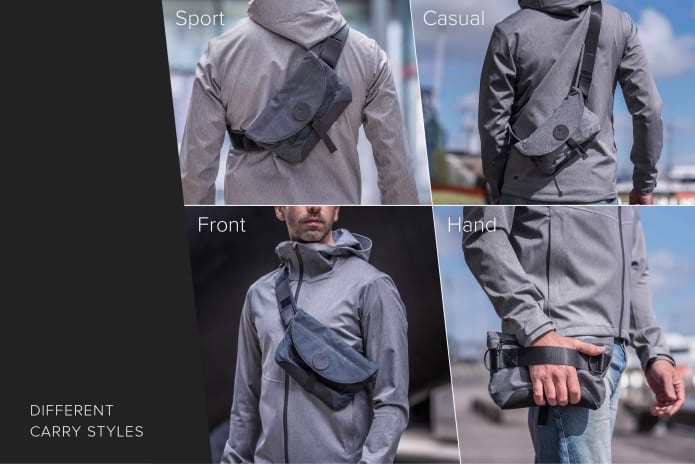 Expandable Volume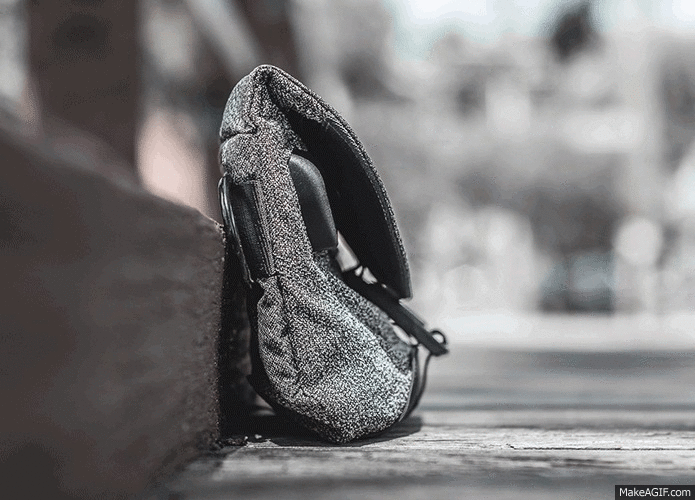 Quality Craftsmanship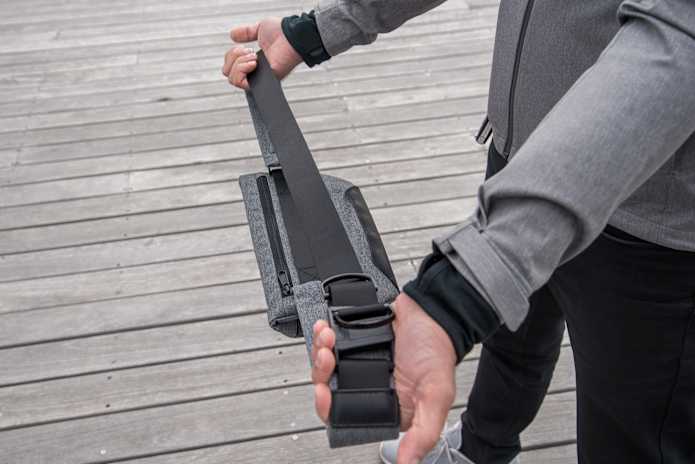 Compatible with Quadlock  

WHAT EVERYDAY PEOPLE HAVE TO SAY ABOUT THE AIR SLING
DEEP DIVE INTO THE DETAILS


PERKS & PRICING
Our company exists because of you: our backers. We want to thank you by giving you access to our new products first, at a heavily discounted price. We are offering you the Air Sling at wholesale price, as we are producing these bags ourselves and selling exclusively online. This means there are no middlemen or retailers taking a profit from this sale. This way, the savings are directly transferred to you.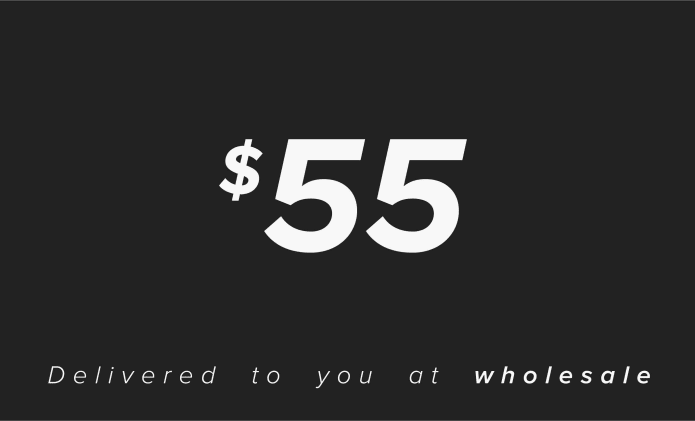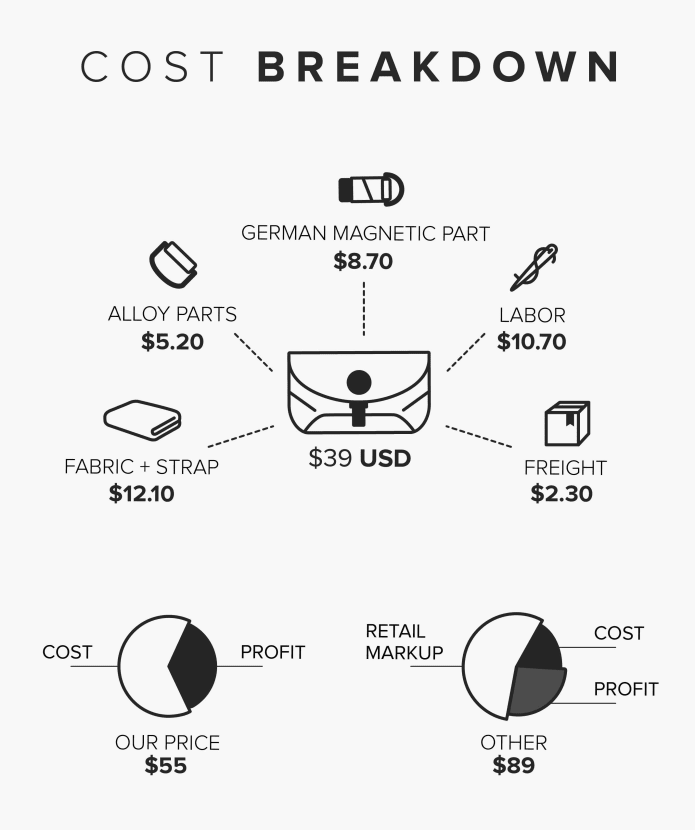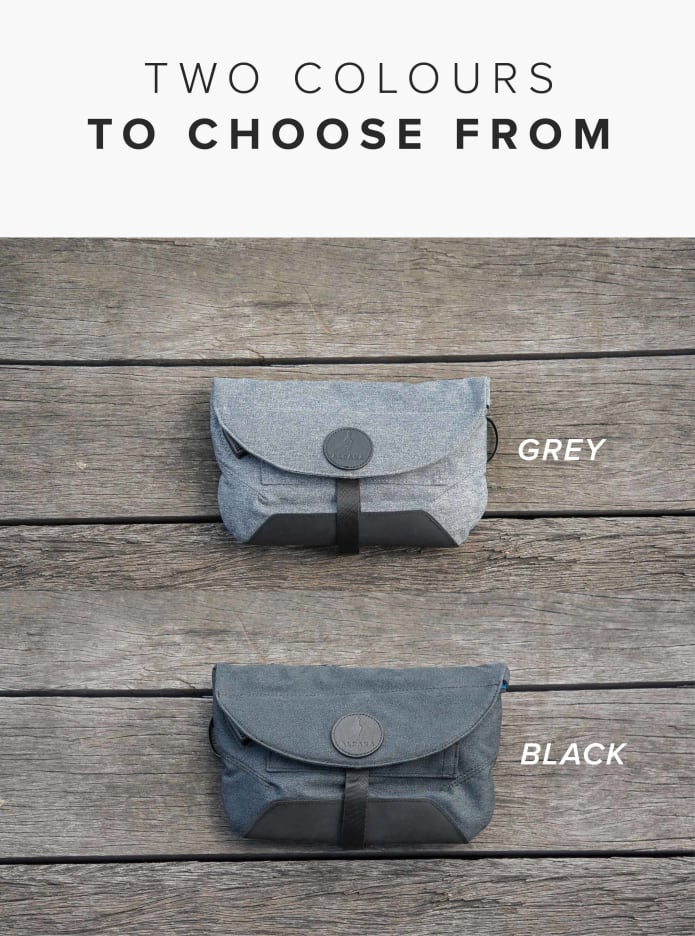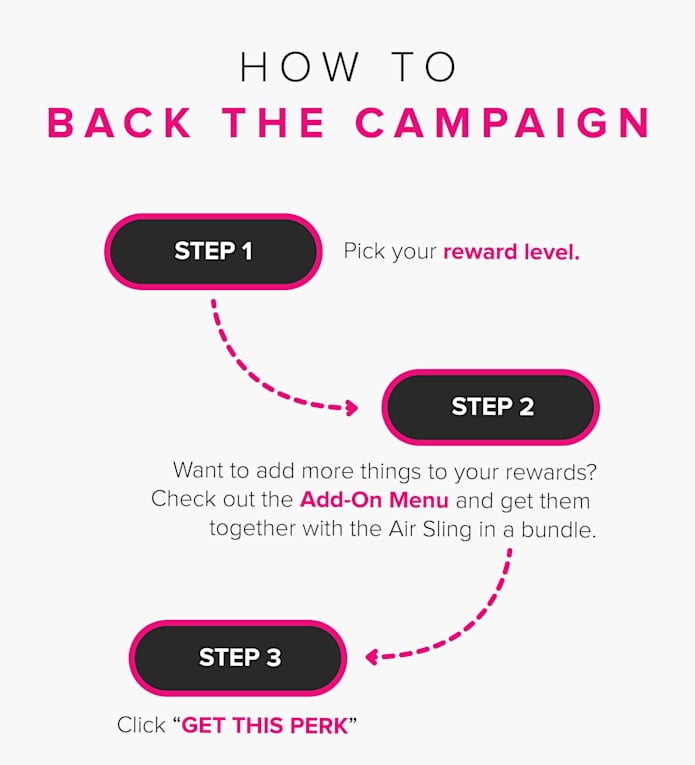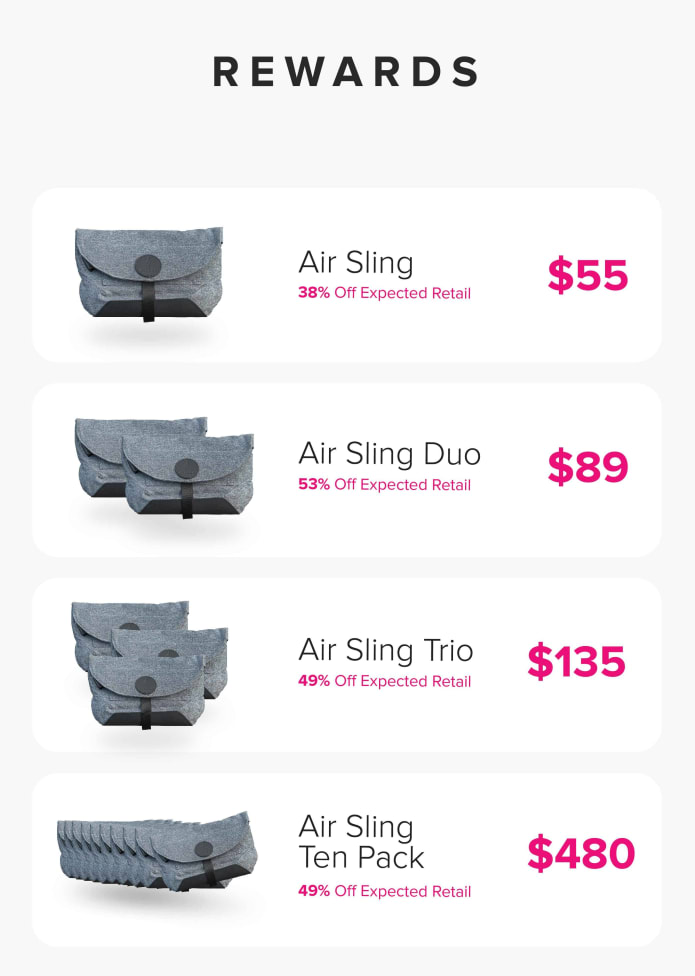 SHARE THE LOVE
Know someone who will love this project?
Let them know about it by clicking on the buttons below:


If you're interested in writing about this project, you can find everything you need in our Press Kit

WE ARE ALPAKA
We have a true passion for style, sustainability, and function. We believe combining all of these things can improve the way we live.
ALPAKA was born in 2016 after launching a successful Kickstarter campaign. We're crowdfunded and proud of it. Our foundation is bags. But we're not stopping there. Our goal is to create highly functional products that are durable and great looking.
It's been an incredible year for us, and with the support of hundreds of backers, we were able to successfully run two crowdfunding campaigns. This is our third campaign, and we chose a more compact solution after listening to our community of past backers and customers.
With your support, we'll be able to continue to bring you awesome gear to help with your everyday adventures.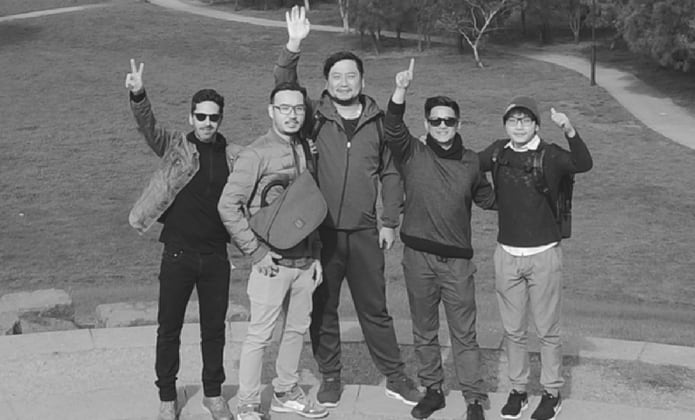 RISKS & CHALLENGES
This is our third crowdfunding campaign, and we've learned quite a bit along the way. We feel confident we will be able to produce the bag and have it shipped to backers by May – 2018. We have the full support of the manufacturer and all parties involved are set and ready to go.
The funds raised are going directly into the production/manufacturing of the bag. Even though we do not see any direct risks, there are always unforeseen circumstances that may present themselves during production and fulfillment. If this were to occur, we will always be 100% transparent with you and communicate this to you right away. Our goal is to get you an awesome, high-quality bag you are excited about, and we will do everything we possibly can to make that happen
FAQs
Frequently Asked Questions
Is there a power bank included in the sling?
No, the sling will be delivered without the power bank.
There is a simple connection inside the sling that makes sure that you can easily connect all power banks that are on the market (by USB plug).
This way the power bank will never be outdated and you can keep using new models to charge your devices. This bag is designed to last!
Is the lock included in the sling?
No, the lock can be added as an add-on. Hint: Scroll up for instructions on how to back the campaign.
What are the shipping costs?
Shipping varies from country to country. There is just a small surcharge applied at checkout. Simply click on the pledge and select your delivery country, you will automatically see what the shipment costs are for your selected country.
What is the content of the sling?
The Air Sling will hold up to 5L at full capacity.
What is the weight of the sling?
The weight of the sling empty (with the strap) is 300 grams.
Is the sling 100% waterproof?
The sling is water repellent, but not waterproof.
This means that in normal rain conditions, you should be safe and all your items will stay dry. However, the bag is not intended to protect your valuables when thrown in a pool, body of water or to be in a full rain pour for about an hour.
Is the sling washing machine proof?
The sling is not washing machine proof. However, since the whole bag is covered with water repellent material, the sling is already better protected against dirt and stains attaching to the fabric.

Furthermore, it is easily washable with a wet cloth or wipes.
What payment methods do you accept?
For this project, we can only accept payment by Credit Card, no other payments methods.
If there is a problem with the payment with your CC, please contact the customer support team of Indiegogo, as they are in charge of collecting the payments.
Can I pay extra to get an earlier delivery?
This is unfortunately not possible. It is not a matter of extra costs, but a matter of making sure that we ship out all the bags in the most efficient way as possible. However, there will be 200 sling bags (grey only) available for early delivery if you pledge for the Super Early Bird reward.
Unfortunately, we cannot make exceptions to this process as it will delay all the other shipments.
Will I have to pay duties/VAT to receive my order?
We will do all we possibly can to prevent this from happening, but any applicable duties/VAT are the sole responsibility of the backer.
We have absolutely no control over the additional duties/VAT that may or may not be charged in your country. If you are unsure whether or not you will be charged duties/VAT at the time of receiving your perk, please get in touch with your local post office.
There is also a handy tool online available to calculate these costs. Please note that this is an external online partner, so we cannot be held accountable for differences between the actual cost and what is mentioned on this website: http://www.dutycalculator.com/new-import-duty-a....
The bags will be shipped from Hong Kong, this will help you to calculate the costs.
Where can I fill in my delivery address?
At the end of the project, we will send out a survey to all our backers. In this survey, we will collect all needed data such as your delivery address.
We will also send out an email to all backers right before we will send out all the packages to make sure this delivery address is still up to date.
Will we receive a tracking number for our shipment?
All backers will receive a personal tracking number with which they can trace their shipment.
Can I pick up my delivery?
This is unfortunately not possible; our entire delivery process is automated to create as much efficiency as possible. This in order to make sure that all backers will receive their package on time (or even earlier than expected). A manual pick-up will disrupt this process and is therefore not possible.