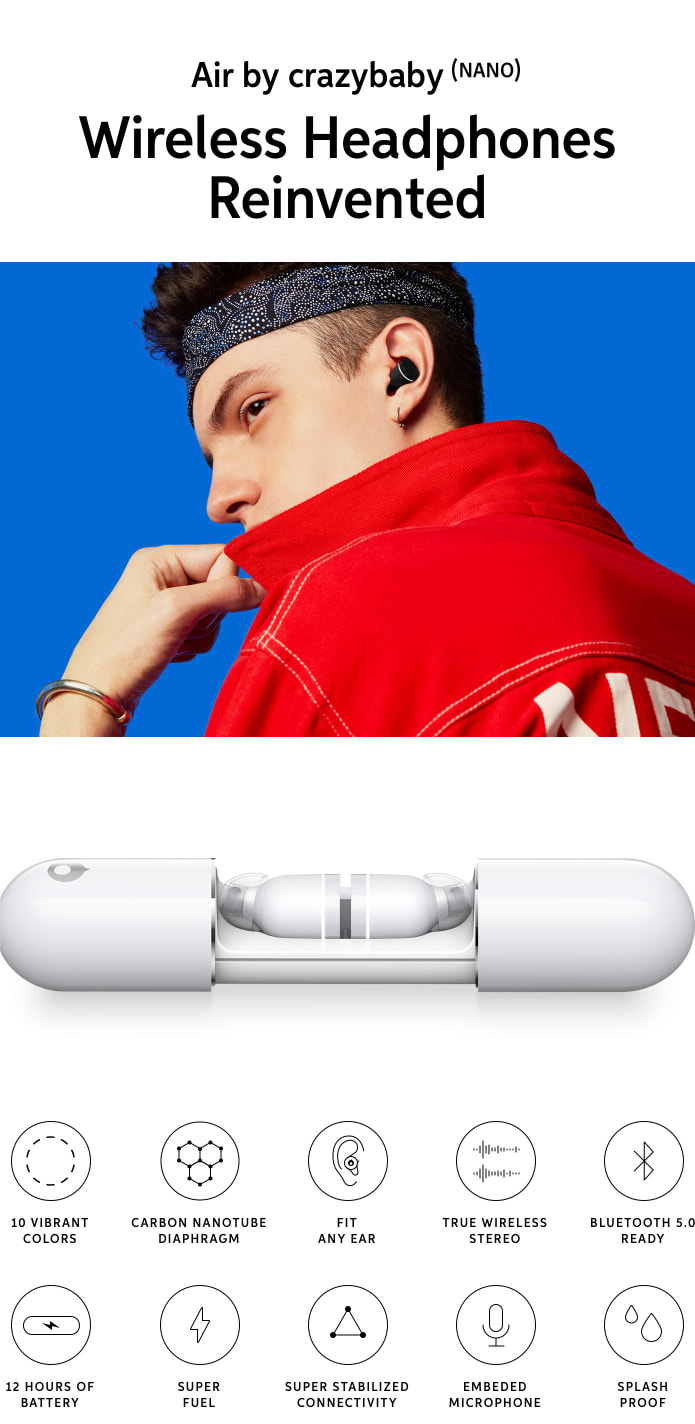 Air by crazybaby ⁽ᴺᴬᴺᴼ⁾ is the perfect set of compact, true wireless headphones that deliver flawless audio without skimping on style. With 10 vibrant colors to choose from and 12 hours of battery life (thanks to Super Fuel technology), you can experience superior acoustics with superb design. Bluetooth 5.0 ready, Air (NANO) is compatible with both iOS and Android devices.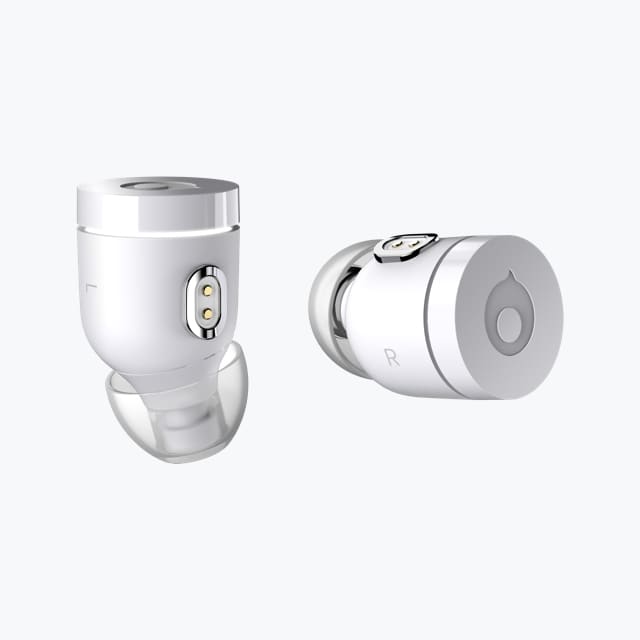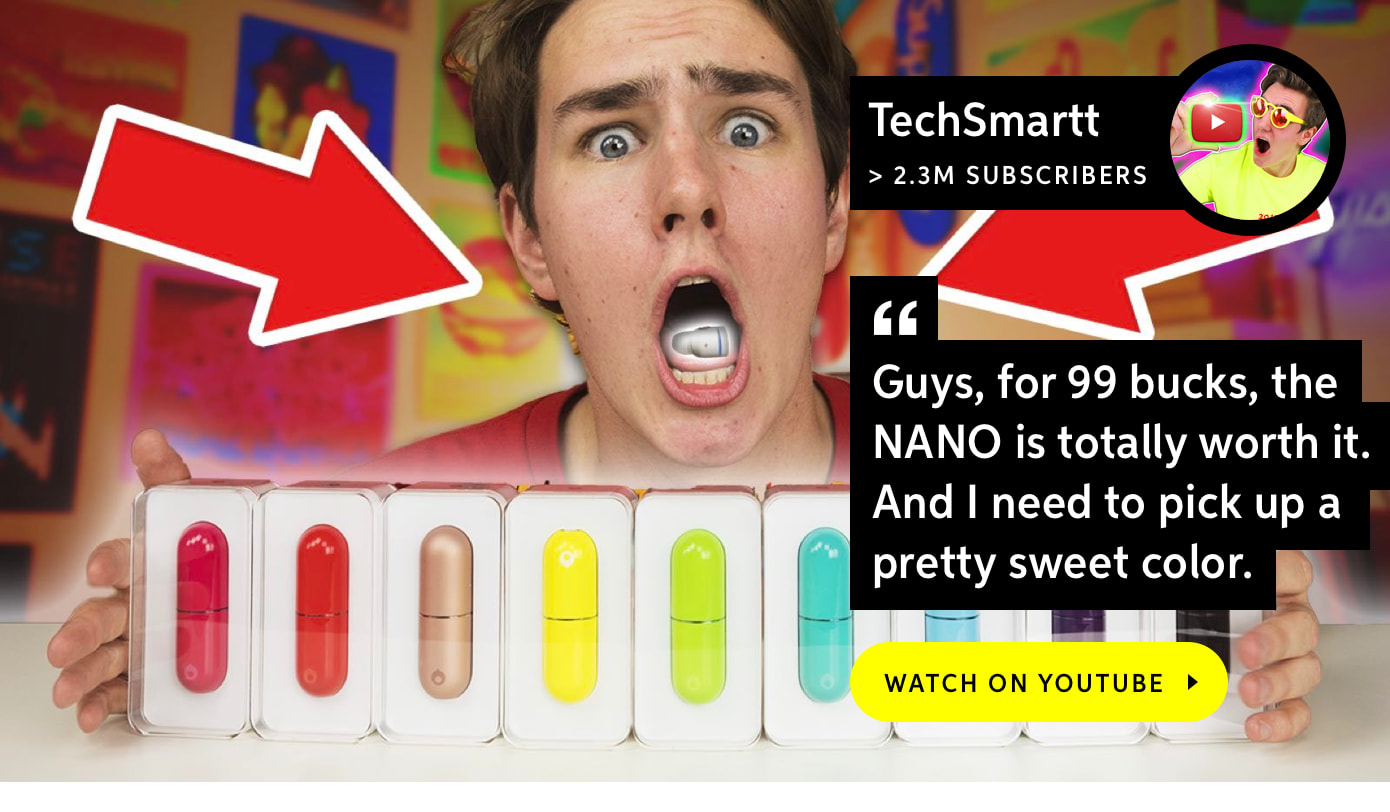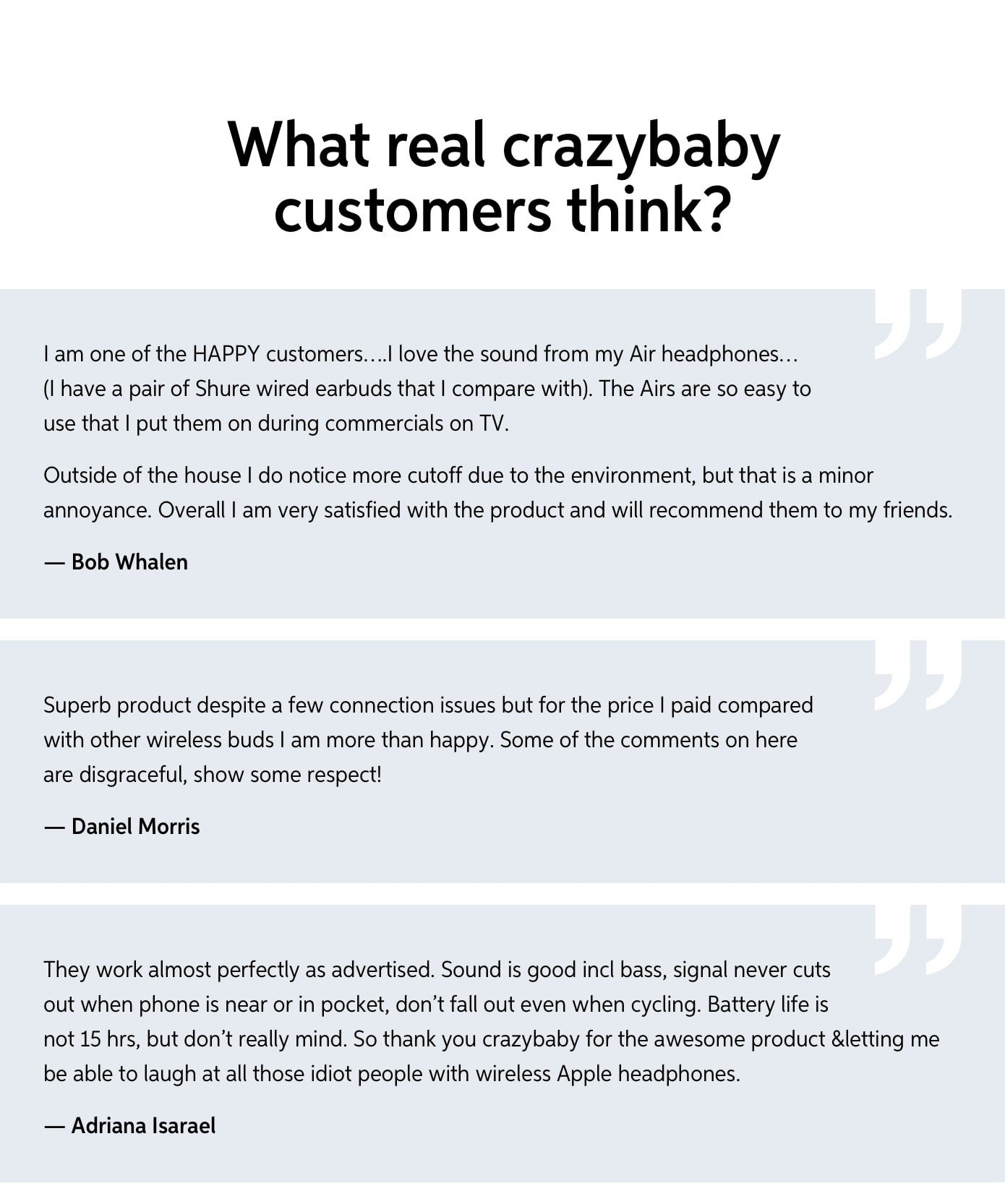 Our customers love Air by crazybaby. Their support and trust in our brand has encouraged us to continue our mission to create the most innovative and high-quality true wireless headphones.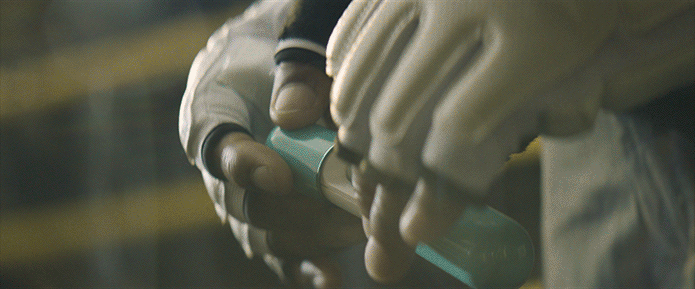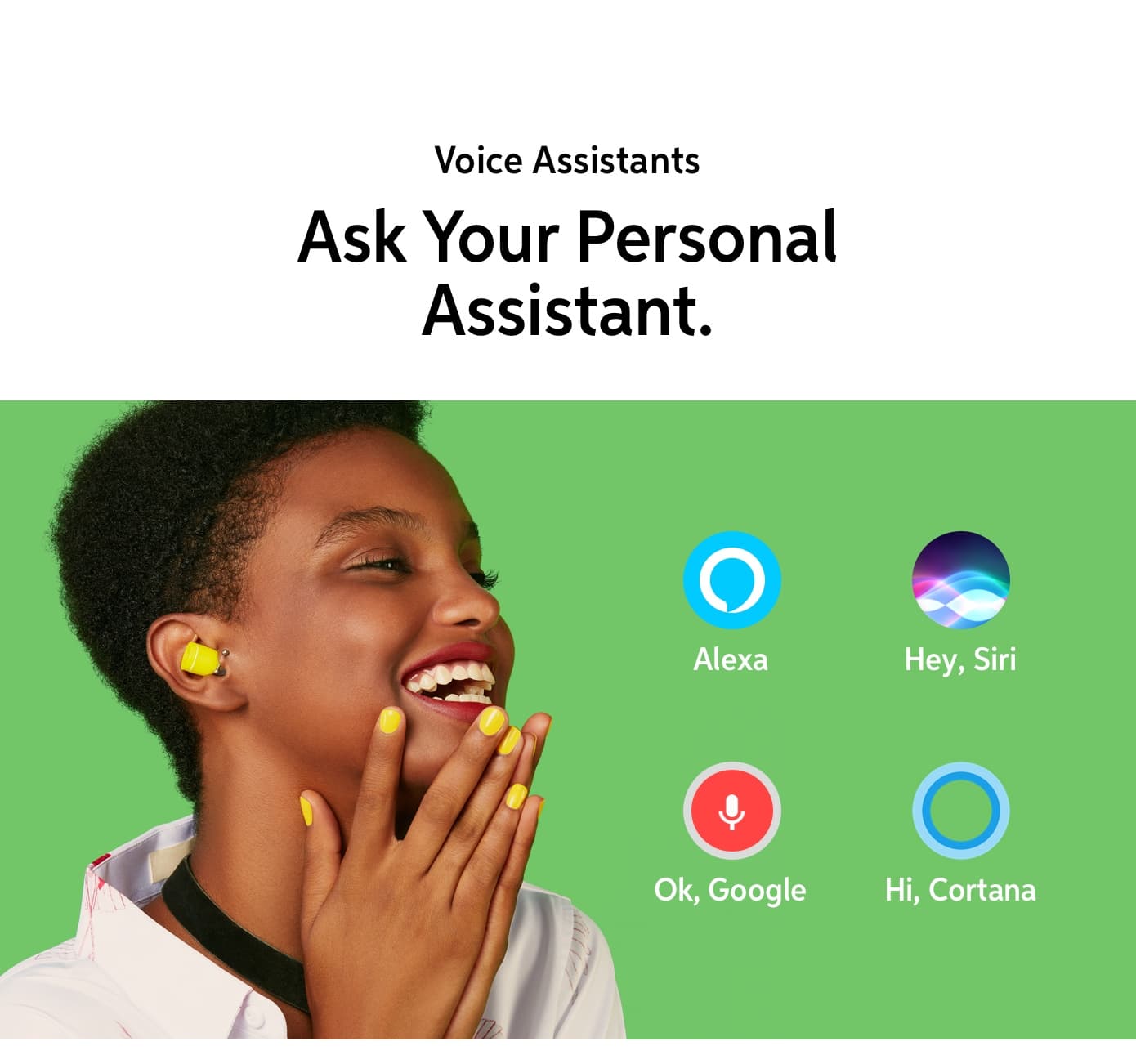 When connected to a smartphone, you can press your left headphone to talk to your voice assistant, even if your phone is tucked away in your pocket.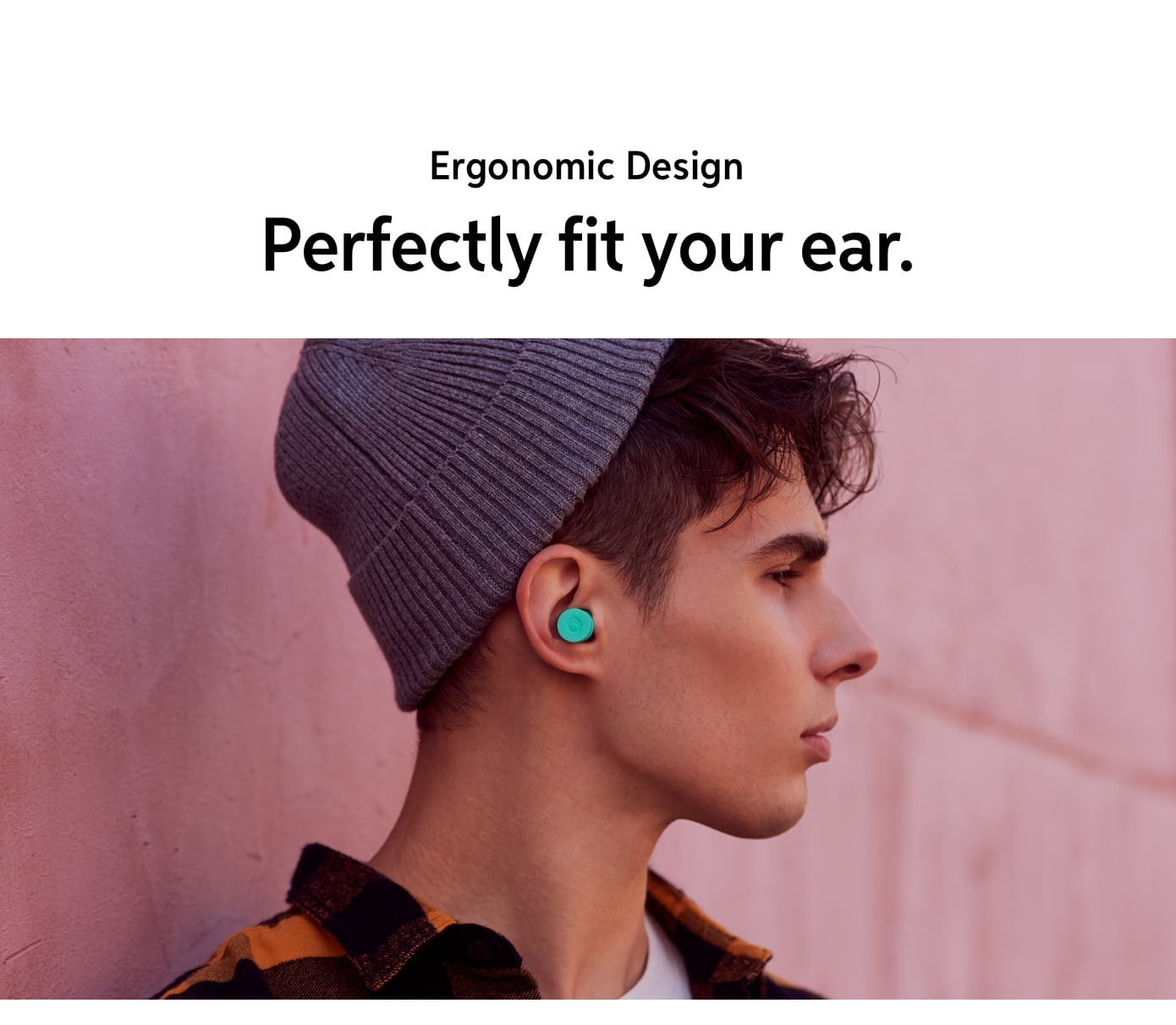 Air (NANO) utilizes a classic bullet design, which offers a snug fit for all types of ears. To ensure a comfortable fit, we've studied hundreds of people's ears to determine the perfect tilt, angle, and fit for Air (NANO)'s ear tips. We aimed for the most ideal ergonomic curvature of the earbud surface for maximum comfort.
Designed for improved in-ear stability and a long-term comfort, Air (NANO) is perfect for sports and fitness activities including running, jogging, and other rigorous activity. The sports-fit wingtips provide a strong in-ear hold so your headphones won't easily fall out. The soft material that makes up the wingtip is water-washable, anti-static and removable.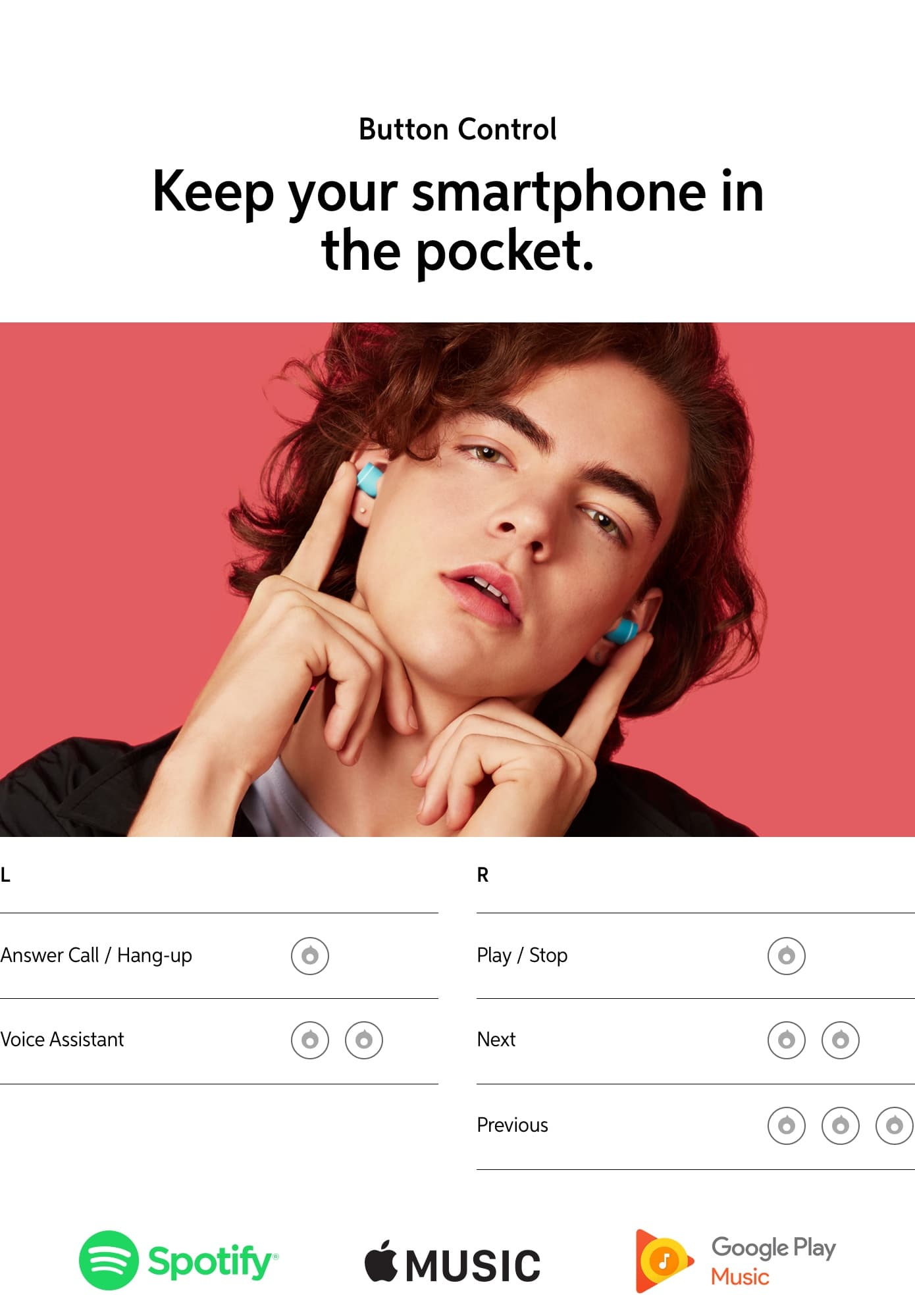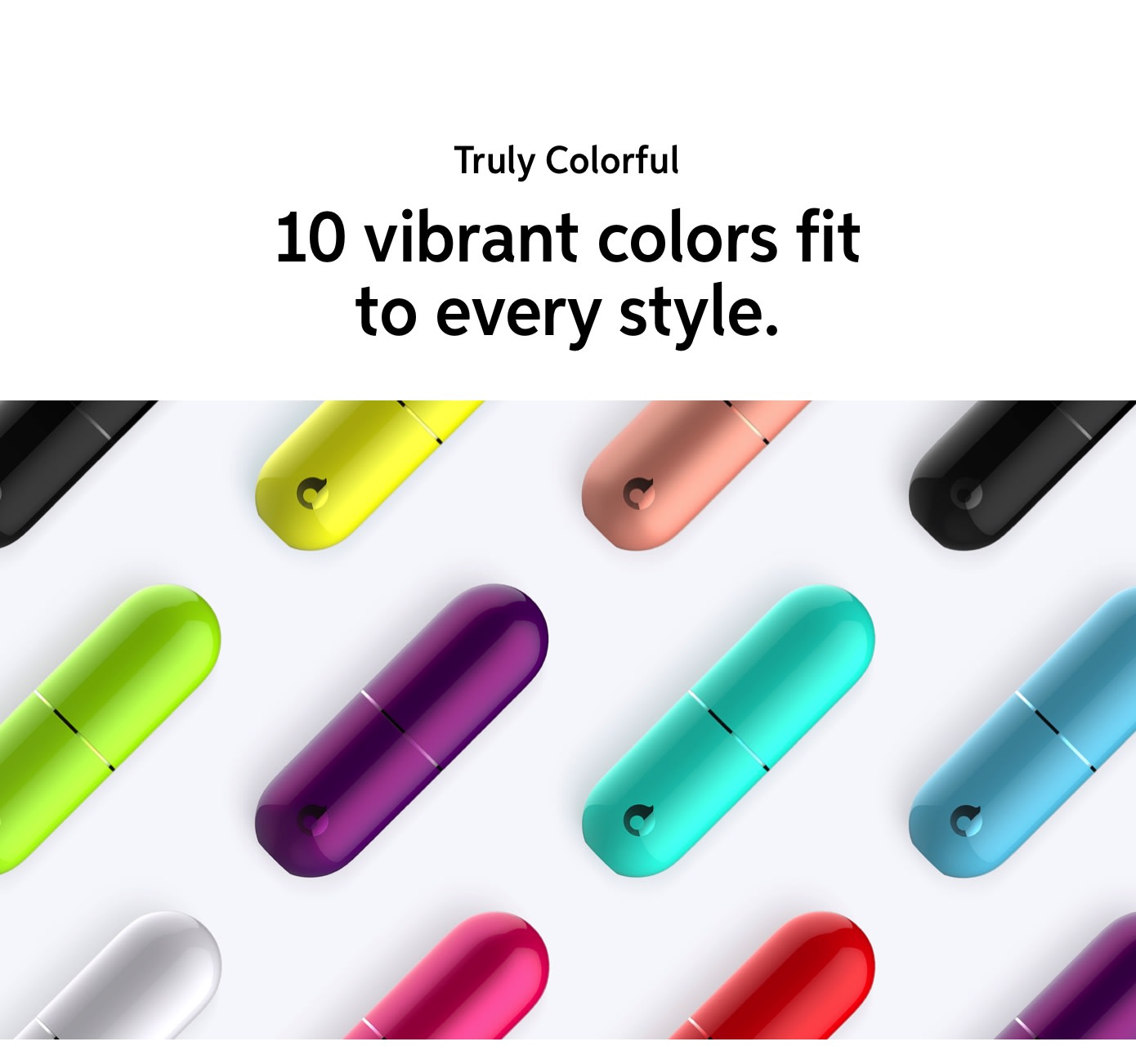 These new wireless headphones, Air (NANO), is available in ten trendsetting colors including Morandi Blue, Black, White, and Pink to name several. There are plenty of choices to match your mood.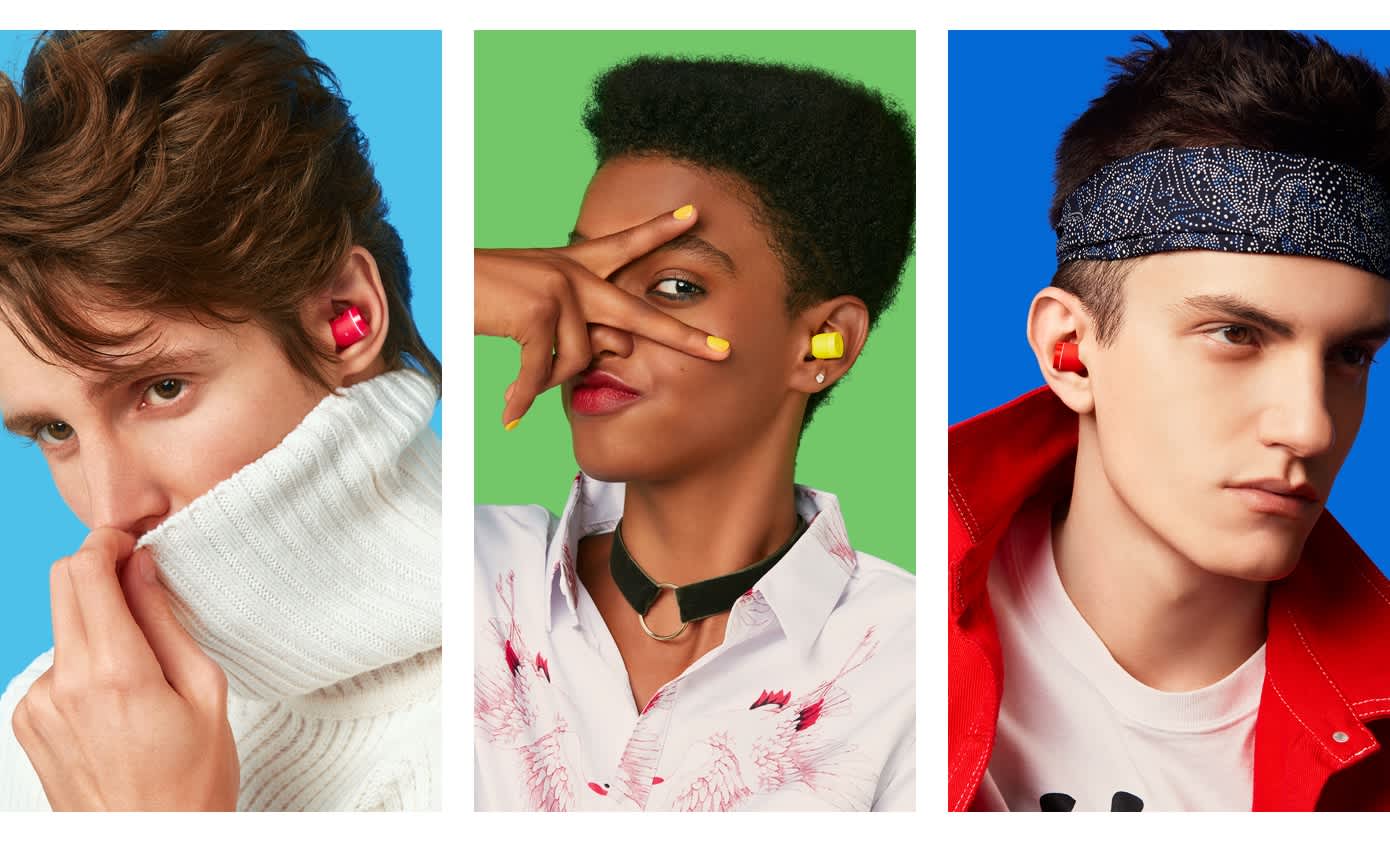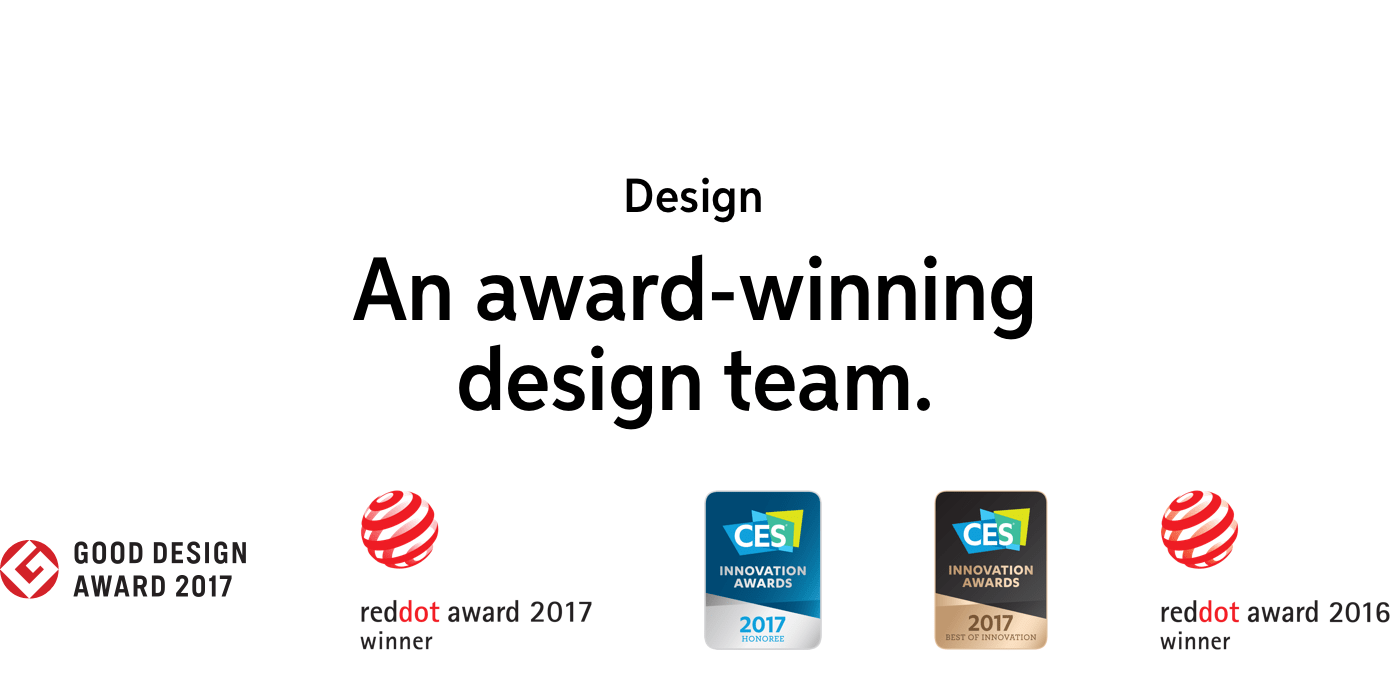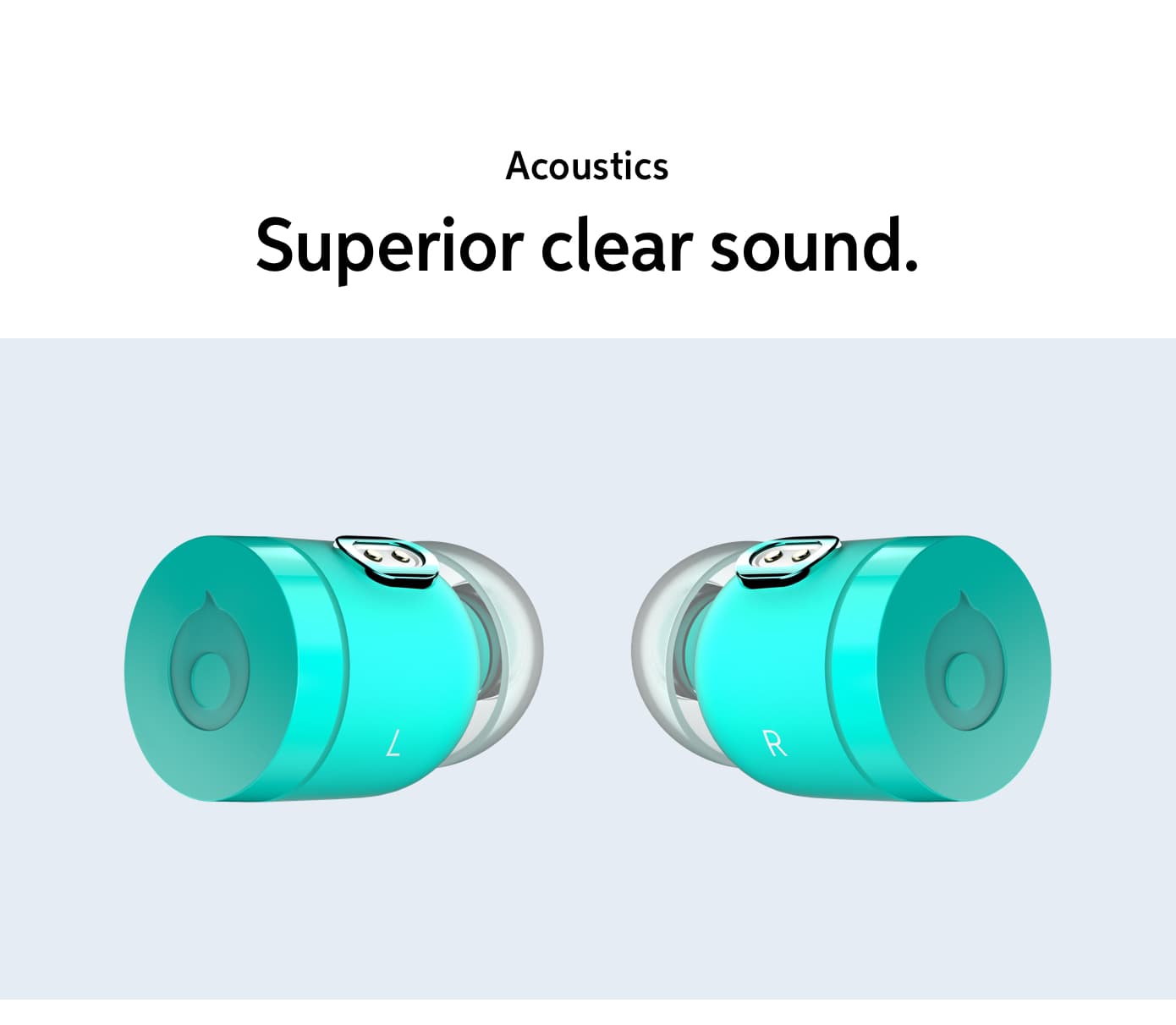 Embedded with the most cutting-edge technology, Air (NANO) never stops pushing the boundary of innovation to provide our customers with a best-in-class music listening experience.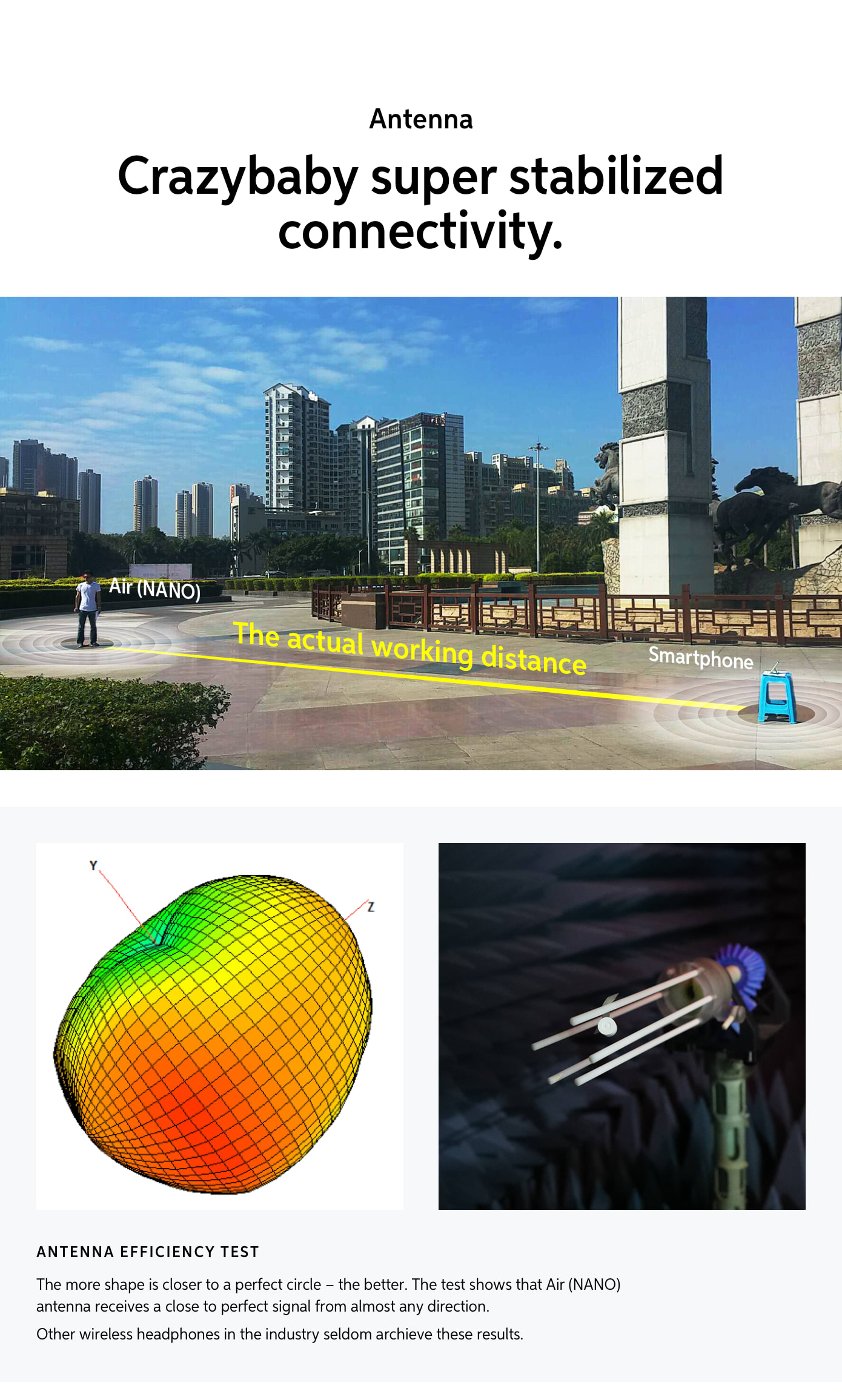 Unlike other wireless headphones on the market, Air (NANO) uses an advanced PIFA (Planar Inverted F-shaped Antenna)  (the same type used in an iPhone). This type of antenna offers increased bandwidth and an enhanced signal reception that results in a stable connection.
Air (NANO) was designed with this high-tech offering in mind from the onset, using a properly tuned antenna for a significantly improved, anti-interference connection. After putting the true wireless headphones through a rigorous set of simulation tests, Air (NANO)'s connection was consistently rated as among of the best in its industry.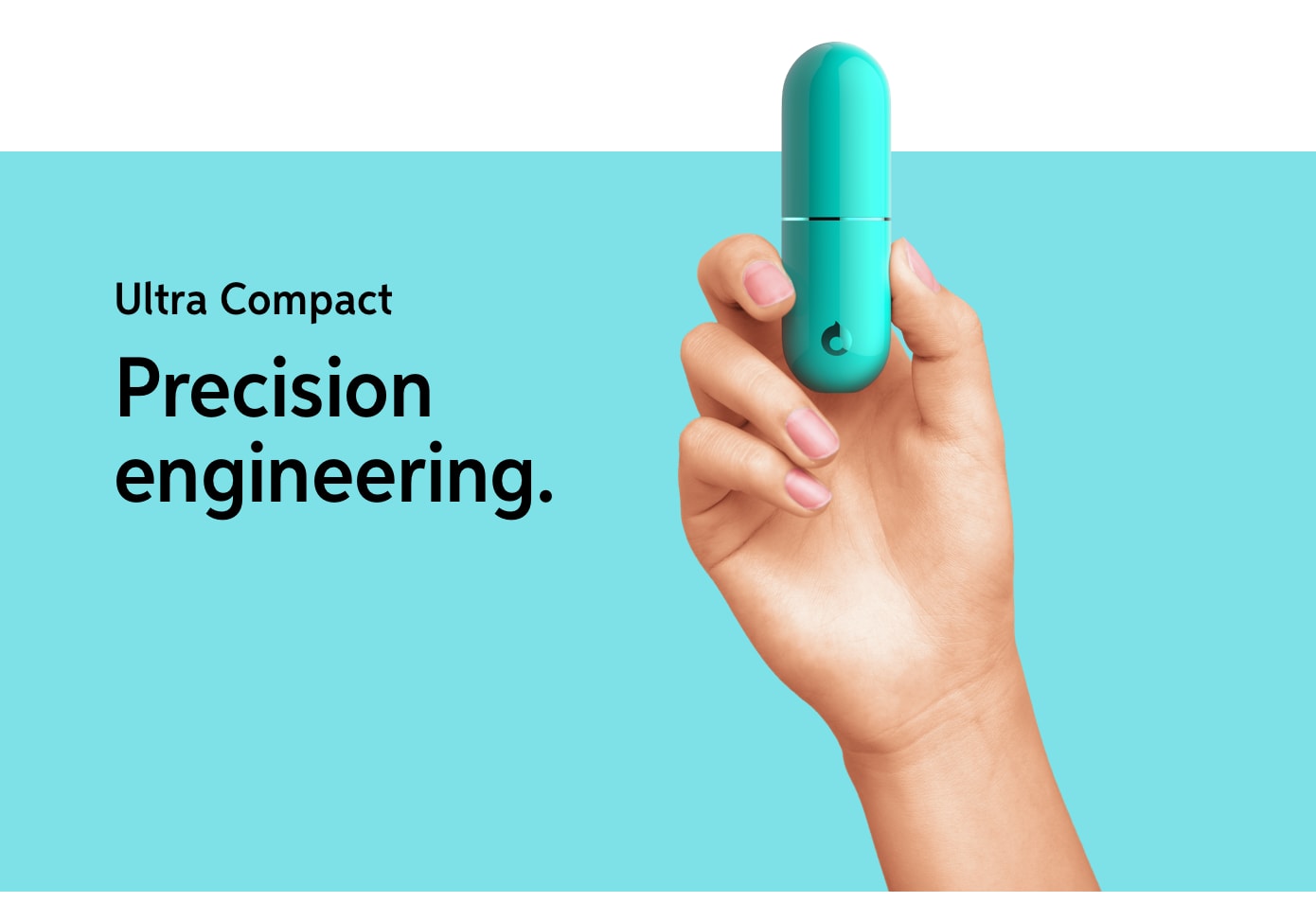 Precision engineering allows for an ultra-compact design, through the extreme optimization of space and parts allocation. Truly wireless stereo headphones have been reinvented by our award-winning team of audio experts to liven up your wireless music experience at home or on-the-go.

The shell of the Air (NANO) Capsule is from Saudi Arabia's national alloy plastic, which is widely applied in high-end electronics and medical devices. The logo on the shell's surface is embossed by a plastic bronzing process, that's smooth to the touch and sports a bright, yet elegant metallic sheen.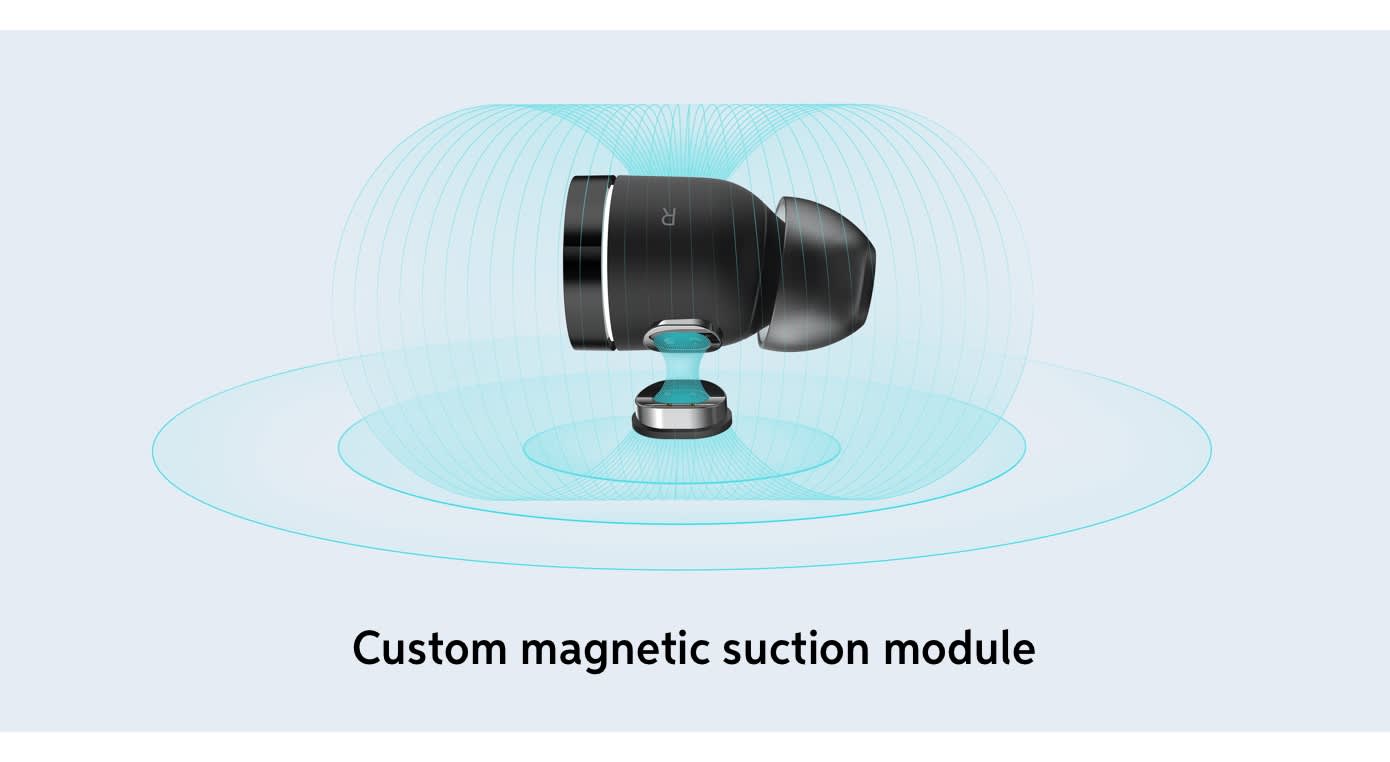 The Air (NANO) Capsule continues to adopt the classic magnetic design pioneered by Air by crazybaby, however there are improvements. We have customized the magnetic module on the Capsule to make it more compact and provide a tighter fit for the headphones that lets it sit snugly within the Capsule without the risk of it falling out.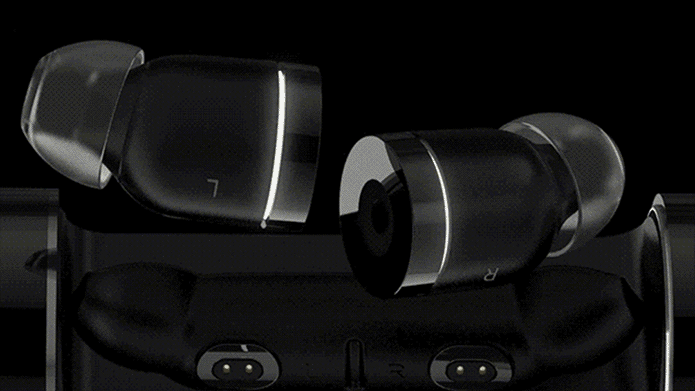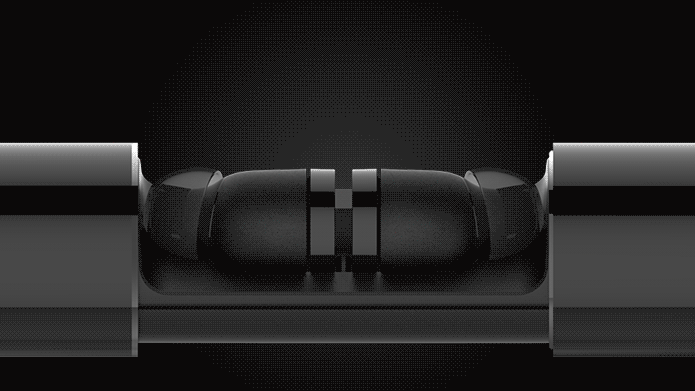 Thanks to Super Fuel Technology, a 5 minute charge provides 1.5 hours of music playback. You can enjoy up to 12 hours of portable power provided by the charging capsule, empowering you to enjoy your true wireless audio experience longer and with a peace of mind.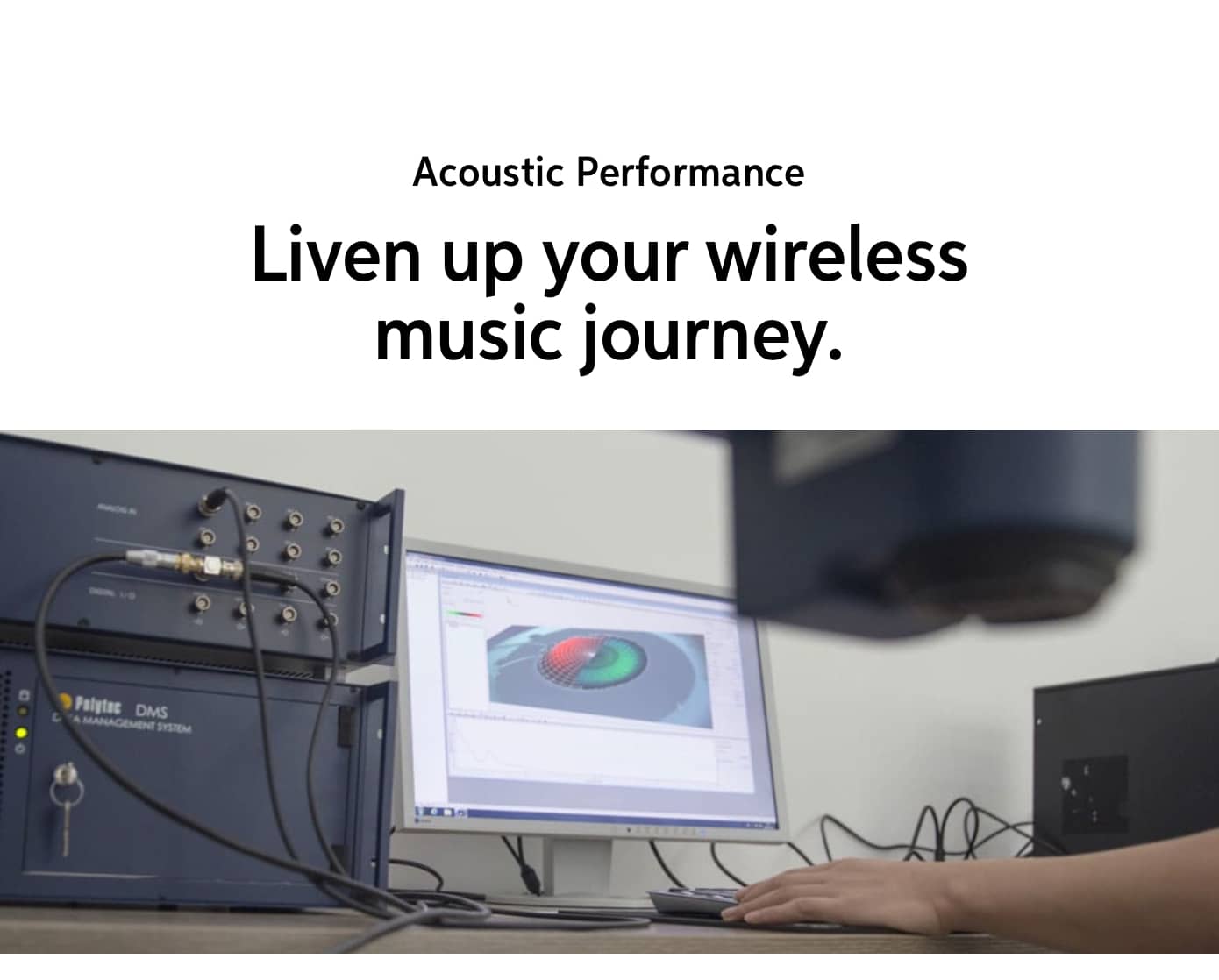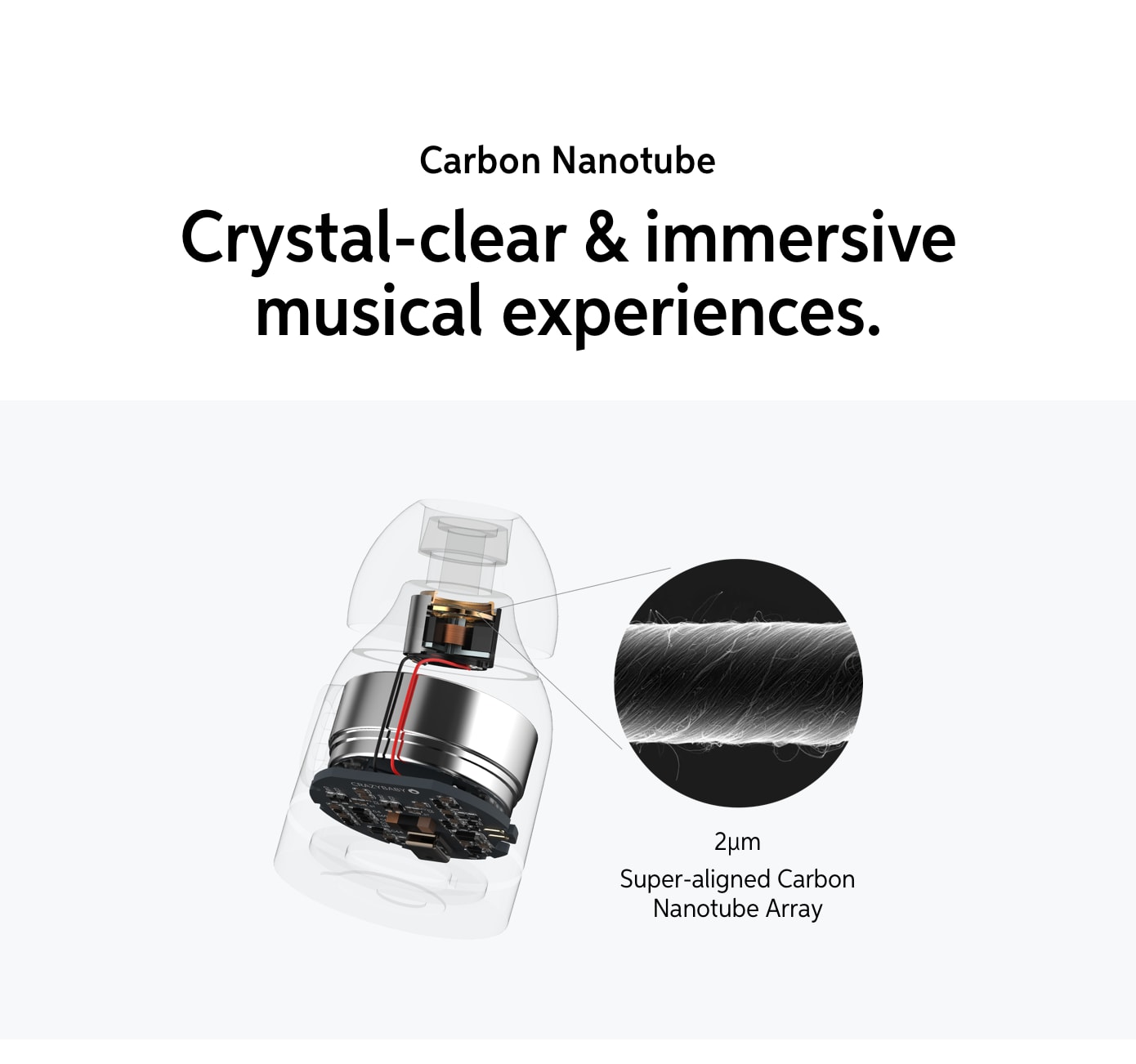 A headphone's diaphragm at its essence, is correlated with sound quality. In the same vein of Air by crazybaby, Air (NANO) also uses the industry's leading 998 custom-made Carbon Nanotube Diaphragms, enabling crystal-clear acoustics that deliver an immersive music listening experience.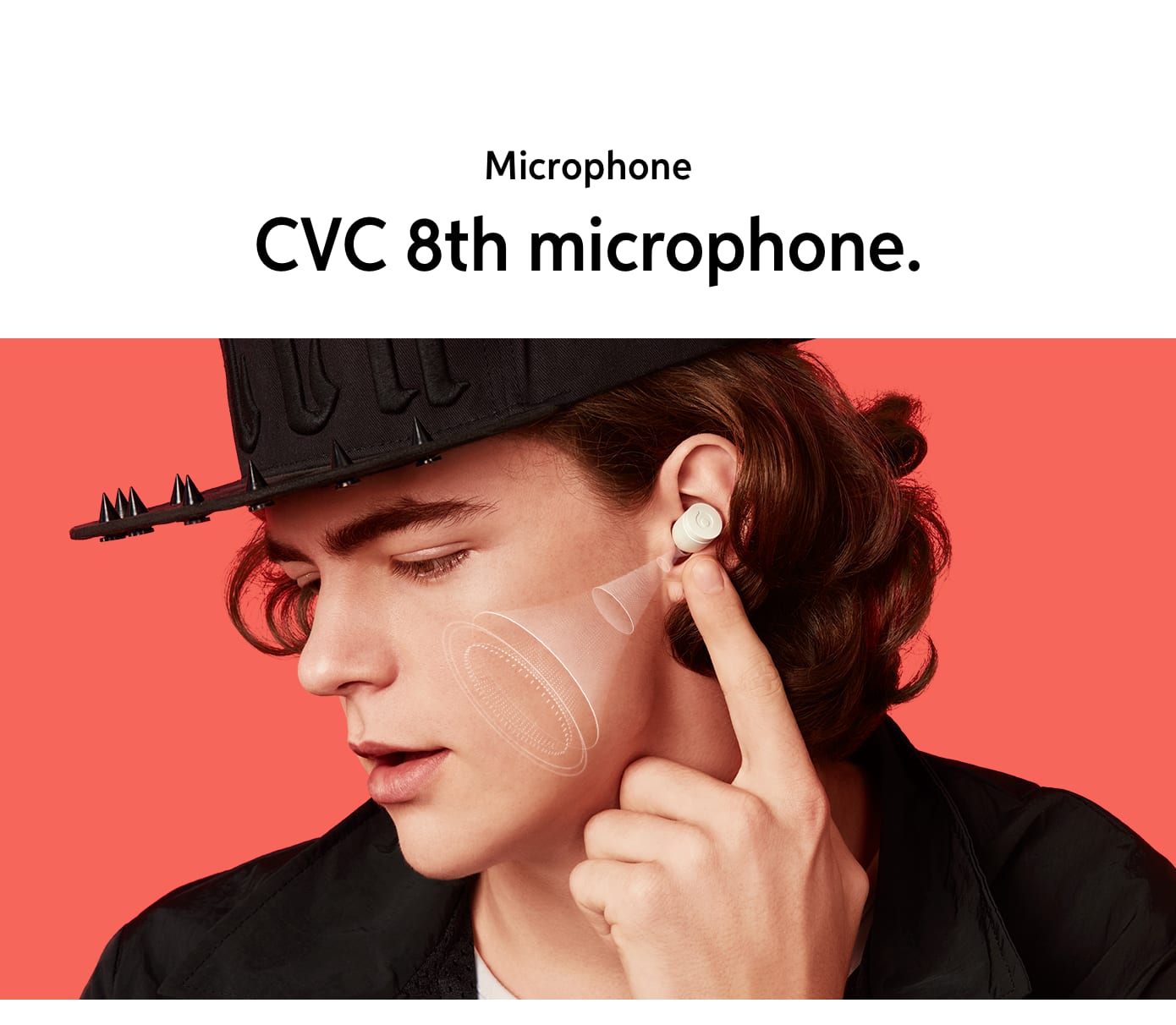 CVC 8th Generation Noise Isolation Technology, combined with Air(NANO)'s double digital silicon microphone work cohesively together to optimize your call and sound quality by drowning out background noise.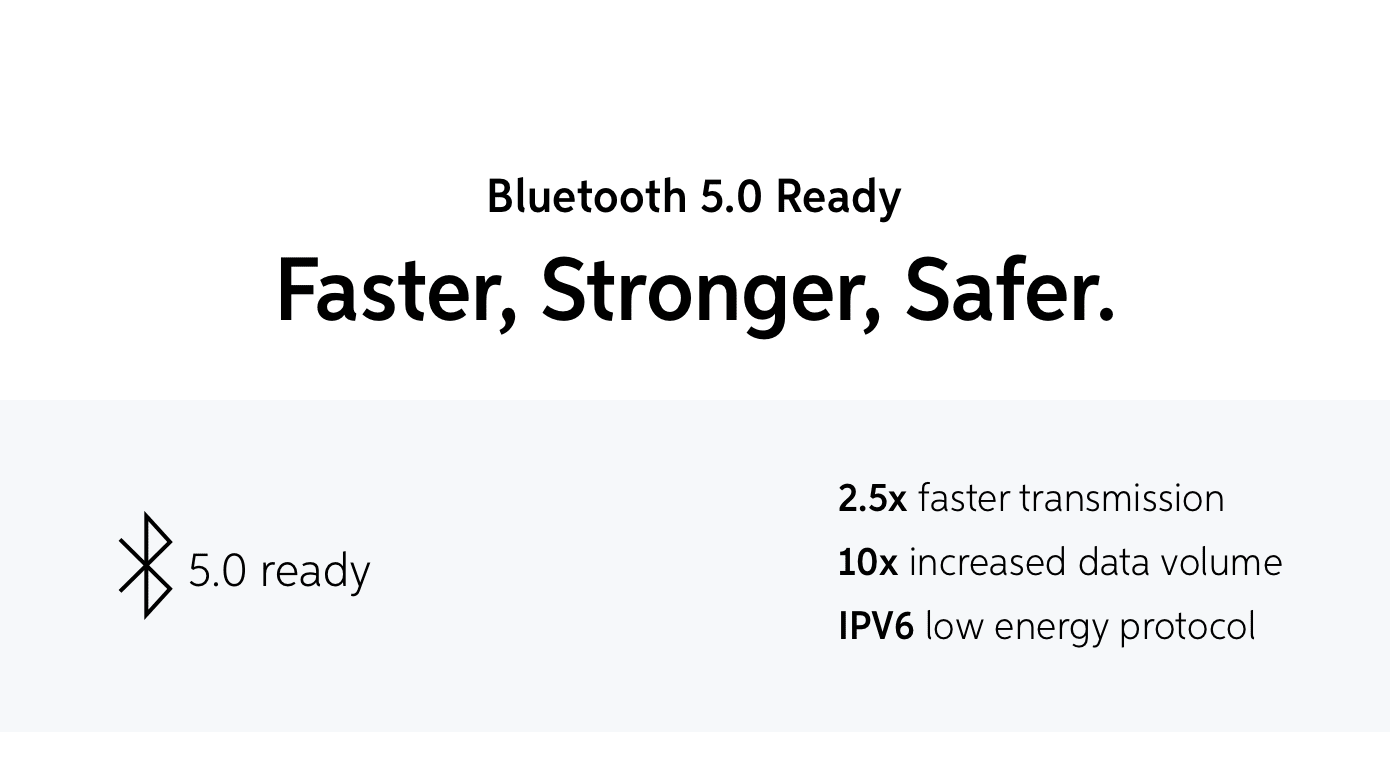 With Air (NANO) already Bluetooth 5.0 ready (the newest in bluetooth technology), you're ensured crystal-clear audio all the while Air (NANO) is paired with your device.
Compared to its predecessor, this new Bluetooth protocol increases data transmission speeds by 2.5x, data volume by 10x, and for the first time ever, connects over IPV6 to decrease energy consumption and provide you with a safer way to access the internet for those of you concerned about your privacy.  

Feature rich iOS and Android compatible apps - ideally suited for music - allow you to control your music, monitor your headphone's Bluetooth connection and manage your music experience any way you'd like.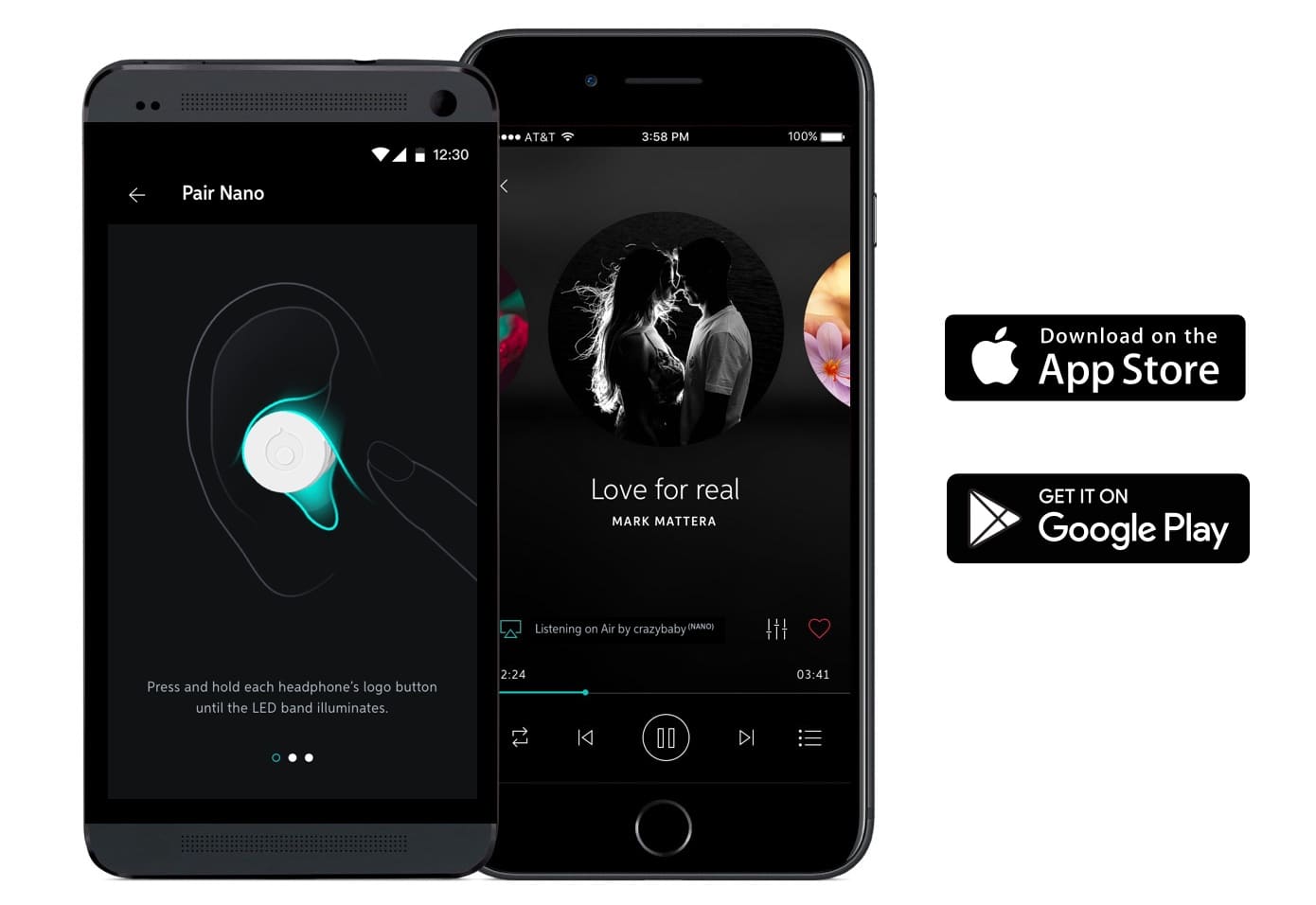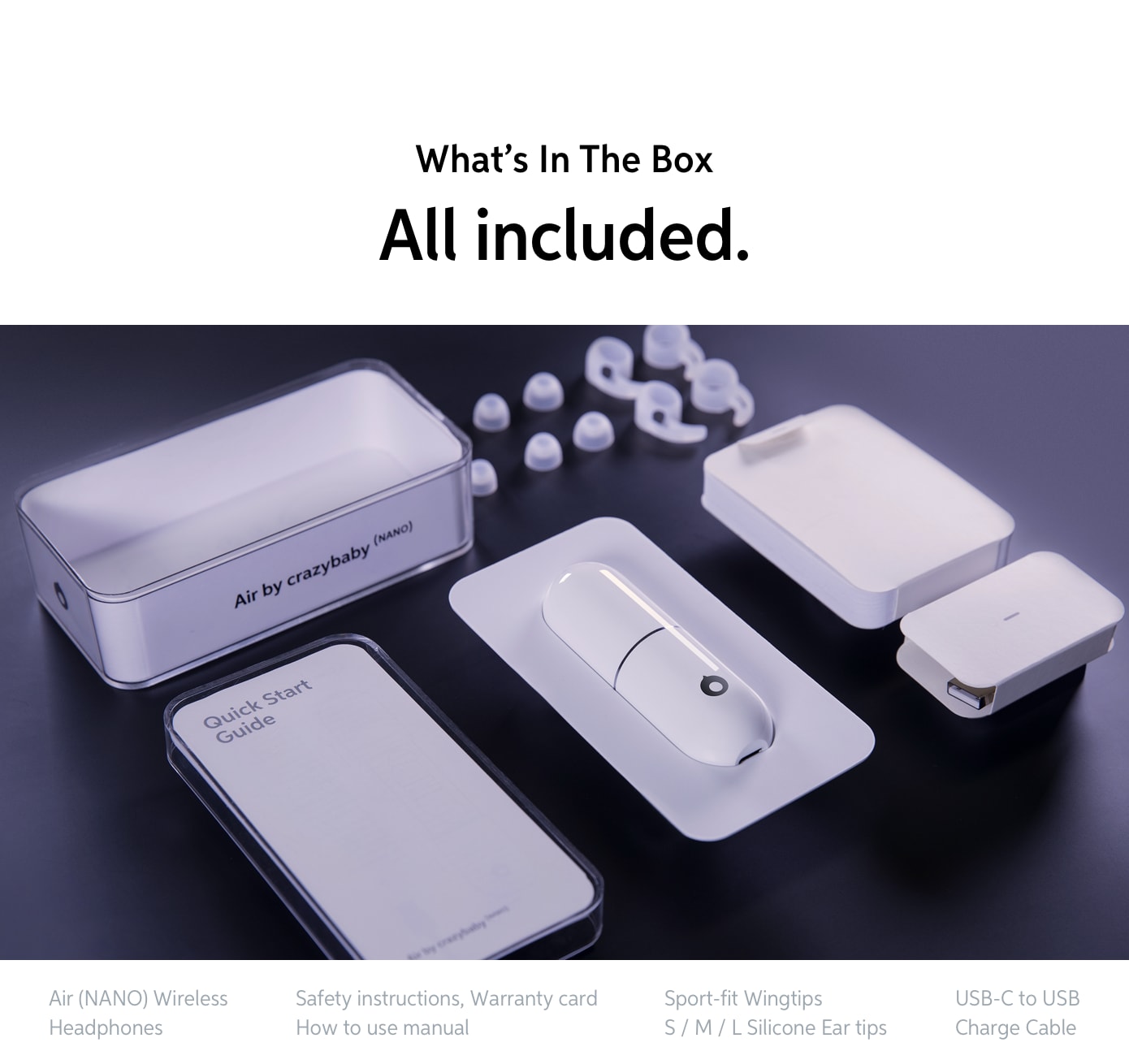 In the box: Air wireless headphones, Eartips with four size options, Sport-fit wingtips, Charging capsule, USB-C to USB charging cable.

10 vibrant colors, fashionable design, intuitive controls, ultra-compact and easy-to-carry, all combined with cutting-edge technology,  carries you into the future of acoustics..
Air (NANO) is designed for the most unique you. 
It's the most ideal musical badge on the market to reflect your unique individuality and to express your personal taste. Meanwhile, it comes at a competitive price point that won't break the bank. Air by crazybaby (NANO) is created with a mind of adding a dash of flair to your music listening experience, and making it that much more enjoyable.



Reward Tiers
Early Bird
$89 - ONE Air by crazybaby ⁽ᴺᴬᴺᴼ⁾ in any of the ten colors ($129 value) 
Early Bird Combo 
$149 - TWO Air by crazybaby ⁽ᴺᴬᴺᴼ⁾ in any of the ten colors ($258 value)

You will receive an email for color selection within 24 hours. Please follow the instructions to choose your favorite color. If you have any questions, please contact us:service@crazybaby.com;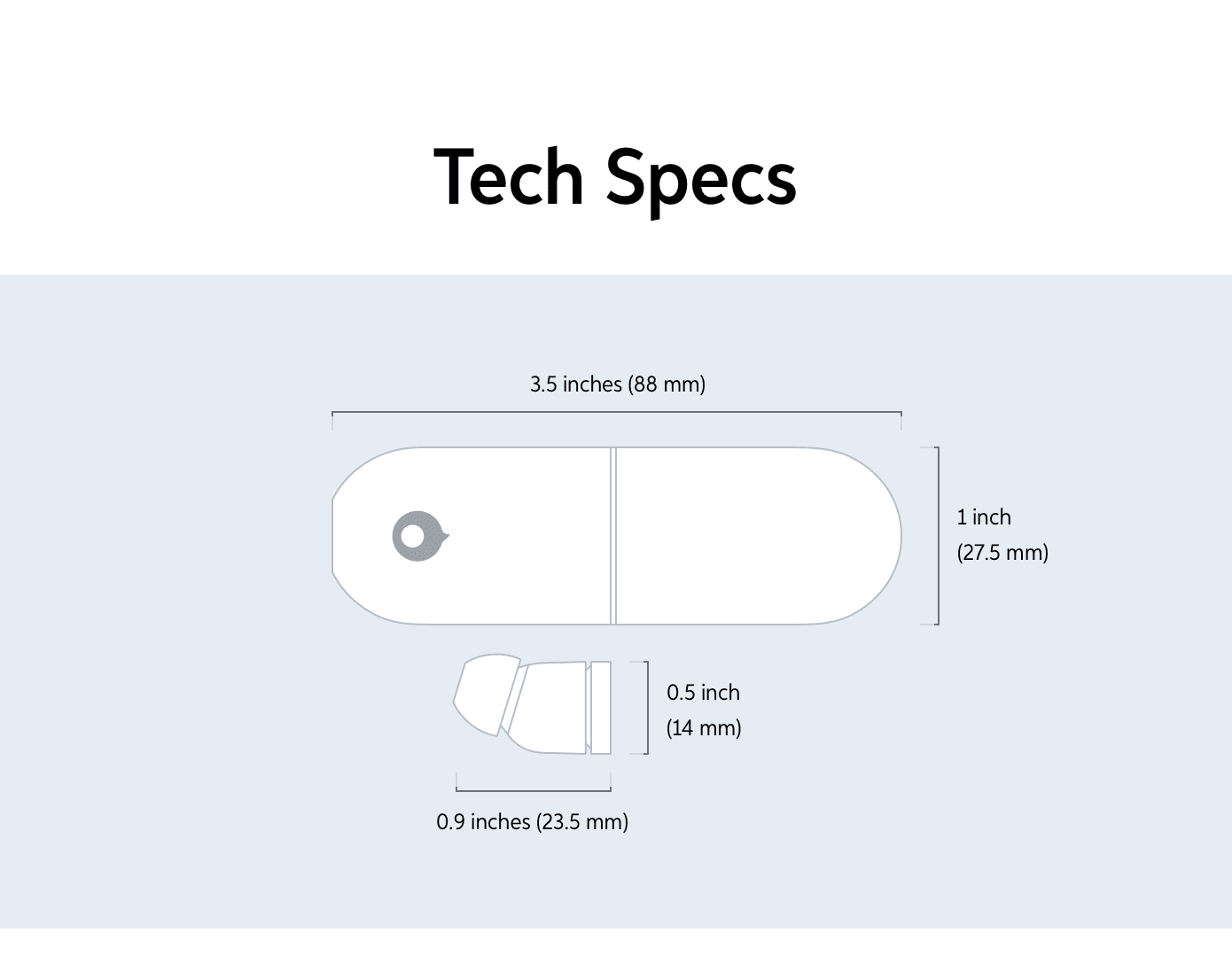 General
High-Fidelity Sound
Passive Noise Isolation
True Wireless Stereo Bluetooth
Splash Proof
Available Colors ( up to 10 )
Black / White / Red / Purple / Pink / Matte Gold / Austin Yellow / Morandi Blue / Atlantis Green / Volt Green
Sound
Driver Diaphragm: 998 Carbon Nanotube
Driver Unit: 0.22" (5.5 mm) Custom-made Hi-Fidelity Micro Drivers
Acoustic Architecture: Closed
Magnet Type: Neodymium
Frequency Response: 8Hz to 24kHz - Impedance: 16 Ohms
Sensitivity: 98dB SPL/1mW
Audio
AAC, mSBC, SBC, and CVSD audio codec
Battery
Air (NANO) with Charging Capsule: 12+ hours of listening time, up to 8 hours of talk time
Air (NANO) single charge: Up to 3 hours of listening time, or up to 2 hours of talk time
Fast Fuel Technology: 5 minutes of charging results in 1.5 hours of listening time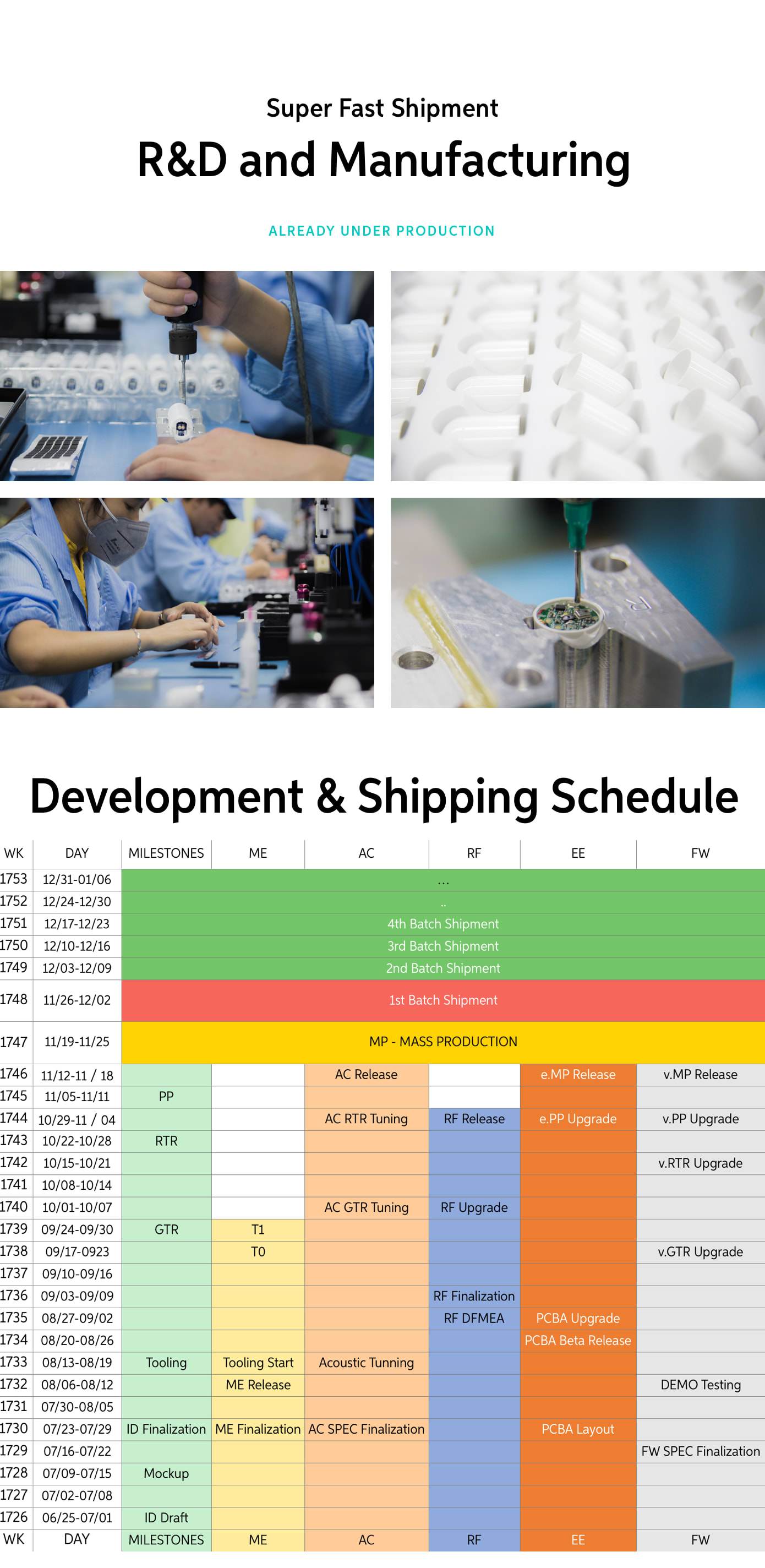 What You Care About, We Also CARE for

Why crowdfund Air (NANO)?
Allen: After shipping more than 100,000 pieces of Air globally since July of this year, we've established close ties with our customers. We put a lot of time and resources to talk and listen to our users, while and trying to spot the most deep-seated, yet the most original need they have for a wireless headphone. Taking this feedback and thought into consideration, we re-designed and honed our idea to deliver Air by crazybaby ⁽ᴺᴬᴺᴼ⁾  to the market. This new product from crazybaby introduces 10 vibrant colors, while embodying a more compact, simple to use and truly affordable form factor. What we've never compromise on is delivering the product that clicks with you the most.
What's the difference between Air (NANO) crowdfunding campaign?
Allen: Crazybaby is a verifiably mature company with the capacity and reputation of delivering products to market. Based on the experience and lessons from the launch, production and delivery of Mars, and Air, we've learned from and continuously work to improve our logistics and manufacturing management and operation. To deliver better services and a world-class purchasing experience for the Air (NANO) crowdfunding campaign, we've started the pilot production of Air (NANO) two weeks before the launch, so that mass production begins at the same time as the launch. What we are doing is offering a wireless headphone at a truly affordable price point, in a form factor that doesn't skimp on features found in Air by crazybaby. We hope that in taking this approach, we're rewarding our backers and the community that's offered us continuous support in our vision to deliver best-in-class technology to all, as we continue to push the boundaries of personal wireless acoustic devices.
What have you learned from the Air by crazybaby program?
Allen: The biggest issue with Air by crazybaby was the unanticipated delay in the product's shipment schedule. It was mainly because my team and I had been too optimistic in our project cycles, and had to overcome innumerable challenges. However, we finally made it and began shipping Air by crazybaby starting in July of this year. Until today, more than 100,000 units of Air have been shipped globally, and more orders are being shipped. Having learned from our mistakes, we've moved up the development and production period for Air (NANO) so that a delay in Air (NANO)'s shipment deadline won't be a concern anymore.
A second lesson learned revolved around our poor customer service. As a startup, we'd underestimated the volume of inquiries we'd receive, which meant fewer resources dedicated to customer service and resulted in inefficiencies in our customer service capabilities. However, we've recognized the importance of being responsive and value our backer's and customer's feedback. Learning from our misstep, we've grown our customer service team to improve the efficiency and responsiveness of our communication with our customers. We might not be perfect, but we will never stop improving and evolving.
What do you want to say to your backers who continuously support crazybaby?
Allen: Indiegogo and our early backers have not only bred crazybaby, but also witnessed the growth of our brand from the very beginning. All your support and patience are invaluable to this team, which drives us to continually push the envelope. With your support, we've once again decided to make our latest product, Air (NANO), available on Indiegogo, with the  hope to hit a new record and join our journey toward revolutionizing the wireless music experience with the help of this amazing community.
What You Care About, We Also Care for.
We believe that boldness and innovation is deeply rooted in the DNA of crazybaby, and will carry crazybaby forward. However, we listen and care about every word of encouragement or feedback from you, our backers. The strong bond crazybaby has with Indiegogo and our backers here inspires us to bring the best affordable products to all of you.
We never stop pushing the boundary of innovation and creativity, by delivering products with best-in-class acoustics and a futuristic aesthetic, centered around the beauty of simplicity and an ergonomic design. If you share the same value with us, please share your crazybaby experience with your friends.

Founded in 2015 by Allen Zhang, crazybaby is a pioneer in futuristic-design and personal wireless audio equipment and software services. Driven by a philosophy centered around detail in design and best-in-class technology, crazybaby aims to deliver a truly inspiring audio experience by crafting innovative headphones that take you on a musical journey. Designed, marketed and sold in 130 countries under the crazybaby brand, its acoustic products include Mars, Luna, Air by crazybaby and Air by crazybaby ⁽ᴺᴬᴺᴼ⁾ With world-class designers and engineers at its helm, crazybaby is a winner of the Red Dot Award, Good Design Award and CES Innovation Award.
Crazybaby is headquartered in Salt Lake City, Utah, with an R&D and manufacturing center in Shenzhen, China, and an acoustic lab in Japan. For more information about crazybaby, visit https://crazybaby.com/us/.





Share our campaign with your friends, enjoy the unique musical experience with Air (NANO).
Contact Us
Press: media@crazybaby.com;
Cooperation: partnership@crazybaby.com;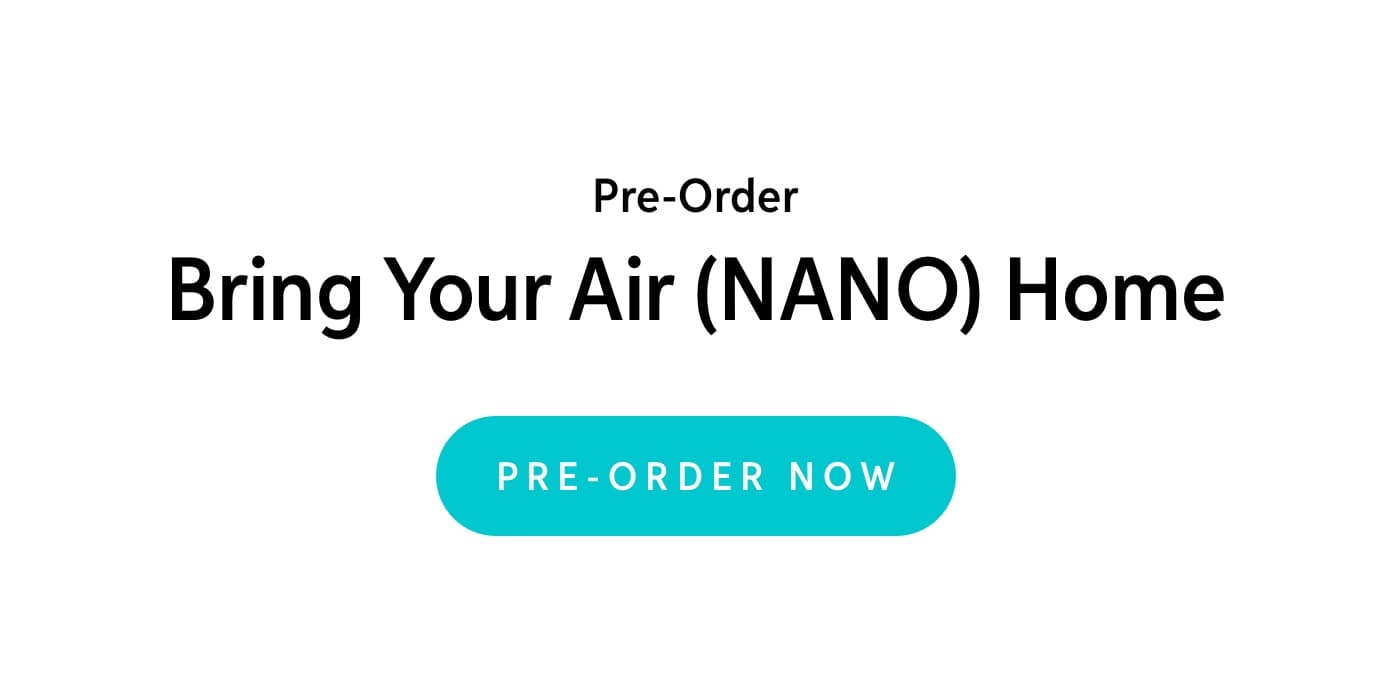 Crazybaby is back! We're incredibly excited to announce Air by crazybaby ⁽ᴺᴬᴺᴼ⁾ - a brand new true wireless headphone that packs cutting-edge technology and design that will suits any unique style.
We've taken your suggestions to heart when designing this third generation of crazybaby technology. We can't wait to have you, our backers, participate in this campaign and check out what we have in store for you!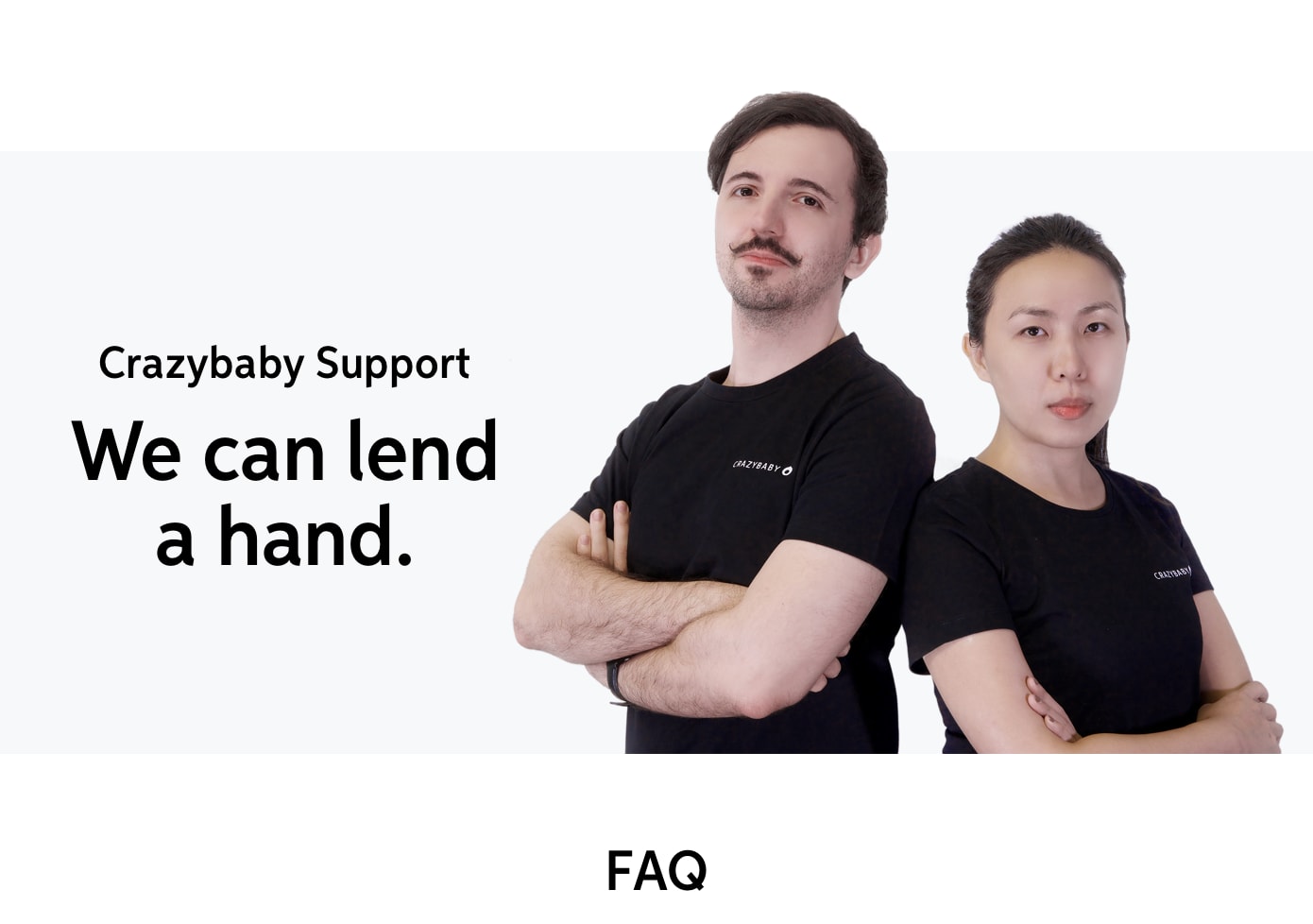 How to choose my favorite color?
Please follow the instructions to choose your favorite color. 
You will receive one email for color selection within 24 hours after you place your order(s)on Indiegogo.
Enter the link that has been sent to you via the email to choose your color. If you don't receive the email after 24 hours, you can visit this link to choose color (crazybaby.com/igg/nano). (Hope you can understand we need time to sync data from Indiegogo to our database.)
Login to our website with your account. Please make sure you have already registered to our website. If you did not register before, please register first.
Use your Indiegogo order email address and Order ID to verify and then choose your favorite color.   Note: After selecting your favorite color, you will receive one confirmation email. You can update your color selection and your shipping information anytime before the shipment of your order.
How long is the warranty?    
Each pair of Air by crazybaby ⁽ᴺᴬᴺᴼ⁾ headphones come with a 12 month limited warranty for Indiegogo backers. We also ensure that every unit is free from manufacturing defects and handled with the utmost care during shipment.
How long does the battery last?    
The rechargeable battery in the Charging Capsule keeps Air by crazybaby ⁽ᴺᴬᴺᴼ⁾ powered  for 7+ days. A single charge from the capsule can support up to 12 hours of music playback and battery talk time of up to 8 hours.
Does Air (NANO) use up my phone's battery?    
Air by crazybaby ⁽ᴺᴬᴺᴼ⁾ is a Bluetooth headphone. It does affect the battery life of your phone, and should anticipate up to 5-10% of extra battery usage per day. The battery life of your phone will vary depending on different usage conditions including the average sound volume and distance betweenAir by crazybaby ⁽ᴺᴬᴺᴼ⁾ and your phone.
How does it charge?   
You will receive a USB-C to USB charging cable. You can charge your  Air by crazybaby ⁽ᴺᴬᴺᴼ⁾ by placing your headphones into the Charging Capsule, on top of the magnetic induction connectors, and directly charging the Capsule by plugging your Capsule into your computer or any wall USB charger.
How long does it take to get a full battery charge?    
Air by crazybaby ⁽ᴺᴬᴺᴼ⁾ requires 60 minutes from full discharge to full charge, while theCapsule requires 70 minutes from full discharge to full charge.
However, Air by crazybaby ⁽ᴺᴬᴺᴼ⁾ utilizes its proprietary Super Fuel technology, allowing for 1.5 hours of music playback for one 5 minute charge.
Are Air by crazybaby ⁽ᴺᴬᴺᴼ⁾ headphones splashproof?    
Yes, Air by crazybaby ⁽ᴺᴬᴺᴼ⁾ are splashproof.
Which devices are compatible with Air by crazybaby ⁽ᴺᴬᴺᴼ⁾?    
With the latest Bluetooth 5.0 Ready module, any Bluetooth-Smart device, including smartphones, music players, tablets and laptops, are able to connect to Air by crazybaby ⁽ᴺᴬᴺᴼ⁾. If your TV or PC doesn't support Bluetooth, you can connect Air by crazybaby ⁽ᴺᴬᴺᴼ⁾via a Bluetooth adapter.
How many colors can I choose from?
You can choose from ten colors. Please check the Perk section for more details. After you purchase a perk from Indiegogo, we will send you a survey, asking you to select a color.
When I can receive my order?    
The first batch of headphones from the manufacturer wlll be shipped out by the end November 2017. In the meantime, we will keep you updated on our progress and your order's expected delivery date. For shipment inquires please contact service@crazybaby.com.
Where does Air by crazybaby ⁽ᴺᴬᴺᴼ⁾ ship?    
Due to limited fulfillment capabilities, Air by crazybaby ⁽ᴺᴬᴺᴼ⁾ can only be shipped to 35 territories worldwide. These territories include Austria, Australia, Belgium, Brazil, Canada, China, Denmark, Finland, France, Germany, Hong Kong, India, Indonesia, Ireland, Israel, Italy, Japan, Korea, Macau, Malaysia, Netherlands, New Zealand, Norway, Russia, Singapore, Spain, South Africa, Sweden, Switzerland, Taiwan, Thailand, United Kingdom, U.A.E, and the United States.
When do we start shipping?    
We begin shipping by the end of November 2017. Actual ship dates will vary depending on your country, your location, and when you've placed your order. The crazybaby team will keep you up to date on every step of the process.
In order to deliver Air by crazybaby ⁽ᴺᴬᴺᴼ⁾ safely and efficiently, the orders will dispatched by different courier companies, depending on the destination regions. Air by crazybaby ⁽ᴺᴬᴺᴼ⁾ consequently may ship out in a slightly different order than the initial buying sequence.
Why order now?    
We are offering a discount on all pre-orders of Air by crazybaby ⁽ᴺᴬᴺᴼ⁾ in return for your support.
Change of address?    
If you need to update your address, please contact our customer service team: service@crazybaby.com.
Indiegogo's shipping location lists me in the wrong country?
At the end of the campaign, we will send out a survey confirming where you would like your Air by crazybaby ⁽ᴺᴬᴺᴼ⁾ to be shipped.
Do I have to pay VAT / GST?    
Customers are responsible for assuring the product can be lawfully imported to the destination country. The recipient is the importer of record and must comply with all laws and regulations of the destination country. Orders shipped may be subject to import taxes, customs duties and fees levied by the destination country. The recipient of an international shipment may be subject to such import taxes, customs duties and fees, which are levied once a shipment reaches the recipient's country. Additional charges for customs clearance must be fulfilled by the recipient; crazybaby has no control over these charges.
What is your refund policy?    
Refunds are processed on a case-by-case basis. At some point we will need to lock down refunds in order to go into production and ship product to you. We will not be able to refund orders once they've shipped.
How can I check the status of my pre-order?    
The crazybaby team will continuously update the Indiegogo campaign page and update every backer on the manufacture and shipping process. For more info please contact service@crazybaby.com.
Why do I have to wait longer than usual?    
You're not just buying into any pre order; you're helping us to forecast the demand for our product.  But, this is the first of its kind, and you'll be glad you waited. We will send you frequent updates while we work to produce and ship the first batch.
Please contact service@crazybaby.com with further questions or requests.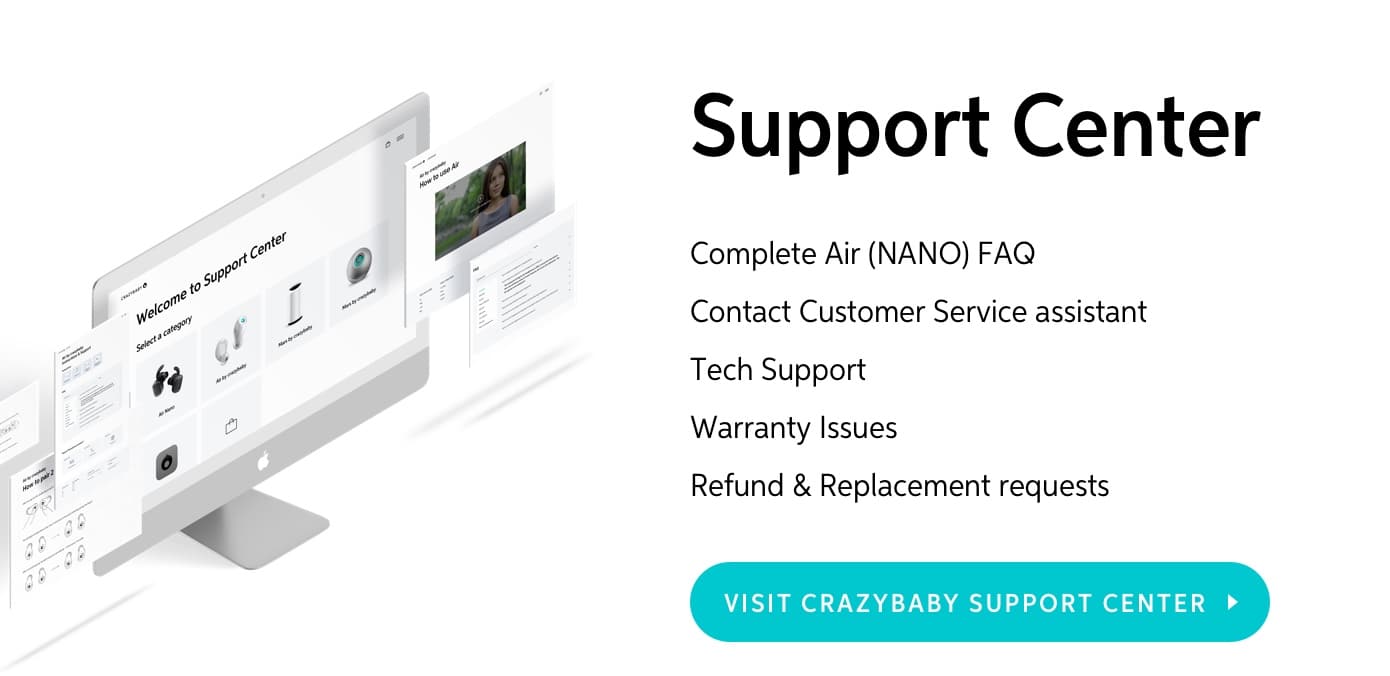 We operate in a highly competitive market. If we fail to compete effectively, our prospects, operating results, and manufactory condition could be adversely affected.
If we are unable to anticipate and satisfy our early backers' preference in a timely manner, our campaign may be adversely affected, which will lead to the need to make rolling improvements before the release of new production batches.
If we are unable to successfully develop and introduce new stretch goals and services or enhance existing products and services, our campaign may be adversely affected.
Our campaign results could be materially harmed if we are unable to accurately forecast our customers' demands for our products and services, or if we failed to adequately manage our inventory.
We rely on a limited number of suppliers, contract manufacturers, and logistics providers, and each of our products are manufactured by contract manufacturers.
Because some of the key components in our products come from a limited quantity or a single supply source, we are susceptible to supply shortages, long lead times for components, and supply changes, any of which could disrupt our supply chain.
Our current and future products and services may experience quality problems from time to time that can result in adverse publicity, product recalls, litigation, regulatory proceedings, and warranty claims resulting in significant direct or indirect costs, and harm to our brand.
We have limited control over our suppliers, contract manufacturers, and logistics providers, which subjects us to significant risks, including the potential inability to obtain or produce quality products on a timely basis or in sufficient quantity.
We are, and may in the future be, subject to claims and lawsuits alleging that our products fail to provide accurate measurements and data to our users.
The failure to effectively manage the introduction of new or enhanced products may adversely affect our operating results.
Our failure or inability to protect our intellectual property rights, or claims by others that we are infringing upon or unlawfully using their intellectual property could diminish the value of our brand and weaken our competitive position, and adversely affect our campaign and prospects.
Our success depends on our ability to maintain our brand with our community. If events occur that damage our brand, our campaign may be harmed.
We depend on Indiegogo to pre-sell and market our products, and our failure to maintain and further develop our sales channels could harm our campaign.
Our failure to comply with U.S. and other foreign laws related to privacy, data security, and data protection, for instance, the E.U. Data Protection Directive, which requires an adequate legal mechanism for the transfer of personal data from the European Union to the United States, could adversely affect our campaign, and our brand.
Our campaign and products are subject to a variety of additional U.S. and other foreign laws and regulations that are central to our business; our failure to comply with these laws and regulations could harm our campaign or our operating results.
Our campaign is subject to the risk of earthquakes, fire, power outages, floods, and other catastrophic events, and to interruption by manmade problems such as terrorism.
Our privacy policy is available at https://crazybaby.com/privacy
Our terms & conditions is available at https://crazybaby.com/terms