Advice Experts Business Company Inc. is a comedy documentary series about a team of consultants aged 4-7 who ask hard questions and provide real feedback to adults suffering from personal, professional, financial, health or pet-related issues.
How it works: Each walk-in adult client is given a consultation at the Advice Experts' office with a small team of young specialists who try their best understand the problem before privately working out an approach. Once they have hashed out their plans, they present their solutions -which, if not useful, are predictably funny, random and insightful. 
So far we have filmed about 20 different "cases", each of them involving sequences where the teammates absorb, dissect, discuss and attempt to solve problems ranging from mediating relationship spats to counseling on gambling addiction. While many of the situations we documented were planned, the conversations and ideas of our small experts were not.

This project began as a hunch that kindergarteners would have some really funny takes on adult problems. Beyond that, we weren't quite sure if the experiment would actually work or how much decent material we would get. But it did work, and we ended up with a lot more material than we planned for. Which is why we are reaching out to you with this crowdfunding campaign thing -to ask for some extra support in getting all 20 episodes finished and put out into the world for everyone to enjoy. The money we raise will go toward shooting additional needed material, editing, color-grading, sound mixing and all the other boring but important technical stuff that this little project deserves. Any amount you can give, no matter how small, makes a huge difference to this little project. 

In casting our team of Advice Experts we looked for talented kids possessing the following qualities: confidence, a commitment to acting their age and parents who would let them work part-time as expert advisors.
Once hired, they were given freedom to name their business and choose their position titles.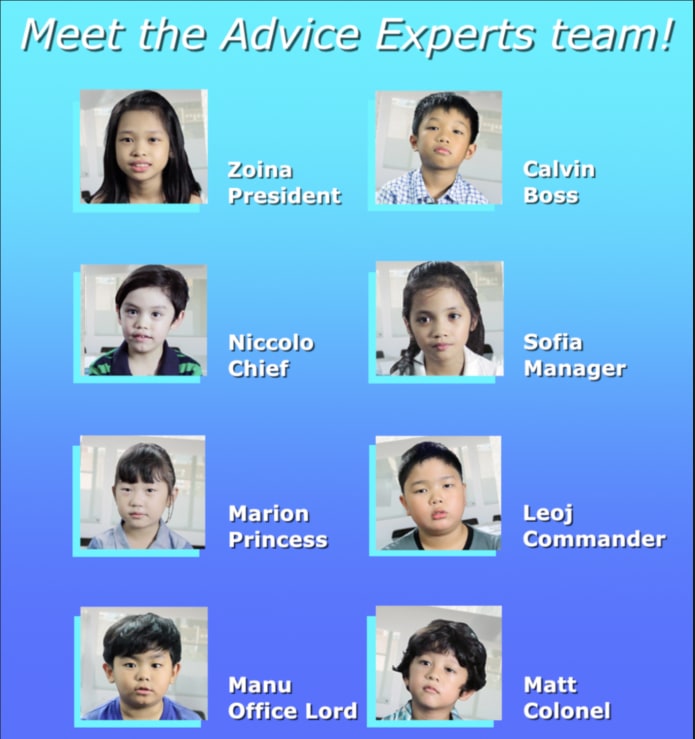 Good question! As you may know, many crowdfunding campaigns offer gifts and rewards (usually in the form of t-shirts, buttons, mugs and other knick-knacks) depending on how much money you give. But when that happens, the US government decides your donation isn't a donation but a purchase, which thusly must be taxed. So we decided to keep things simple and avoid opening the pandora's box of cheap gift rewards that you don't need anyway. And this way the IRS can take a hike! There are still a few things you can get in return for your help however: A heartfelt thank you, your name immortalized in the credits of of the series, and the warm and fuzzy feeling of having helped make this funny project a reality. Oh, and you'll be able to watch the finished product. So there's that. 

Producing this series independently in the US would have cost a small fortune, which is why we opted to shoot it in Makati City, Philippines, an internationally diverse business district that basically feels like Hawaii if it were a lot more crowded. And because English is the primary language of the show, you won't need to read a bunch of subtitles to enjoy it! 

We will work hard to finish the series and release it into the wild for free, online, to bring laughter into the hearts of countless future generations until the end of time, or until the internet is destroyed. Thanks again so much for taking time to look at this page. Any amount of help you can spare will make a big difference.